KyungBokKung (Buena Park, CA)
Kyung Bok Kung Korean BBQ Restaurant
7801 Beach Blvd, Buena Park, CA 90620
714.888.4948
www.kyungbokkungusa.com
Wed 12/05/2018, 07:50p-10:10p

Although K-town remains the de facto epicenter of Korean dining in Southern California, the city of Buena Park is definitely making inroads, as evinced by the debut of KyungBokKung. Launched in mid-August, it is, as far as I know, the fanciest Korean restaurant to open in recent times. Named after
Gyeongbokgung
, a key royal palace built during the Joseon era, KyungBokKung offers diners high-end Korean BBQ, and more interestingly,
hanjeongsik
, a style of multi-course dining you don't see very often around these parts. The restaurant occupies a 6,800ft
2
building that was previously home to KBBQ-slash-sushi joint Sagan (2005-2014) and Spoons California Grill & Bar (1985-2004), and which was originally constructed as a Red Lobster back in 1975. Thus, it is
not
a new construction, as some people seem to believe. Total dining area is around 3,400ft
2
, and over 180 guests can be accommodated.
The restaurant is part of Entas America, an entity that also operates Sapporo Sushi & Grill up the street (opened March 2015). That entity, meanwhile, is owned by
Entas Group
, a Korean-based company that was established in 1991 with the first KyungBokKung. Entas currently operates 19 brands with over 100 locations in Korea (and one in Shanghai), and they've even expanded into complementary businesses such as meat processing, distribution, and duty free shops.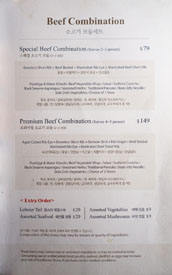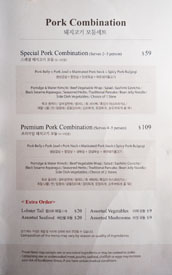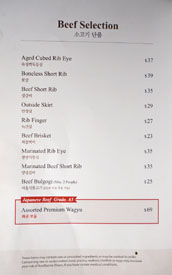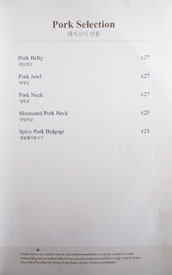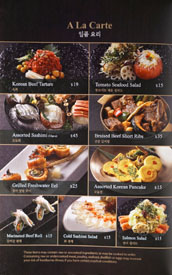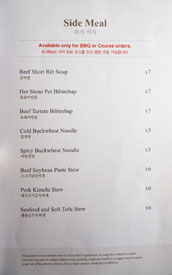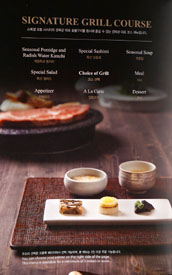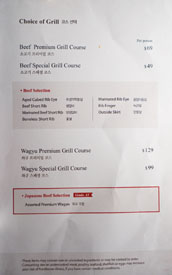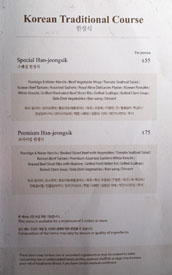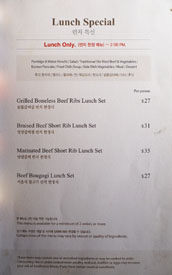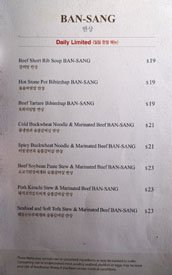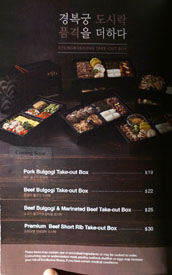 The menu reads (and is priced) fairly similarly to that of other high-end
gogi-gui
places, but with the addition of the aforementioned
han-jeongsik
selections. That's what we were here for, and we ended up going with the "Premium" option at $75 a head. Click for larger versions.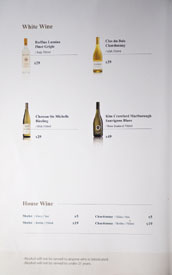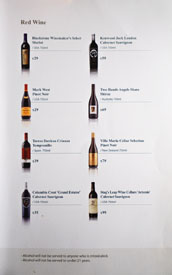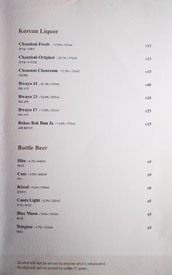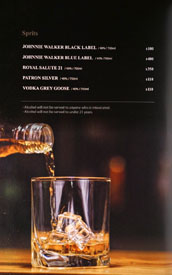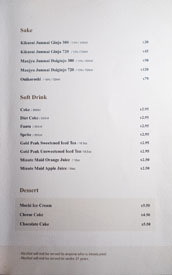 To drink, you get a small wine list, Korean liquors and beers, sake, and a handful of spirits. Corkage is a reasonable $20 per bottle, or $50 if you're thinking hard liquor. Click for larger versions.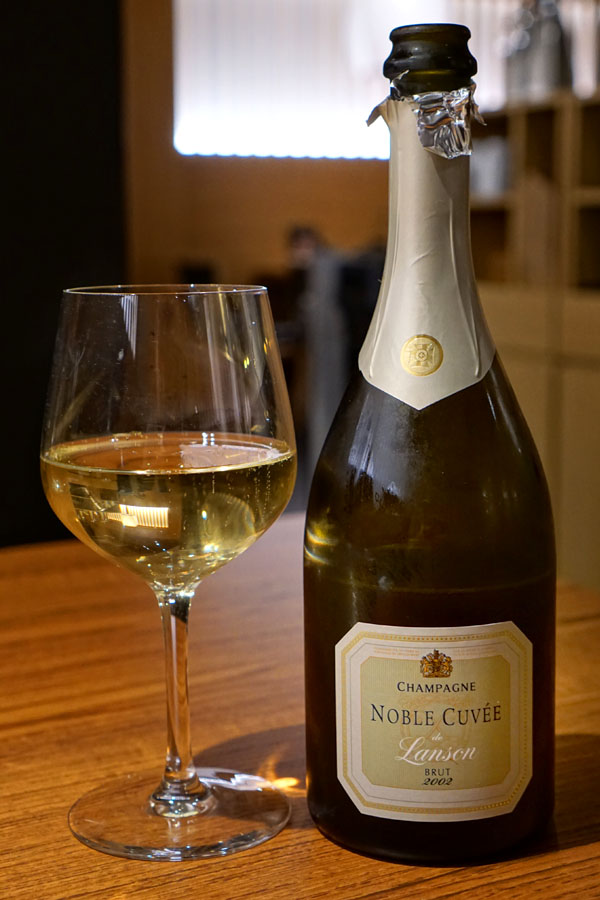 We had couple bottles, and first was the
2002 Lanson Champagne Brut Noble Cuvée de Lanson
. The wine smelled of rich apple intermixed with lemon and light brioche. On the palate I got pronounced toast, joined by more of that robust fruit, minerals, and a touch of oxidation. I think this one still has more to show off as it matures.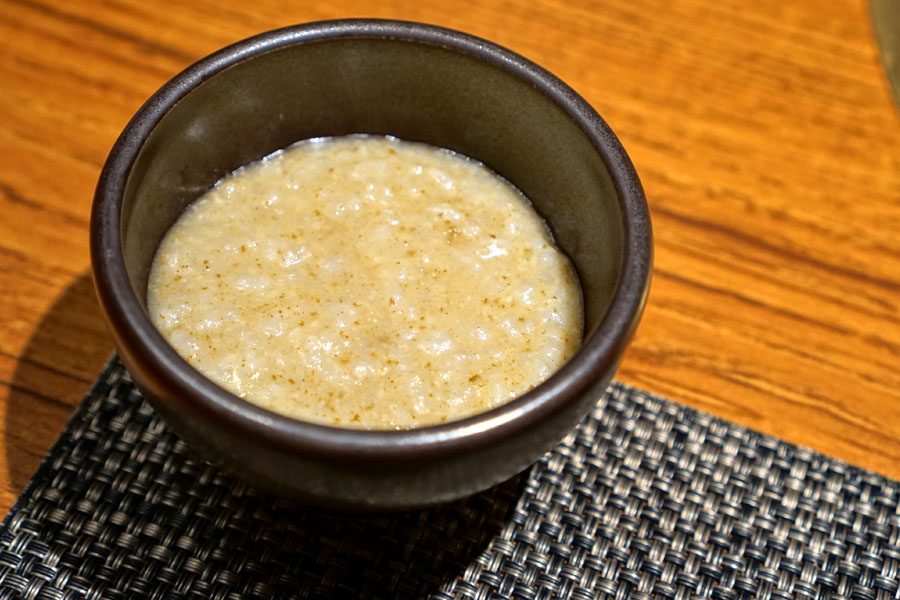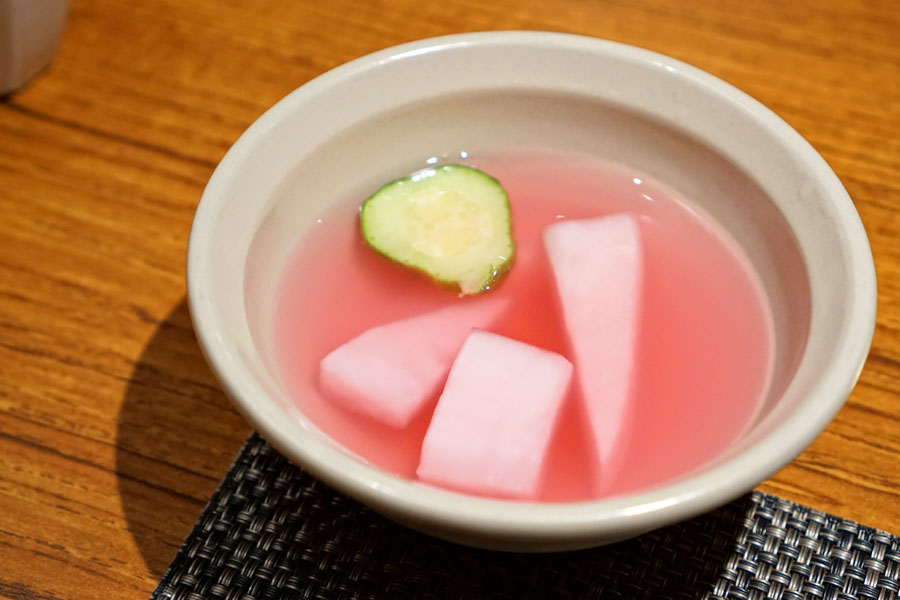 1: Porridge & Water Kimchi / Juggwa Dongchimi
We commenced with a small serving of
jeonbok-juk
, a homey abalone rice porridge that had a bit more depth than usual, along with a welcomed peppery kick on the back end. Along with it came a refreshing bowl of
dongchimi
with its super crunchy chunks of
mu
radish.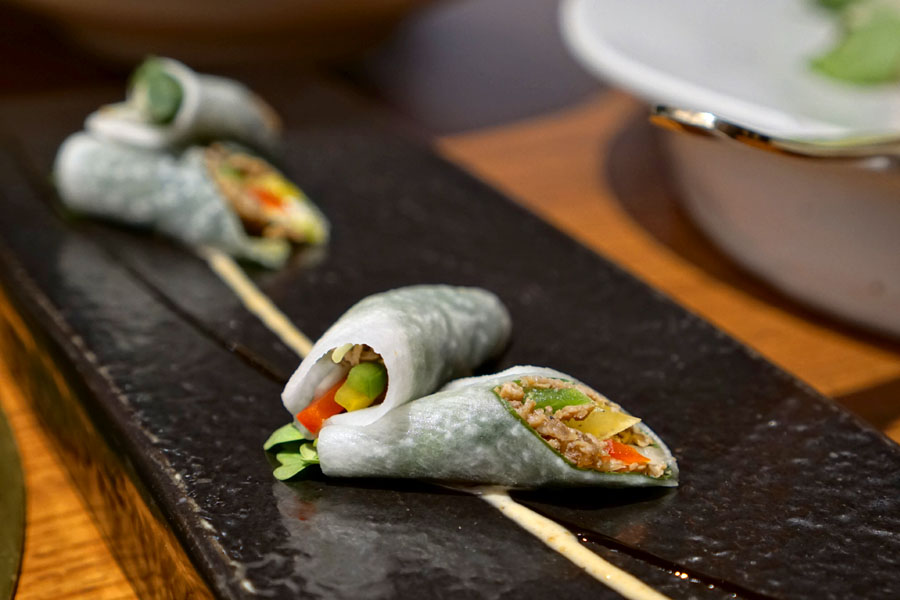 2: Broiled Sliced Beef with Vegetables / Roseupyeonchae
Here we see the restaurant's version of
roseupyeonchae
(a dish of veggies wrapped in beef). Think sweet and tangy and crunchy, but all moderated by the relative heft of the meat.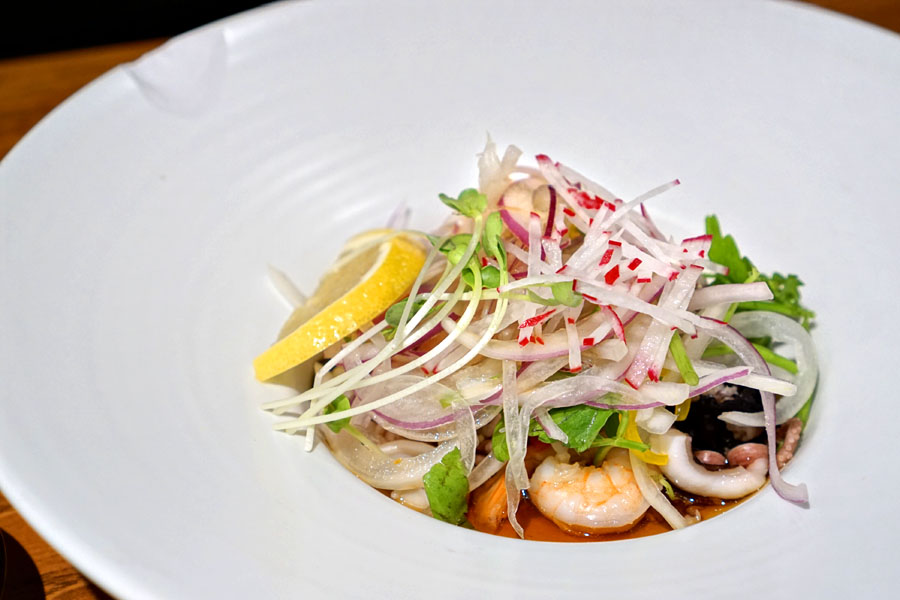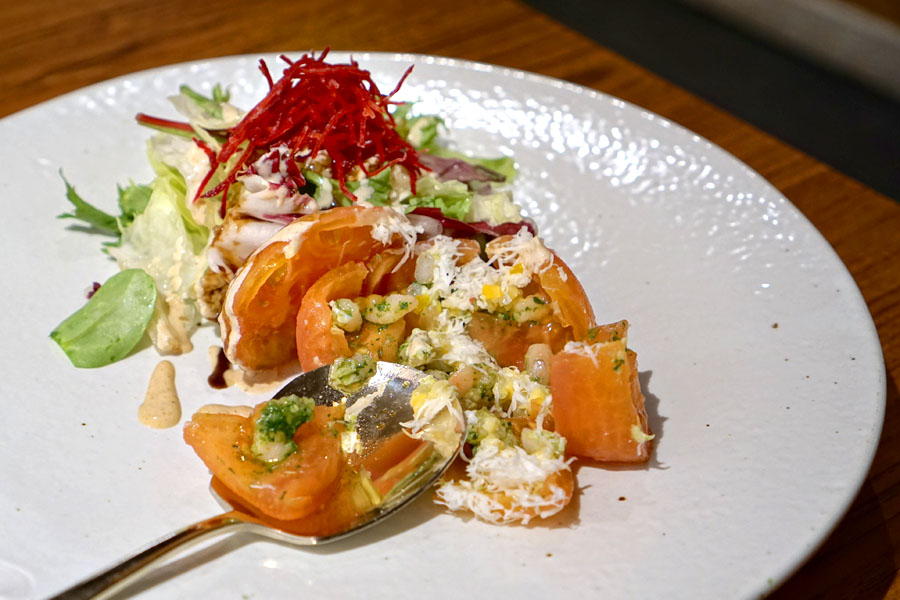 3: Tomato Seafood Salad / Tongtomato Haemul Saelleodeu
Next were two salads. The first featured seafood in an acidic-yet-savory broth, topped with a bevy of light, bright veggies. The second was more interesting thanks to its crab-stuffed tomato, which actually did a pretty good job marrying the sweetness of the crustacean with the tartness of the berry. Overall, these two plates functioned as a foil to some of the heavier flavors on the table.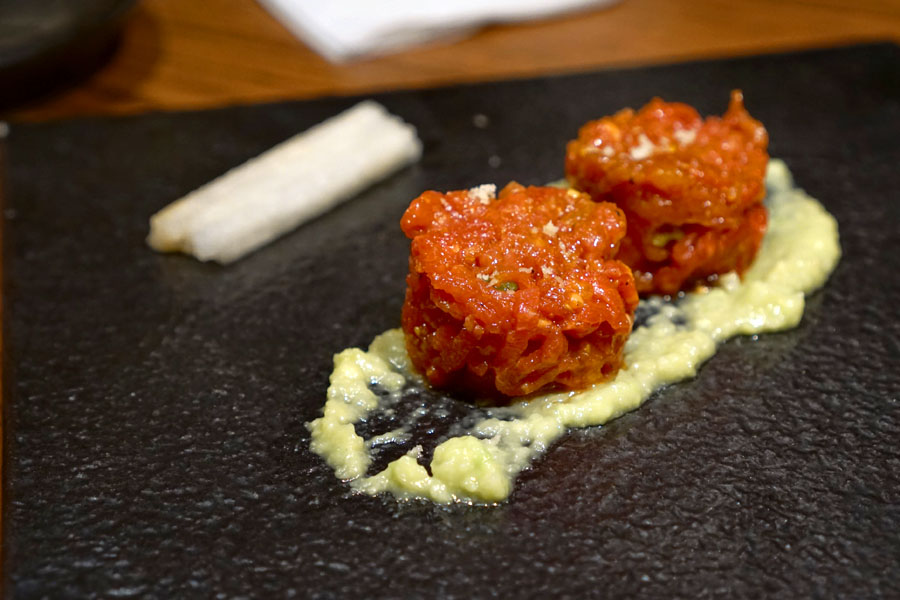 4: Korean Beef Tartare / Yukhoe
The
yukhoe
was on point. It had a great balance of savoriness and sweetness--especially with the juicy crunch of the
bae
--and I was a fan of the creeping
gochujang
spice on the back end.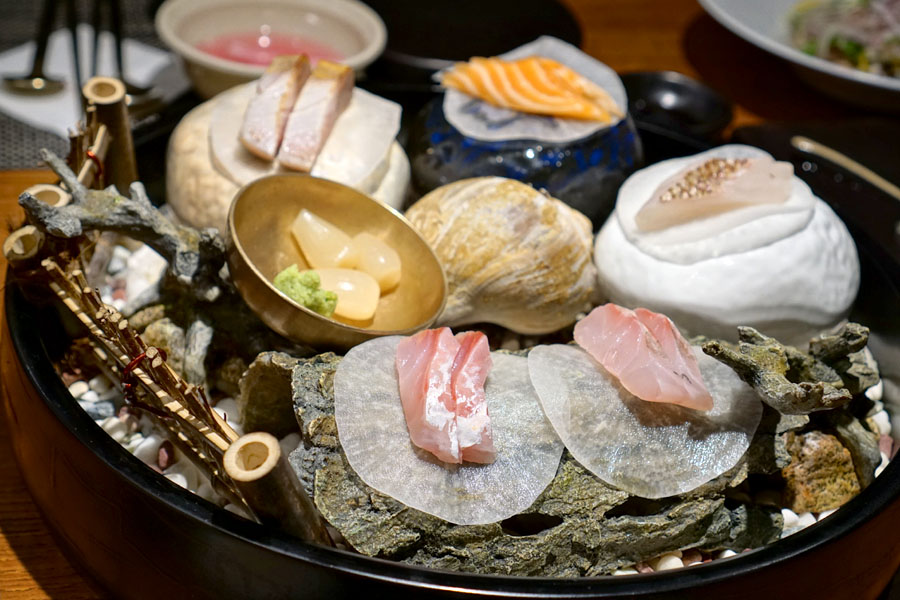 5: Premium Assorted Sashimi / Teugseon Modeumhoe
Our sashimi course was certainly fancily-presented, and was composed of five selections. Clockwise from top-left we had:
Seared Yellowtail Belly - Heavy on the smoke and fat, this one really needed to be offset by the wasabi.
Salmon - Fatty and luscious, and nice with a dab of soy.
Red Snapper - I found this soft and creamy and mild; it really perked up with a bit of wasabi.
Sea Bass - Very light and delicate. Curiously, the soy seemed to draw out a metallic flavor in the fish.
Yellowtail - A pretty prototypical presentation, this was fatty as expected, with a persistent brine as well.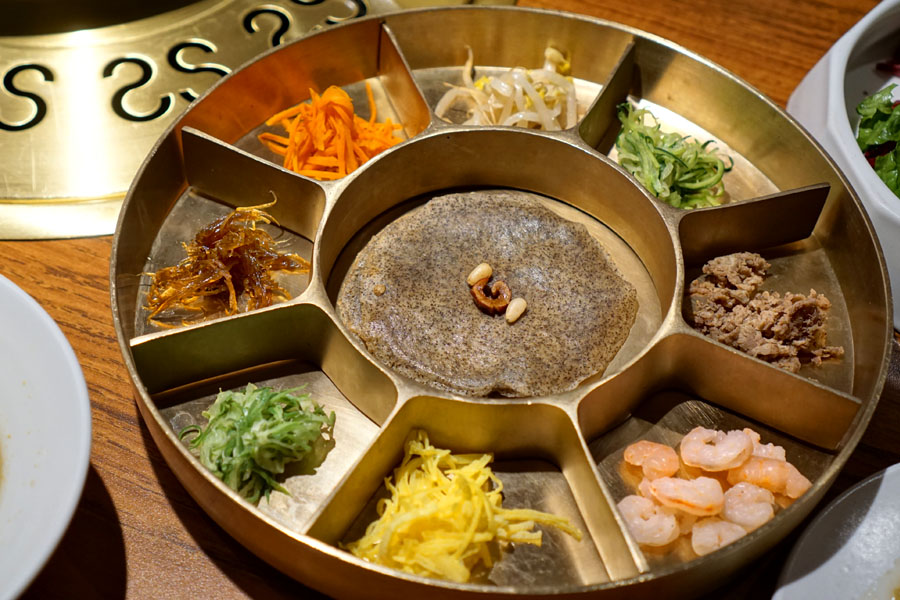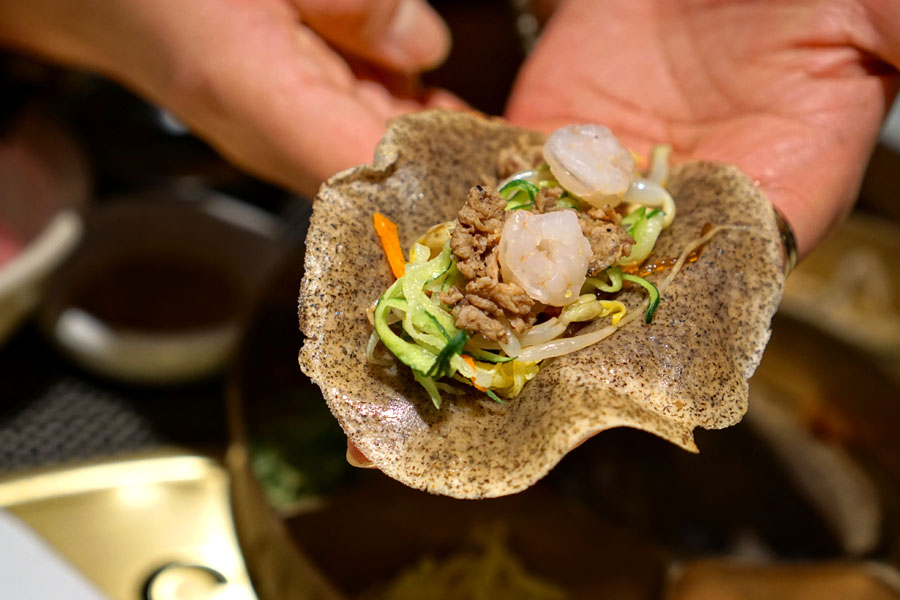 6: Gujeolpan
KyungBokKung's
gujeolpan
arrived on a surprisingly weighty metal
gujeolpan
. Clockwise from left, items included (I think): dried anchovies (
myeolchi-bokkeum
), carrots (
danggeun namul
), soybean sprouts (
kongnamul
), cucumbers (
oi
), beef (
bulgogi
), shrimp (
saeu
), egg strips (
al-gomyeong
), and scallion (
pa
). The key was to wrap everything up with the included pancake, which made for an array of textures and tastes that melded well.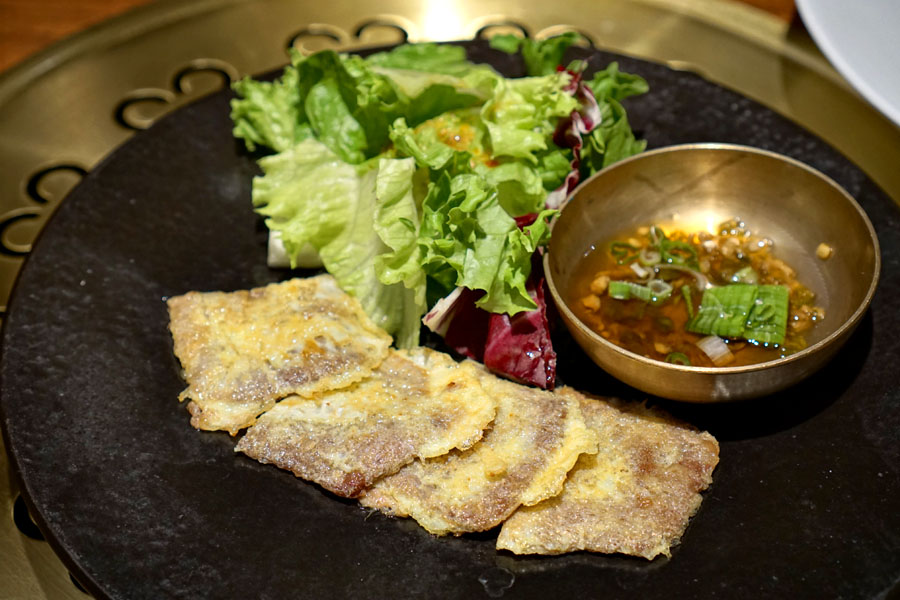 7: Yukjeon
The
yukjeon
were satisfying in a straightforward manner, and displayed a pronounced beefiness that paired well with that tangy dip on the side.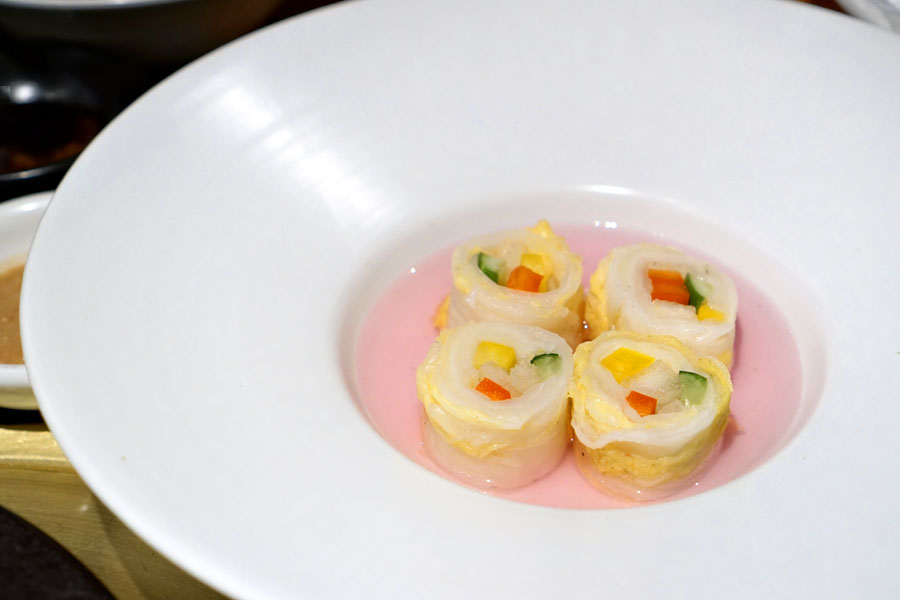 8: White Kimchi / Bae Baeggimchi
A rolled presentation of
baek-kimchi
ate crunchy and clean, with a not unwelcomed undercurrent of sweetness.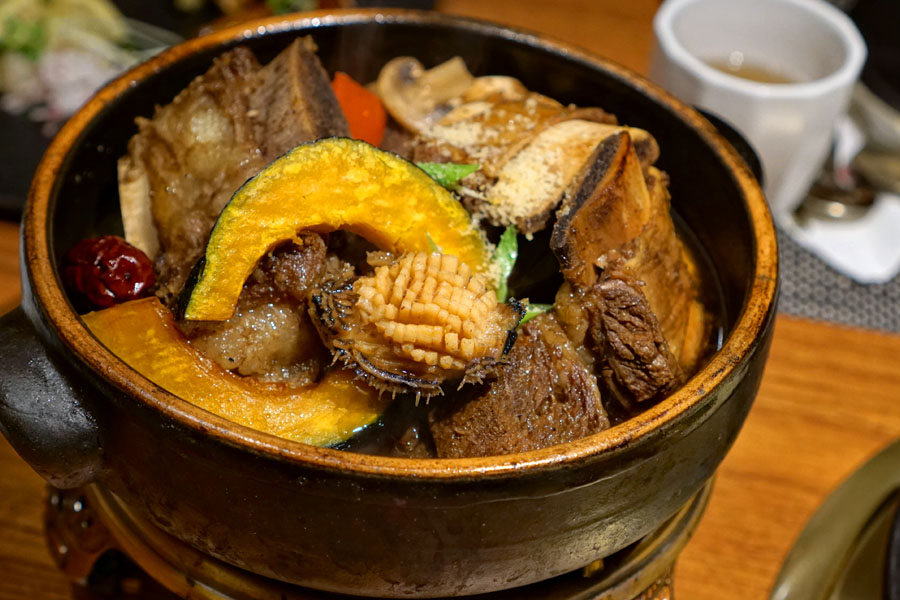 9: Braised Beef Short Ribs with Abalone / Jeonbog Galbijjim
Our main course was the
galbi-jjim
, which definitely hit the mark. The ribs arrived as tender as I wanted, but still substantial, while taste-wise I found 'em super beefy, with a great balance of savory and sweet flavors. The use of
jeonbok
, meanwhile, made for some textural contrast and an additional point of interest in the dish. I didn't need the
danhobak
in there, but didn't mind it either.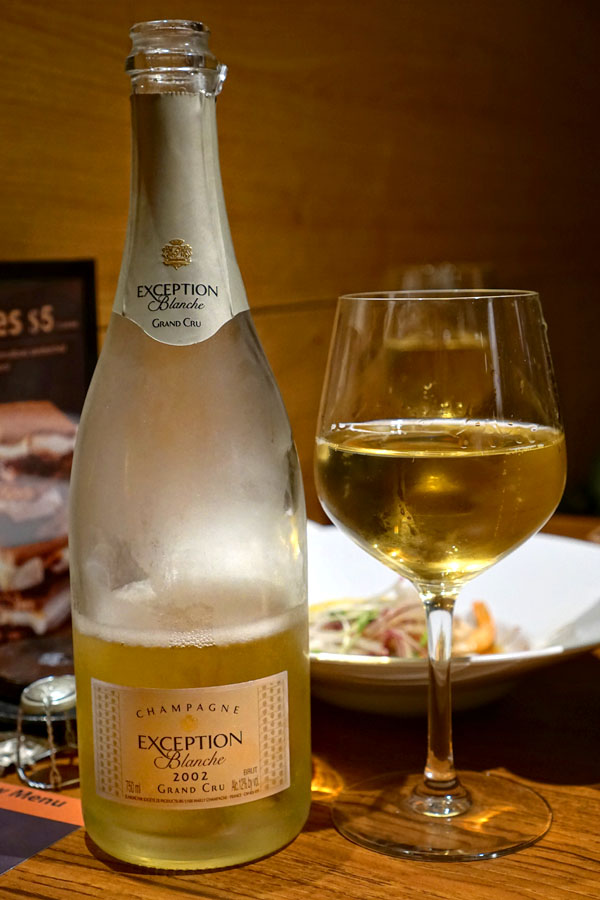 The evening's second bottle was the
2002 Mailly Champagne Grand Cru Exception Blanche
, a
blanc de blancs
expression. The nose conveyed fresh bread alongside rich pome fruit and a slight astringency. Taste-wise, the wine showed off more of the same in a surprisingly soft, smooth package that could perhaps use a bit more vibrancy to it.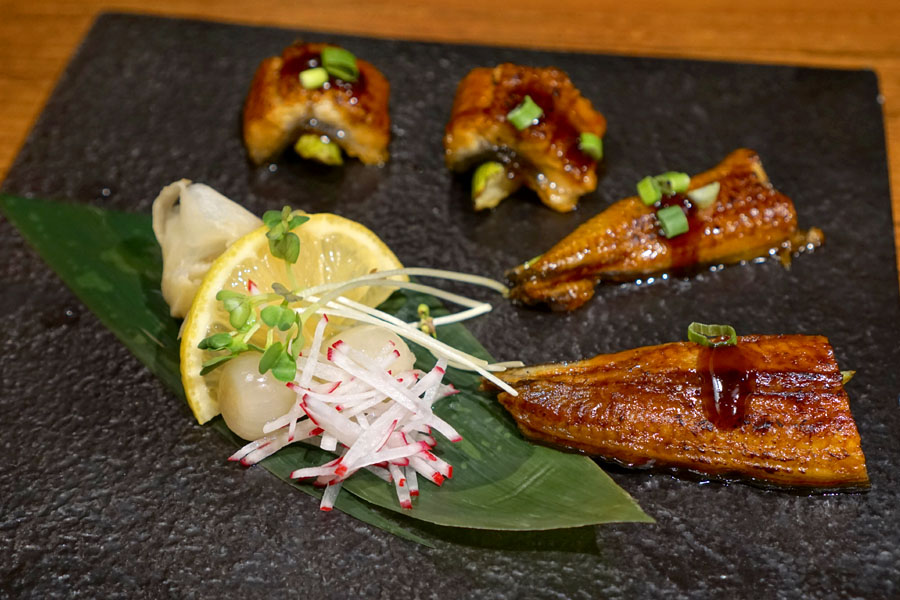 10: Grilled Fresh Water Eel / Minmuljangeo Gui
Grilled eel was dressed in a thick, sweet-savory sauce that made for a natural accompaniment for the fish. My favorite thing here were actually the stalks of asparagus underneath, which imparted an offsetting crunch and bitterness.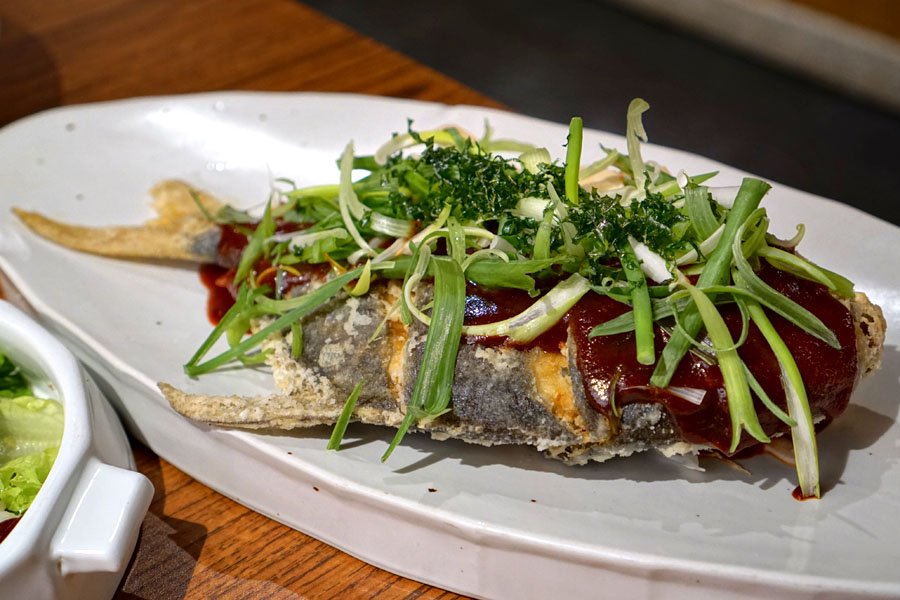 11: Grilled Scallops (Fried Fish) / Gwanjagui Yoli
The menu advertised "grilled scallops," but this obviously wasn't that (as the menu ostensibly changes seasonally). That being said, the fish worked it out, coming out properly crunchy, its mild taste supplemented by the sweet 'n' spicy nature of that sauce. I appreciated the contrast provided by all that greenery up top, too.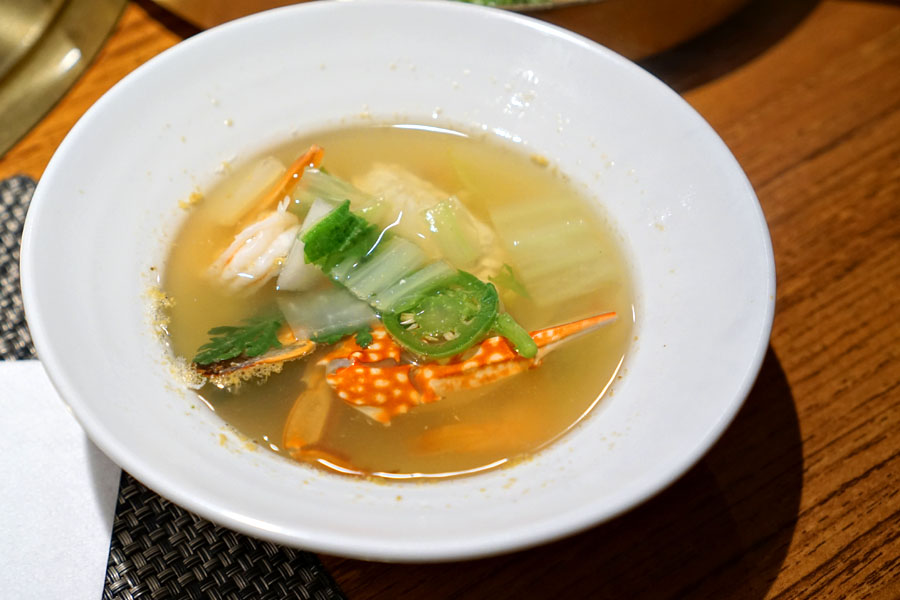 12: Boiled Clam Soup / Baeghab Nabetang
I'm not sure if the soup had the advertised clam, but I quite enjoyed it nevertheless. The crab imparted a cozy brine, and I was quite fond of the soup's growing heat as well.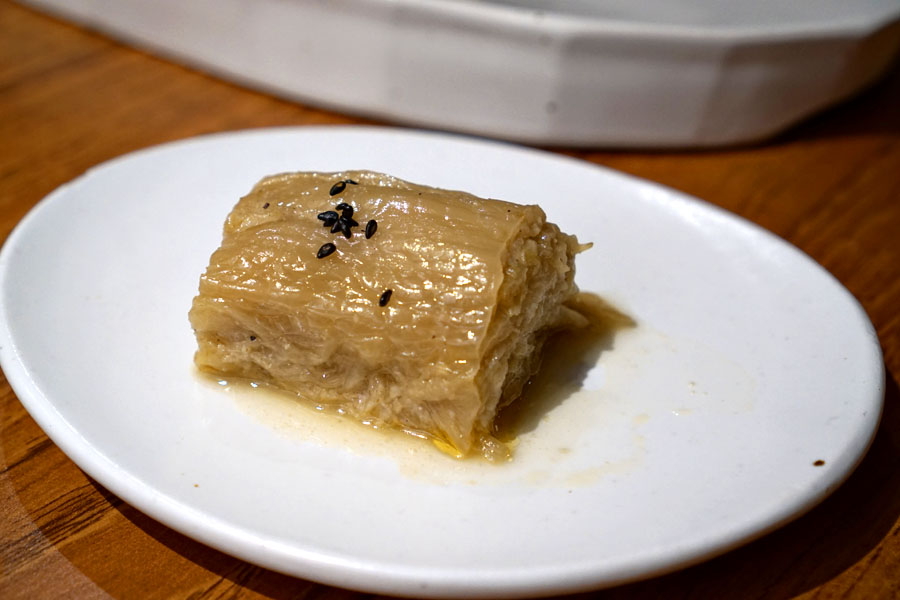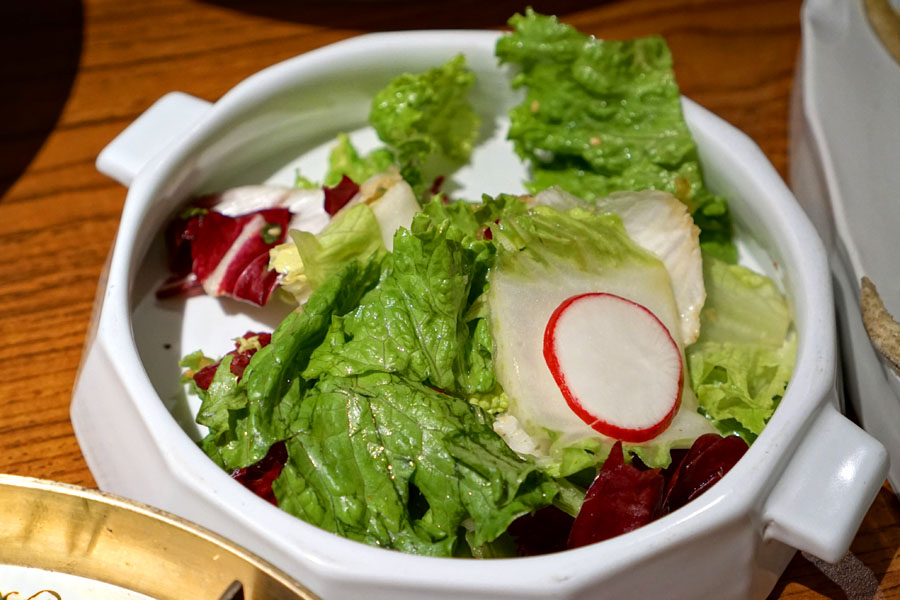 13: Side Dish Vegetables / Gyeotdeulim Yachae
Next we were served what our server described as "
nurungji
-fermented kimchi boiled in stock." I don't think I'd ever had anything quite like this before, as it tasted extra funky, with a nutty, almost "muddy" quality to it. Along with the kimchi came a romaine lettuce salad, which was simple enough, and had some pleasant spicy and sesame notes.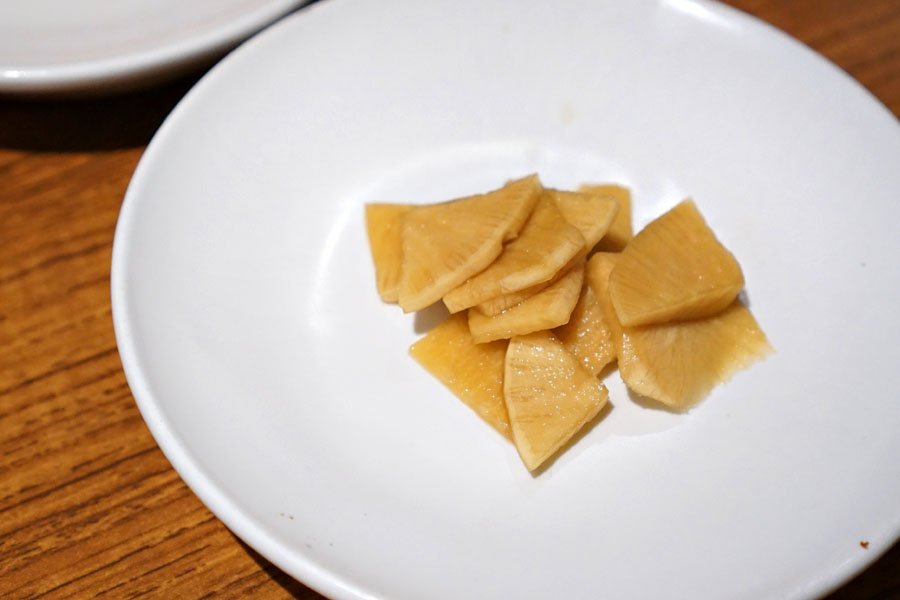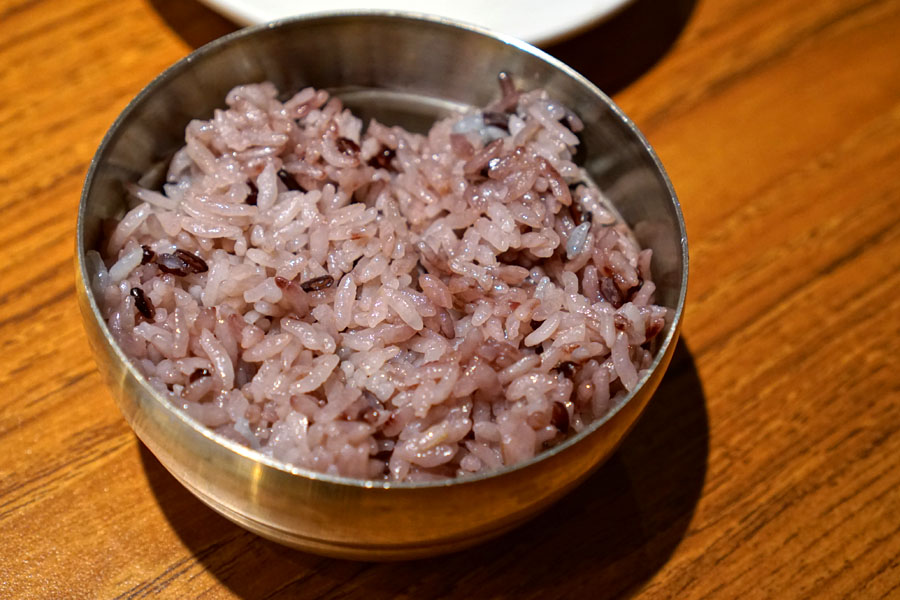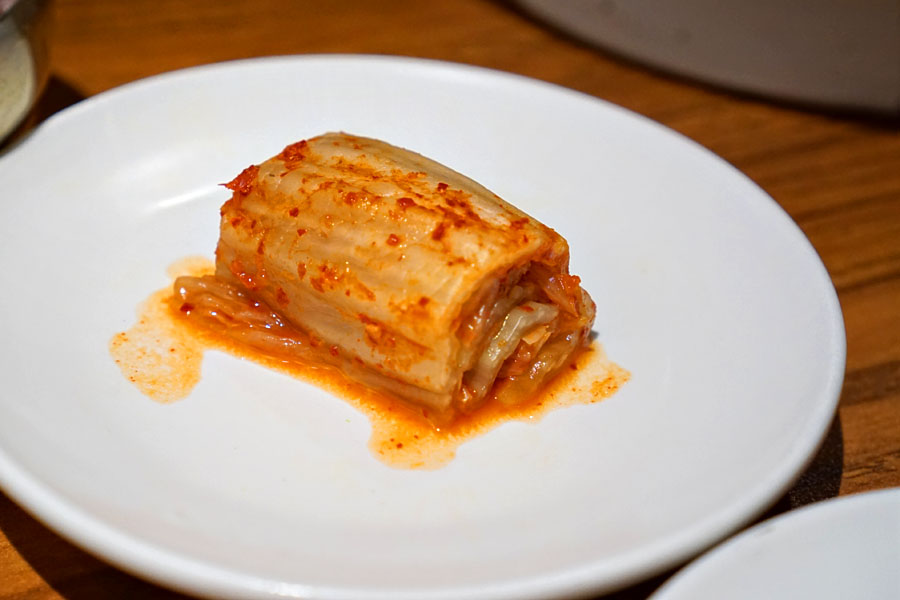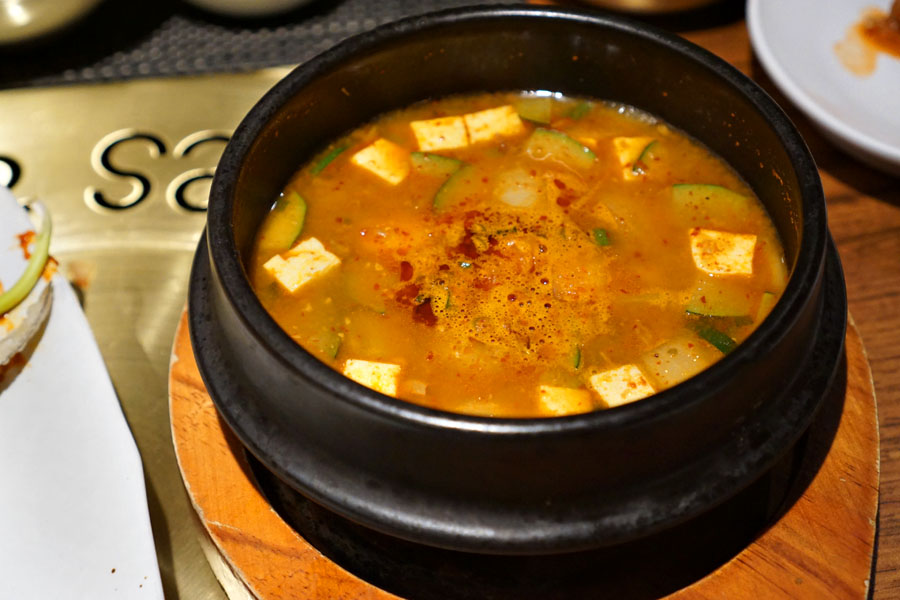 14: Ban-sang / Gaeinsigsa Bansang
Bansang
basically refers to a main dish accompanied by rice and
banchan
, and tonight we were served
doenjang-jjigae
to close out our meal. The soybean paste stew hit the spot, and had seemingly more potency than usual.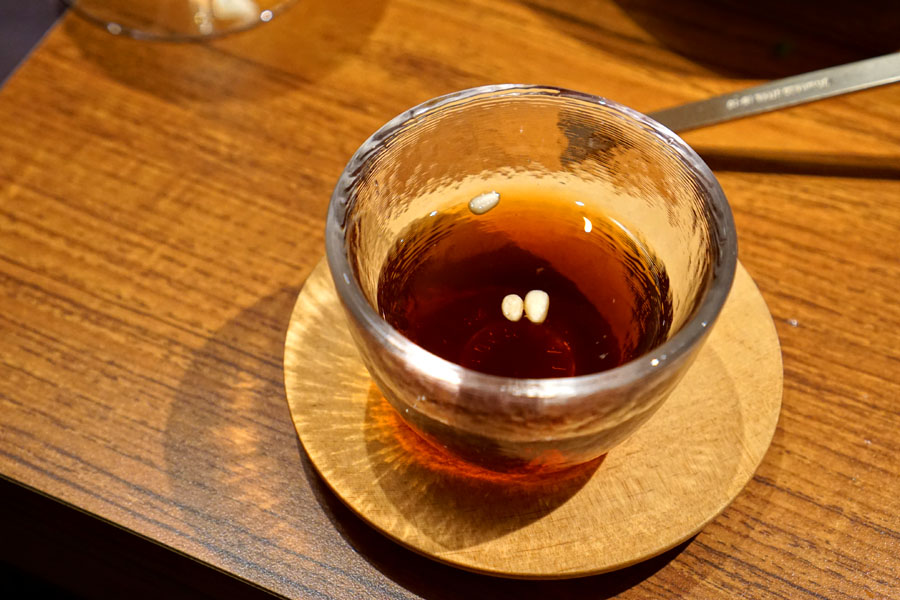 15: Dessert / Husig
Dessert comprised a glass of
sujeonggwa
, a sweet-n-spicy cinnamon punch. Note the pine nuts tossed in there.
I was generally satisfied with the evening's dinner. It's pretty rare to encounter
han jeongsik
-style food at restaurants these days, so I'm glad that KyungBokKung is attempting it. We enjoyed a wide variety of dishes, some of which are not often seen, and the meal seemed like a good value too--we couldn't even finish all the food and ended up taking some home. Overall, given the level of the meal tonight, I'm actually curious about going back and trying the barbeque here.