Sushi Ginza Onodera (West Hollywood, CA)
Sushi Ginza Onodera Los Angeles
609 La Cienega Blvd, West Hollywood, CA 90069
323.433.4817
www.onodera-group.com/sushi-la
Fri 11/16/2018, 08:35p-11:40p

The Los Angeles sushi scene got a big boost with the launch of Ginza Onodera in December 2016. The
edomae
-style spot is part of the Onodera Group, a family of Japanese restaurants sporting various concepts in various cities: Tokyo-Ginza (sushi, teppanyaki, tempura), Shanghai (sushi, teppanyaki, tempura), Honolulu (sushi, teppanyaki), New York (sushi), Paris (teppanyaki), London (varied). There used to be a sushi outpost in Hong Kong as well, but it's since closed, and the company even runs a sushi academy. Onodera Group, meanwhile, is part of the larger LEOC, which was founded in 1983 and mainly focuses on the institutional catering market. The business is run by Hiroshi Onodera (the founder's son), and is actually affiliated with the Mitsubishi family of companies as well as Sodexo (the French food services giant), interestingly enough.
In any case, the kitchen here in LA is run by Executive Chef Yohei Matsuki, who apparently spent 13 years working at a
sushi-ya
at Tsukiji fish market before joining the Ginza Onodera team in both Shanghai and NYC. Our
itamae
tonight, however, was Shunpei Takizawa, who works on Matsuki's far-left and also spent time at the NYC location. There are two seatings a night--6:00 and 8:30--while the cost of the meal is set at $300, which includes service but not tax. This gets you a roughly two dozen-course meal consisting of a variety of
zensai
followed of course by multiple servings of
nigiri
.

Ginza Onodera resides in a newly-constructed building that also houses E.P. & L.P., basically right across the street from
Rosaliné
. The interior is sparse, and consists mainly of a 16-seater sushi bar constructed from 200-year-old Japanese cypress (
hinoki
) sourced from Mie Prefecture.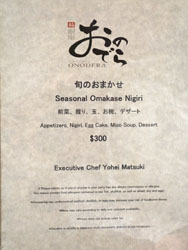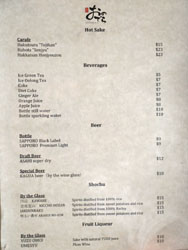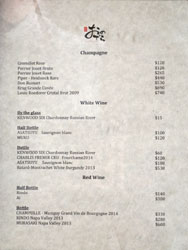 There's not much to say regarding the menu: it's $300, end of story. Drink-wise, you'll find a pricey selection of sakes, a small but also pricey wine list, a handful of beers, and a couple shochus. Corkage is advertised at $50 a bottle. Click for larger versions.
The corkage situation, unfortunately, wasn't so simple. In fact it was off-putting, and ended up marring our experience. The problem was that they don't allow you to bring bottles that are on their list,
regardless of vintage
, which goes against everything we'd encountered at any restaurant before (the same wine can vary greatly in quality and price depending on the vintage). We had a bottle of Cristal that was a different year than the one on the wine list, and, after some back-and-forth, the staff decided to charge us a $100/bottle corkage fee, which we refused. The whole situation was exacerbated by the ridiculous pricing of their wine list, which often hovers around 4x retail (that $740 bottle of Cristal on the list can be purchased for $190). Their sake list is only slightly less offensive. Case in point: the Dassai Beyond sold here at an insulting $1600 is
literally half the price
at
Manpuku
(where I'd dined just days earlier).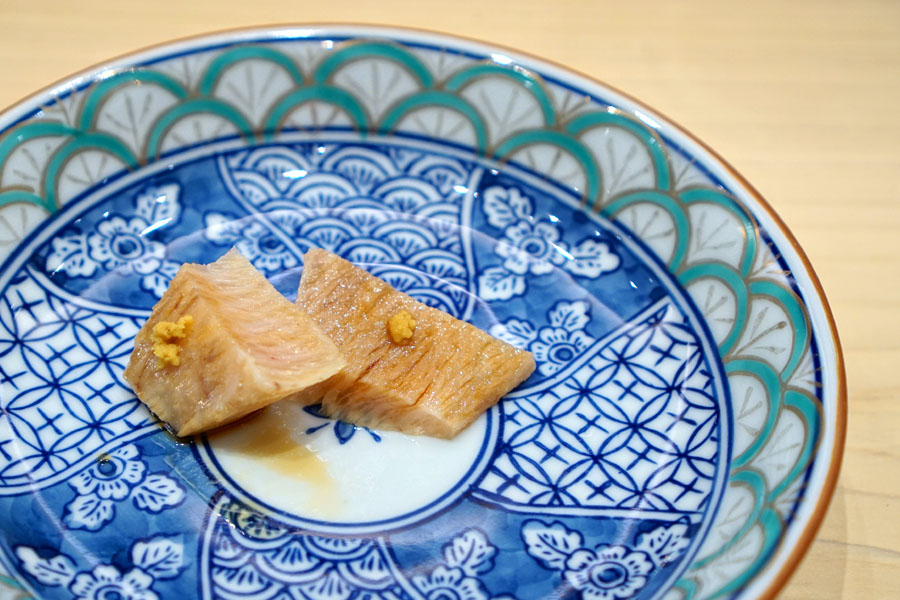 1: Buri Toro
The corkage quarrel made for an uneasy start to the meal, but fortunately these two cuts of yellowtail belly helped smooth things over. The fish was every bit as fatty as your standard toro, but with a more pronounced brine and a rich, soy-fueled depth accented by the pungent heat of
karashi
on the finish.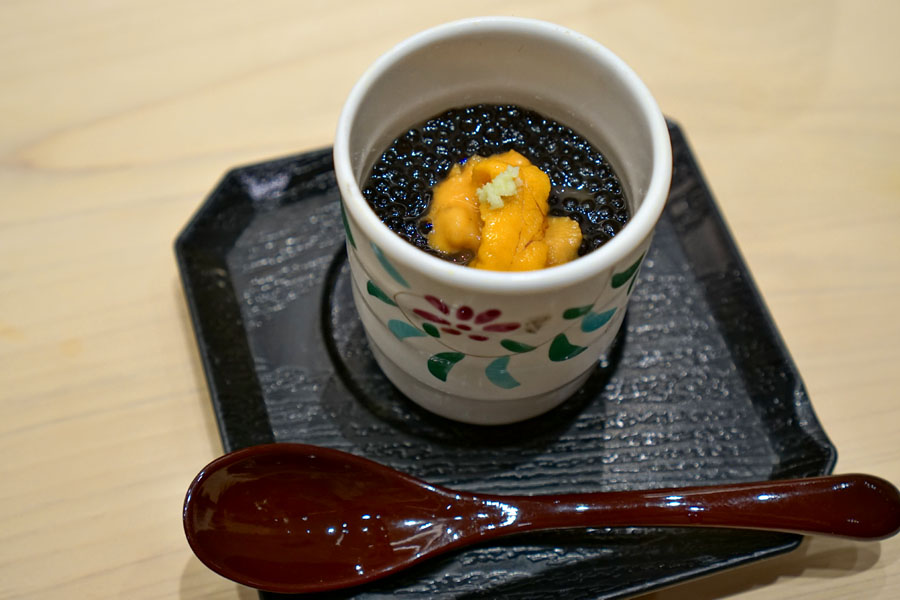 2: Uni Chawanmushi
Our
chawanmushi
course was a cozy one, and featured a slippery egg custard doused with plenty of umami and enhanced by the saline sweetness of Hokkaido uni. My favorite part? The pops of salt bringing up the rear, courtesy of all that Italian caviar.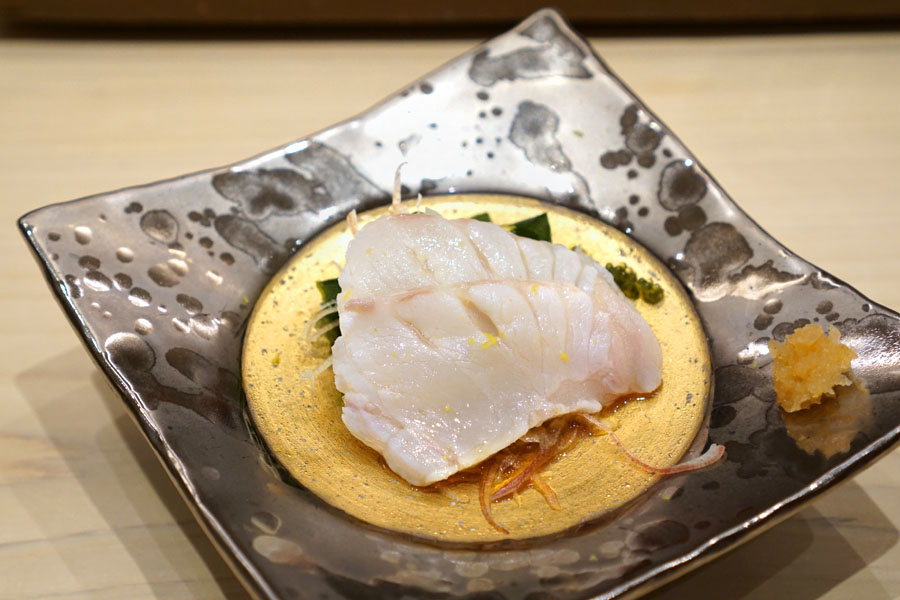 3: Kue Shabu-Shabu
Here we had something I rarely see on menus in LA: kelp grouper, prepared shabu-shabu style (or poached). The fish was delightfully textured, coming out supple, substantial, with a definite "rareness" to it. The tartness of the paired ponzu was a great match, as was the acidity, spice, and brine of all the other elements on the plate.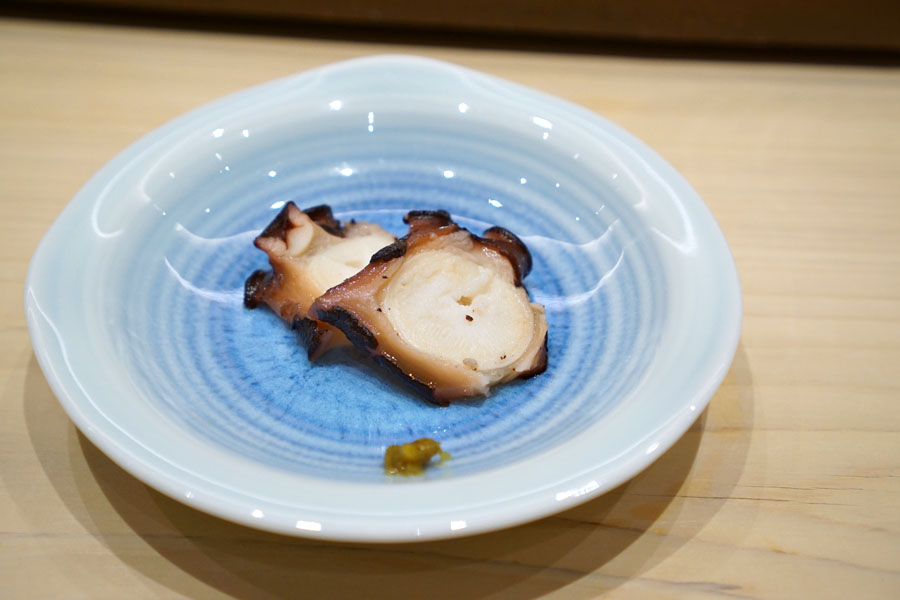 4: Tako Ashi
These were tender slices of
hojicha
-roasted octopus. I loved the sheer savoriness of the legs, and you could really taste the toastiness of the tea. Excellent counterpoint from the
yuzukosho
, too.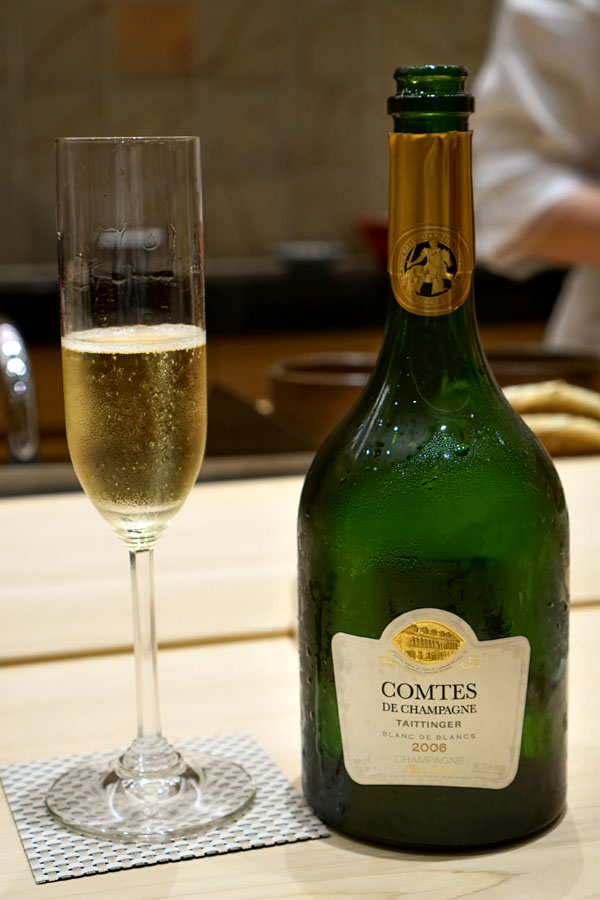 We ended up being able to open only a single bottle of wine, the
2006 Taittinger Champagne Brut Blanc de Blancs Comtes de Champagne
, and paid the standard $50 for the privilege. It had very appealing aromas of vibrant yellow fruit and honey, alongside a slight tinge of bread. The nose, though, belied the palate, which was dry and toasty and mineral-forward, with far less fruit character, a bit of booziness, and a smidge of citrus zest on the close. This one still has plenty of years to go.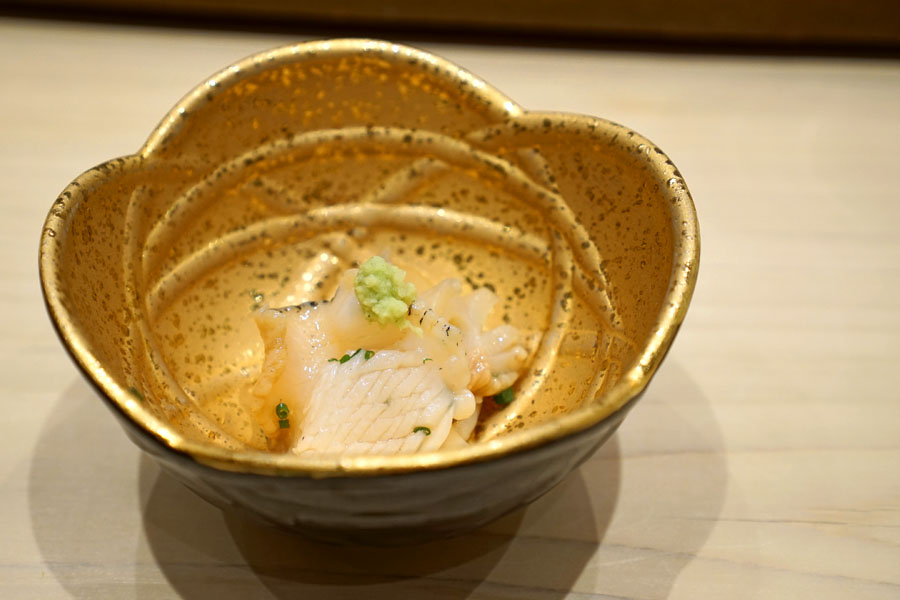 5: Tsubugai
This was another rarity:
irizake
-marinated whelk. The roasted sake really made itself known at first, but this quickly led to the unmistakable oceany funk of the sea snail along with a well-placed heat from the wasabi. One of my dining companions stated that this was the best
tsubugai
he'd ever had, and I'm inclined to agree with him.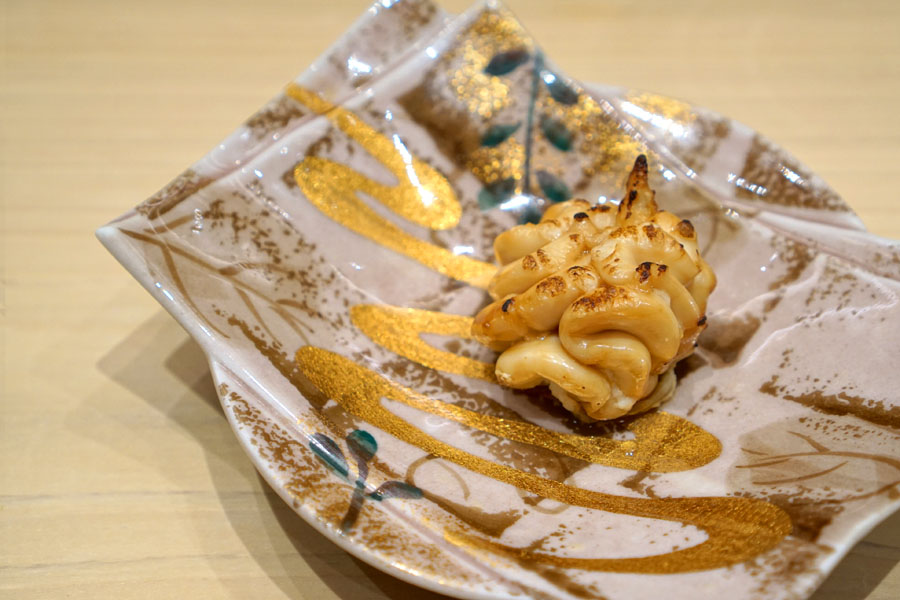 6: Shirako
This odd-looking fellow was cod milt. It had a robustly savory, smoky, charred taste that matched perfectly with its creamy, almost "eggy" insides. It was pretty wonderful, and probably the best soft roe I've experienced thus far in all my years.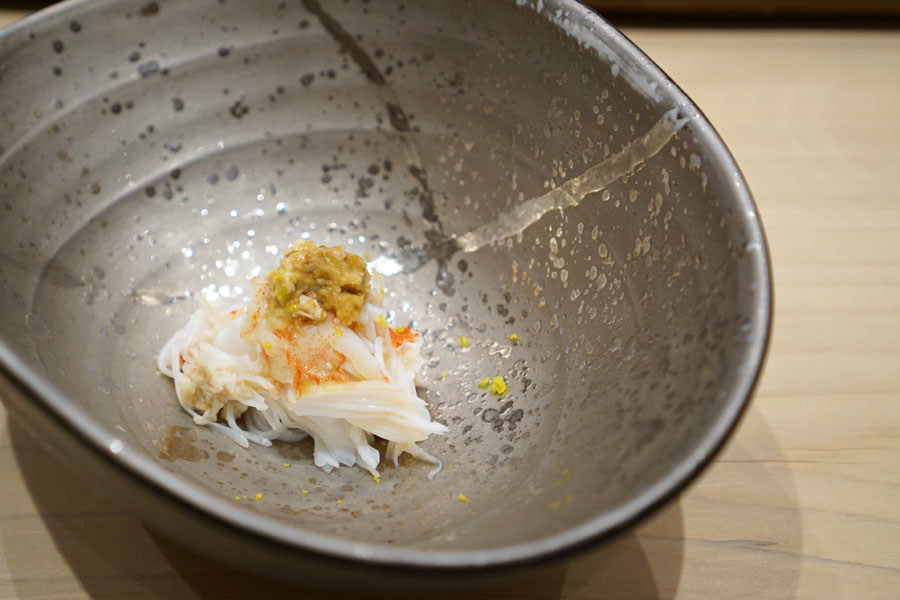 7: Kegani
Hokkaido hairy crab was super, super sweet, yet delicate at the same time, and took on the flavors of
kanimiso
(a heady condiment made from the innards of the crab) and yuzu zest beautifully.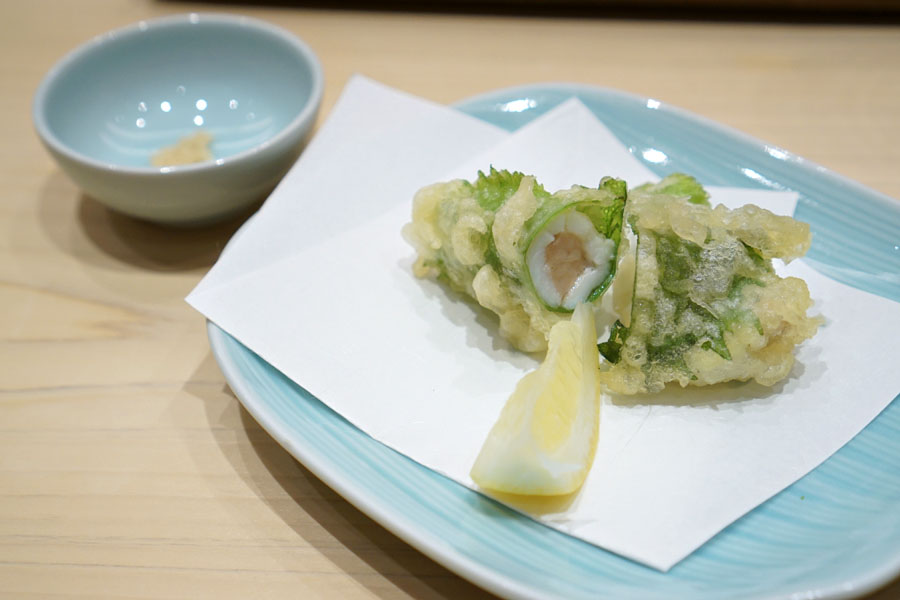 8: Amadai Tempura
Tilefish was served in lightly battered tempura form. The interaction between the lemon and salt worked effortlessly over the savoriness of the fish, all while the mintiness of shiso came through on the finish. Very nice.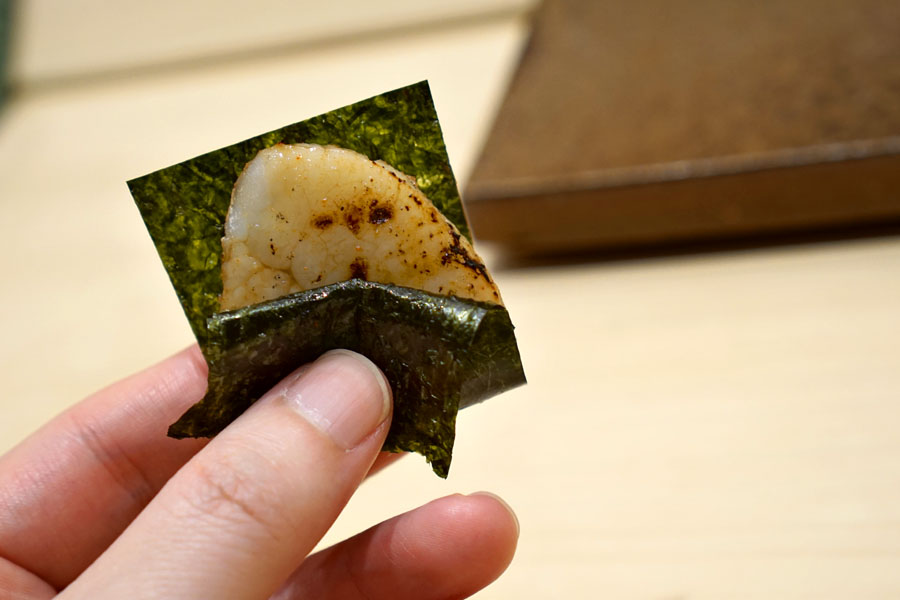 9: Tairagai
The pen-shell clam was another standout. I found the meat almost "juicy," with a healthy dosing of salt, char, and spice, all counteracted by the umami notes of its seaweed wrapper. A marvelous little bite.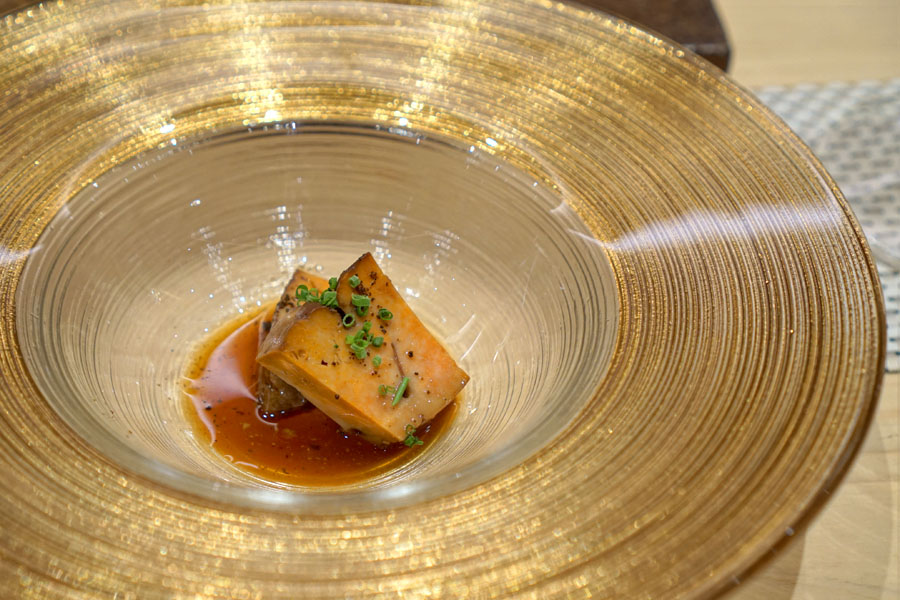 10: Ankimo
Massive chunks of monkfish liver were braised in red wine, which is apparently a signature preparation of the restaurant's. Texturally, it was super creamy and definitely softer than usual--an almost tofu-like consistency I'll say. Flavors, meanwhile, were deep and oceany, but joined by a marked sweetness and fruitiness, which I'm guessing comes from the wine.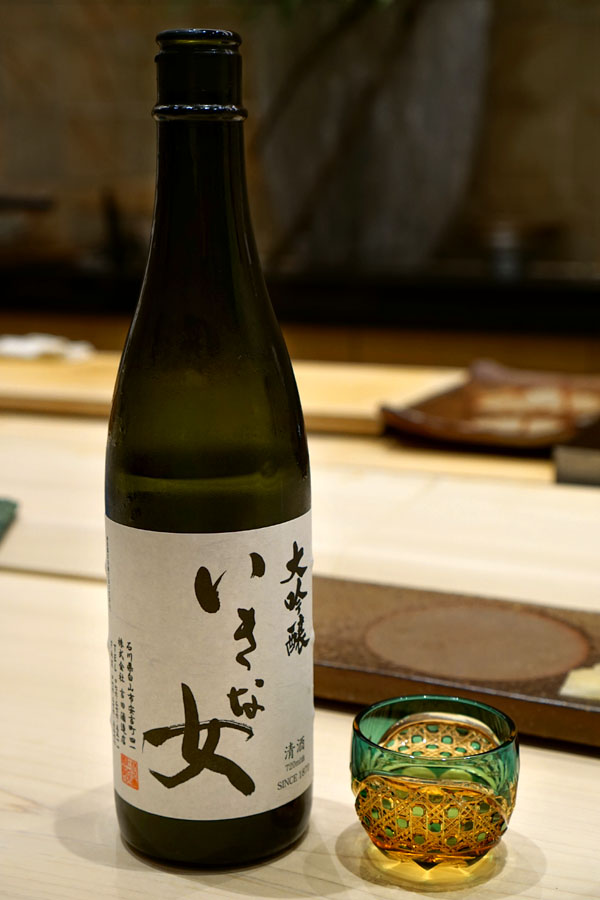 With the wine dispensed with, we went for a bottle of
daiginjo
sake, the
Tedorigawa "Ikina Onna", Ishikawa [$128]
. The nose on this one was something else, giving up massive notes of banana all over the place. The palate I found thick, smooth, round, with more sweet fruit (melon?) and rice backed by some alcoholic heat.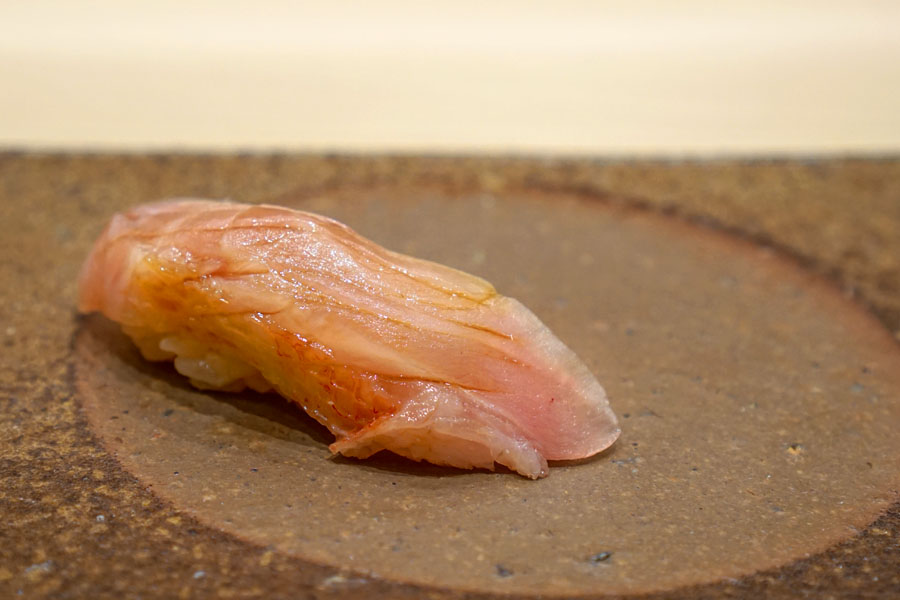 11: Kinmedai Kobujime
Our parade of sushi began with one of my favorites: golden eye snapper. It had a delightfully meaty bite, and the brush of soy made total sense with the lingering umami flavors from the fish's kelp treatment. I also appreciated the temperature contrast from the somewhat warm, semi-loose, not-that-sticky rice, as well as the counterpoint from the
shari
's slight acidic, sour twang.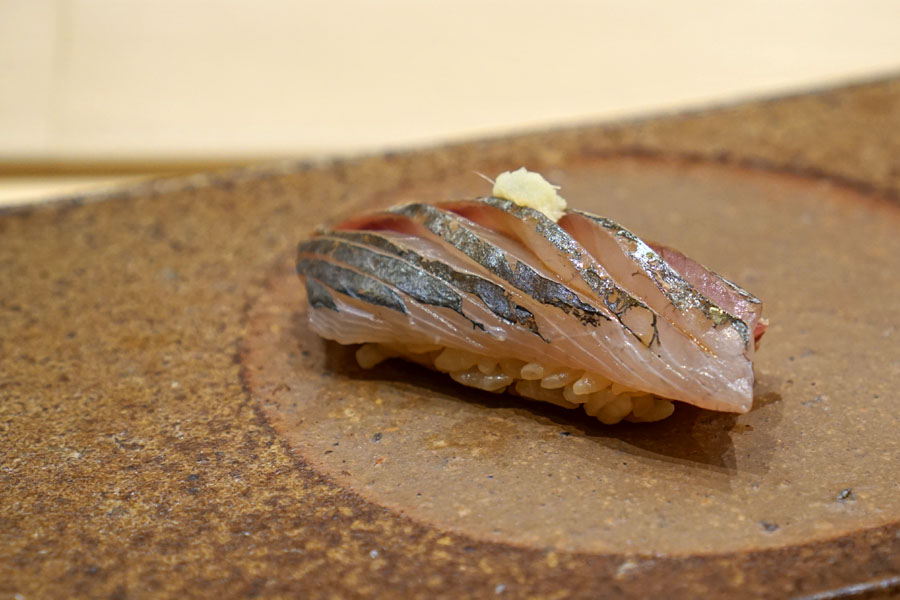 12: Aji
Here was line-fished mackerel from Hyogo Prefecture's Awaji Island. The fish was slicker, oilier than usual, but also more clean-tasting, and had its signature brine going great with that bit of ginger up top.
13: Kuromaguro-Zuke
11-day aged bluefin from Boston really took on the richness and savoriness of its soy marinade, so the rice was absolutely crucial for balance.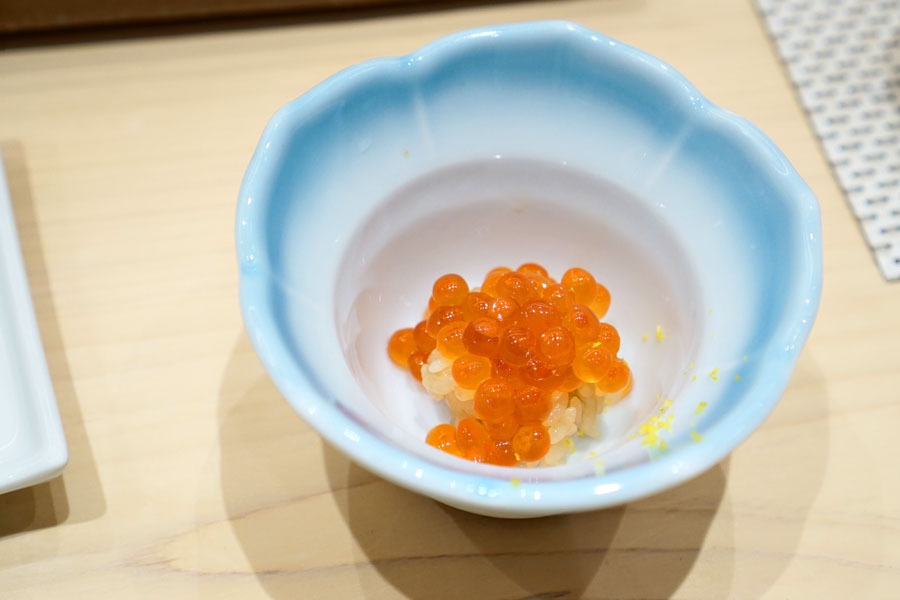 14: Ikura
Salmon roe was as smoky and salty as we expected, and went great with its accompaniment of yuzu zest.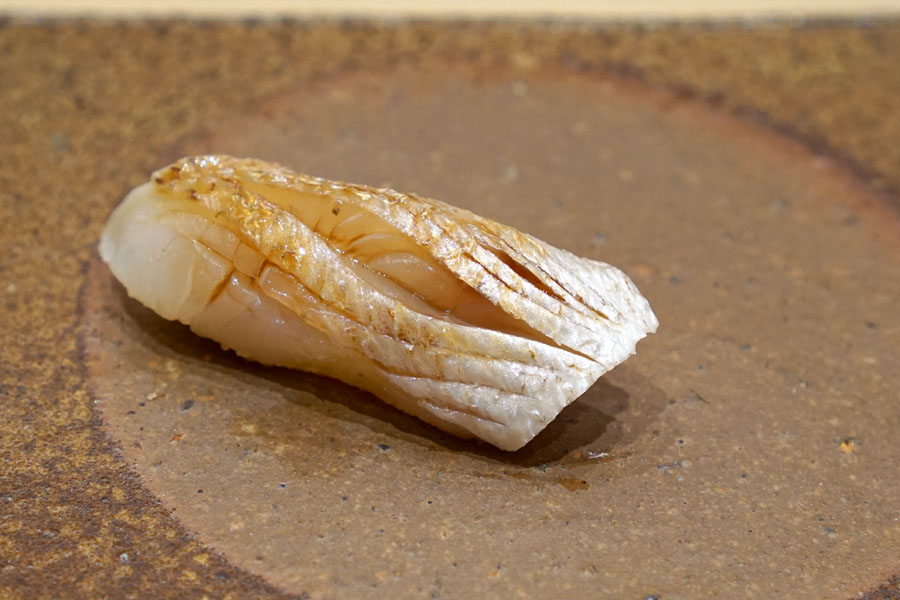 15: Kasugo Dai
Young sea bream was given a
kohada
-style vinegar treatment. The result was a tender
neta
, one with a super intense sweetness finishing with a palpable, but finessed brine.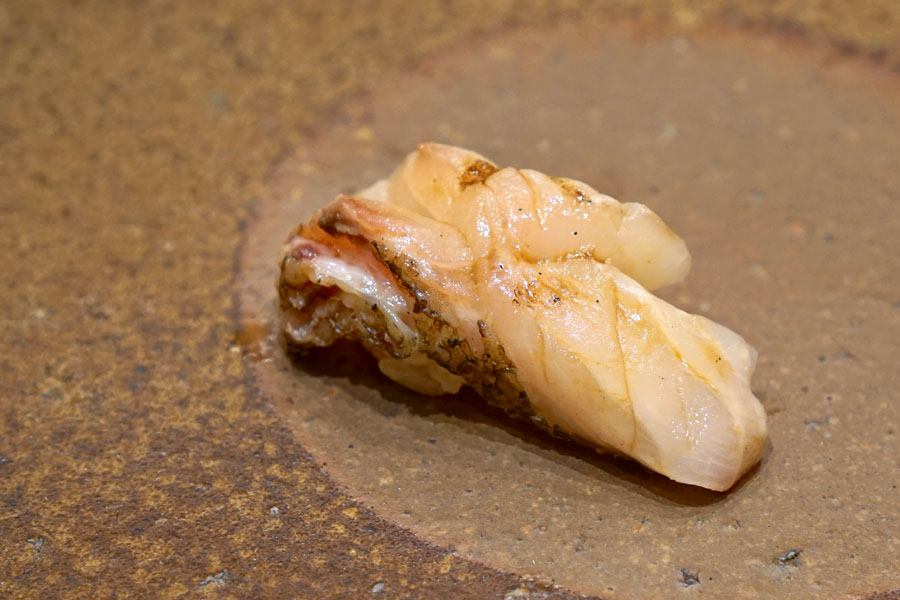 16: Nodoguro
Also known as
akamutsu
, the blackthroat seaperch was another favorite. It had a lush, creamy consistency, while flavors were wonderfully smoky and savory, yet refined and well-balanced by the rice.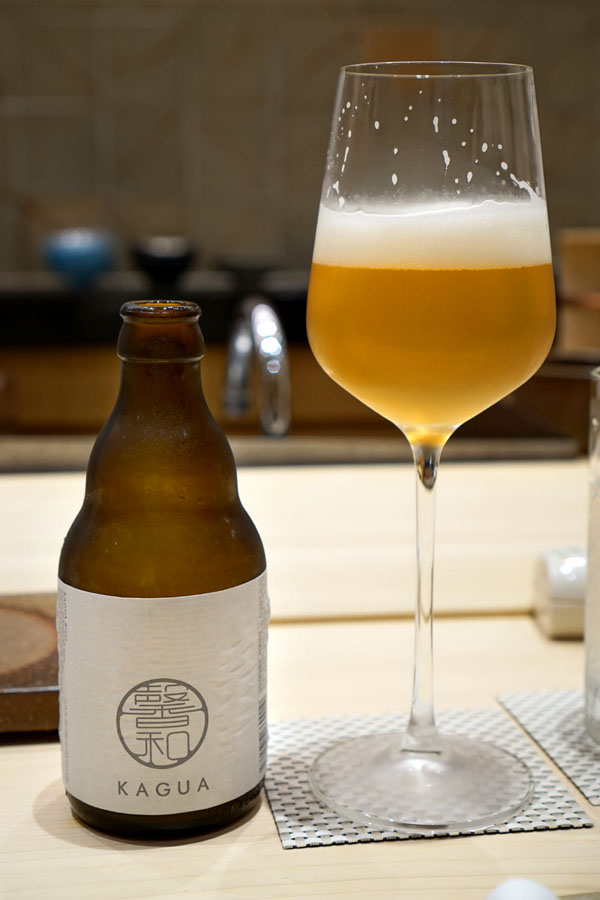 Next to drink was the
Kagua Blanc [$18]
, a Belgian-style golden ale with yuzu and
sansho
. It had loads of citrus on the nose, along with some tea-like aromatics. The taste was again citrusy and spicy and yeasty, and quite true to its Belgian inspiration.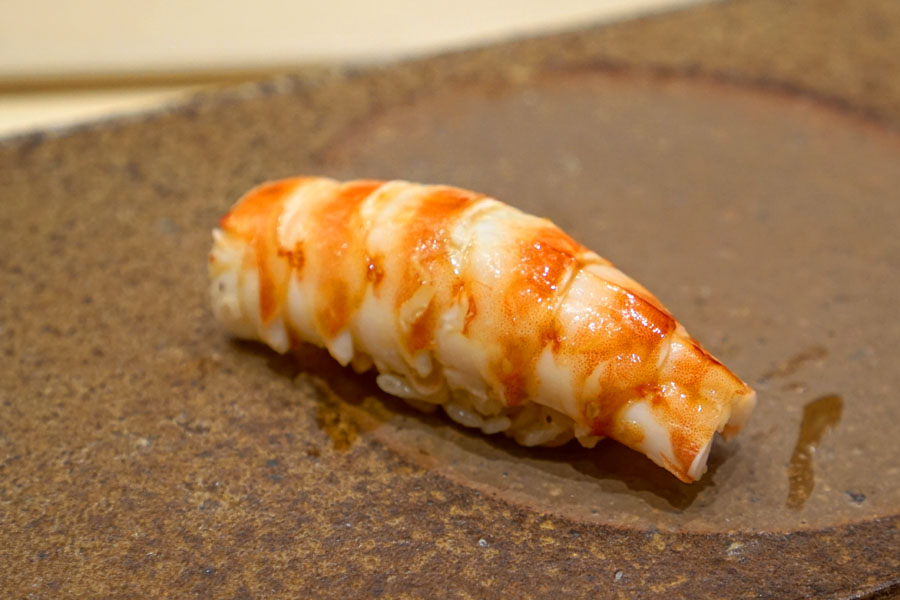 17: Kuruma Ebi
Meaty, snappy tiger shrimp from Kagoshima displayed an almost corn-like sweetness, one evened out by the soy and wasabi.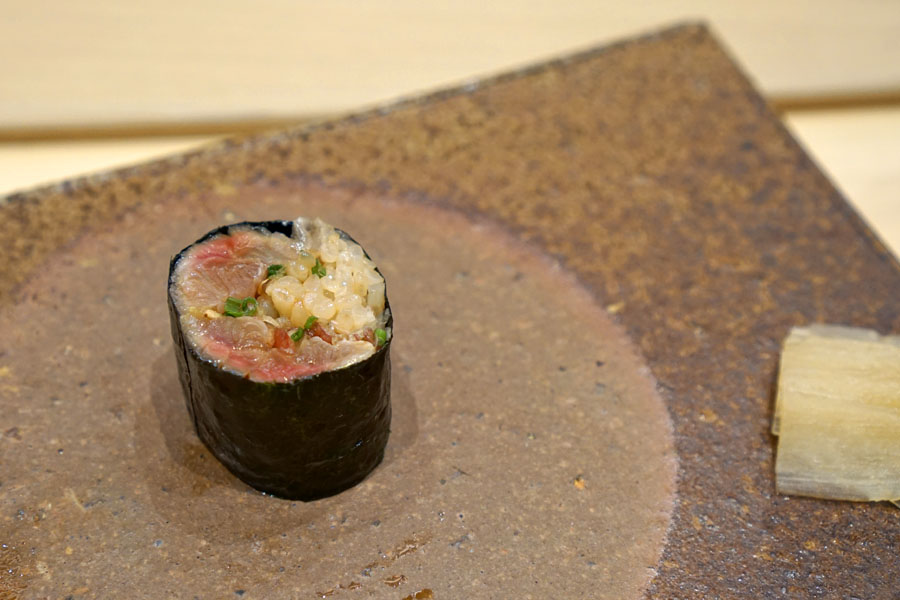 18: Sanma Maki
Mackerel pike made for an excellent
makizushi
filling, its super oily, smoky savor working great alongside the tartness of
myoga
and the brightness of shiso.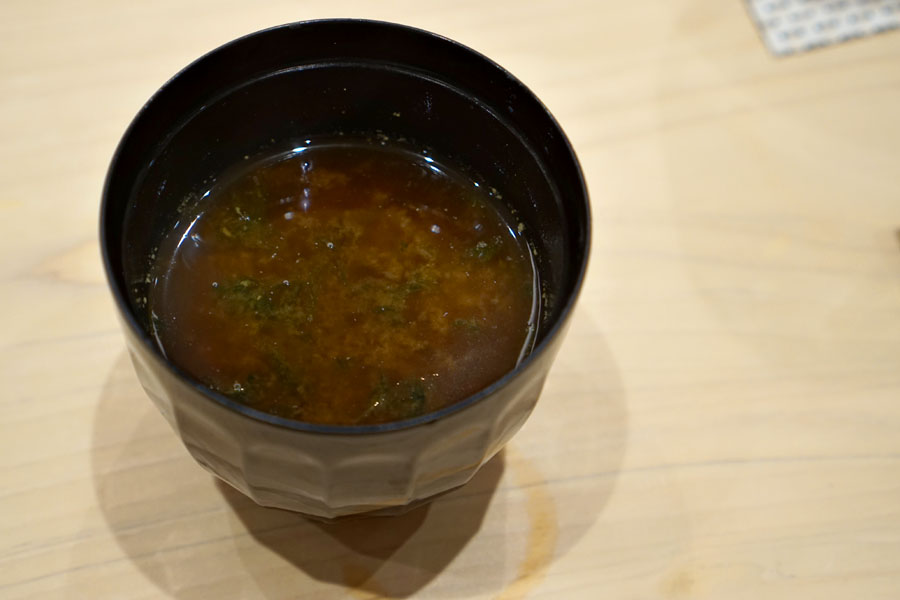 19: Miso Shiru
The requisite miso soup was headier than usual, with more pronounced umami notes and a particularly intense sweetness.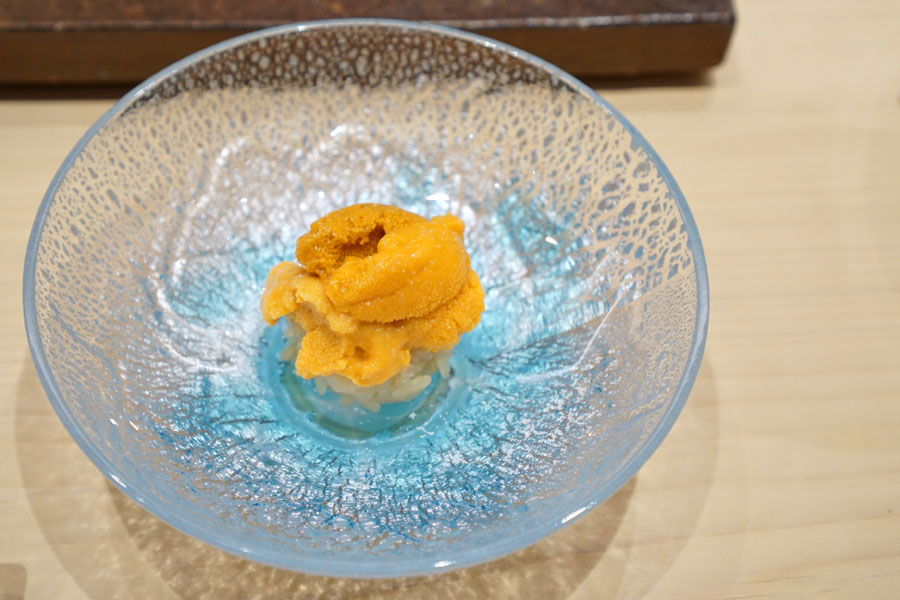 20: Hokkaido Bafun Ensui Uni
Salt water-stored sea urchin from Hokkaido ate super sweet and creamy, and had a somewhat medicinal finish that linked up well with the rice.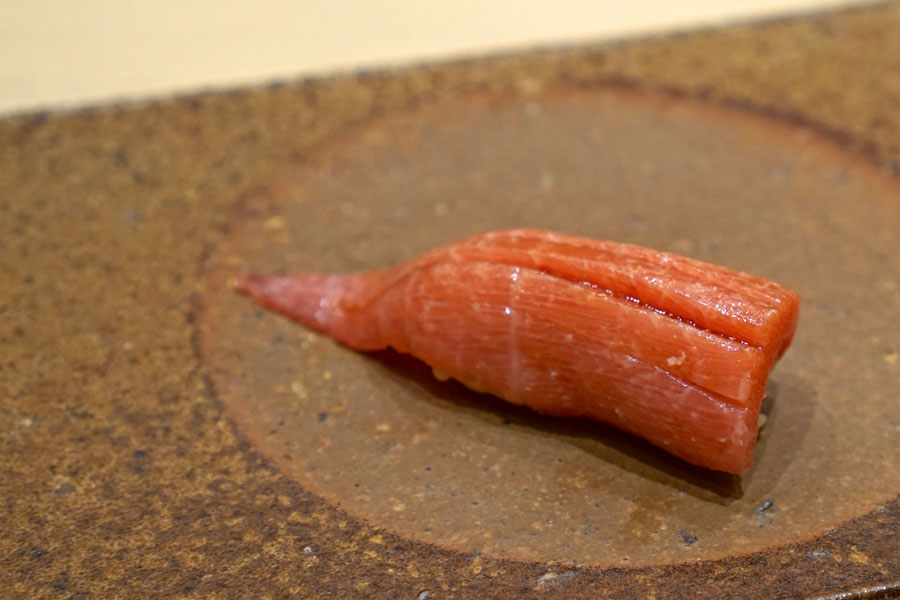 21: Chutoro
Tuna belly was a perfect marriage of fish, fat, and soy, all moderated by the rice. Wonderfully balanced, and one of the richest-tasting chutoros I've had for sure.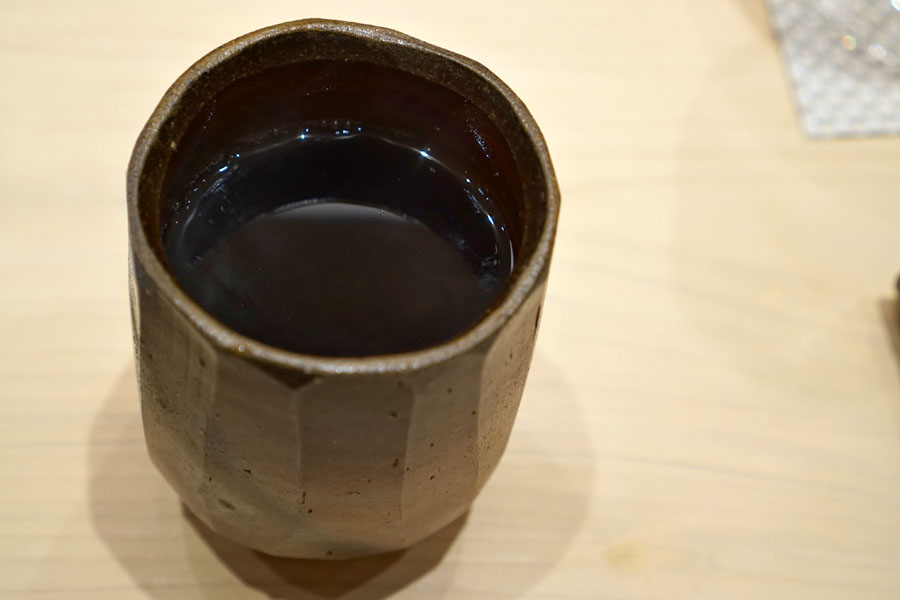 A complimentary serving of
hojicha
signaled that the meal was coming to an end.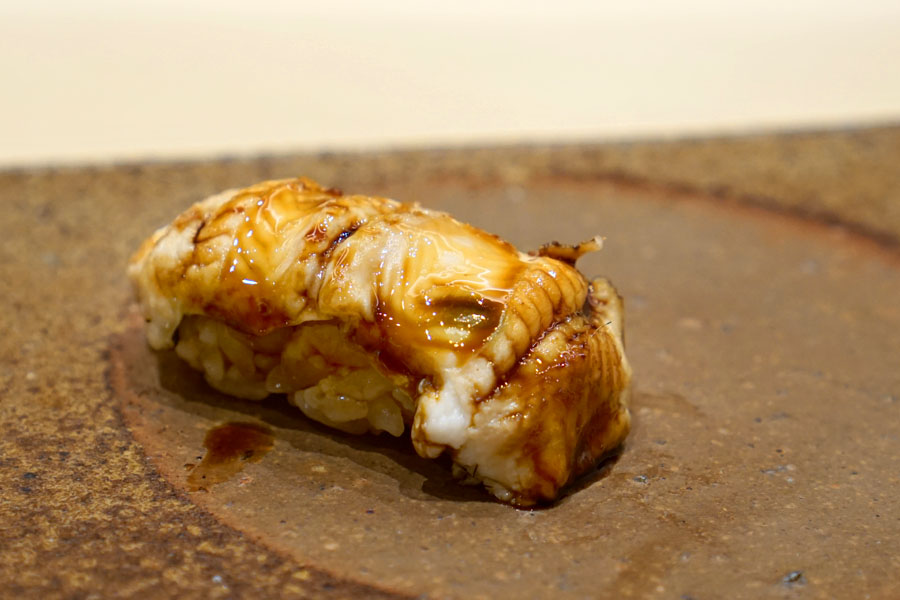 22: Anago
Sea eel from Tsushima Island conveyed a restrained sweetness and a nearly melt-in-your-mouth consistency.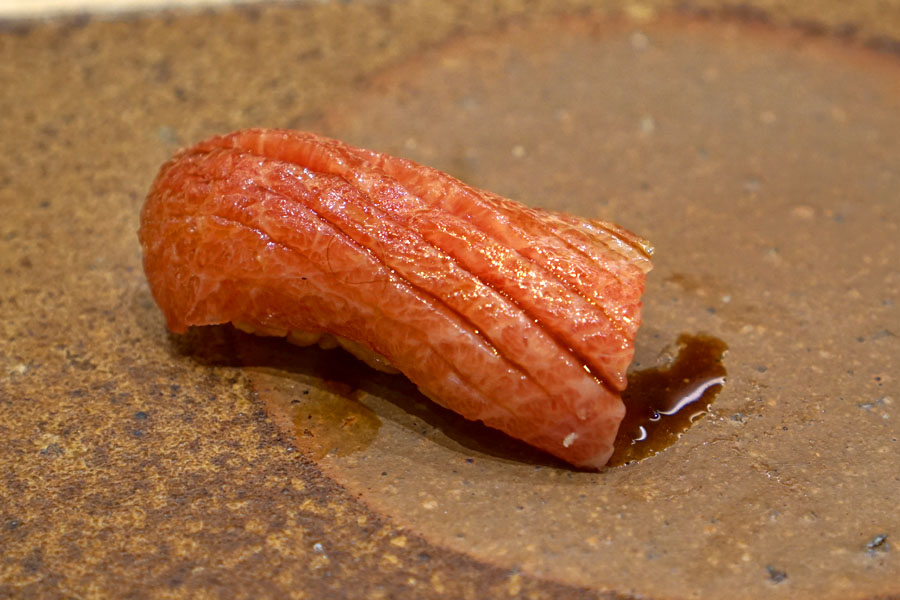 23: Kamatoro
Tuna cheek/collar was a treat, and something you really don't see all that often. I found it perhaps the sweetest of all the fish we had tonight, as well as the fattiest. A luxurious, over-the-top cut that made for a fitting conclusion.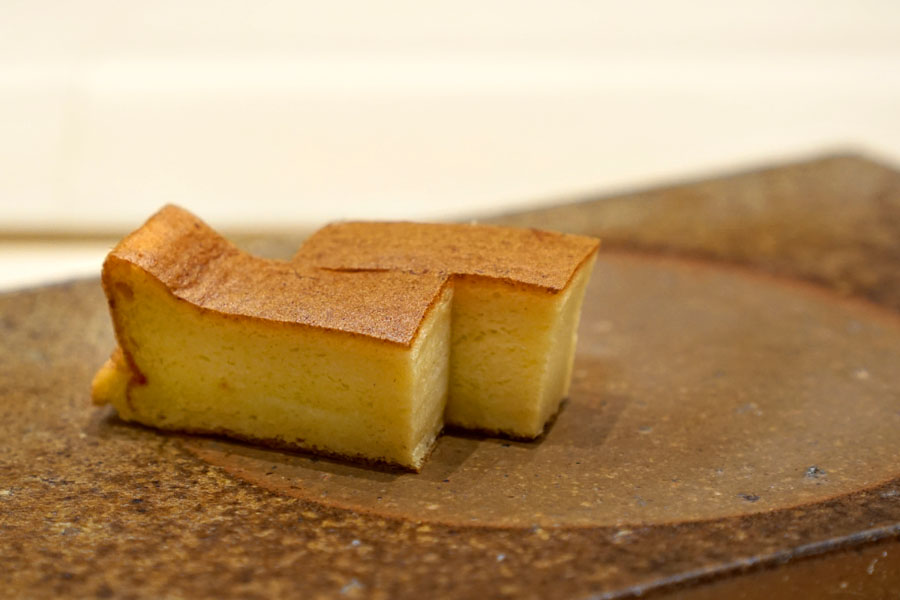 24: Tamago
Made with shrimp and yam, a castella-style tamago had a relatively airy consistency, and ate sweet and briny.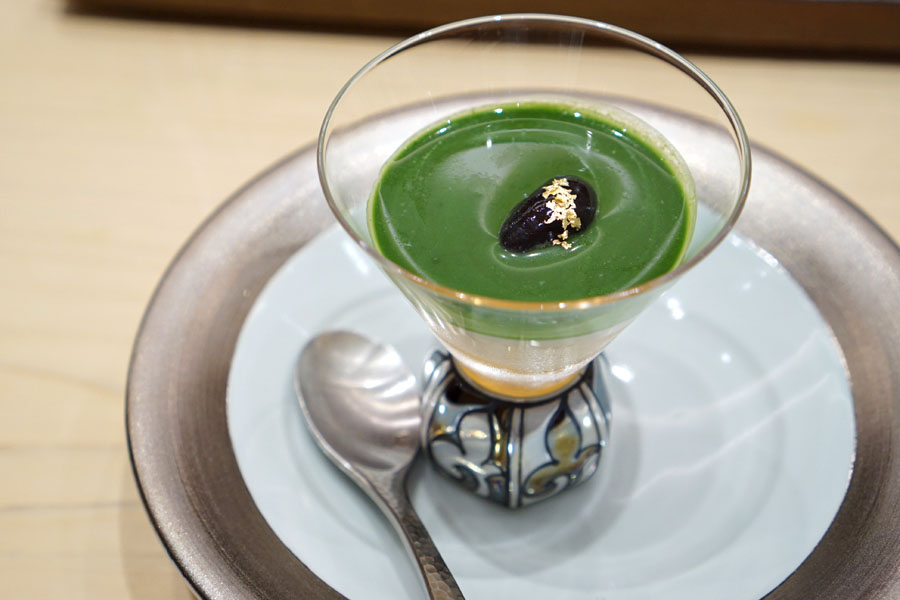 25: Matcha Blancmange
Dessert comprised a
blanc-manger
, one with a coconut-y character that went quite well with the bitterness of the matcha sauce, all while the black bean contributed a sugary exclamation point to it all.
The cooking at Ginza Onodera, I have to say, was excellent--some of the best sushi in the Southland no doubt. Ingredients were top-notch, and I really have trouble finding much fault at all with the food. As good as the fish was, perhaps the most notable thing here was the rice. I'm told that they use lots of two year-aged
akazu
(red vinegar) in the
shari
-making process, which gives the rice a noticeable brownish tint. It also gives it a stronger, sweet-n-sour sort of flavor profile that caught my attention more than most. The rice also seemed slightly more "al dente" than many other examples, which I also didn't mind. My only concern was the inhospitable corkage policy mentioned above and the way it was handled, which left a bad taste in my mouth and would give me pause about returning.