Hock + Hoof (Los Angeles, CA)
Hock and Hoof Restaurant
517 S Spring St, Los Angeles, CA 90013
213.279.9983
www.hockandhoof.com
Wed 11/14/2018, 07:55p-10:10p

I recently paid a visit to Hock+Hoof, which I'd been mildly curious about for the better part of this year. The place is the work of Chefs/Owners Miao "Kat" Hu and Justin Yi, and grand-opened on May 7th. The partners both have a classical background, and aim to meld that with the many culinary traditions found in LA, with a particular focus on meaty, Asian-inspired creations.
About the Chefs
: Hu grew up in Nanjing, China, where she first began cooking alongside her grandmothers. She eventually immigrated to the US and settled in the San Gabriel Valley, where she attended Arcadia High School and later the CSCA/Le Cordon Bleu in Pasadena. After graduation, Hu managed to land a job at the Ritz-Carlton/JW Marriott at L.A. Live, where she cooked at Kerry Simon's LA Market from 2011 to the end of 2013. In January 2014, she relocated the Bay Area to become sous chef at Chris Yeo's Straits, a Singaporean-ish eatery in San Jose's Santana Row district, but would spend fewer than nine months there. She moved back to SoCal at the end of September that year and secured a sous position at the Arts District's seminal French bistro
Church & State
. However, Hu transitioned over to
Café Pinot
the following February. Then, in September 2015, she went back up north to serve as Chef de Cuisine at Roots & Rye (replacing Jason Hahn), another Chris Yeo project at Santana Row focusing on American cuisine and whiskey; that gig lasted until October 2016.
Yi, meanwhile, grew up in Las Vegas, where he was exposed to Korean cooking at home and Mexican cooking at his parents' swap meet food court. He graduated from Green Valley High School in 2010, and from there, went on to the Culinary Institute of America, where he attained an AA degree in 2012. While at the CIA, he interned at Bouchon at The Venetian back in his hometown. In March 2013, Yi began working at
David Chang
's Má Pêche as a line cook, but only stayed for about four months. In the early part of 2014, he started private cheffing, then made his way to LA and became sous for
Patina
Restaurant Group's operations at LACMA. At PRG, he was responsible for working the Los Angeles Food & Wine Festival, which took place at the end of August 2015, and it was here where he would
me
et
his future business partner. Yi left PRG soon after, and spent that September consulting at Propiedad Pública, an Italian restaurant in La Paz, Bolivia. In November 2015, he moved up to NorCal to work as sous chef for Hu at Roots & Rye.
The pair left Roots & Rye in October 2016 and went traveling together the next month, hitting up Nanjing, Chengdu, and Shanghai in China, as well as Cambodia, Vietnam, and Hong Kong. They were back in the Southland by the start of 2017, and, inspired by their travels, began planning for Hock+Hoof. Curiously, the restaurant appeared on
LA Weekly
's
99 Essentials
list in March 2018, which caused a minor controversy and called into question the paper's journalistic integrity given that the place wasn't even open at that point.

Hock + Hoof resides on the ground floor of Hotel Alexandra, specifically the twelve-story addition built in 1911. It occupies the former home of Tabachines Cocina, Ensenada Restaurant, and Mariscos Ensenada, which has been transformed into a cozy, casual space, replete with a green wall, white tile, and plenty of string lighting. Total dining capacity is around 75, including the patio out front.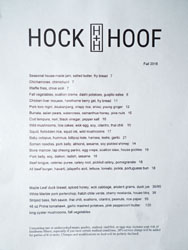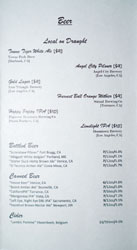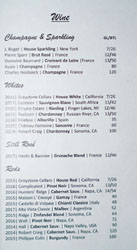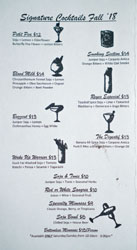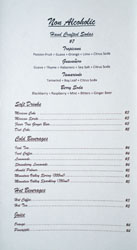 The menu's fairly diverse, but definitely has a meat-centric, Asian-y inclination as expected. There's a separate weekend brunch menu that looks rather appealing, and happy hour is also an option here. To drink, you get a compact wine list, six local beers on tap plus more in the can/bottle, and a soju-based cocktail list (since they don't have a full liquor license apparently). Click for larger versions.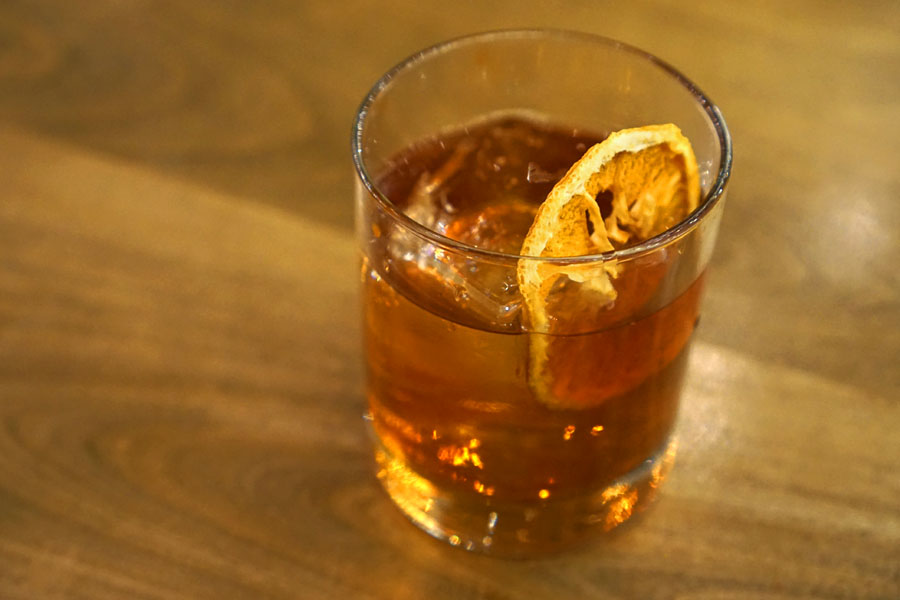 Smoking Section [$14.00]
| Juniper Soju + Carpano Antica + Orange Bitters + White Oak Smoke
I was drawn to this first cocktail due to its use of smoke. Said smoke came through in spades on the nose, where it was joined by sugary, almost maple-like notes. Taste-wise, I found the drink sweet, fruity, and really not very smoky at all, while the soju came through on the mid-palate.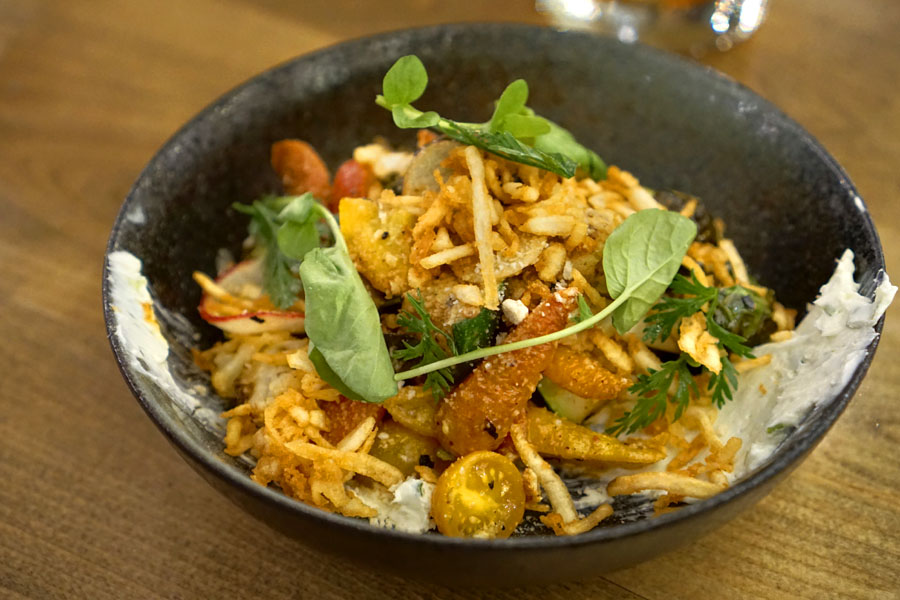 Fall vegetables, scallion creme, dashi potatoes, guajillo salsa [$9.00]
The veggies were enjoyable, each one coming out bright and unique, the zesty crema helping to bind everything together. My favorite part here was the savory crunch of what I believe was potato (or garlic?), and the herbs up top worked for contrast too.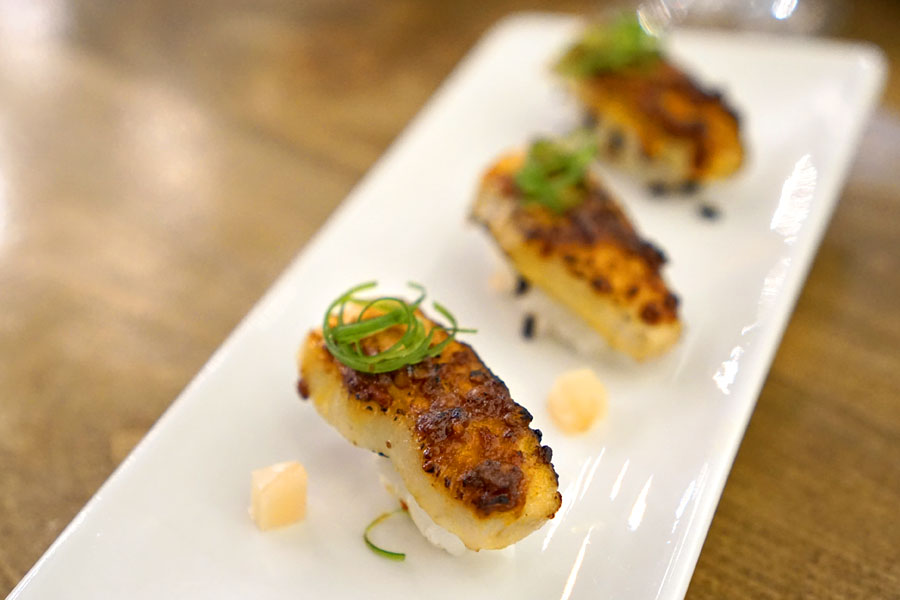 pork toro nigiri, doubanjiang, crispy rice, shiso, young ginger [$12.00]
These were fun little bites. The
tontoro
showed off a sweet 'n' savory flavor profile at first thanks to the
douban
, with some heat and the sheer porkiness of the jowl coming in later. The rice did a commendable job moderating everything, and I was a fan of all the crispy bits here to boot.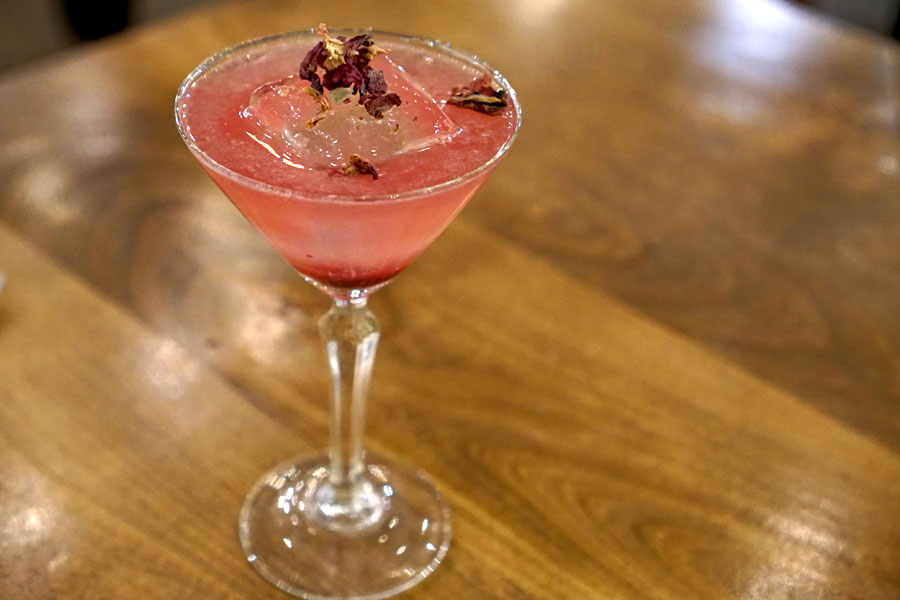 Petit Pea [$12.00]
| Soju + Lemon + Elderflower + Butterfly Pea Flower + Lemon Bitters
This vibrantly-hued cocktail tasted like it looked: sweet-and-sour for the most part, but with a marked floral character bringing up the rear.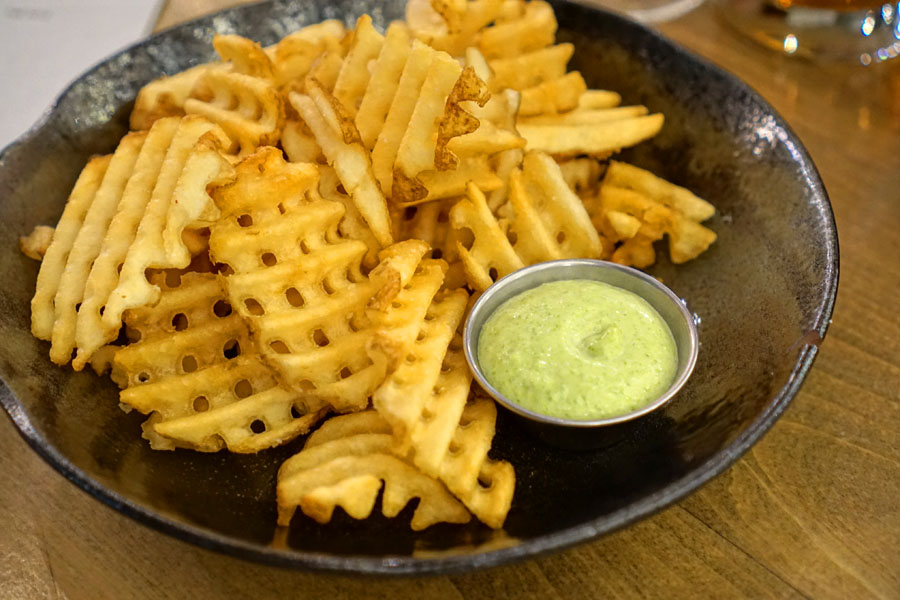 Waffle fries, chive aioli [$7.00]
Criss-cross fries had a light, crisp texture, though they could've used more salt when taken on their own. However, things did come together when the fries were dipped in that wonderfully zippy chive aioli.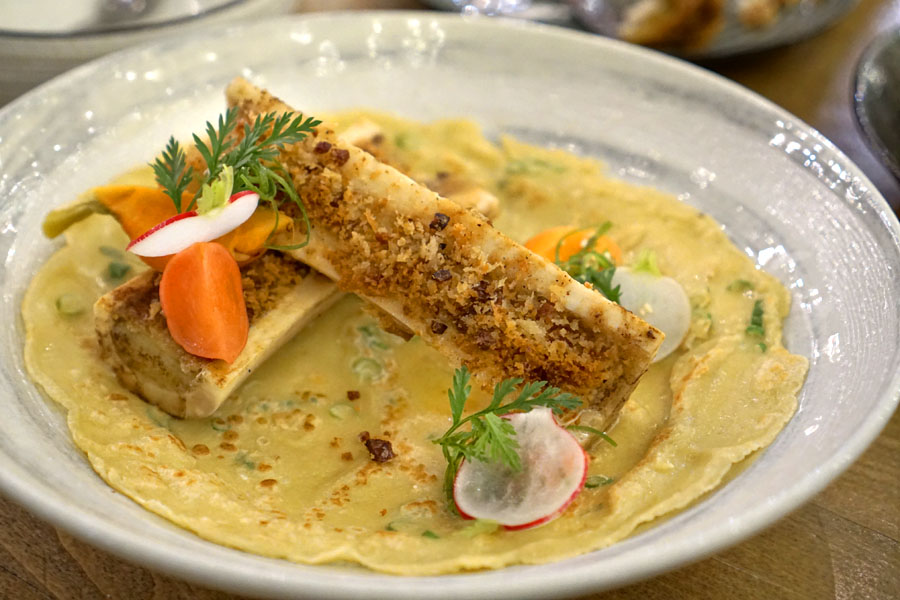 Bone marrow, lap cheong panko, egg crepe, scallion slaw, house pickles [$19.00]
We were instructed to scrape the bone marrow off onto the crêpe and eat everything together, which made for a unique presentation. The richness of the marrow really called for the acidity of the pickles for balance, while the pancake worked as a backdrop for it all. Interesting crunch from the panko breadcrumbs, too.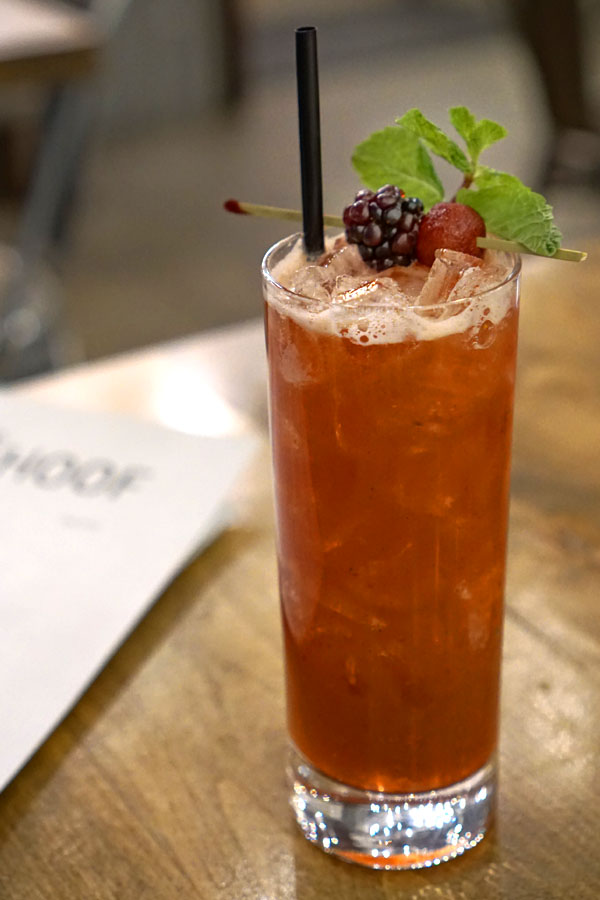 Reyes Especial [$13.00]
| Toasted Spice Soju + Lime + Tamarind + Blackberry + Demerara + Ango Bitters
Served in a collins glass, this cocktail went down easy with its strong fruity notes evened out by a nice touch of sweet spice on the back end.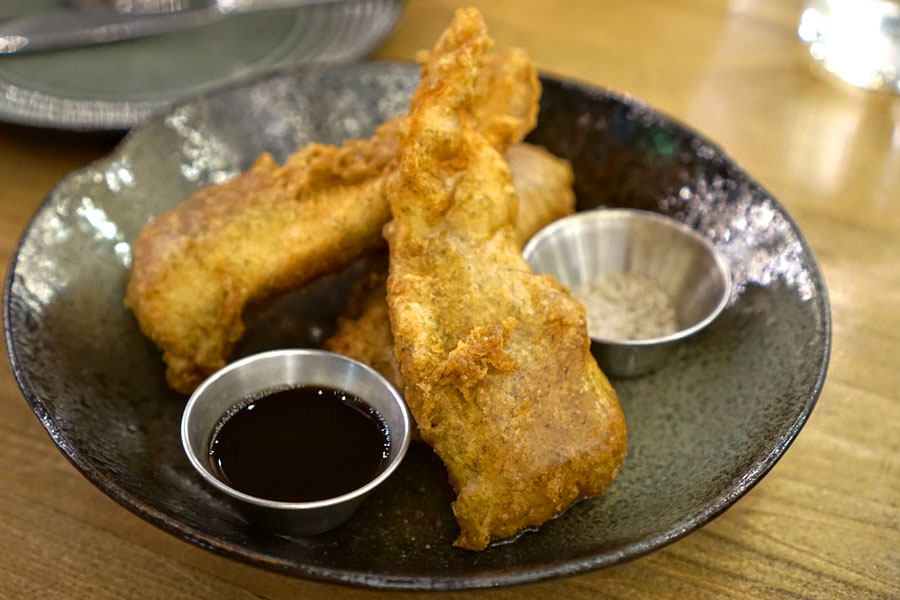 cod tempura, nori, black vinegar, pepper salt [$16.00]
Upon tasting this, I was instantly reminded of the Shanghainese staple
tai tiao huangyu
, and it turns out that it was indeed the inspiration behind the dish. It was actually my favorite item of the night. The fish was perfectly fried, coming out soft and flaky and juicy, with a wonderfully crisp batter laced with the salinity of sea moss. I found it delicious alone, but didn't mind a dab of S&P, either.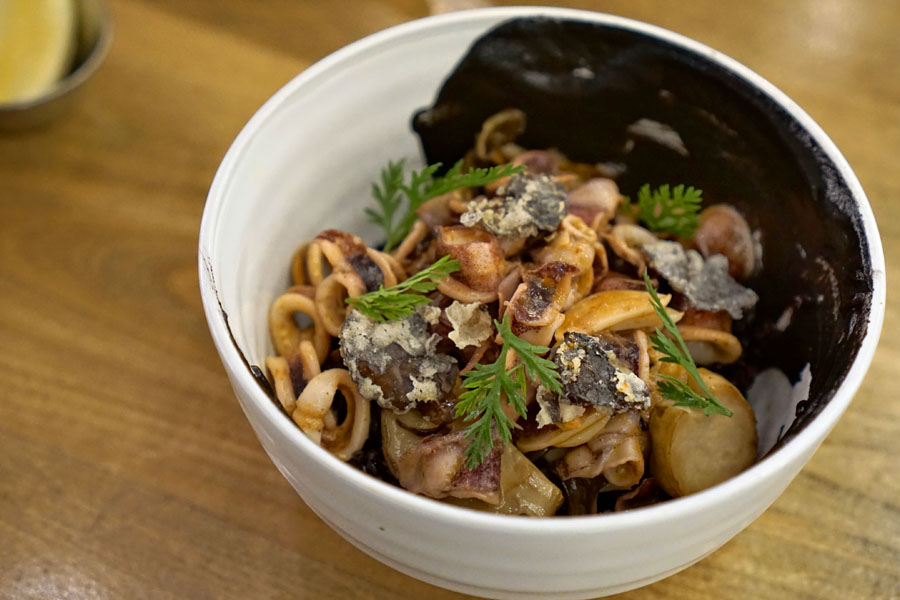 Squid, forbidden rice, squid ink, wild mushrooms [$17.00]
Squid arrived soft but snappy, with a light brine that was kicked up a notch by the heavy dosing of squid ink present. Mushrooms further amplified the oomph of the dish, so the herbs (of which I would've preferred more) were crucial as a counterpoint.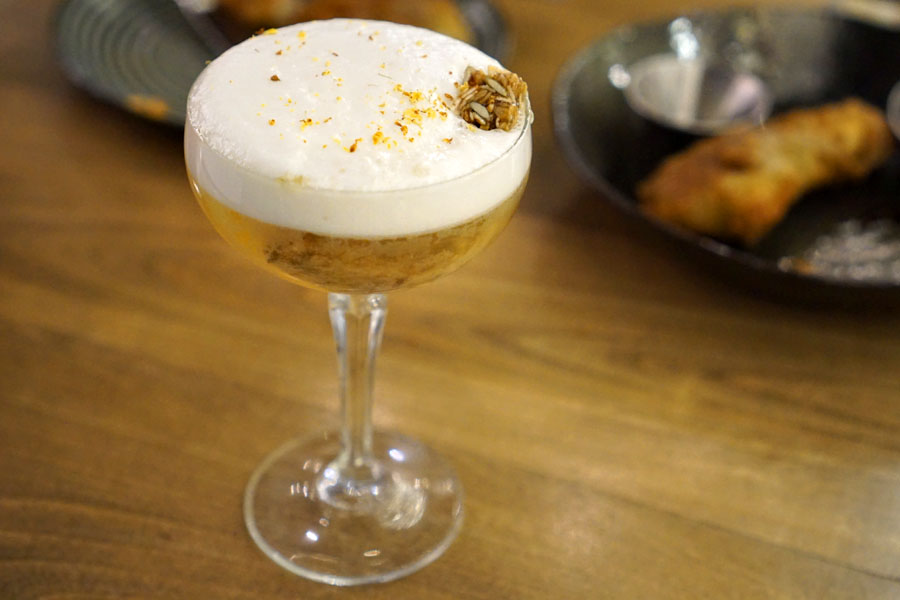 Buzzcut [$13.00]
| Juniper Soju + Lemon + Osmanthus Honey + Egg White
This cocktail showed off a super flowery foam that tickled our noses, while the taste was similarly soft, smooth, and floral, with a honeyed finish. Note that the drink was garnished with a chewy housemade granola, which quickly sank to the bottom of the coupe.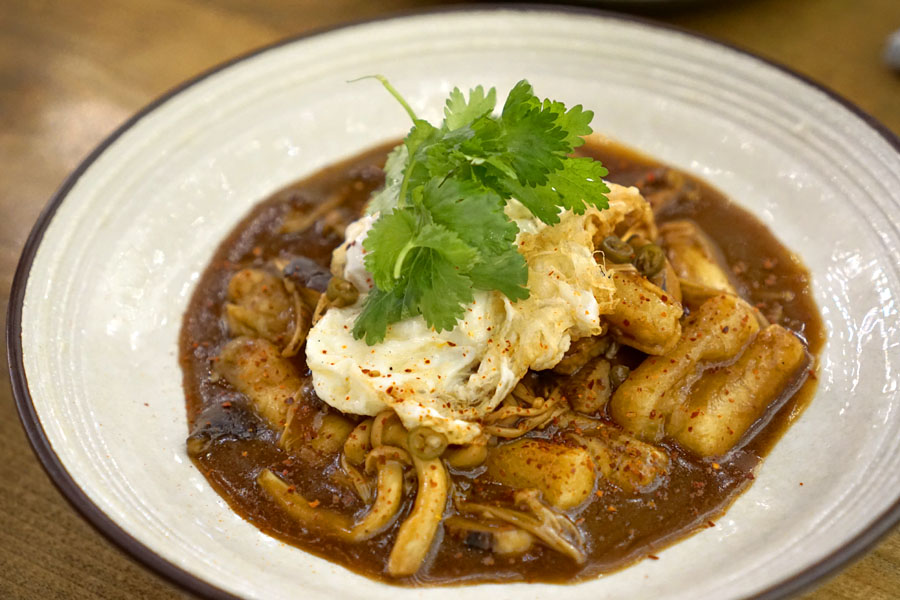 Wild mushrooms, rice cakes, wok egg, soy, cilantro, thai chili [$15.00]
I'm not sure, but
ganjang tteokbokki
might have been the inspiration behind this next dish. It was, unfortunately, the weakest item that we tried this evening. I simply found it overly salty/savory (like I needed to put it over rice), though the cilantro and egg did help temper things. Another positive was that the
garae tteok
and 'shrooms were on point texturally.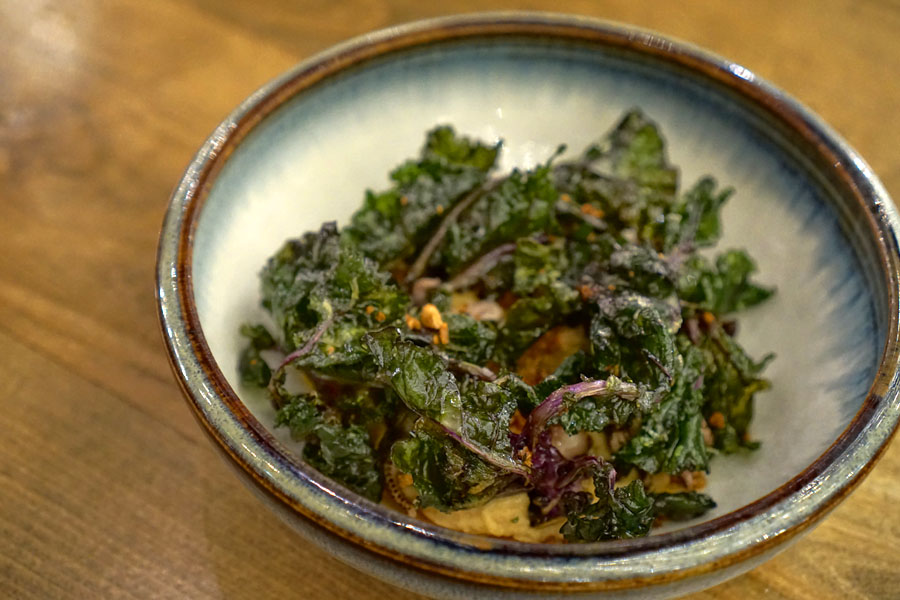 Baby octopus, hummus, lollipop kale, harissa, leeks, garlic [$21.00]
Our final savory was a another memorable one. I liked the contrast in texture between the firm-but-supple
jukkumi
and the smooth hummus. In addition, the garlickiness of the dish appealed to me, as did the bitterness from the kale (though I could've used less of it). Sort of an unusual combination, but it worked.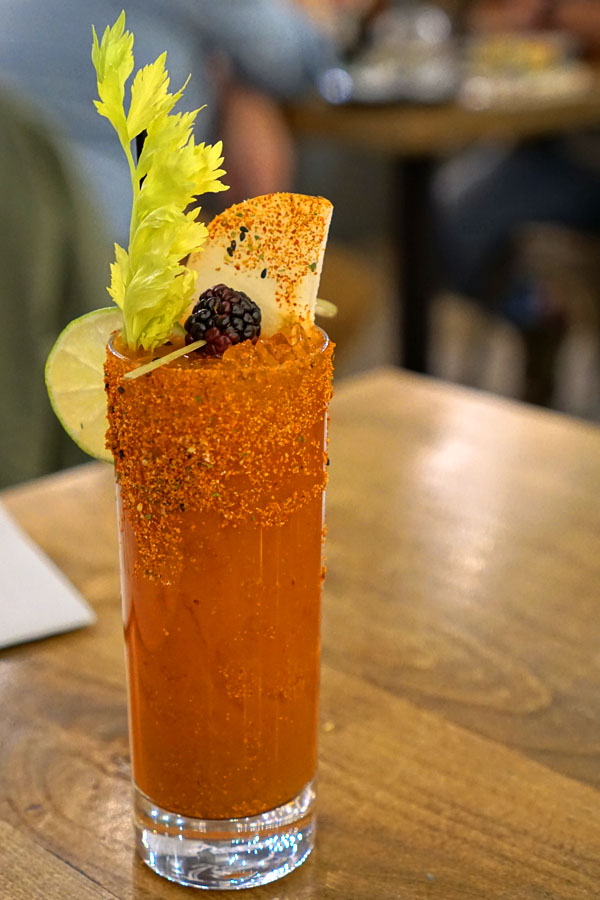 Wake Up Warrior [$13.00]
| Duck Fat Washed Soju + Tomato + Kimchi + Ponzu + Sesame + Togarashi
Here we had a take on the classic Bloody Mary cocktail. I'm actually not a huge fan of the traditional drink, but this was pretty good given that caveat. There was a finessed spiciness and savoriness present, but with a sweetness peeking through that was absolutely key. We actually found it somewhat reminiscent of
kimchi gukmul
.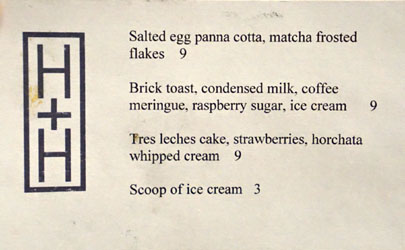 The dessert menu's definitely one of the more abbreviated I've seen, but that makes sense given that there's no dedicated pastry chef on the team (the owners do it all). Click for a larger version.
Tres leches cake, strawberries, horchata whipped cream [$9.00]
Tres leches is one of my favorite cakes, and this was a solid example. What made it more interesting was the horchata cream, which had a cinnamon-y spice to it that I was fond of.
Salted egg panna cotta, matcha frosted flakes [$9.00]
The key in this dessert was the interaction between the salty, savory egg and the bitterness of green tea. I have to say that it was really neat, as I don't think I've ever had these flavors combined before. I got a great contrast in texture from the flakes, too.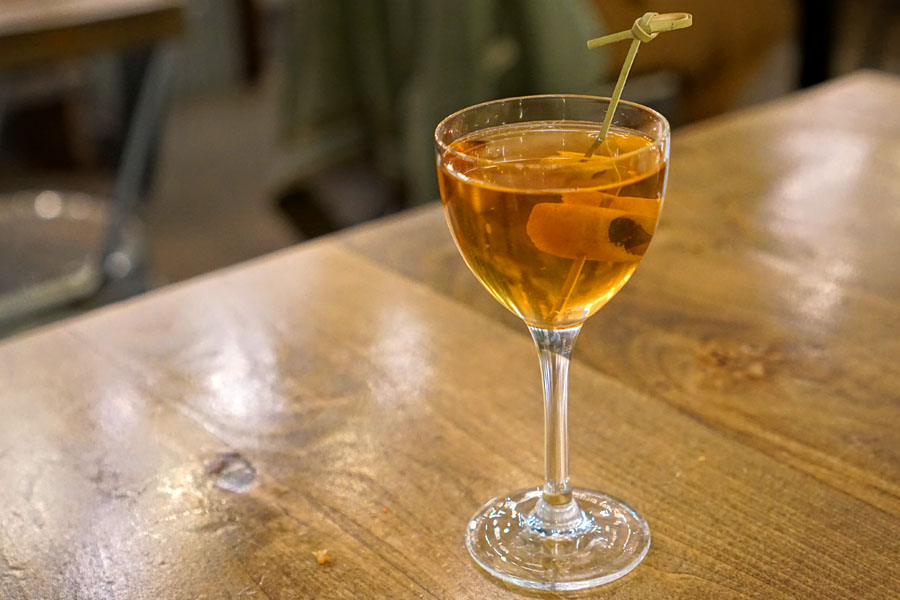 The Digestif [$13.00]
| Banana All-Spice Soju + Carpano Antica + Punt E Mes + Orange Bitters + Orange Oil
Our final cocktail was meant to be a sort of digestif, as you'd expect given the name. I detected loads of fruity banana up front, but this was countered by a distinct bitterness and a bit of a baking spice element.
This was a pretty interesting meal. There's definitely a casualness to it all, but you can tell that there's a serious intent behind the cuisine. We had some unexpected, inventive dishes this evening, so hats off to the team for that. At the same time though, there were a couple things that made me think that some tweaking of the cooking is called for. I'm curious to see where this all goes since there's certainly some talent in the kitchen.