Atrium (Los Angeles, CA)
Atrium Restaurant
1816 N Vermont Ave, Los Angeles, CA 90027
323.607.6944
www.atriumlosfeliz.com
Tue 11/06/2018, 07:45p-09:55p

I guess I'm not terribly interested in the Los Feliz dining scene, as I haven't reported on anything in the area since
MessHall
in 2012(!). What brought me back was a friend's request to try out Atrium, which had just grand-opened on October 25th. The place is the work of Beau Laughlin and Jay Milliken, the guys behind Silver Lake's
Kettle Black
and
Sawyer
, among others. This time, they've partnered with Executive Chef Robert Hunter Pritchett, who aims to serve up his own brand of eclectic, LA-inspired contemporary American cuisine.
About the Chef
: Pritchett was born in Miami, and spent his younger years in various locales--including Malaysia, the Philippines, and Las Vegas--before settling in Burlington, VT around age 16. He got his first restaurant job a couple years earlier, working the fry station at a Long John Silver's, and continued in this direction in Vermont, where he found employment frying seafood at a sandwich shop. The Chef later headed kitchens at an Italian spot and a bistro in his hometown, and also attended Champlain College from 2003 to 2005. To expand his culinary horizons, he moved to Las Vegas in 2006, where he worked at André Rochat's eponymous old-school French restaurant in Downtown for a year, where he endured regular abuse from the CdC. Pritchett later cooked at Rochat's Alizé at the Palms, but decided to leave for Denver in 2008.
He didn't have a job offer in hand when he arrived, and thus spent time
staging
at Black Pearl, Duo, and Z Cuisine. He then tried to get a job at
Frank Bonanno
's Osteria Marco, but wound up at Bonanno's Luca d'Italia instead. Pritchett started at the contemporary Italian spot in June 2009 as a line cook, working the fish and meat stations before finally becoming Exec Chef. While there, he participated in Denver's Cochon 555 in 2011, as well as Aspen's Grand Cochon in 2012. More importantly, he also met his wife Katie O'Byrne (herself a FOH professional who's worked at the likes of
Providence
,
Gwen
,
Faith & Flower
, and
Otium
) during this period (they married in 2015), and the two would eventually pack up and leave for LA in January 2013.
Pritchett started working as sous at
Son of a Gun
that February. It was here where he first met his future business partner Adam Midkiff, who would later go on to cook at
Red Medicine
, The Corner Door, and
Sambar
. Pritchett left SoaG in April 2013 to become Chef de Cuisine at
Brendan Collins
'
Waterloo & City
, where he stayed for five months. In October 2013, he took on the exec sous chef role at
Fifty Seven
(another Beau Laughlin project), but left the following March, before the restaurant actually opened. He then started consulting, and one of his first clients was the short-lived Downtown bistro Coco Laurent, and its even shorter-lived follow-up, the nebulously-named Project X. He also became a corporate R&D chef for Mendocino Farms around this time, and ran the company's higher-end Blue Cow Kitchen in DTLA as well; this gig lasted until the end of 2015.
In November 2015, Pritchett began consulting for the Chicago-based Protein Bar & Kitchen, while February 2016 saw him consulting at Pizza Studio, a local fast-casual custom pizza chain. That May, he worked with Playa Vista's breakfast-focused The Chicken or the Egg, but also began preparations for the launch of GoldenBoys, a "guerilla Chinese" pop-up concept that he created with Midkiff. The duo would appear at multiple locations through the year: Spread (May, June), Sambar (June),
Unit 120
(July), RiNo Yacht Club at The Source in Denver (July, December), Daw Yee Myanmar Corner (September), Secret Chinese Delivery (September, December),
Plan Check
(November), and Birch (March 2017). From there, Pritchett joined the team at Virgil Village newcomer Melody, a "lazy French" spot that debuted in November 2017. He was out by May 2018 though, replaced by Justin Abram (who was last at the now-shuttered
Girasol
).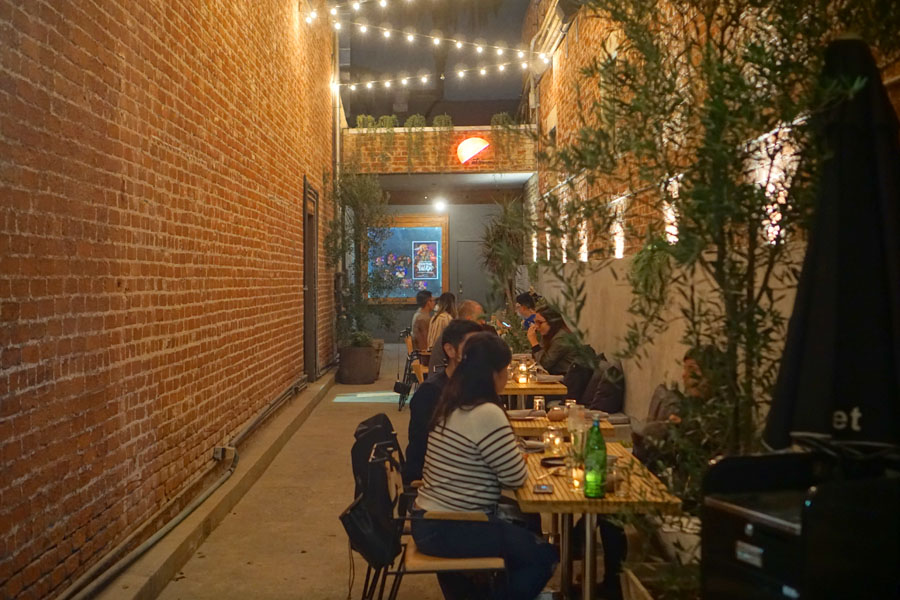 Apparently penned by Laughlin himself, (the bulk of) Atrium occupies an exposed brick-swathed, bow-truss-ceiling'd space in the same structure as the Skylight Theater. Curiously, the restaurant also spills out into the walkway connecting the street to the main dining space, which creates a cozy sort of patio area.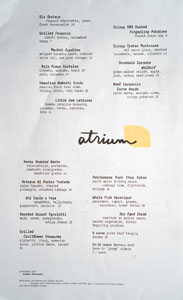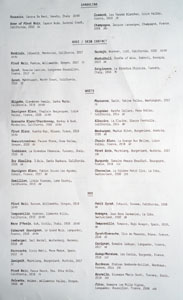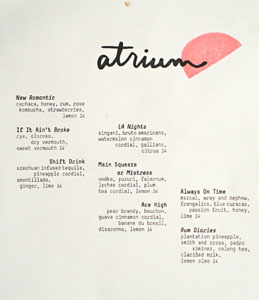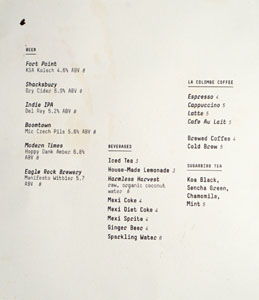 Food-wise, Pritchett's got a menu that takes inspiration from a variety of culinary traditions--it's all very "LA." To drink, there's the requisite wine, some beer on tap, and a diverse array of cocktails from Beverage Director Jordan Young (Harbor House, Kettle Black, Sawyer,
71Above
,
Cliff's Edge
,
Osso
,
East Borough
). Click for larger versions.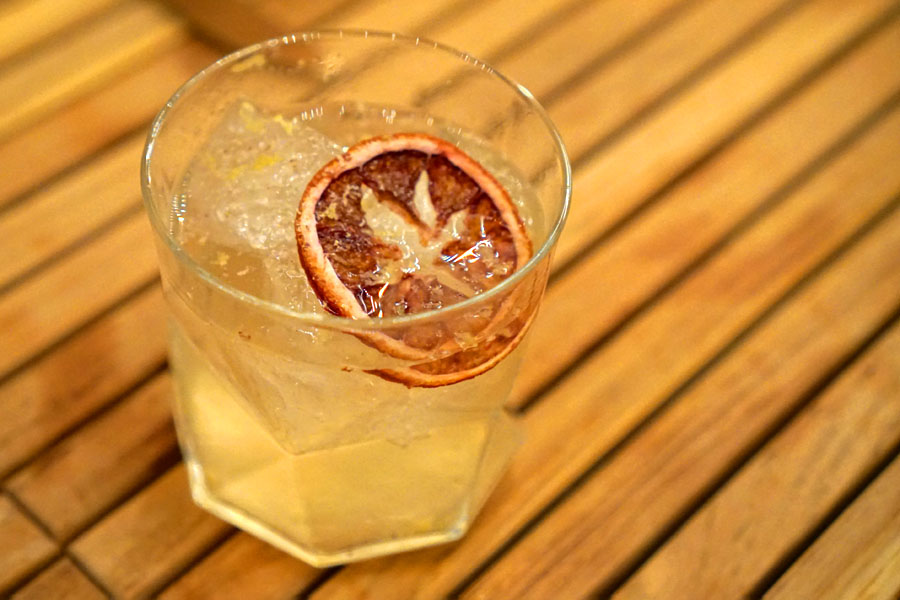 Rum Diaries [$14.00]
| plantation pineapple, smith and cross, pedro ximenez, oolong tea, clarified milk, lemon oleo
We ended up trying all the cocktails, and first was Atrium's take on the now-popular clarified milk punch. It smelled great, with aromas that went toward a floral and citrusy direction. The palate, meanwhile, was soft and silky, and displayed a sweet 'n' spicy flavor profile backed by the weight of the rums.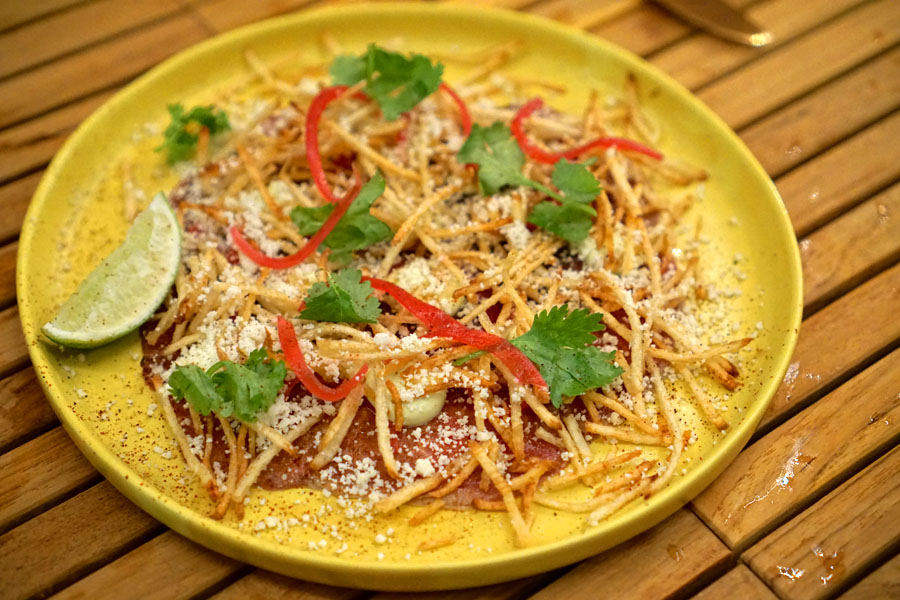 Beef Carpaccio Carne Asada [$16.00]
| salsa macha, avocado crema, crispy potatoes
Our first plate was this thoroughly rejiggered version of carne asada fries. I got a lot of onion and garlicky flavors up front, punctuated by tart, herbaceous notes, but with the heft of the beef shining through. Nice crunch from the potatoes (which reminded us of Pik-Niks), too.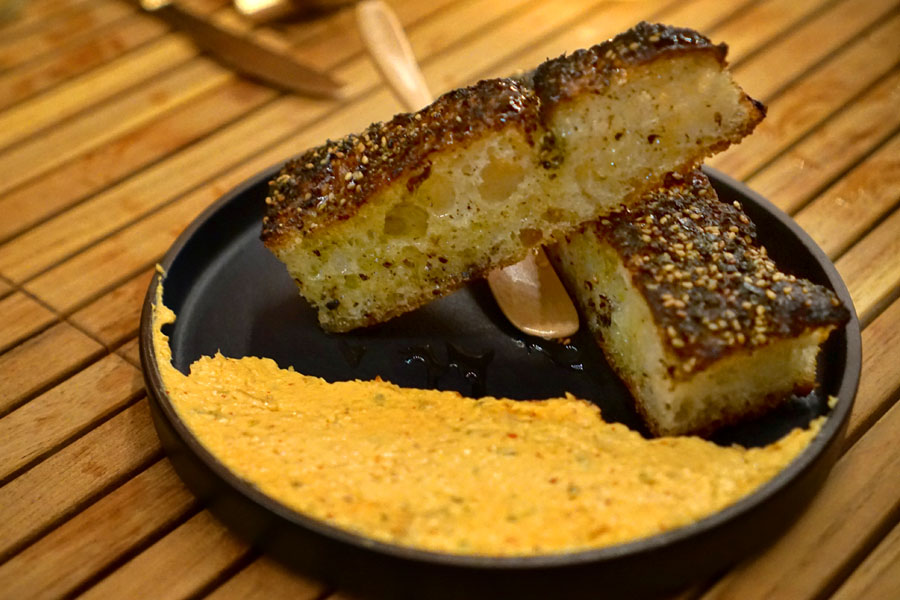 Grilled Focaccia [$7.00]
| kimchi butter, buckwheat honey
The key to the focaccia was its crust, which was super crisp, and teeming with honeyed, nutty flavors. The butter, meanwhile, was on the light, aerated side, with relatively restrained kimchi spice and funk.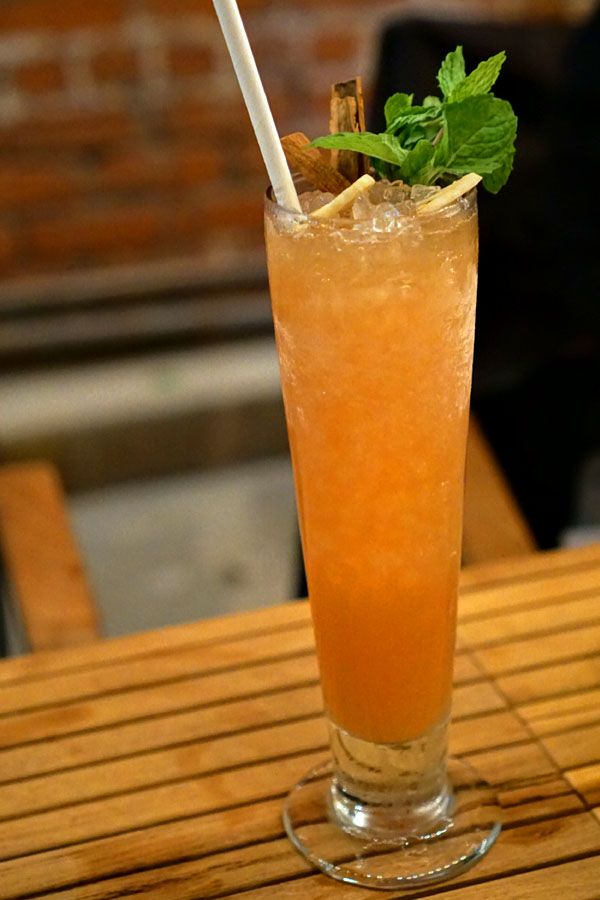 Ace High [$14.00]
| pear brandy, bourbon, guava cinnamon cordial, banane du bresil, disaronno, lemon
Our next cocktail was on the tall, tiki-ish side. Think loads of sweet fruit, mixed with a touch of cinnamon spice and citrus, then backed up by a firm booziness from the bourbon-brandy combo.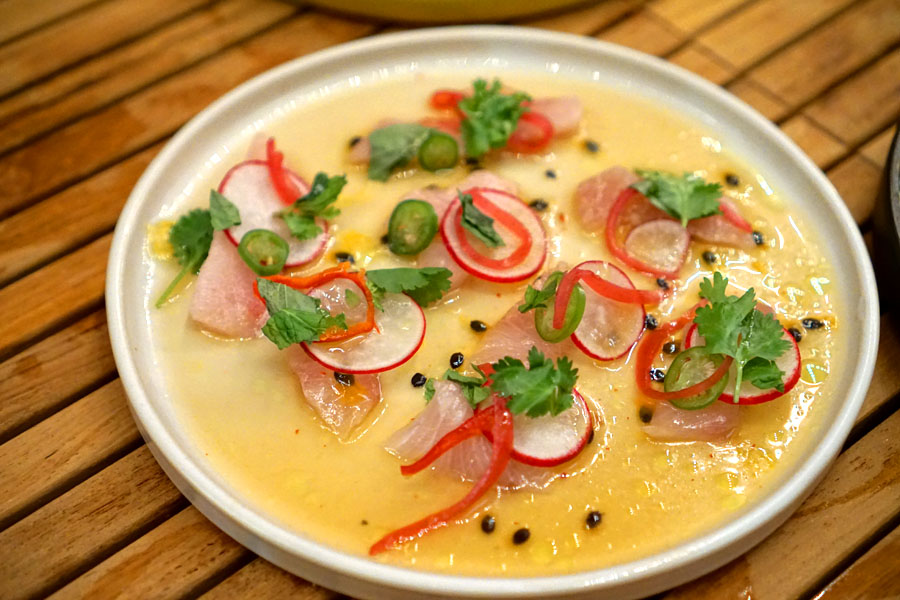 Hawaiian Hamachi Crudo [$16.00]
| passion fruit nuoc cham, chiles, onion, viet herbs
The crudo just might've been my favorite item of the night. The yellowtail itself arrived fatty and briny, and was taken up a notch by the funk of the included
nuoc cham
. At the same time, the marriage of chili-onion-cilantro provided just the right amount of heat and brightness to make for a balanced dish.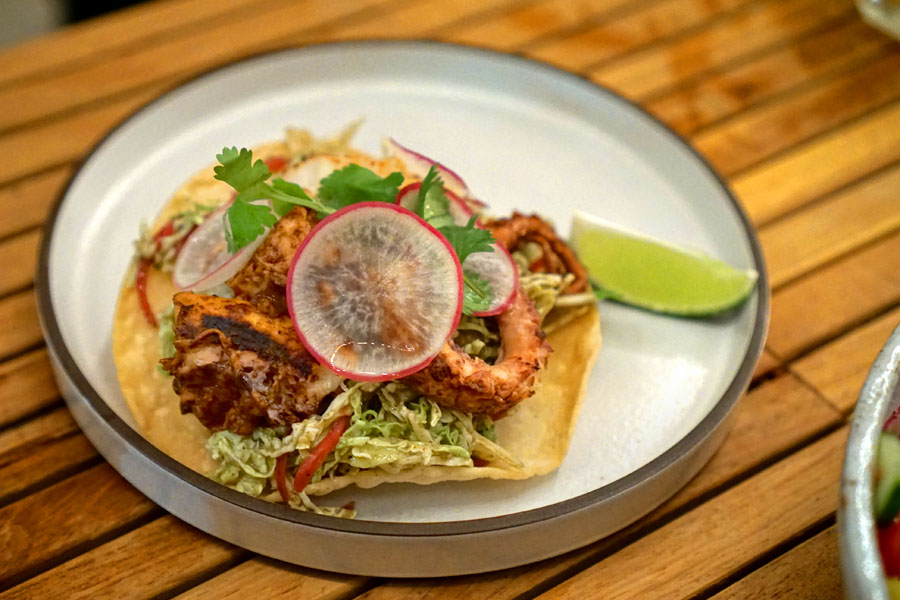 Octopus Al Pastor Tostada [$16.00]
| salsa taquero, charred pineapple, shredded cabbage
This was another standout for me. Texturally, the octo struck the right balance between suppleness and substantialness, while its flavors were savory and spicy, with a lingering salinity to boot. The various accompaniments all made for a very well-integrated dish, and of course I appreciated the sheer crunchiness of the tostada, too.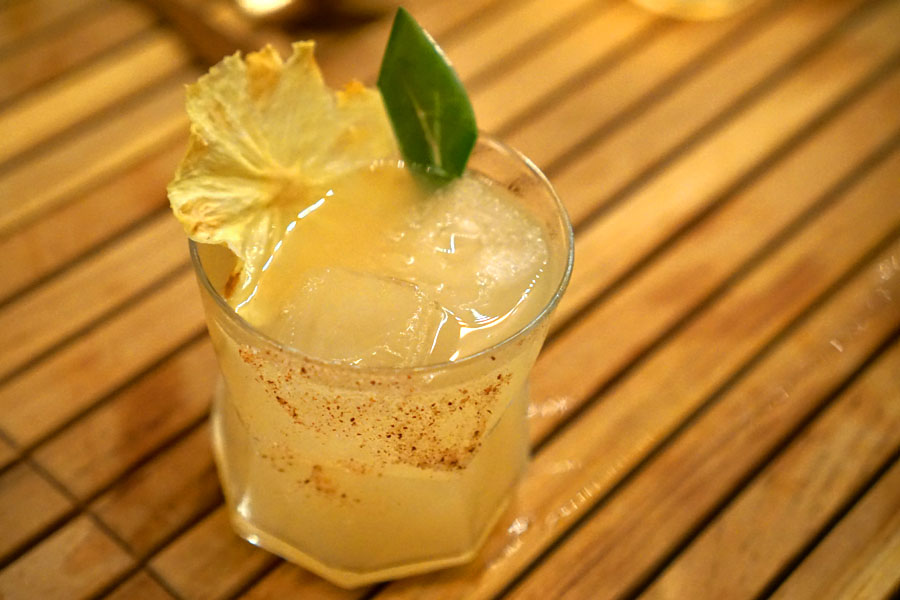 Shift Drink [$14.00]
| szechuan infused tequila, pineapple cordial, amontillado, ginger, lime
The nose on this cocktail was heavy on the pineapple, but also conveyed tempering notes of smoke and what was almost like butter. The palate, meanwhile, was surprisingly spicy and sharp, but had a sweetness to it that provided a modicum of moderation.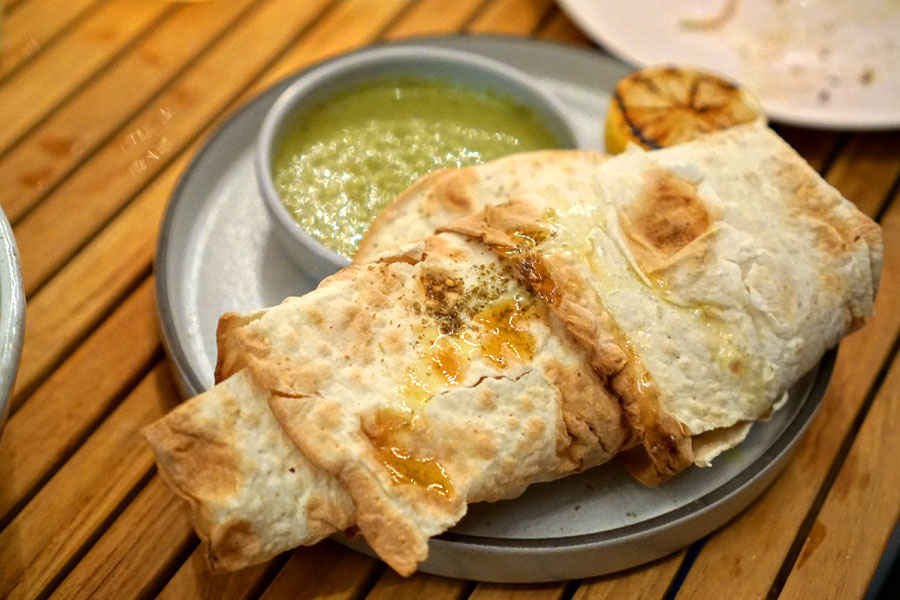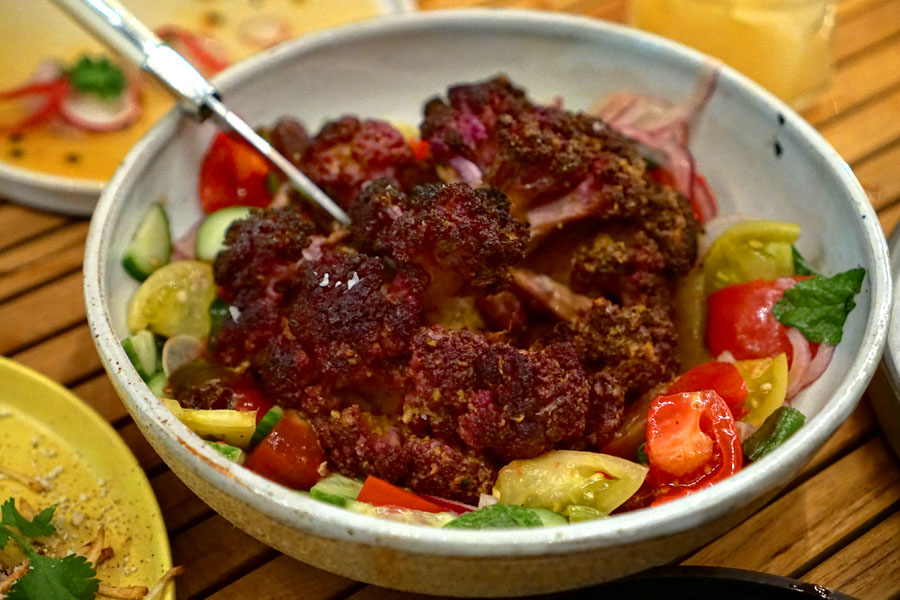 Grilled Cauliflower Shawarma [$24.00]
| pistachio zhoug, armenian salad, pickled dates, lavash
We were all very curious about this dish, so we just had to try it. The cauliflower itself was beautifully-textured, though I would've preferred more aggressive seasoning on it. However, the key was really to wrap it up with that bright, minty salad, and some of that spicy, super zesty
zhug
. Taken all together, the experience was actually quite gratifying.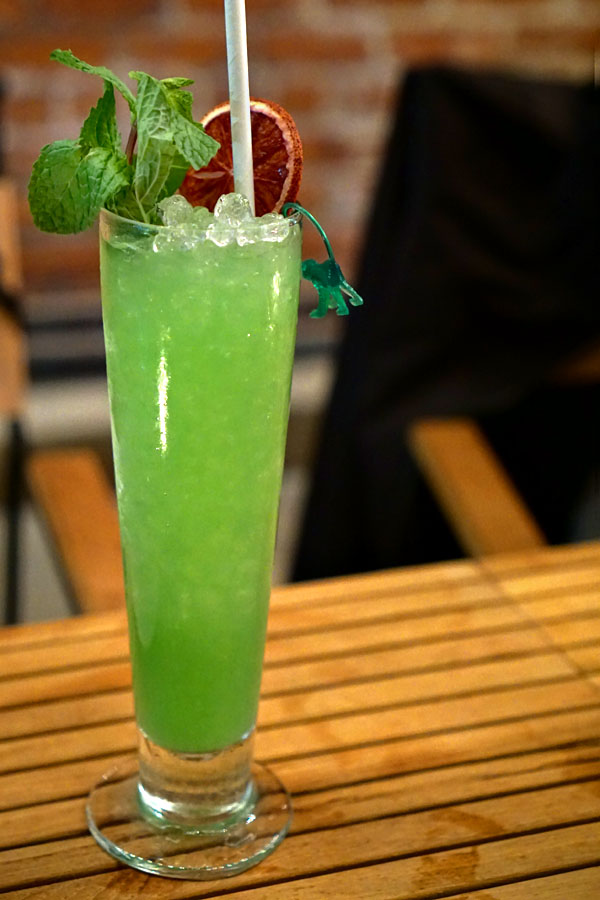 Always On Time [$14.00]
| mezcal, wray and nephew, frangelico, blue curacao, passion fruit honey, lime
Our next cocktail was rather strikingly green-hued. Taste-wise, I found it expectedly tropical and fruity, but it also showed off a tempering bitterness and smoke that I liked, while the finish was all about that honey.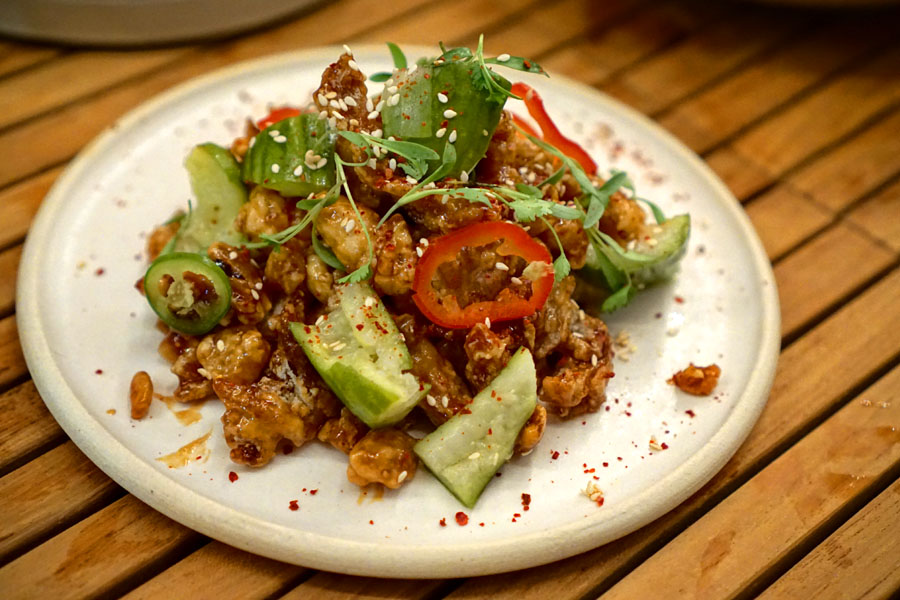 Crispy Oyster Mushrooms [$14.00]
| eel sauce glaze, smashed cucumbers, sesame, cilantro
Oyster mushrooms were as crispy as advertised, actually too much so for my liking, as I wanted a meatier, more substantial consistency on 'em. Taste-wise, the dish had this sweet 'n' spicy, nutty, familiar sort of Asian-y flavor profile, one that some of my dining companions actually found reminiscent of General Tso's chicken. I did appreciate the counterpoint offered up by the cucumbers, chilies, and herbs here.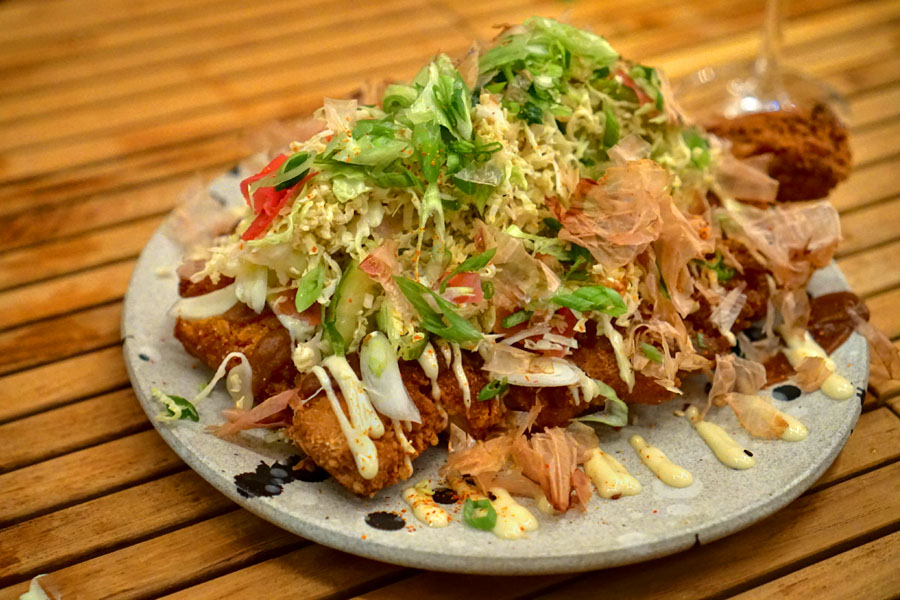 Pachamama Pork Chop Katsu [$34.00]
| burnt apple bulldog sauce, cabbage slaw, dijonnaise, brioche
Our
pièce de résistance
was supposed to be this reworked version of
tonkatsu
. The pork was as succulent and tender as I wanted, with a proper crunch from its panko breading. The Bulldog sauce was there to give the dish some extra oomph and complexity, while the slaw imparted a lightness and brightness, and the
katsuobushi
an extra hit of umami. Overall it was pretty tasty, though we felt that it didn't come together
quite
as well as we were hoping for.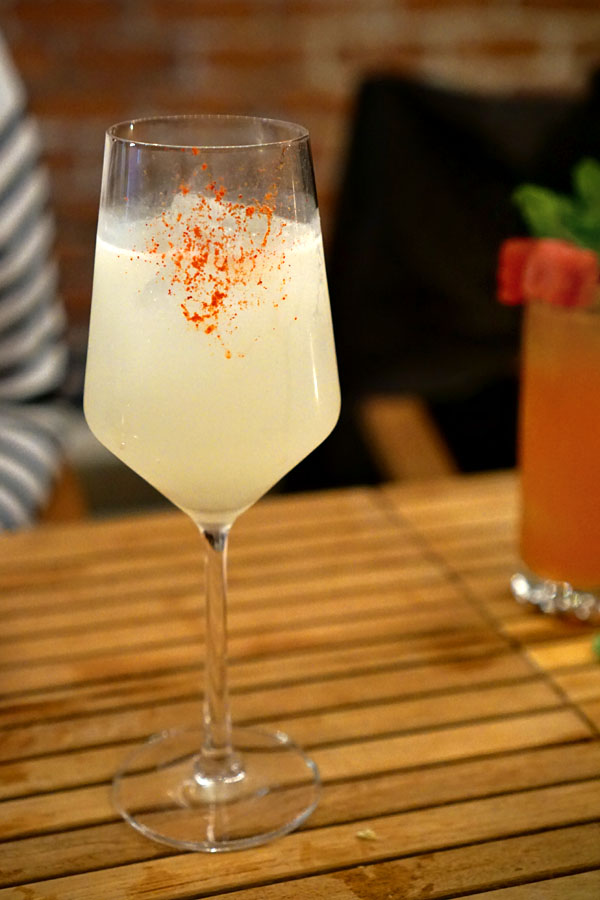 Main Squeeze or Mistress [$14.00]
| vodka, yuzuri, falernum, lychee cordial, plum tea cordial, lemon
The meal's penultimate cocktail had a surprisingly strong bouquet filled with sweet licorice-like notes. The palate displayed boatloads of fruity lychee up front, leading to bitter and floral nuances on the back end.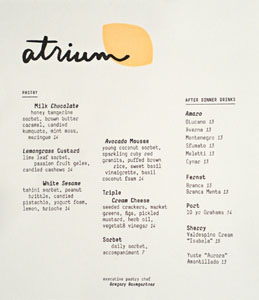 We made sure to save room for dessert, especially since they come courtesy of Executive Pastry Chef Gregory Baumgartner (71Above,
Spring
, E.P. & L.P.,
Bourbon Steak
). Click for a larger version.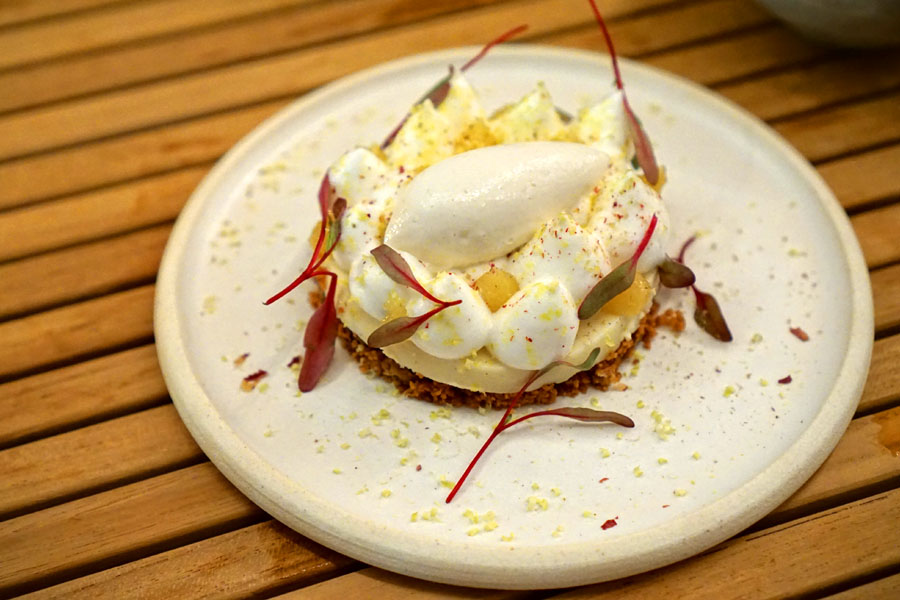 White Sesame [$14.00]
| tahini sorbet, peanut brittle, candied pistachio, yogurt foam, lemon, brioche
Our first dessert was a pretty great pairing of savory and sweet flavors, all punctuated by the proper amount of nuttiness and crunch. My favorite part? The sorbet, which had an almost
tangyuan
-like sweetness to it.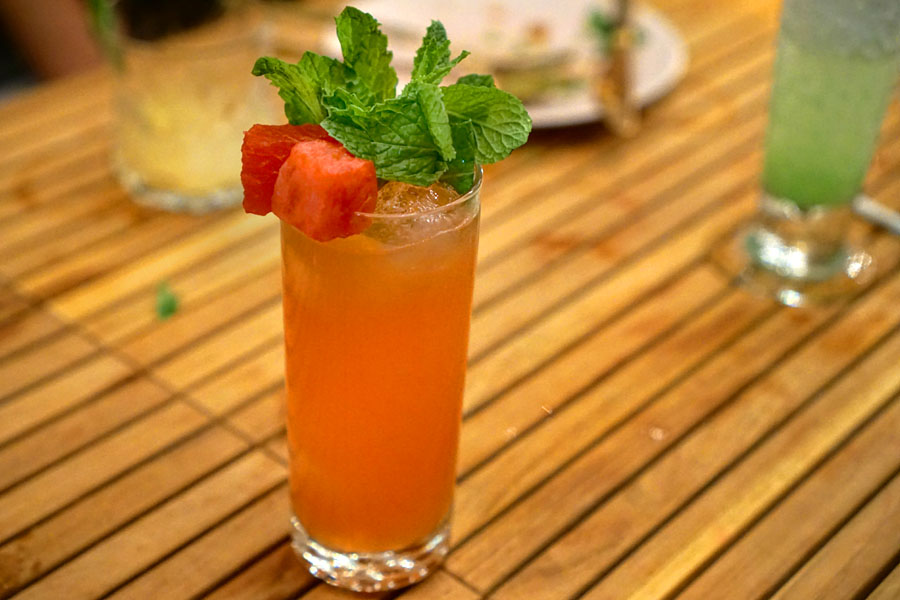 LA Nights [$14.00]
| singani, bruto americano, watermelon cinnamon cordial, galliano, citrus
The final cocktail we tried was this easy-drinking number, with its balance of fruity, bitter, boozy flavors finishing strong with a decidedly floral element. One of my dining companions was even reminded of watermelon Jolly Ranchers.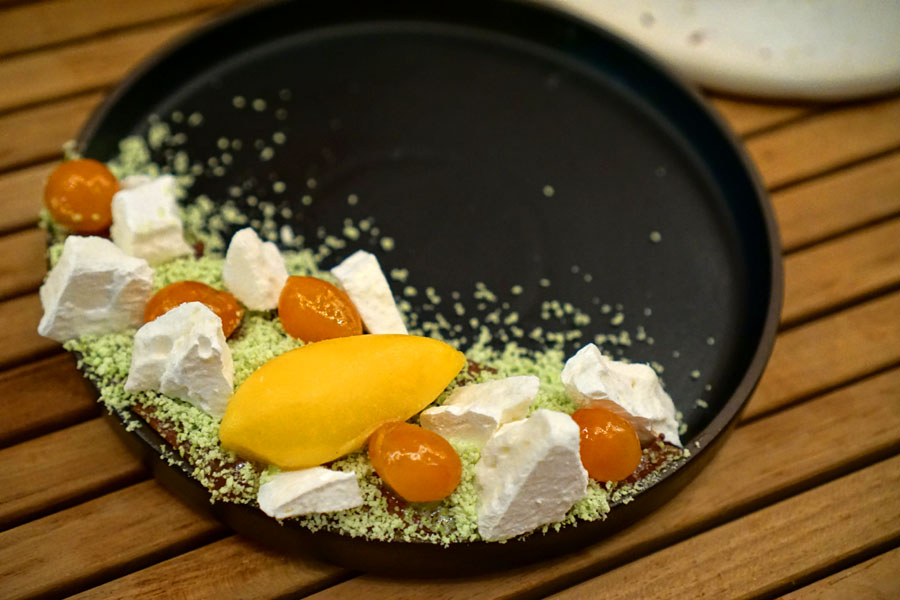 Milk Chocolate [$14.00]
| honey tangerine sorbet, brown butter caramel, candied kumquats, mint moss, meringue
This was fun. We had super rich chocolate paired with a runny, sugary caramel--it sort of reminded me of a candy bar. The citrus provided a much needed counterpoint to it all, and I liked the texture contrast and lightness from the meringues, too.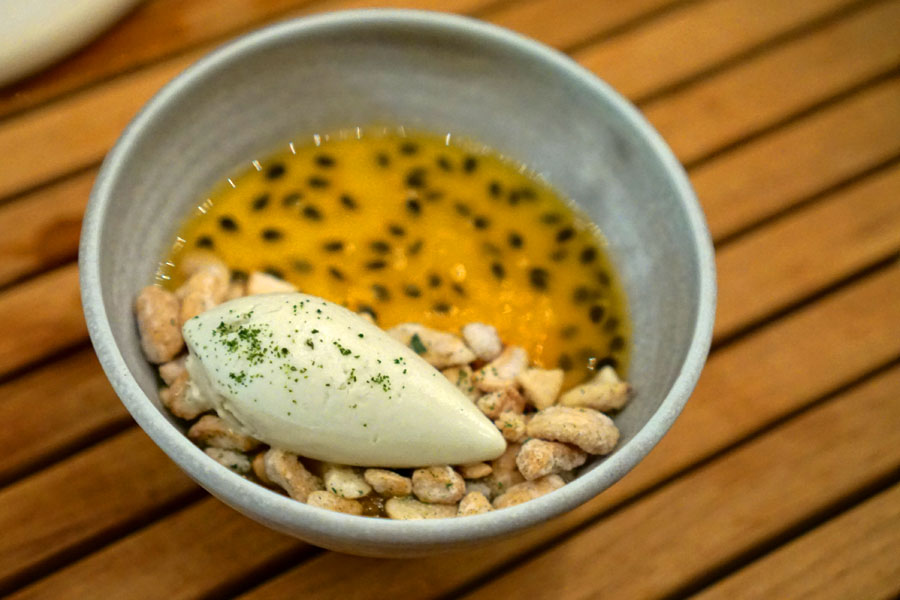 Lemongrass Custard [$14.00]
| lime leaf sorbet, passion fruit gelee, candied cashews
Our third dessert was another winner. The back-and-forth between the sweet-tart passion fruit and the citrusy, herbaceous nature of the custard was spot on, and I was a big fan of the nuttiness and crunch from those cashews as well.
Despite some minor concerns about a couple of the plates, I think we were all pretty satisfied with Atrium. The menu's a bit all over the place, but that's sort of the point of it. You'll find fun and whimsy to the food, but at the same time, there's a purpose to it all. The cocktails, meanwhile, were worthwhile too, and we didn't have complaints about the service, either. All in all, a quality addition to the area.