Masakazu (Los Angeles, CA)
Masakazu Sushi
1911 Westwood Blvd, Los Angeles, CA 90025
310.421.9779
Sun 06/16/2019, 07:55p-11:35p

One of LA's newest (notable) sushi debuts is Masakazu, which I'd been hearing some good things about recently. The place is located in the Tehrangeles stretch of Westwood, and opened at the start of the year, taking over the former home of Sushi Masu. The restaurant is helmed by Chef/Owner Shinichi "Shin" Akazawa, who serves an almost exclusively
nigiri
-centered menu.
About the Chef
: Akazawa hails from Japan's Okayama Prefecture, and came to the United States in 1996, at the age of 23. To find his first job, he went to a local Japanese restaurant (the old Kyushu Ramen in Panorama City) and started asking customers for work. Interestingly enough, one customer allowed him to sleep on his sofa and taught him gardening. The Chef also dabbled in pet supplies around this time, apparently trying to establish a US outpost for a company that produced odor control products using ionized water. Akazawa, however, felt that the best way to get a green card was to work at a restaurant, so he left his gardening gig and began waiting tables at the now-closed Ueru-Ka-Mu in Tarzana. Due to its late closing time, the izakaya was a frequent haunt for local Japanese eatery owners, and he eventually landed multiple job offers from these patrons.
He ended up working in the kitchen for the first time at Masanobu Shibuya's eponymous Shibuya in Calabasas. Akazawa stayed seven years there making sushi, and was finally able to secure his green card. Afterward, he spent time at another restaurant, learning other facets of Japanese cuisine from an eventual mentor of his, then moved over to Gonpachi inside Torrance's Miyako Hybrid Hotel. From there, the Chef partnered with friend Takashi Mura and took over Northridge noodle shop Futaba, and then served a brief stint at Sushi Sushi in Beverly Hills. This was followed by tenures at Sawtelle's
Echigo
(where he met Yuko, our server tonight) and Sushi Masu. He specifically wanted to work at Masu given what he'd heard about the skills of owner Hiroshi Masuko (especially regarding rice), who'd started in sushi at the age of 15 before coming Stateside when he was 30, first cooking at the Bonaventure before opening up Tasuki in Downtown in the early 1990s (at the site of Mumford Brewing).
Akazawa then moved to Mammoth Lakes at the behest of Mura, who wanted to open another branch of his Sawtelle eatery Ramenya there. The Chef spent three years in the mountains, even running an informal sushi bar ("Sushi Akazawa") at the back of the restaurant. However, in early 2018, he was informed by Masuko that Sushi Masu would be closing. Akazawa made the decision to take over the place, borrowing the necessary funds from friend Hiroaki Suzuki, owner of Mon Atelier, a bistro-like spot in Tokyo's fashionable Shibuya ward.

The room has been revamped from the Sushi Masu days (it's quite a bit more minimal), though the basic layout remains. The bar seats 11, and I believe there are also a couple tables.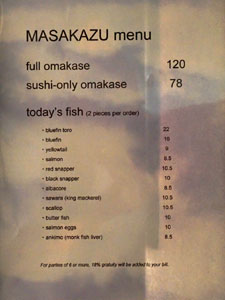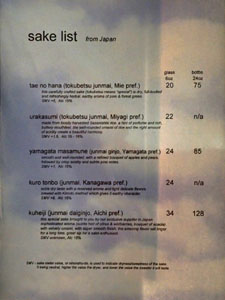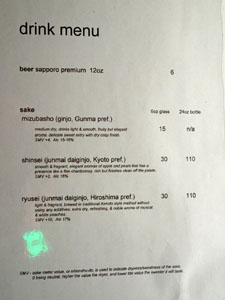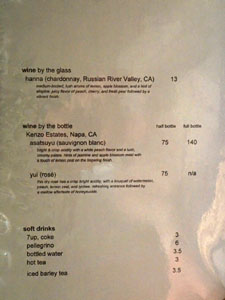 Masakazu's menu is straightforward enough: two levels of omakase (we went for the $120) and a small à la carte selection. Do note that they charge $5 per person for
hon wasabi
, which I sort of feel should be included at this price point. On the beverage side of things, you get a small sake list, just a single beer option, and a mere three wines. Corkage was $30 a bottle. Click for larger versions.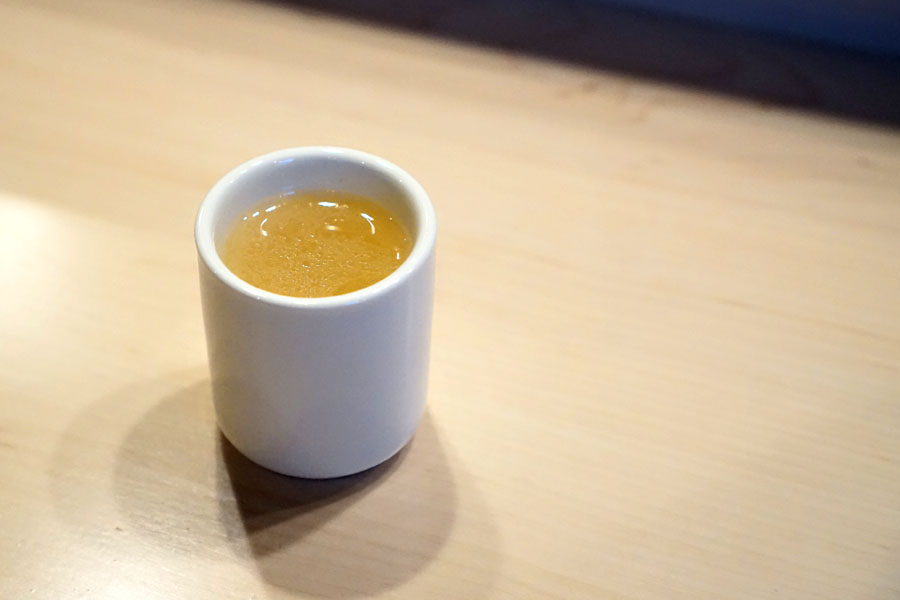 1: Sakana no Supu
Our meal commenced, unusually, with a shot of whitefish broth. I found it hot and heady, imbued with the essence of the ocean and a healthy dose of umami.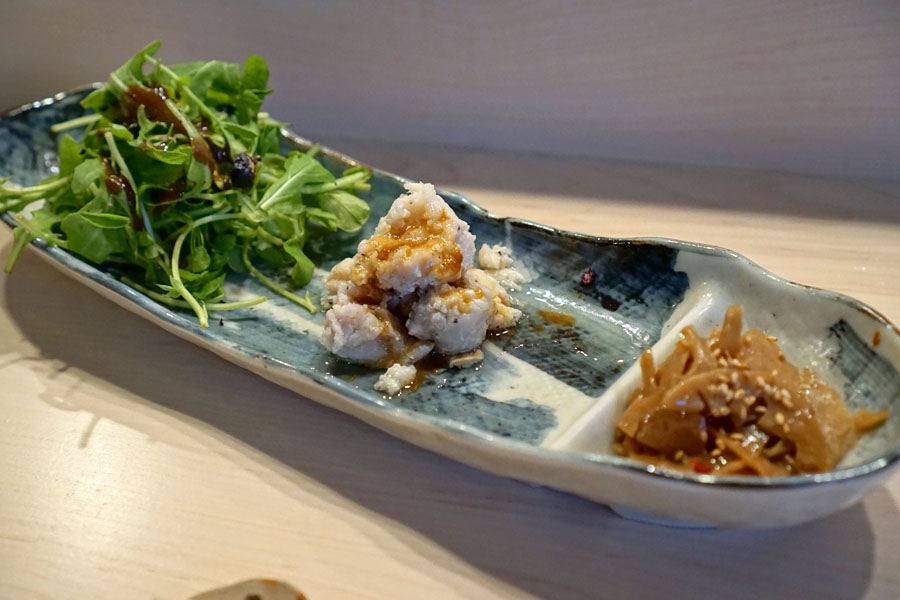 2: Zensai
The appetizer course was also unexpected, and featured a mix of slow-simmered yellowtail and albacore. The hodgepodge didn't look very appealing, but fortunately it tasted better, with the robust savory notes in the fish evened out by a marked sweetness from what I'm guessing was the (miso-based?) sauce on top. The arugula salad wasn't particularly interesting, though its peppery, piquant notes did add some levity to the dish. Much better was that crunchy
kinpira renkon
.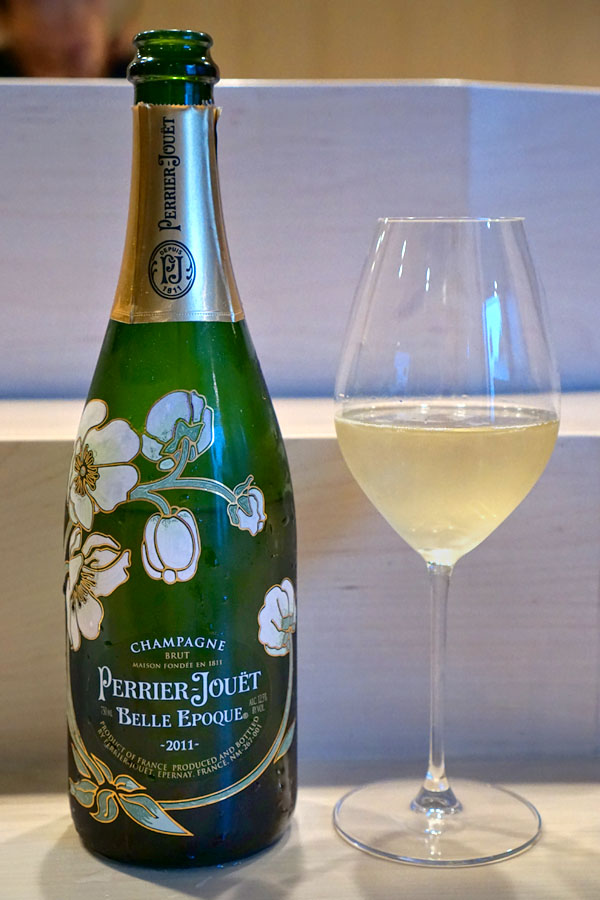 To pair with the food, we opened up a bottle of the
2011 Perrier-Jouët Champagne Belle Epoque
. It had a fresh, racy nose dominated by tart apple and citrus. The palate, meanwhile, was surprisingly rich and full-bodied, with prominent flavors of pome fruit commixed with a light toasty character and traces of minerality. The wine was actually drinking better than I'd anticipated, and wasn't nearly as immature as I feared, though I think it'll get even better with time.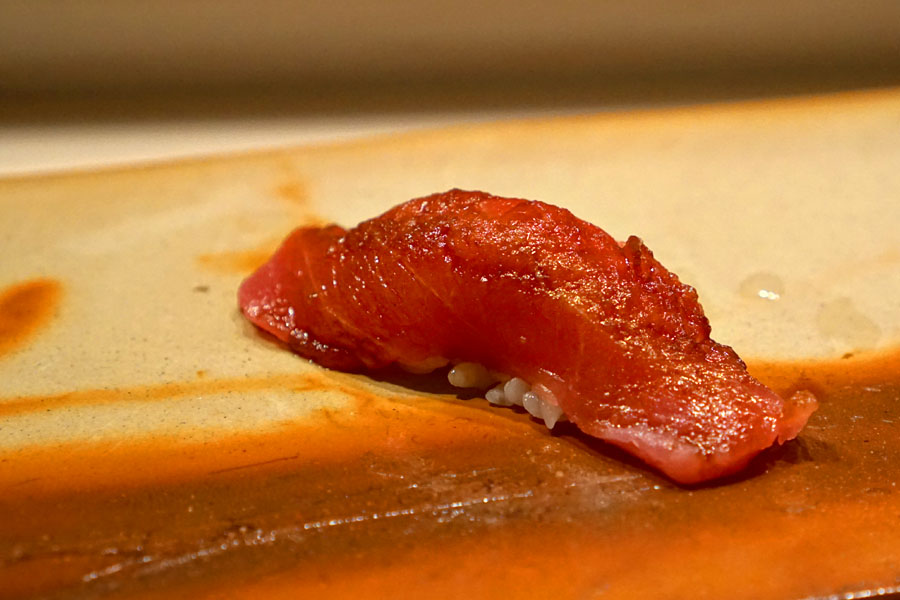 3: Kuromaguro Akami
Our parade of sushi began with Spanish bluefin. This was a particularly soft, almost pillow-y example, one with an intriguing fruitiness to it and plenty of
shoyu
savor.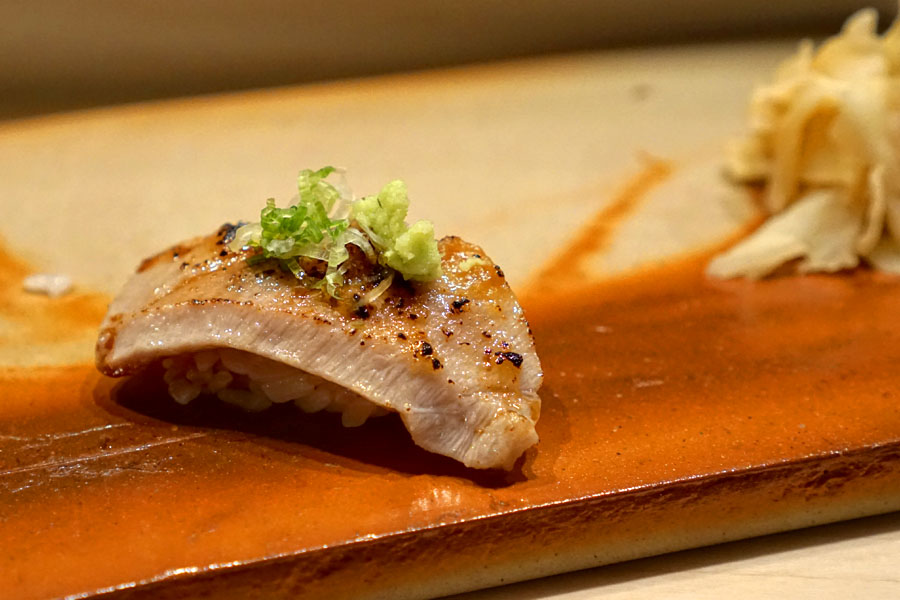 4: Toro Tataki
Seared Spanish bluefin was a delicious bite, its richness and abundance of fat and salinity making for a worthy counterpoint to the depth of the fish's miso dressing. Great zestiness from the scallions up top, too.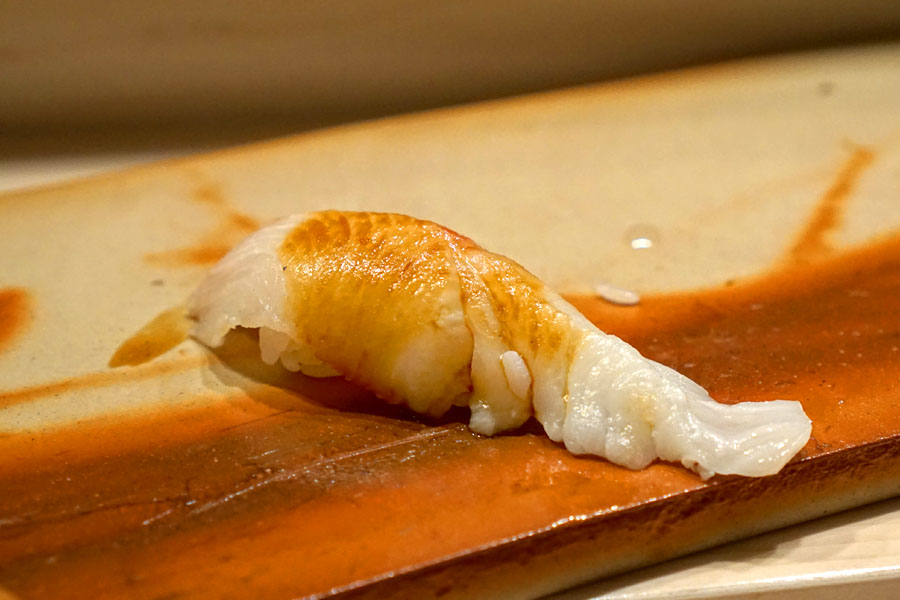 5: Hamachi
The yellowtail was one of the fattiest, briniest examples I've eaten, so the contrast provided by the soy and rice were absolutely crucial.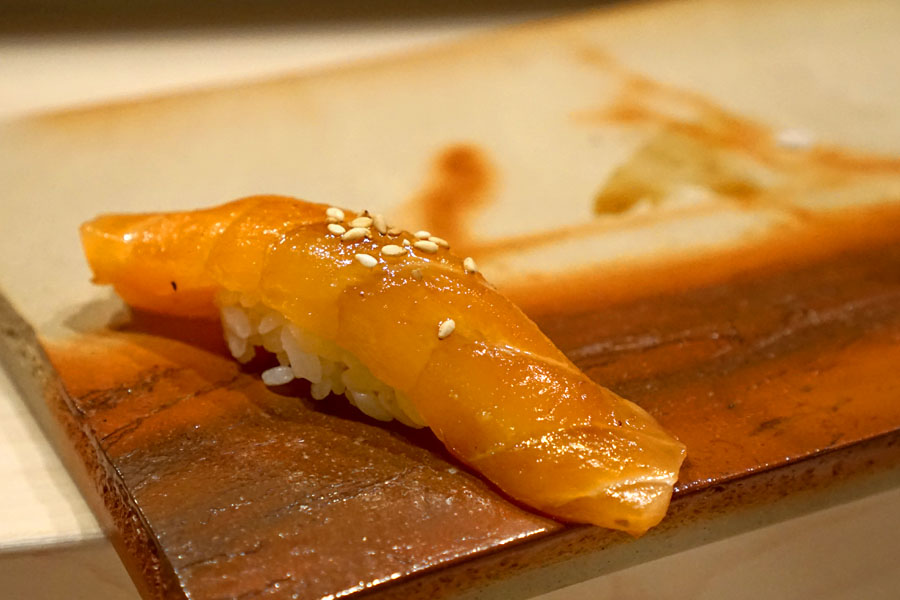 6: Sake
Salmon was lean and clean, with a superb accent in the form of that nutty
goma
.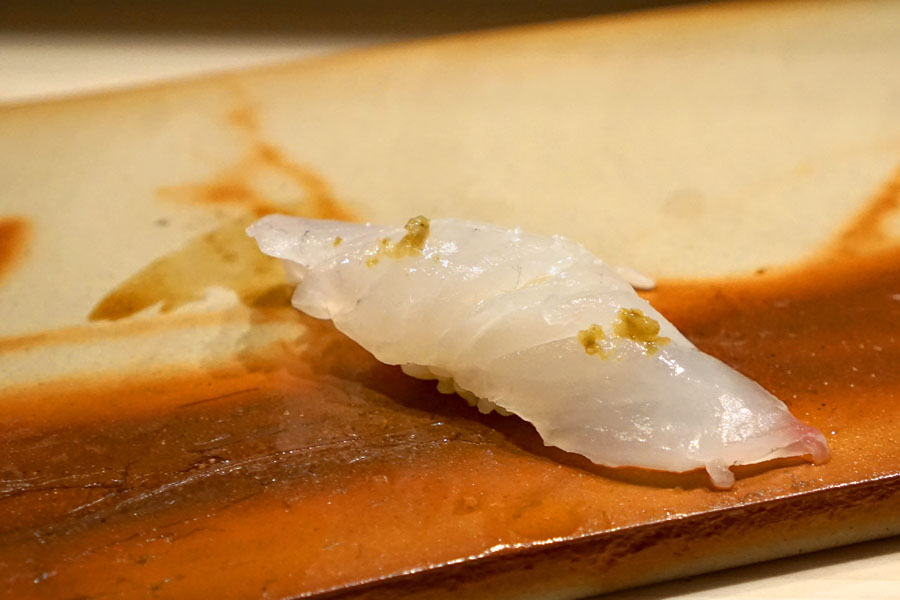 7: Tai
The sea bream showed off an especially focused, fine-spun flavor, one beautifully augmented, but never overwhelmed by the
yuzukosho
.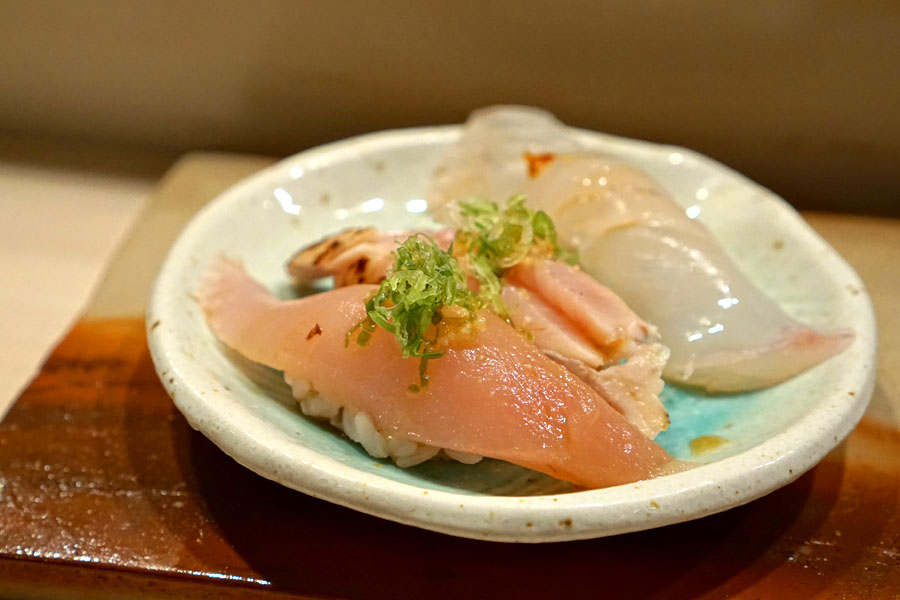 Next came the "ponzu family" of fishes, which were served together given the common sauce. I would've preferred these presented separately though.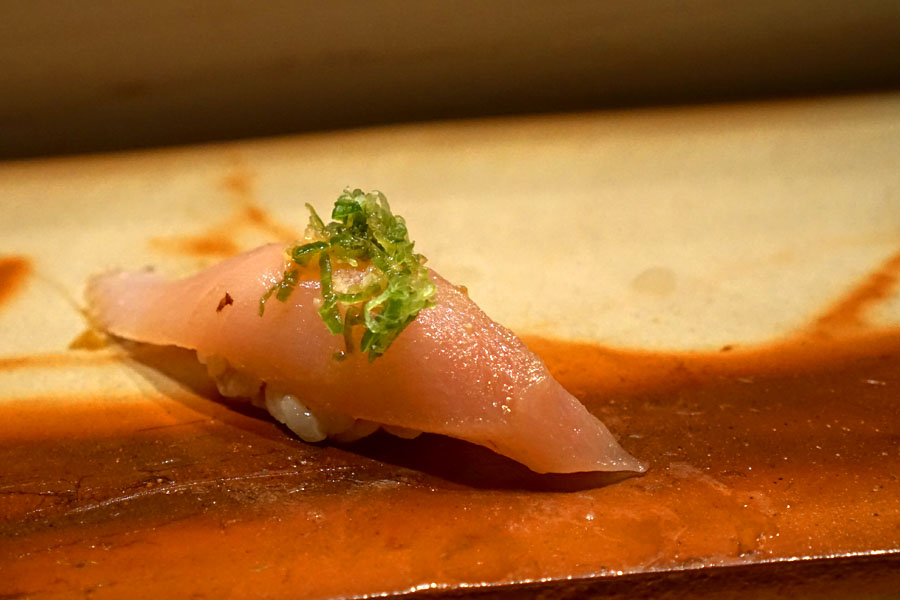 8: Binnaga Maguro
The albacore was a mild-tasting
neta
, so it really functioned as a canvas for the classic, complementary flavors of ponzu and green onion.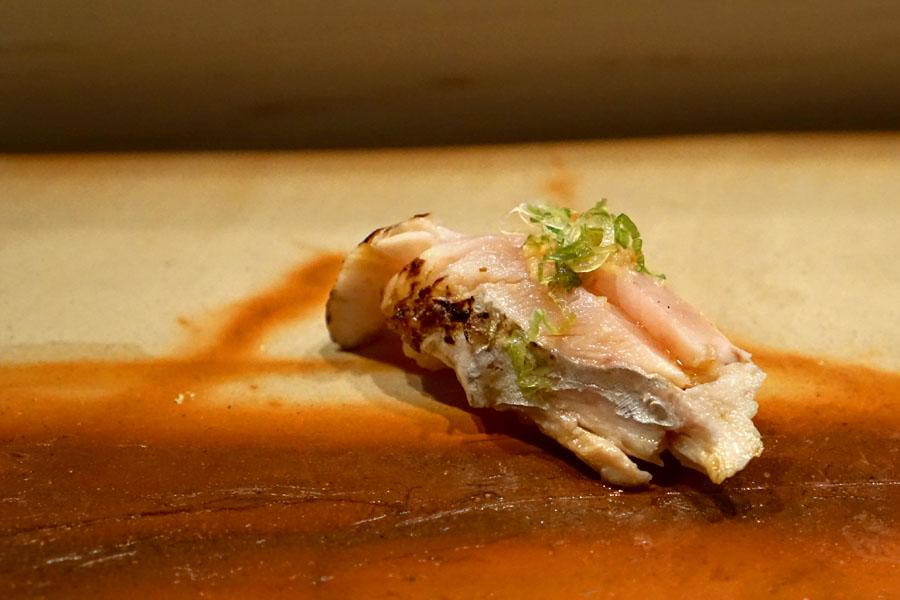 9: Sawara
King mackerel was one of the more satisfying bites texturally, and had a subtle smoky character to it that matched well with the ponzu's tartness.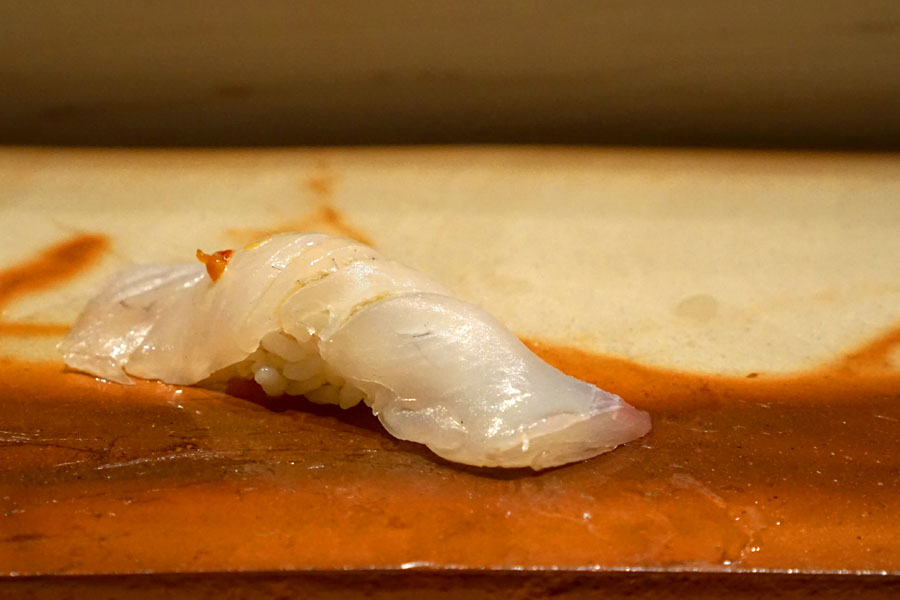 10: Tai
Our second piece of bream really highlighted the citrus-y nature of ponzu, and how that interacted with the pristine flavors of the fish.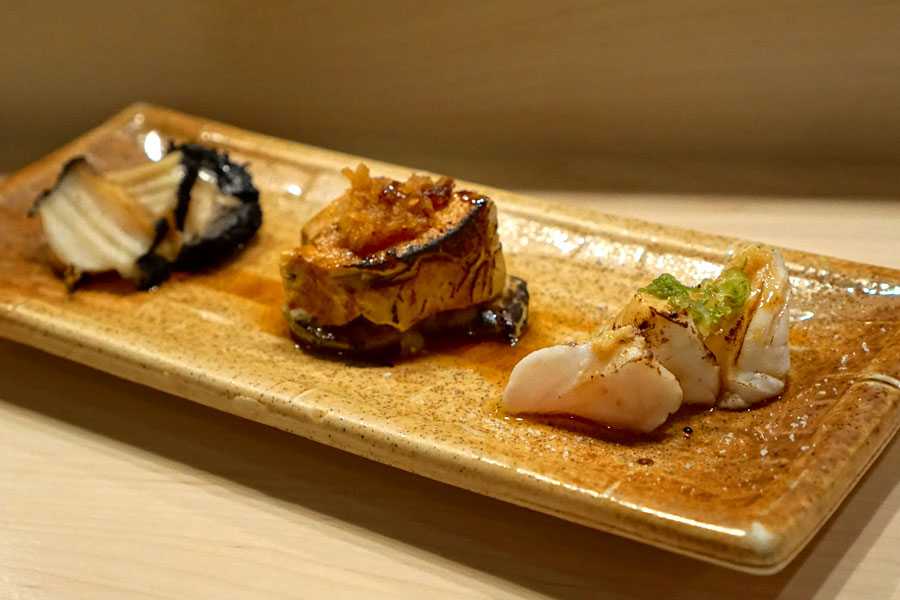 Next came another trio of bites.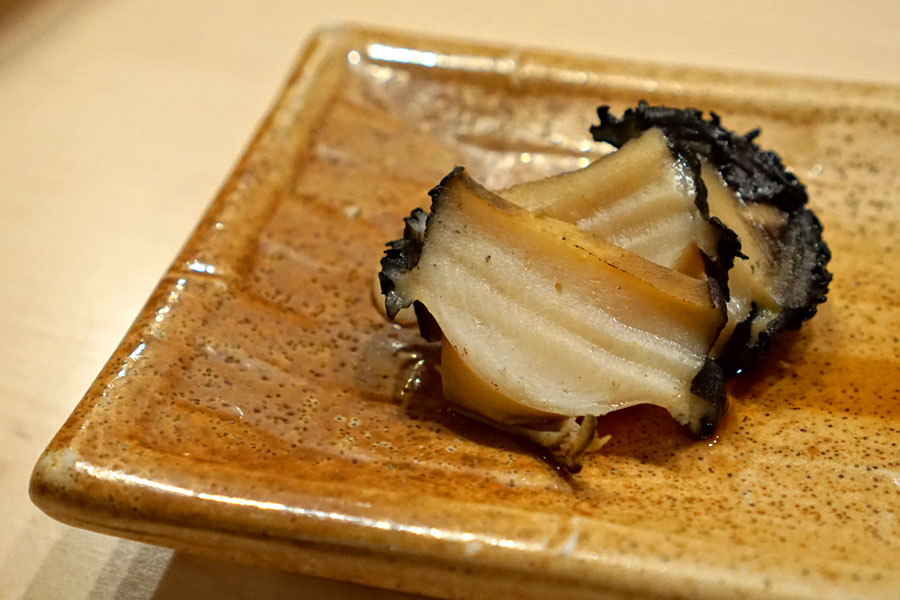 11a: Awabi
Dense-yet-supple slivers of abalone displayed an almost seaweed-esque marine quality.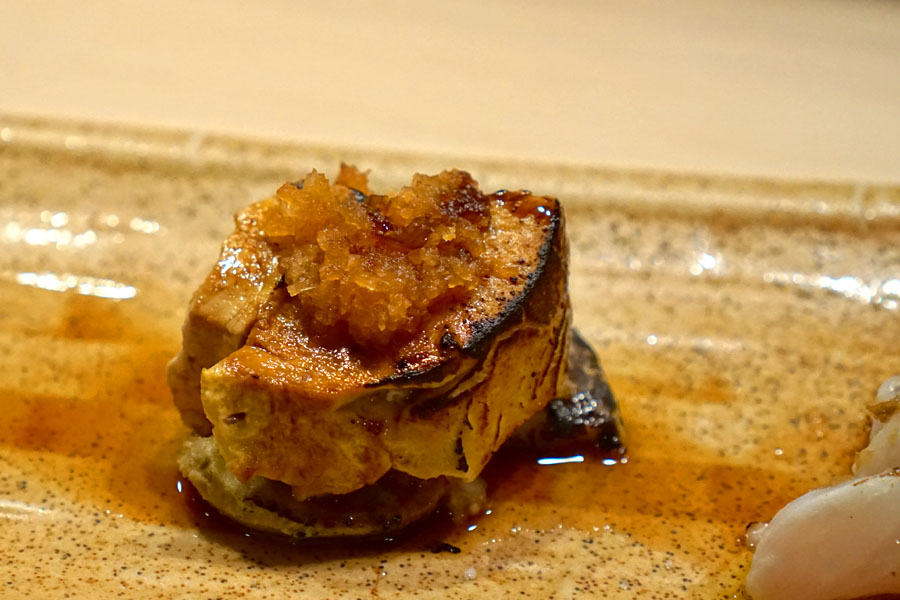 11b: Ankimo
Monkfish liver conveyed a lovely bit of smoke, its richness cut by a plethora of tart, tangy notes.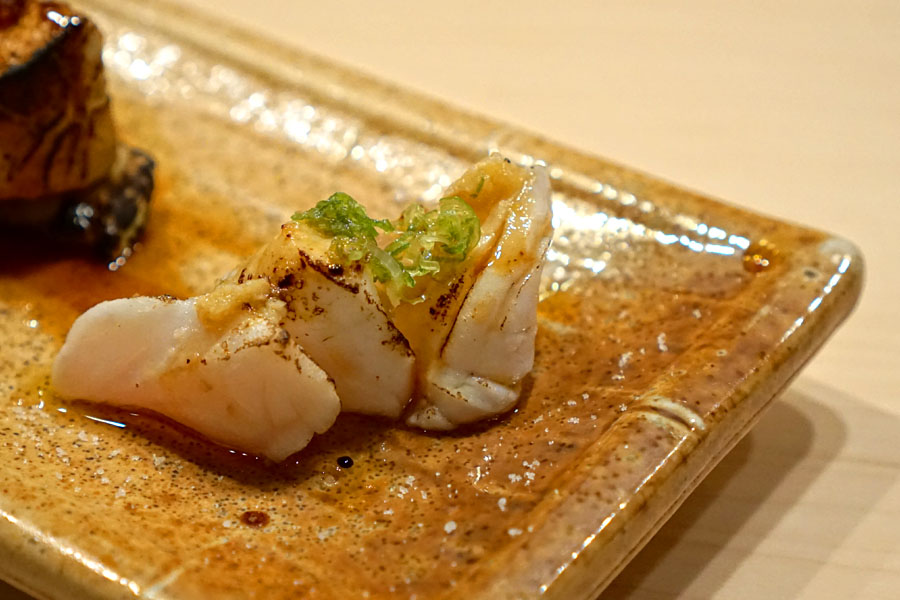 11c: Kurodai
The black sea bream was my favorite of the bunch, coming out with a soft, nearly squishy consistency and flavors that balanced a ponzu-esque acidity with a bit of char bitterness.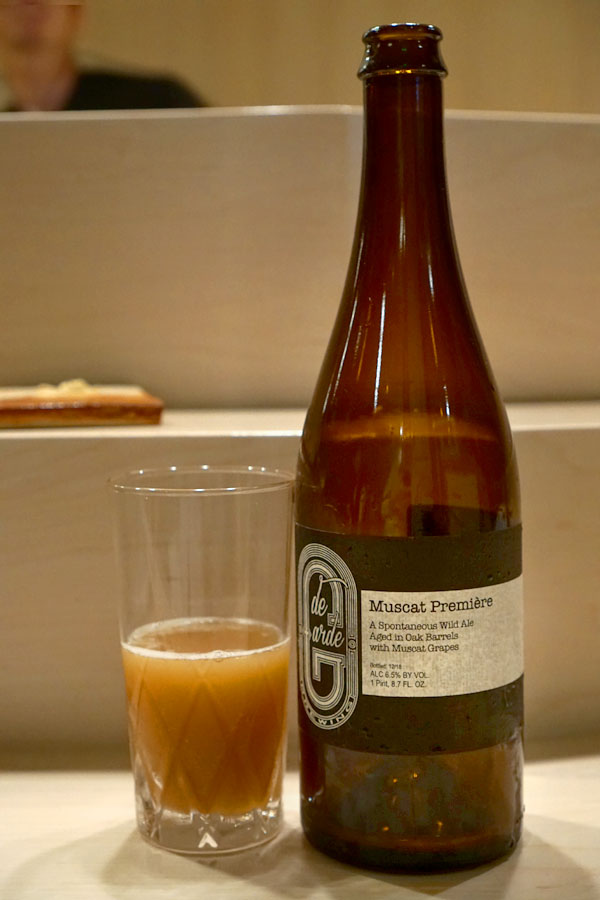 Our second beverage was the
2018 de Garde Muscat Première
, a spontaneous wild ale aged in oak barrels, refermented with Oregon Muscat grapes. The beer smelled tart, citrusy, yeasty, with a metallic overtone and perhaps a hint of oak. On the palate, I got more sourness, along with grain-y notes, earth, lemon, and the fruitiness of the grapes. This was pretty tasty, though I wanted the Muscat to be more apparent.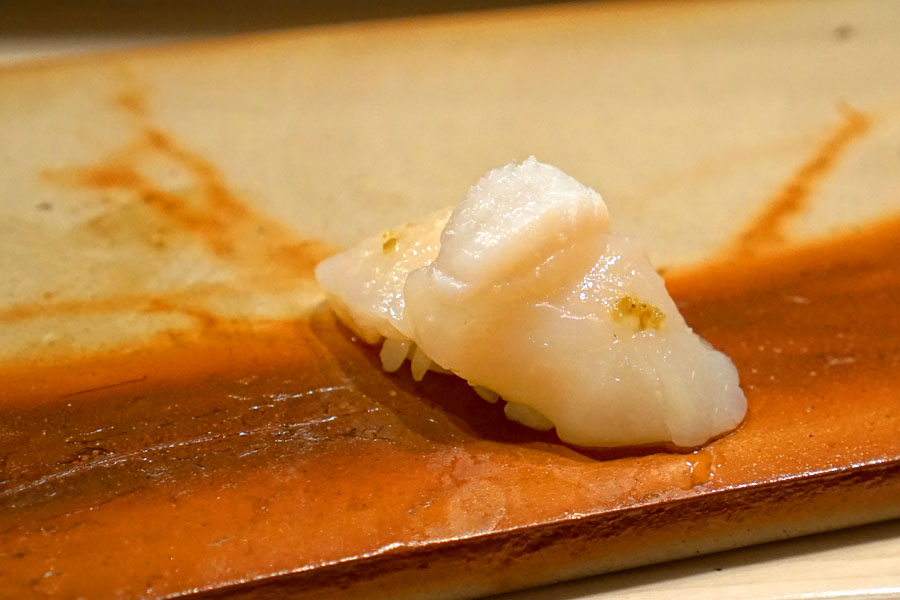 12: Hotate
Scallop was super soft, its mixture of sweetness and brine meshing well with what I believe were notes of truffle.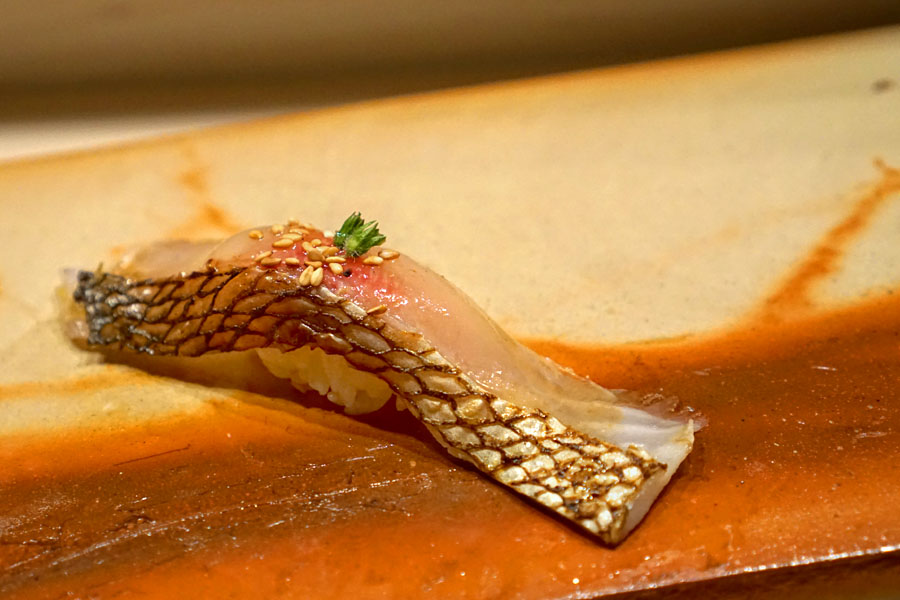 13: Kurodai
Truffle made another appearance with the black sea bream, where it was joined by the nuttiness of sesame seeds and a finish redolent of shiso.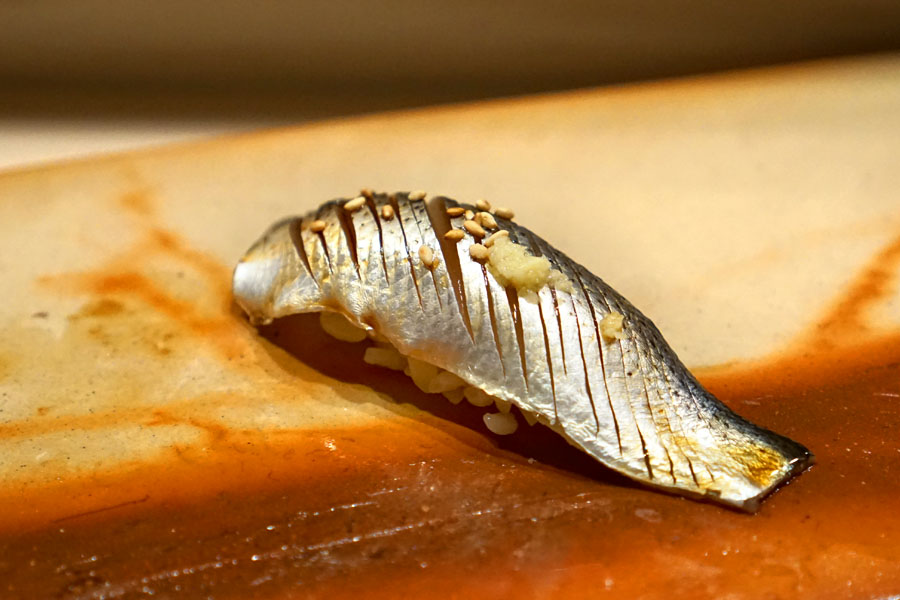 14: Kohada
Shin-san stated that uses less vinegar treatment for his gizzard shad, which resulted in a more aggressive, fishier flavor profile here.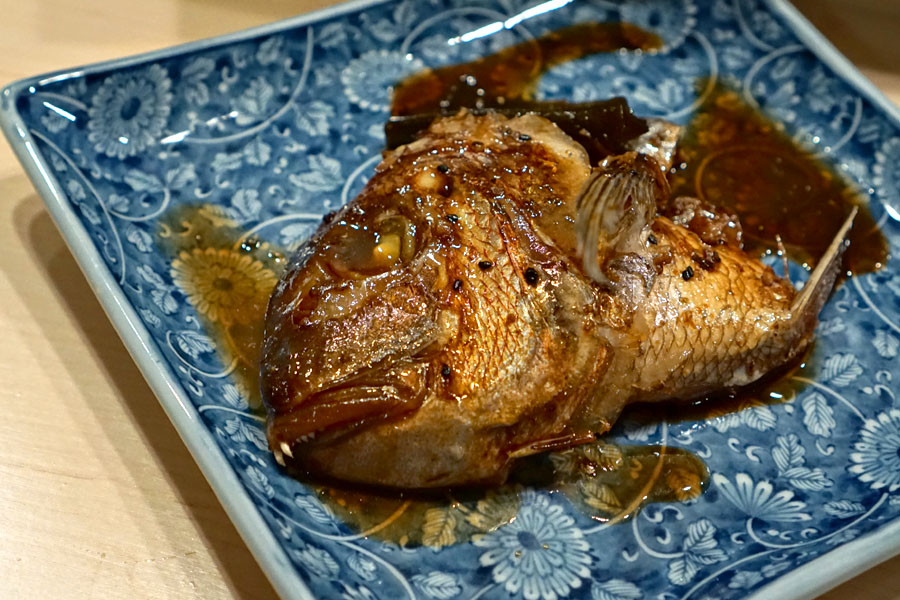 15a: Tai no Atama
At this point, the head of the sea bream above was presented, its tender flesh giving up a mixture of sweet and savory flavors.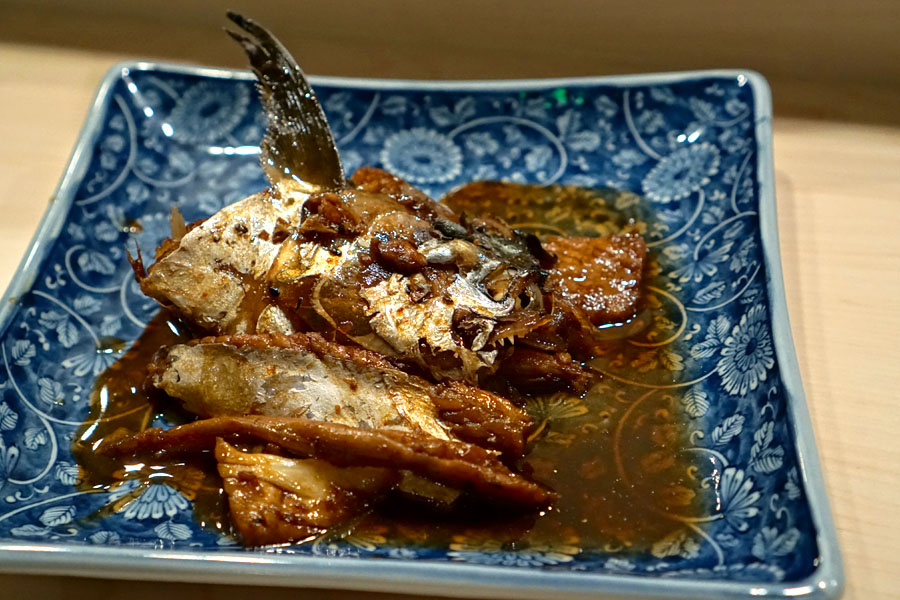 15b: Sawara no Atama
The head of the king mackerel also made an appearance. It had a firmer, rougher consistency, while the taste was, unsurprisingly, more assertive in terms of salinity.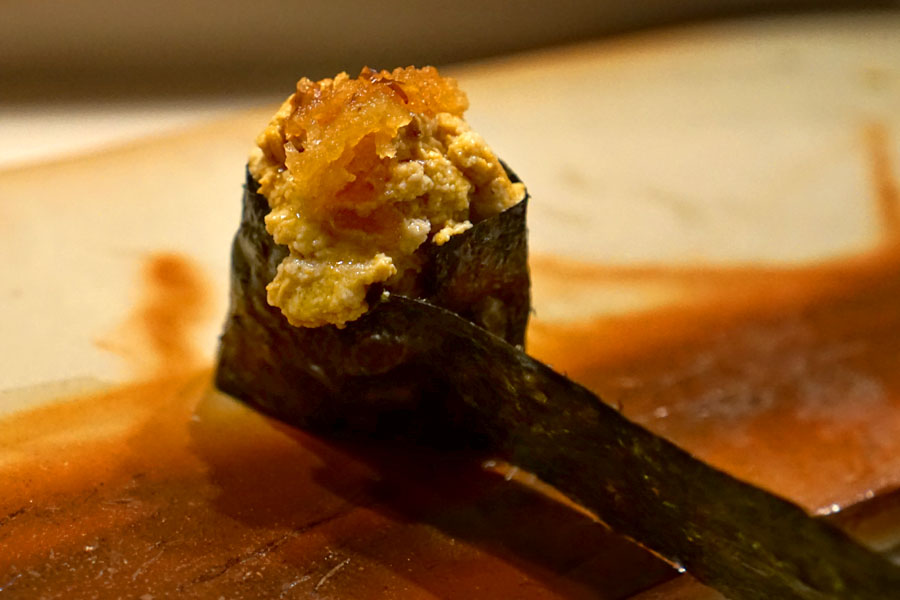 16: Ankimo
A creamy dollop of monkfish liver had a very palpable sweetness to it, one that was fortunately moderated by the presence of nori.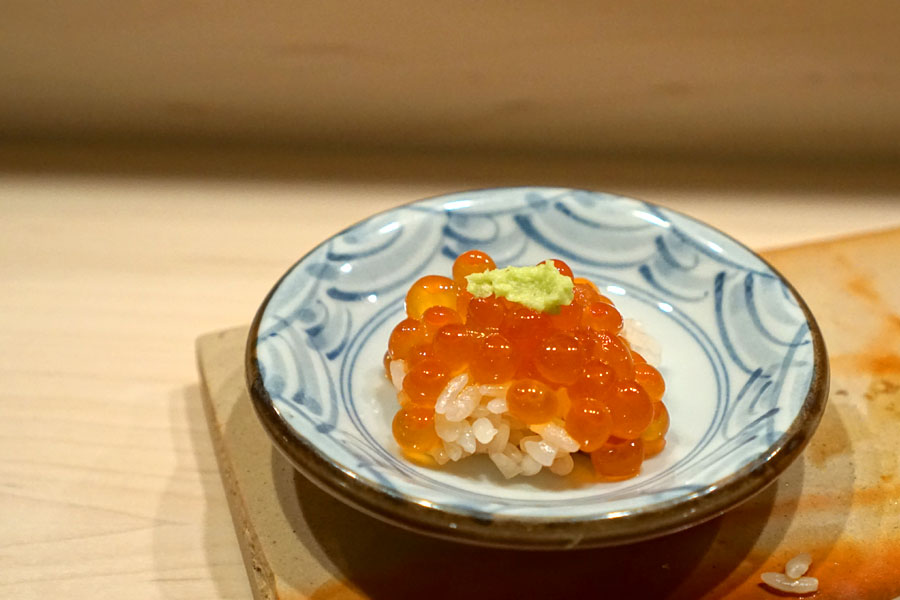 17: Ikura
I found this an especially sweet presentation of salmon roe, which wasn't a bad thing. Nice touch of wasabi here to boot.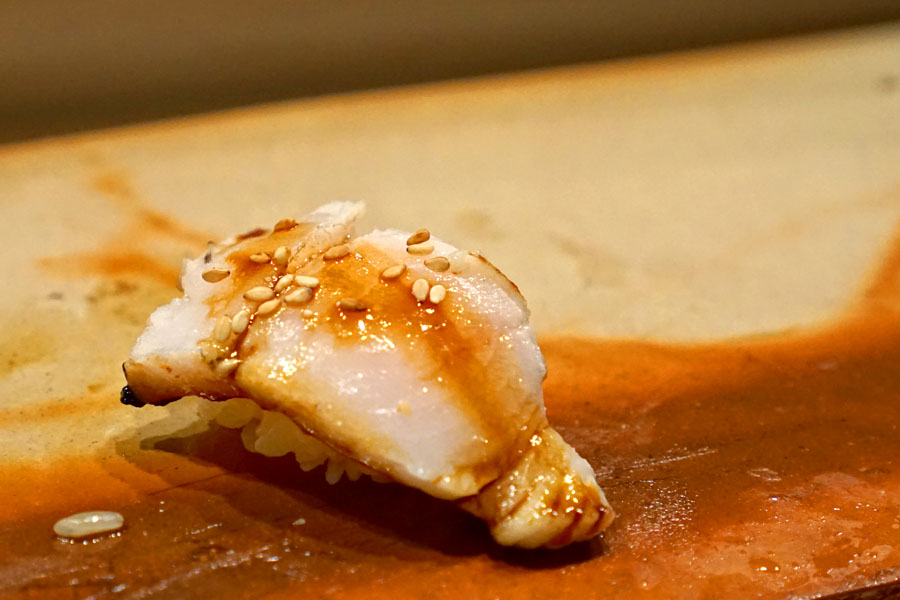 17: Gindara
The butter fish was definitely one of the more luxurious bites of the night, and showcased a pronounced brine to it that really matched up well with the sesame.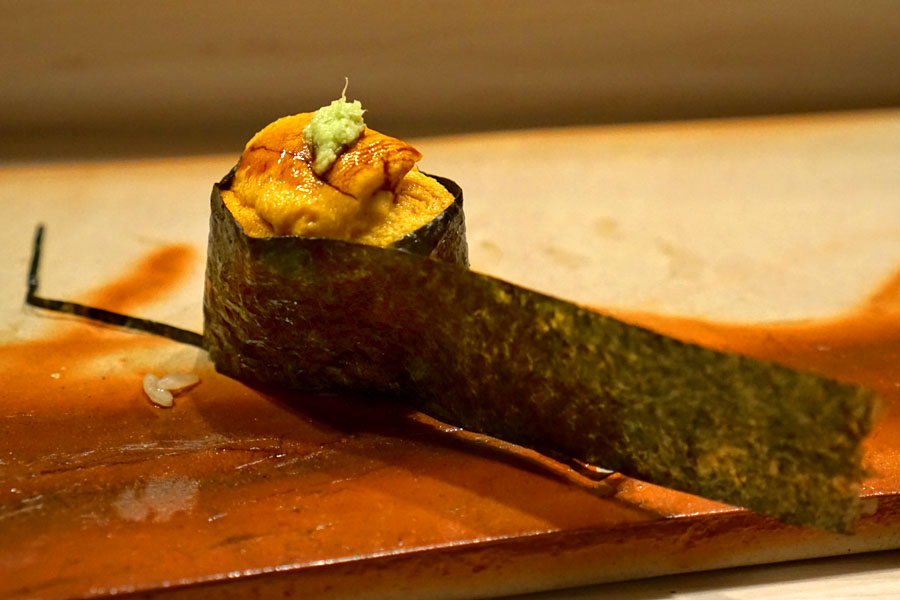 Uni [$12.50]
Santa Barbara sea urchin was more mineral-driven than usual, and again, that seaweed was great for balance.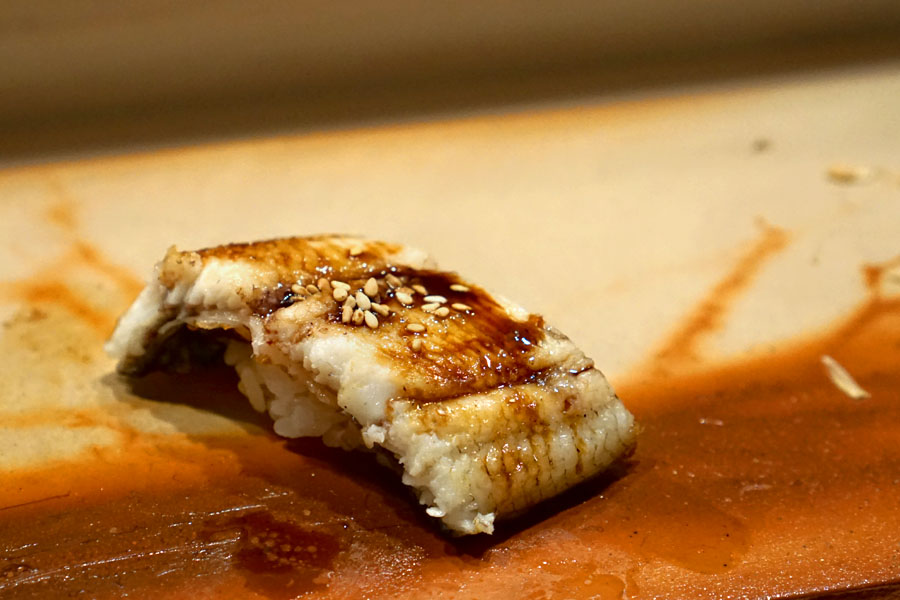 Unagi Shirayaki [$15.00]
Shin-san's presentation of grilled freshwater eel was more austere (and bonier) than most, which just a smidge of sweetness from the
tare
.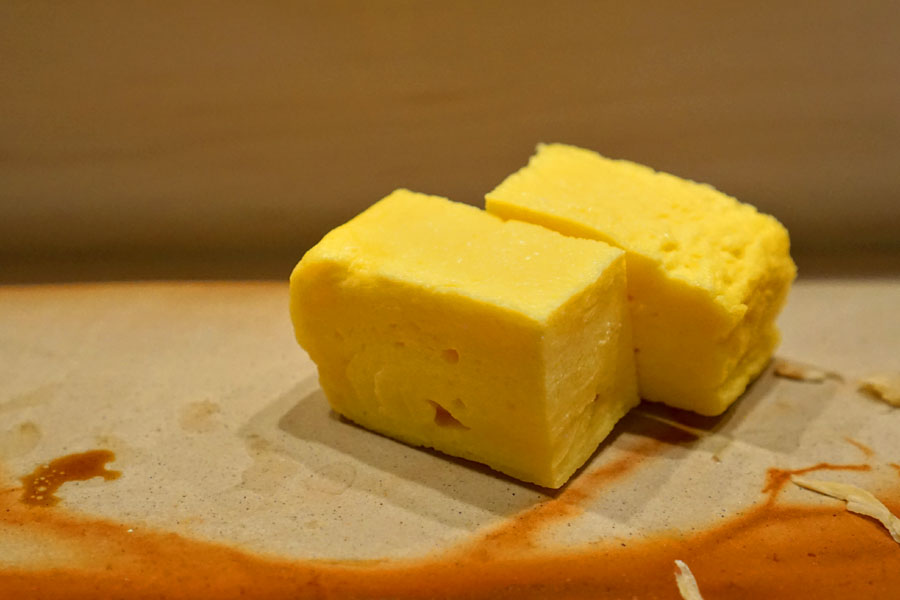 Tamago [$4.00]
The
tamagoykai
signaled the end of the meal, and this particular example was fluffy in terms of texture, while flavors were mostly savory, but with a pleasantly sweet edge.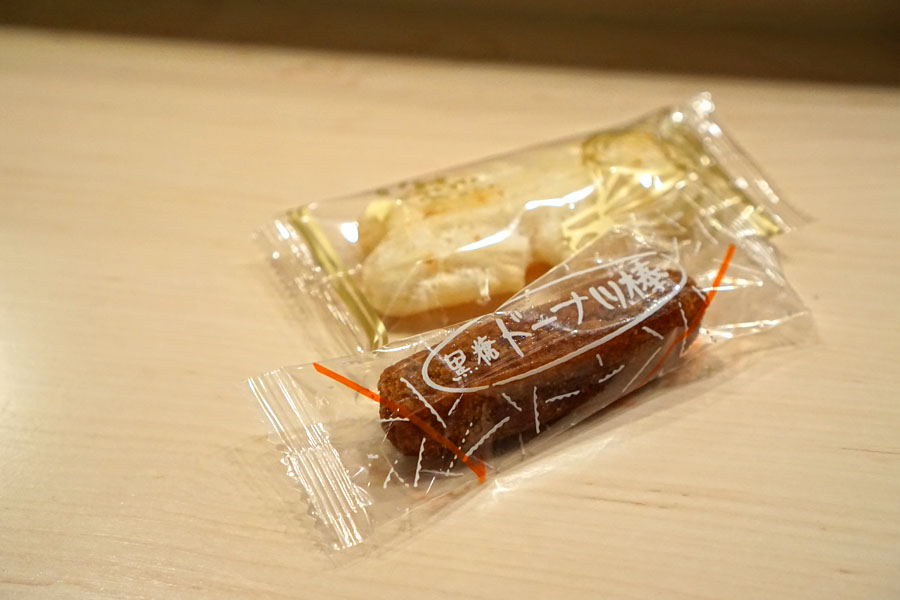 There was no dessert, but I was instead provided a brown sugar doughnut stick and an onion rice cracker to take home.
I'm glad I made it out here. We enjoyed the meal, and the service, coordinated by Yuko-san (a 13-year
Mori
alum who left in 2014 and now also works at Sushi Sushi and Echigo), was excellent. I'd place Masakazu a notch below the top sushi spots in LA. It didn't quite have the finesse and polish you find at the really high-end spots around town, and I'd also prefer a wider/more interesting range of
neta
. As for the rice, I found it very "neutral," so to speak, and at a very nice temperature. It never got in the way, never drew attention to itself, yet was always there as a crucial moderating force. The restaurant is still young, and I think the Chef will keep growing and evolving. This is one to watch.