Majordomo (Los Angeles, CA) [2]
Majordomo Restaurant
1725 Naud St, Los Angeles, CA 90012
323.545.4880
www.majordomo.la
Sun 05/19/2019, 11:40a-03:00p
The
LA Times
Food Bowl festival wrapped up recently, and from what I've been hearing, one of the more popular happenings were Yu Bo's multi-course dinners at
Tian Tian Qiu
's new Mala Town on Sawtelle. Unfortunately I couldn't attend, but as a consolation, I did make it a point to visit
Majordomo
for a special lunch service featuring the Chengdu Chef.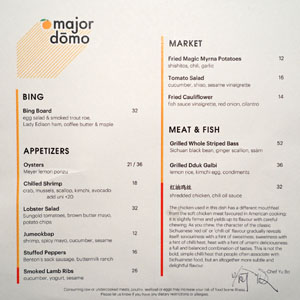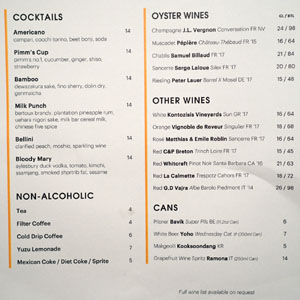 The lunch menu is shown above, and disappointingly, Yu was only allowed to serve one dish. We were expecting several from the Chef, so we were definitely let down. Click for larger versions.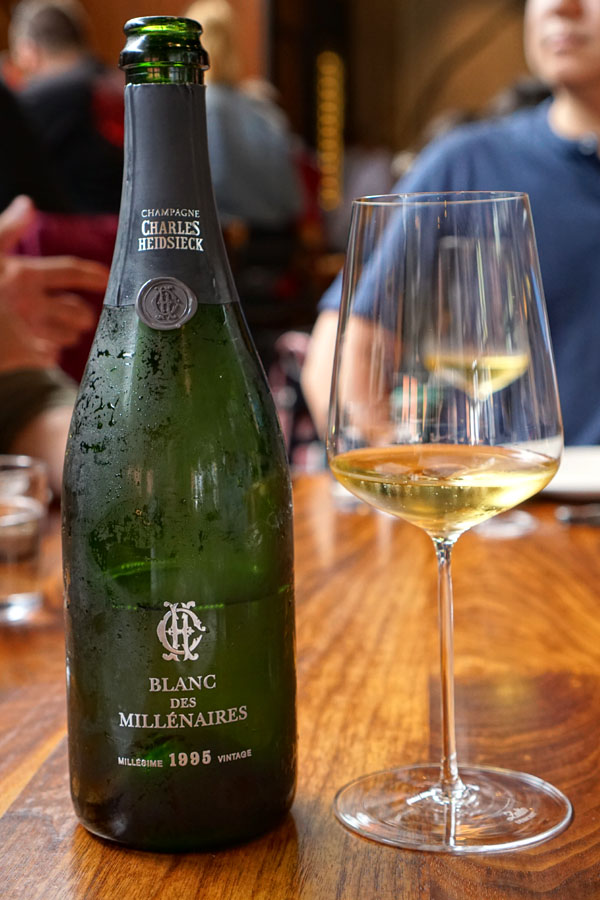 This lunch also functioned as a bit of a wine share, and we each ended up bringing at least one bottle (corkage was $30 for the first two bottles, and $50 for the next four). Up first was the
1995 Charles Heidsieck Champagne Blanc des Millénaires
, a late-disgorged
blanc de blancs
. It smelled great, giving up an aroma that I'll describe as sugary fruit preserves spread on toast, with an earthiness underneath. The taste brought more brioche and sweet yellow fruit, with a hint of oxidation, some minerality, and even a touch of celery, which was surprising. This was drinking very well.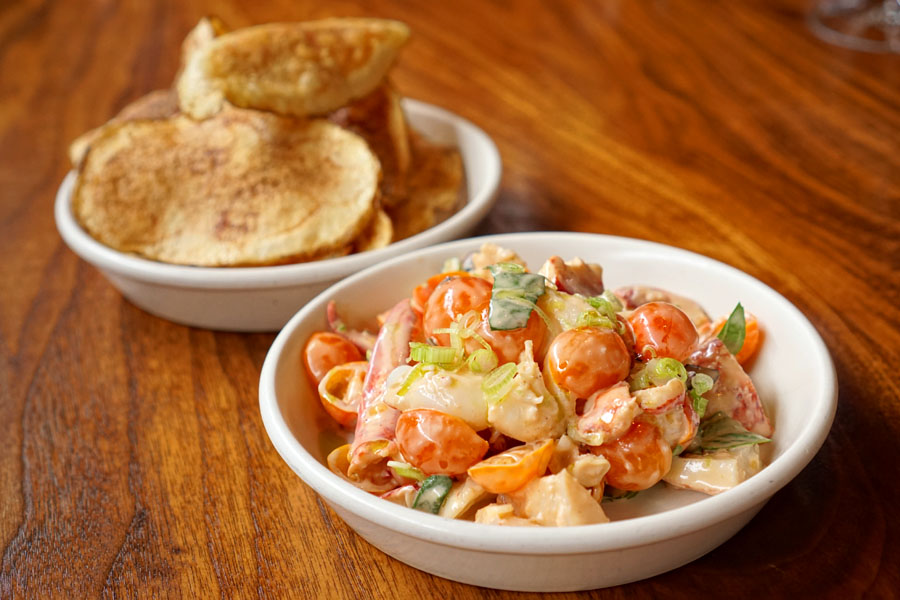 Lobster Salad [$32.00]
| Sungold tomatoes, brown butter mayo, potato chips
The lobster was a delight texturally, and had a sweet brine that stood up to the tartness of those tomatoes, all while the mayonnaise help add a further layer of richness to the dish. A good start.
Bing Board [$32.00]
| egg salad & smoked trout roe, Lady Edison ham, coffee butter & maple
Majordomo's signature
bing
was on point today, coming out soft and slightly sweet, with a yeasty edge. I enjoyed the smokiness and salinity imparted by the trout roe here, and how that worked against the herby flavors of egg salad. That slick, salty, sweet ham satisfied too, but my favorite item was actually the butter, which had a wonderful maple-fueled sugariness to it that just sang when taken with the flatbread.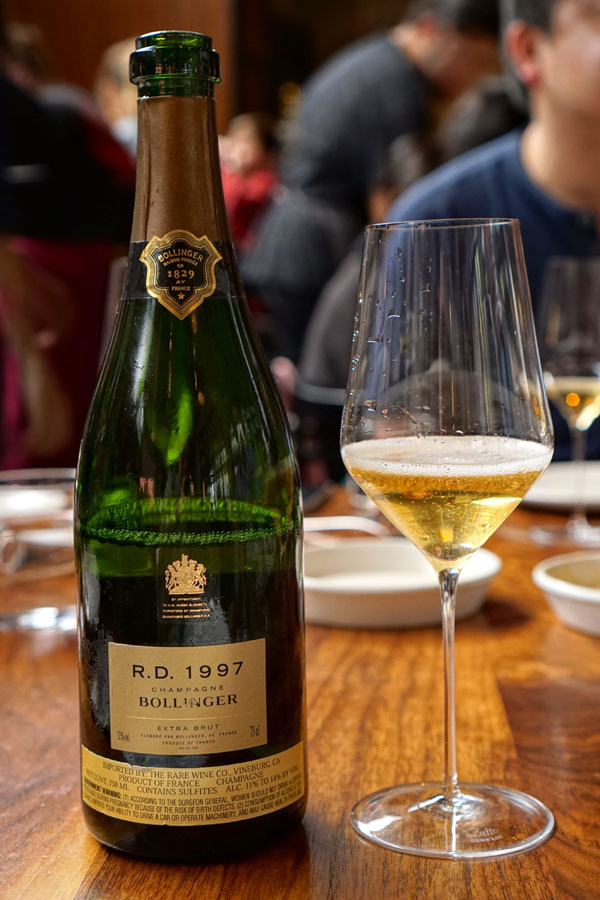 Our second sparkler was the
1997 Bollinger Champagne R.D. Extra Brut
, which was disgorged back in January 2010. The nose on this one was super funky, with a vegetal, smoky character to boot. On the palate, I found the wine soft and subdued at first, while ripe fruit and citrus notes came in on the mid-palate, joined by light toastiness and a decent amount of oxidation.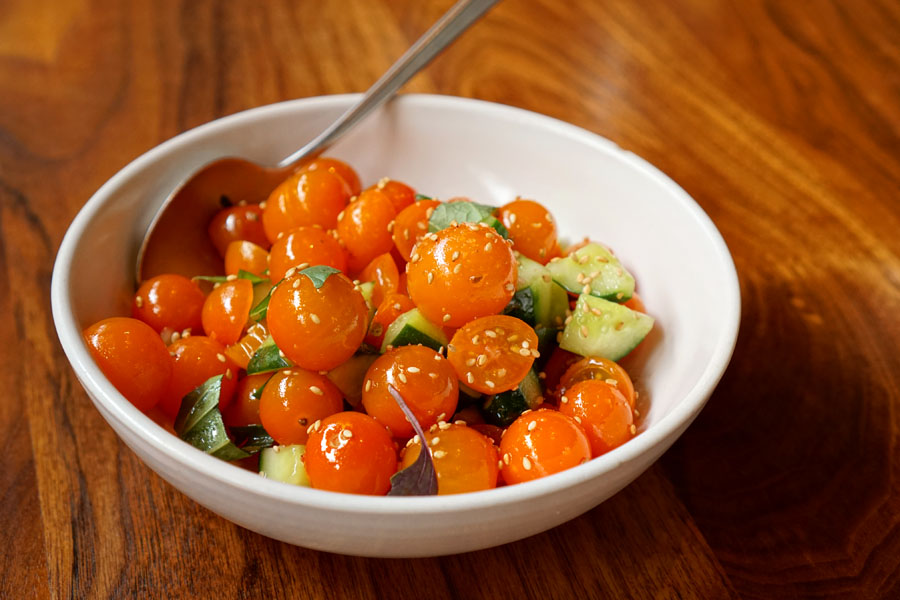 Tomato Salad [$16.00]
| cucumber, shiso, sesame vinaigrette
While the tomatoes were key in the lobster salad above, here they were the hero in the dish. Think juicy and bright and piquant, with the cucumber and shiso working as counterpoints while the sesame imparted a superb nuttiness to the mix.
We moved on into some Burgundy with the
2014 Pierre-Yves Colin-Morey Meursault 1er Cru Charmes
. The wine conveyed a concentrated bouquet of green-yellow fruit, with a touch of acerbicness. In terms of taste, I found it soft and somewhat oaky, yet at the same time, spice-forward and quite vegetal, with flavors of stone fruit tying it all together.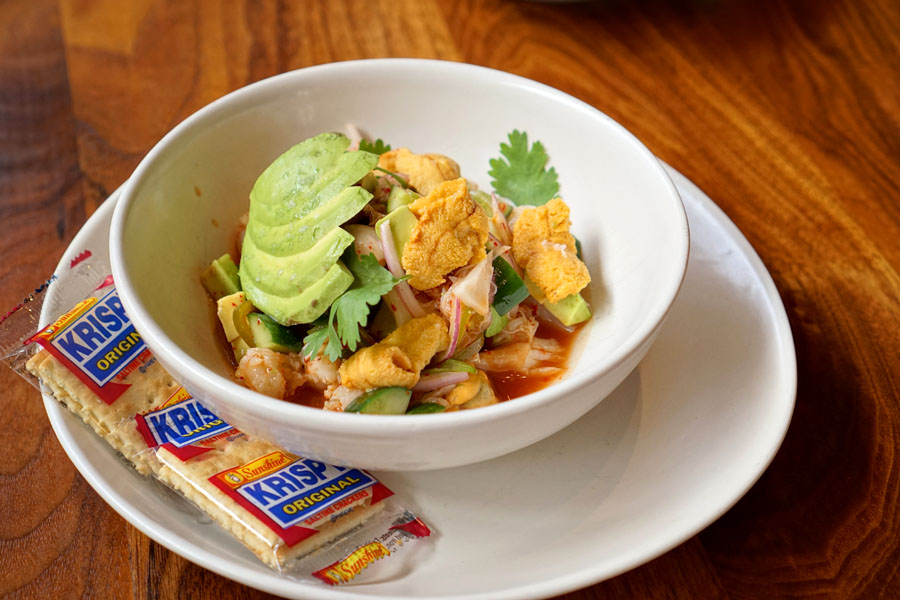 Chilled Shrimp + add uni [$18.00 + $20.00]
| crab, mussels, scallop, kimchi, avocado
Next up was what I'll describe as the most luxe seafood salad you'll ever have. Everything was fresh 'n clean, brought together by an overarching heat from the kimchi while the urchin imparted a healthy dose of sweet salinity. I was a fan of the crunch and lightness of the cucumber here as well, and didn't mind those slightly slutty saltines, either.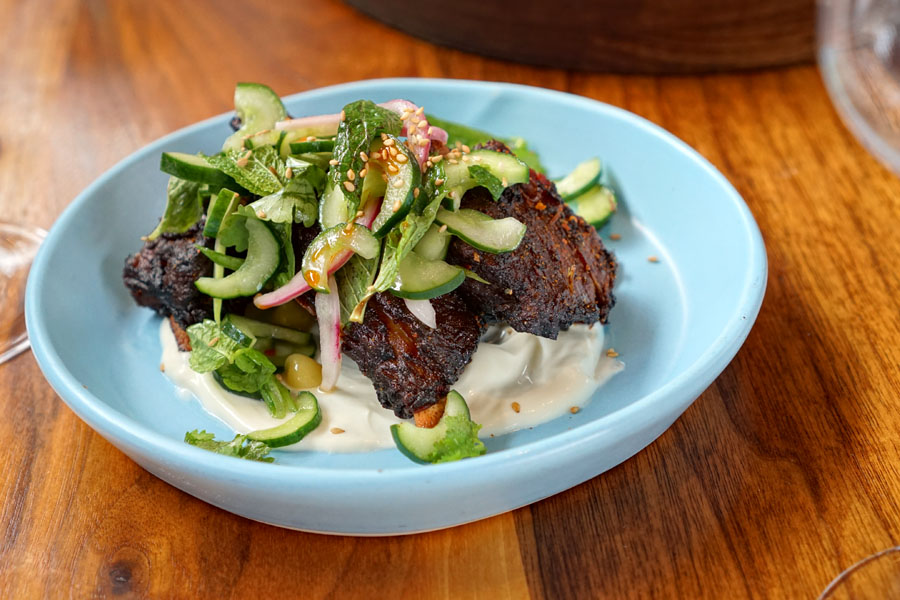 Smoked Lamb Ribs [$26.00]
| cucumber, yogurt, sesame
Lamb conveyed a delectable balance of smoke, savoriness, and sweetness, and was duly lightened and brightened by all the greenery on top. This was a table favorite, and in fact, we ended up ordering a second round.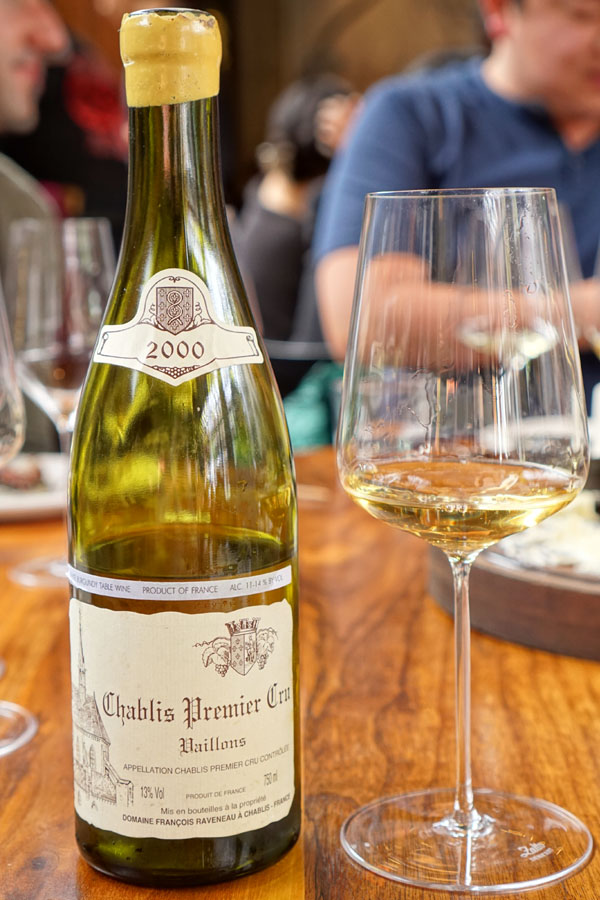 We then sampled the
2000 François Raveneau Chablis 1er Cru Vaillons
. The nose on this one was intensely briny, pure, and mineral-driven. As for the palate, I found it actually pretty restrained, with "green" fruit flavors and more of that salinity intermixing with a fairly pronounced spice character.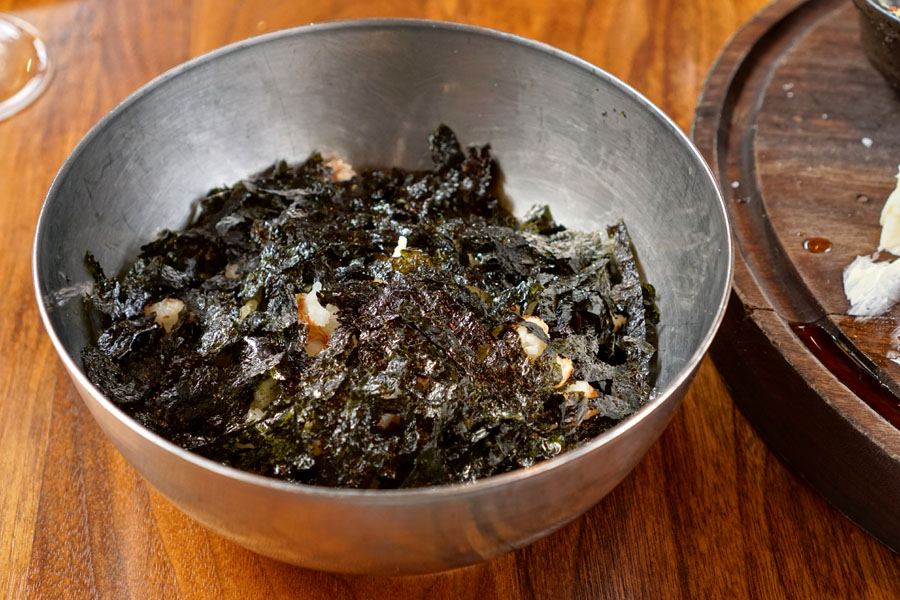 Jumeokbap [$12.00]
| shrimp, spicy mayo, cucumber, sesame
The
gim
-heavy
jumeok-bap
was another winner. It did a good job showcasing the shrimp, and had this funkiness to it that I appreciated, all while the rice worked as a moderating element. Nice crispy bits mixed in here, too.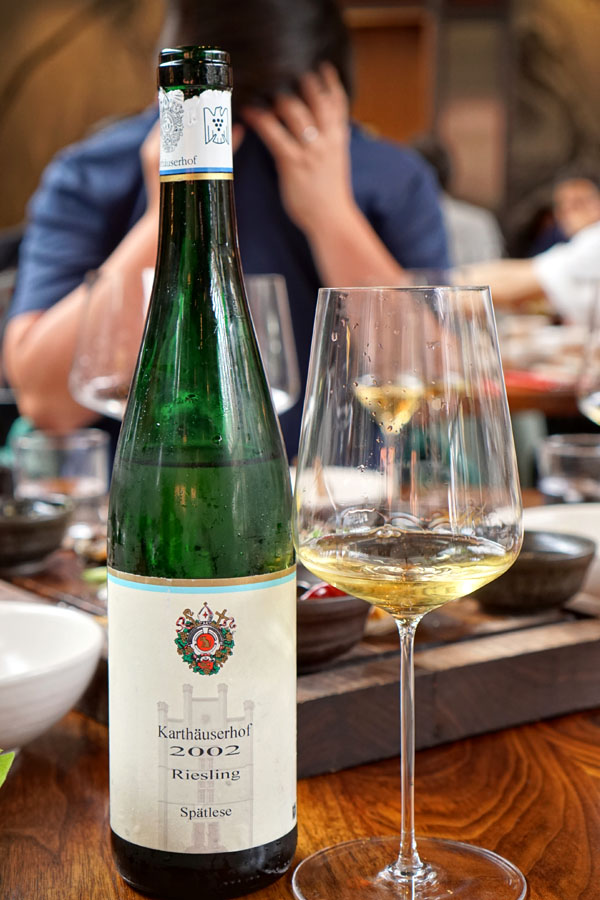 The
2002 Karthäuserhof Eitelsbacher Karthäuserhofberg Riesling Spätlese
was a lovely change of pace. It had a rich, refined nose filled with honey and stone fruit, with a trace of floral. Said honey and fruit continued on into the soft, silky palate, where they were joined by counterbalancing spice notes and just enough acidity.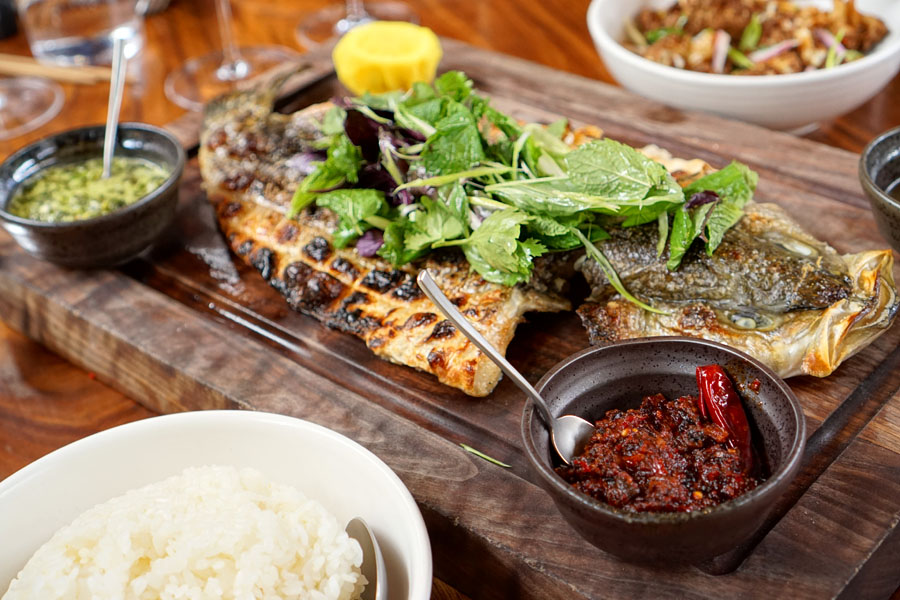 Grilled Whole Striped Bass [$52.00]
| Sichuan black bean, ginger scallion, ssäm
The bass was spot on, arriving perfectly seasoned, succulent, and tender, with a wonderfully salty, crispy skin to boot. It was delicious alone, but I also enjoyed the depth and heat from the included fermented black bean paste with Sichuan peppercorn, not to mention the zestiness of the ginger-scallion condiment. The herb salad up top (mint-cilantro-scallion) totally made sense as well. Note that we were accidentally given some
zhug
too (meant to go with the
tteok-galbi
).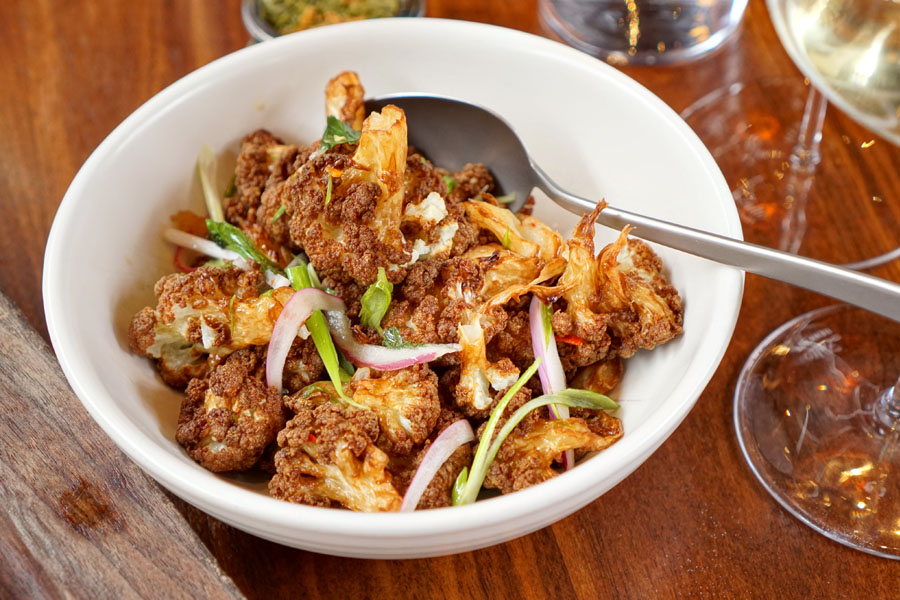 Fried Cauliflower [$14.00]
| fish sauce vinaigrette, red onion, cilantro
Cauliflower conveyed a great spice and depth from the fish sauce, while onion provided a perfect punch of acidity and astringency. However, I do wish that the florets were crisper.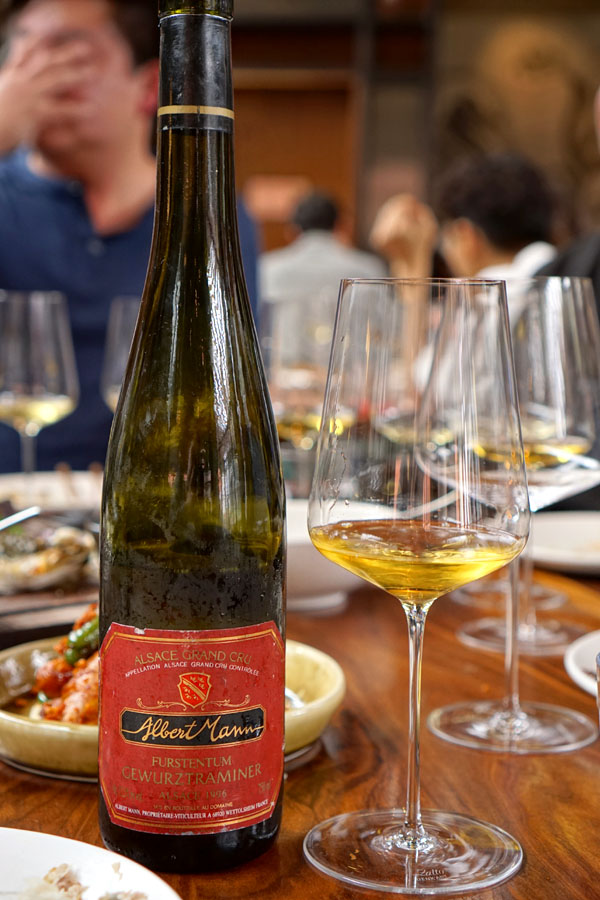 The
1996 Albert Mann Gewurztraminer Furstentum
from Alsace was a pleasant surprise. The wine had an intoxicating nose brimming with flowers and peach; it was almost Sauternes-like with how heavily sweet it was. The palate had loads of stone fruit, lychee, and honey, with layers of barnyard and spice and bitterness providing the right amount of balance.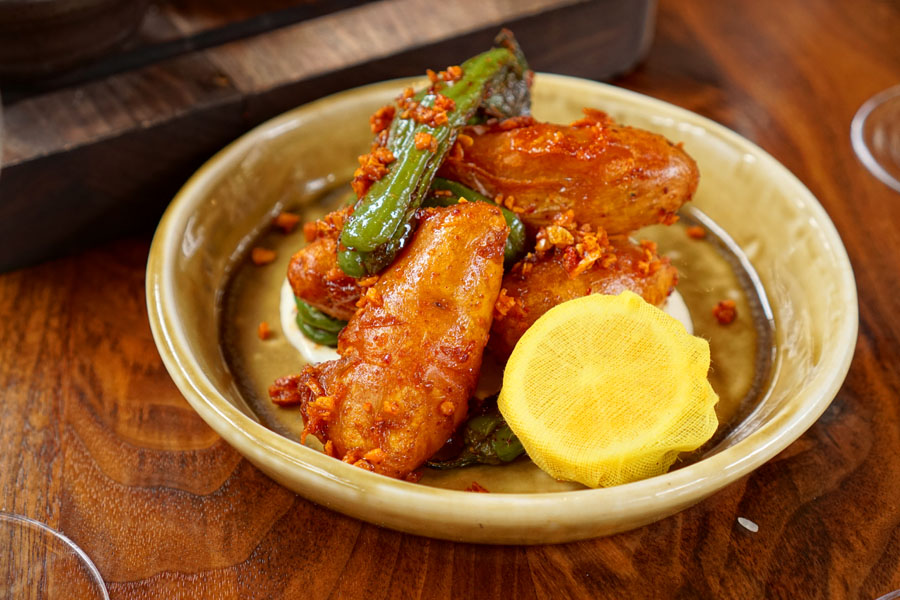 Fried Magic Myrna Potatoes [$12.00]
| shishitos, chili, garlic
Fingerlings were perfectly cooked, and almost creamy on the inside, while flavors were a deft blend of sourness and spice. Very good, and in fact, one of my dining companions even declared these the best potatoes he'd ever had.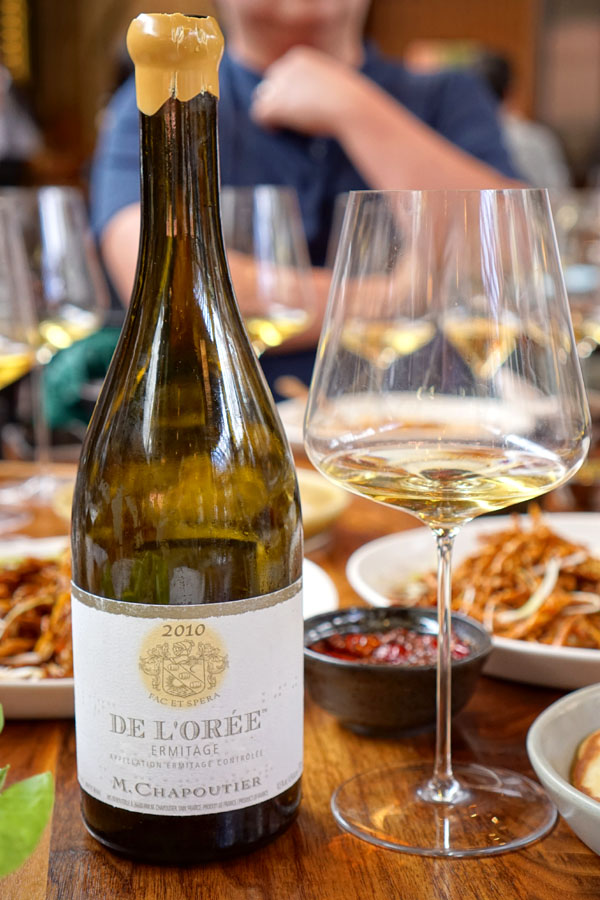 We then traveled to Northern Rhône for the
2010 M. Chapoutier Ermitage Blanc De L'Orée
. The nose here was robust, showcasing butteriness alongside brioche, dried fruit, and a distinctly "meaty" element. The palate was similarly rich, and gave up a base of soft, ripe fruit and flowers, tinged by a touch of oak.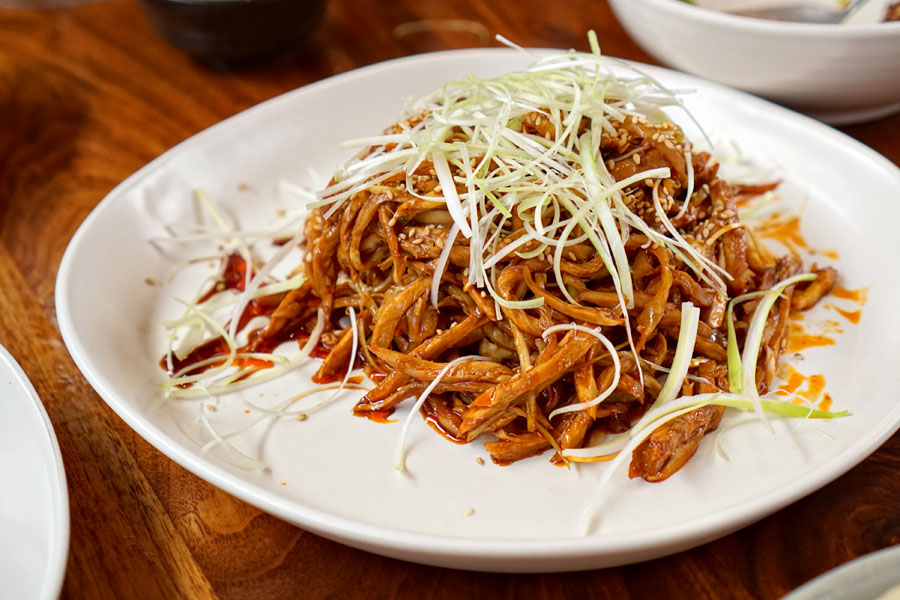 紅油鸡丝 [$32.00]
| shredded chicken, chili oil sauce
We ended with Yu's excellent rendition of
hong you ji si
. What stood out to me was the initial sweetness of the chicken, and how that soon transitioned to a multifaceted heat and savor, one well complemented by the nuttiness of sesame and the zippy bite of scallion. Also of note here was the bird's texture, which was firm, maybe even a bit chewy, but yielding, and actually very gratifying.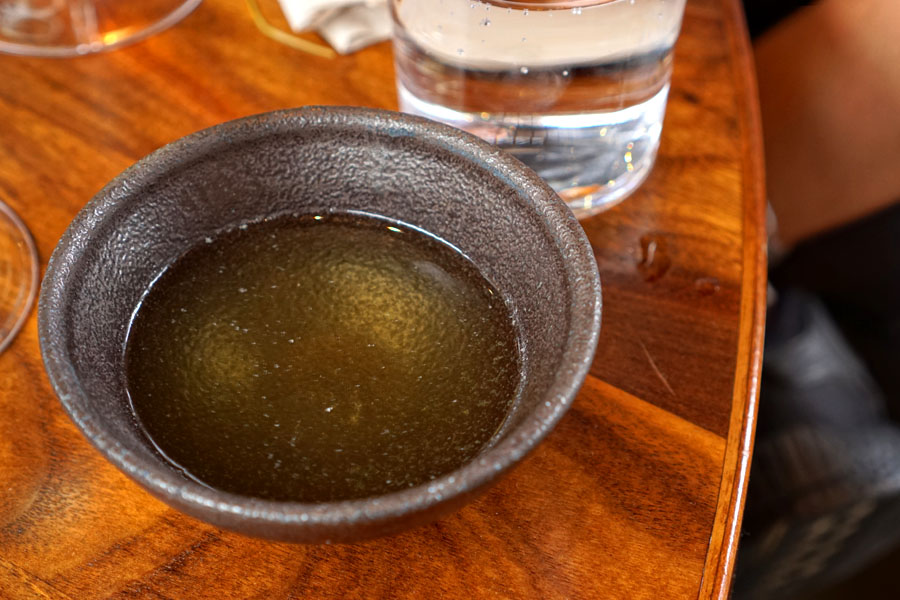 The dish came with a small bowl of chicken broth, which helped temper some of the strong flavors at play.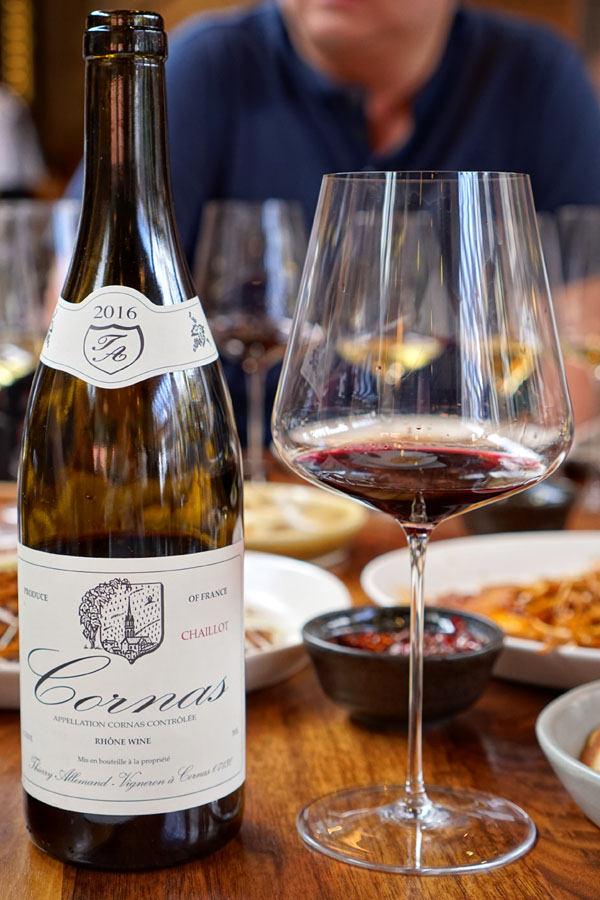 We stayed in the Rhône for our final wine (and the lone red), the
2016 Thierry Allemand Cornas Chaillot
. Vibrant nose filled with massive amounts of strawberry, alongside musty notes, herb, and a bit of boozy heat. The palate veered tannic, with again more sweet fruit commixing with minty and herbaceous nuances, along with a smidge of savoriness.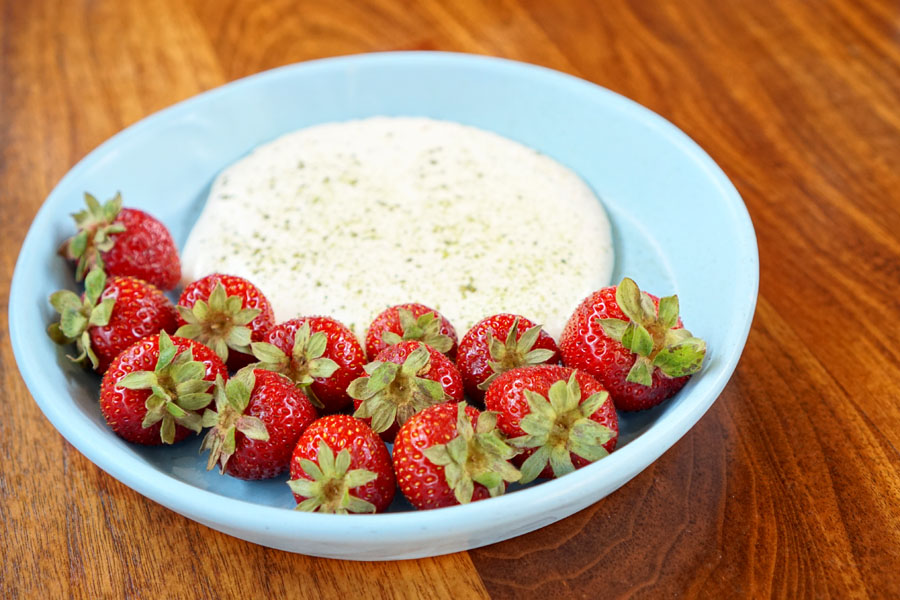 Rounding things out was a complimentary dessert featuring Harry's Berries strawberries and cream. It was a pretty much perfect pairing, accented by what I believe was a sprinkling of matcha powder and sea salt.
Though we were disappointed that Chef Yu only had one dish on the menu, the dish that he did have delivered for sure, as did the rest of Majordomo's menu--a strong showing all around. I'm certainly looking forward to checking out his restaurant when it opens, but when we spoke to him, he stated that he didn't really have a timeline in place yet, so I think it'll be a while, sadly.