Bresca (Washington, DC)
Bresca Restaurant
1906 14th St NW, Washington, DC 20009
202.518.7926
www.brescadc.com
Wed 05/15/2019, 08:10p-11:10p

In addition to
Poca Madre
, another spot that the fine folks over at
Metier
recommended to me was U Street Corridor's Bresca. Named after the Spanish word for "honeycomb," the restaurant opened on September 22nd, 2017, and serves contemporary American fare inspired by the idea of bistronomy, a concept wherein gastronomic-type cuisine is presented in a bistro setting. The man behind Bresca is Chef/Owner Ryan Ratino, and the place was just deemed Michelin Star worthy last September, almost exactly a year after opening.
About the Chef
: Born in 1990, Ratino hails from Medina, Ohio, and was raised in a working-class family where food wasn't a top priority. As a teenager, he was attracted to baseball and ping pong. However, he did get a restaurant job at the end of his sophomore year at Buckeye High School (c/o 2008), working at a nearby pub called Winking Lizard in Brunswick; he would stay there until July 2009. Following, he enrolled at the Le Cordon Bleu program at the Orlando Culinary Academy, where he attained his A.O.S. degree in 2010. While there, Ratino cooked at the Gaylord Palms Resort & Convention Center in nearby Kissimmee. At the start of 2011, he transitioned to Bull & Bear at the Waldorf Astoria in Orlando, and stayed there for six months. His next move was to the Walt Disney World Swan and Dolphin Resort, where he worked at Shula's Steak House and later at Todd English's BlueZoo, eventually becoming EC there.
In May 2014, Ratino became executive sous at Caviar Russe in New York, a gig that lasted about five months. During this period, he also underwent
stages
at Wylie Dufresne's
wd~50
, John Fraser's Dovetail, and
Minibar by José Andrés
. October 2014 saw him as Executive Chef at L'Auberge Provencale, a bed and breakfast in Boyce, Virginia, while a year later, he became CdC at
Kaz Okochi
and Richard Sandoval's Masa 14 in Washington, replacing Steve Hartzell. In October 2016, Ratino landed the Exec Chef position at Roger Marmet's wine bar Ripple, taking over from Marjorie Meek-Bradley. There, he was awarded the "Rising Culinary Star of the Year" title from the RAMW, but the Cleveland Park restaurant ended up closing in June 2017. After the shutter, the Chef went on a R&D food trip to Europe, and upon returning to the States, began working on Bresca, to be located in a Logan Circle space that previously served as the first floor of Policy Restaurant & Lounge (and McKey's Antiques before that).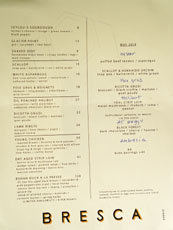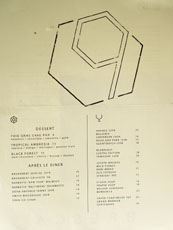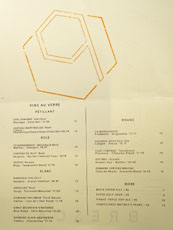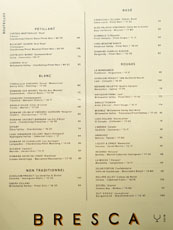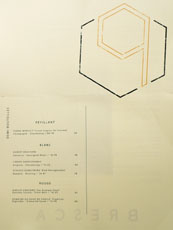 Bresca has a tight, focused menu, which I appreciate. There's a five-course tasting available, but in order to try as much as I could, I requested an extended 10-course dégustation that ended up being priced at $145 a head. To pair with the meal, I opted for cocktails by Bar Manager Will Patton, though there are also a handful of beers and a compact wine list available. Click for larger versions.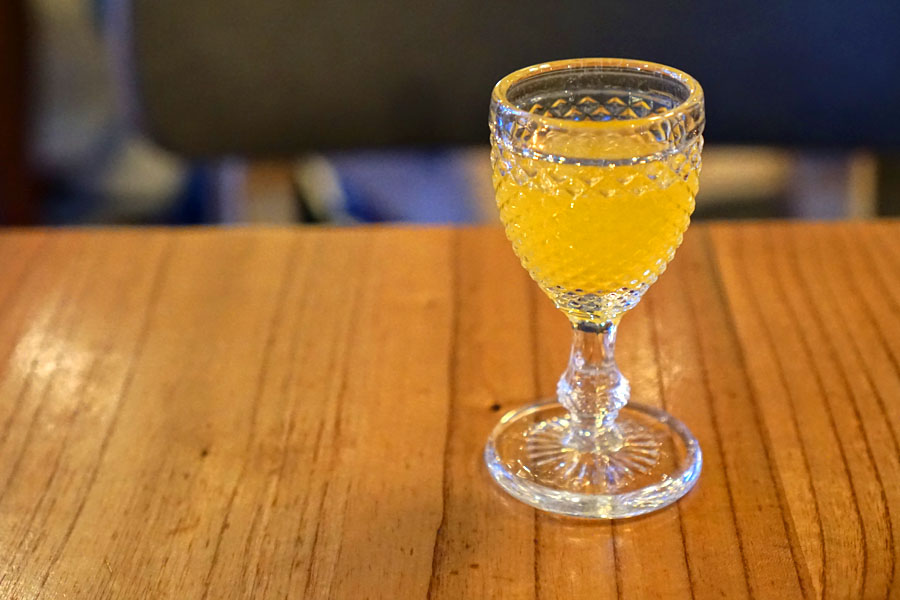 We got the ball rolling with an apéritif of sorts: an orange shrub with fortified wine. It was a bracing start, one that definitely livened up the palate with its plethora of tart, funky, acidic flavors, all with a sugary backing.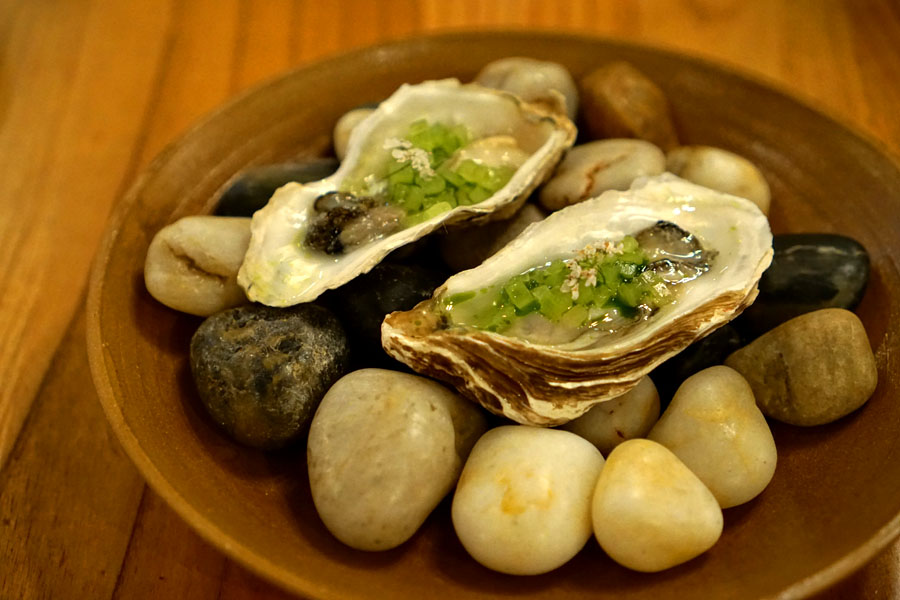 1: Glacier Point
| gin / cucumber / thai basil
Oysters were fresh and clean, and showed off bright, botanical flavors finished by a pronounced floral character. I would've preferred 'em a bit colder, though.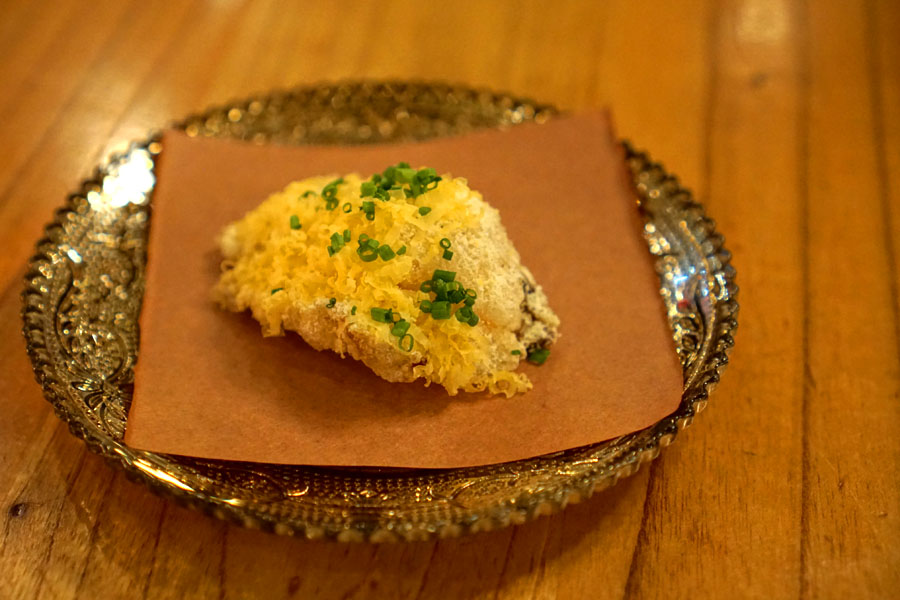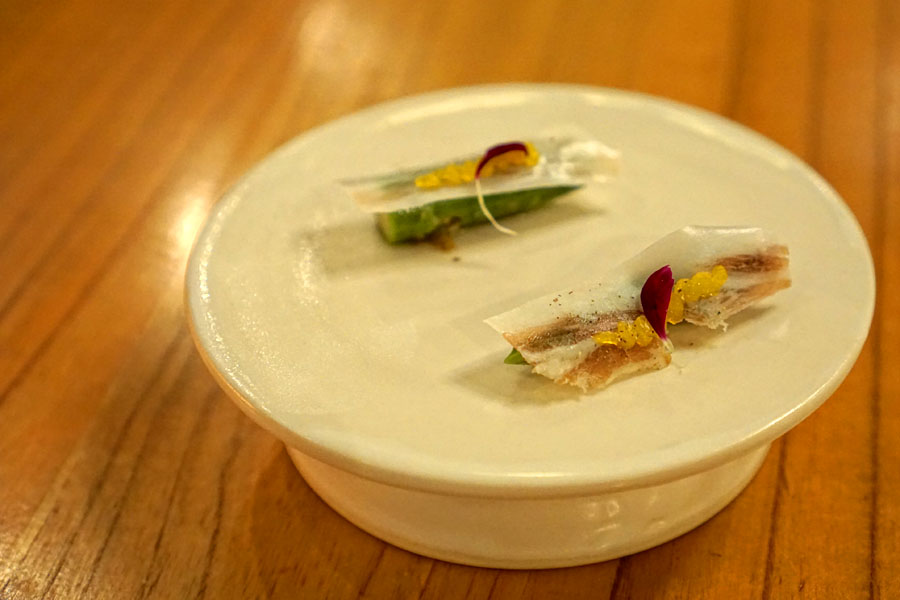 2: puffed beef tendon / asparagus
Next up were a couple amuse bouche-like bites. A puffed beef tendon with cheddar and jalapeño(?) powder was pretty great. I loved its crunch and unabashed savoriness, and how that married with the richness and almost "fluffy" texture of the cheese. The asparagus, meanwhile, was also a winner, its bitterness working superbly against contrasting sweet notes and the smokiness of that housemade pancetta.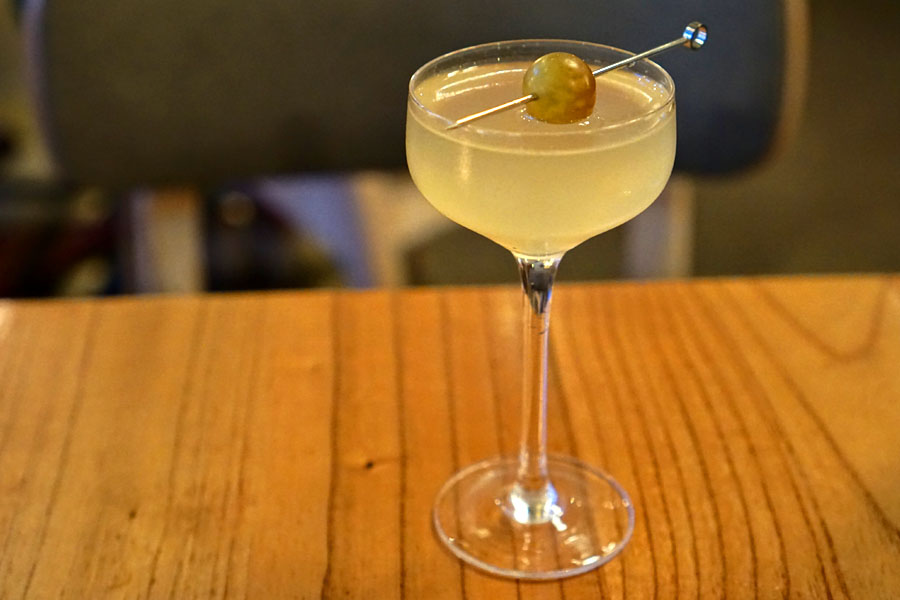 Thrice Born [$16.00]
| Singani / Grappa / Vermouth / Muscadelle / Elbling
Drink-wise, we began with this decidedly grape-y cocktail, which showed off a straightforwardly sweet, aromatic, wine-y nose. On the other hand, its taste was bittersweet at first, with lots of herbs, while ripe fruit appeared on the mid-palate, finished by more medicinal notes and a touch of alcoholic heat.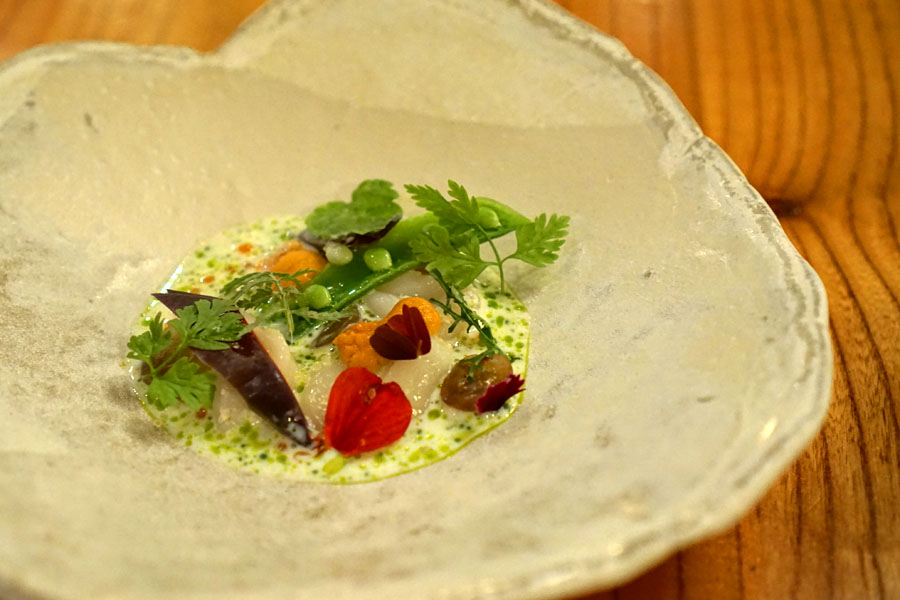 3: Scallop & Hokkaido Urchin
| snap pea / buttermilk / white grape
Scallop arrived sweet and oceany, its potency augmented by the presence of sea urchin while the buttermilk imparted a creaminess to the mix. The grapes worked better than I thought they would, but for me the crux of the dish was the snap pea, with its zippy, verdant crunch that functioned as a great counterpoint to the seafood.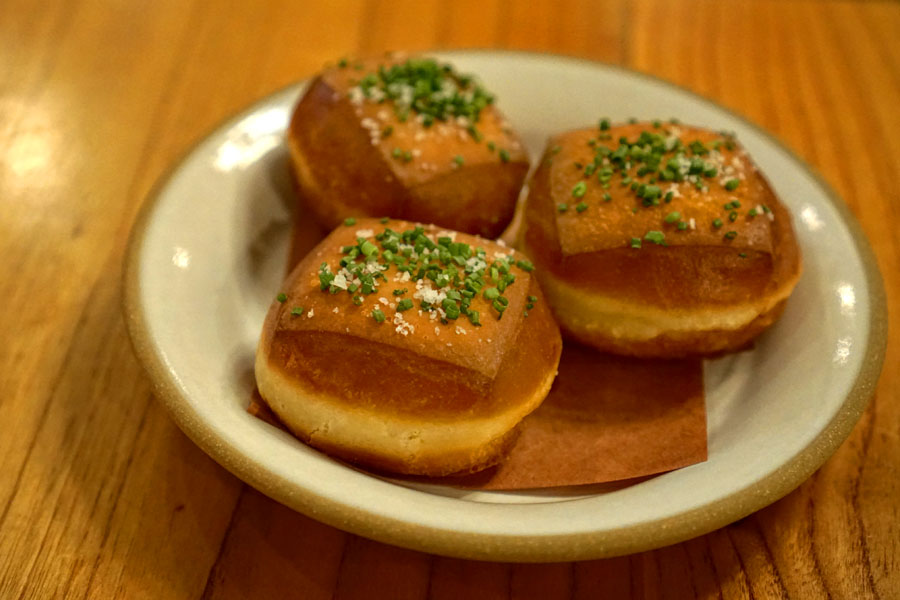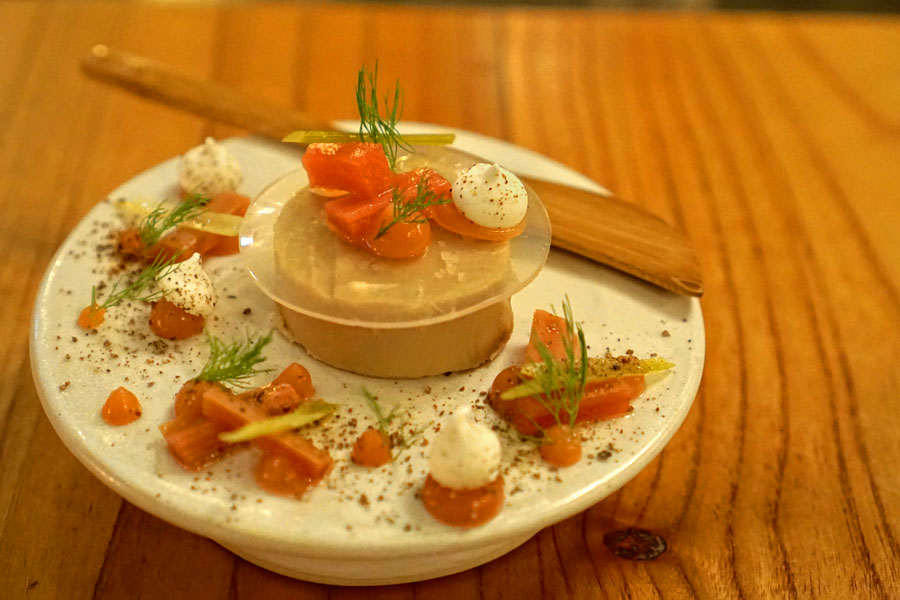 4: Foie Gras & Beignets
| rhubarb / long pepper / elderflower / wild fennel
We had here a deft presentation of foie torchon, its refined liver-y notes a great match with the tartness of rhubarb pickles and fluid gels, all while the long pepper meringues and fennel offered up a zesty, spicy note. The star of the show, though, was actually the beignet. Think super soft and piping hot, with subtly sweet yet earthy, savory flavors, punctuated by pops of salt. These just might've been the best beignets I've ever had, and functioned swimmingly as a vessel with which to consume the liver.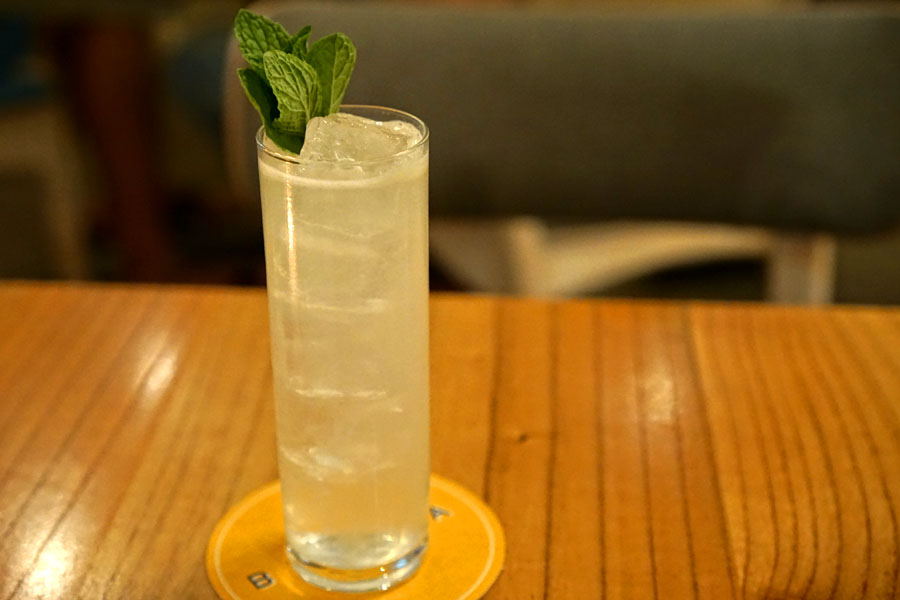 Koi of Jerez [$14.00]
| Vodka / Coconut / Cucumber / White Shoyu / Manzanilla / Lime / Ginger / Vanilla
This long cocktail was lighter, daintier than I expected. I got restrained coconut with a hint of oxidation and just the faintest smidge of
shoyu
, while the back end was noticeably dry and astringent.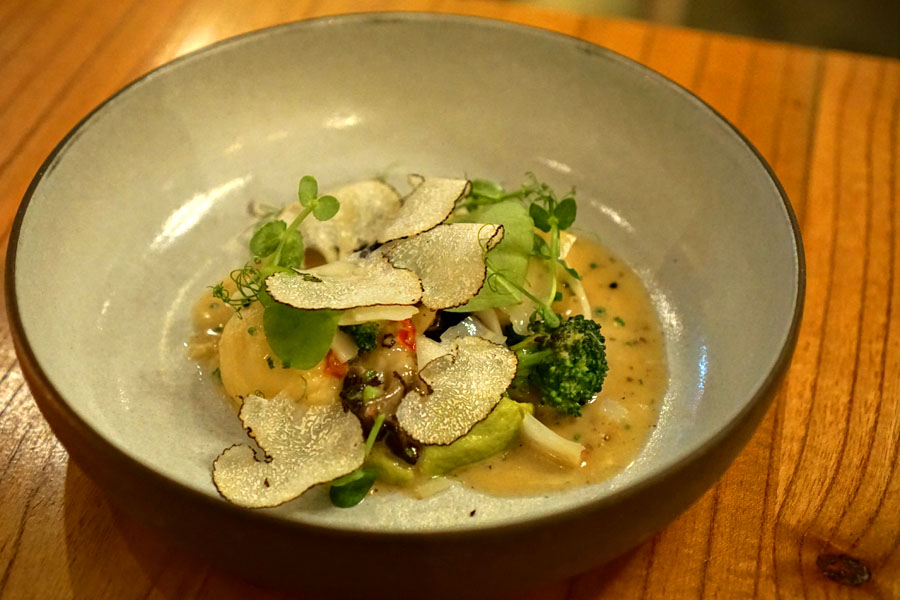 5: Ricotta Gnudi
| broccoli / black truffle / maitake / goat gouda
Gnudi were supple and pillowy, while crisp, bitter stalks of broccoli functioned as a foil. My favorite thing here, though, was the combo of truffle and mushroom, which had woodsy funk that pervaded the entire dish.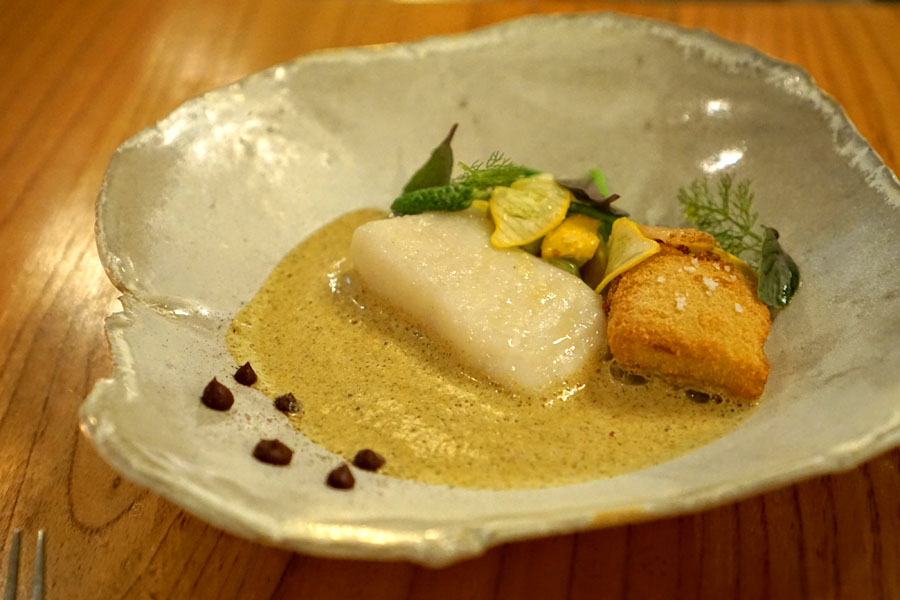 6: Oil Poached Halibut
| courgettes / wild asparagus / vadouvan emulsion / black olive
There was a great cook on the halibut, and its delicate flavors were enhanced by the application of vadouvan spices. Zucchini, meanwhile, provided a lightness and crunch, and I was a big fan of that fritter on the side, too.
Buried Flavor [$13.00]
| Gin / Americano / Vanilla / Apertif / White Asparagus
It's pretty uncommon to find asparagus used in a cocktail, but it worked here. The drink had a nose that meshed notes of the vegetable with an acrid element. Taste-wise, I found it bittersweet initially, but softened by fragrant vanilla, while the finish once again highlighted the asparagus. Very neat.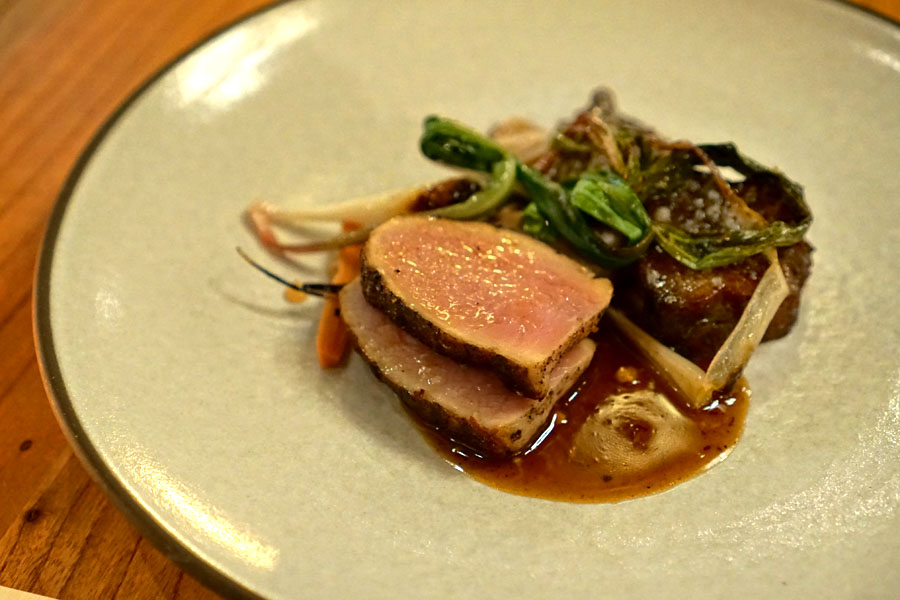 7: Veal Strip Loin
| morel mushroom / rhubarb / ramp / peanut
I'm typically not a big fan of veal, as I often find it boring. This, however, may have been the most flavorful preparation of the protein I've had. I loved the sear and seasoning going on, as well as the potency of the ramps, while morels added even more oomph to the dish.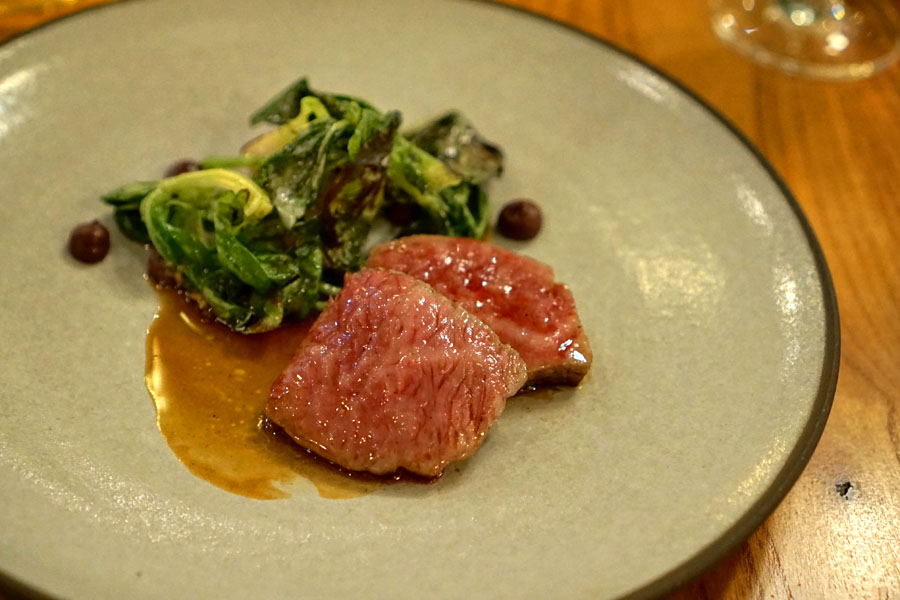 8: Japanese A5 Wagyu
Japanese beef came out super tender, with of course a healthy amount of well-integrated fat. It matched up beautifully with the bitterness of charred fava leaves and turnips, but I did find the dots of olive purée a bit distracting.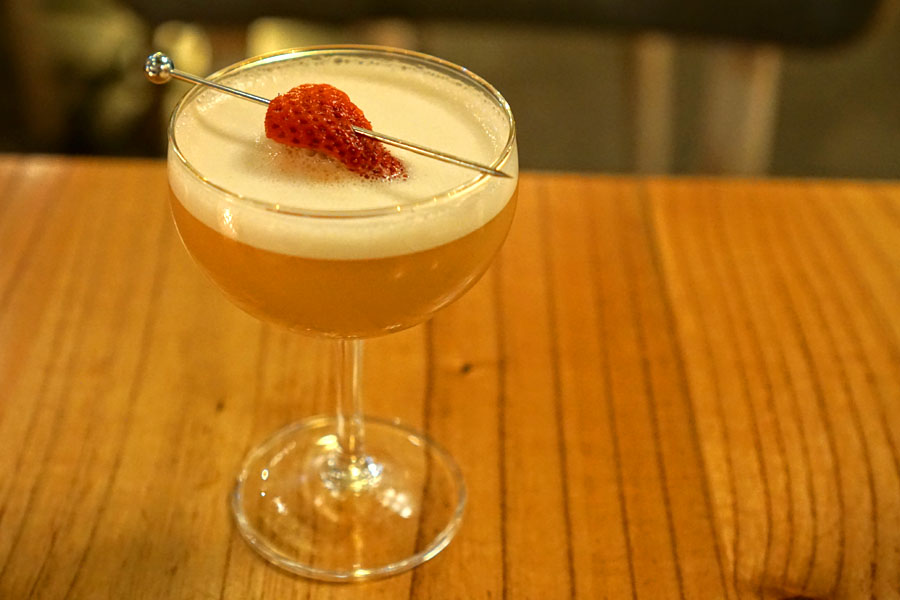 Bride's Mantel [$14.00]
| Whiskey / Rhubarb / Floral / Amaro / Lemon / Whey
Our penultimate cocktail brought forth aromas of tart strawberry, apple, and lemon, with a bit of astringency. In terms of taste, I found soft, fruity, floral flavors for sure, joined by a smoothness from the whey, while a touch of herb from the amaro worked as an accent.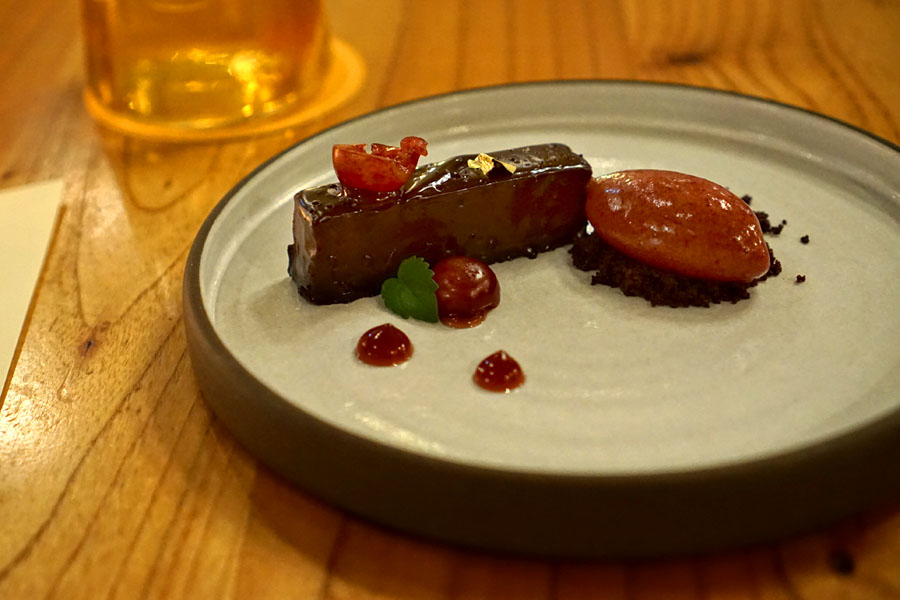 9: Black Forest
| dark chocolate / cherry / hyssop / sherbet
Bresca's take on black forest cake brought together a rich, robust, yet also nutty chocolate cake and plenty of tart cherry, along with some crispy bits for texture. It was a delicious combination of flavors, though unfortunately I didn't get much from the advertised hyssop.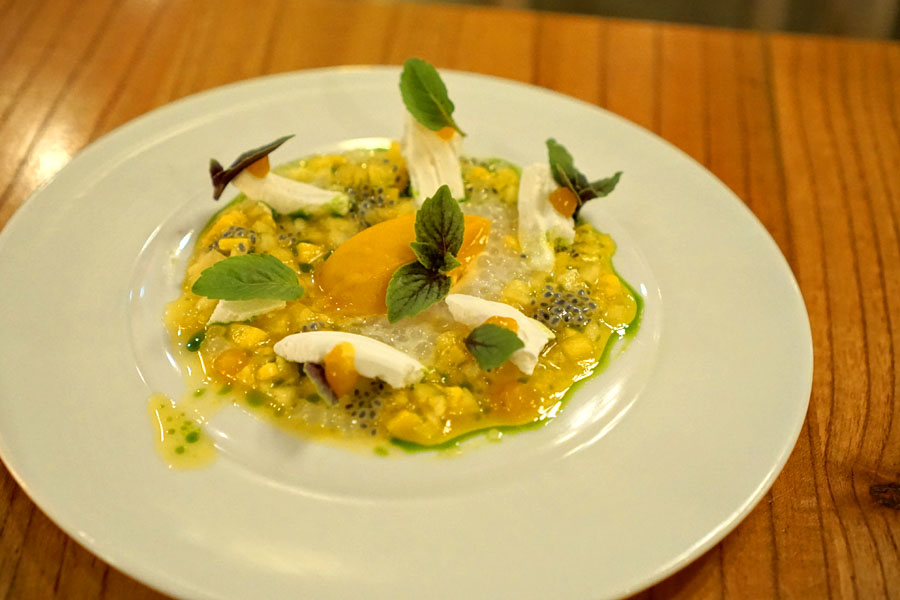 10: Tropical Ambrosia
| tapioca / mango / meringue / passion fruit
A thoroughly reworked version of a classic American Thanksgiving dessert conveyed intense tropical fruit flavors, that ice cream in particular, while herbs and meringues provided a much needed contrast.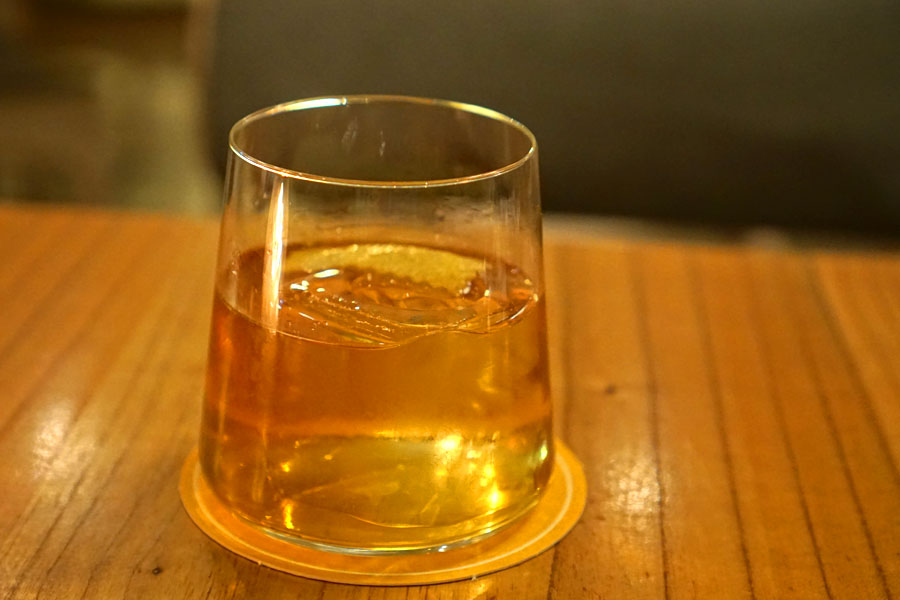 NE x NW [$15.00]
| Bourbon / Earl Grey / Amaro / Sercial Madeira / Orange / Lemon
The night's final cocktail was the headiest of the five. Nose of super strong citrus, along with a slight acerbic quality and notes of caramel. Upon tasting, I got heat up front, joined by brown sugar, apple, and light citrus, along with fragrant Earl Grey on the close.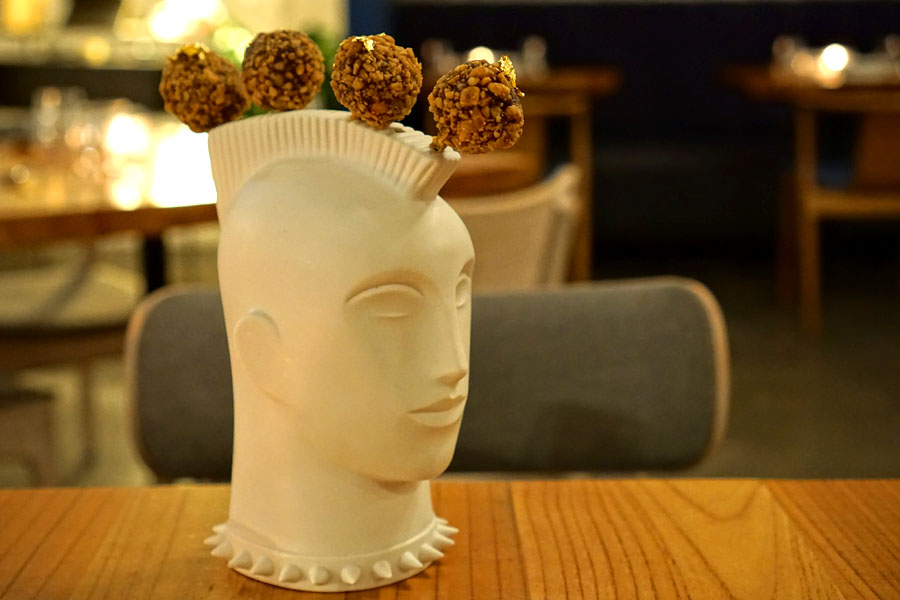 Foie Gras Cake Pop
| hazelnut / chocolate / amaretto / gold
Bresca's well-known cake pops brought together familiar flavors of chocolate and hazelnut (think Ferrero Rocher), accented by a touch of earthiness from the liver.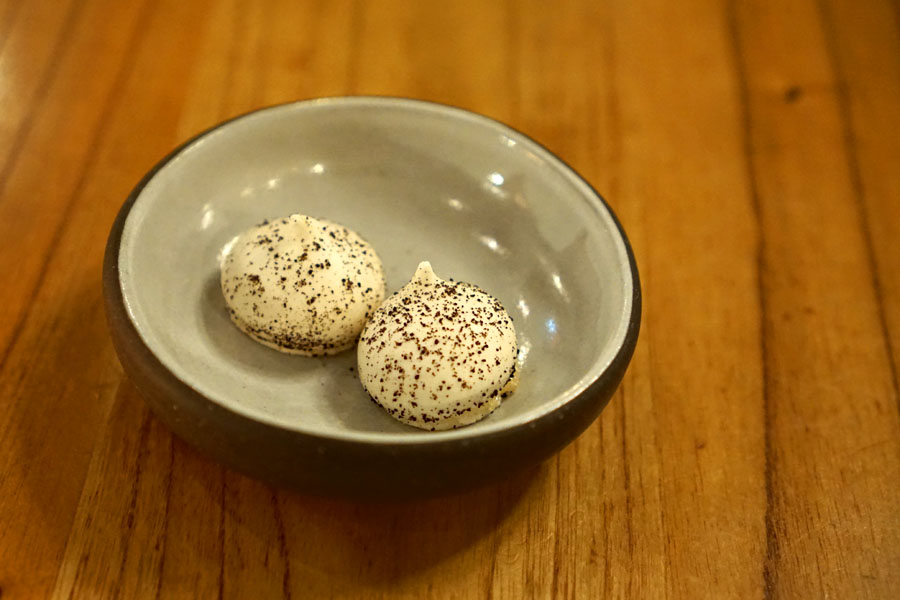 Last up were chocolate(?) meringues, which I found nicely smoky.
This was my last meal in DC, and it was a good one. Bresca is a solid representation of its
bistronomie
inspirations, serving up ambitious, vibrant cuisine, but with an air of informality and lightheartedness. Given the success that the restaurant has enjoyed, it's not surprising to hear that Ratino's planning to expand. However, rather than shooting for something more mainstream, he's setting his sights even higher, and is planning on debuting Jônt, an 18-seat tasting menu-only joint, later this year. You can be sure that I'm going to try to snag a reservation next time I'm in town.