Ceviche Project (Los Angeles, CA)
Ceviche Project Restaurant
2524 1/2 Hyperion Ave, Los Angeles, CA 90027
323.522.6744
www.cevicheproject.com
Tue 07/09/2019, 08:35p-11:05p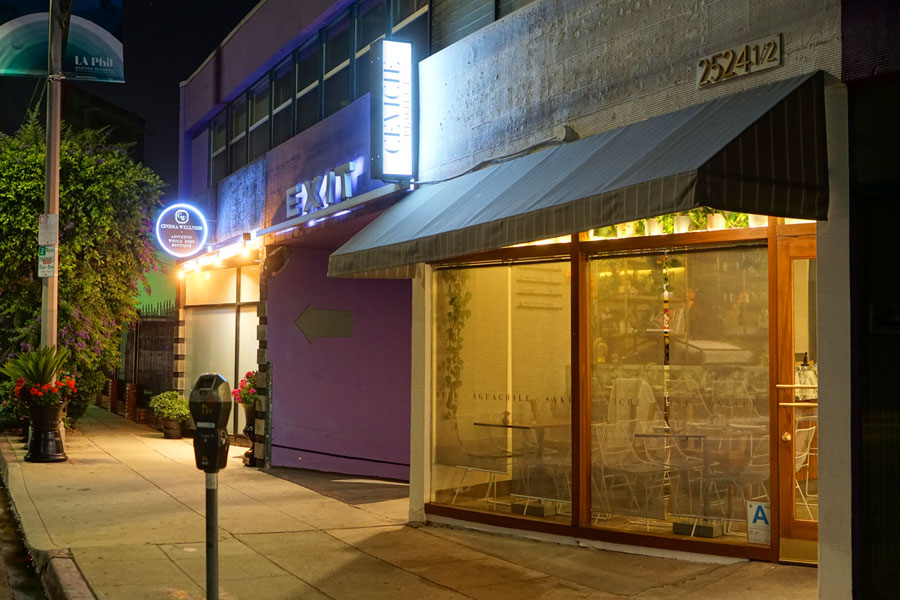 In the world of LA pop-ups, Ceviche Project has got to be one of the longest-running of them all, first launching all the way back in 2011. The work of Chef Octavio Olivas Benitez (with help from wife Shannon Olivas), the pop-up became pretty well-regarded over the years for its Mexico City-style raw seafood preps, claiming to never serve the same dish twice. Fortunately for the Chef's many fans, Ceviche Project has found a permanent home, and opened on April 3rd this year in the former digs of Silver Lake's Pazzaz Sushi.
About the Chef
: Olivas was born and raised in Mexico City. He got interested in raw seafood during fishing trips with his father, and had his first taste of ceviche (made using sierra mackerel) at El Tecuán beach in Jalisco at the age of four. In 1998, he enrolled at the Universidad Autónoma de San Luis Potosí to study law, but was burned out by his fourth year (he'd been working at a law firm since starting school), and thus decided to study abroad in the UK in order to party and learn English. In London, he very quickly exhausted the money he'd saved up, and had to get jobs dishwashing at a bakery (mornings) and bartending (nights) to pay the bills. Olivas was even homeless for a couple weeks, but eventually managed to befriend a guy in Chelsea and live with him. It was at a Chelsea bartending gig in 2003 that he would meet his future wife, Shannon Provost, who was also studying abroad in England (from Syracuse University).
Following the Chef's graduation in 2004, the couple lived in Manhattan, which is where he first started hosting ceviche-themed dinner parties, and the two eventually got married in June 2006. Shannon worked at communications firm Citigate Sard Verbinnen during this period, while Olivas attended law school and toiled as a legal assistant at the Portela Law Firm. In 2007, the newlyweds relocated to LA (Los Feliz), since Shannon had landed a sweet corporate communications and investor relations gig at DreamWorks. After getting rejected by UCLA and waitlisted by USC, Olivas eventually enrolled in the LL.M program at Pepperdine (with a focus on dispute resolution), and graduated in 2008 after enduring that hellish commute for a year (interestingly, at the time he was driving a Golf GTI, which he ended up selling for $4000).
At the end of 2009, he started working as a mediation program coordinator for the Center for Civic Mediation, but quickly realized that his true calling wasn't in law, but in raw fish. Thus, he began testing recipes at home, then held the first Ceviche Project dinner on November 11th, 2011. The location was the private Sidebar room inside Silver Lake's Bar Covell, a spot that just happened to be owned by friend Dustin Lancaster. Numerous other pop-ups followed, including: December 2011 at Palate Food + Wine, April 2012 at
L&E Oyster Bar
, April 2013 at Dominick's, May 2013 at Soho House, and September 2013 at Barsha Wines and Spirits. The Olivas' welcomed daughter Victoria in January 2014, and not long after, the Chef left his mediation job. The couple actually had plans to open a brick-and-mortar Ceviche Project location by the end of the year, somewhere on the East Side.
Plans ultimately fell through though, and more pop-ups followed: September 2014 at
MessHall
, June 2015 in New York, July 2015 once more at MessHall, August 2015 at Skybar at Mondrian, and October 2015 again at the Mondrian. In January 2016, Olivas teamed up with Freddy Vargas (
Scarpetta
) and Brandyn Tepper (Cocktail Academy,
Hinoki & the Bird
) to take over Los Feliz's El Chavo, which had closed the past November. However, Vargas left that May, replaced by
Phillip Frankland Lee
and his associate Alex Carrasco. Olivas, meanwhile, stayed there until July, and then brought Ceviche Project to Mexico (CDMX, Cabo San Lucas, Tulum, Puerto Vallarta). Further pop-ups came in September 2016 at Peska Cocina Latina in Houston, April 2017 at Bar Bandini, and February 2018 at Bar Angeles. Finally, in September 2018, it was announced that Ceviche Project had found a permanent home (thanks in part to a partnership with Alejandro Marin's Grupo Palmares), while in November, Olivas helped launch
Buen Provecho CDMX
, a version of DineLA for Mexico City.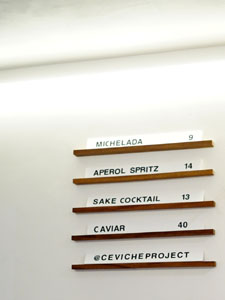 Ceviche Project's menu is tight and focused, which I like, while to drink, you get a few interesting wines, Mexican beer, and perhaps a cocktail or two. Corkage is not offered unfortunately. Click for larger versions.
Caviar [$40.00]
Our meal kicked off with the caviar service, which was one of the specials offered this evening. We were provided tins of private batch Californian Sturgeon caviar and trout roe, along with a silky avocado mousse, micro cilantro, and corn tostadas, and encouraged to play around with various combinations. I tried the trout first, and found it sweeter than I was expecting (not a bad thing), with less overt brine than most ikura. The caviar, meanwhile, was potent yet refined, and showcased a salinity that sort of creeps up on you. I found that the best way to eat this was to take everything in together, since I loved how the bright, herbaceous, citrusy notes from the avocado/cilantro really offset the salt inherent in the roe. At the same time, the super crunchy, gritty, Fritos-esque tostadas provided a welcomed textural element.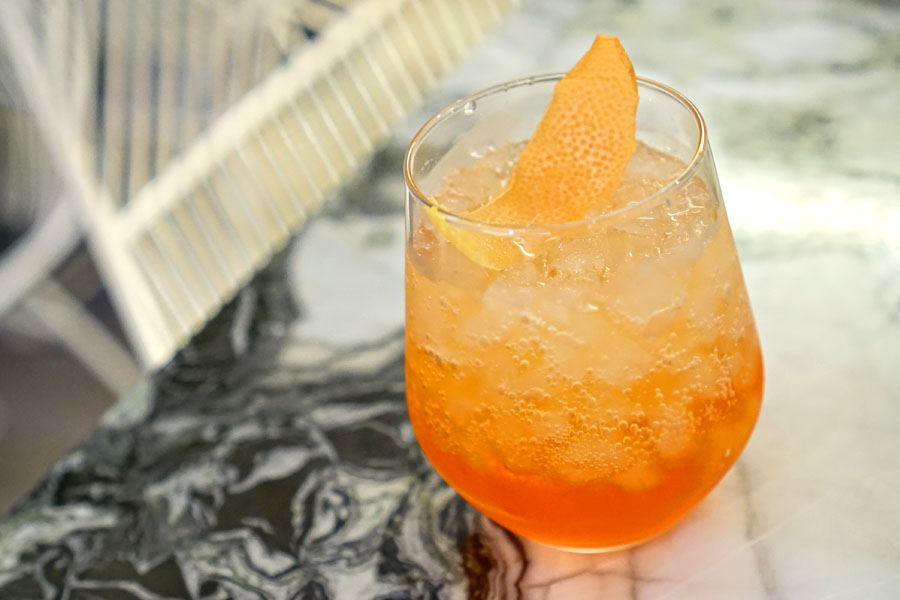 The evening's first cocktail was the
Aperol Spritz [$14]
, a classic apéritif that was easy and refreshing with its bittersweet, citrusy disposition.
Hawaiian Kanpachi Tostada [$16.00]
| with tosazu, grapefruit, avocado mousse, ruby radish sprout, trout roe, nasturtium
Almaco jack belly ate firm and fatty, its richness enhanced by the umami-packed nature of
tosazu
and salty trout roe, while the combination of juicy grapefruit suprêmes, avocado, and zesty sprouts evened things out. Great crunch here from the tostada, too.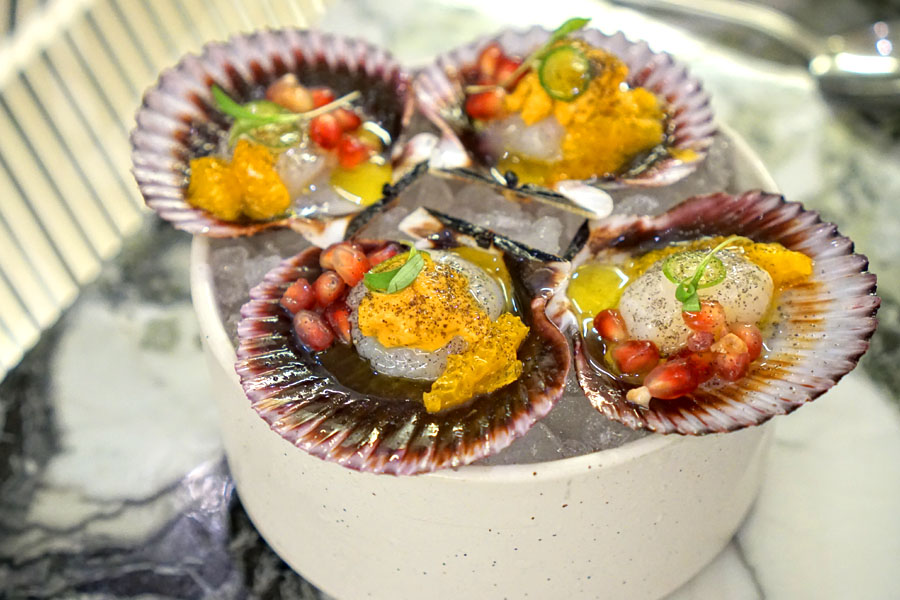 Scallop on the Half Shell + Add Uni [$4.00/each + $7.00/each]
| with tangerine, pomegranate, serrano, cilantro, lava salt
Scallop "shooters" arrived in both regular and sea urchin-enhanced forms. I tried the regular first, and got lots of olive oil richness up front, which then led to the tartness of the fruit, with the sweetness of the scallop moderating everything. On the other hand, the uni really came through on the mid-palate, where it added a robust, lingering brine that definitely made a difference.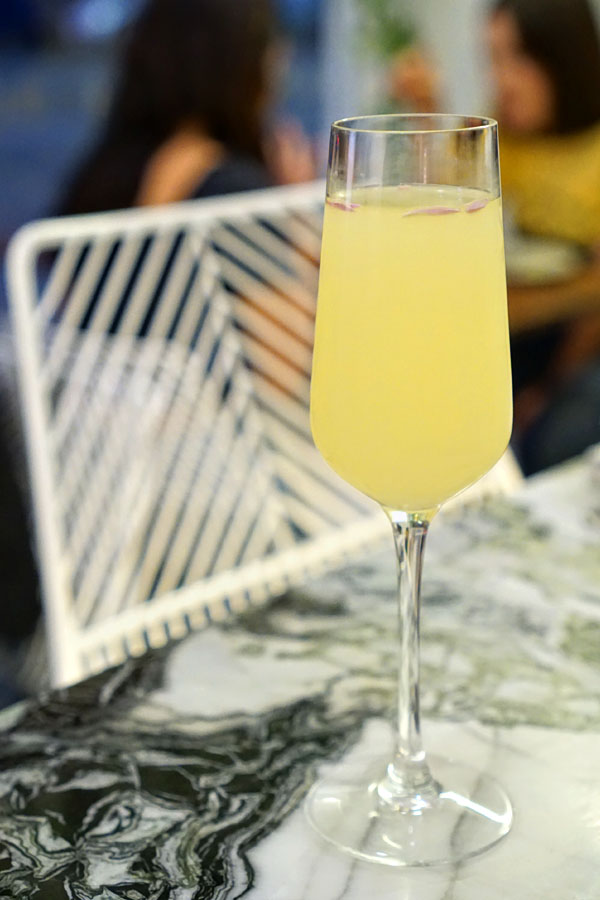 The generically-monikered
Sake Cocktail [$13]
displayed plenty of tart yuzu up front, set against some bitter, vegetal flavors from the sake that came through more on the back end.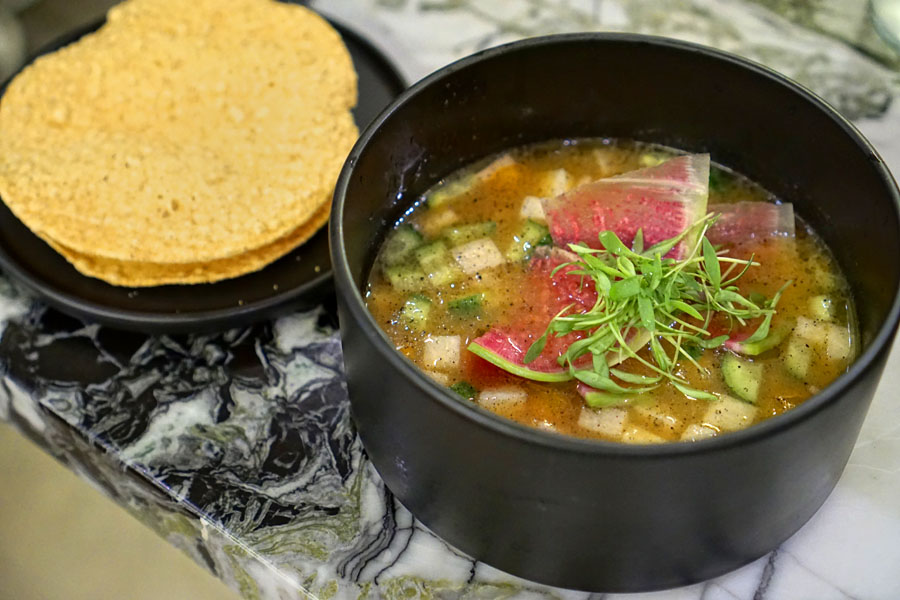 Striped Sea Bass Ceviche [$16.00]
| with xni-pek, watermelon radish, tomato, cucumber, onion, fresno, tostadas
Cubes of sea bass were infused with a delightful, intriguing spice that must've come from the use of habanero-infused
xni-pec
salsa. The veggies, meanwhile, offered up some contrast and made the dish somewhat gazpacho-like I'll say, while I enjoyed the herbaceousness bringing up the rear here. And again, I made good use of those wonderfully crispy tostadas.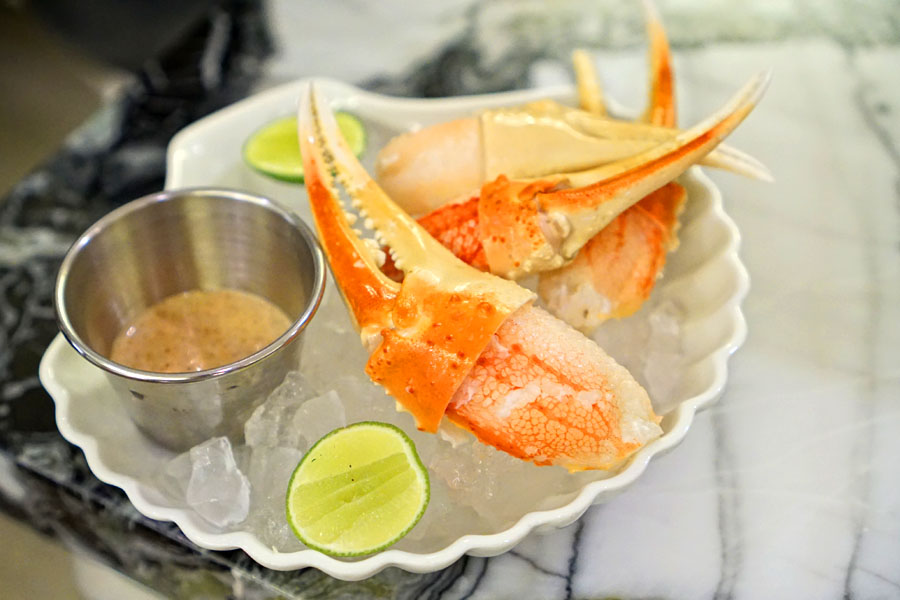 Snow Crab Claws [$16.00]
| with chile de arbol salsa
The snow crab was excellent, some of the best I've ever had in fact. Taken by themselves, the claws were juicy and remarkably sweet, and worked great with a squeeze of lime. Fortunately, the included salsa managed to not overwhelm the inherent goodness of the crab, and instead provided just enough of a long-lasting, multifaceted heat.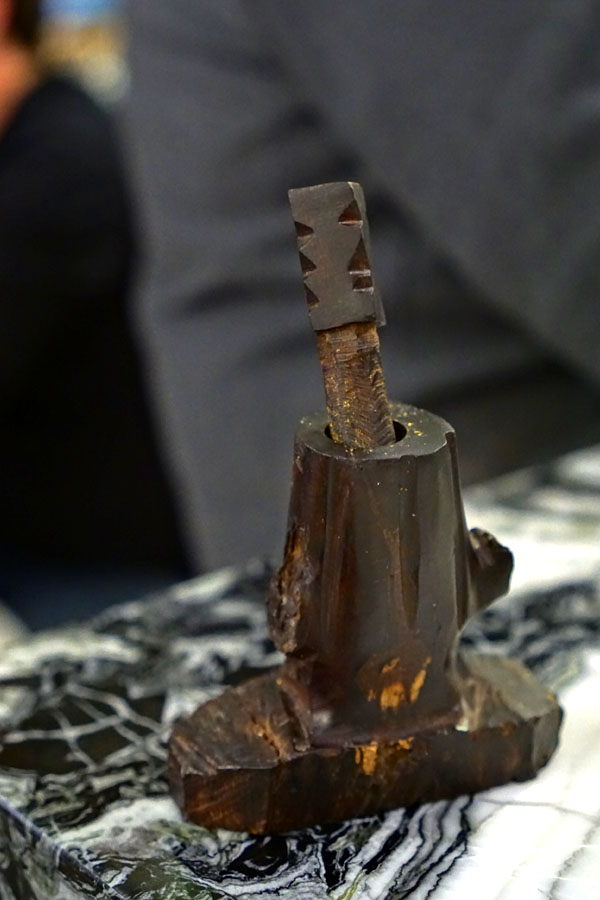 The Chef provided us with dried
chiltepin
peppers in a mini mortar and pestle setup.
Tai Snapper Ceviche [$17.00]
| with pineapple, cancha, heirloom carrots, jicama, jalapeño, plantain chips
The snapper ceviche had a very prominent fruitiness and freshness to it, which was counterbalanced by the crunch and salt provided by the
cancha
. The plantain chips, meanwhile, were light and crisp, with just a smidge of sweetness, though I would've preferred a more traditional tostada.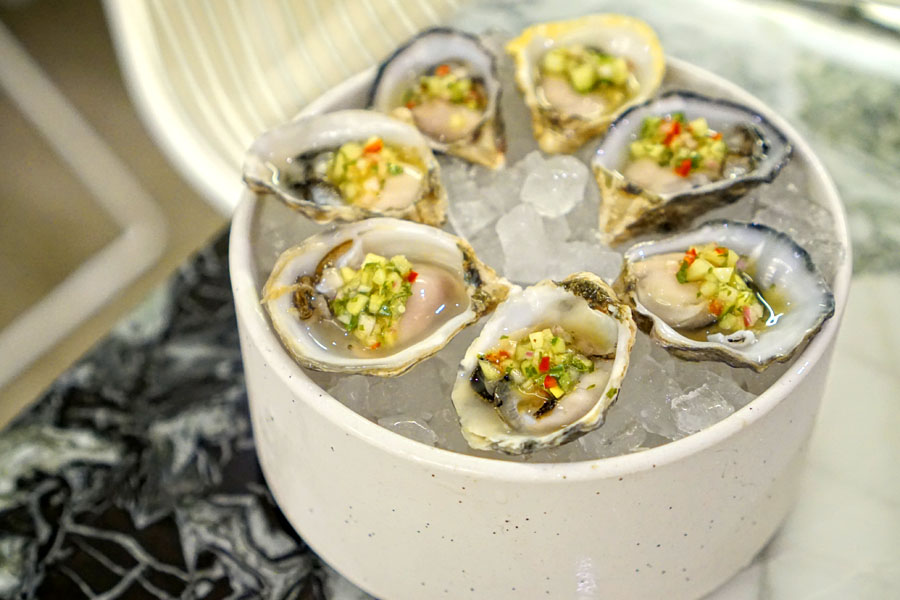 Oyster on the Half Shell [$21.00]
| with bespoke mignonette
Presented with Fresno chili, cucumber, cilantro, and a white wine vinegar mignonette, Kusshis were small but superb. I loved how sweet and creamy they were, and how well the piquancy of the mignonette came through on the mid-palate, while the finish was all brine.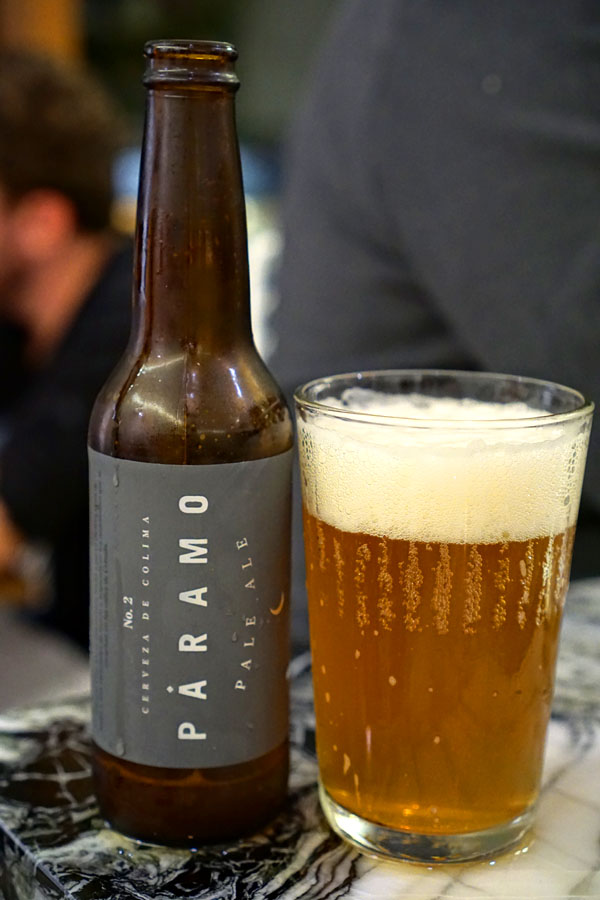 At this point we moved into a couple beers, starting with the
Paramo - Pale Ale [$9]
from Cervecería de Colima in El Trapiche. It smelled great, giving up lots of sweet, tropical, floral, fruity notes on the nose. On the palate I got stone fruit-like flavors and a lil' bit of banana, but tempered by a backbone of spice, grass, malt, and hop bitterness.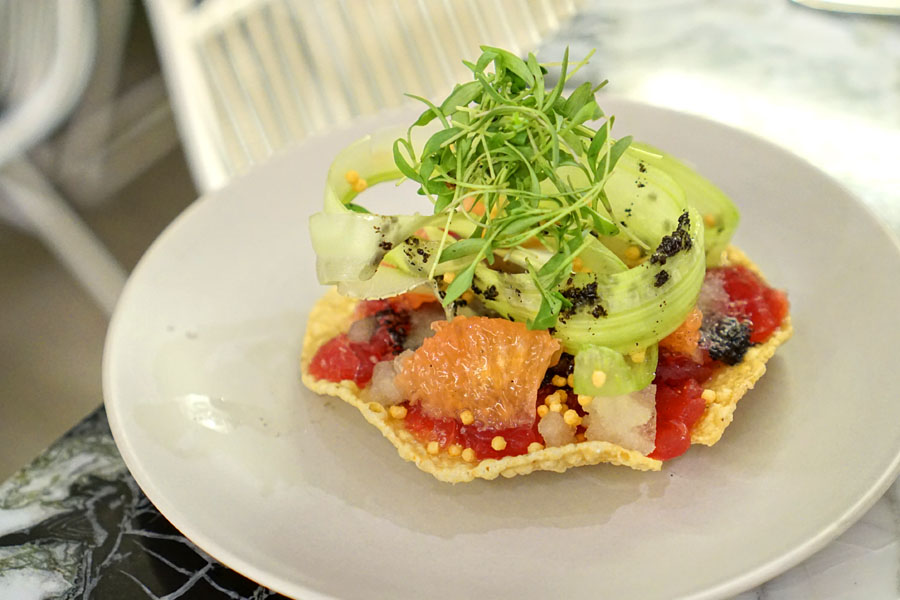 Yellowfin Tuna Tostada [$13.00]
| with yuzu-habanero sorbet, orange, celery, arare, micro-cilantro, olive oil
Clean cuts of yellowfin were accompanied by a palpably smoky, burnt character than I enjoyed, and there was this undertone of heat in the dish that also jibed. The rice crackers were an interesting addition, and even though I'm not a fan of celery, it worked well here as a counterweight to the fish.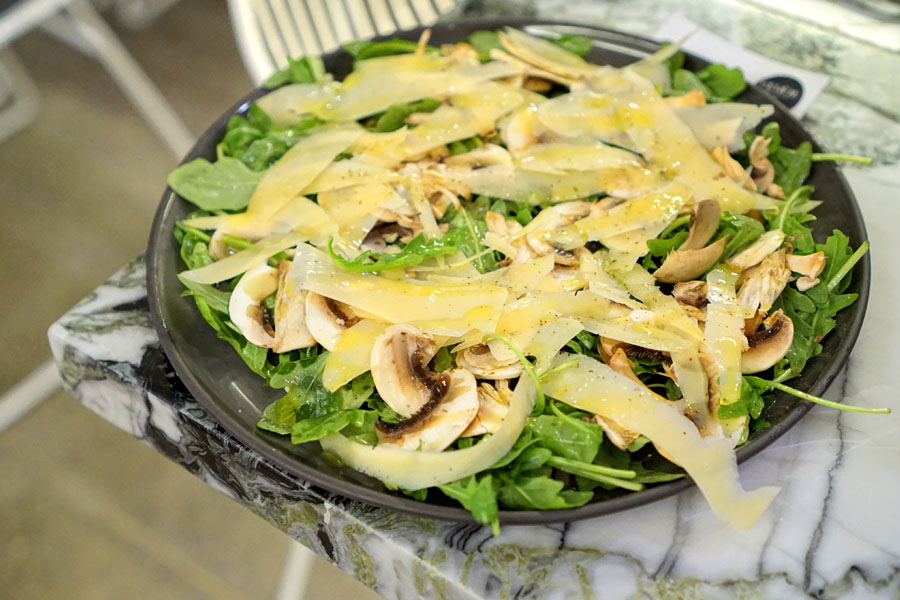 Mushroom Carpaccio [$13.00]
| lemon, arugula, parmesan, olive oil, sea salt
We decided to try one of the vegetarian options, and I can say that it didn't quite live up to the rest of the menu, mostly because I actually tasted very little mushroom here. Instead, I got a lot of cheese and a lot of olive oil, which made the dish surprisingly hefty, though the zippiness of the arugula did help lighten things up.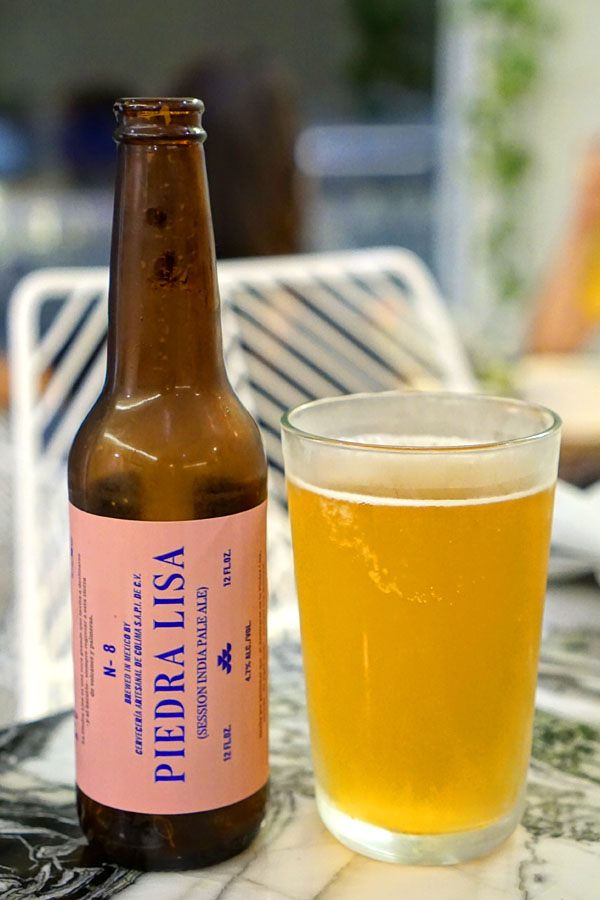 From the same brewery as the beer above came the
Piedra Lisa - Session IPA [$9]
. It smelled of tart pineapple, mango, and subdued citrus. Taste-wise, I got hop bitterness right up front, blended with again more tropical fruit and a bit of pine. Pretty easy-drinking.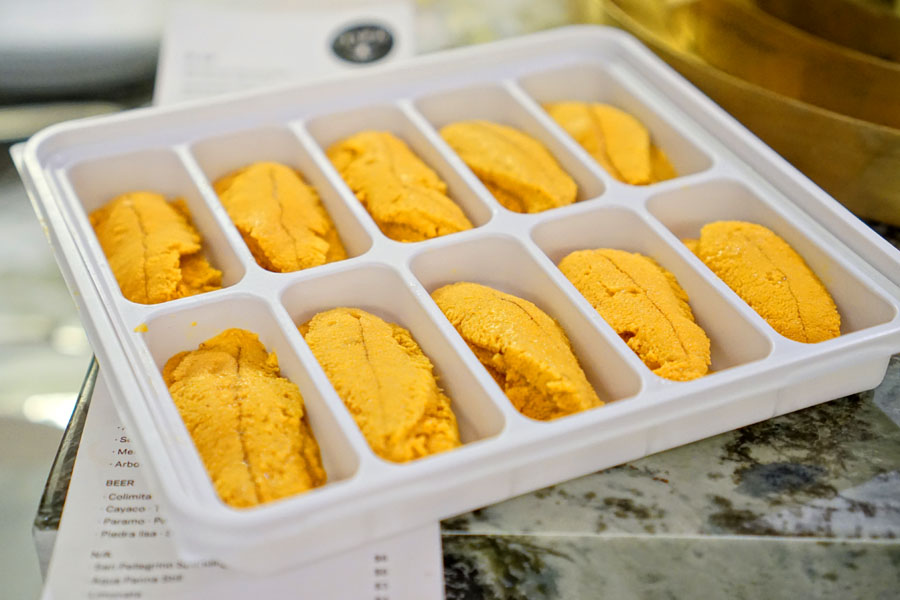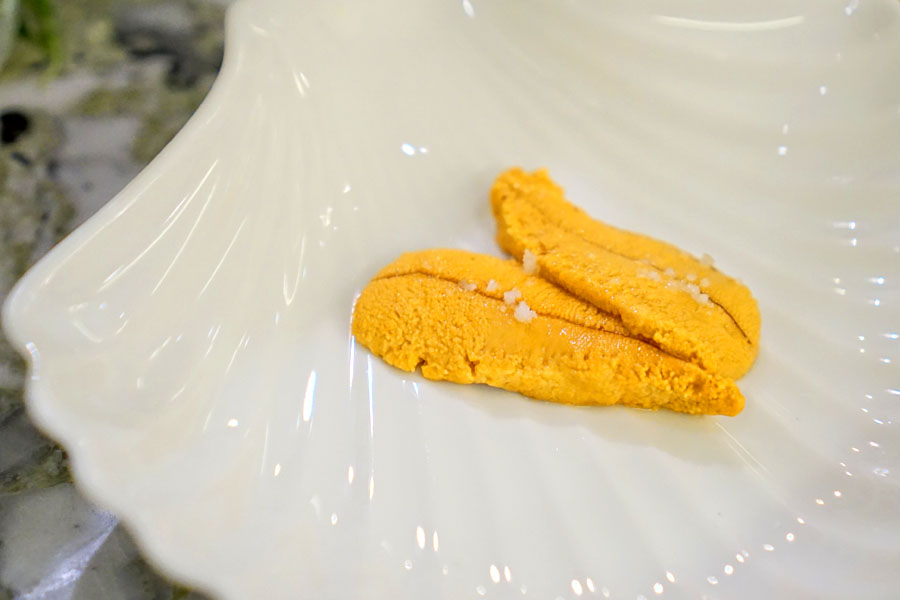 With the meal coming to a close, the Chef proceeded to give us a sampling of Mexican sea urchin. I found the roe exceptionally fruity at first blush, while a refined brine came through later on, joined by the tartness of lime and pinpricks of sea salt.
Peanut Butter Ball [$3.00]
| with dark chocolate and sea salt
Olivas has no time at the moment to do a dessert menu, but it's something he may attempt later on. Thus, for the time being, the restaurant is serving a dish from Speranza across the street, apparently created by the wife of one of the owners. This was a pretty classic pairing of chocolate and peanut butter, with the latter being relatively restrained. I will say that the shell was on the firm side.
Ceviche Project has been looking for place to call home for years now, and I'm glad to see that the team has settled in nicely here in Silver Lake. Olivas is doing some pretty neat things at his modern cevichería-slash-raw bar, pairing classic preparations with a bevy of outside-the-box influences. It's all very "LA" to be sure, but the key is that he does a good job in not letting that creativity overshadow the pristineness of his seafood.