Bee Taqueria (Los Angeles, CA) [2]
Bee Taquería
5754 W Adams Blvd, Los Angeles, CA 90016
323.452.9575
www.beetaqueria.com
Tue 09/17/2019, 08:00p-11:45p

You might recall that I visited Alex Carrasco's
Bee Taqueria
back in August, shortly after the place opened. At the end of my previous post, I mentioned that the Chef would be instituting a "taco omakase" menu on September 10th, and somewhat surprisingly, such a thing actually came to fruition right on schedule. The experience is available via reservation only, and said reservations can be found on
Resy
. There are both 6:00pm and 8:00pm seatings--with up to four people per seating--and the cost is $50 a head.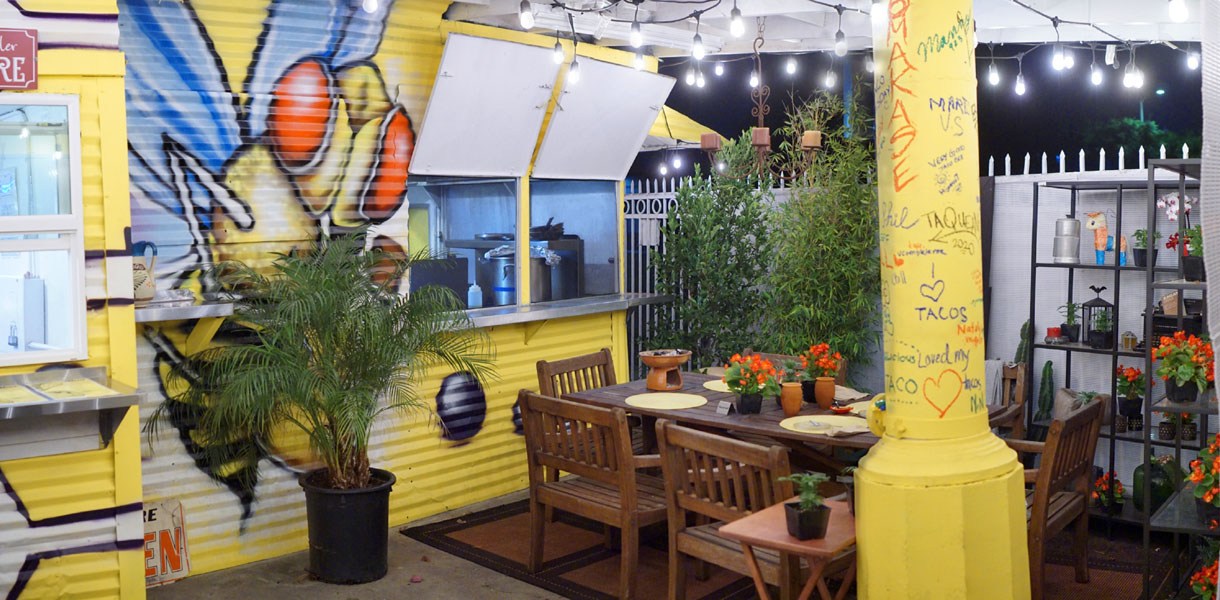 The "tacomakase" takes place at a special table situated right next to the kitchen.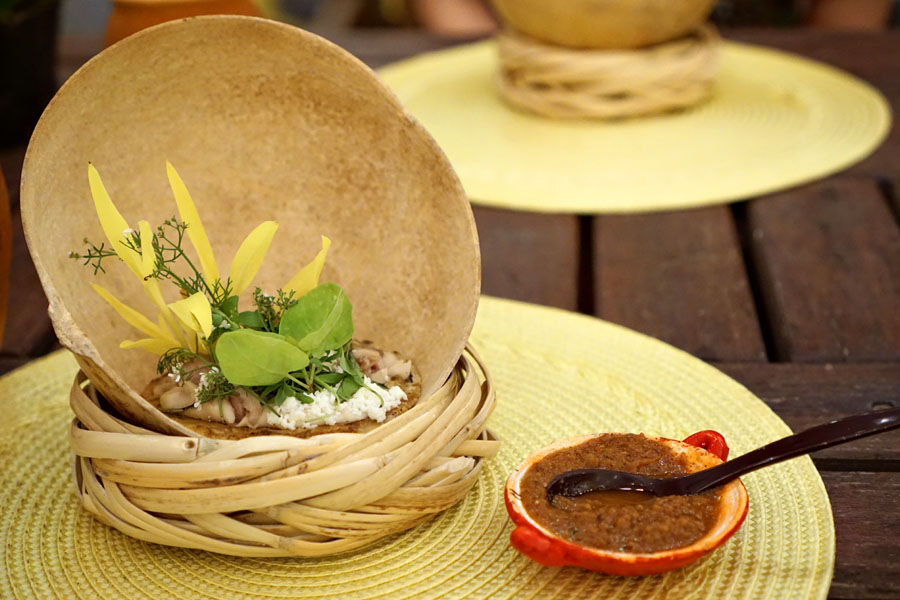 1: Taco Placero
Things commenced with what the Chef described as a "farmers' market" taco, one incorporating roasted pork belly, white bean purée, queso fresco, cilantro,
pipicha
, and
pitiona
, all on a white heirloom tomato tortilla. It was a great start. The pork was delicious alone, but what really made this work was how it meshed with the creamy, relatively mild nature of the white bean, all while the trio of herbs added the perfect amount of contrasting brightness. All the various elements here just came together beautifully, and I loved the moderating effect of the tortilla, too. Note also the accompanying charred salsa, which we used throughout the meal.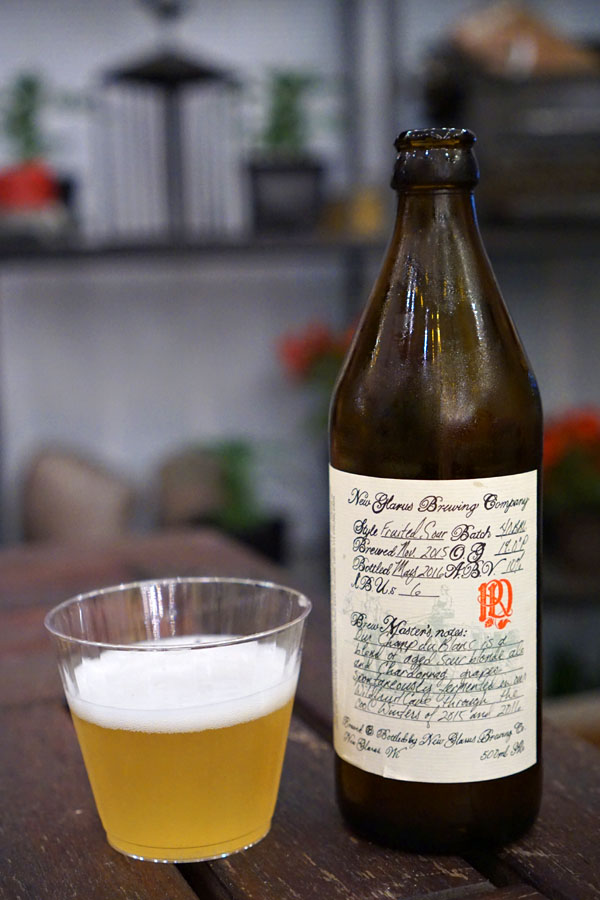 We enjoyed a number of beers tonight, and first was the
2016 New Glarus R&D Champ Du Blanc
, a blend of aged, spontaneously-fermented sour blonde ales with Chardonnay grapes. Nose here was tart and acidic, with vinous, earthy notes showing through. Palate was dry and effervescent, with flavors of funk, Chard, and hint of oak backed by a persistent sourness.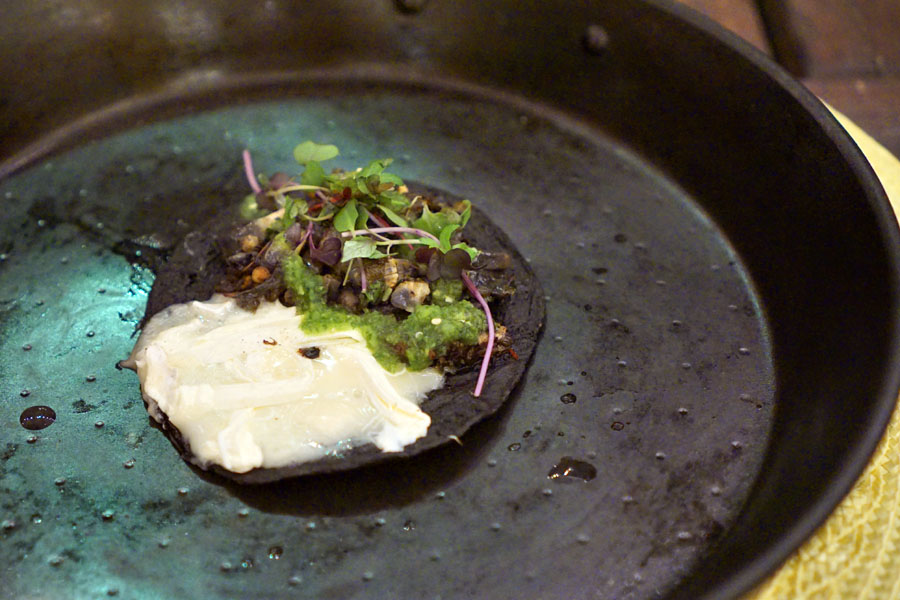 2: Yin Yang Taco
Next up was certainly one of the more whimsically-monikered tacos I've encountered. We had a squid ink tortilla topped with a "yin" comprising
huitlacoche
, bottarga, chile poblano, garlic, onion, cotija, cilantro, and
epazote
, while the "yang" was
quesillo
and camembert. It was a superb match, as I loved how the richness and smoke of the corn smut linked up with the cheesy, garlicky notes in the dish, the whole experience punctuated by hits of sourness and spice.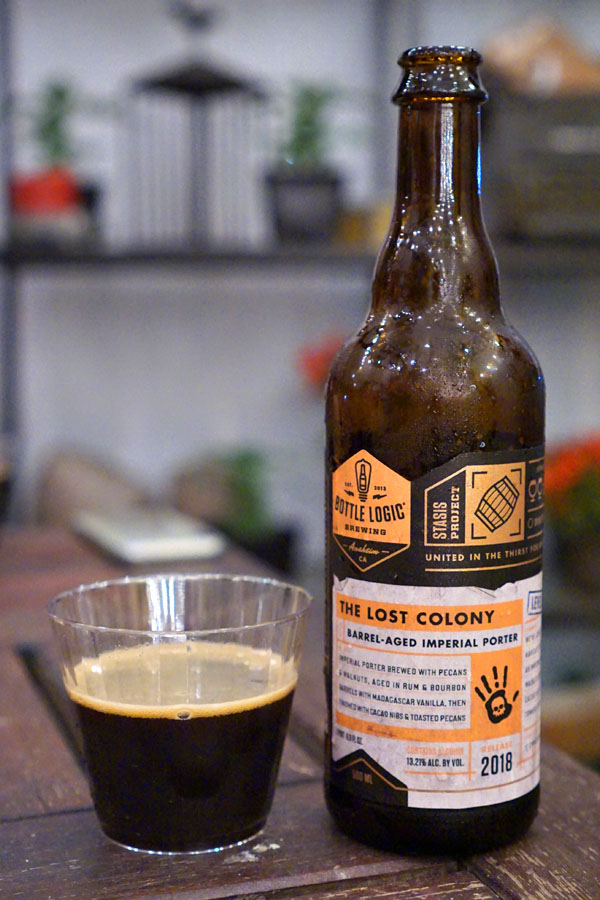 Created in collaboration with Safety Team Brewing out of Richmond, VA, the
2018 Bottle Logic The Lost Colony
was an imperial porter brewed with pecans and walnuts, aged in rum and bourbon barrels with Madagascar vanilla, then finished with Fortunato cacao nibs and toasted pecans. The beer smelled of dark fruit, oak, nuts, light cocoa, a bit of toffee, and rum. In terms of taste, I got chocolate syrup, stewed fruit, bitter nuts, and tobacco-y spice, backed by boozy rum and layered with overarching vanilla, while the finish was all bourbon.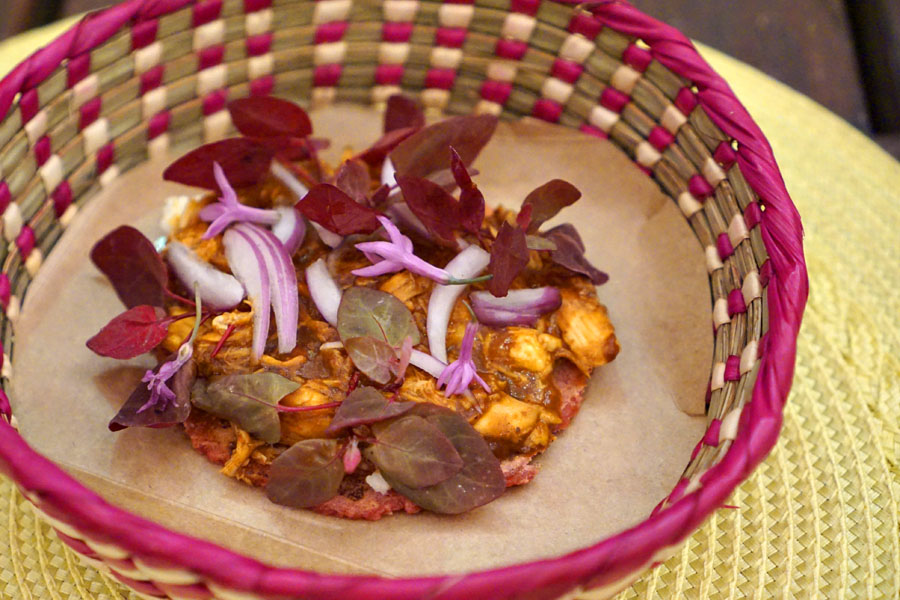 3: "Flowers of Every Day"
Here we had a taco inspired by the numerous
bugambilia
plants surrounding the restaurant. Carrasco made a pink mole out of the flowers (with white chocolate, white sesame seeds, and pink pecans), and paired it with marinated chicken breast, spinach, and garlic blossoms, all atop a
bougainvillea
tortilla. The mole was pretty spot on, giving up a multifaceted sweet 'n' savory flavor profile that matched up seamlessly with the spice and seasoning of the
tinga
-esque chicken. At the same time, I appreciated the slight tartness from the flowers, while the onions provided an even stronger accent.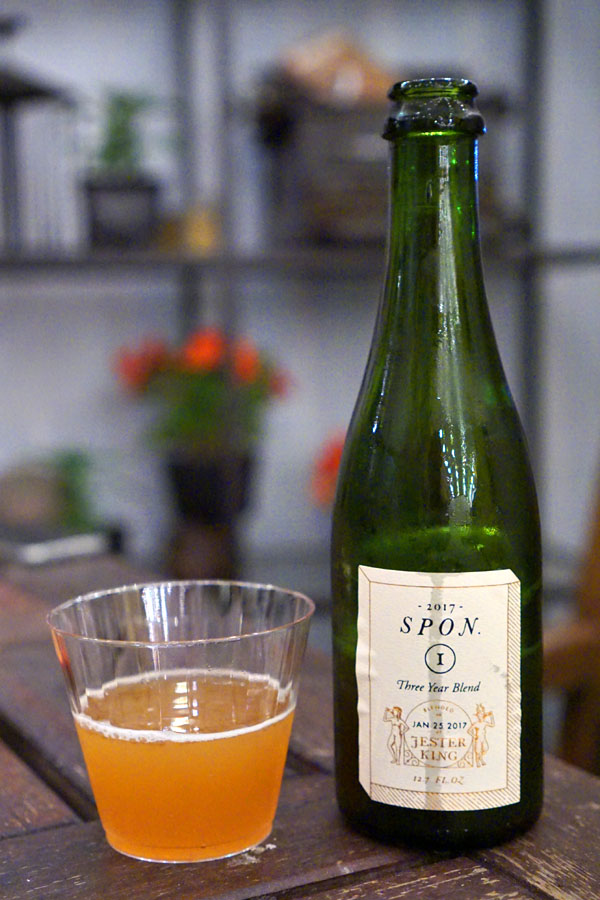 Inspired by Belgian lambic, the
2017 Jester King Spon 1
was a blend of spontaneously-fermented, oak-aged ales from three different vintages (2014-2016), refermented in the bottle for nine months. The beer smelled fantastic, giving up aromas of sour
suanmei
and stone fruit, with mango coming in later. Tasting it, I got fresh stone fruit flavors at first, leading to more tartness and funk, with a tinge of oak. Very nice.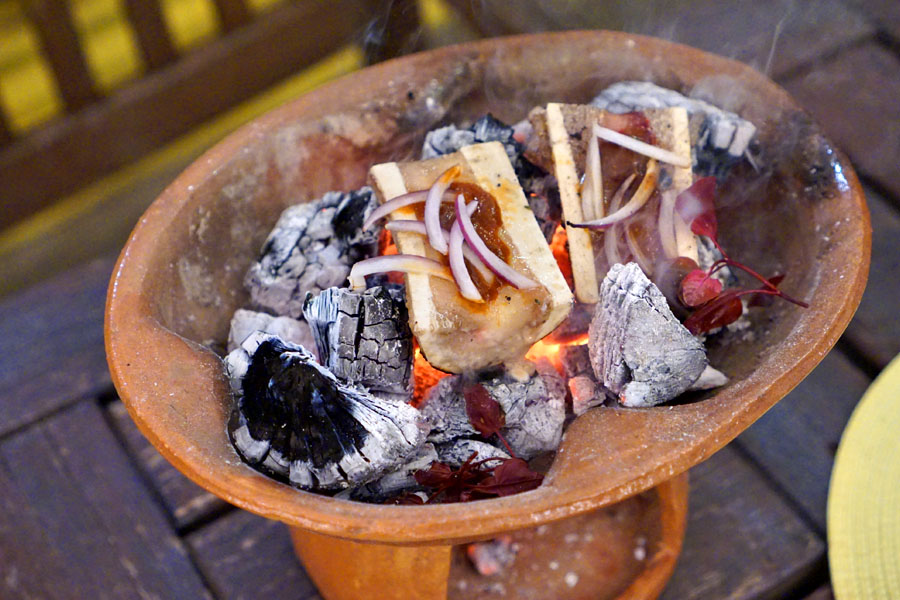 At this point, the Chef brought out some bone marrow, which was subsequently roasted tableside with red onion and chile de árbol.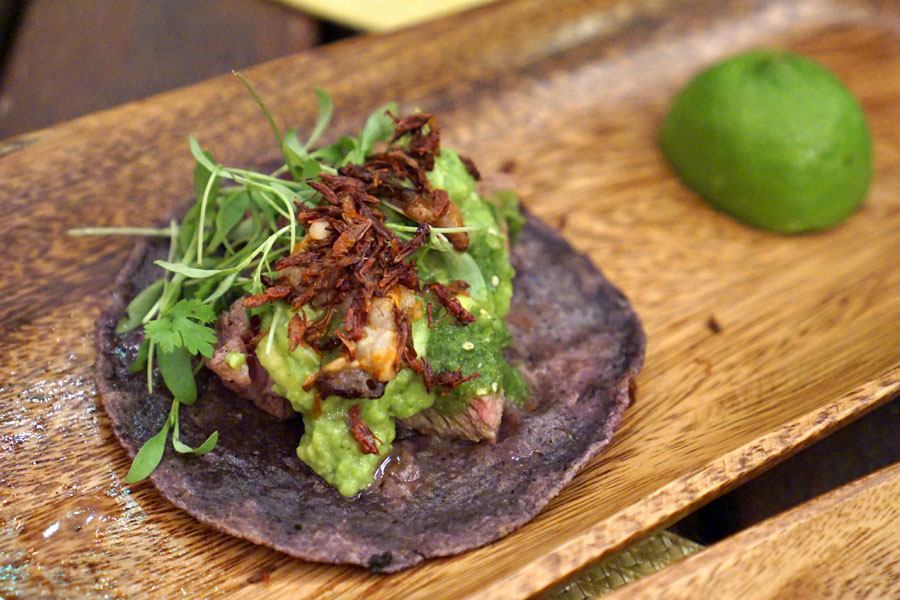 4: Rib Eye Taco
Said marrow was used in our next course, where it was combined with dry-aged rib eye, avocado purée, lime, and
chapulines
. The beef itself was spot on, and really showed off the depth and funk you get from dry-aging. The meat paired beautifully with the acidity in the taco, as well as the lushness of avocado, all while the grasshoppers imparted a sour, spicy accent to things. Yum.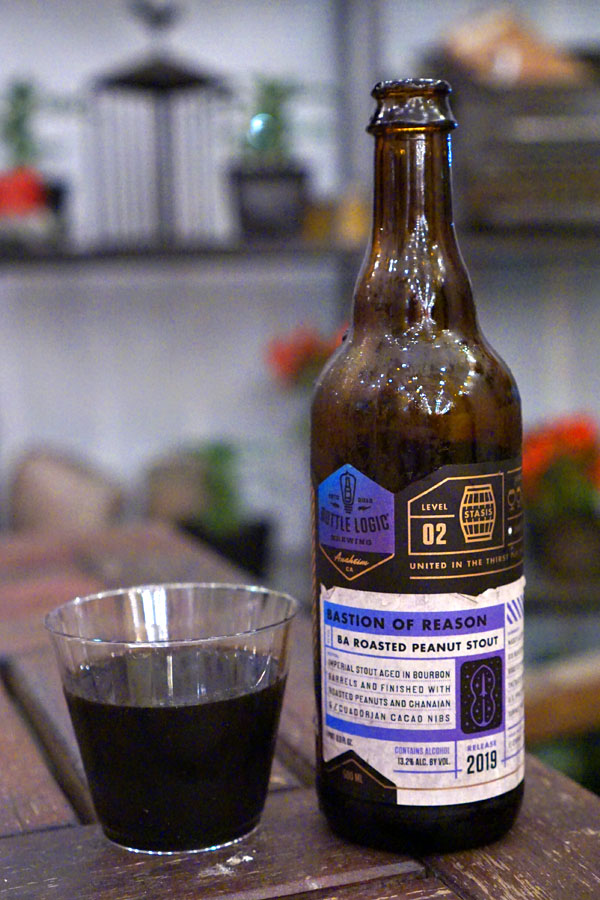 Next to imbibe came the
2019 Bottle Logic Bastion of Reason
, an imperial stout aged in bourbon barrels and finished with roasted peanuts and Ghanaian and Ecuadorian cacao nibs, created in collaboration with San Diego's Pure Project Brewing. The nose on the beer was pretty stupendous, with boatloads of sweet nutmeat all over the place. Taste-wise, think much more of that sweet peanut butter, evened out by notes of cocoa, oak, and bourbon. Delish, and excellent with the dessert below.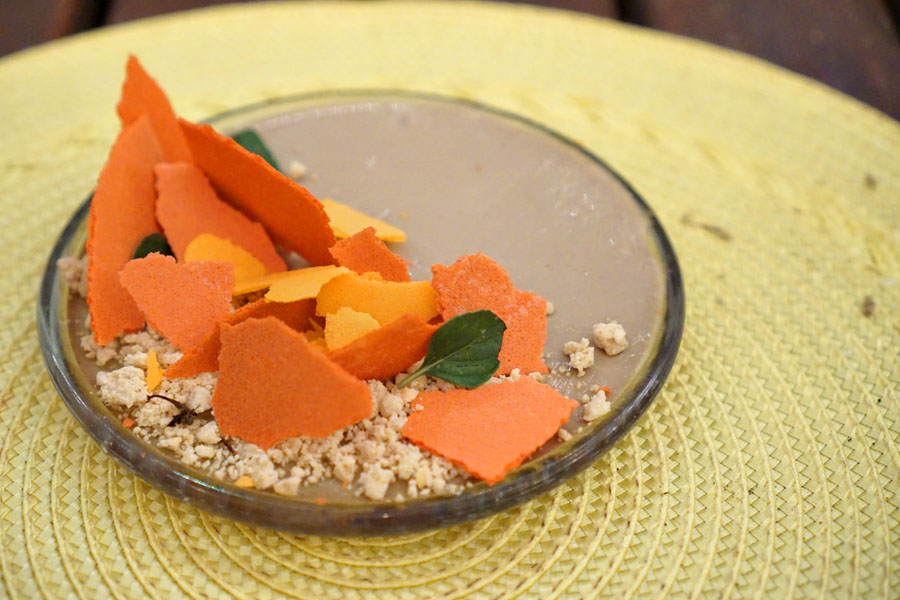 5: "Tilarin and Marzipan"
Dessert was inspired by Carrasco's childhood memories of eating candy while watching television on the sofa. We had here a panna cotta with chocolate and a touch of coffee, marzipan cookies made with almonds and pork fat, as well as meringue-like crisps infused with beets and carrots. The panna cotta itself had a nice nuttiness to it, along with a trace of caramel, and worked hand-in-hand with the cookie crumbles. Also key was the greenery, which imparted a welcomed mintiness that really lifted the dish.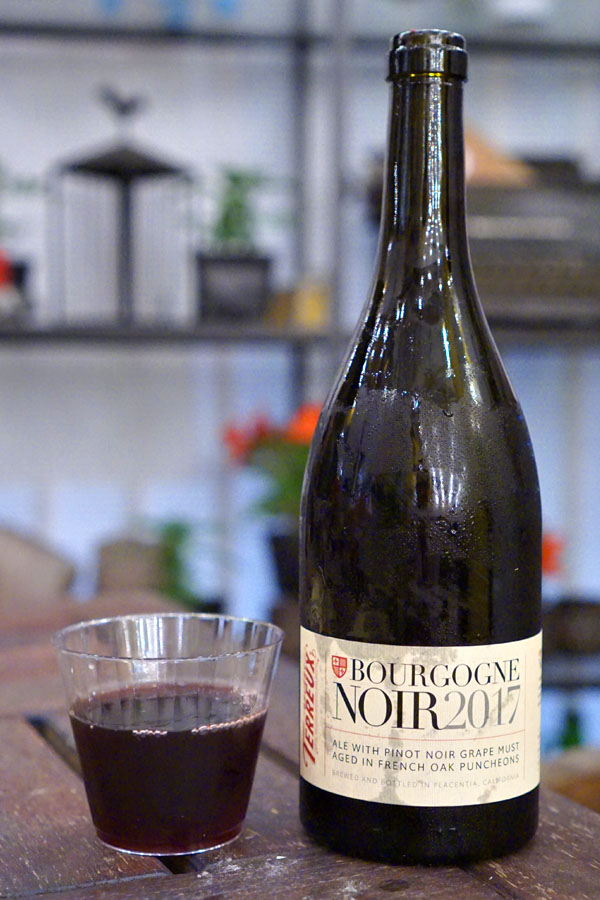 Our final beverage was the
2017 Bruery Terreux Bourgogne Noir
, an ale co-fermented with Pinot Noir grape must as well as fresh grapes, then aged in French oak puncheons. It had a fairly subtle nose of tangy, vinous red fruit, with a bit of oak in there. The palate I found tart and tannic, showing off more of those fruity, wine-like notes along with a touch of herbaceousness.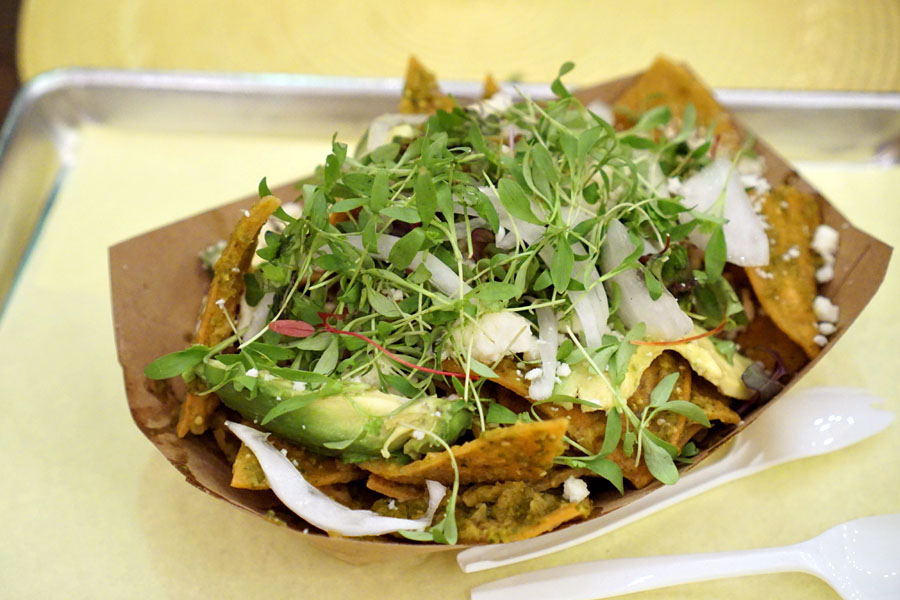 Chilaquiles [$5.00]
We ended up adding on an order of chilaquiles, which were almost nacho-like here, and comprised the tortillas used in the Chef's "media luna" taco, along with an ancho-morita-tomatillo-garlic sauce, cheese, avocado, and onion. It was a very satisfying conclusion to our meal. The various flavors came together well, and I was especially fond of the salsa, the heft of the queso, and of course the zestiness of those onions.
I certainly enjoyed my last meal at Bee, but with this omakase experience, the Chef has really taken his cooking up a notch, and these could very well be the most ambitious tacos I've ever had. According to Carrasco, he aims to update the menu every month or so, and thus I could definitely see myself coming back to check out his new creations. Other than that, I believe he still plans to start serving housemade churros and institute a "Taco Tuesday" program, so plenty more to come.