Knife Pleat (Costa Mesa, CA)
Knife Pleat Restaurant at South Coast Plaza
3333 Bristol St, Costa Mesa, CA 92626
714.852.3974
www.knifepleat.com
Fri 08/30/2019, 07:45p-11:30p

I last reported on Tony Esnault back in April 2017, when he was running the kitchen over at
Church & State
, and a lot has changed since then. Just three months after that visit, the restaurant filed for bankruptcy due to a labor lawsuit brought by a former employee. A month later, the Chef and his business partner/spouse Yassmin Sarmadi changed things up at their other spot,
Spring
, adding a more casual dining room called Springside meant to be used for weekday dinners. In May 2018, it was revealed that the couple would be setting up shop at South Coast Plaza with a new French restaurant called Knife Pleat, while Spring ended up closing that August (following a lease expiration). Then, in April, Church & State shuttered temporarily after being sold to a team that included Chef David Féau, Bill Chait, and Taylor Parsons, and the
new C&S
dropped in June after a quick revamp. Knife Pleat, meanwhile, bowed just a couple weeks after that, opening its doors on June 27th, and I was curious to check it out.

Knife Pleat takes over a third-floor location that was previously home to Florent Marneau's
Marché Moderne
(which
moved to Newport Coast
), and Liza and Tim Goodell's Troquet before that. Occupying about 5,000 square-feet and seating around 90 diners, the space has been completely redone, and now sports a sleeker, chicer sort of ambiance.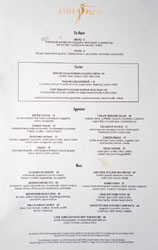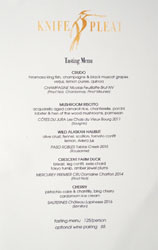 The menu features Esnault's take on contemporary French fare, and isn't too dissimilar to what he was putting out as Spring. There's a five-course tasting menu available, though given our large party, we just ended up ordering a bunch of dishes and sharing. Click for larger versions.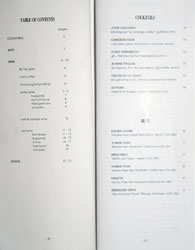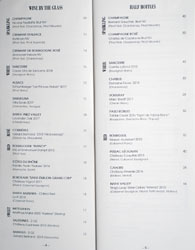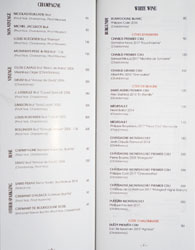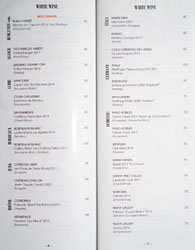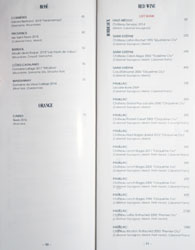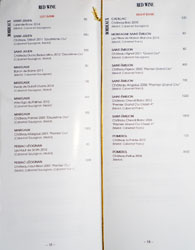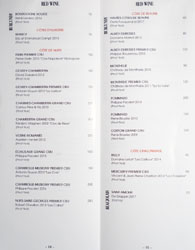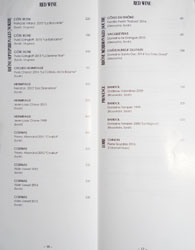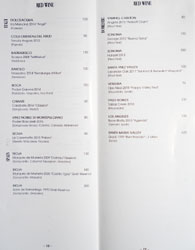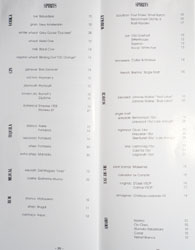 To drink, you get a very French-leaning wine list, along with a half-dozen beers, and a brief cocktail selection that takes inspiration from various fashion labels. Corkage is $40 for each of the first two bottles, and $60 thereafter, though we were able to get one of our corkages comped by purchasing a bottle. Click for larger versions.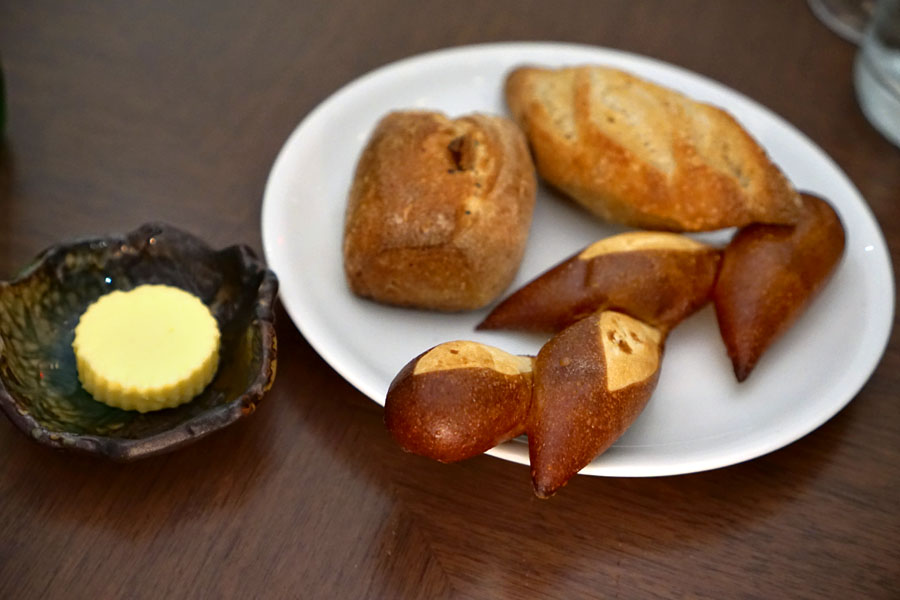 Bread [$2.00 x 3]
| individually priced mini baguette, olive bread, or pretzel epi, served with "rodolphe le meunier" butter
The meal kicked off with a sampling of bread. I found the olive bread pleasantly intense, while I wish the baguette were crustier instead of tough. My favorite ended up being the pretzel, which paired up swimmingly with that wonderfully salty Normandy butter.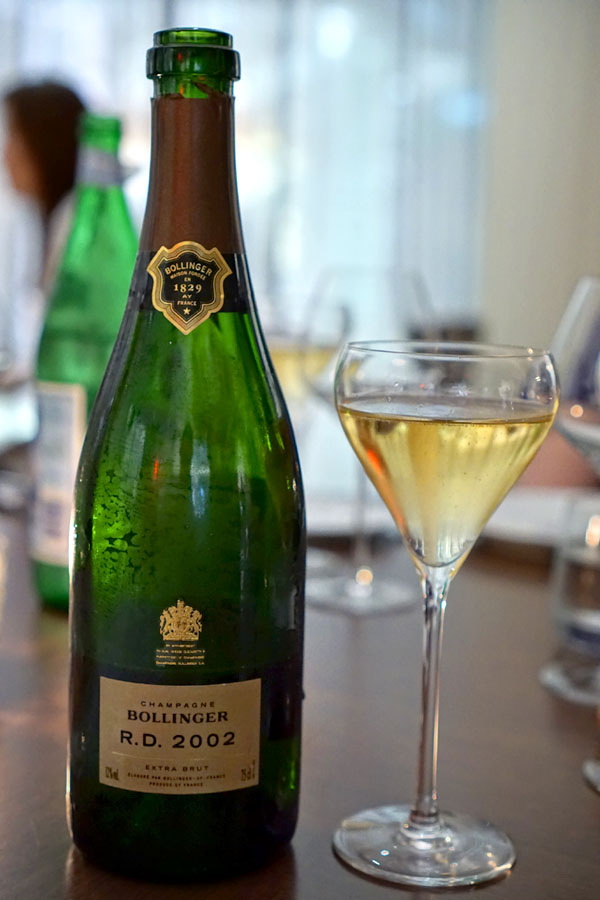 Beverage-wise, we started with some bubbly, the
2002 Bollinger Champagne R.D. Extra Brut
, which was disgorged in May 2017. It had a creamy, nearly sugary nose brimming with rich pome fruit, with a touch of nuttiness and oxidation underneath. On the palate, I got pleasant acidity and bitterness up front, joined by relatively muted fruit, minerals, and toast. A fitting pairing with the caviar below.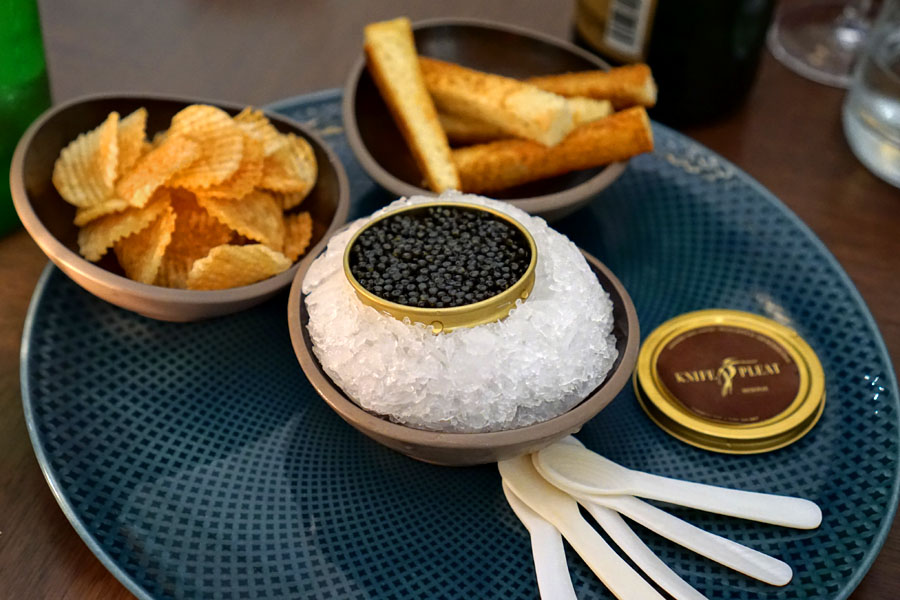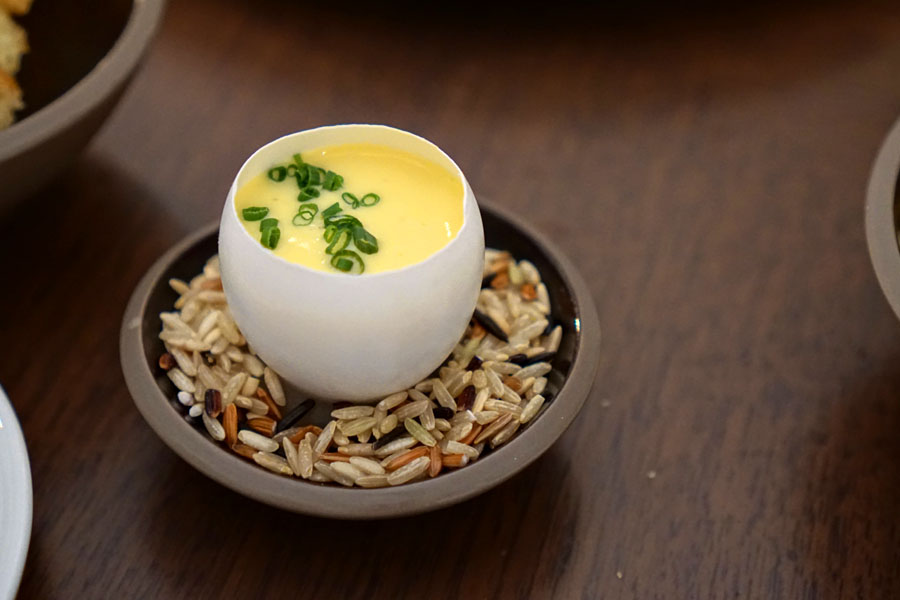 Tsar Nicoulai Reserve [$115.00]
| 1 oz tawny brown to platinum hue, large bead, lingering creamy finish
The caviar service tonight was a treat. The roe itself did a great job blending its inherent salinity with an underlying sweetness before finishing long and strong and briny. It was enjoyable just by itself, but was even better when taken with that wonderfully lush, herby, chive-topped
oeuf brouillé
or those rectangular cuts of toasted brioche. Loved the salt and crunch from the
pomme gaufrette
, too.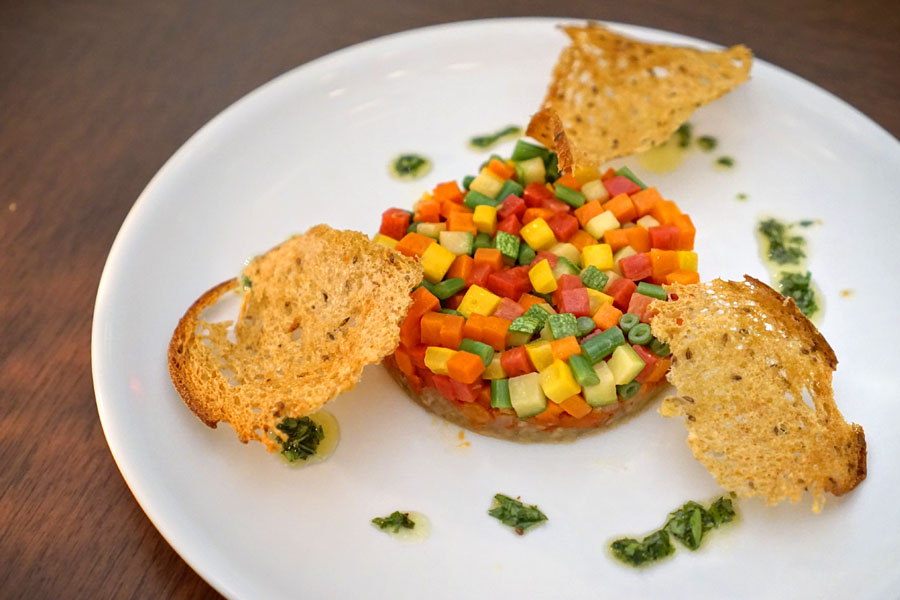 Vegetable Mosaic [$21.00]
| tomato, eggplant, zucchini, watermelon radish, green bean, carrot, herb vinaigrette, rye chips
One of Esnault's signature dishes is his veggie mosaic, a version of which I'd had at
Patina
back in the day. The incarnation here, however, was much more rustic in presentation, while flavors were decidedly lighter, brighter.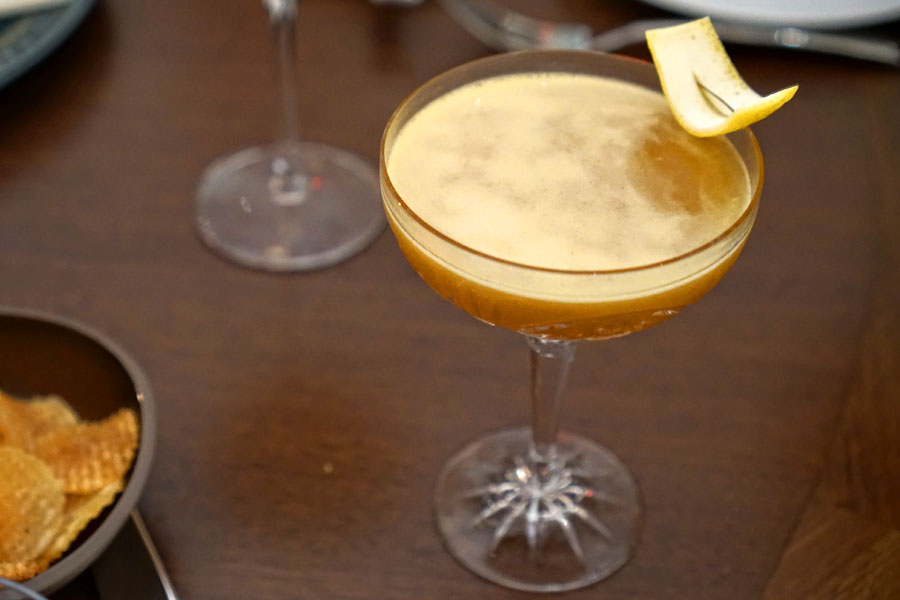 Oscar de la Renta [$16.00]
| brugal añejo rum, chinola, passion fruit, lemon
With the sparkler above dispensed with, we moved into a round of cocktails. Our first conveyed tons of citrus at first blush, when then led to robust fruit flavors that were on the verge of being candied, while a persistent spice occurred in the background and helped even things out.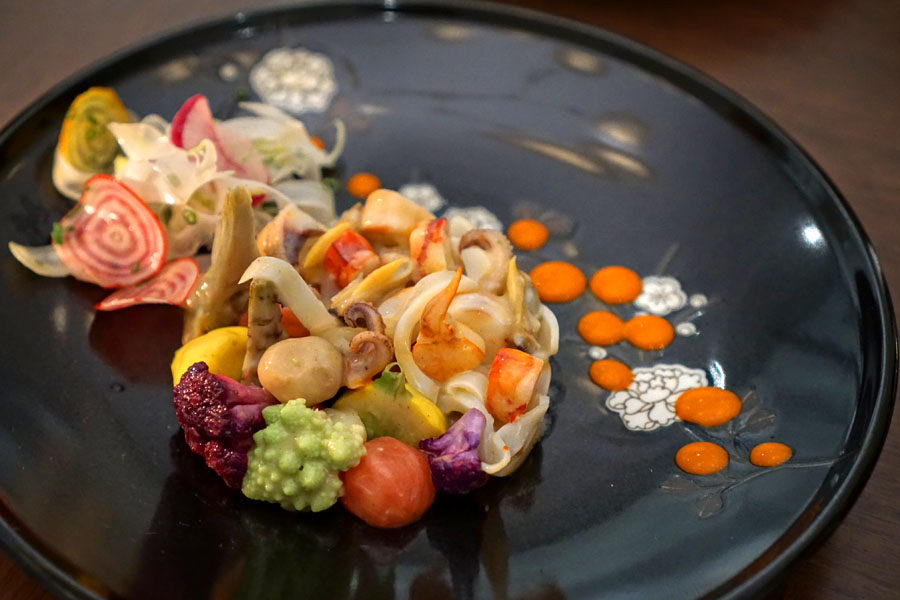 Chilled Shellfish Salad [$28.00]
| manila clams, cuttlefish, prawns, monterey calamari, vegetable a la grecque, carabinero jus
Here, each item of seafood was distinct, yet everything melded together pretty well, partially thanks to the depth of the accompanying prawn jus, which help bind it all together. The veggies, meanwhile, served as a crisp, tangy counterpoint, and overall the dish had this sort of Mediterranean vibe going on.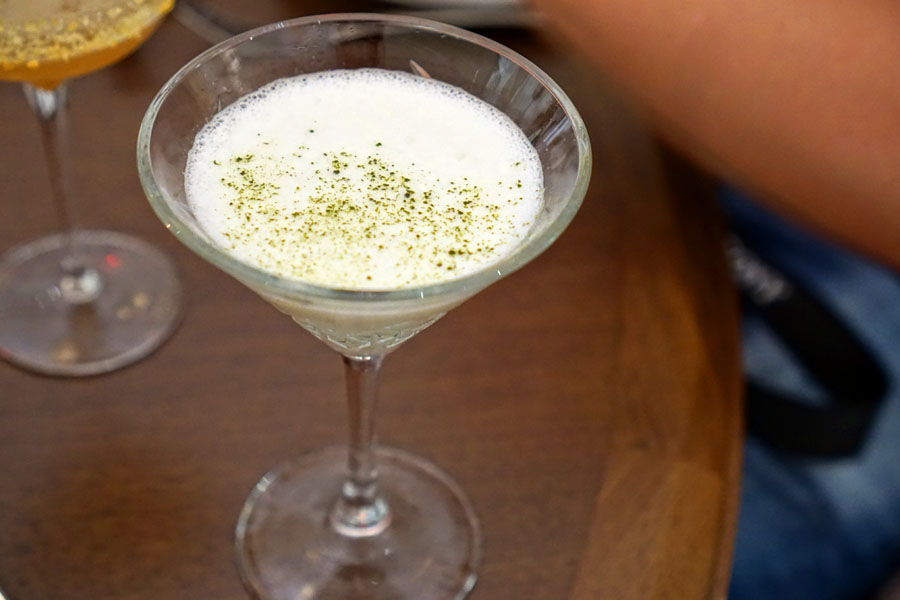 Yohji Yamamoto [$13.00]
| gin, matcha, leche merengada, lemon
This next cocktail was one of the more polarizing ones we tried, but I rather liked it. The focus for me was the sweet, autumnal spiciness in the drink, and how that matched up with the bittersweet notes of green tea. It was a combo that worked for me, especially given the drink's soft, creamy nature.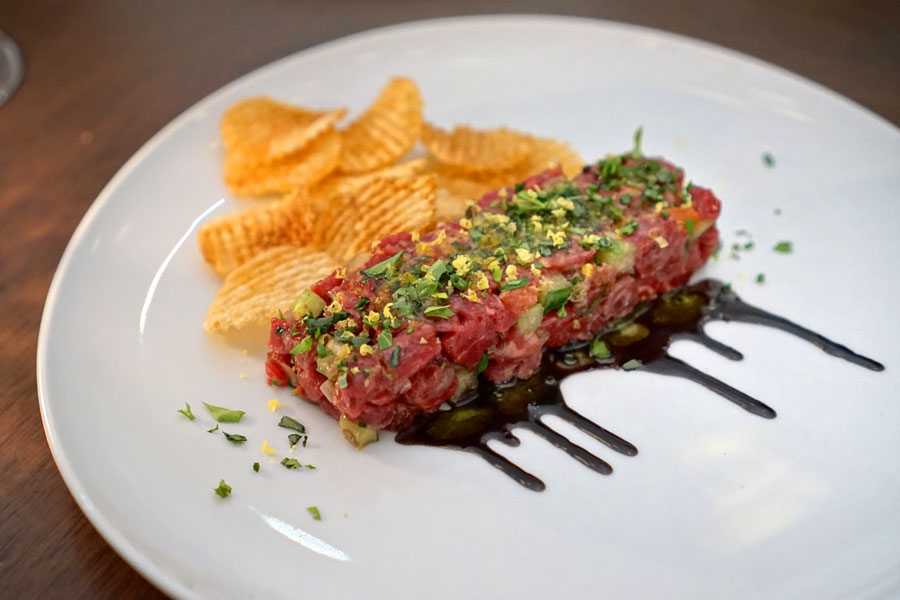 Steak Tartare [$22.00]
| cape grim ny strip, olive, celery, cured yolk, pomme gaufrette
The tartar was pretty much spot on. I loved how satisfying the beef was texturally, while the intrinsic savoriness of the meat was augmented by hints of sweet spice, which was a bit interesting. And again, the crispness and salt of the waffle fries were much appreciated.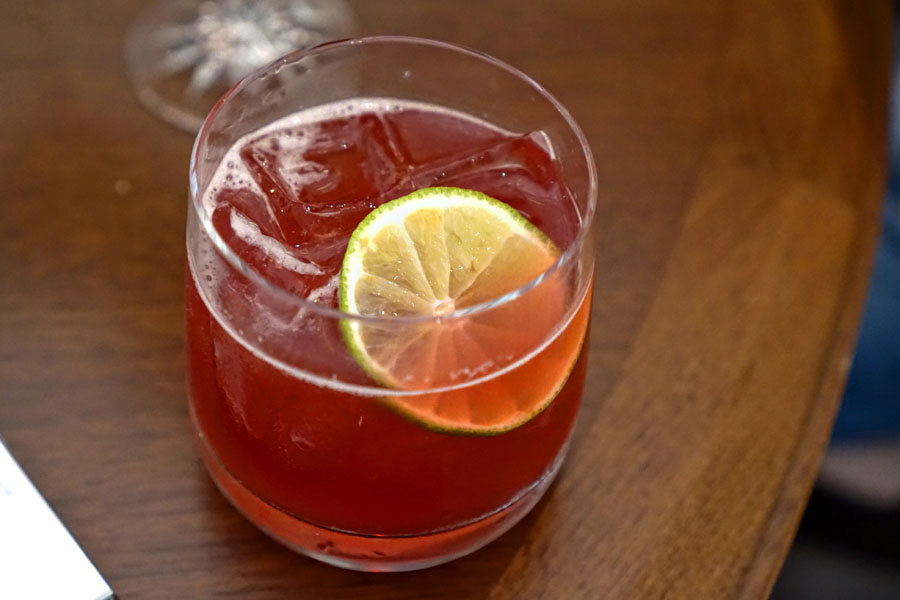 Supreme [$14.00]
| mezcal
or tequila
, cassis, habanero, lime
Next came a cocktail that was a favorite for a couple of my dining companions. I suppose that make sense, given that it was a deft blend of fruit and smoke, perked up by hits of tart lime.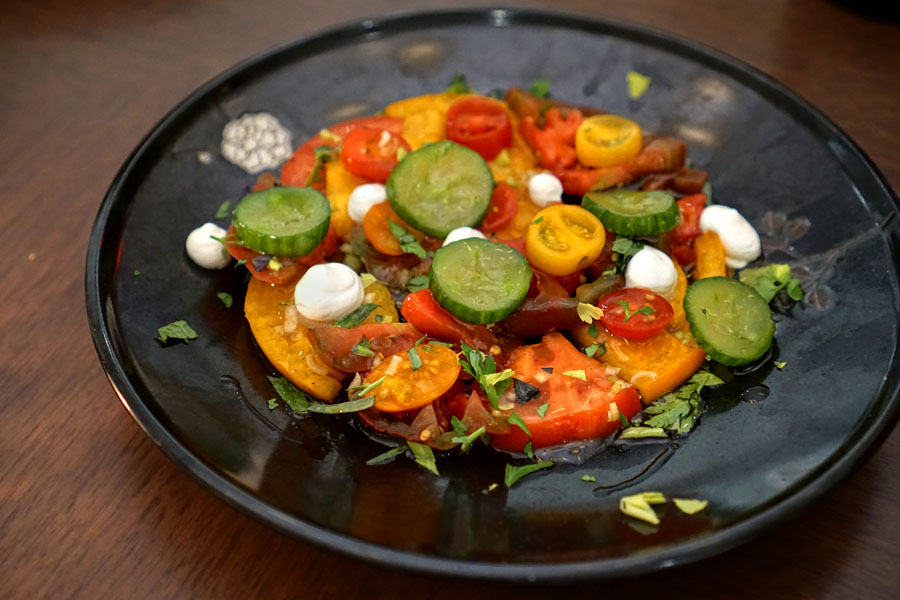 Tomato Salad [$18.00]
| valdavia farms heirloom tomato, compressed cucumber,
7-herbs
, scallion, crème fraiche
Tomatoes here were super juicy, while their flavors were a mixture of sweet and tart. The array of herbs imparted a well-placed brightness and complexity to the dish, while the crème fraîche added a necessary richness and heft that actually helped tie everything together.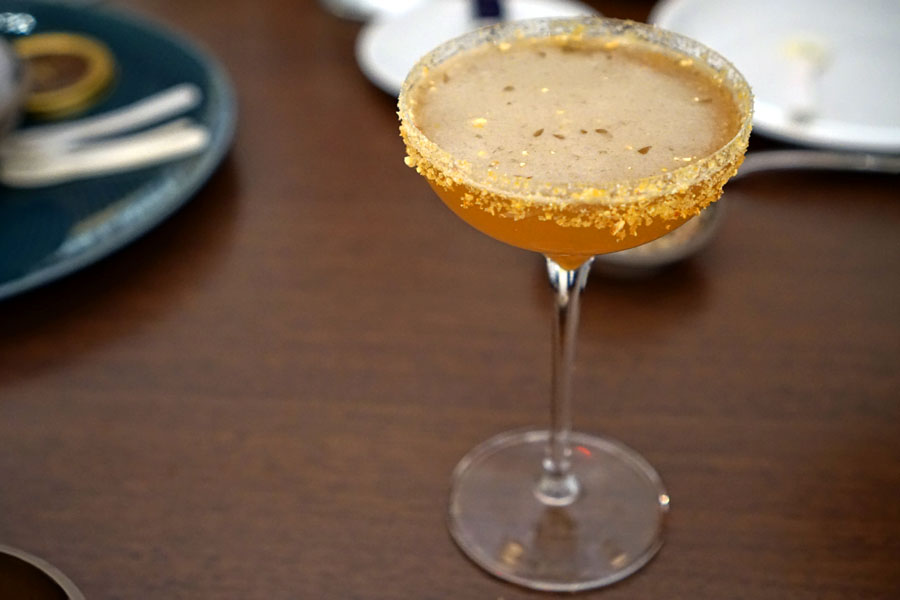 Christian Dior [$16.00]
| calvados, pierre ferrand dry curaçao, lemon
This Dior-inspired cocktail certainly looked the fanciest, which I suppose is fitting. Taste-wise, I found it pleasantly fruity from the combination of calvados and triple sec, but cut by a pervasive bitterness and flavors of nuts.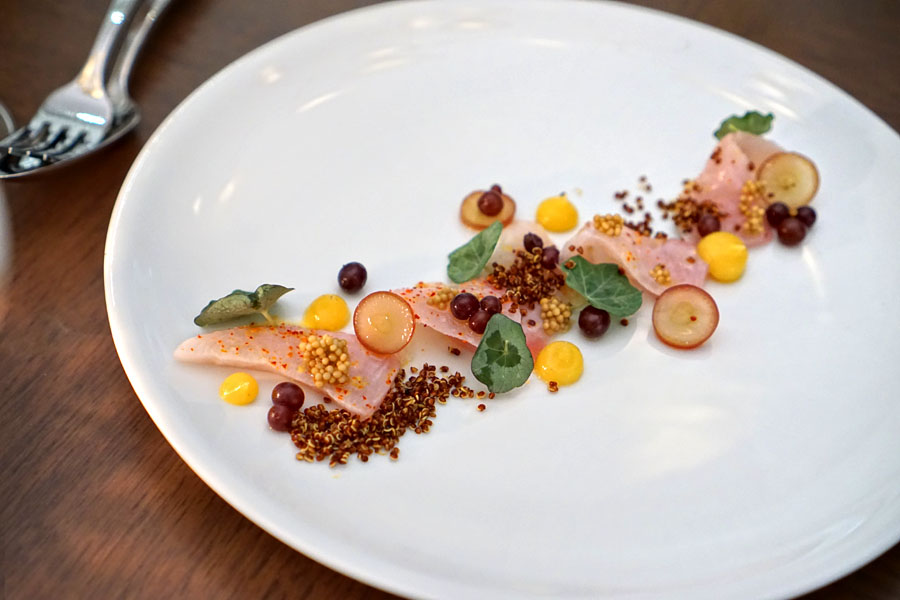 Crudo [$19.00]
| hiramasa king fish, champagne & black muscat grapes, verjus, lemon puree, quinoa
Yellowtail amberjack made for a clean, lean presentation of crudo. Grapes added an unexpected but not unwelcomed juiciness and acidity, while the quinoa offered up a contrast in texture. My sole concern here was that the lemon was too strong, and tended to overwhelm the fish.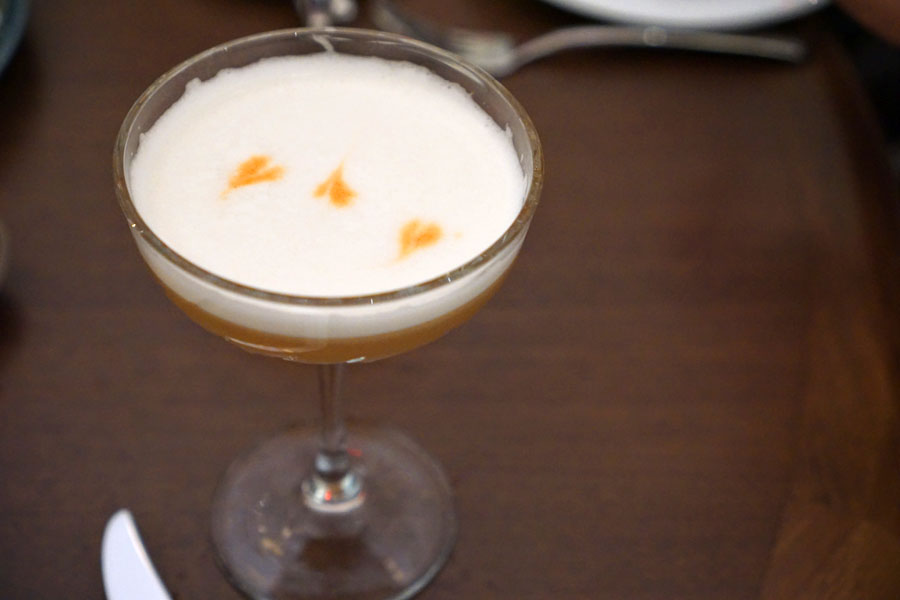 Jeanne Paquin [$15.00]
| armagnac, floc de gascogne, egg white, lemon
The evening's final cocktail went in a boozy, tannic, astringent, drying direction, moderated just a touch by the relative mildness of the egg white.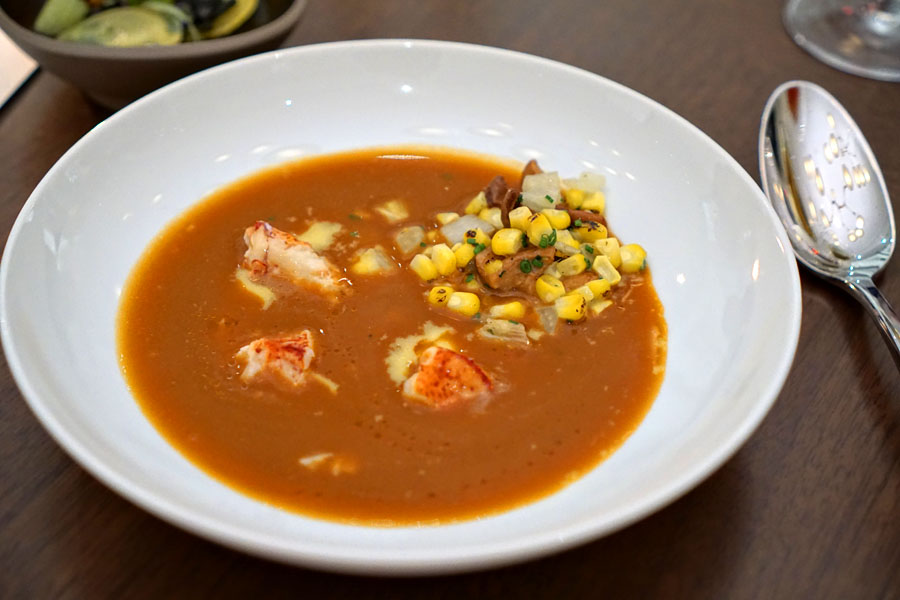 Lobster Bisque [$19.00]
| butter poached maine lobster, organic corn, chanterelles, fennel, chives
The bisque showed off considerable brine and depth from the lobster, set against the sweetness of corn. It was all rather tasty, though I would've liked to have seen more from the advertised fennel and chives.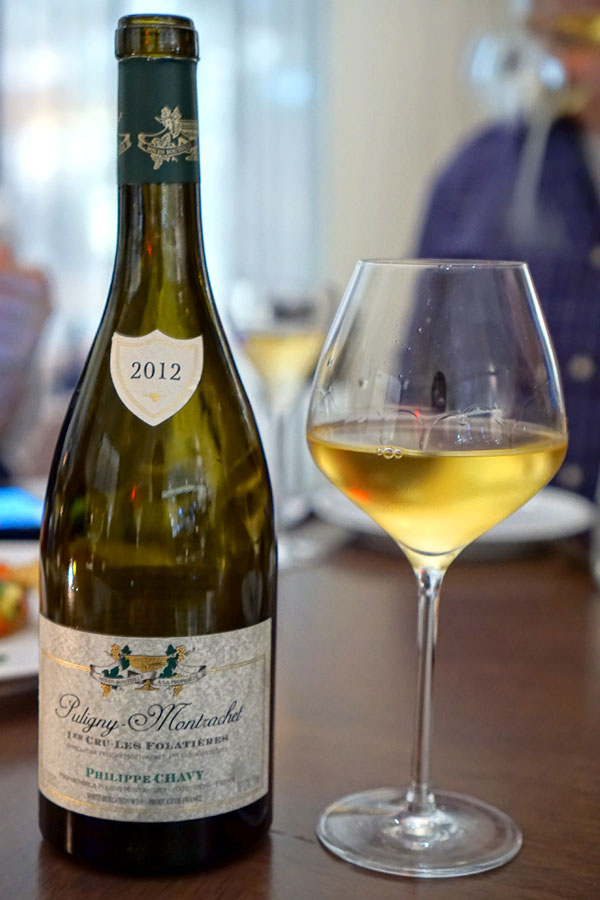 We got back into wine with the
2012 Philippe Chavy Puligny-Montrachet 1er Cru Les Folatières
. It smelled great, bringing aromas of juicy stone fruit, grass, and flint. On the palate the wine was somewhat weightier, with a pronounced oakiness along with robust pome fruit, some vegetal notes, and a zingy acidity. Nice.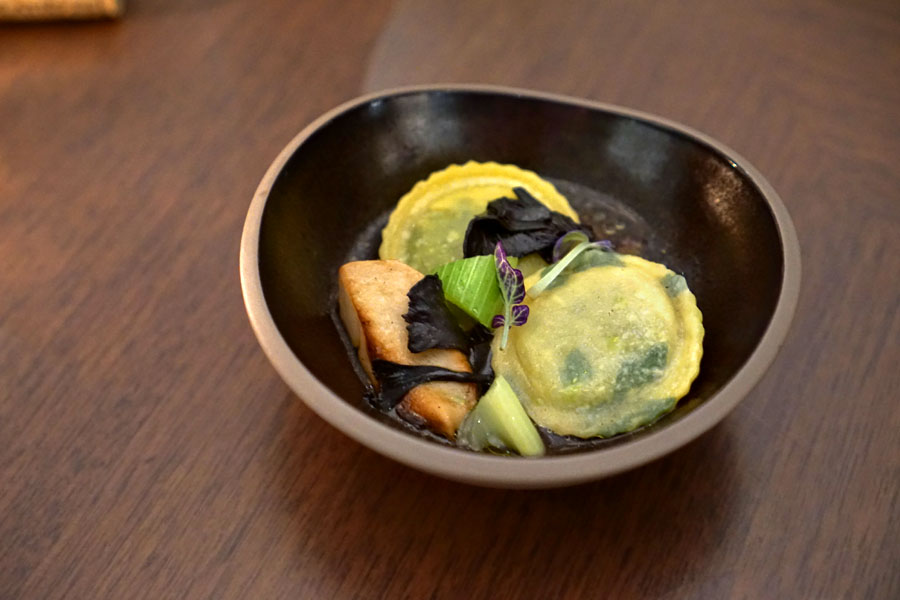 Escargot Ravioli [$21.00]
| wild burgundy escargot, porcini, black garlic, mushroom broth, watercress
Housemade ravioli were excellent, really conveying the richness and herbaceousness you get from a classic preparation of escargot. I liked the extra oomph provided by the mushroom here, but even better was the celery, which added a contrasting sharpness to the dish. Note that was this an individually presented portion, but I could've eaten a whole plate of the stuff!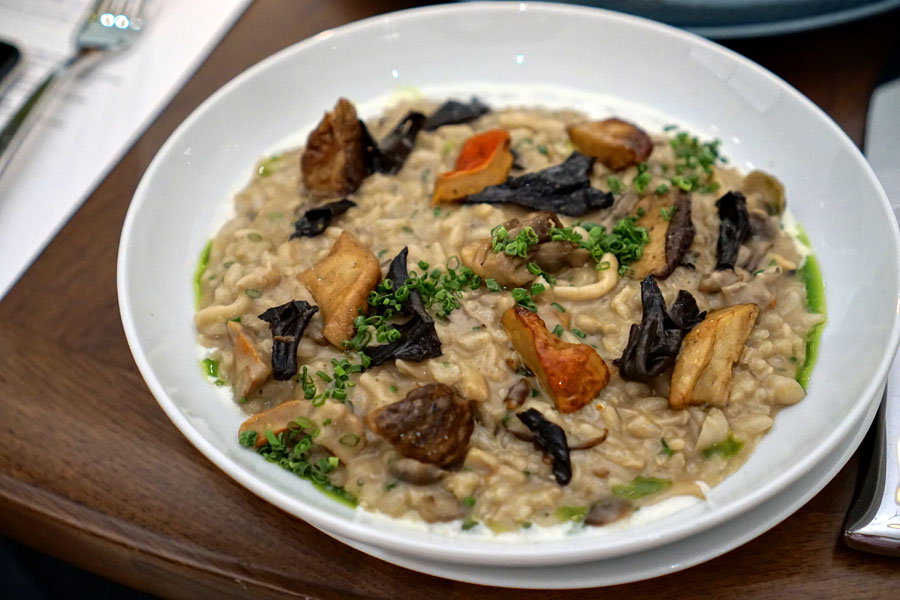 Mushroom Risotto [$28.00]
| acquarello aged carnaroli rice, chanterelle, black trumpet, lobster & hen of the wood mushrooms, parmesan
I found the risotto thoroughly agreeable. The creaminess and consistency of the parmesan-boosted rice was on point, and I loved the multitextured, multifaceted muskiness of the multiple mushrooms: black trumpet, chanterelle,
honshimeji
,
maitake
, and porcini. Chive oil, meanwhile, added just a touch of brightness to the dish. A favorite of mine.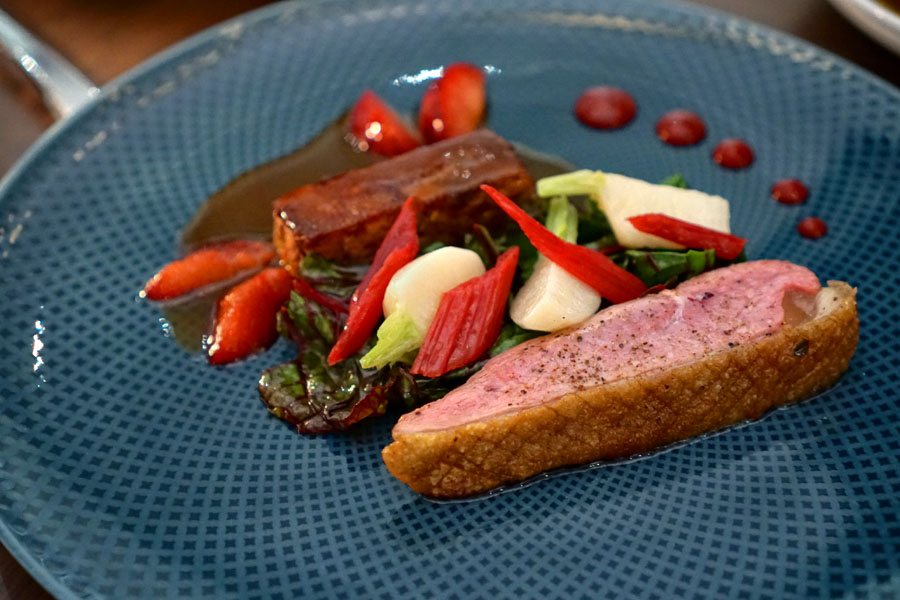 Crescent Farm Duck [$44.00]
| breast, leg confit, swiss chard, tokyo turnip, amber jewel plums
The duck was also a standout. I started with the aged breast, finding it beautifully seasoned, with one of the best crispy skins I've ever had. Amplified by the use of duck jus, the confit delivered as well, showing off all the rich, deep flavors I wanted, all while the sautéed chard and turnip imparted an excellent bitter contrast. I didn't mind the plums (cooked, fresh, puréed) either, which offered up just a smidge of sweetness.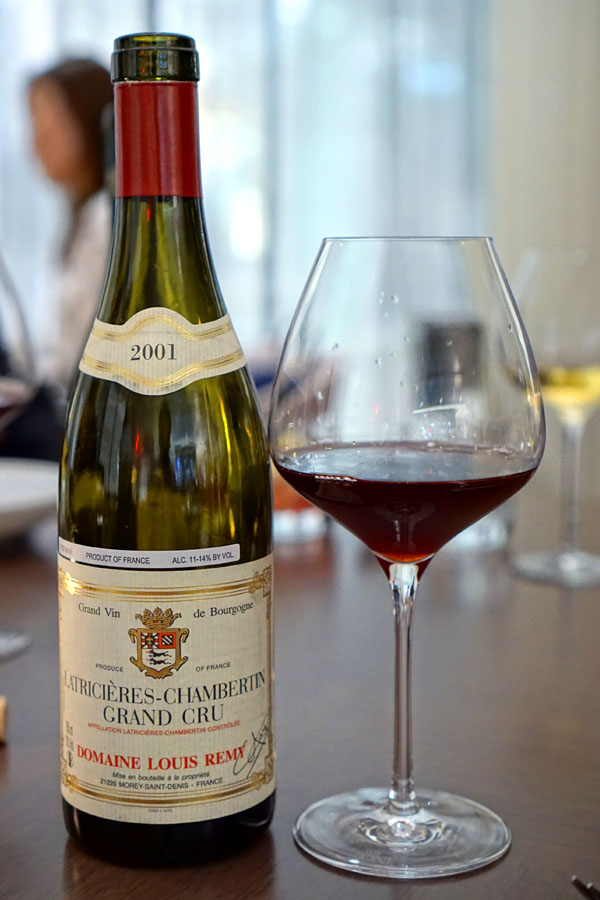 Our first red was the
2001 Domaine Louis Remy Latricières-Chambertin Grand Cru
. Mature nose of soil, smoke, and dusty strawberry. I found the wine thin on the palate, and fairly tannic, with flavors of herb, earth, game, and faded berry. This sort of seemed to be on its last legs, so drink 'em if you got 'em.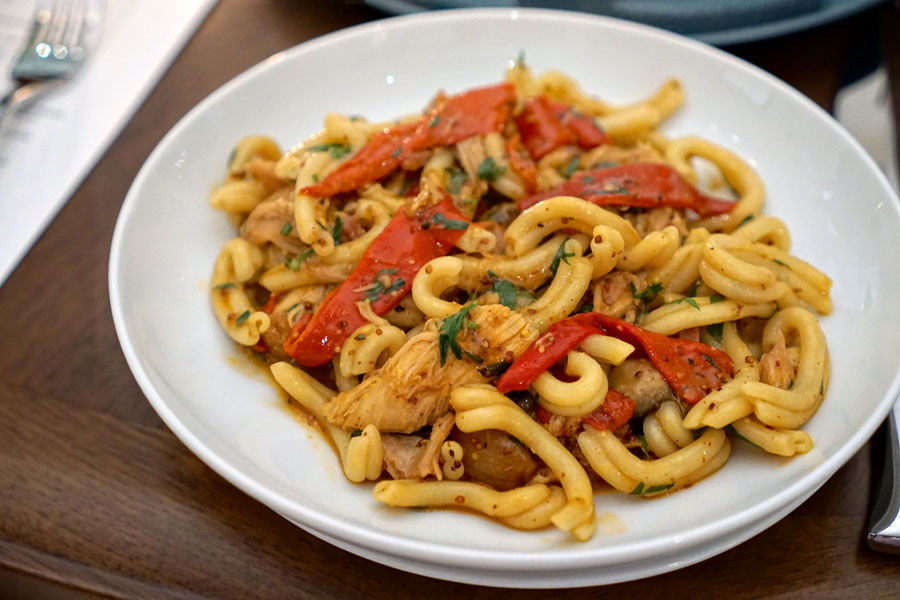 Rabbit Pasta [$31.00]
| house made strozzapreti, braised rabbit, piquillo peppers, pearl onion, mustard, tarragon, bacon
This pasta course was a crowd pleaser. The rabbit itself was fairly benign, though it did have a heft to it. What made this work was the balance between savory, sweet, and spicy, with the tarragon acting as an effective accent.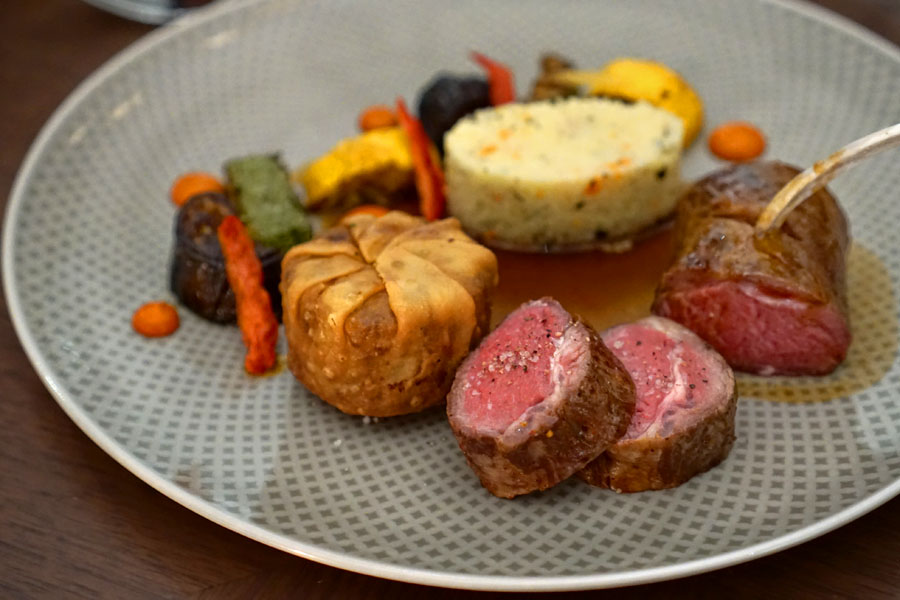 Grass Fed New Zealand Lamb Rack [$46.00]
| eggplant, zucchini, tomato, couscous, mint, lemon, harissa
Lamb rack arrived tender and well seared, though I found it somewhat lacking in the flavor department. I was expecting more umami, more seasoning from the meat, though the harissa did impart a punchy spice that I appreciated. Meanwhile, we also had a puff pastry stuffed with braised lamb shoulder, which certainly wasn't deficient in the depth I was looking for, and I was pretty fond of the carrot- and mint-studded couscous, too.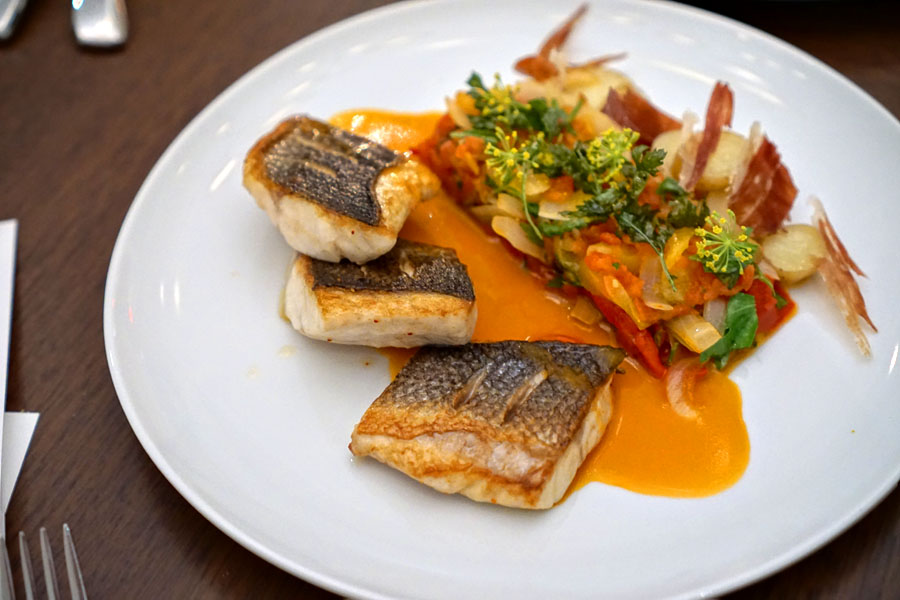 Mediterranean Sea Bass [$34.00]
| tomato, yellow bell peppers, fingerling potatoes, prosciutto, piperade jus
The sea bass was a delight. The fish came out expertly spiced, and I enjoyed its crispy skin and tender, flavorful flesh. Potatoes worked great as an accompaniment, as did the braised peppers, while fried parsley and dill flowers brightened things up.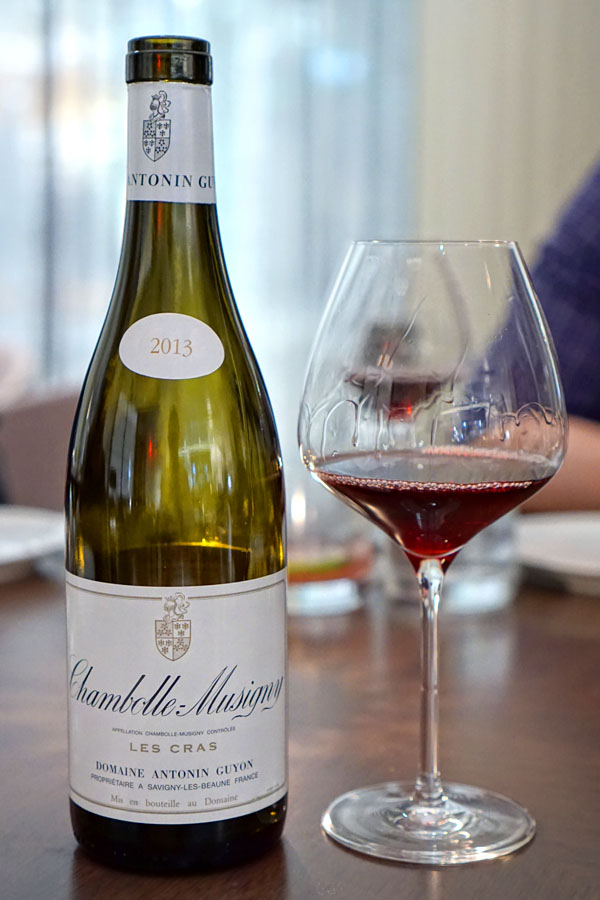 Our final wine was the
Chambolle-Musigny Premier Cru, Antonin Guyon 2013 "Les Cras" [$150]
. I found an engaging nose of robust berry fruit punctuated by herb and smoky soil. The palate was fresh and fairly tannic, and showed tart fruit laced with minerality.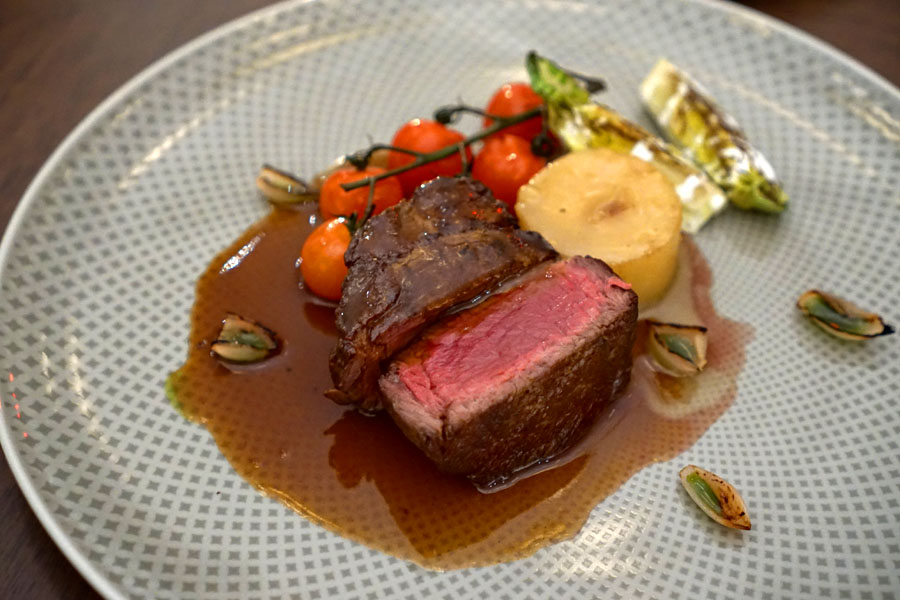 Cape Grim Grassfed Beef Tenderloin [$58.00]
| potato boulangère, charred little gem lettuce, cherry tomato, pickled onion
And now we come to our last savory dish of the night. I usually shy away from filets, but this was one of the better ones I've had. I especially enjoyed the crust and seasoning on the steak, and simply how robust it was in the flavor department. Also a standout here was the potato, as well as the charred lettuce, laced with lemon crème fraîche.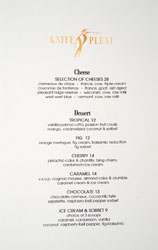 Above we see the dessert menu, which is the work of Brittany-born, Paris-trained Pastry Chef Germain Biotteau, an Alain Ducasse alum who's been with Esnault for about four years, since the inception of Spring. Click for a larger version.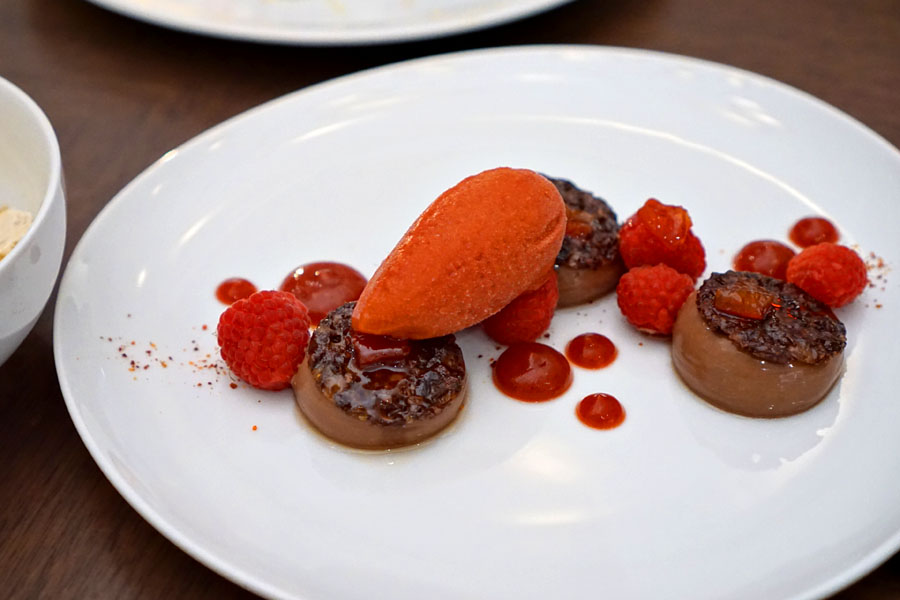 Chocolate [$13.00]
| chocolate cremeux, cocoa nib tuile, espelette, raspberry-bell pepper sorbet
We made sure to save room for dessert. Our first featured stout cylinders of chocolate cremeux, topped with cacao nib tuiles, and this duet of chocolate made perfect sense when taken with the raspberry (both fresh and coulis). However, the star of the show was that sorbet, which masterfully combined sweet and vegetal flavors, and which linked up surprisingly well with the chocolate.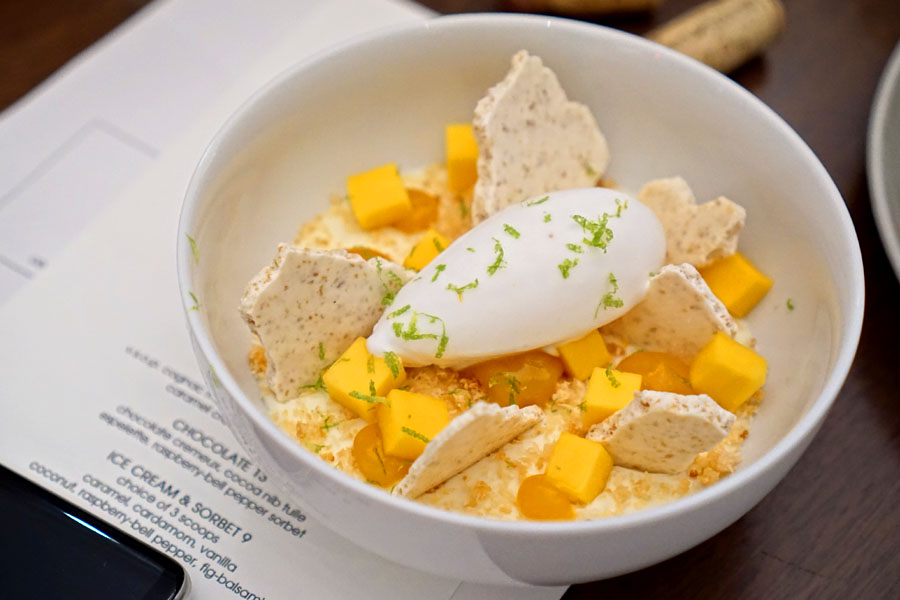 Tropical [$12.00]
| vanilla panna cotta, passion fruit coulis, mango, caramelized coconut & sorbet
This next dessert was indeed as tropical as advertised. The panna cotta served as a creamy base to the dish, and I liked the sweet-tart flavors of the passion fruit and mango, while the coconut meringues imparted a great textural component. I got an overarching herbaceousness here that definitely worked, too.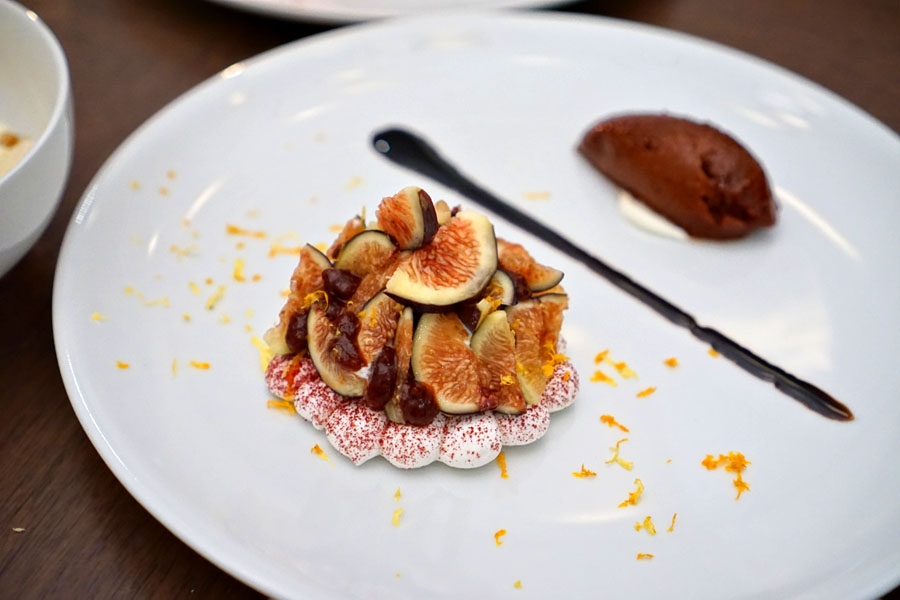 Fig [$12.00]
| orange meringue, fig cream, balsamic reduction, fig sorbet
This plate did a wonderful job showing off fig in different forms: fresh fig, fig cream, fig coulis. The fruit was tempered by the meringue, while the balsamic sorbet added a palpable zippiness to the dessert, as did the sprinkles of lemon and orange zest.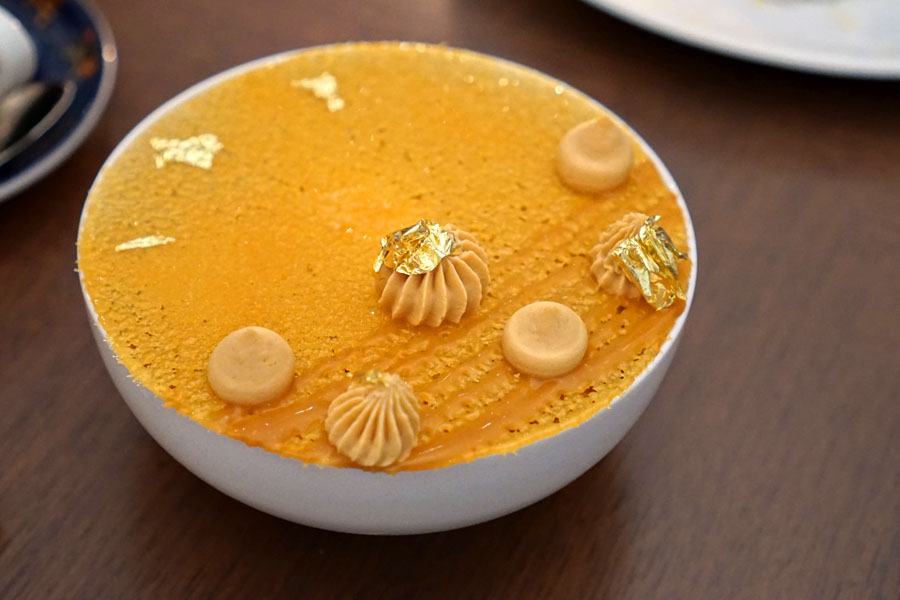 Caramel [$14.00]
| v.s.o.p. cognac mousse, almond cake & crumble, caramel cream & ice cream
Next was no doubt one of the best caramel-based desserts I've ever had. I just loved how well both the caramel cream and caramel ice cream married with the slight salt of the almond cake 'n' crumbles. The cognac, meanwhile, imparted a certain gravitas to things, while the tuile on top mixed things up texturally. This was our favorite of the desserts, and in fact, it was so good we actually ordered another!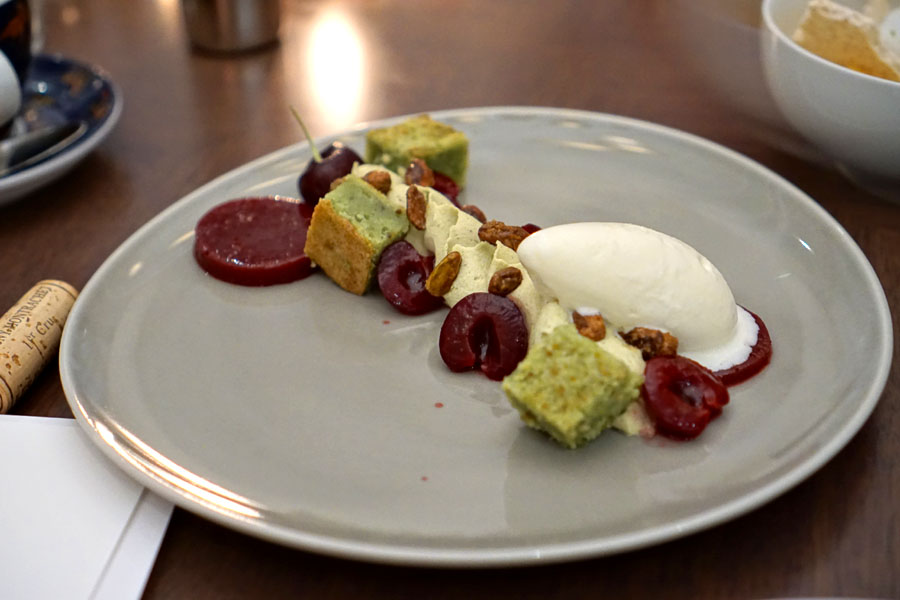 Cherry [$14.00]
| pistachio cake & chantilly, bing cherry, cardamom ice cream
Our last dessert was a winner as well. Pistachio was conveyed in three ways--candied, chantilly, and cake--and the sheer nuttiness present just made sense with the sweetness of the cherries. My favorite part, though, was that ice cream, which did a fantastic job demonstrating the spicy and somewhat astringent nature of cardamom.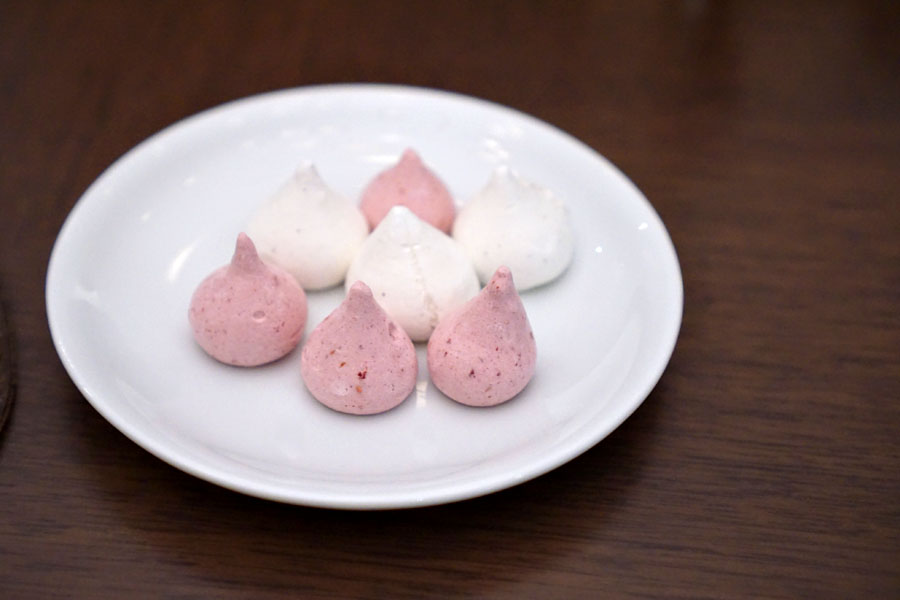 To close: vanilla and raspberry meringues.
I was a bit bummed to learn about Esnault's departure from both Church & State and Spring, so it was good to see him back in action. In fact, the Chef seems happier, more confident than ever, and I think he's at a good place. He's doing some commendable work in the kitchen here, and in certain ways, the cooking reminds me of Spring's, which isn't a bad thing. Knife Pleat's a worthy addition to the Orange County dining scene, and really, the OC could use a place like this.