Fork (Philadelphia, PA)
Fork Restaurant
306 Market St, Philadelphia, PA 19106
215.625.9425
www.forkrestaurant.com
Fri 01/17/2020, 05:15p-07:45p

This visit to Philly was brief, lasting a mere three days, and I was scheduled to depart this evening on the last flight to LAX. Given the lateness of said flight, I was able to squeeze in one more dinner, and decided on Fork, a modern American eatery inspired by the Mid-Atlantic region. One of the Old City's standbys, the restaurant opened all the way back in 1997, and is the brainchild of one Ellen Yin.
A brief history
: Yin first got started in the hospitality biz during high school, when she bussed tables at a local Chinese restaurant in her hometown of Robson, NJ (she later moved to a French spot just around the corner). She relocated to Philadelphia to study at the University of Pennsylvania, and while attending school, worked as a server/bartender at La Terrasse. After finishing undergrad, Yin did advertising and sales, then returned to Wharton for her MBA in 1991, focusing on healthcare. She graduated in 1993, and then went to work in healthcare consulting, but was unfulfilled. She thus teamed up with Wharton colleague Roberto Sella and the two opened Fork with a budget of only $300,000. The restaurant debuted in October 1997 with a fairly basic menu by Chef Anne-Marie Lasher, and quickly became busy. Lasher lasted three years before leaving to open Picnic, and she was replaced by David Ballentine, another alum of La Terrasse. Ballentine headed up Fork only briefly though, and was supplanted by Chef Thien Ngo, who stayed over seven years.
In 2004, Yin expanded with Fork:etc, a casual joint situated next door to Fork, while in October 2007, her cookbook
Forklore: Recipes and Tales from an American Bistro
was published. Ngo decamped in January 2009, and was succeeded by Terence Feury, who really took the restaurant to the next level. He even landed a "Best Chef: Mid-Atlantic" semifinalist nod from Beard in 2010, but left in 2012 to open Tavro 13 in Swedesboro, NJ. Yin started a search for a new Exec Chef, and in September 2012, recruited Eli Kulp, a CIA grad who'd served as CdC at Torrisi Italian Specialties in Manhattan. Yin and Kulp subsequently revamped Fork, and also shuttered Fork:etc, transforming it into High Street on Market in October 2013. At the start of 2014, the pair teamed up with David Fields and took over a.kitchen and a.bar at the AKA hotel, in the process launching their overarching High Street Hospitality Group (with Kulp as Culinary Director).
HSHG then debuted High Street on Hudson in NYC in December 2015, and fast casual eatery High Street Provisions in March 2018. Kulp was named a "Best New Chef" by
Food & Wine
in 2014, and was a James Beard "Best Chef: Mid-Atlantic" nominee two years later. Fork, meanwhile, was deemed an "Outstanding Restaurant" semifinalist by Beard in 2014, 2015, and 2016. Tragedy struck in May 2015, when Kulp was seriously injured in an Amtrak derailment. This left the EC position at Fork open for a while, but in May 2016, Fork's CdC John Patterson (a Gramercy Tavern vet who joined in September 2013) was promoted to Executive Chef. Things continued to go well at the restaurant, and in 2017, Yin was named an "Outstanding Restaurateur" semifinalist by Beard. This was followed by "Outstanding Restaurateur" nominee status in both 2018 and 2019. However, in spring 2019, Patterson left his post at Fork to move to Vermont, and he was superseded by Jeremy Hansen at the end of that summer.
About the Chef
: Jeremy Leonard Hansen was born in October 1975, and grew up in Spokane, WA. He got his first restaurant job at the age of 15, and at 17, became kitchen manager at a local spot called Mustard Seed (a position he held for nearly a decade). After graduating from Shadle Park High School in 1995, he attended Spokane Falls Community College from 1997 to 1999, where he studied photography. Hansen later worked under Chef Jason Rex at Fugazzi, and it was around this time where he began to get really serious about cooking. He thus moved to Portland, and studied at the Le Cordon Bleu College of Culinary Arts from 2004 to 2006. During his time there, he worked at Bluehour and 23Hoyt, as well as Timberline Lodge on Mount Hood. Following graduation, Hansen relocated to New York and cooked for Chef Gray Kunz at Café Gray. He eventually returned to Spokane though, and in July 2008, got married to longtime girlfriend Kate Rose Christman.
The couple began working on Santé Restaurant & Charcuterie together, and launched the bistro-ish place in October 2008. The success of the business allowed them to open Common Crumb Artisan Bakery in January 2015, and shortly after, Hansen was named a "Best Chef: Northwest" semifinalist by James Beard. The two then launched Inland Pacific Kitchen and its associated Hogwash Whiskey Den in December 2016. The Biscuit Wizard dropped in September 2017, and the Hansens started a food-focused non-profit called 509cooks in February 2018. In March 2019, Santé shuttered, but was quickly replaced by the more casual Smoke & Mirrors Saloon the next month. In June 2019, Hansen was in NYC to help Nahid Ahmed and Arjuna Bul open Luthun, but was approached by Yin to take over Fork. After a visit to Philly, he was hooked, and thereupon closed Common Crumb, Biscuit Wizard, and Smoke & Mirrors before moving to Philadelphia in August. Hansen's new menu at Fork launched in October.
Joining Hansen in the kitchen is Sous Chef George Madosky III, a Johnson & Wales grad (c/o 2014) who previously cooked at the Loews Philadelphia Hotel and Bank & Bourbon. Pastry Chef duties, meanwhile, are handled by Kristen Fereck, who graduated from The Restaurant School at Walnut Hill College (c/o 2016). She worked at Avance and Il Pittore before joining the Fork team in October 2015 as a pastry cook.


Fork was penned by Meg Rodgers of
Marguerite Rodgers Interior Design
. Though the space hails from 1997, it's been tweaked over the years, with the biggest change-up occurring when Kulp joined the team. During that time, tablecloths were swapped out for wooden tabletops, and murals by Anthony DeMelas were added.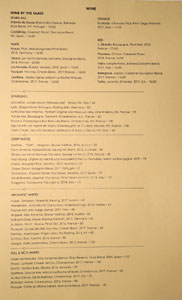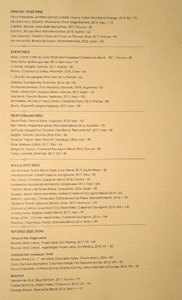 Fork's menu is relatively compact, divvied up into approachable sections, and do note the large number of vegetarian options available. The wine list is also seen above, and is pretty diverse, though it does definitely lean Old World. Click for larger versions.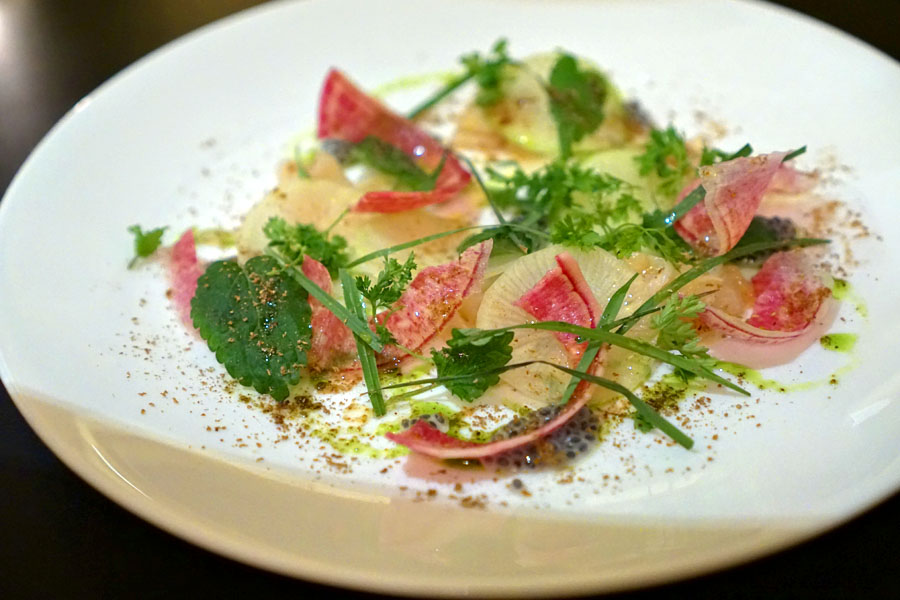 geoduck crudo [$16.00]
| calamansi, radish, citrus, basil seeds
The geoduck immediately stood out to me on the menu. The clam itself had this strong, lingering brine, but was lacking in the sweetness department. Radish served as a crunchy counterpoint, as did the zestiness of the coriander "dust" and the sharpness of the citrus, but overall the various elements on the plate just didn't mesh as well as I was hoping for.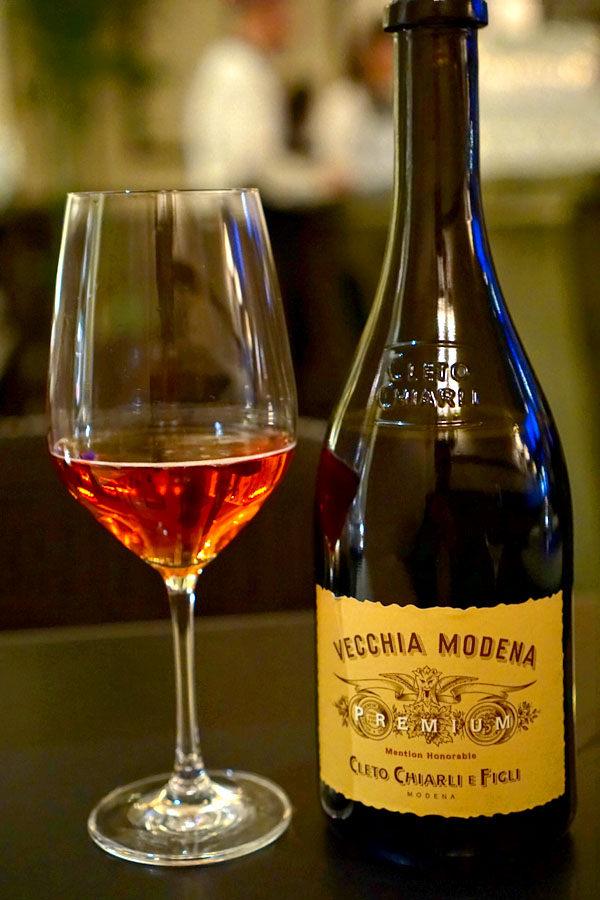 To drink, I requested a bottle of the
Cleto Chiarli, Vecchia Modena, Lambrusco di Sorbara Secco, NV, Italy [$60]
. The wine smelled quite lovely, showing off vibrant red fruit backed by some funky undertones. Taste-wise, I found it dry, tart, and a bit bitter, with the fruit coming in more on the back end.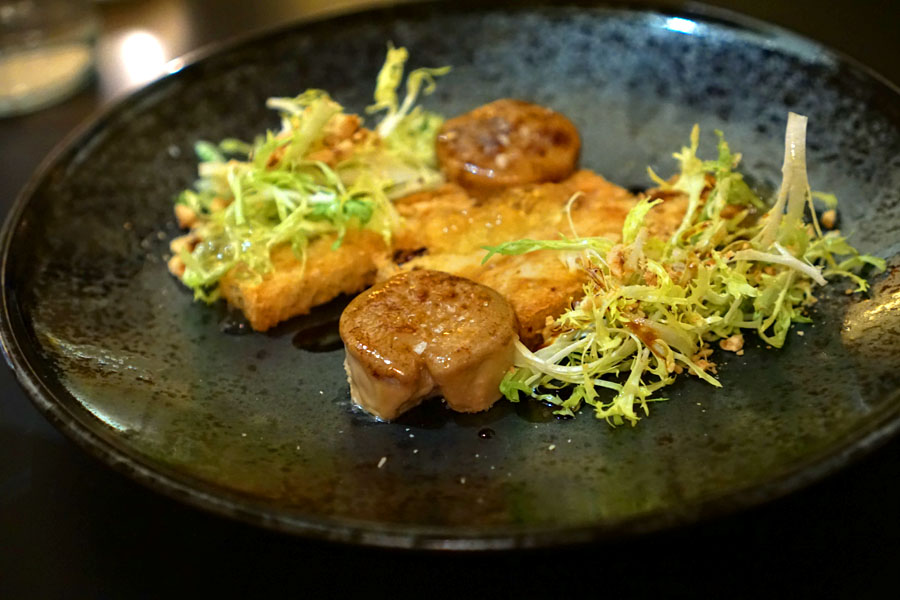 foie gras salad [$18.00]
| hazelnuts, birch syrup, honey gêlée, brioche
Given California's recently reinstated foie gras ban, I made it a point to have some during my time in Philly. The liver didn't disappoint, displaying all the rich, earthy flavors I expected, evened out by the sweetness of its crunchy, caramelized top. Nuts and frisée helped lighten up the dish, and the overarching honeyed nature of that gelée worked well, too.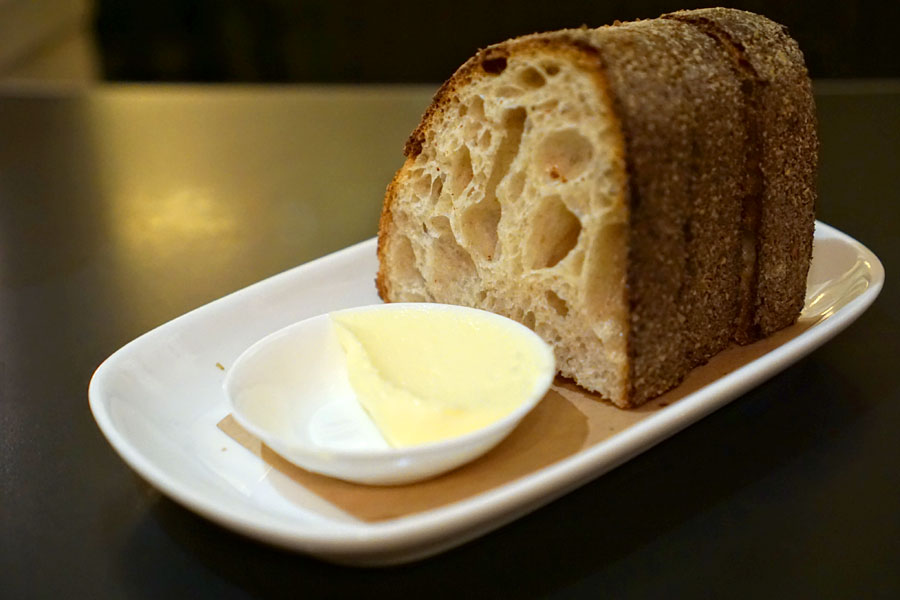 I was then presented with bread, ostensibly prepared by Head Baker Alexander Roman. I appreciated its subtle tanginess, and how that matched with the bitterness of the crust, though said crust could've been crisper, and overall the bread could've been warmer. As for the butter, it was on point, with a welcomed saltiness.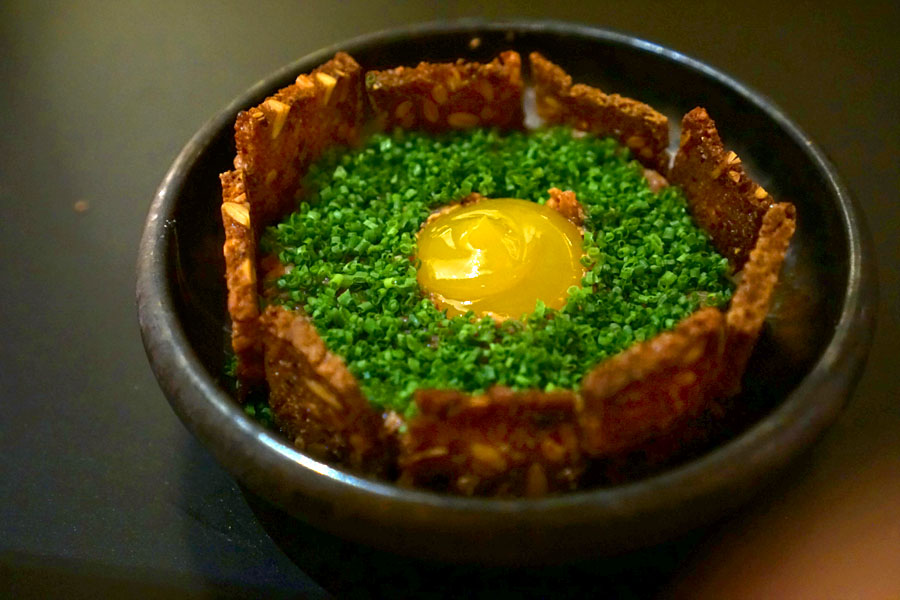 wagyu tartare [$22.00]
| yolk, chive, mustard, rye crisps
A finely-cut presentation of beef tartar delivered. The meat had this peppery zing that I quite liked, while the chives imparted a brightness to the dish. My favorite thing here, though, was the rye bread, which had an excellent combo of crunch and spice that really served as the perfect exclamation point.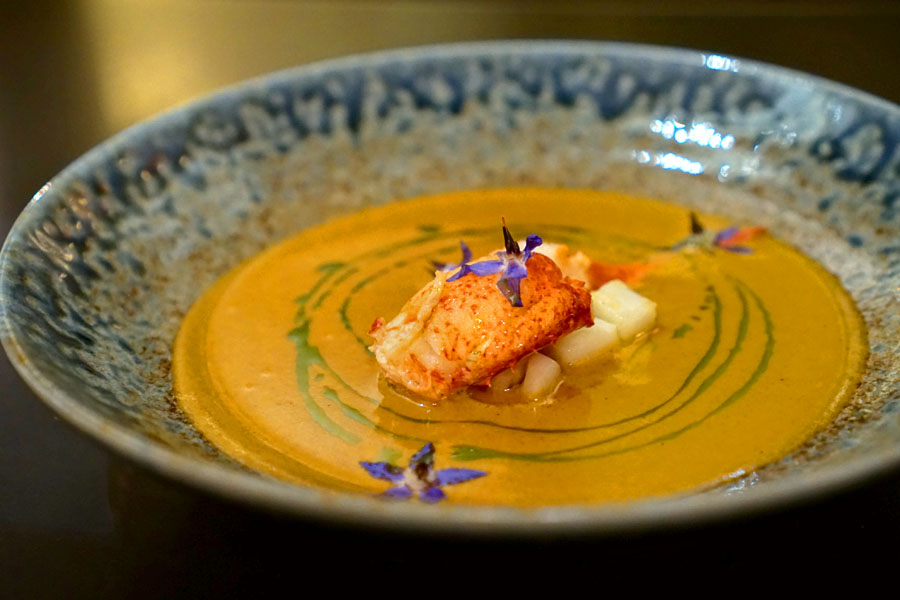 lobster & bisque [$22.00]
| tarragon, celery root, herb oil
I had mixed reactions to this riff on lobster bisque. The actual lobster was spot on both in terms of taste and texture, and I enjoyed the contrast provided by the celeriac. However, the actual soup was just too heavy on the salt, and simply overwhelmed the crustacean.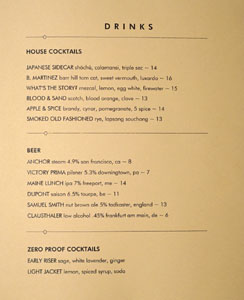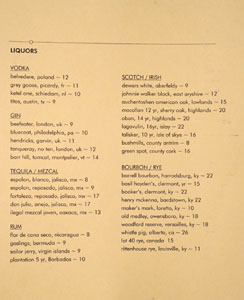 With the wine drunk up, I requested the restaurant's cocktail/beer/spirits list. Click for larger versions.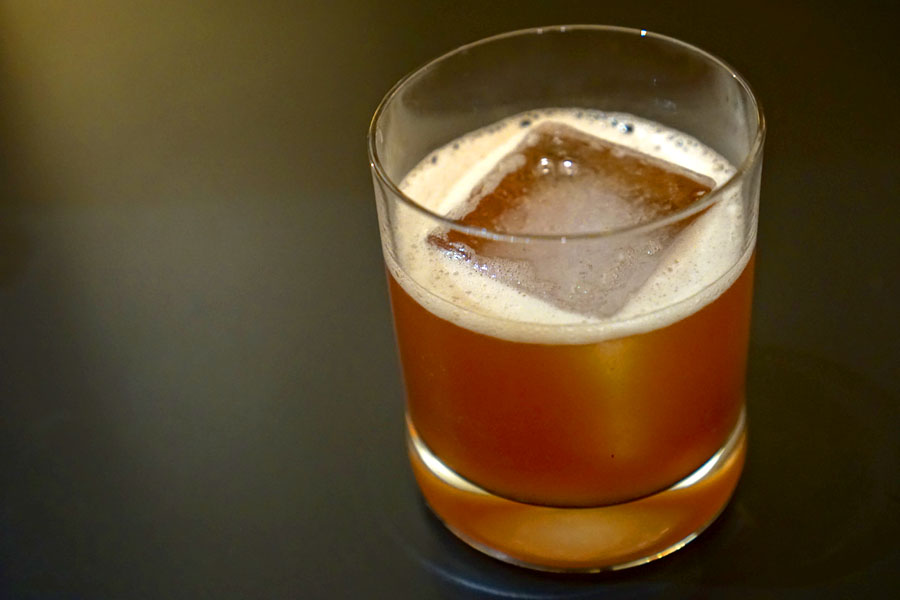 Apple & Spice [$14.00]
| brandy, cynar, pomegranate, 5 spice
I opted for this somewhat wintery cocktail. It smelled of sweet, soft spice, which seemed very apropos for the season. In terms of taste, I found it a pleasant mélange of tangy, bitter, sour, minty, and astringent, with the Cynar really making itself known.
fluke [$25.00]
| urfa biber, clementine, parsnip, sea grass
Somewhat surprisingly, the fluke arrived lightly fried, in a crisp, thin, tempura-like batter. Said batter married well enough with the fish's mild, firm flesh and the sweet-sour nature of the citrus present, all while the seagrass offered up a sharp, vegetal salinity. A bit odd overall.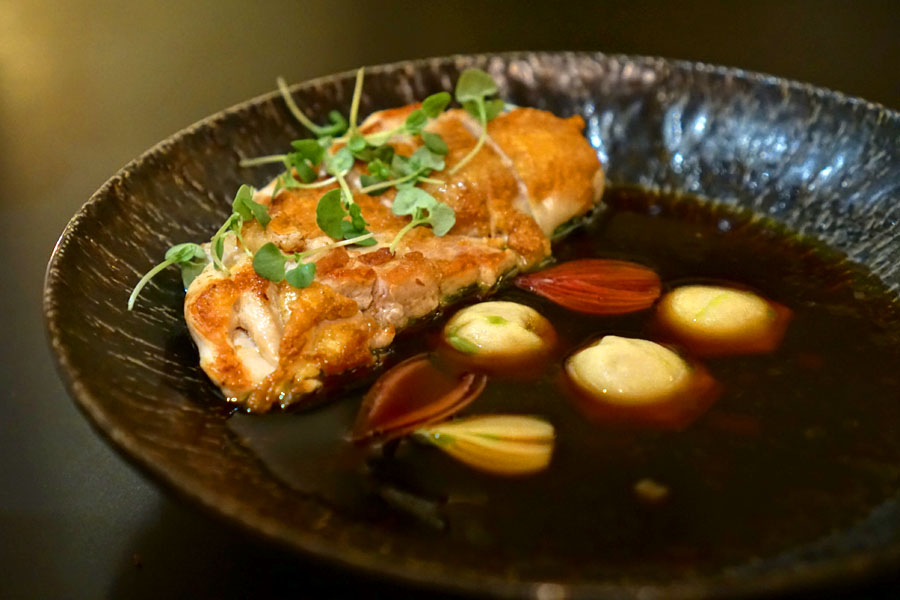 pheasant [$28.00]
| chicken dumplings, consommé, potato
Pheasant was intensely flavored, showing off an almost lengua-like potency at times, and I was a fan of the bird's crisp, savory skin. Also effective were those super herby dumplings and piquant shallots, though the actual beef consommé veered salty unfortunately.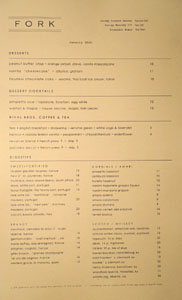 Here we have Fork's expanded dessert menu, replete with an array of dessert wines and after-dinner beverages. Click for a larger version.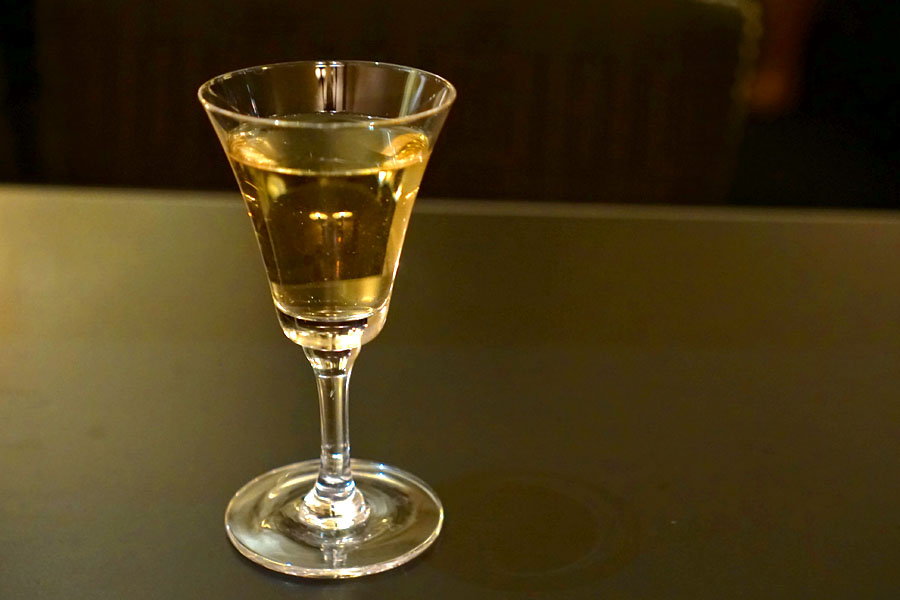 Speaking of dessert wine, my server was kind enough to offer me a complimentary pour of the
loupiac gaudiet, loupiac, france
. Nose here was of honey and stone fruit, commingled with plenty of boozy heat. On the palate, think decadent, sweet, spicy, and fruity, but with an undercurrent of astringency lurking in the background.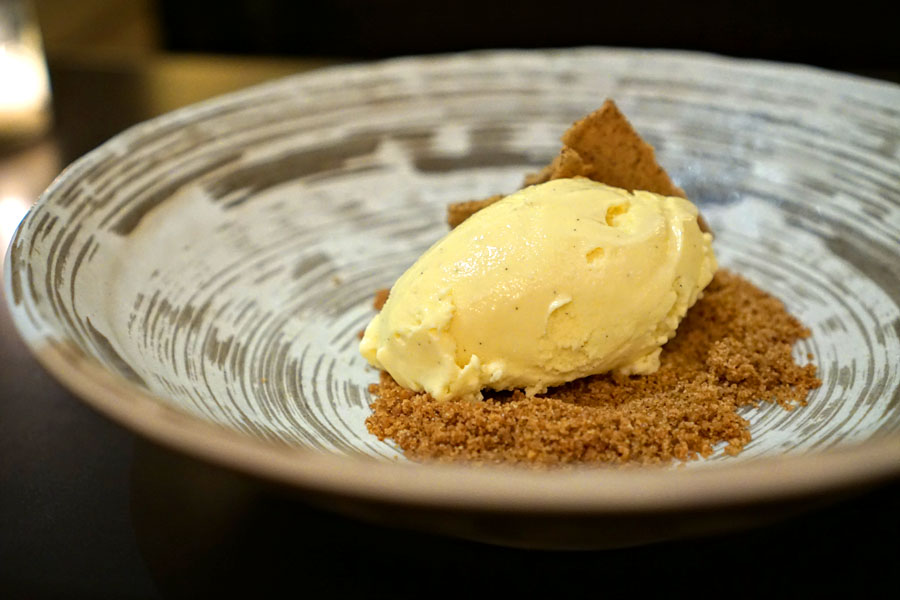 vanilla 'cheesecake' [$11.00]
| all spice, graham, chocolate
I concluded with this uncommonly delicious take on cheesecake. What we had seemed like vanilla ice cream, but one boosted with plenty of cheesy, lactic flavors and a hint of spice. It was thoroughly enjoyable just by itself, but even better when taken with those spicy cookie crumbles.
Given all the history behind Fork, I had high hopes coming into here, but left the restaurant somewhat ambivalent. My meal here was uneven. There were certainly highlights, but also a number of concerns, and some of the food was plain lacking in refinement. Hansen's new menu just launched a couple months ago, so perhaps he's still finding his footing. After all, Fork has been open for over 22 years, so I'm sure they'll figure it out.