Vetri Cucina (Philadelphia, PA)
Vetri Restaurant
1312 Spruce St, Philadelphia, PA 19107
215.732.3478
www.vetricucina.com
Wed 01/15/2020, 08:30p-11:20p

I recently spent a couple days in Philadelphia, and it was actually my first time visiting the City. There was one restaurant at the top of my to-try list: Marc Vetri's eponymous Vetri. Opened all the way back in '98, it's a place that I'd known about ever since I started eating out seriously in the early 2000s, and I've always heard it praised as being one of the top Italian spots in the country. Given all of Vetri's fame and acclaim, it was the first reservation I booked as soon as I knew I was flying out to Philly.
About the Chef
: Marc Vetri was born in 1968 and grew up in Roslyn, Abington Township, Montgomery County, just north of Philadelphia. His father's side of the family was Italian, while his mother's was Jewish, and his grandfather even operated a local eatery. He began cooking at an early age, helping his grandma out in the kitchen, and got his first restaurant job at the age of 14, during a summer break. He was a dishwasher at Downbeach Deli in Margate City, NJ, and the following summer, returned and cooked on the line. Vetri graduated from Abington Senior High School in 1985, then attended Drexel University, majoring in marketing and finance. While attending college, he worked at Mosholu and White Dog Cafe in Philadelphia, and on his breaks, cooked at Maloney's Pub and The Waterfront in New Jersey. After completing his degree in 1990, he moved to Los Angeles to pursue his interest in music, studying guitar at Hollywood's Musicians Institute (he was in a band called Mild Mustard).
When he was 22, Vetri begged his way into a position at
Wolfgang Puck
's Granita in Malibu, cooking under Joseph Manzare. He dropped out of school within a year, and in 1993, took Manzare's advice and moved to Italy. He worked at a number of restaurants in the northern part of the country (including Tuscany and Venice), but his most formative
stage
was when he spent a year at Taverna Colleoni dell'Angelo in Bergamo, Lombardy. Vetri returned to the US in early 1995 and helped Giorgio Gallizio open an Italian joint in Juneau, AK called Giorgio's at the Pier, then moved to New York. In Manhattan, he worked briefly at Pino Luongo's Coco Pazzo Teatro in 1996, which was followed up by an Executive Chef gig at Enrico Proietti's Bella Blu (and later another one of his spots, Baraonda). However, he was out by 1997, and in January 1998, went back to Bergamo to find inspiration.
Properly inspired, the Chef returned and, in partnership with FOH whiz Jeff Benjamin (the two met in NYC), debuted Vetri on September 23rd, 1998. The place got off to a slow start, but business picked up once the reviews came in. In 1999, Vetri was lauded as one of "America's Best New Chefs" by
Food & Wine
, and in 2005, he was deemed "Best Chef: Mid-Atlantic" by James Beard. The success of the restaurant allowed for the launch of the more casual Osteria in 2007, in partnership with Executive Chef Jeff Michaud (a second outpost opened at New Jersey's Moorestown Mall in November 2013, but shuttered by October 2015). October 2008, meanwhile, saw the release of Vetri's first cookbook:
Il Viaggio Di Vetri
. Vetri, Benjamin, and Michaud came together again for Amis, a Roman-inspired eatery created in partnership with Executive Chef Brad Spence that bowed in 2010.
A second cookbook,
Rustic Italian Food
, came out in November 2011. In 2012, the team of Vetri/Benjamin/Michaud started Alla Spina, a pubby spot with a name meaning "from the tap." The following September, the first Pizzeria Vetri opened in Philadelphia, and was named one of
GQ
's "Best Restaurants in America" in 2014. A second location dropped in Rittenhouse Square in June 2015, while an expansion to Austin, TX came in November 2015. The team's next restaurant was Lo Spiedo (known as "The Brig" prior to opening), which dropped in September 2014 at the Navy Yard; it was awarded
GQ
's "Best Restaurants in America" nod in 2015. A third cookbook,
Mastering Pasta: The Art and Practice of Handmade Pasta, Gnocchi, and Risotto
, was published in March 2015.
Big news came in late November that year, when it was announced that the Vetri Family of restaurants would be sold to URBN, the parent company behind the likes of Urban Outfitters and Anthropologie, among other brands (note that the flagship Vetri Cucina was not included in the deal). Flush with cash, Vetri and Benjamin (along with Michaud) helped URBN launch a new concept called Terrain Café in 2016, and there are currently multiple locations in California and the East Coast. Pizzeria Vetri landed in DC in June 2016, and King of Prussia, PA in October 2016, but the Austin outpost closed at the end of January 2017. In June 2017, Lo Spiedo was transformed into the more easy-going Bar Amis, an offshoot of Spence's Roman-ish spot mentioned above. Speaking of Amis, URBN ended up opening two more of them: Westport, CT in April 2017 and Devon, PA in August 2018.
However, all was not well, and Benjamin ended up leaving URBN in August 2017, while Vetri followed him out the door that December. Jeff Michaud ended up teaming with restaurateur Michael Schulson, and the two bought back Osteria from URBN in January 2018. Early 2018 also saw the shuttering of Alla Spina, while in August, Vetri released his fourth cookbook:
Mastering Pizza: The Art and Practice of Handmade Pizza, Focaccia, and Calzone
. In September 2018, Vetri became a minority partner in butcher shop Primal Supply Meats, which was founded by Heather Thomason in 2016. The next month, it was revealed that the Chef would be purchasing Philly's longstanding Fiorella's Sausage, which had closed earlier in the year after 125 years in business.
Meanwhile, in November 2018 Vetri Cucina expanded to Las Vegas, opening at the Palms. More closures came in 2019: Pizzeria Vetri DC in March, and the original Amis in June (following Brad Spence's departure). In May 2019, Vetri replaced Kevin Sbraga (winner of
Top Chef
season 7) as the culinary advisor at Fitler Club, a members-only establishment (think Soho House) run by none other than Jeff Benjamin. The Chef then announced that he'd be opening up a 14-seater pasta bar called Fiorella in the former home of the aforementioned butcher shop. Fiorella was inspired by the pasta pop-ups that were held upstairs at Vetri a few years back, and opened just recently on February 13th.
Running the day-to-day at Vetri is Executive Chef Matt Buehler, a native of Fort Washington, PA. He began his restaurant career in eighth grade, when he took a dishwashing job, and eventually made his way to the French Culinary Institute (now the International Culinary Center) in New York. Follow graduation, he returned to Philly and worked at a number of spots around the city, including Striped Bass, Philadelphia Fish & Company, Oceanaire Seafood Room, Butcher and Singer, Kraftwork, Bar Ferdinand, Falls Taproom, and Brü Craft & Wurst. Buehler joined the Vetri team in May 2015, and was promoted to Exec Chef in early 2016.

Vetri is situated in a historic 1860-era, three-story, 3,500-square-foot townhouse. After serving as a residence and office space, the row home first became a restaurant in 1967, when it was home to Peter von Starck's La Panetière, which had its kitchen led by Georges Perrier. Perrier took over the spot in 1970 and turned it into the legendary Le Bec-Fin, but he later moved to a larger location in 1983. 1312 Spruce was then Joel Assouline's Two Quails from 1983 to 1988, when it became Ciboulette, from chefs Bruce Lim and Francesco Martorella. The two partners eventually split, and the townhome was taken over by Philippe Chin and his restaurant Chanterelles in 1992. Chin later transitioned to a larger address, and transferred his lease over to Vetri in 1998. Vetri initially occupied only the first floor of the building, but in 2014, the Chef renovated the second level and turned it into a private dining area, replete with its own show kitchen. The third floor, apparently, is being used for milling flour and making pasta, as well as offices.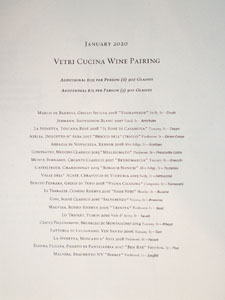 Vetri's menu format is unique. Diners are presented with a listing of possible food options at first, but you're only served a subset of dishes based on a conversation with your server at the start of the meal (discussing preferences, aversions, etc.). The base cost of my dinner was $165, while I also tacked on the full wine pairing for an additional $135. Click for larger versions.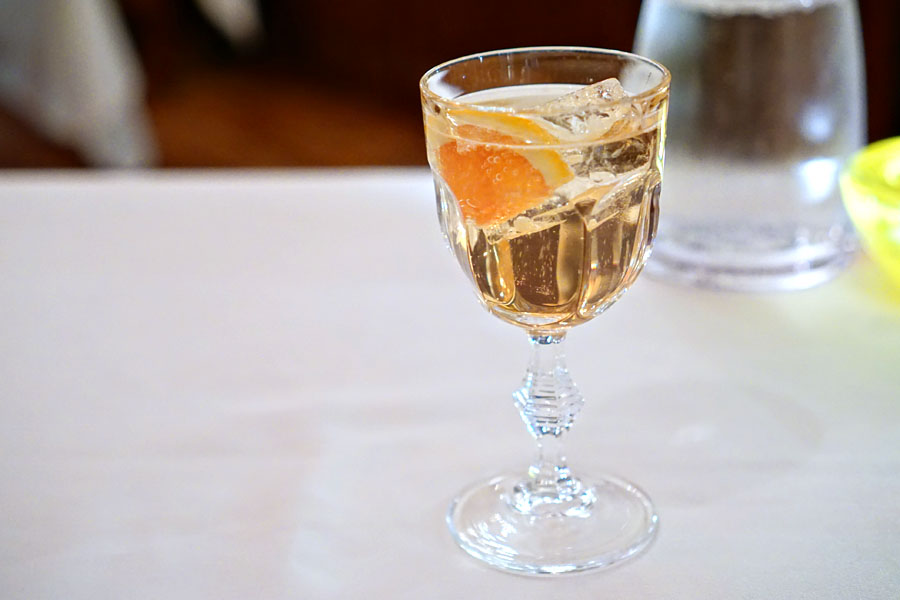 1a: Apperitivo e Assaggi
I was quickly presented with an Aperol Spritz, a cocktail that's having a bit of a moment now from what I've heard. Not surprisingly, it was a fun, fruity, fizzy, somewhat bitter drink, one that made for a fitting apéritif.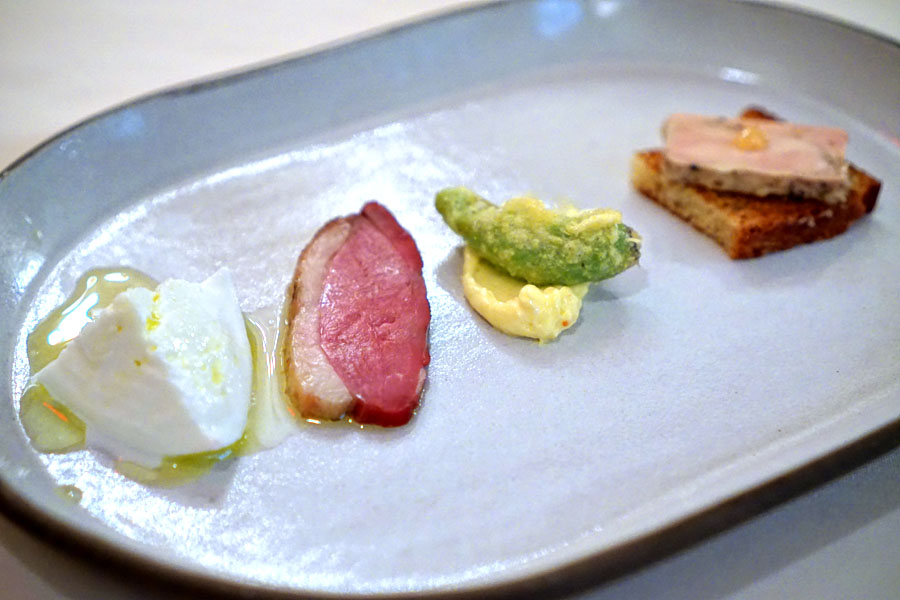 1b: Apperitivo e Assaggi
Next came a quartet of
stuzzichini
:
A sweet, creamy buffalo mozzarella from Campania, dressed with Sicilian olive oil.
Maple-smoked duck breast, which married the inherent earthiness of the bird with plenty of sweetness and smoke.
A crispy, well-spiced tempura-fried shishito pepper with garlic mayonnaise.
My favorite of the foursome: pastrami-seasoned foie gras on toasted brioche with cipollini mostarda, which featured a lovely combination of your classic herbs/seasoning and the sweet, liver-y funk of the offal.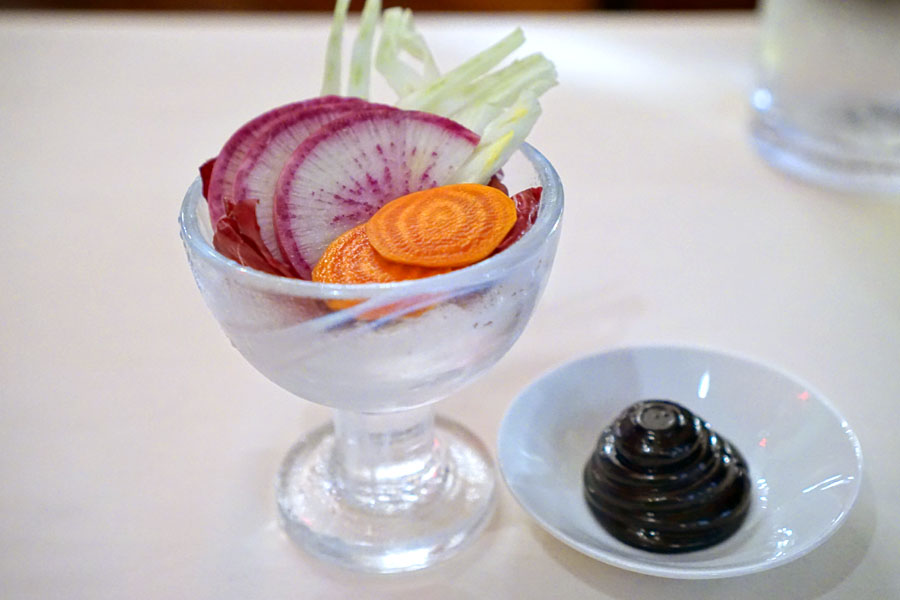 1c: Apperitivo e Assaggi
Next came crisp, bitter crudités, paired with a funky, sweet-n-sour balsamic crema dip (comprising reduced vinegar with Dijon folded in if I recall).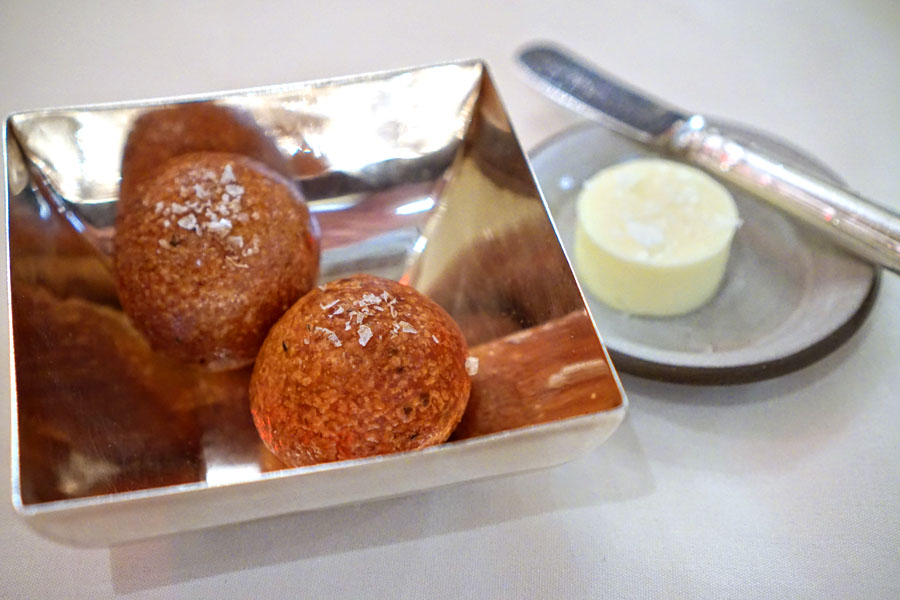 I was served three breads this evening, and first up were these housemade herbed buttermilk rolls, which I found pleasantly sweet, with just a hint of salt. They were even better with a dab of that supple, sea salt-sprinkled, house-cultured butter on the side.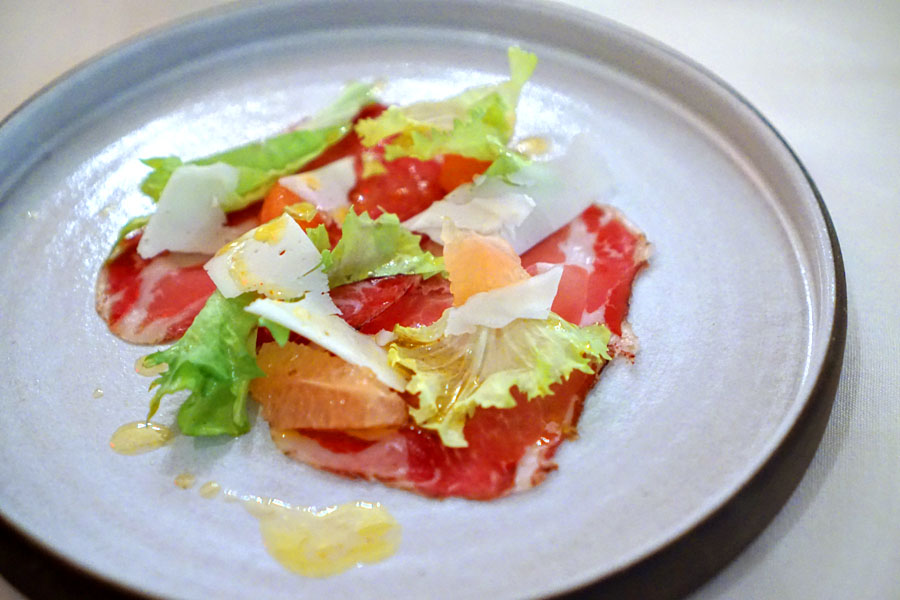 2: Coppa with Grapefruit
La Spinetta, Toscana Rose 2018 "Il Rose di Casanova" Tuscany, It
My first proper course was a three-and-a-half month-aged coppa, with smoked provolone, escarole, grapefruit, and a grapefruit vinaigrette. The salume was aggressively-seasoned and quite fatty, so the cheese (and fruit, of course) actually worked to moderate the meat, while the greens imparted a smidge of offsetting bitterness. The paired wine, meanwhile, showcased super intense grapefruit on the nose, with a hint of peach that linked up well with the citrus in the dish. Taste-wise, I got more stone fruit intermixed with a light grassiness, some minerality, and a nice acidity.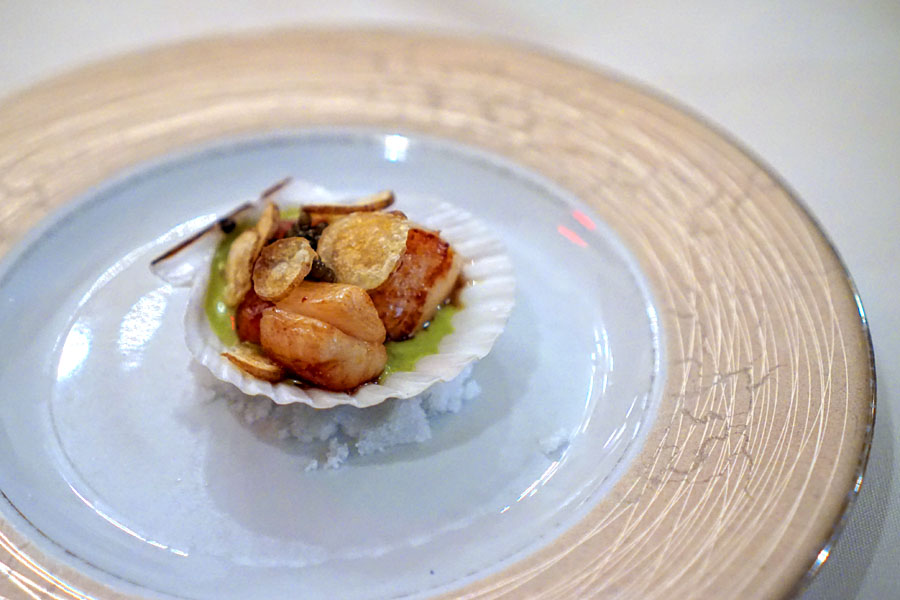 3: Bay Scallops with Caviar
Abbazia di Novacella, Kerner 2018 Alto Adige, It
Next came pan-seared Nantucket Bay scallops, which had their inherent salinity taken up a notch by salty spheres of Osetra caviar as well as those crispy fingerling potatoes. At the same time, acting as an effective counterpoint to all this was a lovely prosecco-ramp butter. This was a favorite course for me. As for the wine, it was floral and orchard fruity up front, with a crisp minerality on the palate and a marked spice on the back end--very nice.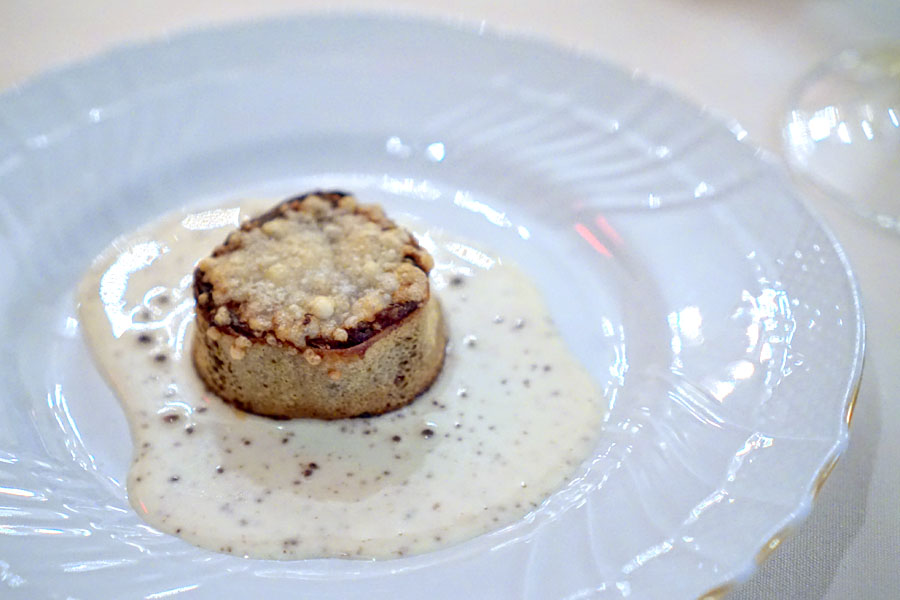 4: Sweet Onion Crepe with Truffle Fondue
Azelia, Dolcetto d'Alba 2017 "Bricco dell'Oriolo" Piedmont, It
The last of the antipasti courses was a caramelized onion crêpe baked with parmesan, set in a white truffle fondue. It featured super dark, deep, savory onion-y flavors, juxtaposed against plenty of salty cheese and a wisp of truffle. It was great with the paired Dolcetto, which featured lots of concentrated strawberry and violet mixed with a grassy, vegetal funk. In fact, the wine seemed to emphasize the onion notes in the dish while softening its flavors overall.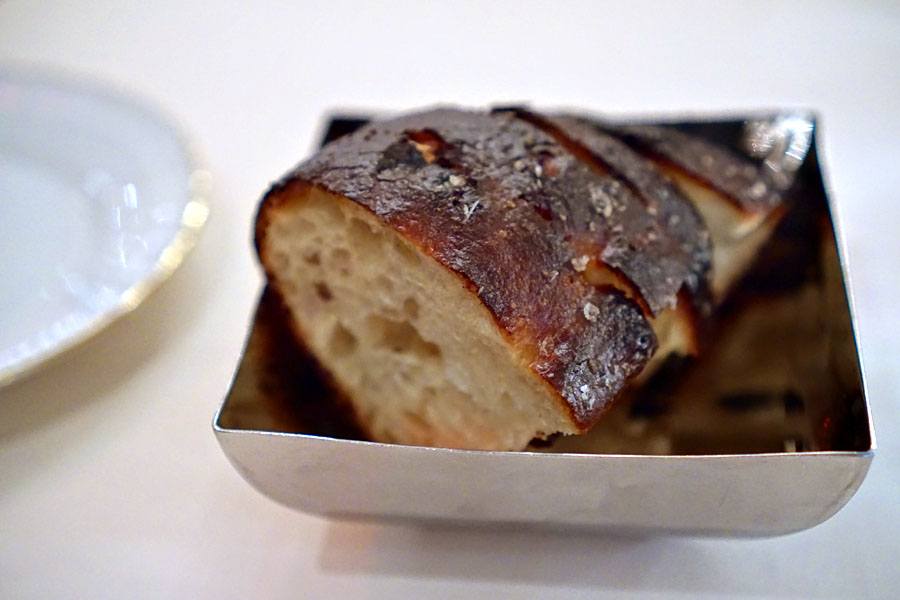 My second bread was a smoky semolina focaccia topped with sea salt and olive oil. I didn't mind this one at all.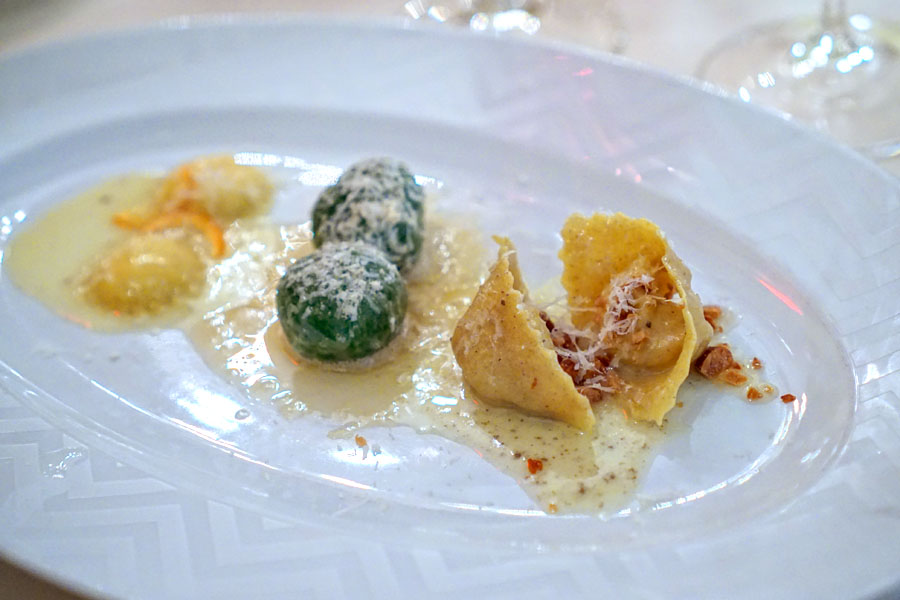 5: Almond Tortellini with Truffle Sauce / Spinach Gnocchi with Brown Butter / Ricotta Ravioli
Castelfeder, Chardonnay 2015 "Borgum Novum" Alto Adige, It
Monte Bernardi, Chianti Classico 2017 "Retromarcia" Tuscany, It
The pasta portion of my meal began with this trio:
Up first was the tortellini with toasted almond, Carnaroli rice, and a white truffle-parmesan burro. Here, the nuttiness of the almond was really conveyed, yet softened by the lushness of that butter.
In the middle was the all-flour spinach gnocchi, with shaved ricotta salata, brown butter, and a touch of nutmeg. I found the dumplings almost fluffy, and also quite substantial, with just a restrained bitterness from the spinach. Apparently this has been on the menu since the restaurant opened.
Last up was the ravioli, stuffed with housemade ricotta and dressed with a citrus butter. Think sweet and creamy, with a definite offsetting zestiness from the fruit.
Along with the pasta came two wines. The first, meant to pair with the tortellini, had this medicinal, minty, almost NyQuil-esque nose that I found interesting, while its palate brought a crisp minerality intertwined with a soft, fruity sweetness. The Chianti was designed to go with the gnocchi, and had this funkiness and fruitiness in the aroma, with flavors that veered spicy, smoky, and tobacco-y, with lots of supple fruit. I actually didn't mind it with the ravioli either, since it tended to emphasize the citric components of that dish.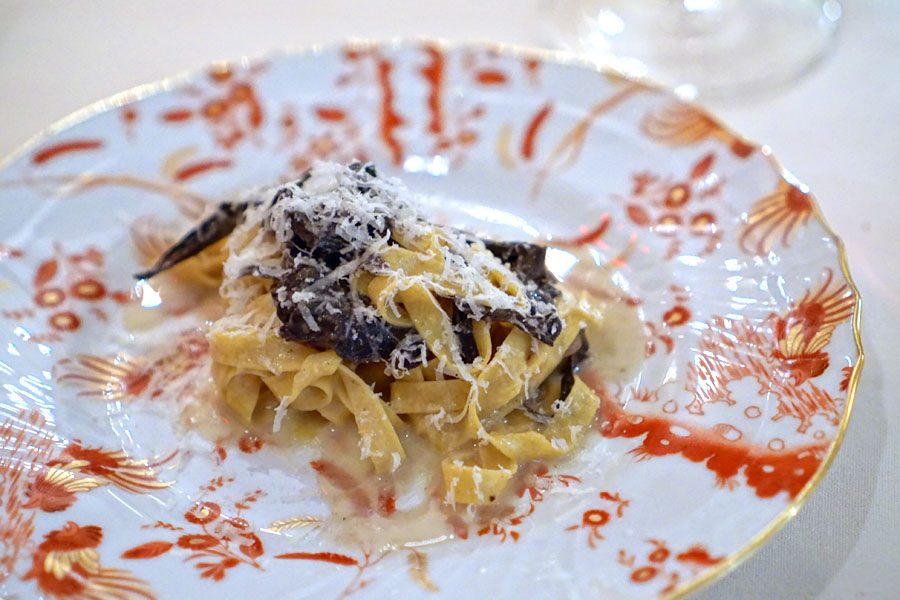 6: Fettuccine with Black Trumpet Mushrooms
Valle dell'Acate, Cerasuolo di Vittoria 2015 Sicily, It
Moving on to noodle pasta, strands of fettuccine were well-textured, and served as a fitting base for the delicious back-and-forth between salty cheese and earthy 'shroom. As for the wine, the bouquet on this one was meaty and barnyard-y, backed by notes of soil and berry. Taste-wise, I got a mix of red fruit and mint, along with a prickly heat and a noticeable spice character on the back end. Curiously, the pasta actually tended to soften the wine.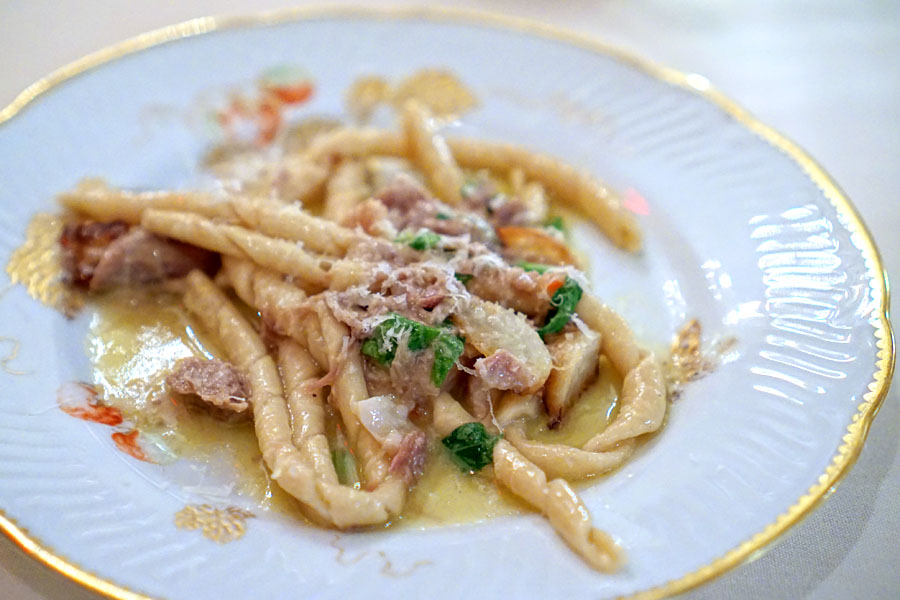 7: Busiate with Pork Shank Ragu
Le Terrazze, Conero Riserva 2016 "Sassi Neri" Marche, It
The
busiate
was my favorite of the pastas, partly due to its intriguing shape and texture. I loved the pork here, which had a richness and complexity to it that almost recalled lengua, and I also appreciated the contrast provided by the greens. Meanwhile, the accompanying wine showed off lots of licorice and herb on the nose, while the taste paired inky berry fruit with a tingling spice--it stood up well to the heft of the dish.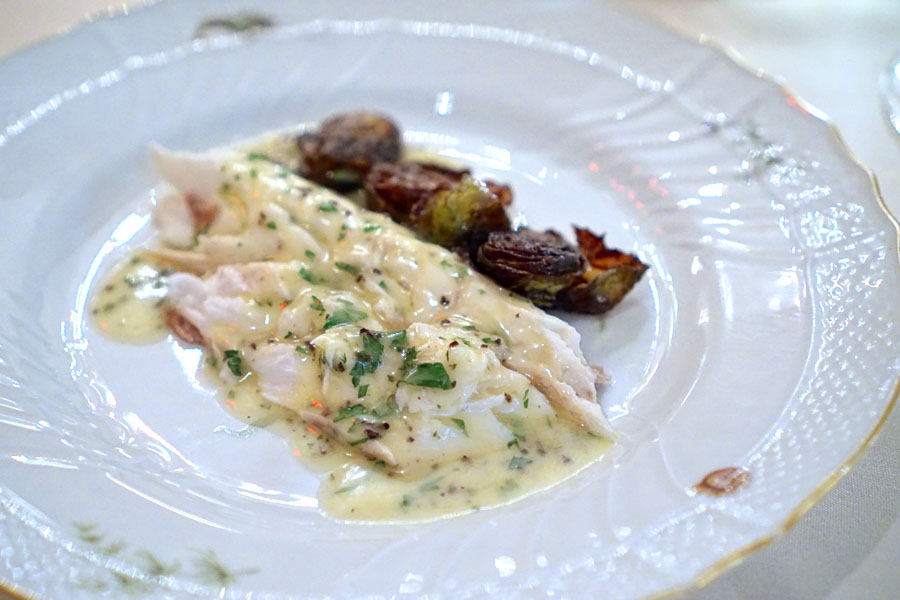 8: Salted Baked Branzino with Brussels Sprouts
Gini, Soave Classico 2016 "Salvarenza" Veneto, It
Sea bass had its brininess softened by the super buttery flavors in the dish. Brussels offered up contrast, but their smokiness was on the verge of being overpowering unfortunately. The paired wine here was on the easier-drinking side, displaying bright apple and crisp stone fruit along with a touch of grassy spice--nice.
My third and final (and favorite) bread was this polenta-sesame seed sourdough. I was a big fan of the nuttiness from the sesame, and when I had it with butter, the whole sensation was not unlike that of eating buttered popcorn.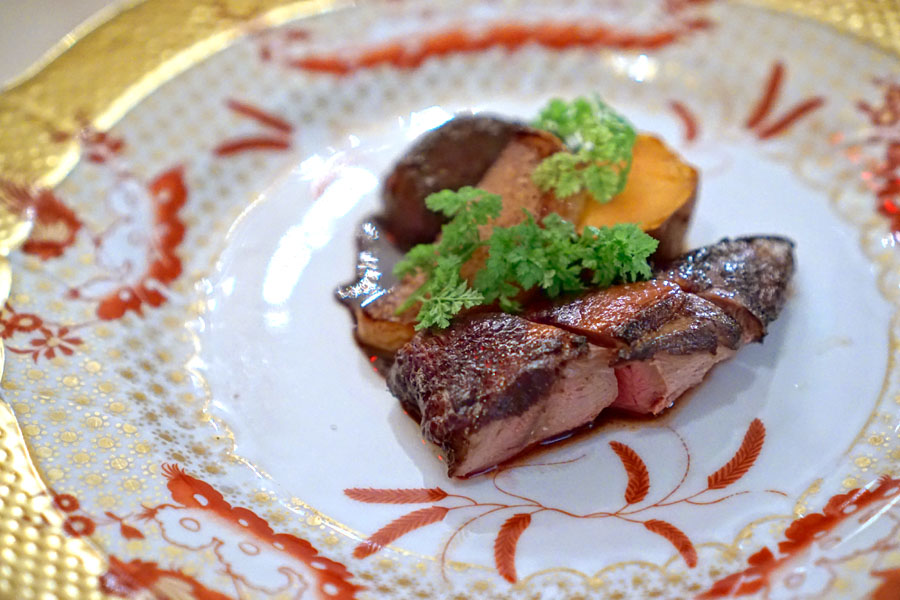 9: Squab with Boudin Noir
Lo Triolet, Fumin 2016 Valle d'Aosta, It
The last savory dish of the night brought squab breast and boudin noir, with warm baking spices, sage, apple, and a blood sauce. The bird itself had a plethora of deep, earthy flavors, and I was a big fan of its crispy skin, though I liked the blood sausage even better thanks to its near pillow-y consistency and blend of salty, herby flavors. I also enjoyed the wine here, which had lush flavors of berry preserves balanced by palpable smoke and minerals--it stood up well to the squab.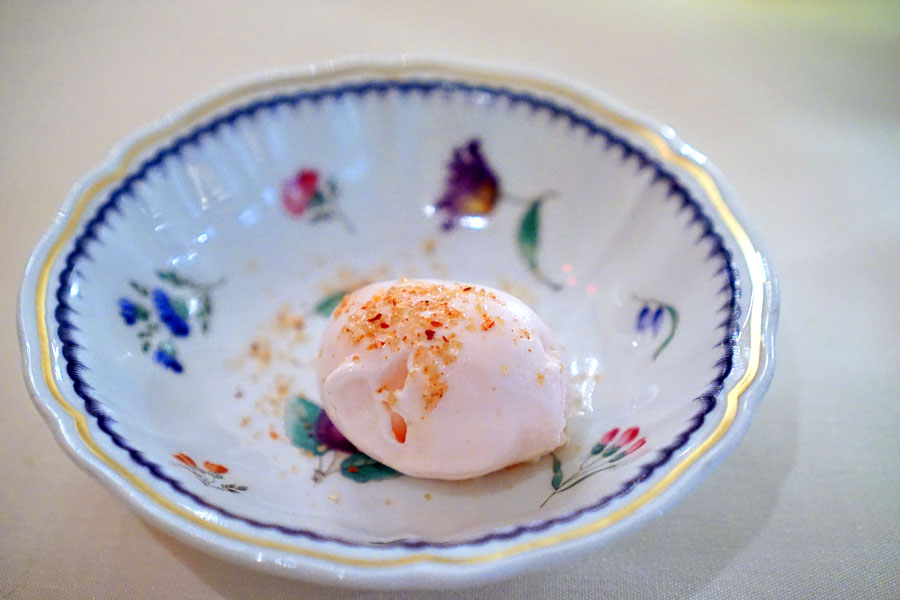 Serving as a sort of intermezzo was a refreshing grapefruit sorbet dusted with a potent Espelette-laced salt.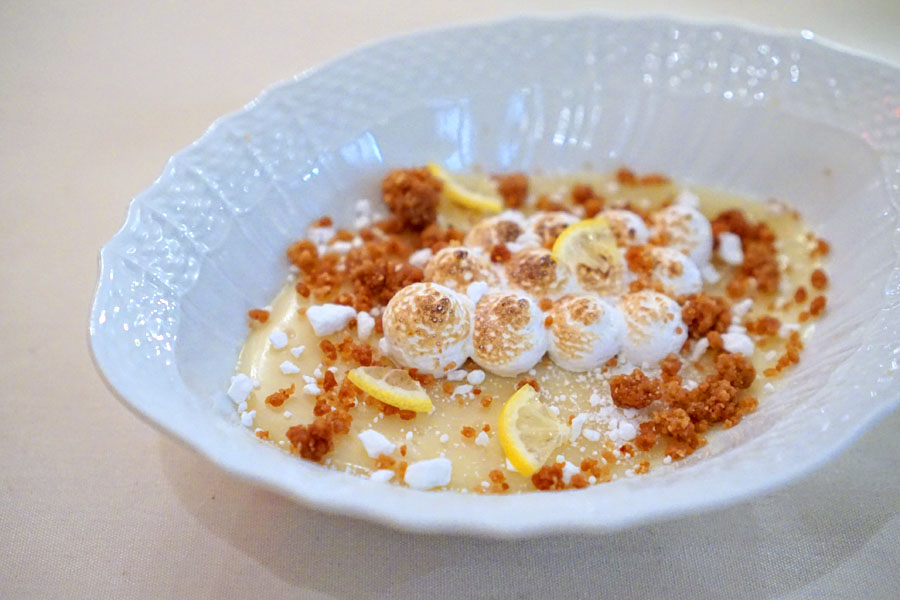 10: Kaffir Lime Posset
In my first dessert, a base of sour lime cream was evened out by sugary meringue--both brûléed and not--as well as some superb rye crumbles.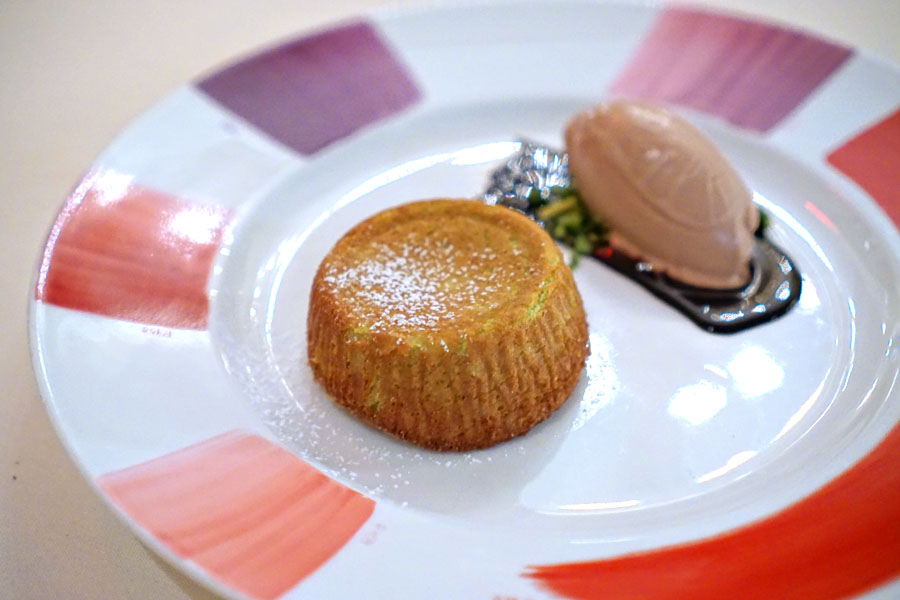 11: Pistachio Flan
Donna Fugata, Passito di Pantelleria 2017 "Ben Rye" Pantelleria, It
A mini pistachio cake ate hot and nutty, and even had a bit of oceany funk to it, and said funk actually functioned as a counterpoint to the chocolate ice cream on the side. As for the concomitant dessert wine, I found it unabashedly sweet, grape-y, and raisin-y, with further notes of candied citrus leading to dried apricot on the close--yum.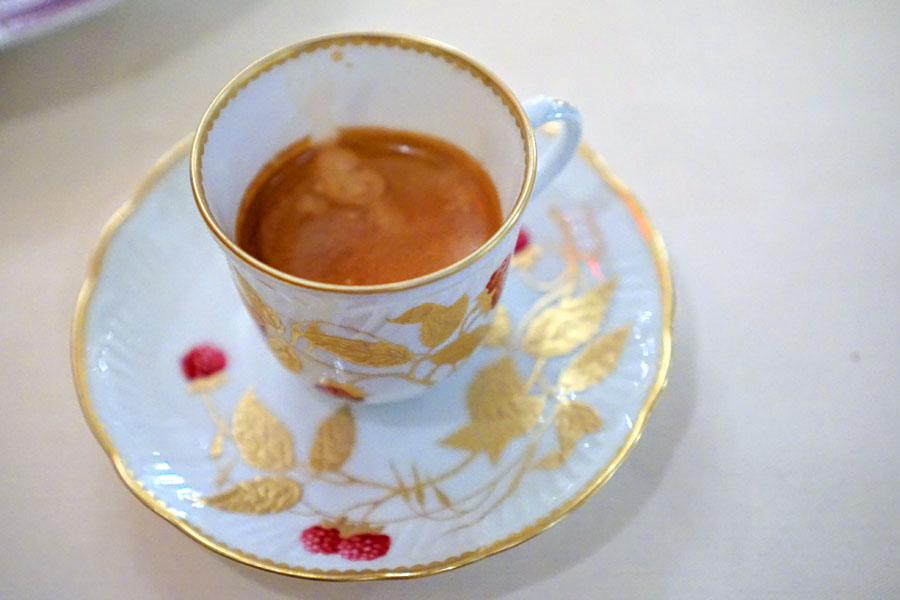 At this point I requested an espresso, which was provided free of charge.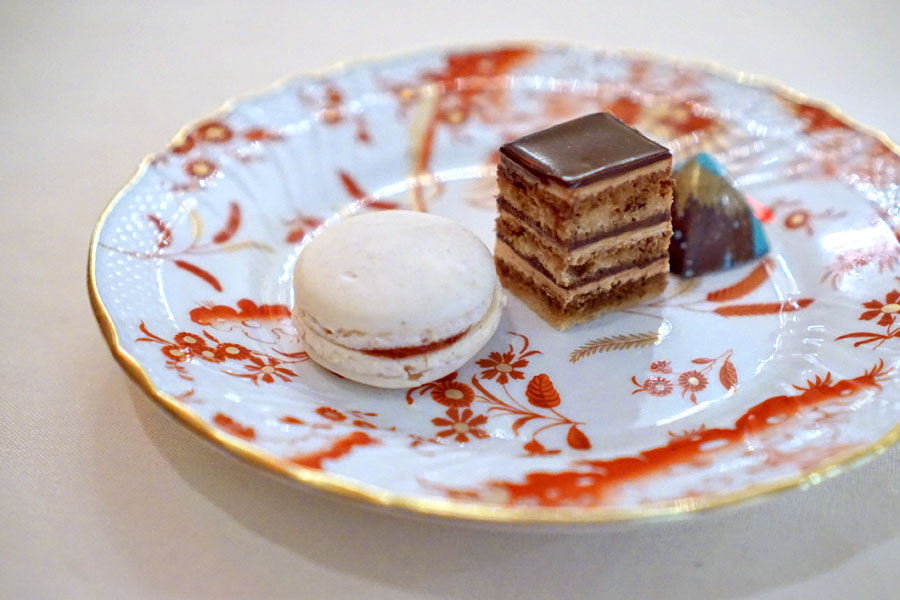 Petits fours consisted of a delicate almond macaron, opera cake, and a salted caramel chocolate bonbon.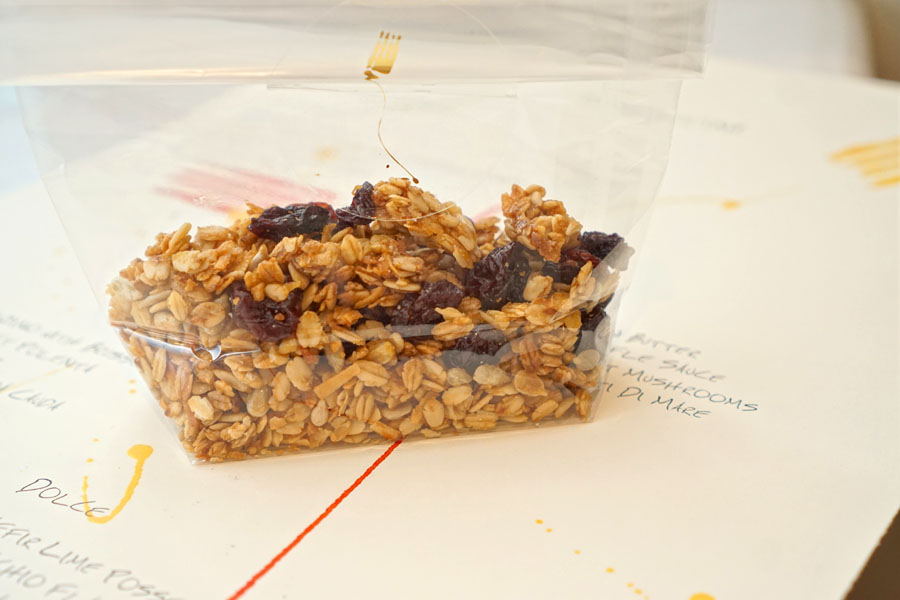 I was also provided a bag of granola to take home.
I'd been curious about Vetri for years now, and I'm glad that I finally made it out here. The meal served as a fitting welcome to Philadelphia, and what was interesting about my dinner was that it definitely had a different "feel" than the bulk of the Italian I've had (mostly from restaurants in LA). I think the food has this hominess, this rusticity, this "old school" flair to it, and the experience of eating here seems quite personal, which is something that's pretty uncommon these days. It makes you sort of understand why this place has been around over 20 years.