Laurel (Philadelphia, PA)
Laurel Restaurant
1617 E Passyunk Ave, Philadelphia, PA 19148
215.271.8299
www.restaurantlaurel.com
Thu 01/16/2020, 08:30p-10:50p

Following a meal at
Vetri
the previous evening, I had a bit more difficulty picking a restaurant for my second dinner in Philly, but ended up at Laurel after doing a bit of research. Named after the mountain laurel (the state flower of Pennsylvania), the East Passyunk Crossing spot comes to us from Chef/Owner Nicholas Elmi, and serves French-inflected modern American fare in a tasting menu-only format.
About the Chef
: A descendant of Sicilian immigrants, Nicholas George Elmi was born on August 29th, 1980 in Methuen, MA and grew up in nearby West Newbury. One of six children, he began cooking in his early teens to help out his parents, who were busy working. In 1995, while attending Pentucket Regional High School, he became a bus boy at Joseph's Trattoria in Haverhill, but was quickly moved to the dishwashing station. After a couple months, he was put in the kitchen after a colleague failed to show up for work, and in 1997, started a second job at the Wentworth by the Sea Country Club in Rye, NH. Elmi left both posts in 1999 and enrolled at Bridgewater State College, intending to studying accounting and economics. However, he felt unfulfilled there, dropped out in 2000, and, with his parents' blessing, quickly started classes at the Culinary Institute of America. During his tenure at the CIA, he interned at Georges Perrier's eponymous Brasserie Perrier in Philadelphia, choosing to come to Philly since his brother was already living in the city. After graduating in 2001, he returned to Brasserie Perrier and served as a tournant there until 2002.
Following, Elmi relocated to New York to work at Lutèce (which was under the command of none other than
David Féau
at the time). However, the restaurant quickly announced that it was closing, but he was subsequently able to move to Oceana (under Cornelius Gallagher) in 2003 and Union Pacific (under Rocco DiSpirito) in 2004; he also
staged
at Daniel during this period. Elmi returned to Philly in 2005 and landed a sous chef gig at Avram Hornik's Loie Bistro & Bar. However, after injuring himself in a snowboarding accident, he couldn't cook for half a year, and was instead made GM. From there, he reconnected with Georges Perrier and moved to Atlantic City to become exec sous at Mia at Caesars, a role that lasted until '06. The following year, he was back at Brasserie Perrier as Chef de Cuisine, and in November 2008, transitioned to Perrier's flagship Le Bec-Fin. After a
stage
at
Guy Savoy
in Paris, Elmi took control of the kitchen at Le Bec-Fin, and in 2011, became a partner in the business and launched Tryst, a casual spot at the restaurant's downstairs bar. He remained at Le Bec-Fin until its closure and change of ownership in March 2012, then opened Rittenhouse Tavern as Executive Chef, but left to do his own thing in the spring of 2013.
He filmed for
Top Chef: New Orleans
from May to July that year, and in August, with partner Jonathan Cohen, took control of the building that would become Laurel and began renovations. The finale for
Top Chef
was shot that October, and the show premiered shortly thereafter, with Elmi eventually taking home the win, albeit controversially. Laurel, meanwhile, bowed on November 5th, and was busy pretty much right from the start. In 2014, it was awarded "Best New Restaurant" semifinalist status by James Beard, and in 2015, was named one of the "Best Restaurants in America" by
GQ
. That was soon followed by a "Best Chef: Mid-Atlantic" semifinalist nod by Beard, an honor repeated in 2017 and 2018. In August 2016, Elmi opened ITV (a.k.a. In the Valley), a neighborhood-y bar right next door to Laurel, while November 2017 saw the debut of Royal Boucherie, a brasserie concept in Old City done in partnership with David Frank and Stephen Simons. The Chef's first cookbook,
Laurel: Modern American Flavors in Philadelphia
, was published in September 2019.

Laurel resides in a South Philadelphia building that was previously home to Lee Steyer's Fond (September 2009), Clementine's Bistro (March 2007), Roman-inspired trattoria Albertino Ristorante (April 2004), and Jeanne Natalia Bistro. There's room for only around 20 diners, though there's a bit of outdoor seating in the back as well.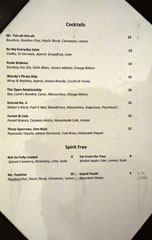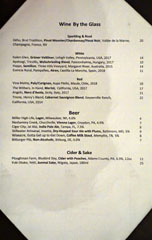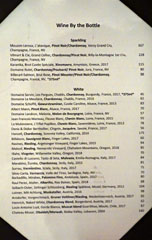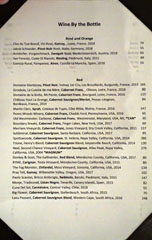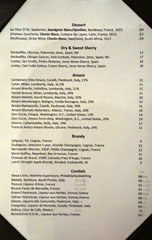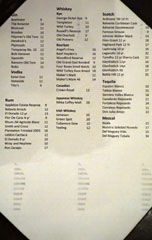 You get two tasting menu options at Laurel: a six-course at $85 and a nine-course at $125, and I went with the latter. As far as drinks go, the restaurant opened as a BYOB spot, but now offers a wine list, a smattering of beer, and a surprisingly interesting selection of cocktails, all from ITV next door. The corkage fee is a very reasonable $15. Click for larger versions.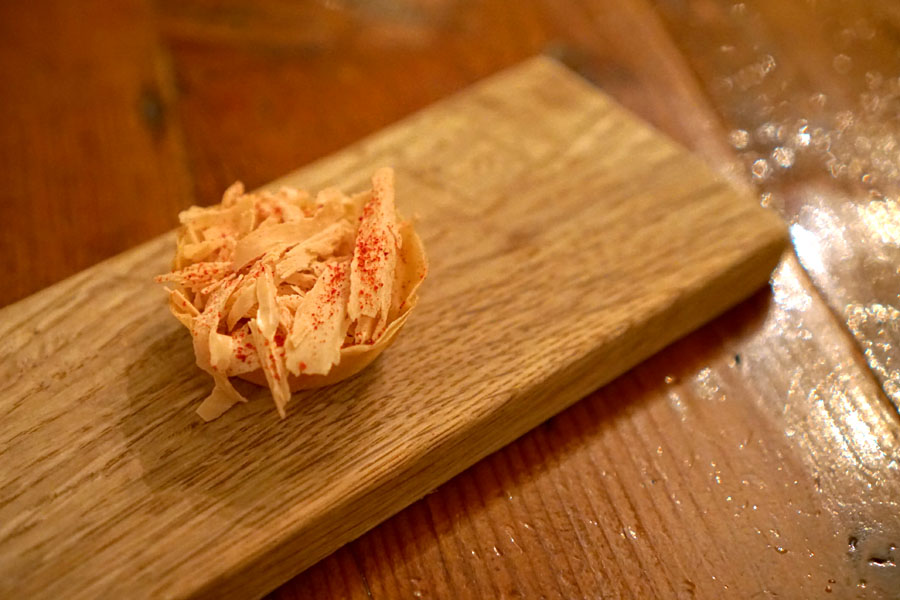 Amuse bouche duties were handled by this frozen and cured foie gras tart with Concord grape-elderflower gelée and cranberry powder. I loved how delicately the potency of the liver was delivered, and how it dissolved into a plethora of creamy, sweet, earthy flavors, all moderated by that delightfully crisp, savory
feuille de brick
pastry shell. A strong start.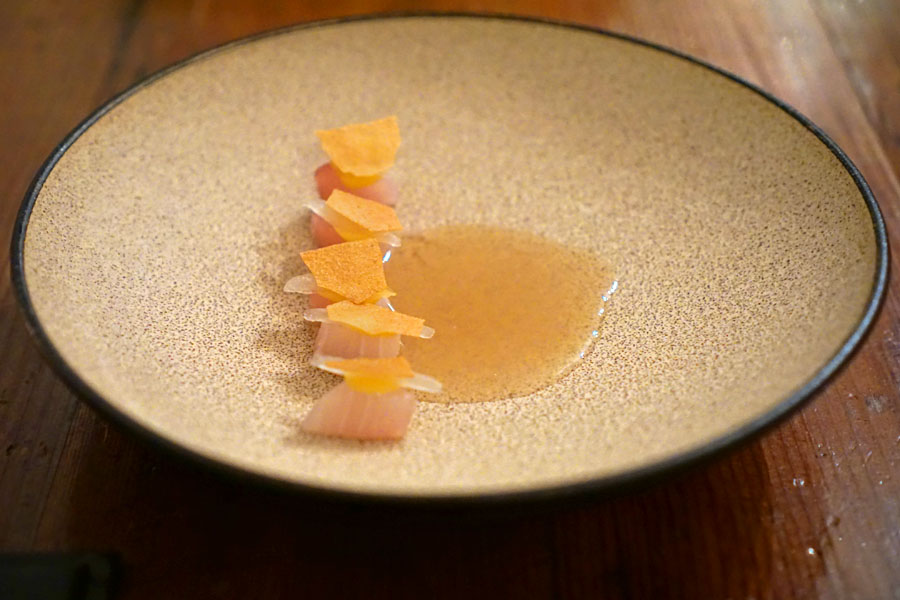 1: Sake-Cured Kanpachi, Smoked Dashi, Persimmon, Asian Pear
Cuts of amberjack were lean and clean, and had a powerful commixture of smoky (from that super intense, umami-laden dashi) and saline flavors leading to an apple-like sweetness on the close.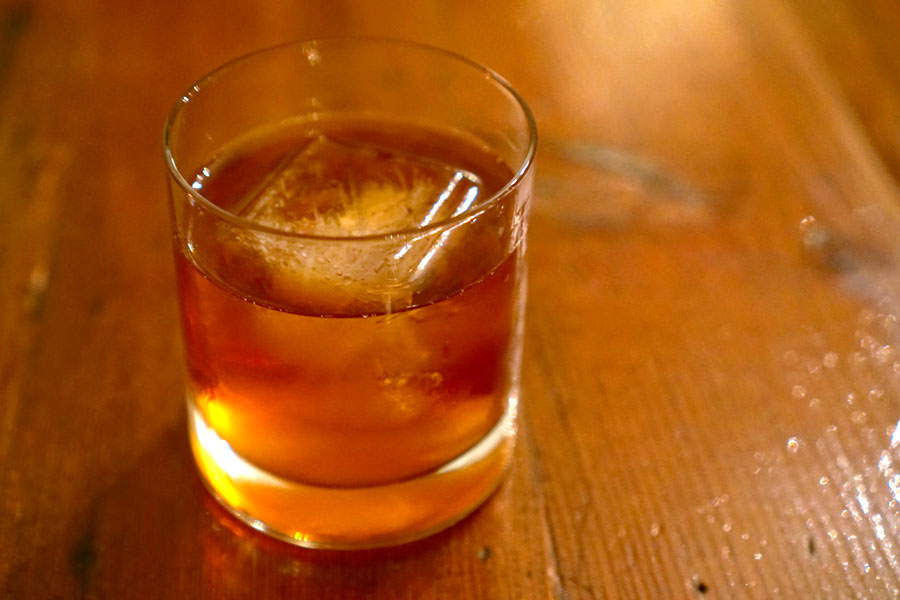 The Open Relationship [$14.00]
| Rye, Laird's Bonded, Cynar, Maraschino, Orange Bitters
My first cocktail was surprisingly light in terms of aroma, with just the apple brandy really peeking through. Taste-wise, the drink was restrained at first, but then fruit and boozy rye spice appeared on the mid-palate before transitioning to a marked bitterness on the finish.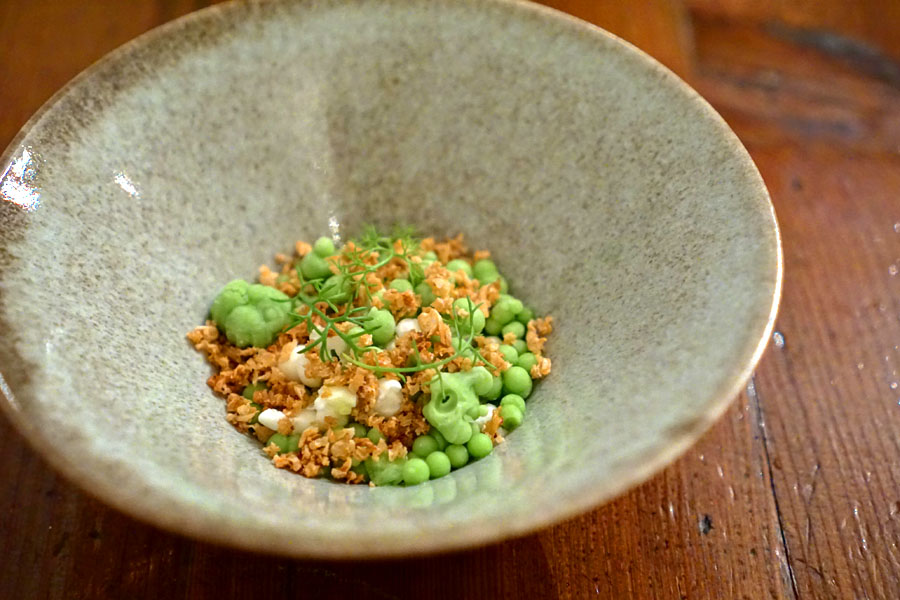 2: Poached Oysters, Sweet Cream, Thai Basil, Chamomile
Next was perhaps the most unconventional course of the night. Hidden at the bottom of the bowl, the oysters tasted unmistakably of the sea, but layered on top was a mish-mash of disparate tastes and textures that somehow managed to come together. I was especially fond of the sweet cream ice cream, the savoriness of the fried celeriac, as well as the vegetal, herbal, nearly astringent nature of the celery-chamomile-basil combo, while there were also these almost anise-like nuances overarching everything. We can't forget about the dish's bracing temperature contrast, either. Very neat.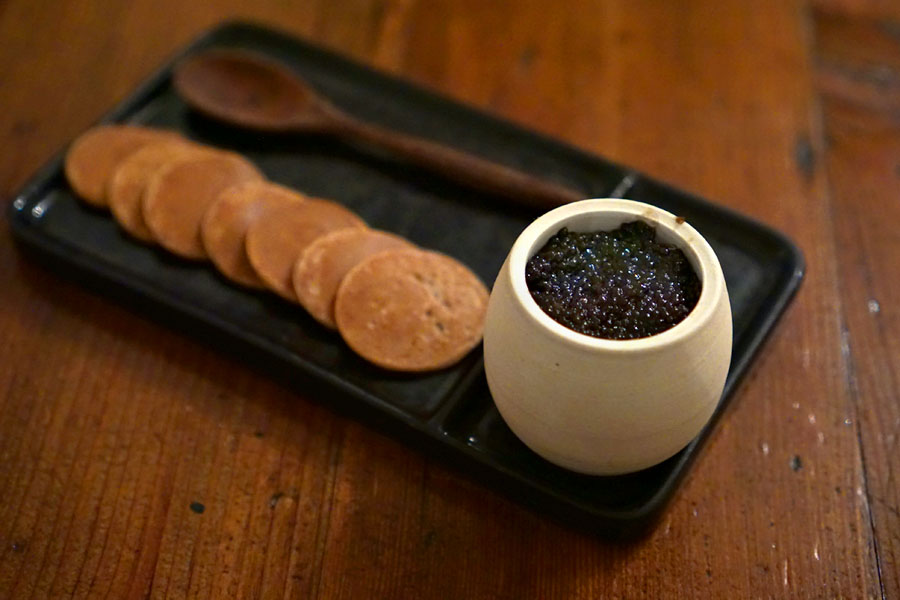 3: Bowfin Caviar, Whipped Vodka Cream, Acorn Blini, Syrup
I was quite happy to see this next dish presented. What we had here was domestic caviar, on top of a honeysuckle syrup, on top of a whipped vanilla-vodka cream, on top of confit egg yolk, all served with freshly-made roasted acorn blinis. I made sure to get all the various strata in one bite, and was rewarded with a wonderful back-and-forth between sweet, creamy, and salty flavors. In fact, I was particularly smitten by the honeysuckle, as well as how well the nutty-sweet nature of the pancakes worked for contrast.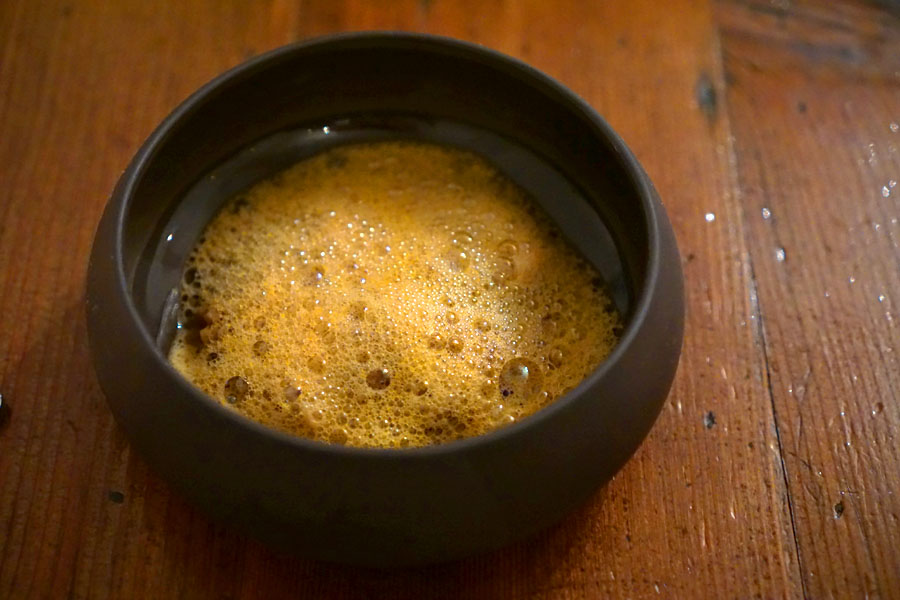 4: Poached Blue Crab, PA Bolted Hard Winter Wheat Pastina, Honeynut Squash
Here, the potent brine of Maryland blue crab was on spirited display, yet enhanced by a foam of honeynut squash/lobster/more crab, one that recalled an intense version of lobster bisque. The small bits of pasta were crucial here both for texture and to serve as a foundation for the dish, while the honeynut squash purée present was thankfully subdued in its sugariness.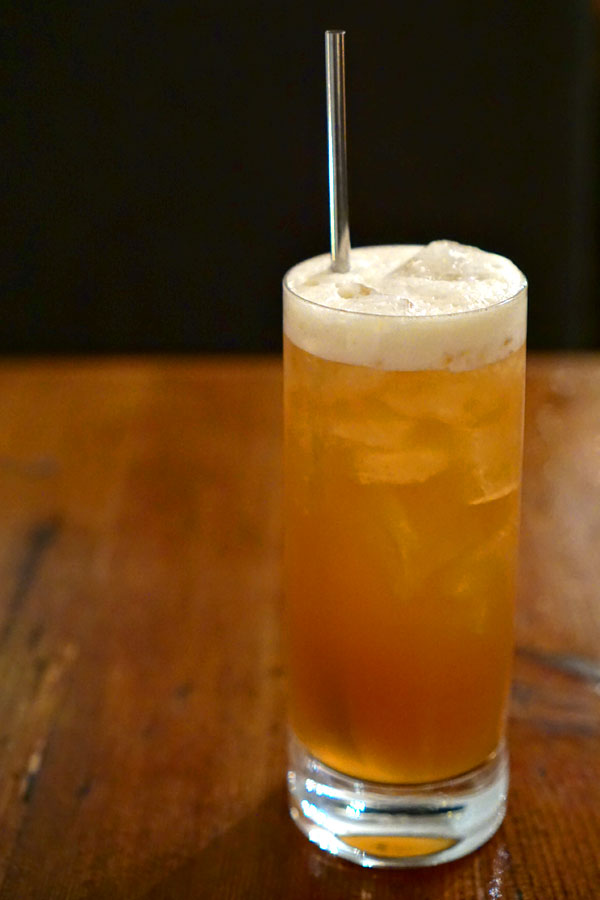 Mr. Teh-ah-time-eh [$12.00]
| Bourbon, Rooibos Chai, Peach Shrub, Cinnamon, Lemon
My second cocktail was on the more gluggable side, and showcased loads of sweet, soft, tea-like spice undergirded by a persistent peach sweetness.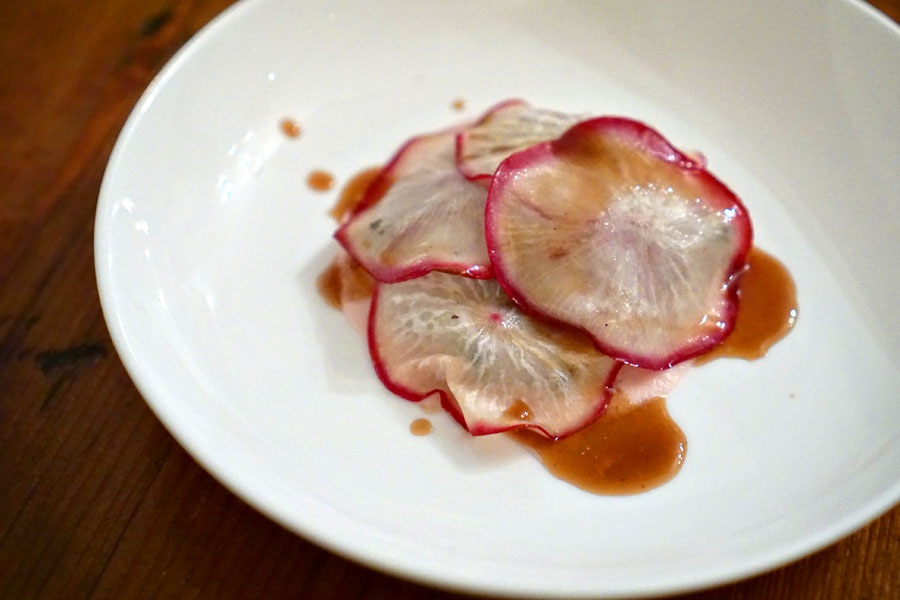 5a: Lamb-Braised Lancaster Winter Root Vegetables, Field Peas, Preserved Etrog
Another standout dish comprised a layer of shaved scarlet radish, atop field peas, atop scarlet radish purée and green meat radish, the whole shebang cooked in lamb fat, then drizzled with a lamb-boosted bordelaise. This was a fantastic mix of bitter, savory, and vegetal flavors, all grounded by the peas, while there was this enveloping dill-like element that I enjoyed as well. Very, very smart.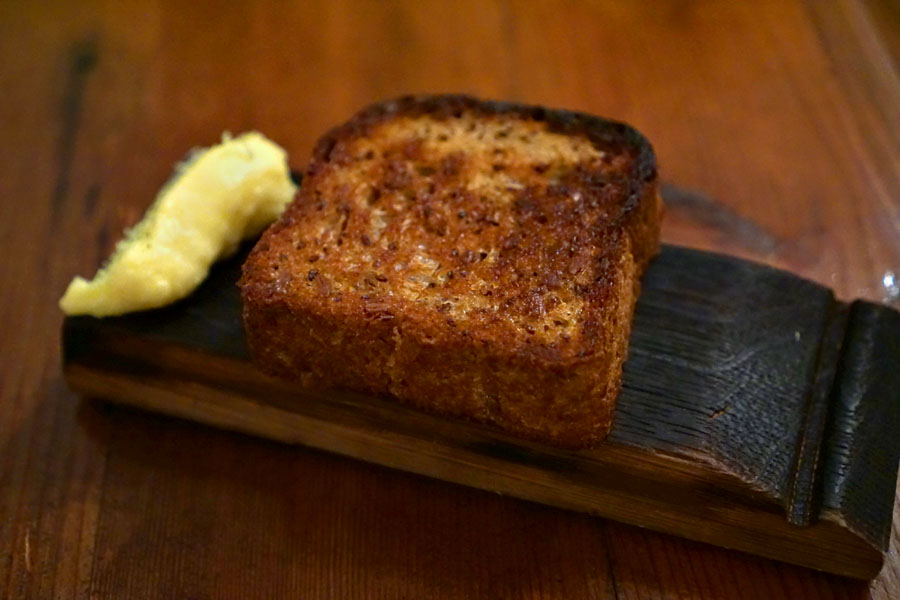 5b: Machine Shop Boulangerie Seeded Rye Bread, Green Ridge Farm Butter, Bay Leaf Salt
The course above was accompanied by a seeded rye bread made from grain grown in central Pennsylvania, procured from the nearby Machine Shop Boulangerie. It was excellent, coming out sweet and nutty, with a crisp-yet-yielding consistency that was amped up by the addition of those seeds. On the side was a wonderfully soft Lancaster County butter dusted with bay leaf sea salt, one that served as a natural pairing with the bread.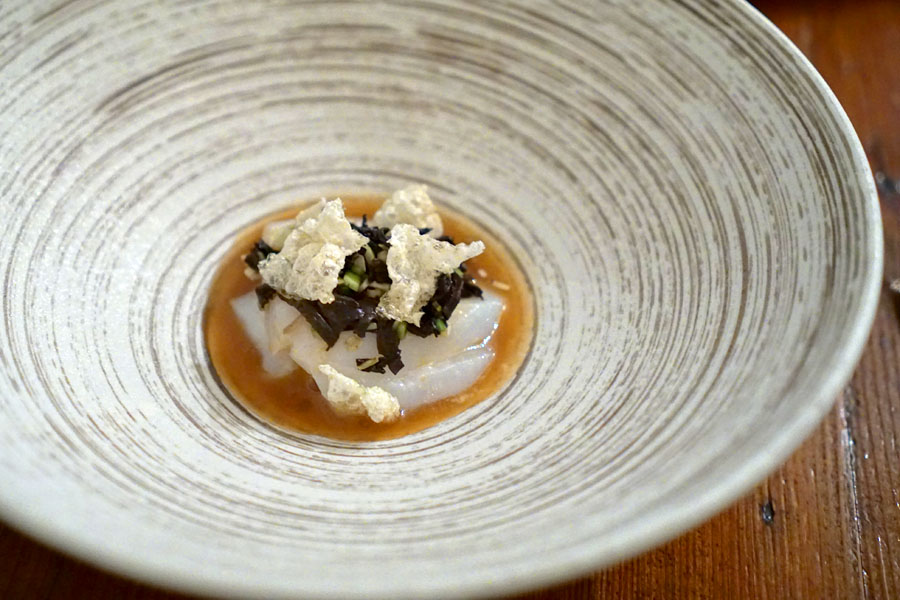 6: Icelandic Cod, Black Trumpet & Leek Confit, Duck Jus with Housemade Vinegar
The next plate was composed of olive oil-poached Icelandic black cod, set in a poultry jus with asparagus vinegar, topped with black trumpets, confit leeks, and crispy cod chips. I was a big fan of how delicately and elegantly the fish was cooked. But at the same time, the cod easily stood up to both the woodsiness of those mushrooms and the saltiness of those fried bits.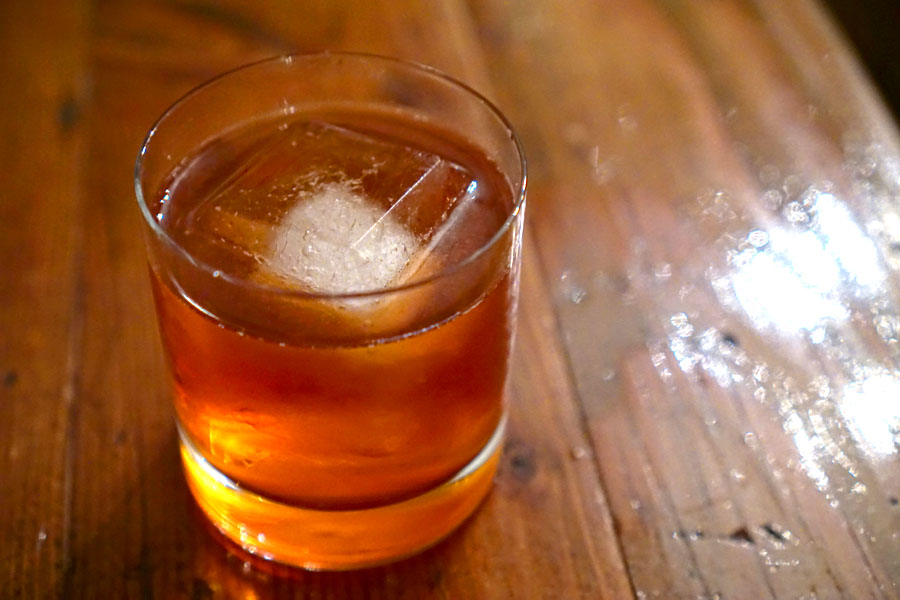 Wendy's Pirate Ship [$15.00]
| Wray & Nephew, Aperol, Amaro Braulio, Cocchi di Torino
My last cocktail also didn't display much in terms of bouquet, offering up just a smidge of bittersweetness. The drink didn't hold back in terms of taste, though, with its sweet, almost chocolate-y flavors meshing seamlessly with traces of smoke.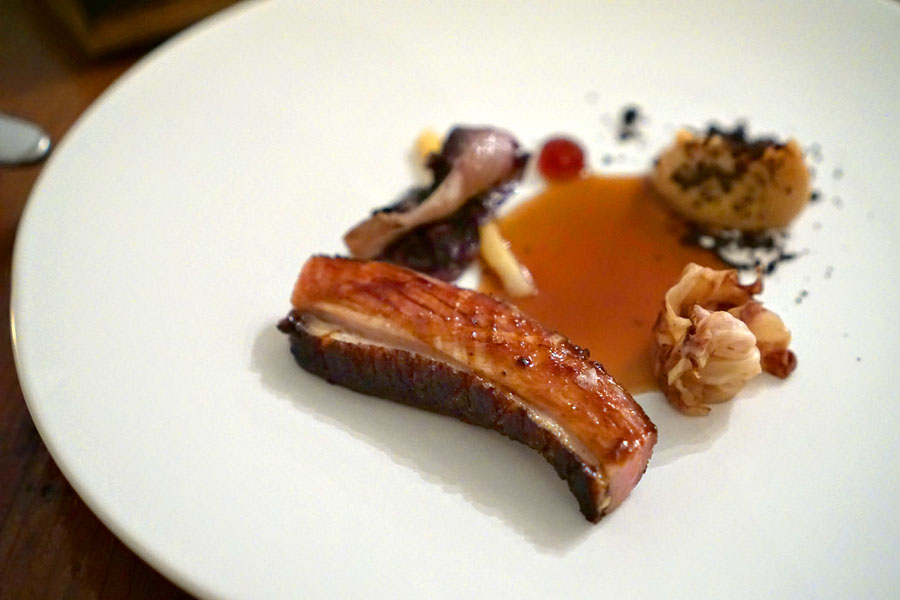 7: Chicory-Cured Duck Breast, Grilled & Fermented Radicchio, Caramelized Parsnip, Mulberry
Pan-roasted and served with a duck-cherry jus, the Long Island duck breast was superb, showing off an immense depth of flavor that I found utterly satisfying. In fact, it almost had this brininess to it, and I loved all the char going on as well. I also appreciated the counterpoint provided by the radicchio here, though the parsnip with chicory powder seemed a bit superfluous.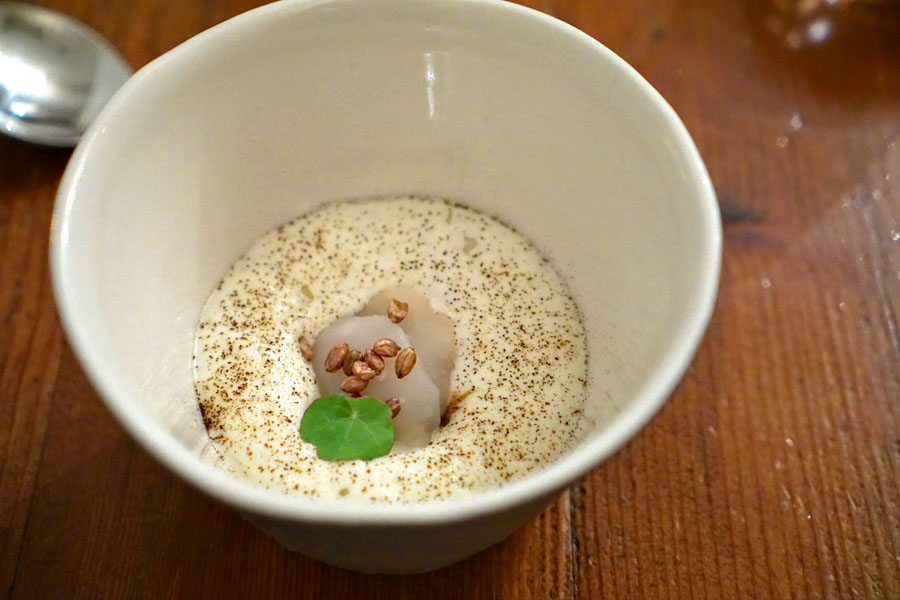 8: Braised Oxtail Ragu, New Jersey Scallop, Black Barley, Potato Espuma
A dark, savory preparation of oxtail married perfectly with the comparative levity of a potato espuma. That would've been good just by itself, but what took this to the next level was the crispy, savory nature of the barley, and even more so the lightness imparted by the slivers of scallop. I'd never had oxtail quite like this before. Very cool.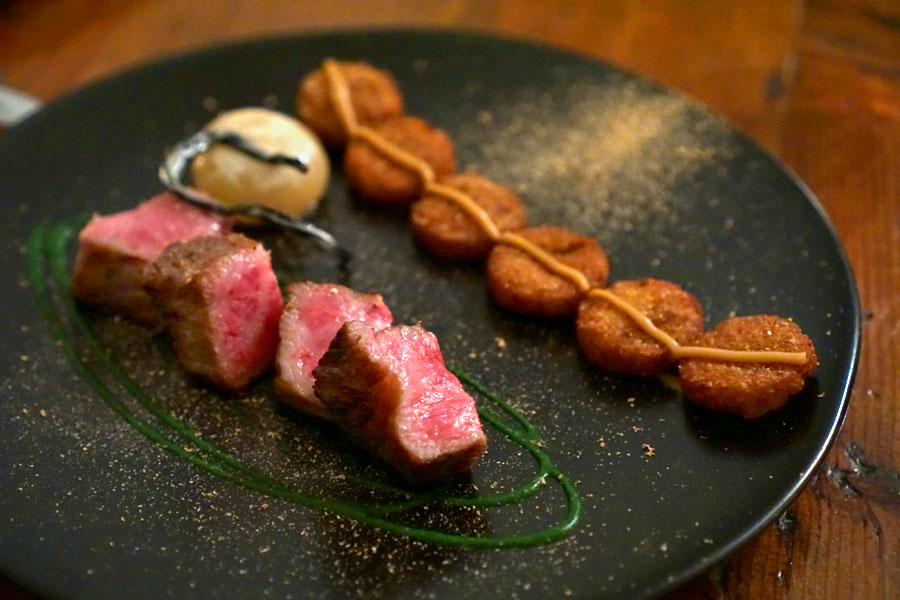 Supplement: A5 Wagyu Top Sirloin [$75.00]
I ended up tacking on a course of Japanese beef to my meal. The steak was some of the softest, fattiest I've had, with a nice offsetting sear to boot. I very much liked the medallions of crispy potato on the side, topped with a line of roasted garlic and soy purée, and didn't mind the blackened garlic scapes and butter-poached cipollini either. However, the most memorable thing here was the use of a house-salted, house-cured, dry-aged Pennsylvania beef heart, which was grated into a fine powder tableside. Used sparingly, it added a delightful blast of both salt and umami to the meat.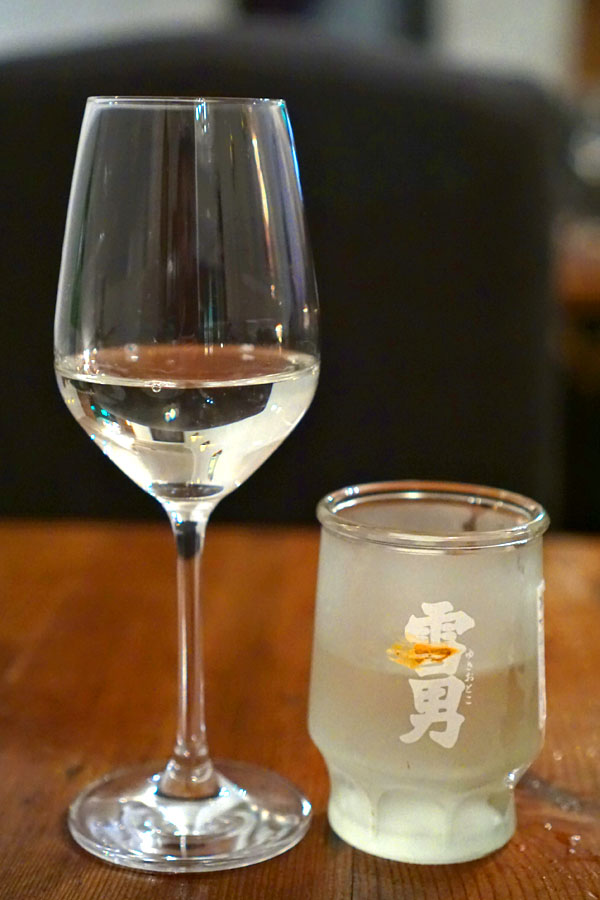 Yuki Otoko, Yetti, Junmai Sake, Niigata, Japan, 180ml [$25.00]
To pair with the steak, my server recommended a sake, which was surprising. It actually worked unexpectedly well though, since its rich, dry, earthy, subtly sweet flavors actually stood up to the beef.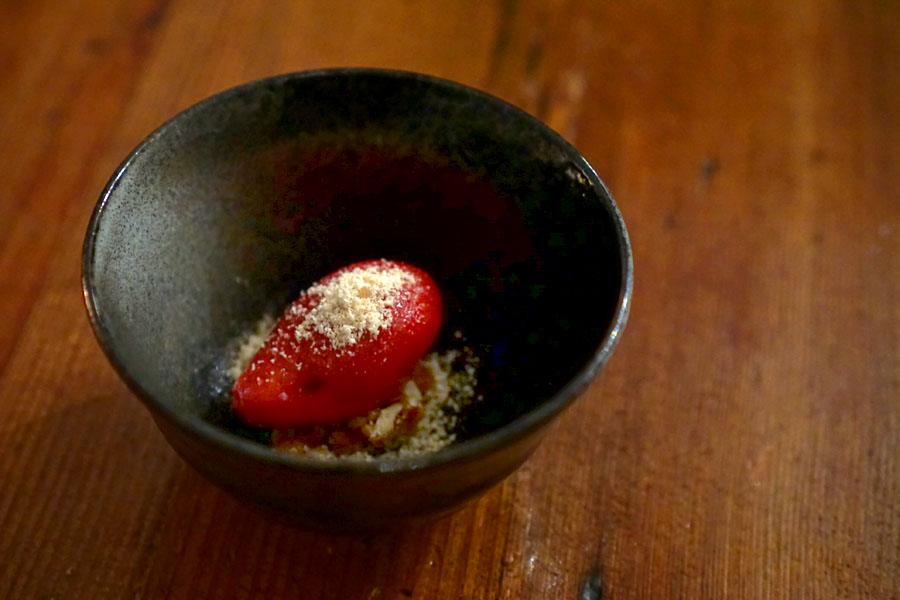 9a: Cranberry Grand Marnier Sorbet, Black Walnut Crumble
Serving as a sort of palate cleanser was a sorbet of cranberry and Grand Marnier, with both candied black walnuts and a black walnut powder. It was quite tasty, but what was unanticipated was that there was this lactic-ish funk to the sorbet that really made it work for me. Great crunch from the nuts, too.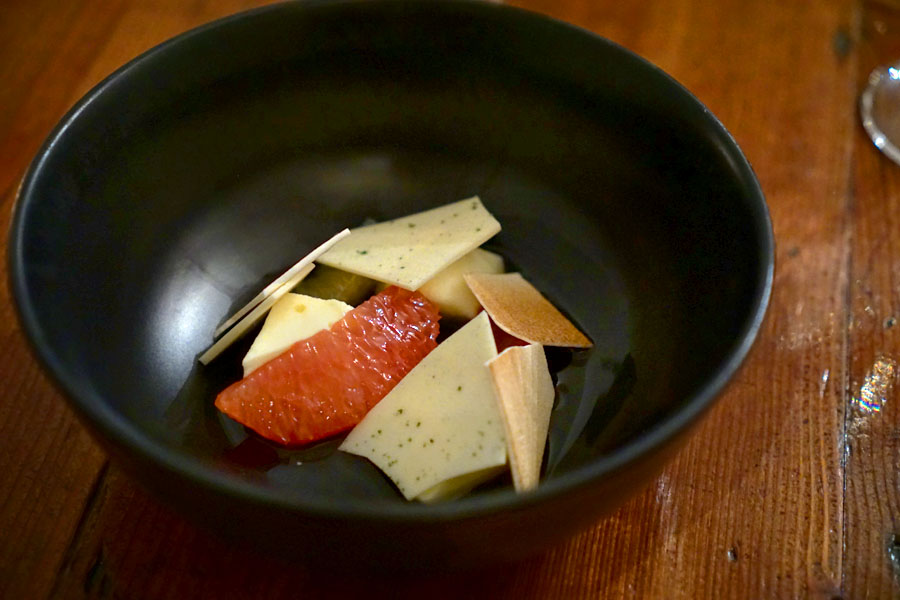 9b: Yuzu Curd, Toasted Malt Meringue, Black Lotus Flower Syrup, Tarragon Yuzu White Chocolate
This rather angular-looking dessert featured a base of yuzu curd, along with citrus segments, shards of tarragon-laced white chocolate, and toasted sheets of malted meringue, all dressed in a lotus flower-vanilla syrup. The curd was the focal point here, but also crucial was how the chocolate and meringue so deftly tempered its considerable tartness, while the citrus added a bright, juicy exclamation point to the dish.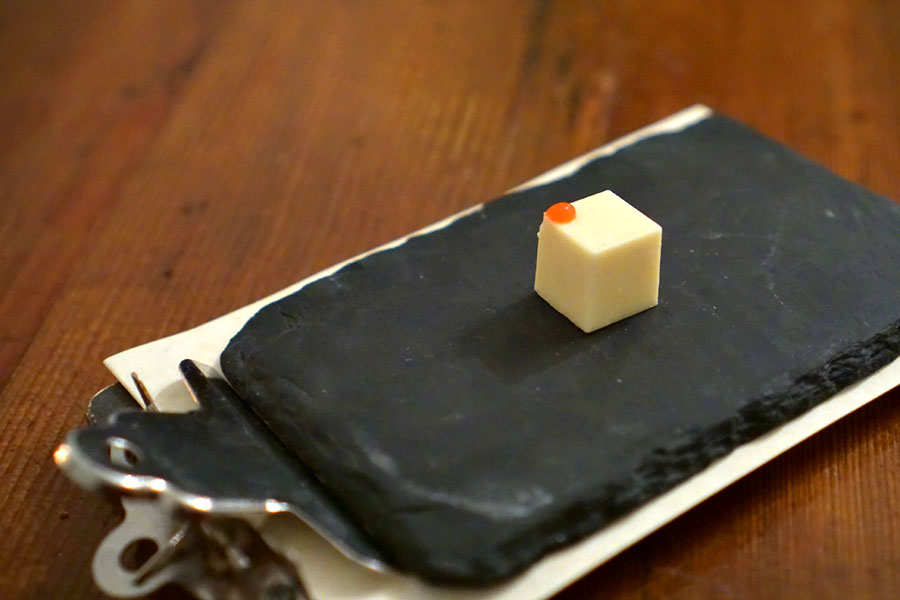 Along with the bill came a fragrant kaffir lime ganache, encased in white chocolate, with a tiny dollop of sour cherry purée on top.
I walked into Laurel not knowing quite what to expect, and walked out suitably impressed. There's a real clarity and precision to the cooking here. You get that it's technical and fine-spun, but it's also uncompromisingly delicious, and doesn't feel fussy, or overly contrived. It's food that's exciting, and makes me excited to come back. This one really managed to exceed expectations.