Dialogue (Santa Monica, CA) [3]
Dialogue Restaurant
1315 3rd Street Promenade, Santa Monica, CA 90401
www.dialoguerestaurant.com
Wed 06/17/2020, 07:30p
If you recall, I got takeout from
Dialogue
a couple months ago, near the start of the coronavirus shutdown. It was a good meal, though at the same time, a far cry from the sort of food that the restaurant usually serves. In fact, I was waiting to see if Dave Beran and his team would attempt a tasting menu to-go, and it turns out that my patience was rewarded. Dialogue began serving a seven-course menu on June 17th, and I jumped on the opportunity to check it out.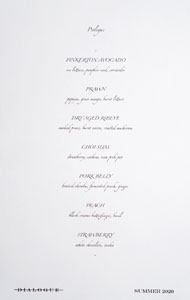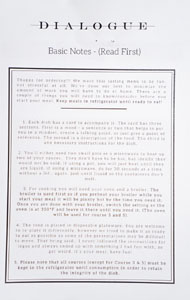 The menu, along with a "README" card, is shown above. The tasting explores the summer season, and is inspired by "home versions" of dishes that will supposedly appear on Dialogue's menu once the restaurant re-opens. The cost was $85pp, plus 10.25% tax and optional gratuity. Click for larger versions.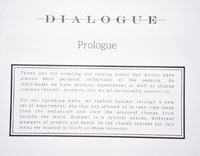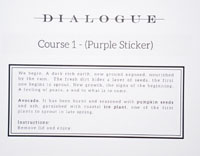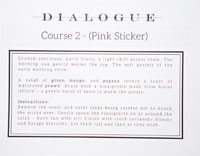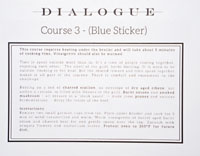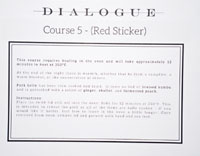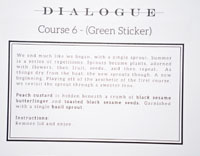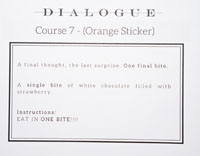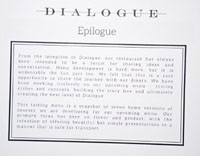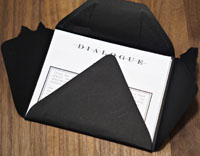 Perhaps taking a page from the
Vespertine
playbook, the team provided a set of informational cards with my order. Click for larger versions.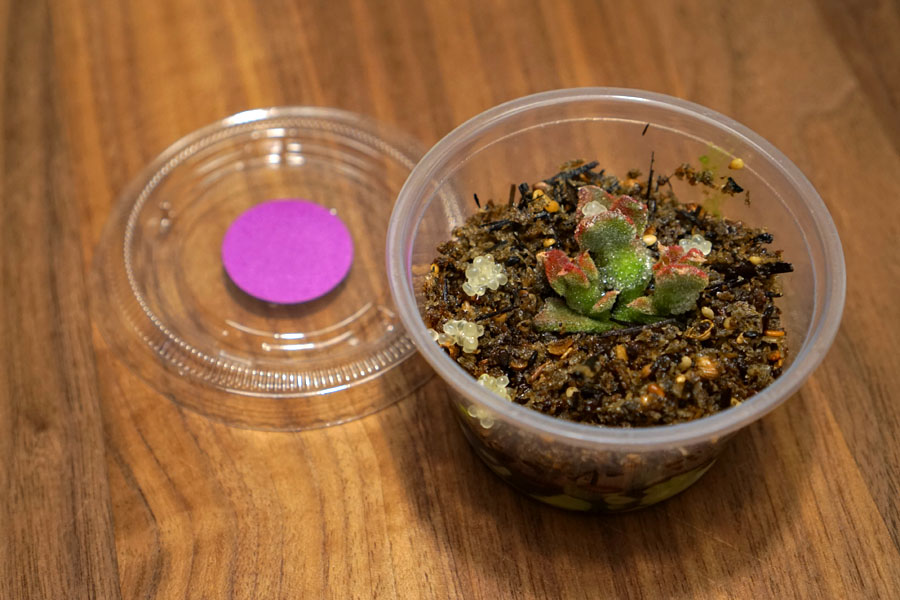 1: Pinkerton Avocado
| ice lettuce, pumpkin seed, coriander
We began, appropriately, with a course meant to mimic soil, seeds, and sprouts--the start of the season. What hit me first was the cool, sweet, creamy, slightly tart nature of the avocado, but this quickly transitioned to a bevy of savory, salty, and nutty nuances, while the finish was redolent of ash and smoke. Just a superb melding of disparate flavors, and easily one of the best things I've eaten since the advent of COVID-19.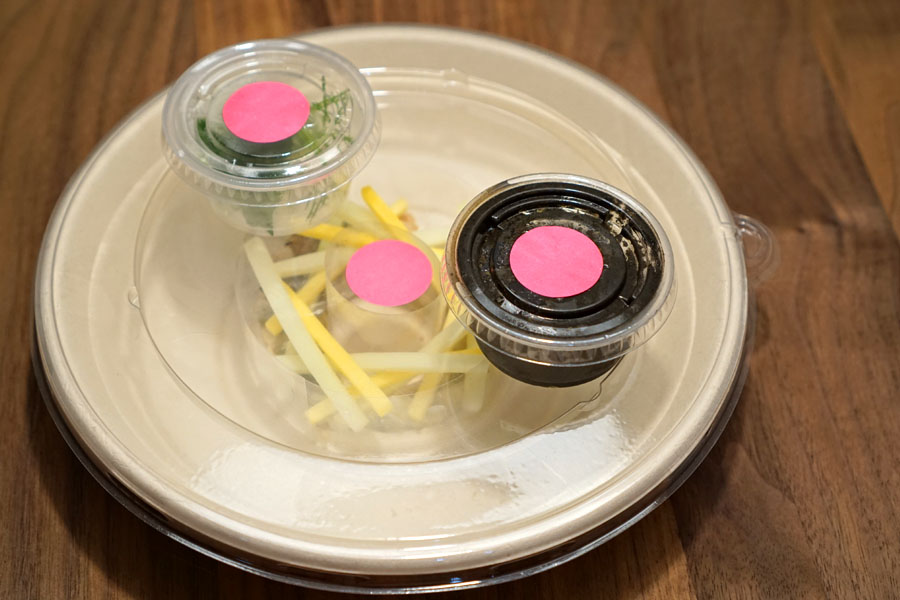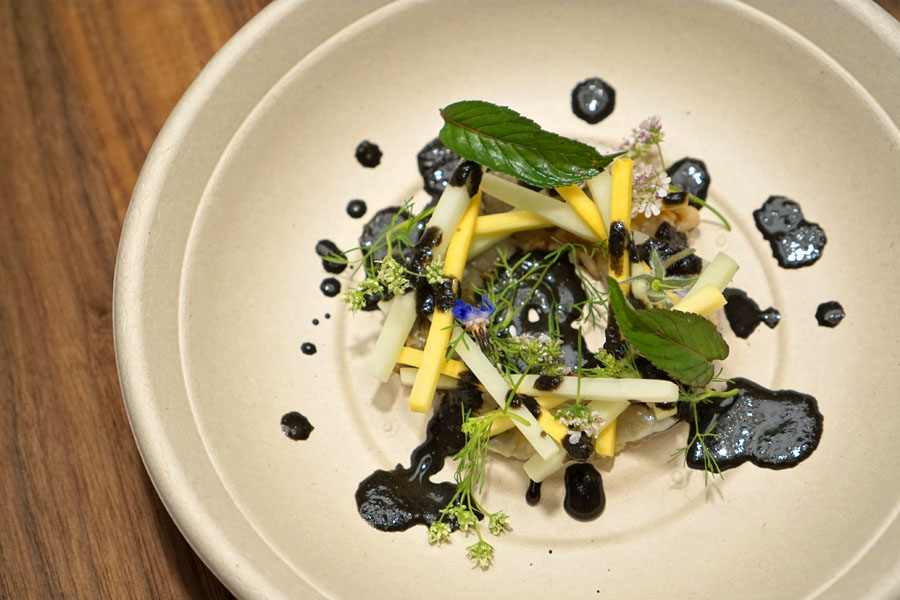 2: Prawn
| papaya, green mango, burnt lettuce
My second course was another standout. The interplay between the cool, snappy shrimp and sweet, crunchy fruit formed the basis for the dish, but what made it really shine was the push and pull between the herbs and potent burnt lettuce vinaigrette.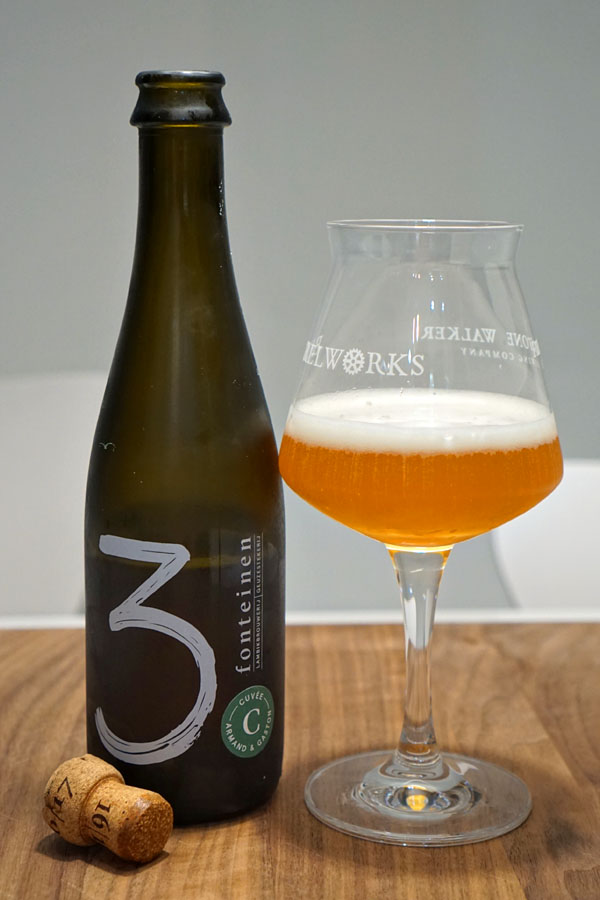 To drink, I went with a half bottle of the
2017 Drie Fonteinen Oude Geuze Cuvée Armand & Gaston
, a blend of one-, two-, and three-year old oak-aged lambics, all produced in-house. The beer showed off a fantastic nose filled with lush, ripe stone fruit, along with a touch of countering oak and minerality. The palate had more of that rich, heady, sweet-n-sour fruit, alongside a subtle yeastiness, citric character, and a touch of funk on the back end. Yum.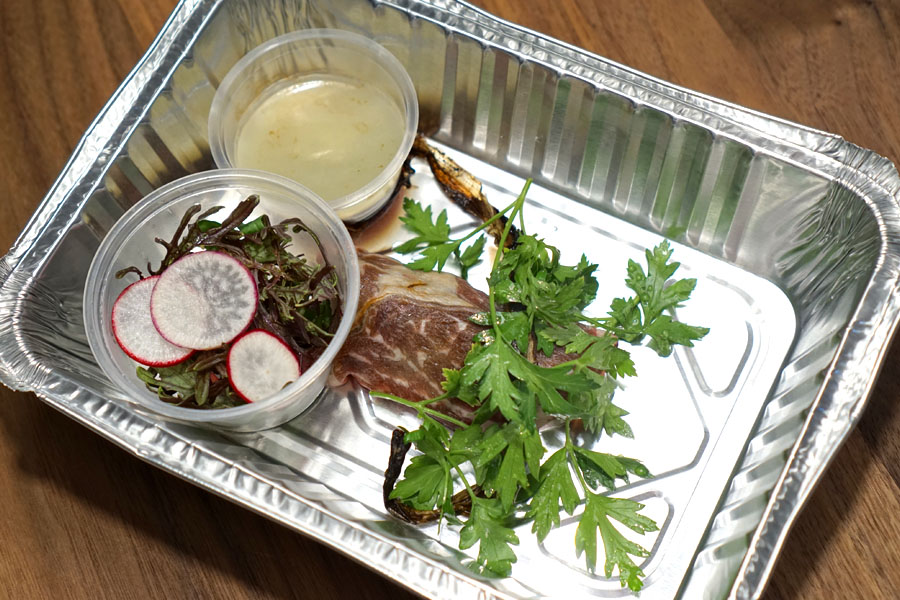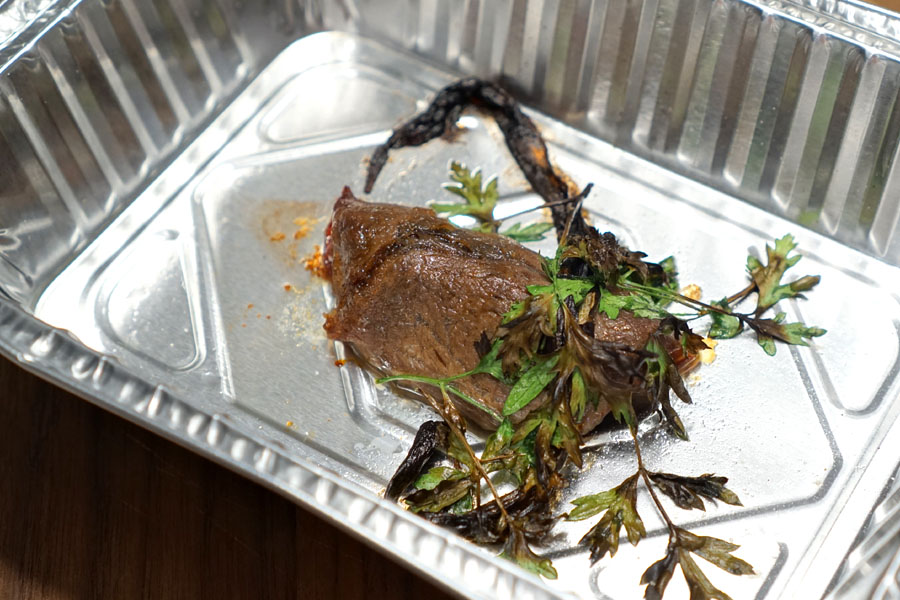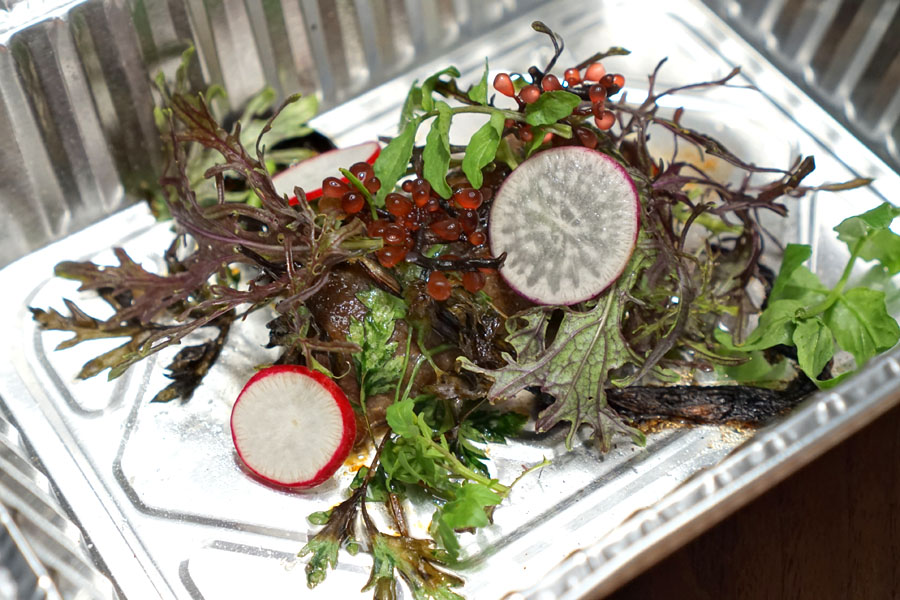 3: Dry Aged Ribeye
| smoked prune, burnt onion, roasted mushroom
Designed to evoke the joy of outdoor grilling, this was an "envelope" of dry-aged beef, filled with burnt onion, smoked mushroom, and a prune-based "steak sauce." The rib eye demonstrated a powerful mélange of savory, sweet, and smoky flavors, with the mushrooms in particular imparting a blast of lingering umami. At the same time, the various greenery, and radish especially, offered up a necessary contrast. My concern here was that the aforementioned "steak sauce" veered a tad too sugary, and tended to somewhat mask the beef.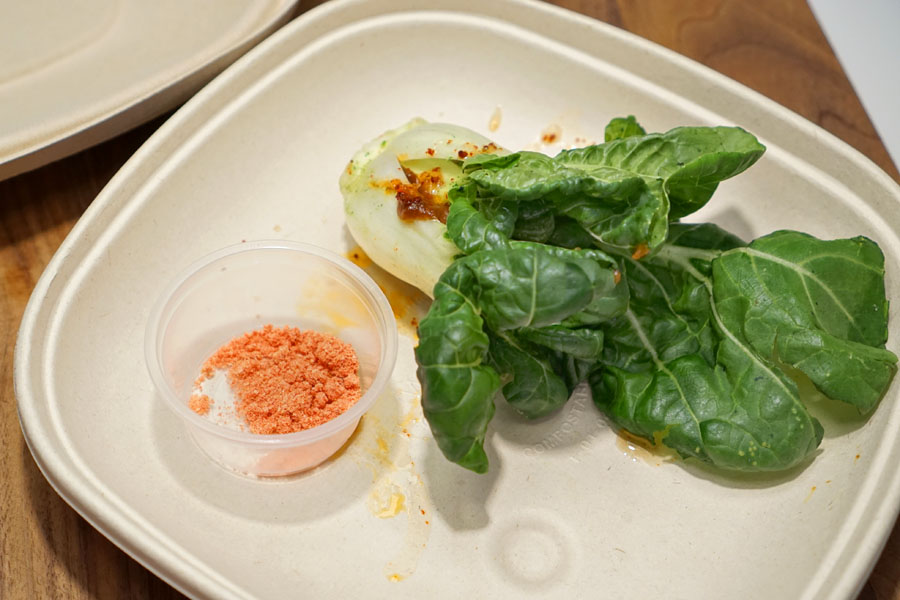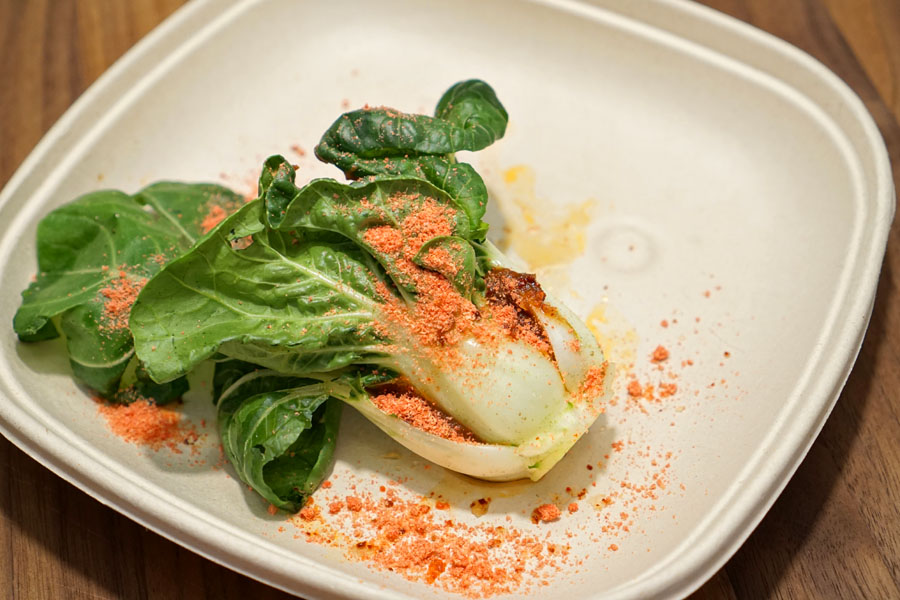 4: Choi Sum
| strawberry, cashew, nam prik pao
Here was a somewhat stark presentation of baby choy sum, stuffed with a
nam phrik phao
-inspired fermented sauce incorporating tamarind, chili, and shrimp. The back-and-forth between that tart, funky condiment and the light, crisp flavors of the vegetable just worked, while a powder of palm sugar, black lime, strawberry, and cashew added further facets to the dish. Fun, and a much appreciated reprieve from the heavier courses preceding and succeeding.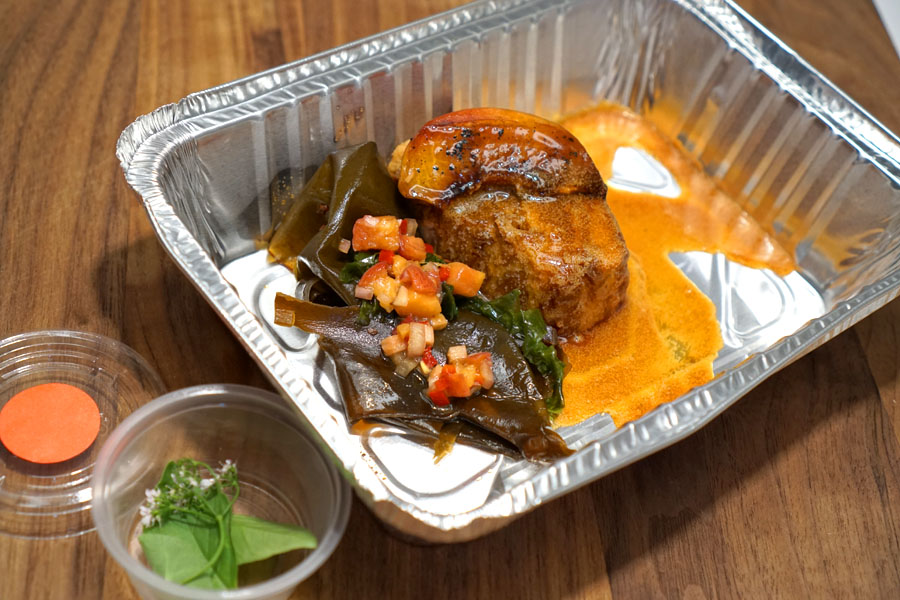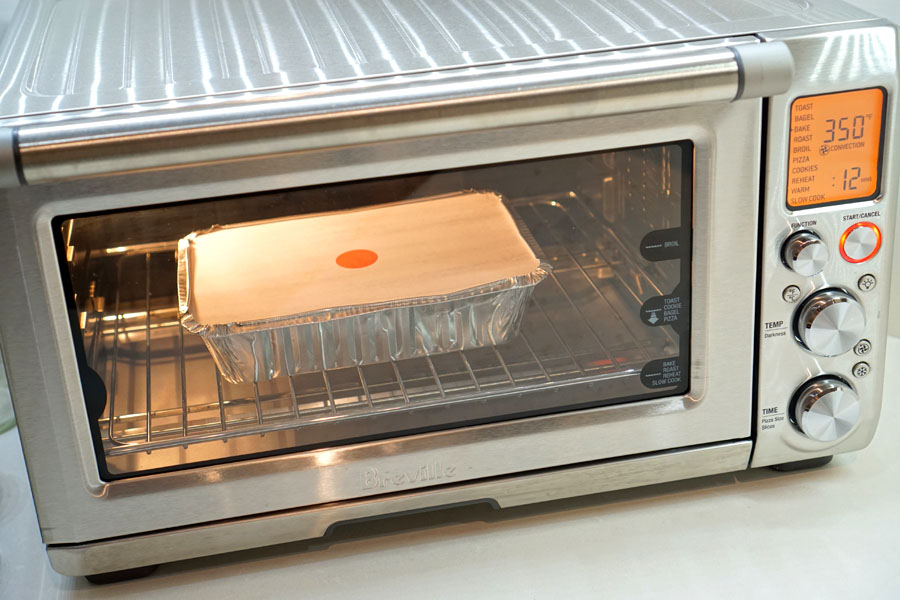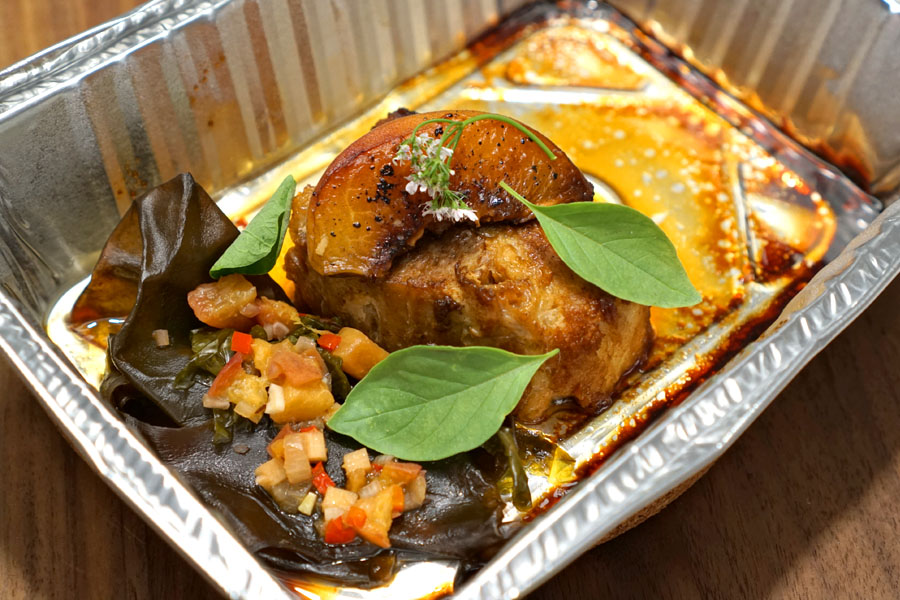 5: Pork Belly
| braised kombu, fermented peach, ginger
Slow-cooked and fried pork belly ate soft and fatty, its decadent but familiar flavors displaying a boatload of almost soy sauce-like savoriness. Kombu boosted the umami factor even more, so absolutely crucial was the zippy, zesty nature of the ginger, which really lifted things. Simultaneously, the peach bestowed a sweetness that meshed
way
better than I thought it would, and quite simply, the dish was very effective when everything was taken together.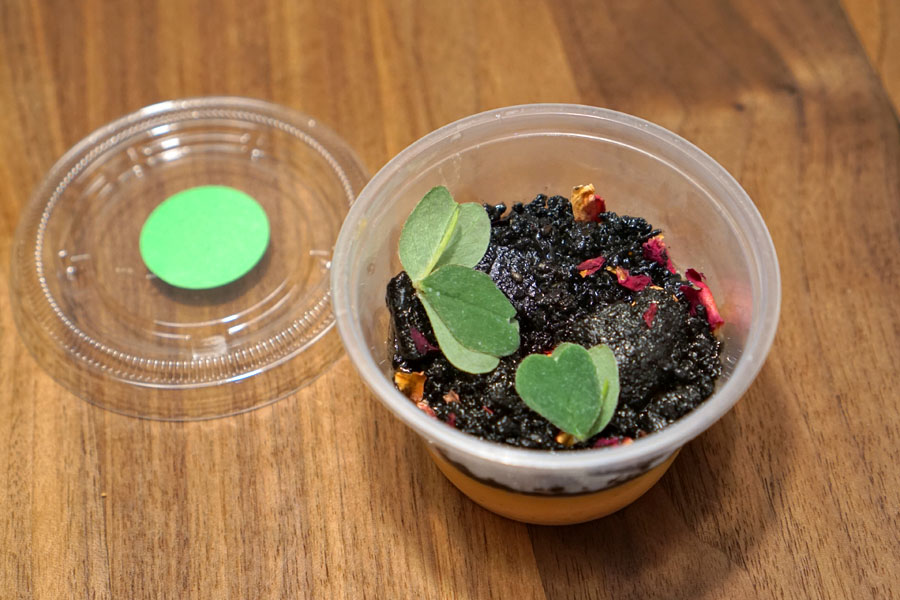 6: Peach
| black sesame butterfinger, basil
Next came a rehash of the first course, reinterpreted through the lens of dessert. A base of peach custard provided a fruitiness linking back to the pork above, but what made this truly sing was the nutty, savory nature of the black sesame crumble, while the basil sprouts afforded stings of brightness. Very neat.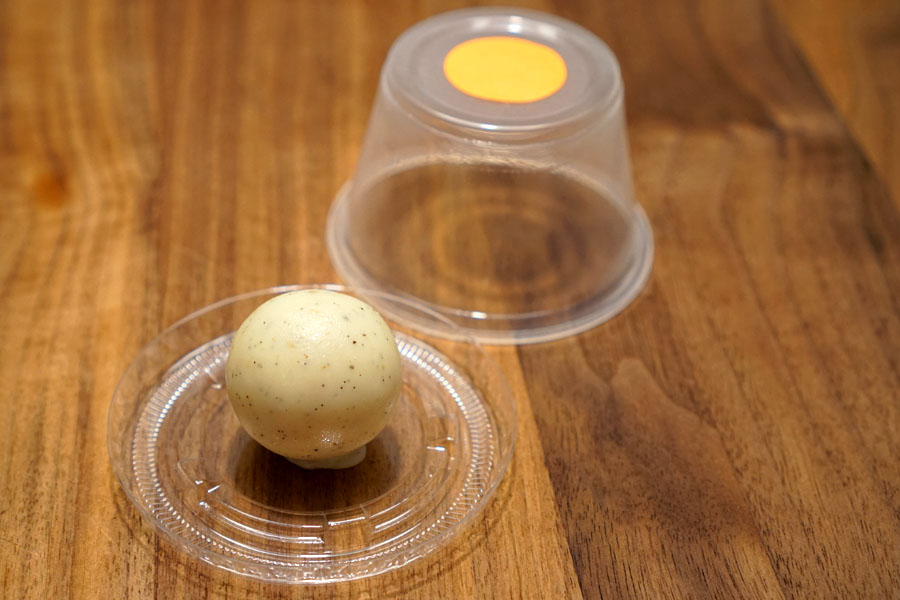 7: Strawberry
| white chocolate, tonka
A white chocolate sphere burst forth with jammy flavors of strawberry upon mastication, while moderating notes of mint and anise lingered long.
This was clearly one of the most ambitious meals I've had over the past few months, and really did a marvelous job conveying the ethos of Dialogue's cuisine. In fact, it got me really excited to return to the restaurant for a proper meal. That was supposed to be possible starting on July 8th, but with the way things are going, who knows when it'll be now.