Dialogue (Santa Monica, CA) [2]
Dialogue Restaurant
1315 3rd Street Promenade, Santa Monica, CA 90401
www.dialoguerestaurant.com
Tue 04/07/2020, 06:30p
Unsurprisingly, I've been getting much more takeout than usual given the current coronavirus crisis. One of the things that I've been somewhat fascinated by over the past few weeks is how restaurants that don't normally do to-go orders are altering their cooking to accommodate the change. I'm especially curious about places such as
Dialogue
, high-end spots that only offer tasting menus spanning a double-digit number of courses. What kind of food would they serve?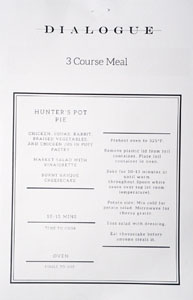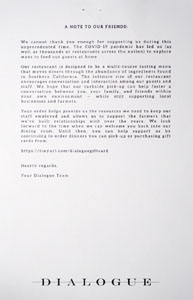 I happened to visit on "finish at home" pot pie night, which was actually a pleasant surprise given that I'm generally a fan of the dish. Above we see the menu card that came with my order, replete with very easy preparation instructions. The cost was $39, plus 10.25% for tax, and an optional 20% tip. Click for larger versions.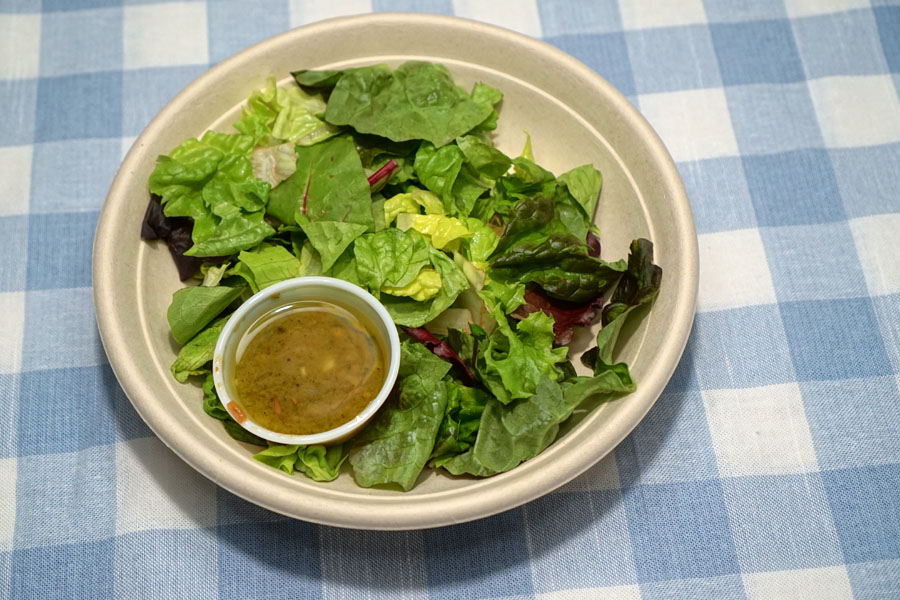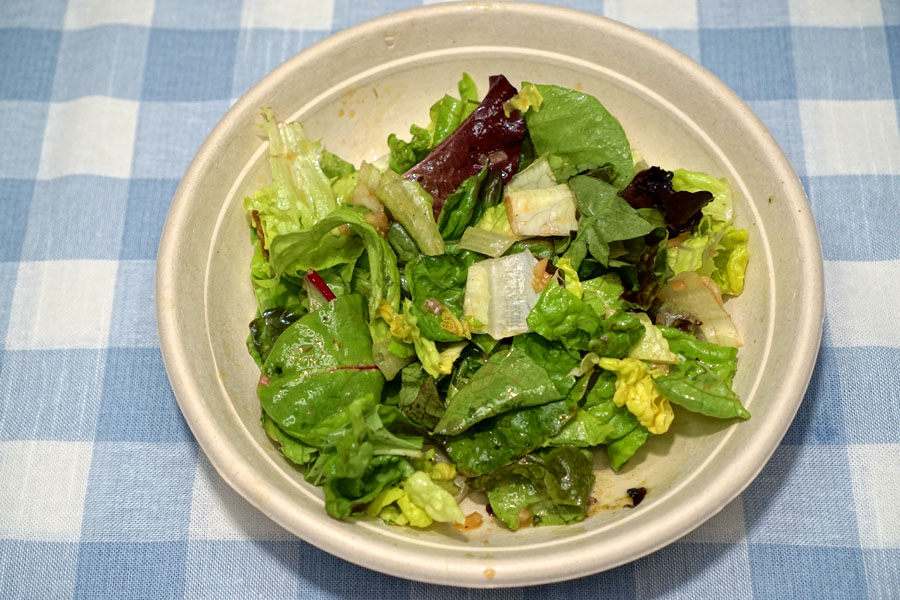 1: Market Salad with Vinaigrette
The requisite salad course didn't look like much, but was actually really agreeable thanks to its wonderfully tangy, full-flavored vinaigrette that incorporated what I believe was shallot. The dressing really sang when paired with the bright, crisp greens.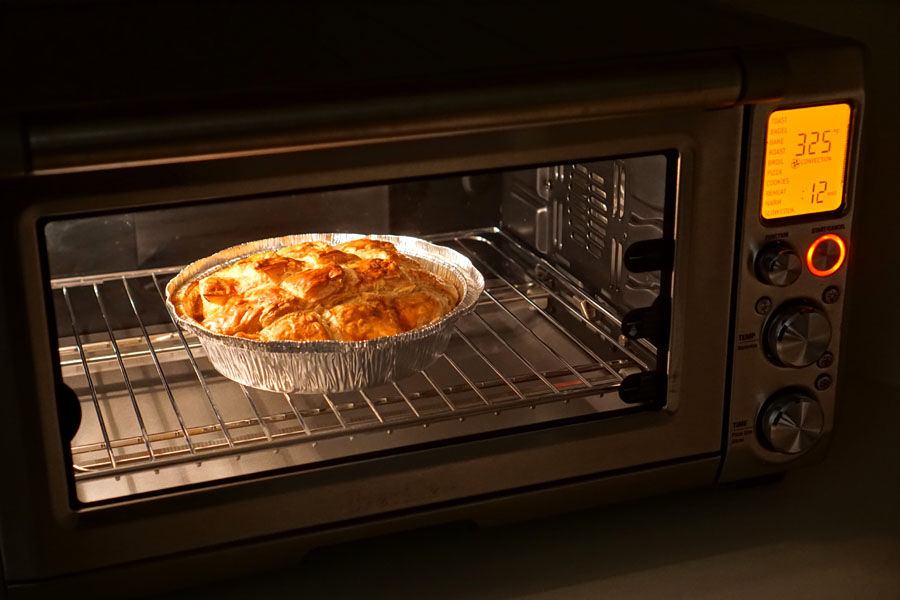 The instructions recommended baking at 325°F for 10 to 15 minutes, so I opted for 13 minutes on a Breville Smart Oven Pro (with convection active). The instructions also referenced a "white sauce," but unfortunately no such thing was included with my order, so I'm not sure what happened there.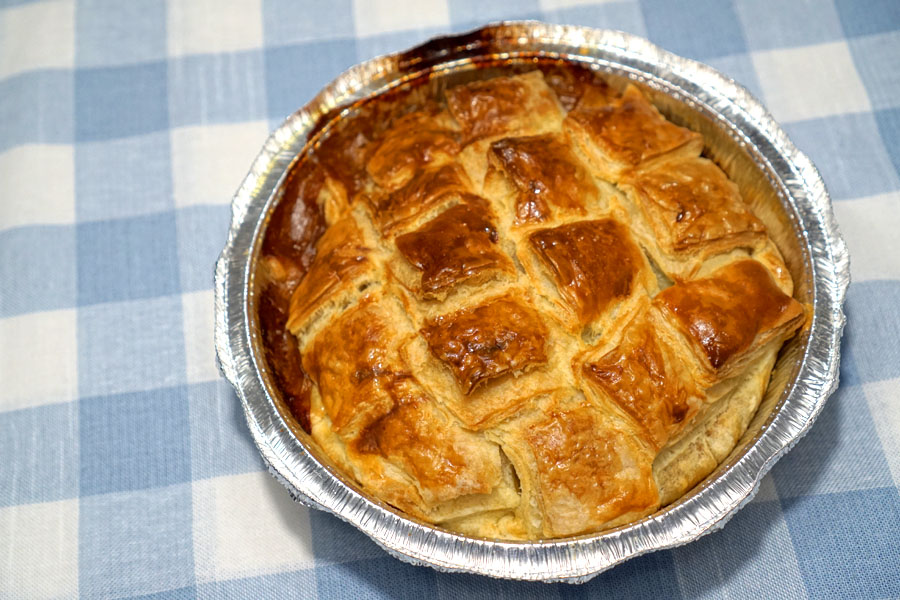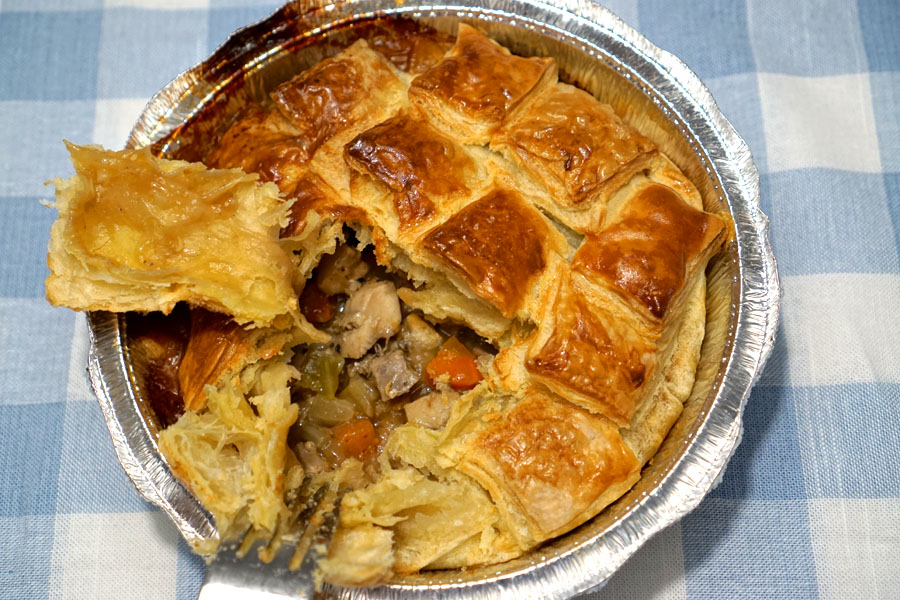 2: Hunter's Pot Pie
| Chicken, Squab, Rabbit, Braised Vegetables, and Chicken Jus in Puff Pastry
Fortunately, despite the lack of the aforementioned white sauce, the pot pie was still very tasty. The blend of three meats had a homey sort of flavor profile, with a healthy dosing of herbaceousness that seemed to emphasize what I think was rosemary. The star of the show, though, was the crust, which was just delightfully crisp and utterly flaky.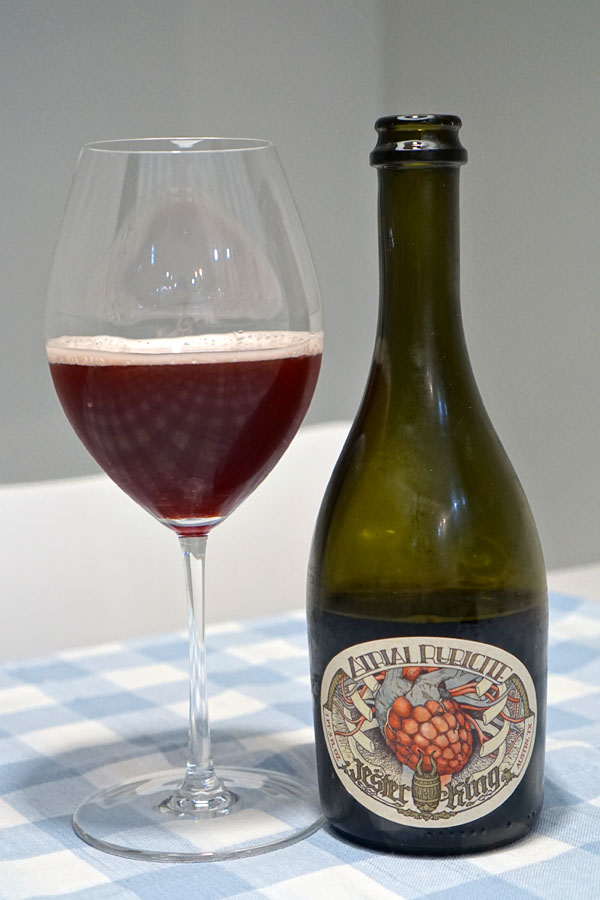 Beverage-wise, I opened a bottle of the
2016 Jester King Atrial Rubicite
, a barrel-aged sour beer refermented with raspberries. The nose here was of tart, juicy fruit mixed with an umami-laced funk. Taste-wise, I got a marriage of barnyard and berry leading to a somewhat lactic acid-like sensation backed by a persistent mustiness. Nice!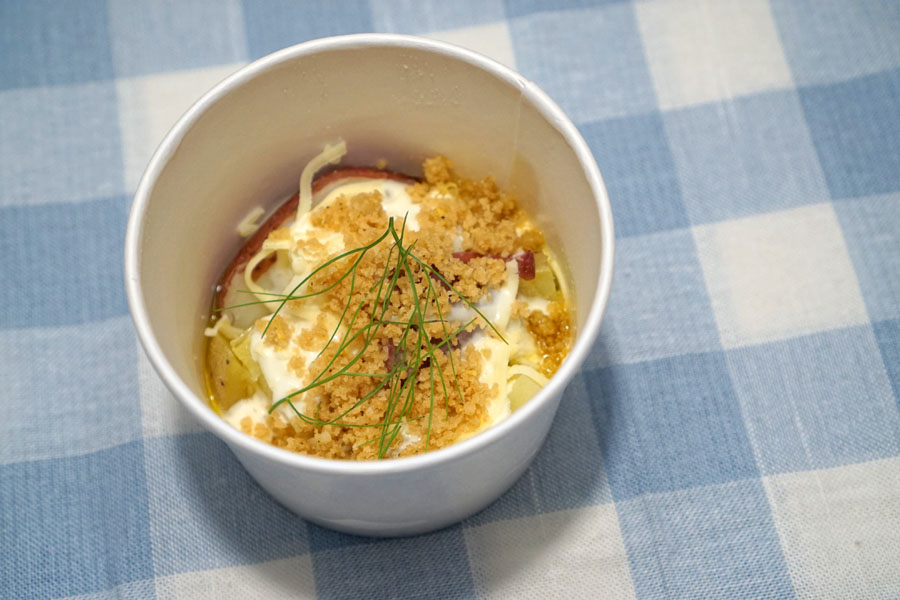 The instructions stated that this potato side could be consumed either cold for a potato salad or warm for something gratin-like. I ended up trying it both ways, and neither was quite to my liking. The dish actually seemed a bit severe, and I thought that the notes of fennel here were too domineering.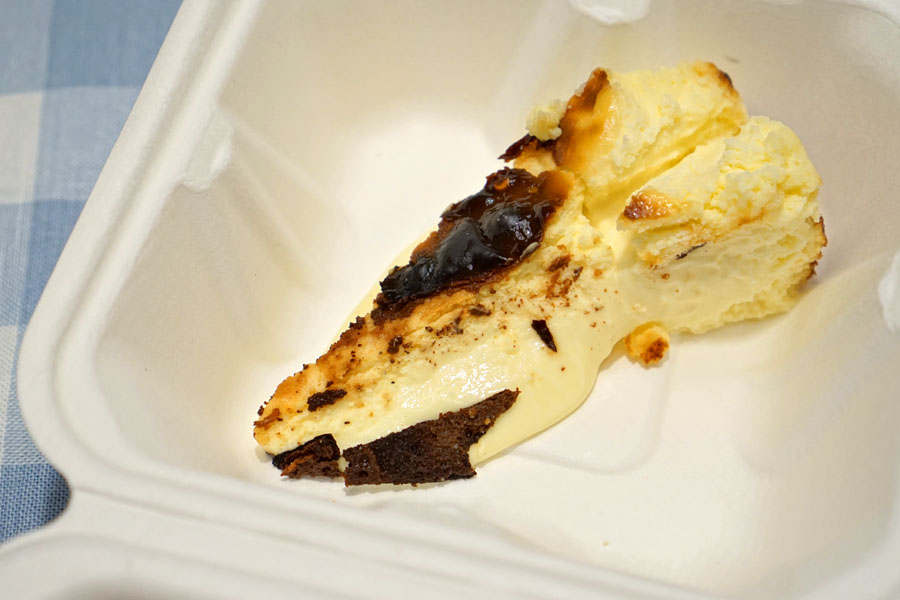 3: Burnt Basque Cheesecake
Dialogue has sort of become known for its Basque cheesecake, and I can see why. What's also interesting is that I had a very similar dessert just days earlier from
Republique
, so it was fun to contrast the two. Compared to the Manzke version, this one was heftier, sweeter, and much more obviously "cheesy," with an almost bleu-like funk hiding in there. Said cheese meshed beautifully with the burnt bits, which had a caramelized character that just grew and lingered beautifully.
I was very curious to see what Dialogue would come up with for COVID-19 take-out, and what they created was rather enjoyable, but obviously almost nothing like what's normally served at the restaurant, and for me, that was actually part of the appeal. Given the near-unprecedented nature of what's happening right now, there's a good chance that Beran and his team will never again do anything like this, so I was glad to be part of the experiment.