Mazal (Los Angeles, CA)
Mazal Restaurant
110 N San Fernando Rd, Los Angeles, CA 90031
323.576.2138
www.mazal.la
Thu 02/25/2021, 07:30p-10:45p

Lincoln Heights is not a neighborhood that I frequent often, but what brought me here recently was a visit to Mazal, a new plant-based Israeli restaurant. Named after the Hebrew word for "luck" (as in
mazel tov
), the place grand-opened on November 12th last year, and is the brainchild of Southern California native Tal Zaiet.
A bit of history
: Born in October 1993, Zaiet hails from the Santa Clarita area, and graduated from Valencia High School. He later attended California Lutheran University, where he studied business and played soccer. After finishing his studies in 2015, he entered the world of marketing and bounced around a few places in LA, including
The Hollywood Reporter
. However, in 2018 Zaiet decided that he wanted to get into the restaurant business. This actually had been a lifelong dream of his father Davis, who'd previously built a career in the construction industry, specifically hardwood flooring. Together, they spent two years building Mazal with their own hands, and the plan was to debut around April 2020, but due to the coronavirus pandemic, the soft-opening was pushed back to late October. Zaiet's mother Hanni also plays a pivotal role as the driving force behind the menu, and even his sister Neev is involved.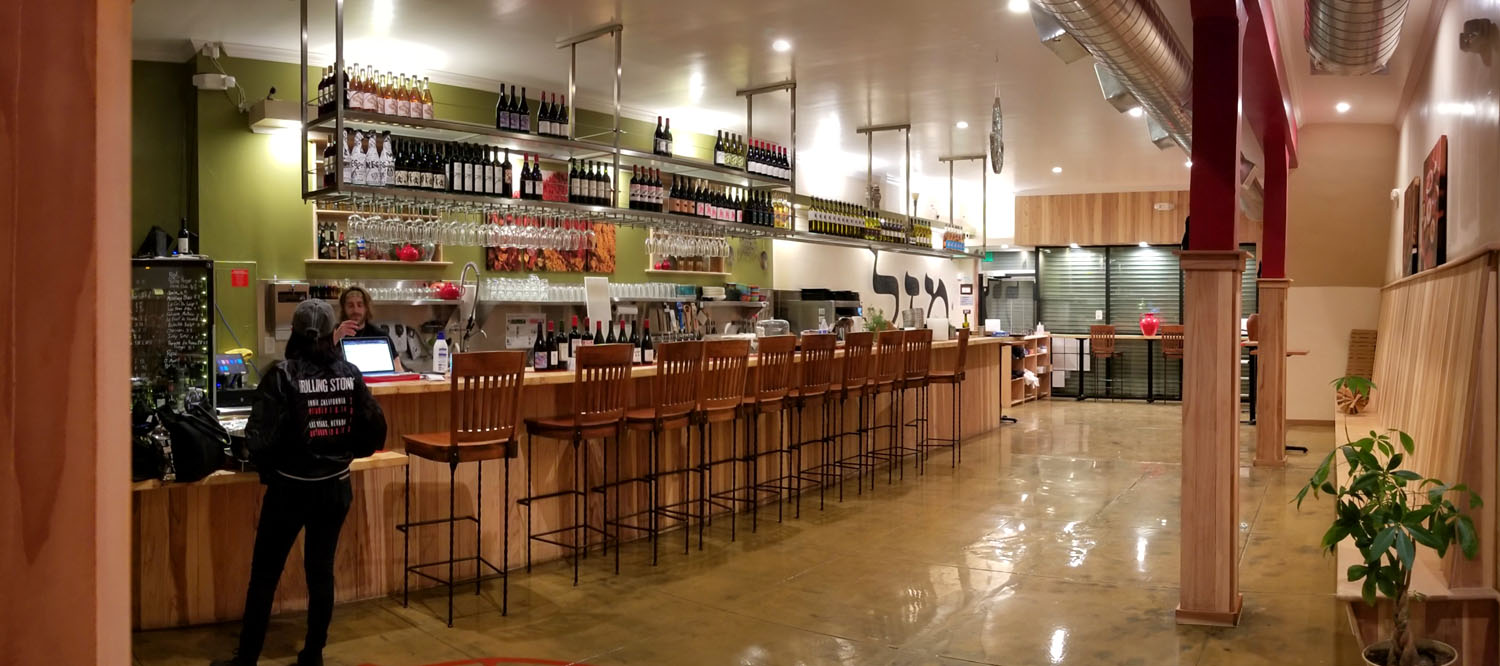 Mazal takes over the former warehouse of Z-Best Hardwood Floors, which Zaiet's dad had run for two decades and had wanted to convert into a restaurant since 2015. The building was remodeled almost entirely by father and son, and of particular note is the 42-foot wood-topped bar, which is inlaid with ruby-tinted resin.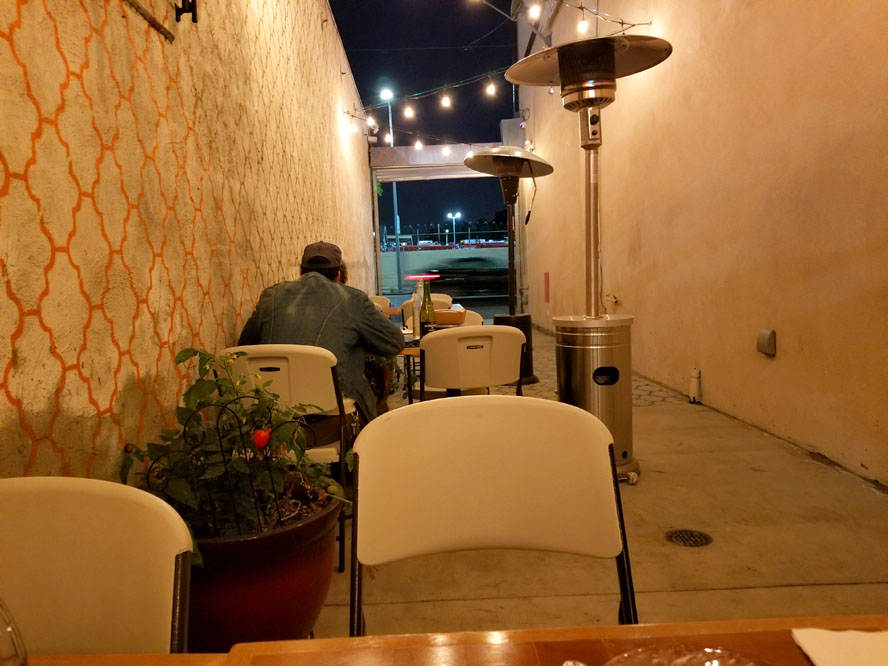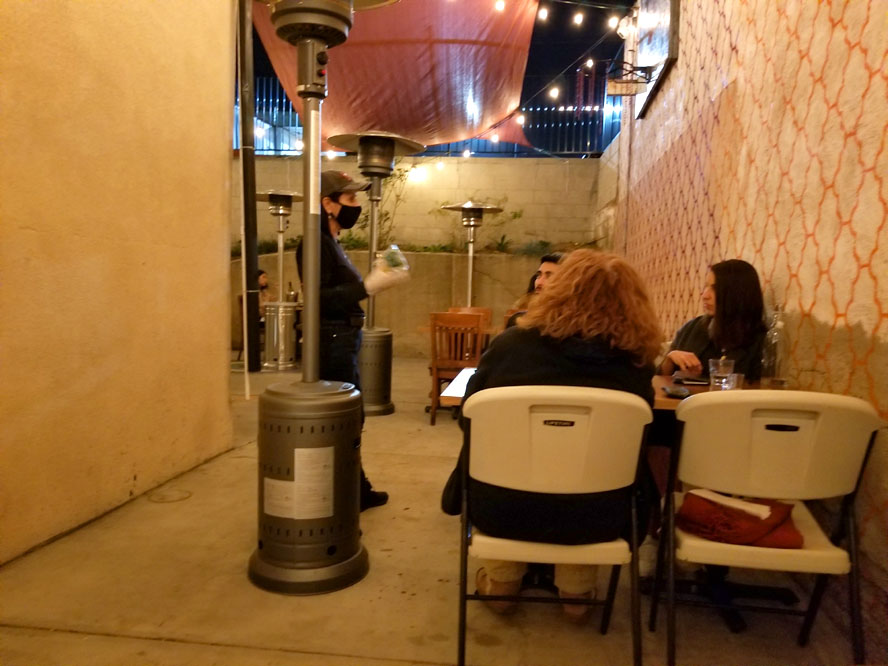 Of course, due to COVID-19, indoor dining wasn't allowed, so we sat outside on the patio, which was actually pretty cozy.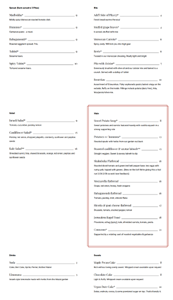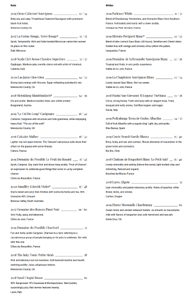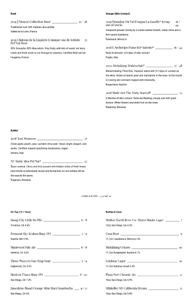 Above we see Mazal's selection of vegetarian, Mediterranean plates, rendered in shareable form and utilizing produce grown by the family themselves. The menu is largely the work of Zaiet's mother Hanni, and notably incorporates her Moroccan background. She also worked at the family bakery back in Israel, and is thus responsible for the desserts as well. On the beverage side, Zaiet has put together a small-but-interesting, reasonably-priced, natural/organic-leaning wine list along with a compact array of beers. The corkage fee is advertised at $20 a pop. Click for larger versions.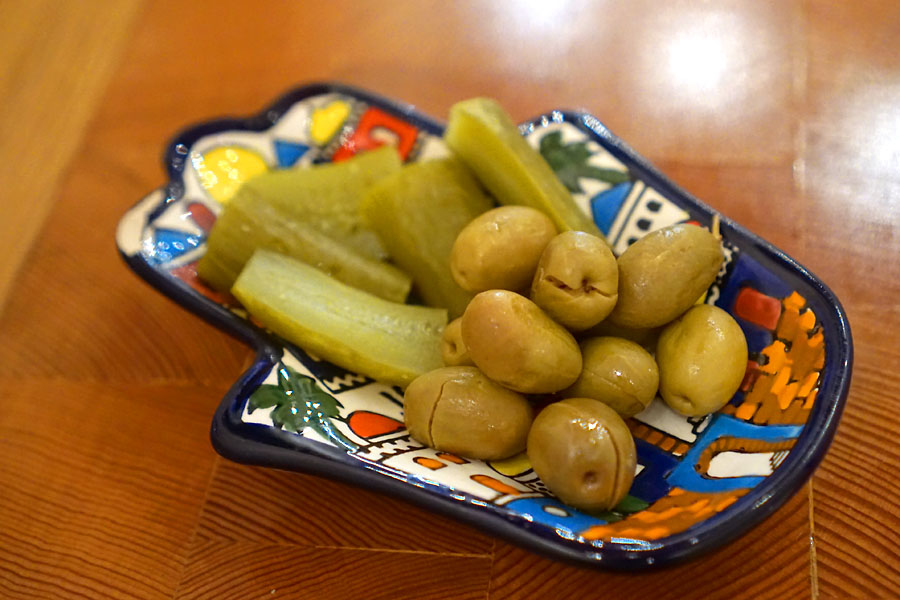 Tonight's meal began with a couple complimentary snacks. Olives were intensely flavored, almost boozy in fact, while even more interesting were the pickles, which showed off a caraway-like warmth.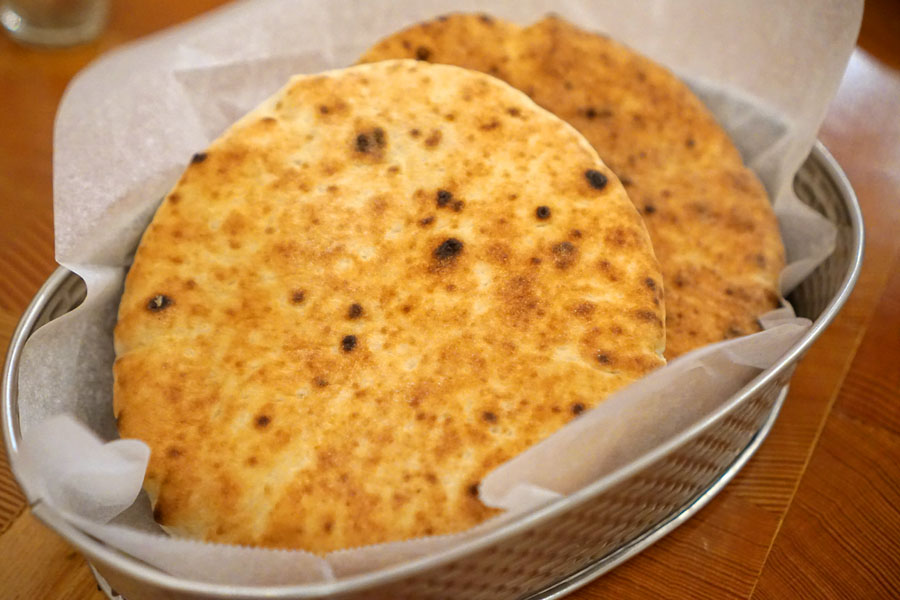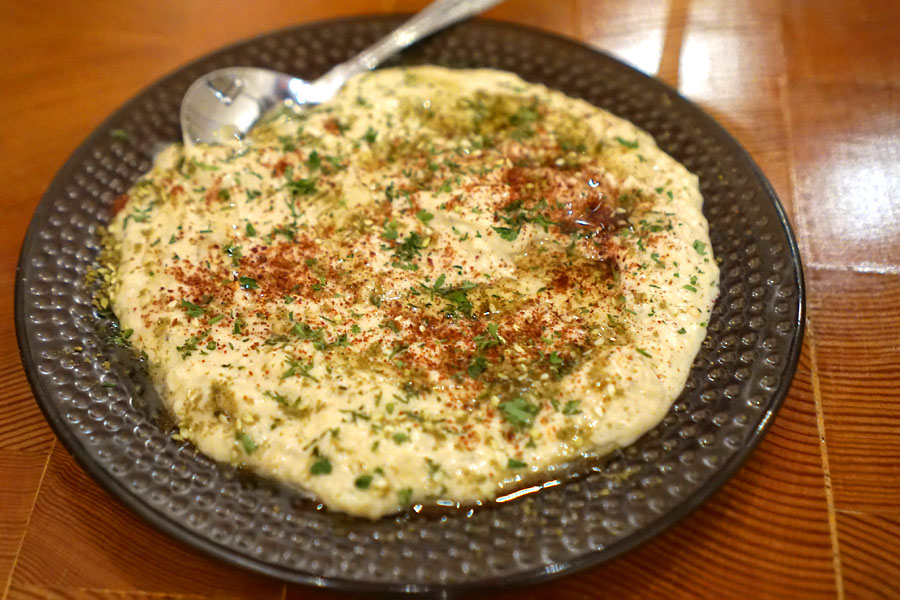 Babaganoush [$9.00]
| Roasted eggplant spread. Fire
The baba ghanoush was excellent, and might just be the best version I've had thanks to its engaging blend of spices and smoky elegance. The paired pita was similarly exemplary. I found it unusually fragrant--it smelled a bit like popcorn--while texturally the bread was wonderfully supple and slightly chewy.
To drink, we opted for a bottle of the
NV Matic Mea Pet'Nat [$43]
, which hails from Štajerska, Slovenia and is made from the Šipon grape. The sparkling wine had a funky nose filled with astringent, lemon-y notes and a touch of breadiness. The palate was zippy and refreshing, and displayed yeasty, beer-like flavors along with candied citrus on the finish. Fun and neat.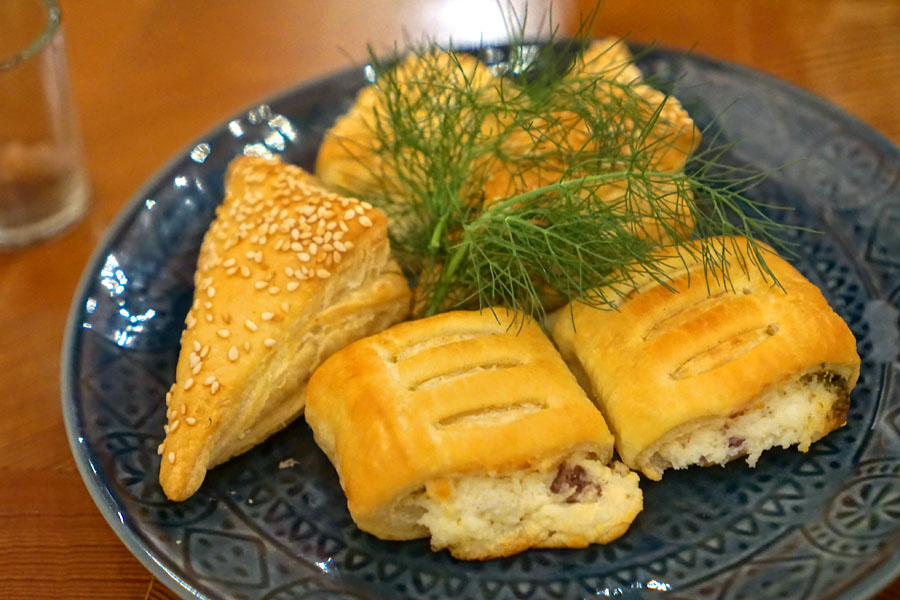 Bourekas [$10.00]
| Assortment of 5 bourekas. Flaky sephardic pastry baked crispy on the outside, fluffy on the inside. Fillings include potato (dairy free), feta, feta/pesto/olive mix
I made sure to try all three types of bourekas on offer, and was really impressed by the lightness and daintiness of the pastries. Fillings included light, delicate feta cheese; smooth, silky potato with a savoriness that really worked with the sesame seeds; and a mixture that played the piquancy of olive against the creaminess of feta.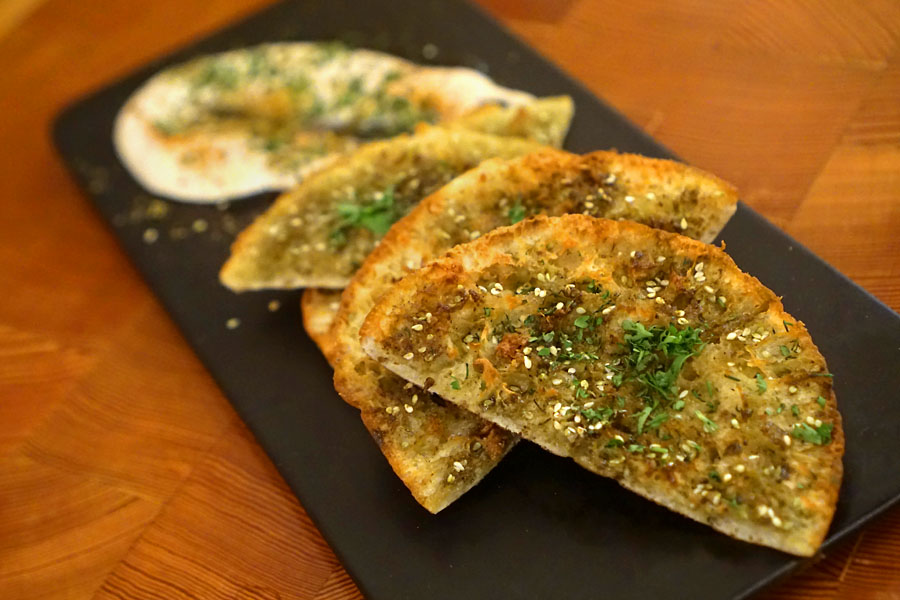 Pita with Za'atar [$7.00]
| Generously brushed with olive oil and our za'atar mix and baked to a crunch. Served with a dollop of tahini
We also tried the pita in baked form, which gave the bread a delightful crispness and char. It worked easily as a base for the spicy, sour smack of za'atar, while the ultra-nutty tahini on the side tempered the flavors at play.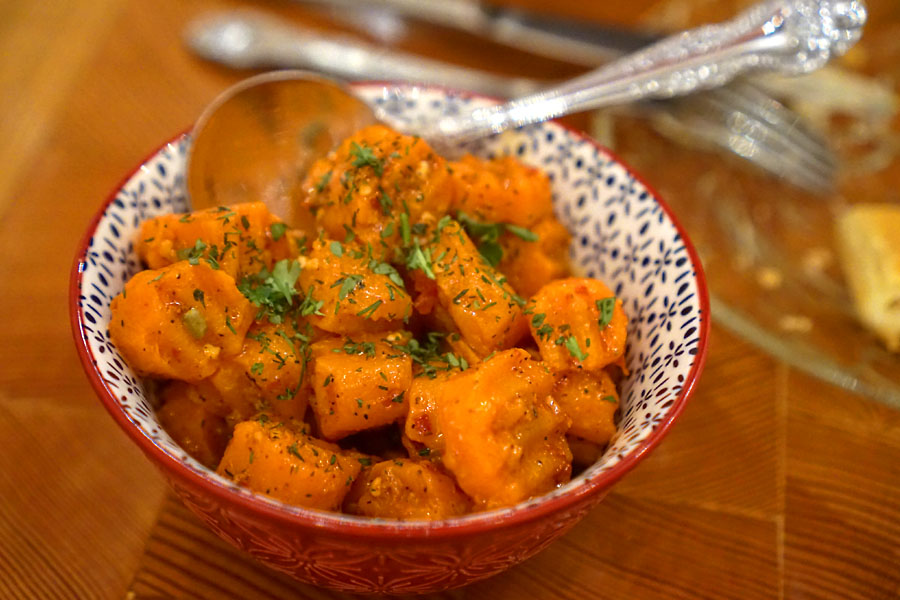 Moroccan Carrots [$6.00]
| Spicy, zesty. Will kick you into high gear
Carrots ate cool and refreshing, and featured a punchy spice that meshed effortlessly with the intrinsic sweetness of the root veggie.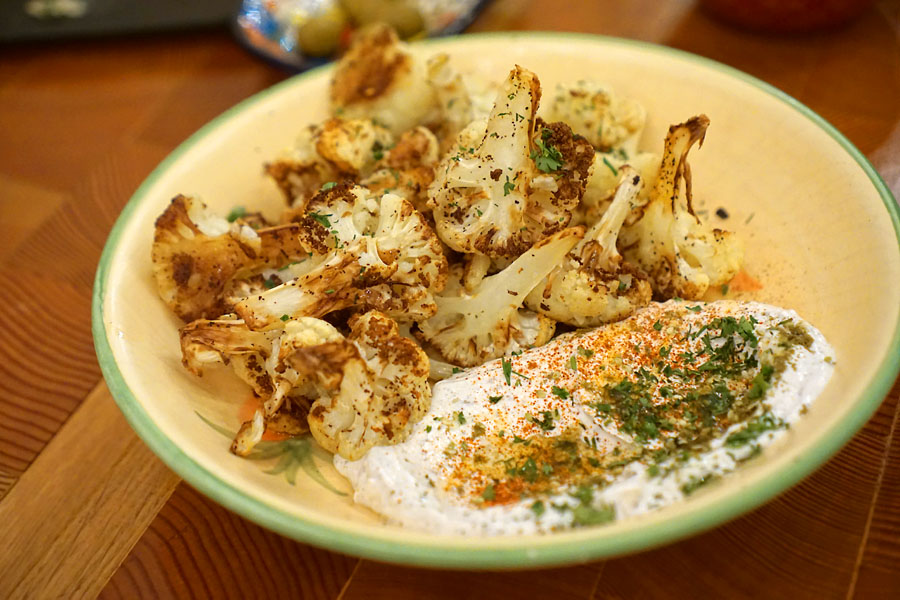 Roasted cauliflower & za'atar labneh [$15.00]
| Straight veggies. Sweet & savory labneh to dip
Cauliflower displayed a commendable amount of smoke and sear, which formed a great back-and-forth with the bright, sweet, super lactic yogurt. My only quibble here was that I would've liked the florets a tad crunchier.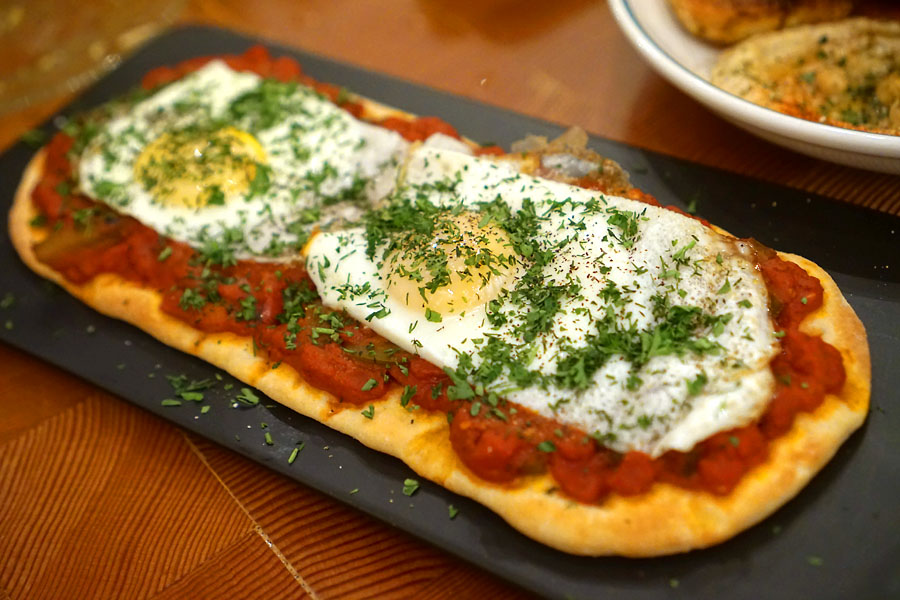 Shakshuka Flatbread [$16.00]
| Roasted diced tomato and green/red bell pepper base, two eggs with runny yolk, topped with greens
Next came a shakshouka-inspired dish that was, at least according to the menu, only available for a limited amount of time. The lush, runny sunny side up eggs were just about perfect, and married seamlessly with the sweet-n-spicy tomato-pepper combination, all while the thin, crispy flatbread set the stage for everything.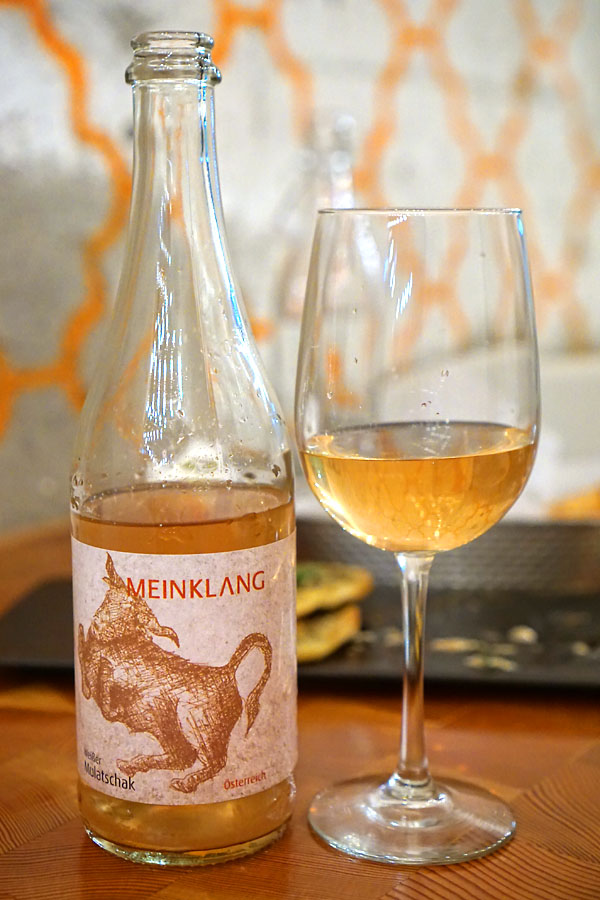 The evening's next wine was of the orange variety, the
2020 Meinklang Mulatschak [$48]
, a Welschriesling/Pinot Gris/Savagnin blend from the Burgenland region of Austria. This one had an intensely aromatic bouquet that went in a decidedly perfumy, floral direction. Meanwhile, I got a bevy of soft, fruity, flower-y flavors backed by a slight minerality. Another fun, delicious wine.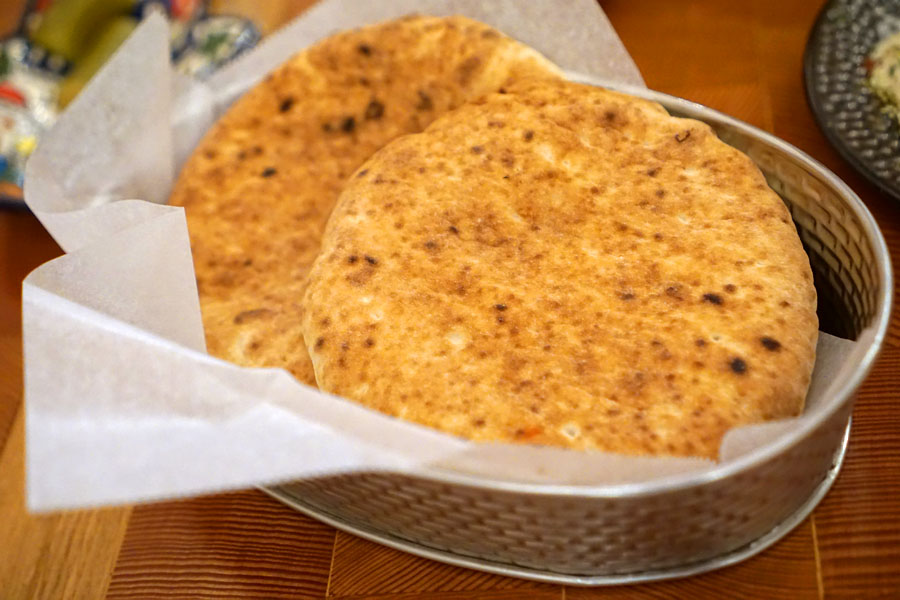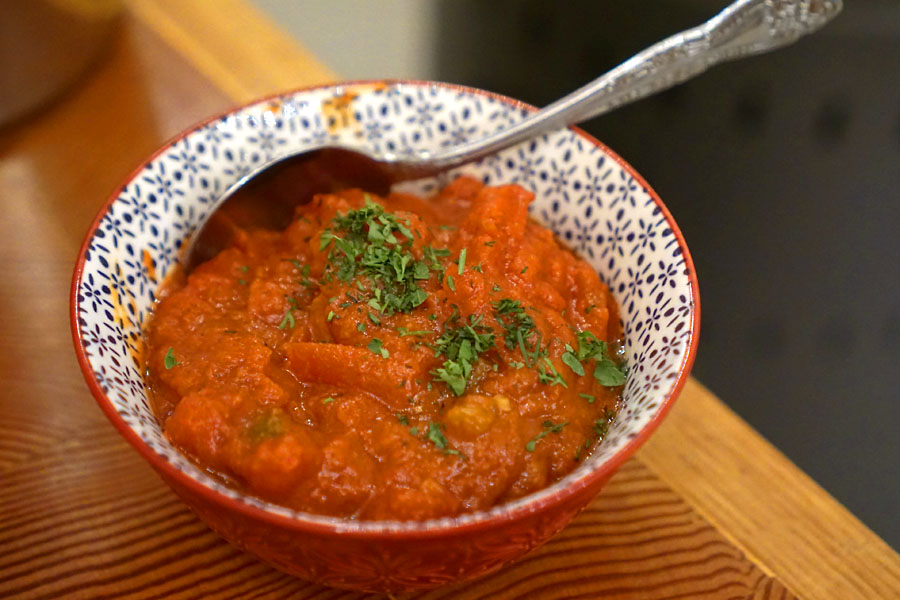 Madbukha [$9.00]
| Mildly spicy Moroccan roasted tomato dish
Our second spread was the matbukha, which expressed sweet, tangy flavors, commingled with the gentle application of spice and smoke. This one was surprisingly refreshing, and almost served as a bit of a palate cleanser.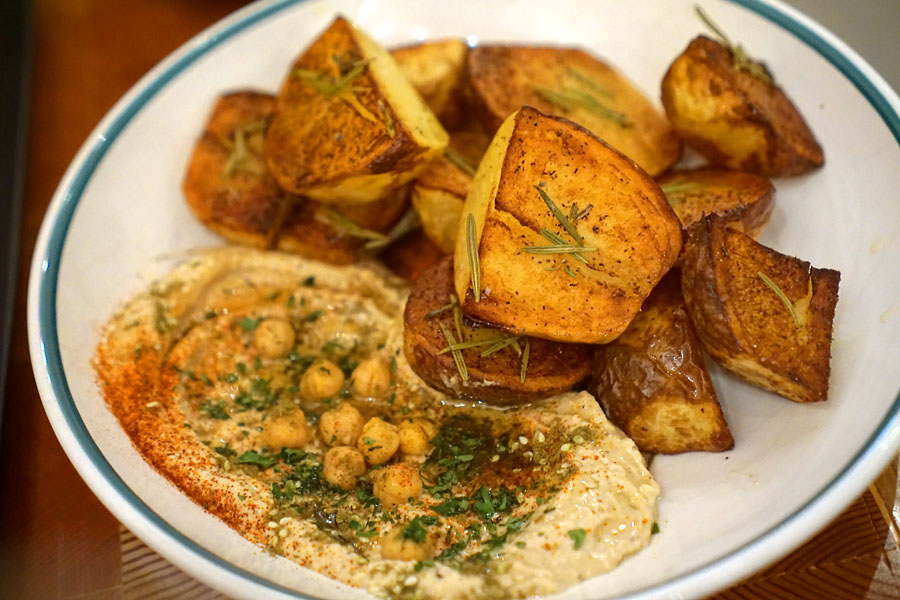 Potatoes w/ hummus [$13.00]
| Roasted spuds with herbs from our garden out back
I often have a hard time resisting potatoes on a menu, and tonight was no different. Mazal's were hearty and homey, with a lovely roasty quality that matched up swimmingly with the fragrant rosemary. They were certainly tasty alone, but were taken to the next level with a dab of that luscious, multifaceted hummus.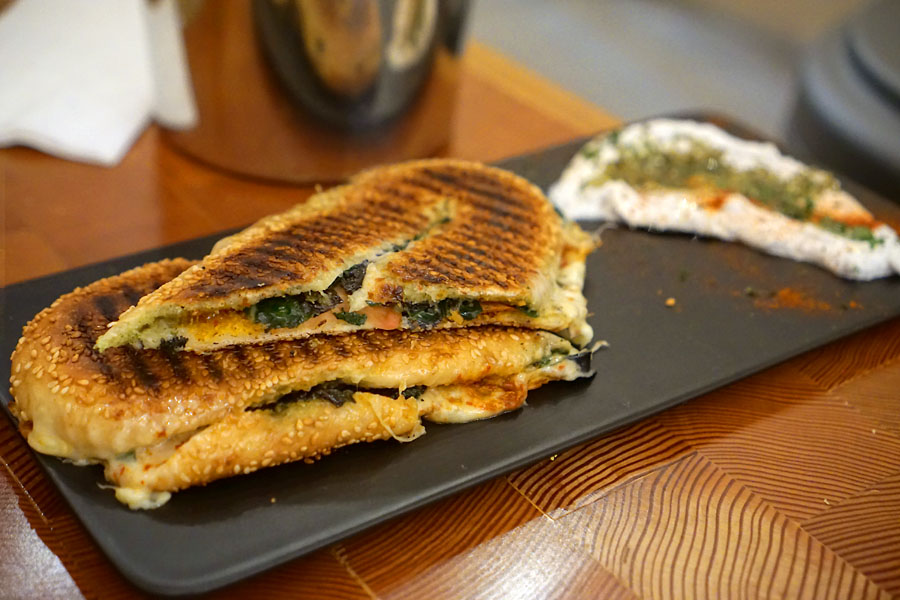 Jerusalem Bagel Toast [$18.00]
| Provolone, schug (spicy), kale, shredded carrots, tomato, pesto
The restaurant's take on the casual classic that is bagel toast was another winner. I loved the smoky, nutty flavors of the actual bagel, and how that played with the bitter kale and creamy cheese, all while the pesto imparted an overarching brightness that really uplifted the dish. And again, nice labneh on the side, too.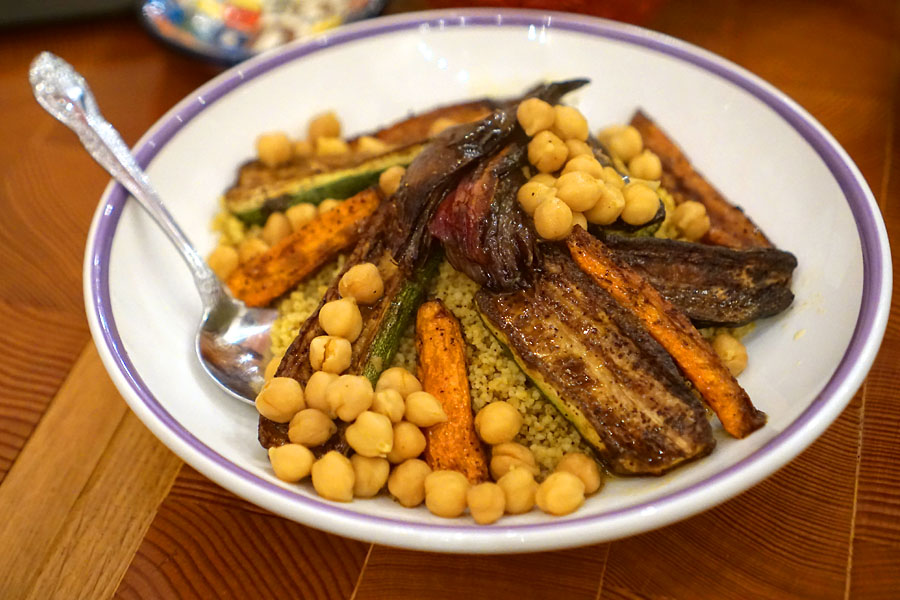 Couscous [$21.00]
| Supported by a rotating cast of roasted vegetables & garbanzo
We had couscous for our final savory, and it might just have been the strongest preparation I've experienced. What I found most impressive was the perfectly finespun, almost fluffy texture of the semolina, which had an elegance to it that contrasted nicely with the chickpeas. If that wasn't enough, the couscous was also uncommonly flavorful, and worked hand in hand with the sheer smokiness of the roasted veggies.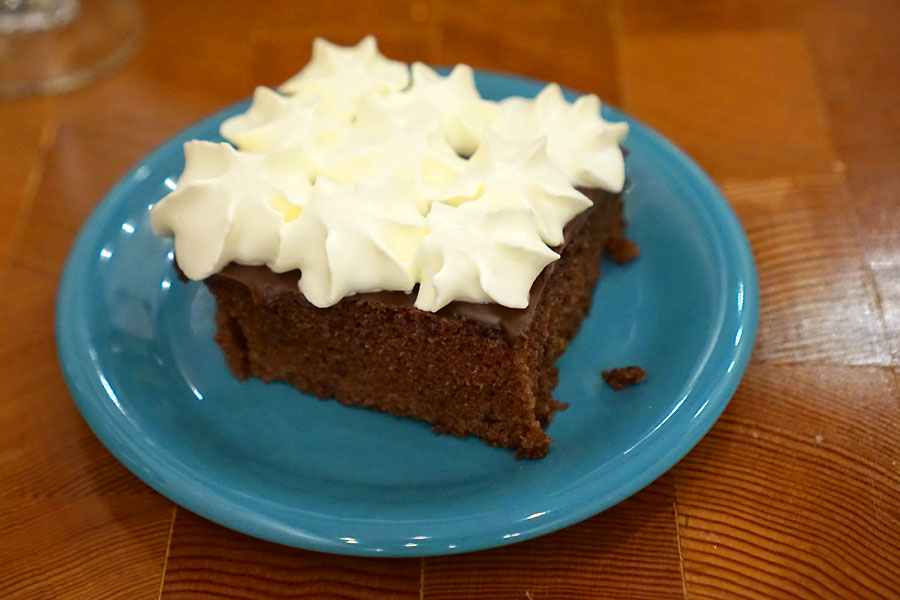 Chocolate Cake [$8.00]
| Light & fluffy. Whipped cream available upon request
I always try to save room for dessert, and I'm glad I did, since this was definitely one of the better chocolate cakes I've had in a while. I liked how light and not overly sweet it was, but what was more intriguing was the slight spiciness present, which I just couldn't put my finger on.
This was an impressive meal, easily one of the best I've had all year, and I'd recommend that you make your way up here before the place really starts to blow up. The Zaiet family's perspective on Middle Eastern cuisine just really jibes with me, and I have to say that I did not miss the meat one bit. But speaking of meat, apparently the reason why they don't serve it here is because doing so would require a stovetop, which would require a hood system, which would require installing a sprinkler system throughout the entire building (even in sections that aren't part of the restaurant), which would be quite an undertaking. Sadly, I guess we'll have to wait for Zaiet's sophomore effort in order to try some of Hanni's non-veg dishes.