Morihiro (Los Angeles, CA)
Morihiro Restaurant
3133 Glendale Blvd, Los Angeles, CA 90039
323.522.3993
www.morionodera.com
Sun 01/24/2021, 08:00p-09:00p

Morihiro "Mori" Onodera has been a fixture in LA's sushi scene for over three decades, and I last caught up with the Chef back in June 2019, when he was helming the kitchen at
Inn Ann
. I had a fantastic meal there, but unfortunately the place struggled to find an audience (I imagine its ridiculously out-of-the way location certainly didn't help), and eventually closed that December. Onodera knew that the end was coming though, so he was already planning his next move, and that move was to Atwater Village, somewhat surprisingly. His idea was to open an intimate, high-end, omakase-focused spot, but those plans were scratched with the advent of the coronavirus pandemic. He thus pivoted to a more relaxed iteration of his vision, conducive to takeout, and grand-opened on November 27th last year.

Morihiro occupies a space that was once part of Viet Noodle Bar, owned by Viet Tran, a friend of the Chef's. The room was redone by
Ken Tanaka Studio
, and presents a clean, somewhat minimalist aesthetic.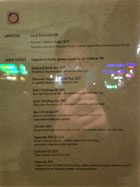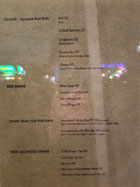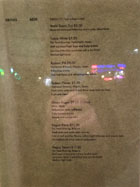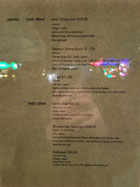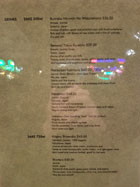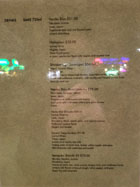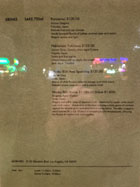 The menu, as expected, is more casual than we're used to seeing from Onodera. I opted for the
Sushi Omakase Ten [$85]
, along with an upgrade to fresh wasabi for $8. There's also a decent selection of sake and beer available. Click for larger versions.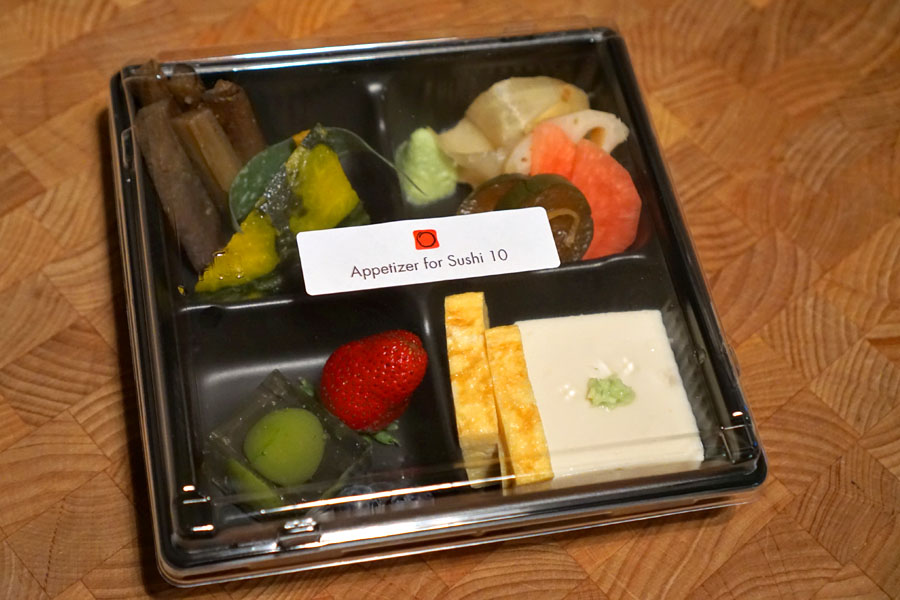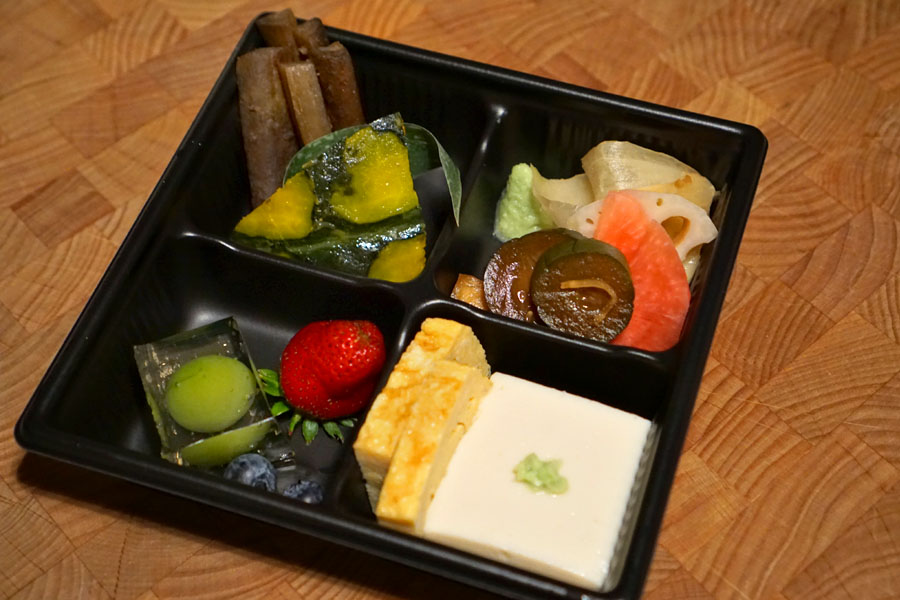 My meal came with a small array of appetizers.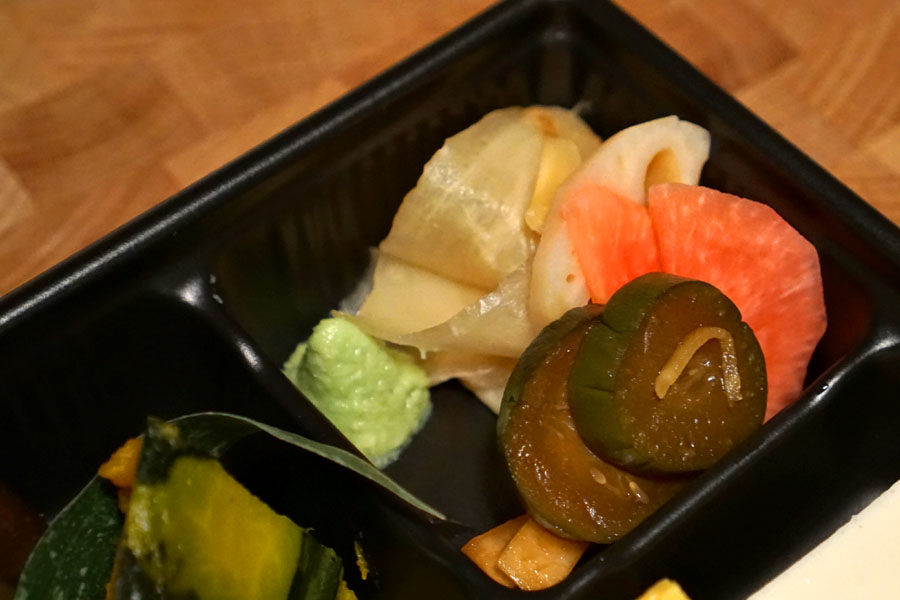 1a: Oshinko
| Homemade Japanese Pickles
Pickles provided their usual crunch and acidity, and there was also an extra serving of ginger and wasabi provided as well.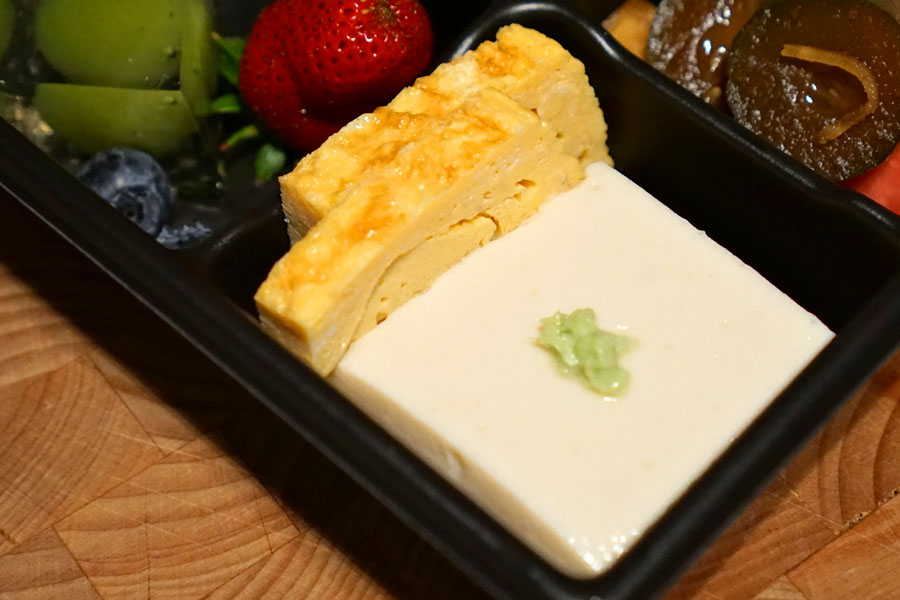 1b: Homemade Tofu
1c: Tamago
| Japanese Egg Omelette
Onodera's
jikasei
tofu was a custard-y preparation, one with strong nutty tones alongside undertones of sweetness, while the wasabi added a much appreciated zing. As for the egg, think dense, cool, and sweet.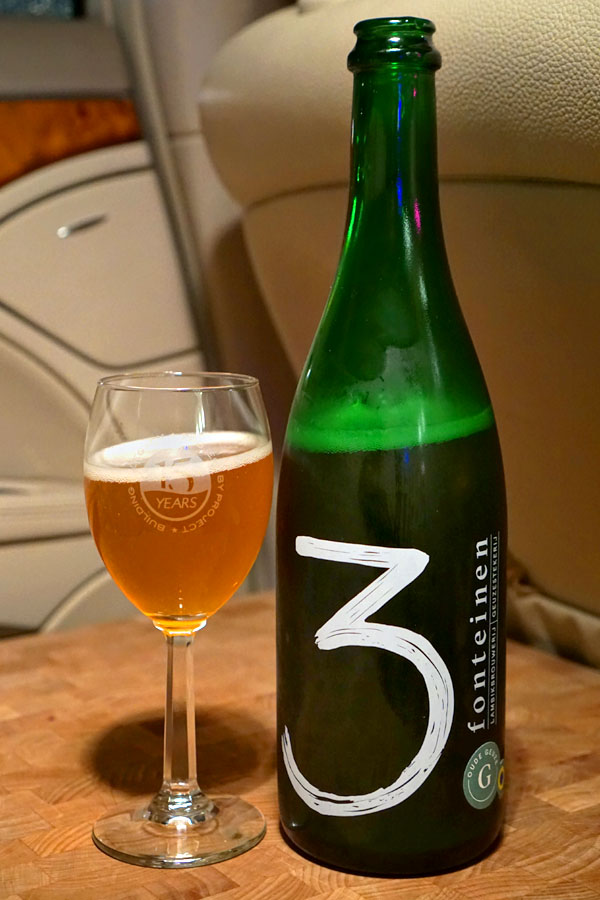 To drink, I went with a bottle of the
2017 Drie Fonteinen Oude Geuze
, a blend of one-, two-, and three-year old oak-aged lambics. The beer smelled of tart, yeasty stone fruit, combined with an almost cheese-like funk that I rather liked. Taste-wise, I found the ale sharp and acidic overall, its fruit flavors cut by a backbone of bitterness, while the finish went in a distinctly drying direction.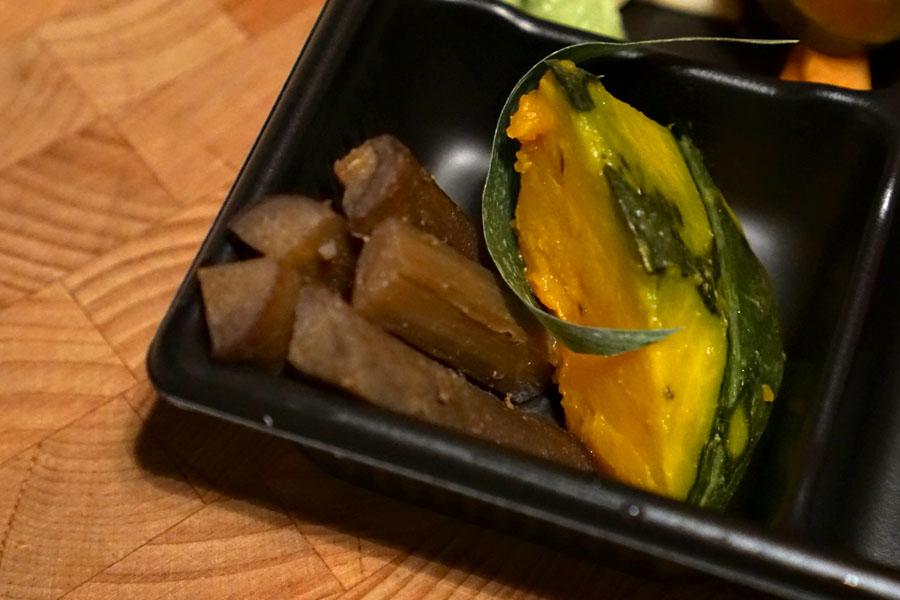 1d: Goboni
| Cooked Burdock
1e: Kabocha
| Cooked Japanese Squash
Burdock conveyed a surprisingly delightful crunch, while flavors were nutty, sweet, and savory, with a subtle tang. As for the squash, thankfully it was restrained in its sugariness, and instead showed off its more umami-forward, vegetal aspects.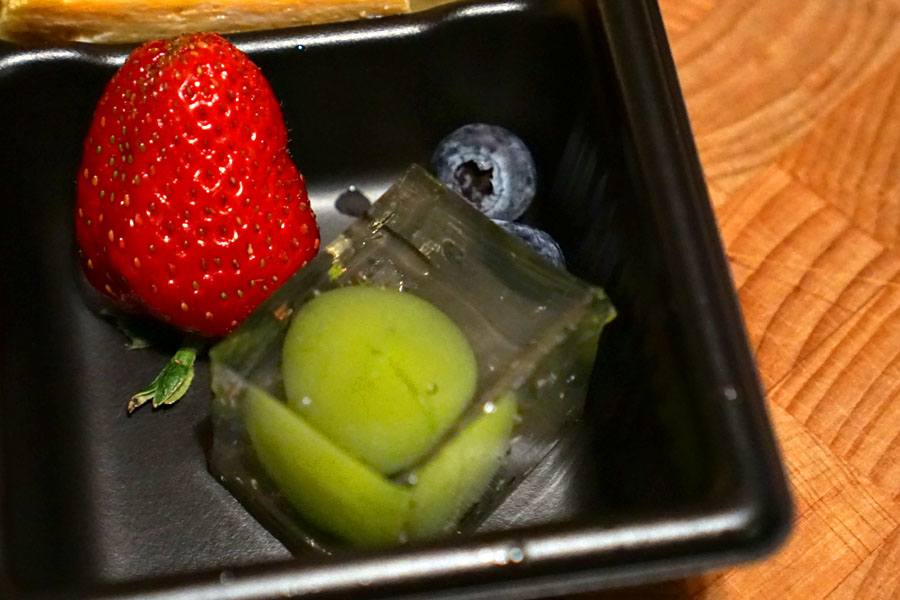 1f: Yamamomo
| Mountain Peach
1g: Harry's Berries Gaviota
1h: Forbidden Fruits Orchard Organic Blueberries
Last up was some fruit. The strawberry and blueberries were just as I wanted, but clearly the most interesting thing here was that fresh, fun, jelly-encased mountain peach.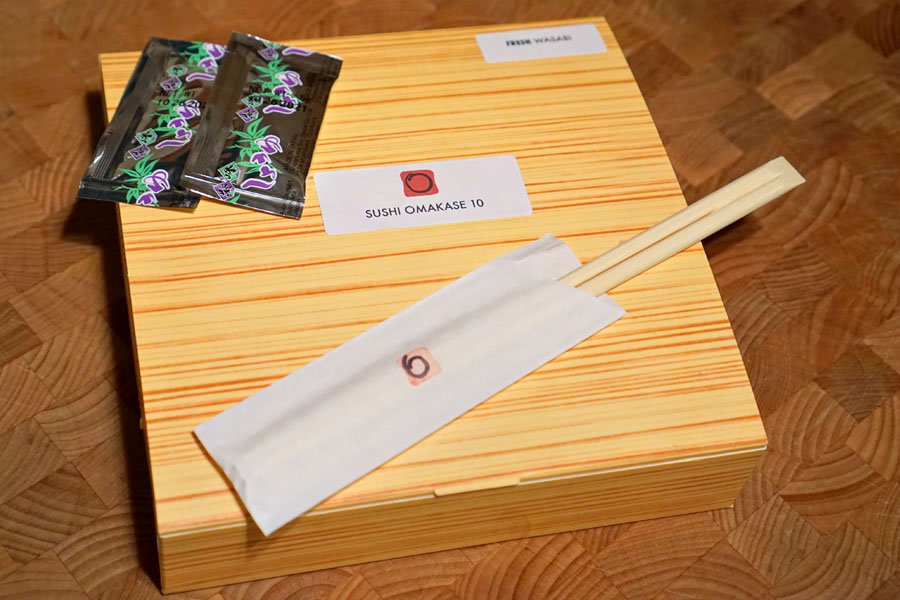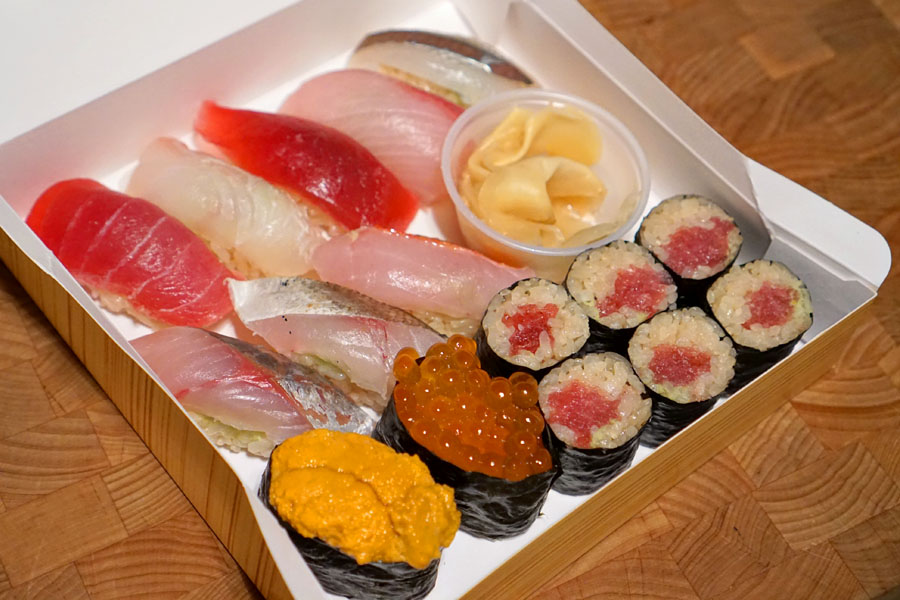 And here we see the Chef's attractive assortment of sushi.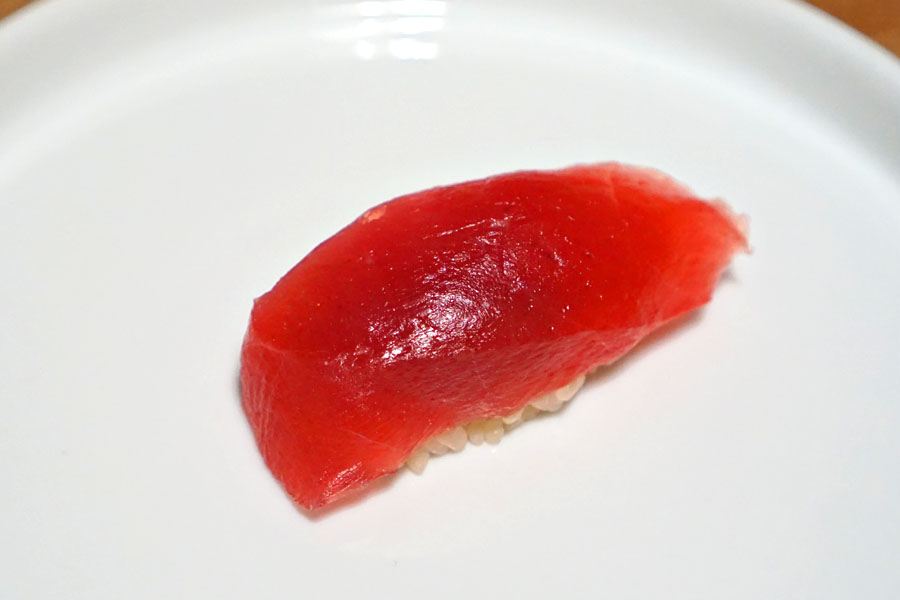 2: Mebachi
| Big Eye Tuna from Hawaii
We'll start with the lean tuna. It ate soft and silky, while flavors were generally mild, with a slight brine on the mid-palate. The most notable thing here was actually the Ibaraki-sourced
shari
, which really made itself known on the finish and was far more aggressively-flavored than I remember having from the Chef (perhaps a concession to the takeaway nature of this meal).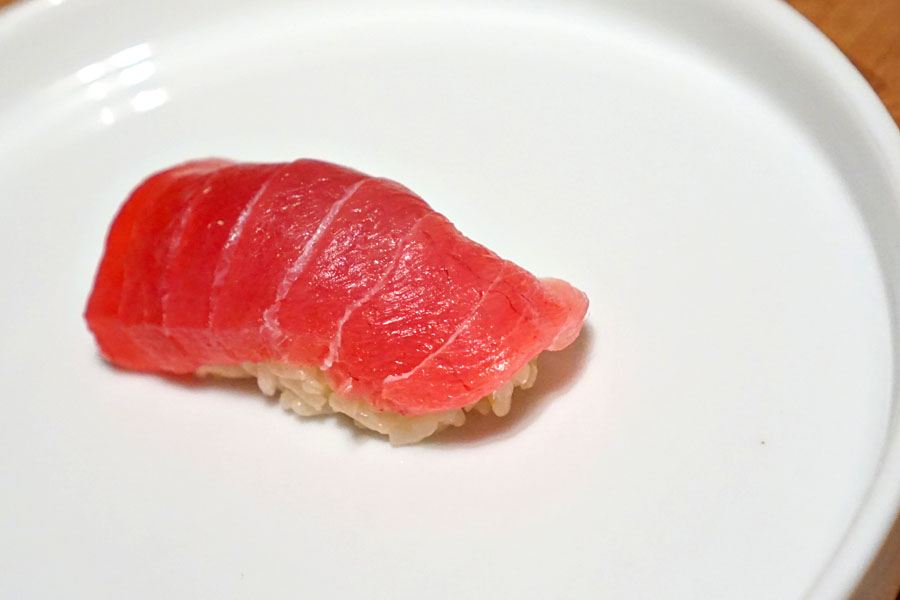 3: Chutoro
| Medium Fatty Tuna from Hawaii
Now this was a notable step up in terms of lusciousness. It was a superbly balanced bite overall, and I really enjoyed the finishing touch of wasabi-fueled heat.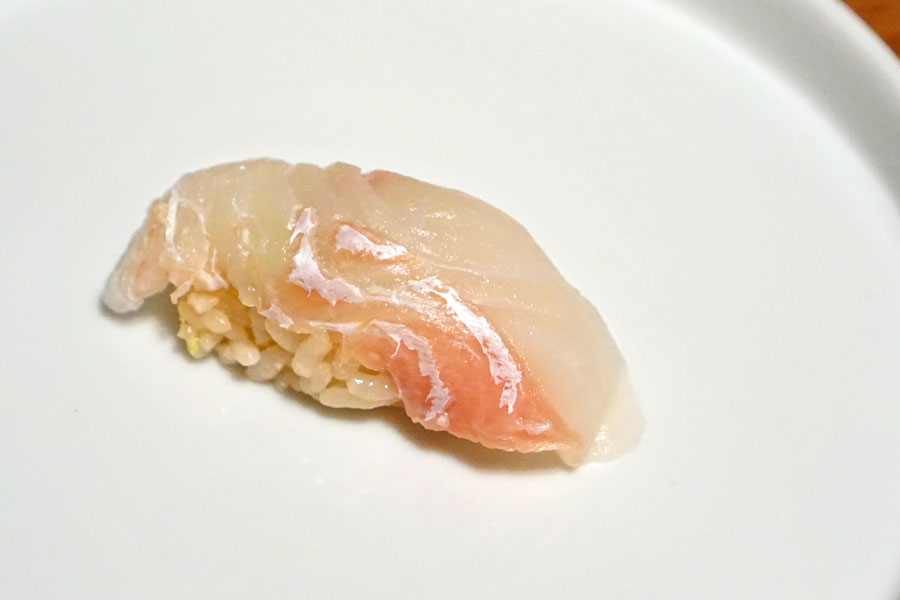 4: Hirame
| Halibut from Japan
This quintessential example of
shiromi
was a winner. I was a fan of its slight, almost
engawa
-like chew, while its subdued flavors really took well to the soy and undercurrent of wasabi burn.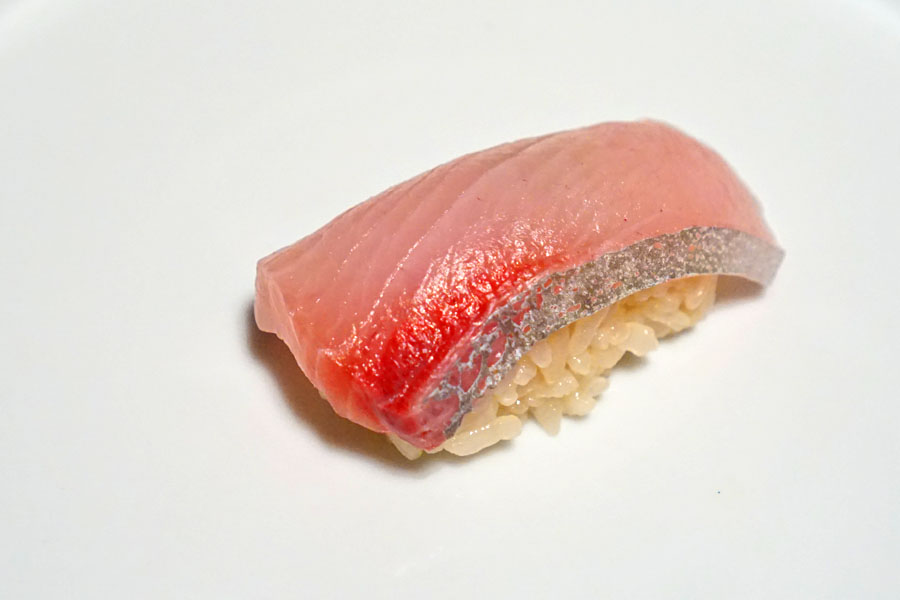 5: Kanpachi
| Wild Amberjack from Japan
Amberjack showed off a satisfying, substantial texture that was a bit "crunchy." Its taste, meanwhile, was deeply savory, making for a powerful yet elegant bite.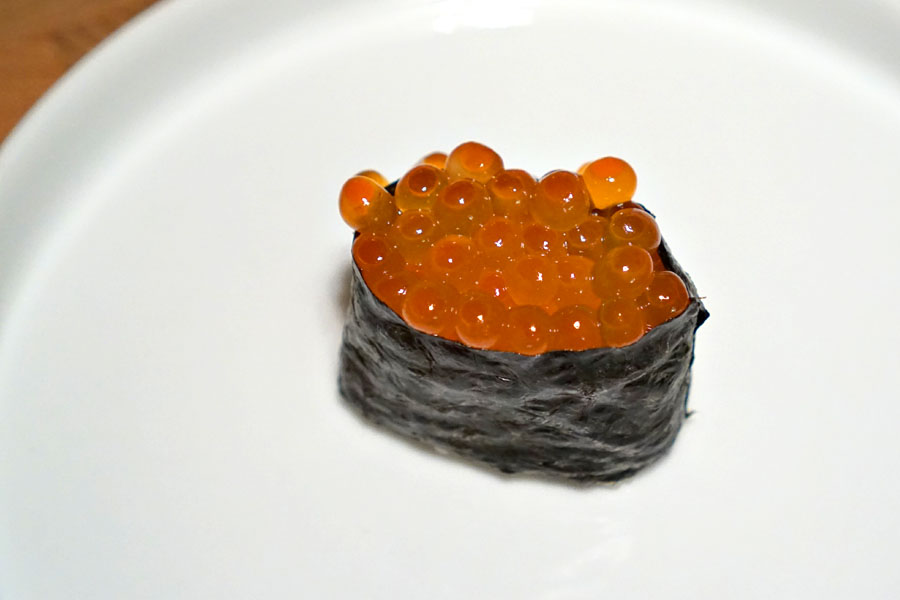 6: Ikura
| Salmon Roe from Alaska
Salmon eggs displayed a piercing, lingering salinity that I liked, and overall the flavors were deeper than I'm accustomed to tasting from the roe, perhaps due to a longer than usual marination time. Unfortunately, the nori here wasn't as crisp as I'd prefer, I'm guessing due to the to-go nature of this dinner.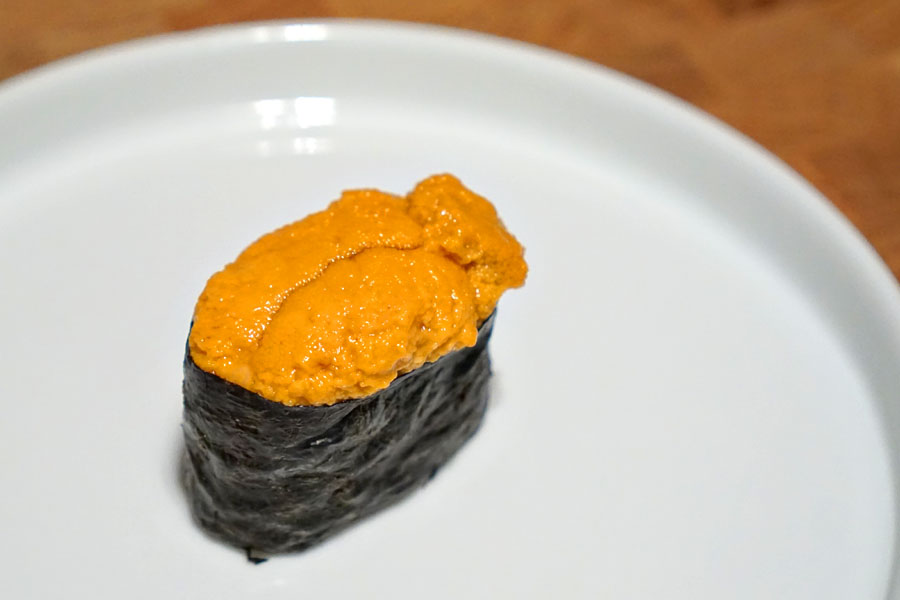 7: Uni
| Sea Urchin from Santa Barbara
The sea urchin succumbed to the same seaweed issue mentioned above, though its taste was spot on. The roe conveyed all the creamy, sweet flavors you expect from Santa Barbara, with just the right amount of ocean on the back end.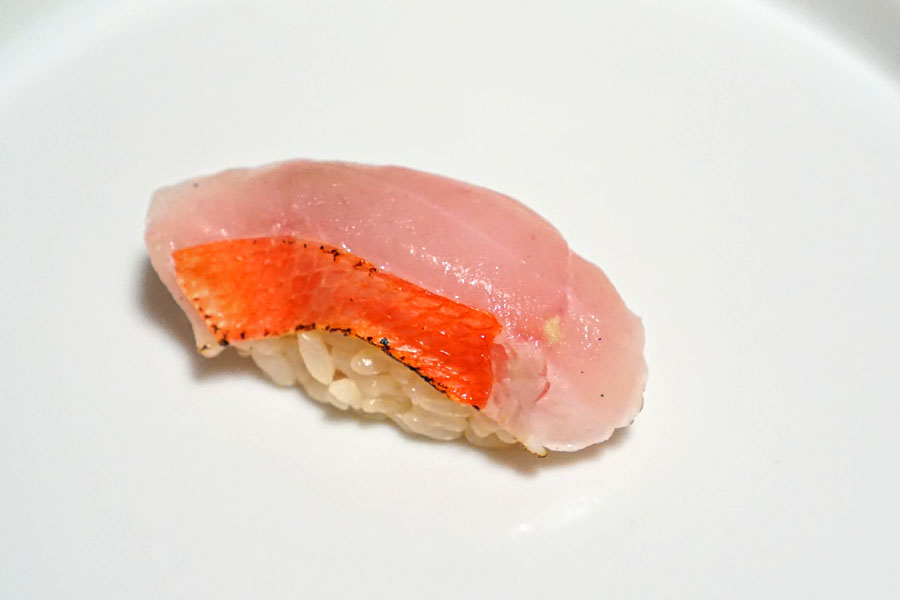 8: Kinmedai
| Golden Eye Snapper from Japan
Splendid alfonsino is easily one of my favorite
neta
, and this bite reminded me why. I loved its light touch of sear and smoke, which matched up perfectly with the fish's clean, softly savory nature. Nice punch of wasabi on the close, too.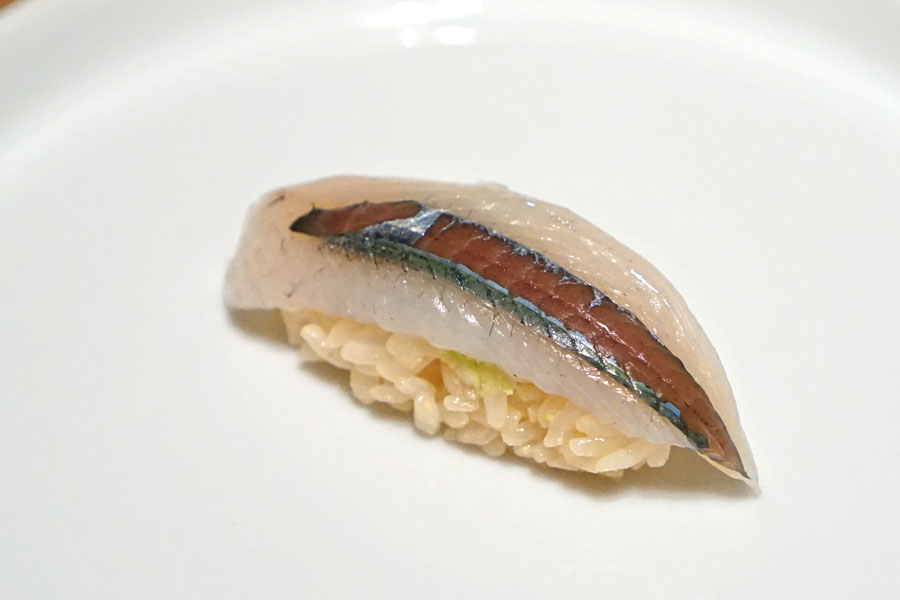 9: Sayori
| Needle Fish from Japan
The halfbeak had an almost spongy texture that I quite appreciated, while flavors were very delicate for a
hikarimono
. The wasabi certainly made itself known, but even more gratifying was the robust taste of the rice here.
10: Sawara
| Spanish Mackerel
This was a full-flavored presentation of mackerel, one with a forceful, long-lasting, but never domineering brine, tempered by a pervasive layer of sweetness.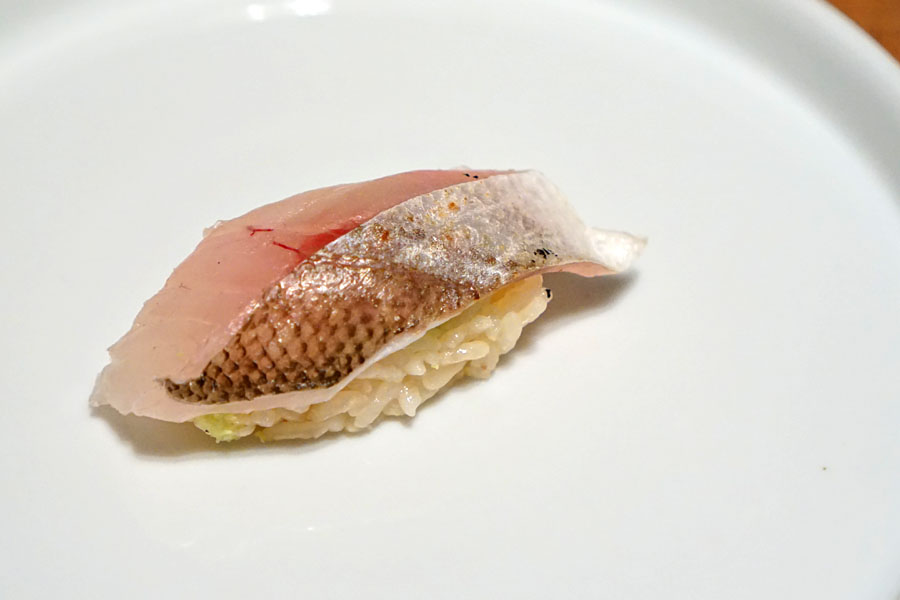 11: Kamasu
| Barracuda
The final
nigiri
was also one of my favorites. I really enjoyed the fish's slick, supple texture and elegant, almost beguiling taste, punctuated by hits of wasabi, which all made for a bite that was very easy to enjoy. Barracuda isn't a traditional
edomae
sushi topping from what I understand, but I'd like to see it utilized more often.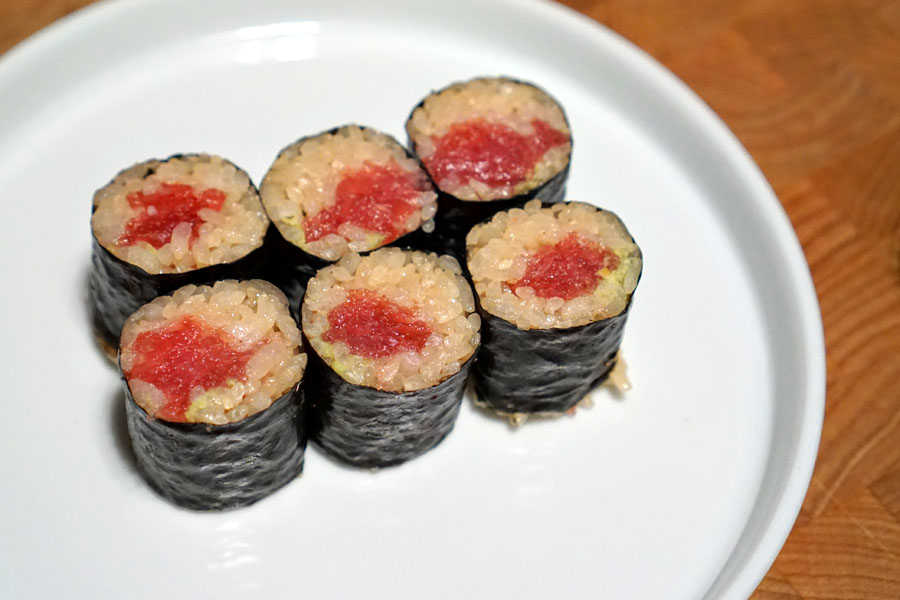 12: Tuna Roll
I then moved on to what must be the most assertively flavored
tekkamaki
I've ever had. Given the uncommonly savory nature of the rice, I didn't even need soy sauce.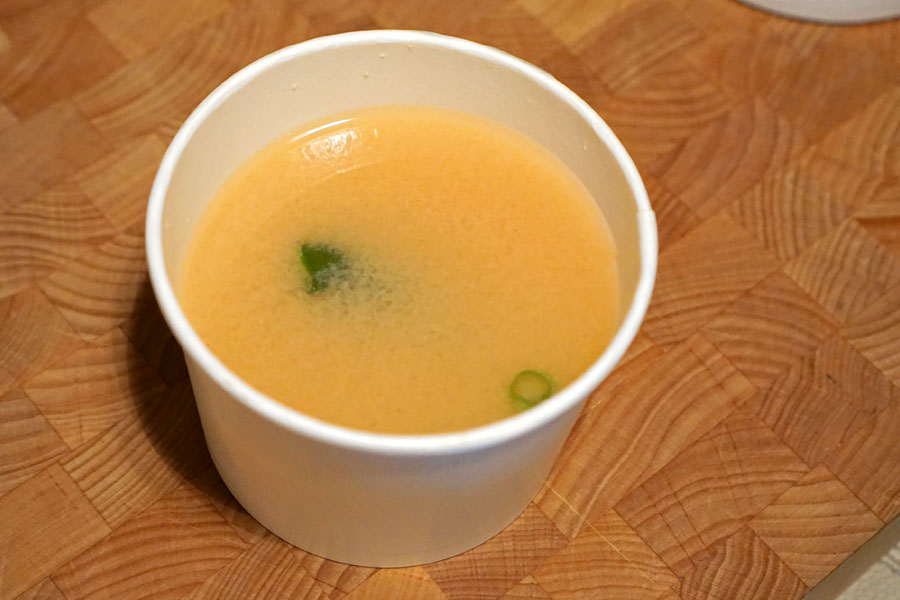 13: Miso Soup
I wrapped things up with a thicker-than-usual preparation of miso soup, which was just what I wanted to end with given this evening's cold, rainy weather.
My dinner was about as good as it gets for takeout sushi, which I guess shouldn't be too surprising given the Chef's history. This is apparently a sentiment shared by many, since the restaurant has been selling out within minutes of the menu going live each morning at 9:00am. As tasty as the meal was though, I know it can't compare to a proper experience at the sushi bar, so you can bet that I'll be back once we can move past the current health crisis and Onodera can finally implement the omakase dinners he was initially planning for.