Eszett (Los Angeles, CA)
Eszett Restaurant
3510 Sunset Blvd, Los Angeles, CA 90026
323.522.6323
www.eszettla.com
Thu 02/04/2021, 08:00p-09:10p

As we all know, the ban on outdoor dining was lifted recently due to improving coronavirus prospects, but not all restaurants have been so quick to get back to on-site food service. One example is Silver Lake's Eszett (named after the German character "ß"), a relaxed Cal-Continental, charcoal grill-centric, wine-focused restaurant that opened back in December 2019, taking over the old
Trois Familia
space. Chef Spencer Bezaire and Sabrina Bezaire, the husband-and-wife owners, are approaching things more slowly. When I visited, they were still offering takeout only, but will shift to allowing takeout to be eaten on their makeshift patio before deciding to transition back to full service.
About the Chef
: Spencer Ross Bezaire was born in December 1985 and comes from a Japanese, French, and German background. He grew up in Altadena, CA, and attended The Gooden School in Sierra Madre as well as St. Francis High School in La Cañada Flintridge. He later went to the Le Cordon Bleu College of Culinary Arts in Pasadena, graduating in 2008. Right after culinary school, Bezaire landed at Cafe Stella, where he eventually rose to the position of Executive Chef. He left the Silver Lake eatery in March 2011, then took on a catering role at Heirloom LA. From there, he teamed up with Dustin Lancaster (a coworker at Cafe Stella), Tyler Bell, and Matthew Kaner to start
L&E Oyster Bar
. The spot opened in January 2012 and quickly became a fixture in LA's seafood scene. The success of L&E allowed Lancaster, Bell, and Bezaire to take control of longstanding SiLa Mexican joint El Conquistador, which had closed in 2013. They renamed the place
El Condor
, and re-launched it at the start of April 2014.
Bezaire also worked on the menus at
The Hermosillo
and The Hi-Hat, both of which had Lancaster on as a partner. However, the Chef left Lancaster's side at the end of August 2017, when he and Sabrina decided to move to Seattle. That diversion didn't last long though, and by the latter half of 2018 he was back at the new outpost of
Highland Park Brewery
in Chinatown. Bezaire stayed there until the first part of 2019 before decamping to start work on Eszett, which ended up grand-opening on December 4th that year. I was actually planning on checking out the restaurant in early 2020, but the place shut down right at the start of the pandemic. After trying out a few different COVID-19 concepts (including launching
Sbez Hot Sauce
), the Bezaires re-opened for onsite dining in October last year, but as we all know, that didn't last too long.
Sabrina Reinbacher Bezaire, for her part, runs the FOH and beverage program at Eszett. An LA native, she studied business at Loyola Marymount University before pursuing a hospitality career. Notably, she was a manager at Forage in Silver Lake from the start of 2010 to September 2011. It was actually during this period where she and Spencer became an item, and later got engaged. When L&E opened, she was brought on board to manage the place, and in September that year, the two got married.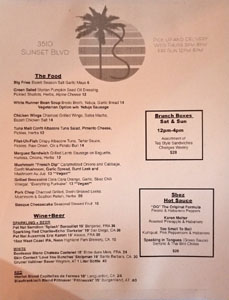 The Bezaires have modified their menu in order to make it more appropriate for takeaway, and its compact listing of food offerings is joined by a small array of interesting wines. Click for a larger version.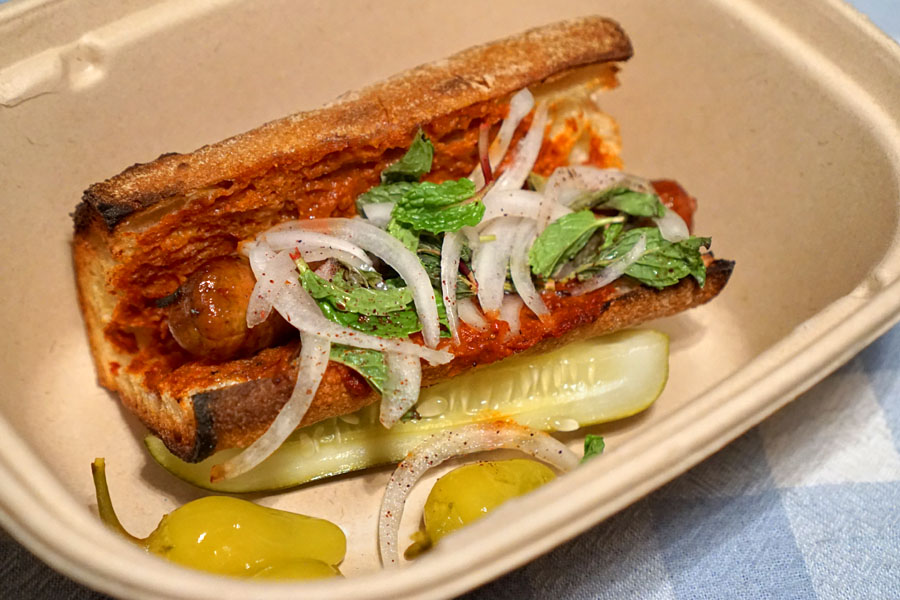 Merguez Sandwich [$12.00]
| Grilled 100% Lamb sausage, harissa, herbs + onions tossed in sumac vinaigrette on toasted baguette
I'm a sucker for sausage, and merguez has quickly become one of my favorite forms of tubed meat. I loved its spicy, sour nature here, and especially how it meshed with the zestiness of those onions and the herbaceous, minty notes in the sandwich. The crispy, smoky bread was also on point, and overall the flavors really did come together effortlessly. A strong start.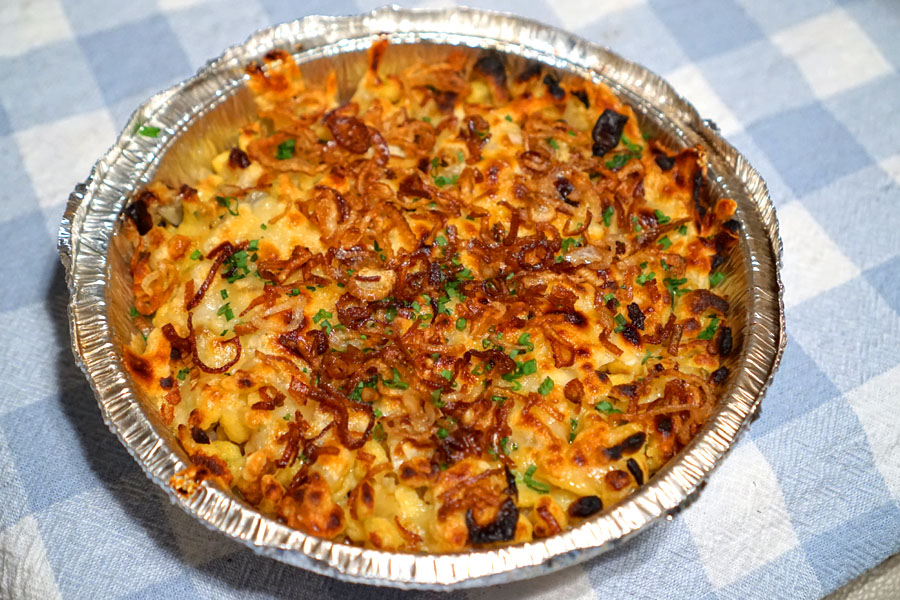 Käsespätzle [$14.00]
| Austrian Style Mac n' Cheese made with house made Spätzle on Austrian "pasta", melted Emmentaler and Gruyere Cheese, caramelized onions, chives, topped with crispy shallots
A childhood favorite of Sabrina's, this tasty marriage of pasta and cheese was another winner. The spätzle came out with just the right texture, and I was a fan of how forcefully the onions and shallots were conveyed, all while the duo of Emmentaler and Gruyère bound it all together. Lovely charring happening on top, too.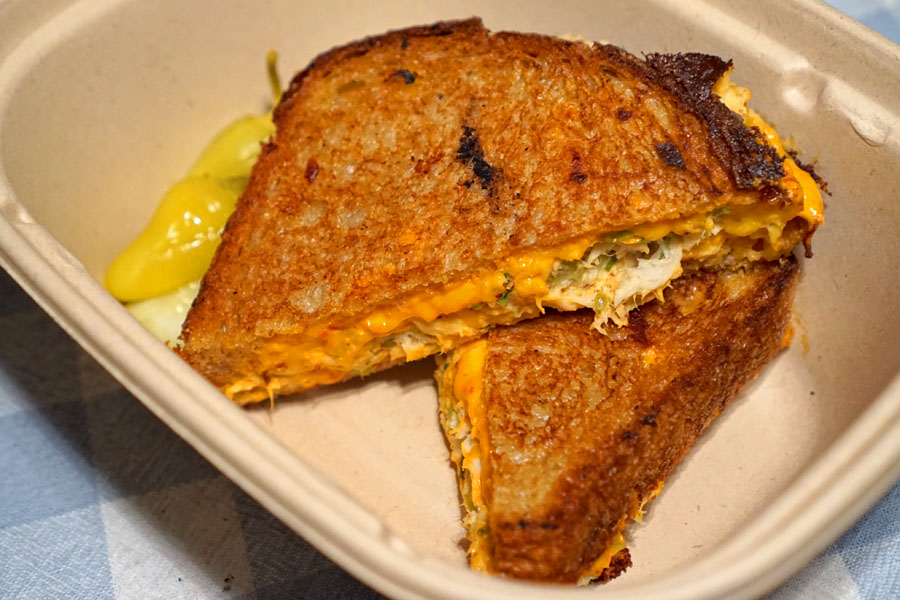 Tuna Melt [$12.00]
| Confit Albacore Tuna, Pimento Cheese, Mayo, Pickled Celery, Mustard on toasted Bub's Sourdough
Albacore confit showed off a nice brine and depth, and did a commendable job standing up to the rich, full-flavored, slightly spicy pimento cheese. My favorite part? The bright crunch of the celery, which really uplifted the sandwich.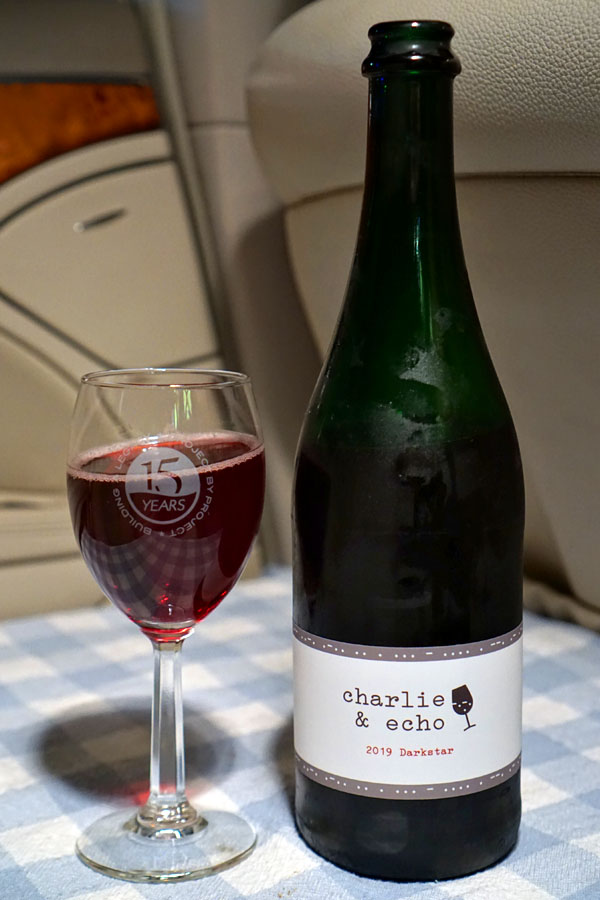 To drink, I opted for a bottle of the
2019 Charlie + Echo "Darkstar" [$36]
, a natural dry sparkling red comprised of 32% Petite Syrah, 32% Syrah, 25% Nebbiolo, and 11% Zinfandel. It smelled great, giving up aromas of perfume-y red fruits, tart berries, and an ale-like funk. In terms of the palate, the wine displayed a pleasing acidity and refreshing effervescence, with notes of dark fruit, violet, subdued earth, and a hint of sweet spice. Super fun and very enjoyable.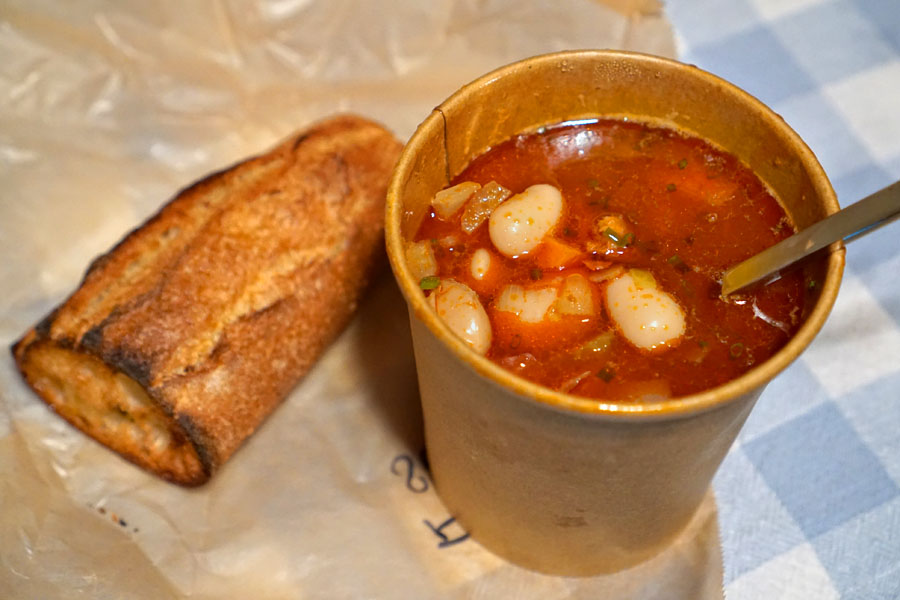 Runner Bean Soup [$14.00]
| Runner Beans, Brodo Broth, 'Nduja Sausage, Pink Celery served with Garlic Bread
I was impressed with this hot, homey soup as well. The key here was how the spicy, piquant nature of the 'nduja linked up with the comparative mildness of those well-textured white beans. It was an utterly effective pairing, and I also appreciated the smoky, crunchy bread on the side, which was great for sopping up any of the fiery liquid remaining.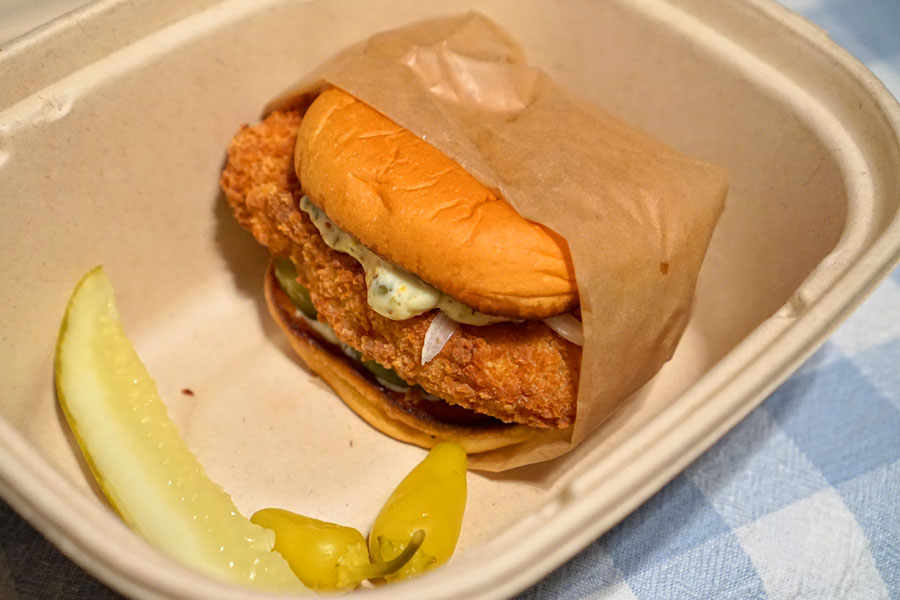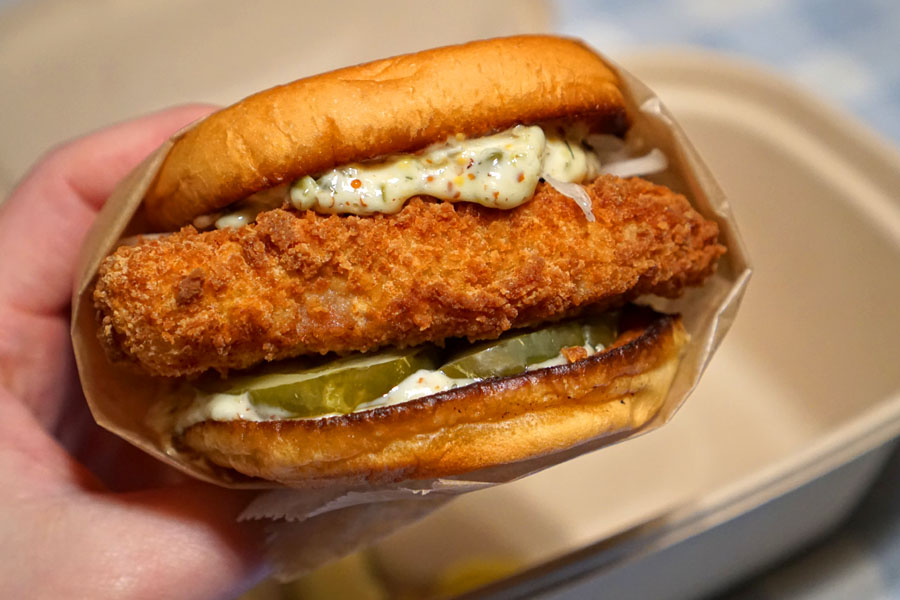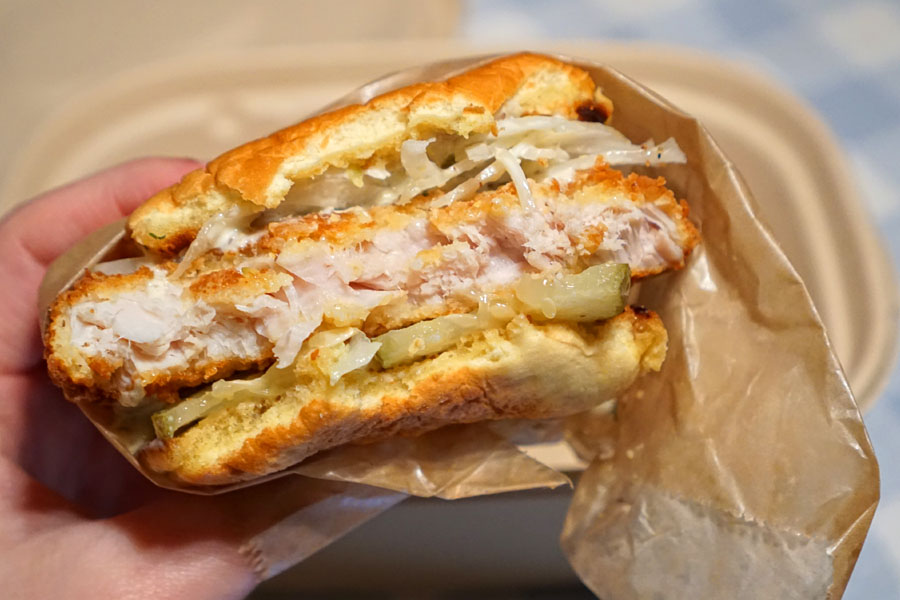 Filet-uh-Fish Sandwich [$14.00]
| Crispy lightly fried Albacore Filet, tartar sauce, pickles, raw onions on Martin's Potato Bun
McDonald's' iconic Filet-O-Fish is definitely a favorite of mine when it comes to fast food, so of course I had to try Bezaire's take on it. The fillet here was much more substantial, much heartier than what McD's uses, while the crispy breading was almost fish stick-esque. The tuna was also much more robust in terms of taste, and featured a salinity and savor that paired beautifully with the pickles and especially the onions. The tartar sauce, meanwhile, really did recall the version utilized by McDonald's, and served as a great finishing touch.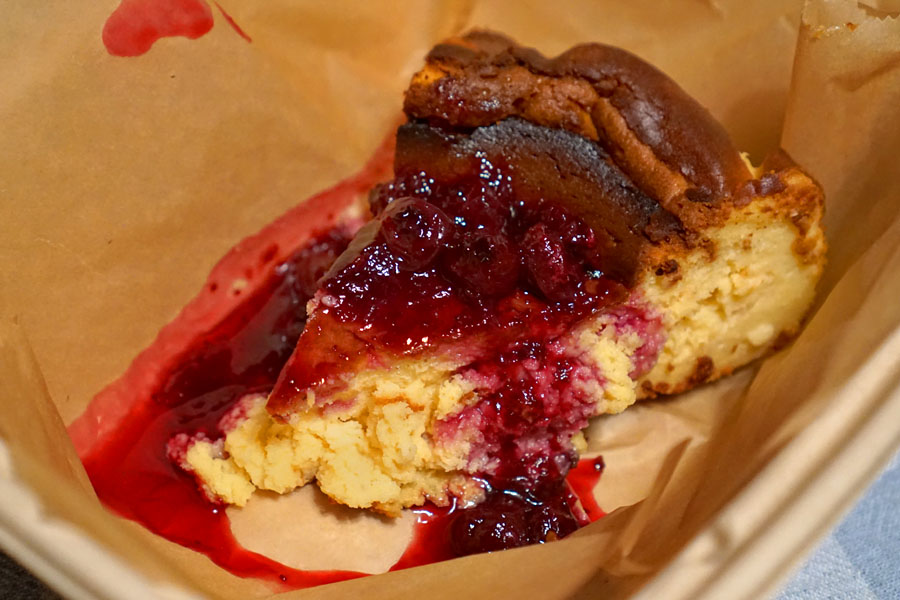 Basque Cheesecake [$10.00]
| Baked in our Charcoal Oven, fluffy, creamy Cheesecake served with Seasonal Fruit
As I've mentioned before, it appears that Basque cheesecake is all the rage these days, so I felt compelled to give Eszett's a try. The cheese portion of the cake was relatively light and airy, with a somewhat subdued sugariness that certainly made sense with the sweet-tart fruit. At the same time, there was this delicate smokiness that enveloped the dish, and curiously, I tasted some almost doughnut-y flavors (which I considered a positive).
I'd been wanting to check out Eszett for over a year now, and I'm happy that I finally made it out, though I wish it were under better circumstances. Bezaire's food tonight tended toward the approachable and the comforting, but there was also a palpable sense of confidence and conviction in the cooking. I'm curious to see what else the Chef can do when he's not bound by the shackles of the coronavirus, so I definitely need to return here for a proper meal once this current crisis is over.