Ceviche 19 (Anaheim, CA)
Ceviche 19 Peruvian Kitchen
1721 W Katella Ave, Anaheim, CA 92804
714.215.4030
ceviche19restaurant.business.site
Sun 01/10/2021, 07:35p-10:40p

I was recently in search of a place to eat in the north Orange County area, and after considering a few options, including Uncle Fung Borneo Eatery and good ol' Zankou, I settled on Ceviche 19. The new-ish Peruvian spot opened back in May 2020, and comes to us from Jose Lino Salinas Alvarez (who handles the cooking I believe) and Maria del Carmen Nuñez Linares.

Naturally, the place was closed for on-site dining due to coronavirus regulations. Do note that the decor pretty much hasn't changed from the space's days as Poseidon Greek Cuisine, hence the blue and white theme. Before that, this address was home to Milan's Grill, Demiceli's Ristorante Italiano, and Addis Restaurant.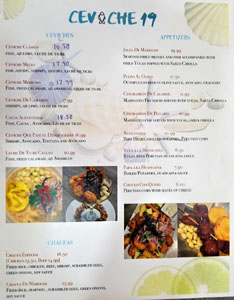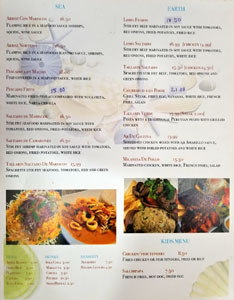 The menu doesn't veer too far from the norm, listing the usual Peruvian favorites. Click for larger versions.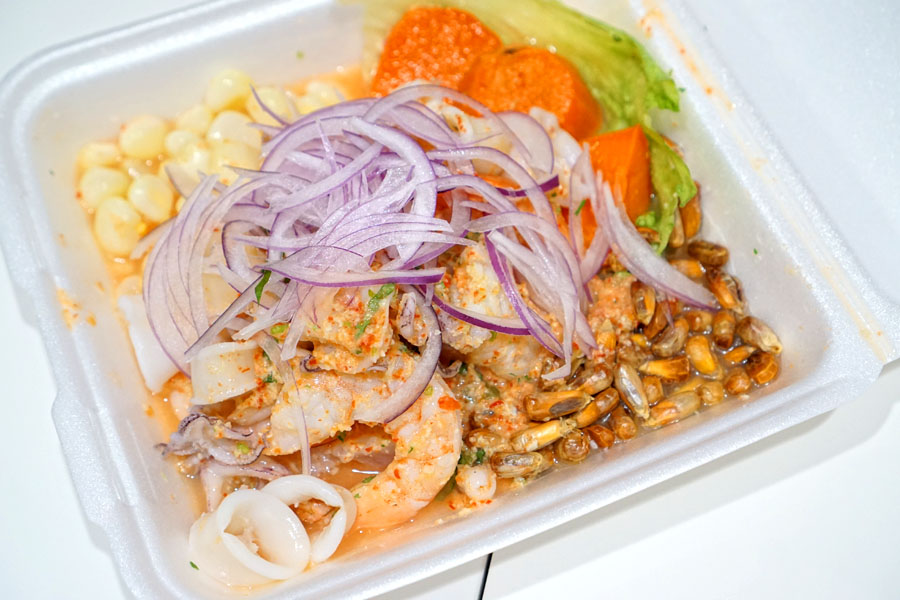 Ceviche Mixto [$17.50]
| Fish, squids, shrimps, aji limo, leche de tigre
The
mixto
is my usual ceviche order, and this was a formidable version of the classic preparation. I enjoyed the textural variation between the silky cuts of fish, chewy squid, and meaty shrimp, while a persistent sourness and spice from the marinade both elevated and integrated the dish. Also key was the salty crunch of the
cancha
, while zesty slivers of red onion were even more crucial.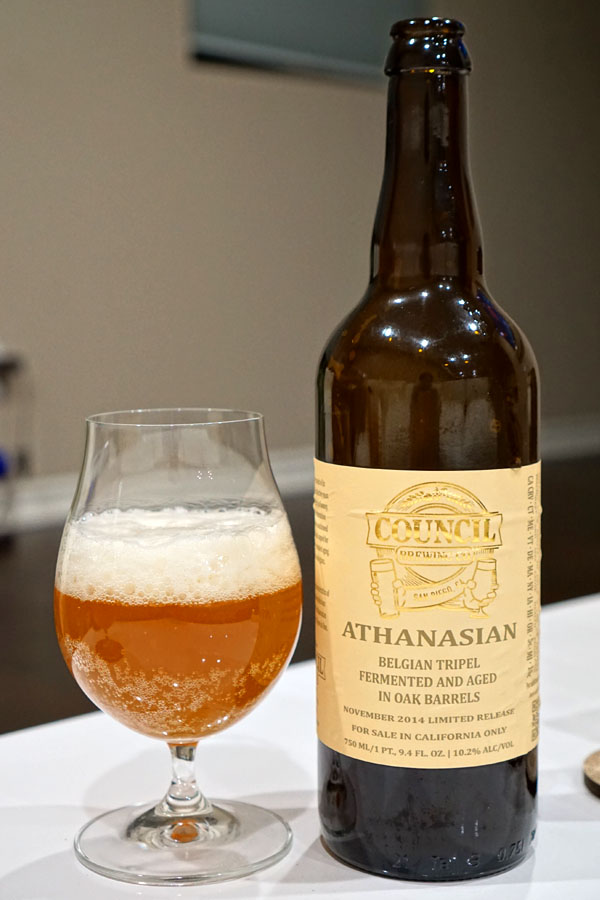 The evening's first beer was the
2014 Council Athanasian
, a Belgian-style tripel fermented with
Saccharomyces
, aged four months in oak bourbon barrels, bottle-conditioned with
Brettanomyces
, and finally blended with fresh ale. Enchanting nose filled with juicy apple, funk, and tartness, while there was also a slight metallic twang in the background. The palate featured a sweet, malty, slightly honeyed base, commingled with bitter, vinous, yeasty, and pome fruit-like notes. This one definitely aged gracefully over the past seven years, and it's a shame that the brewery that made it no longer exists.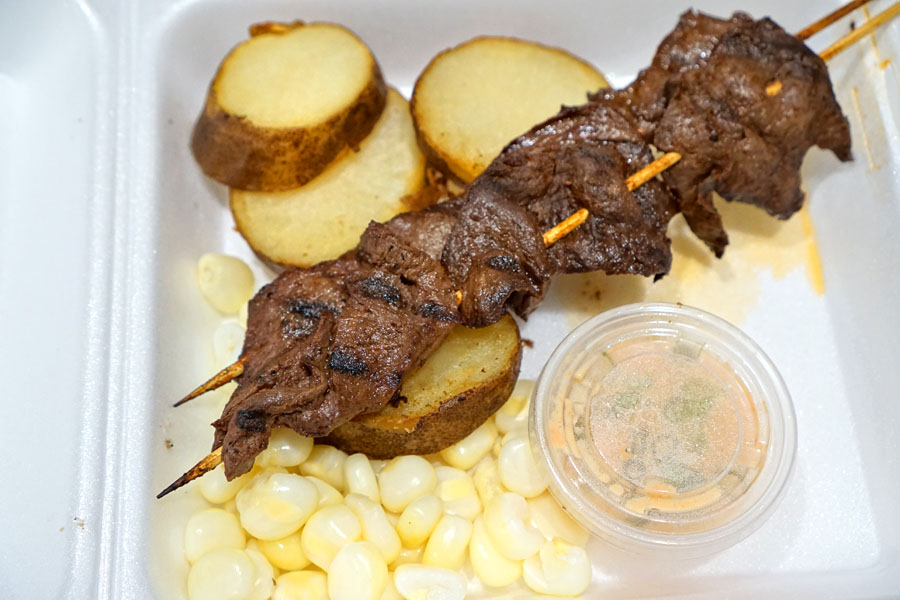 Anticuchos [$10.99]
| Beef heart, grilled potatoes, Peruvian corn
Beef heart came out chewy to the bite, while flavors were earthy and intense, with a decent smoke character to boot. The meat linked up pretty well with the kick of the paired sauce, while the potatoes and
choclo
worked for contrast.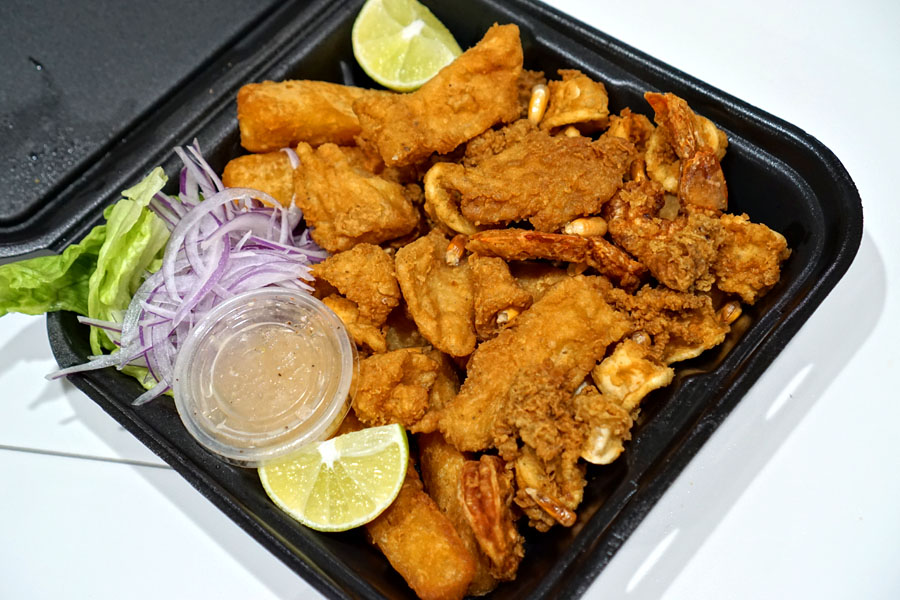 Jalea de Mariscos [$19.99]
| Seafood fried medley and fish accompanied with fried yucas topped with sarza criolla
Next came what was essentially a Peruvian version of
fritto misto
. Shrimp and squid were aggressively fried, and had a super crunchy, savory batter, while the fish was softer, more elegant. Perhaps even better, though, were the thick-cut, creamy-yet-crisp cassava fries, which, like everything here, married swimmingly with the sheer zippiness of that Creole salsa.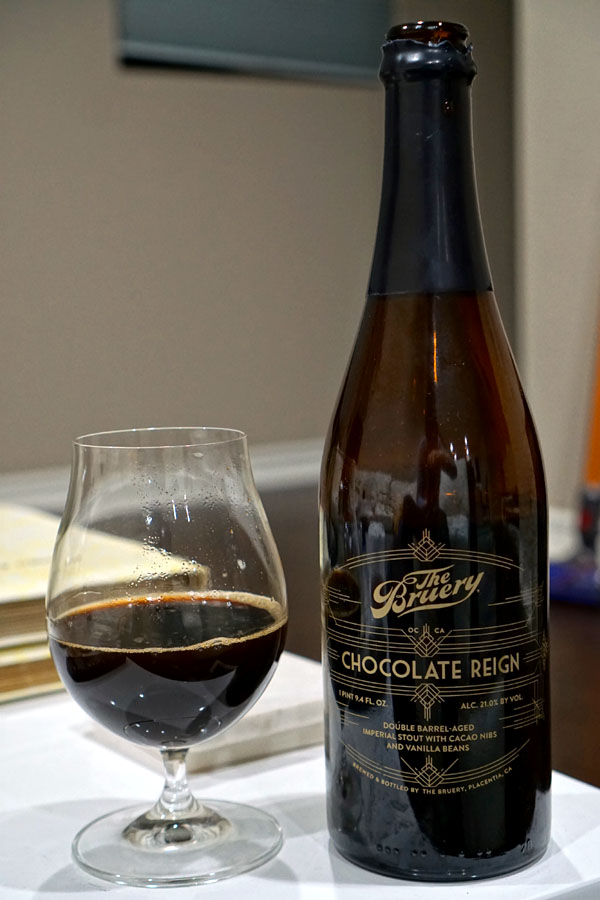 The
2019 The Bruery Chocolate Reign
was a double barrel-aged imperial stout with Columbian Arauca cacao nibs and Madagascar vanilla beans. The beer had a rich, almost brownie-like nose filled with chocolate and wisps of vanilla. In terms of taste, I got a chocolate cake batter base laced with vanilla, oak, and alcoholic heat.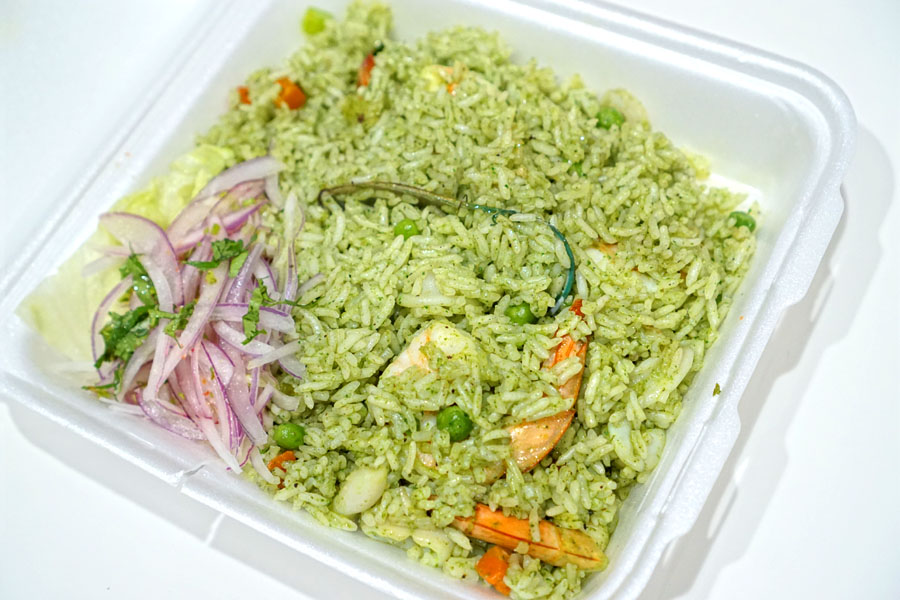 Arroz Norteno [$16.50]
| Flaming rice in a seafood cilantro sauce, shrimps, squids, wine sauce
Our first of two rice dishes was a winner. I loved the piquant, sour notes from the cilantro-tinted rice, which was quite tasty just by itself. However, the seafood was also on point, especially the squid, and of course I enjoyed the requisite cuts of red onion, too.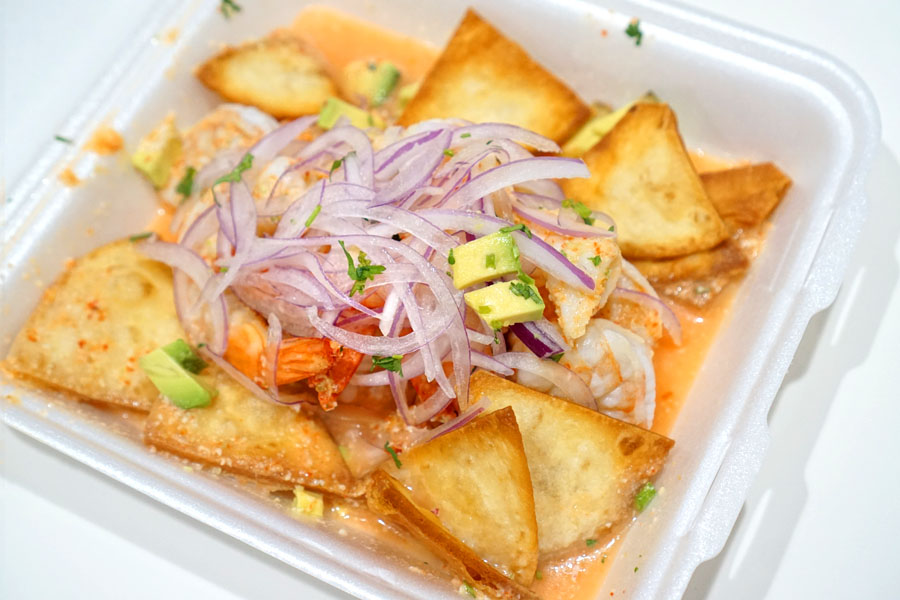 Ceviche Que Pase el Desgraciado [$16.99]
| Shrimp, avocado, tostada and avocado
This curiously-named ceviche ("let the wretched pass") was quite a bit different than the first one. Centered on satisfyingly-textured pieces of shrimp, the dish had a more noticeable heat to it, which was somewhat tempered by the creaminess of the avocado. Also important were those chips, which actually weren't as crunchy as they looked (not necessarily a bad thing).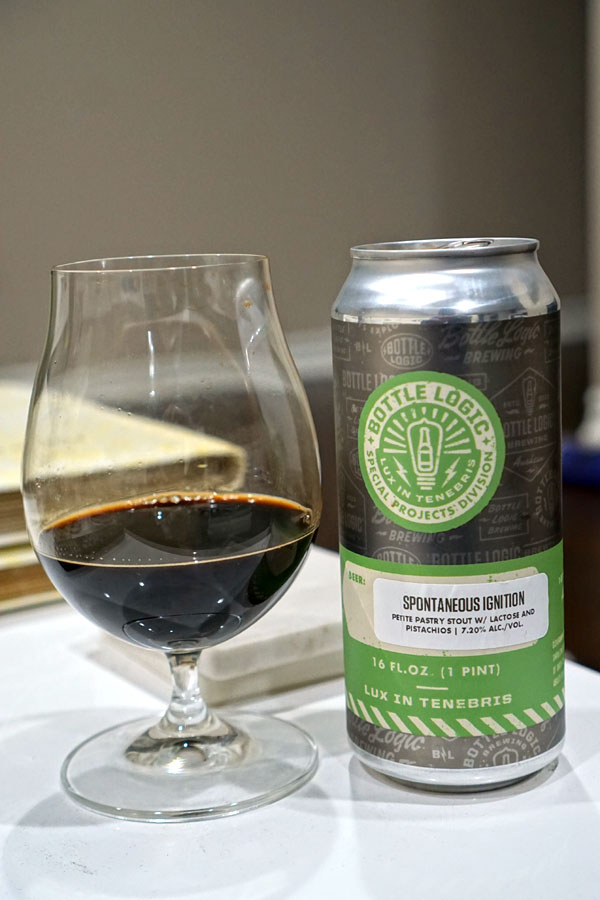 Next to drink was the
2020 Bottle Logic Spontaneous Ignition
, a milk stout brewed with lactose and conditioned with pistachio. The beer had an appealing aroma that displayed an almost amaretto-esque sweetness. The palate, meanwhile, was super smooth, while flavors were decidedly sugary and nutty and even a bit berry-like; it was sort of like Thrifty's pistachio ice cream.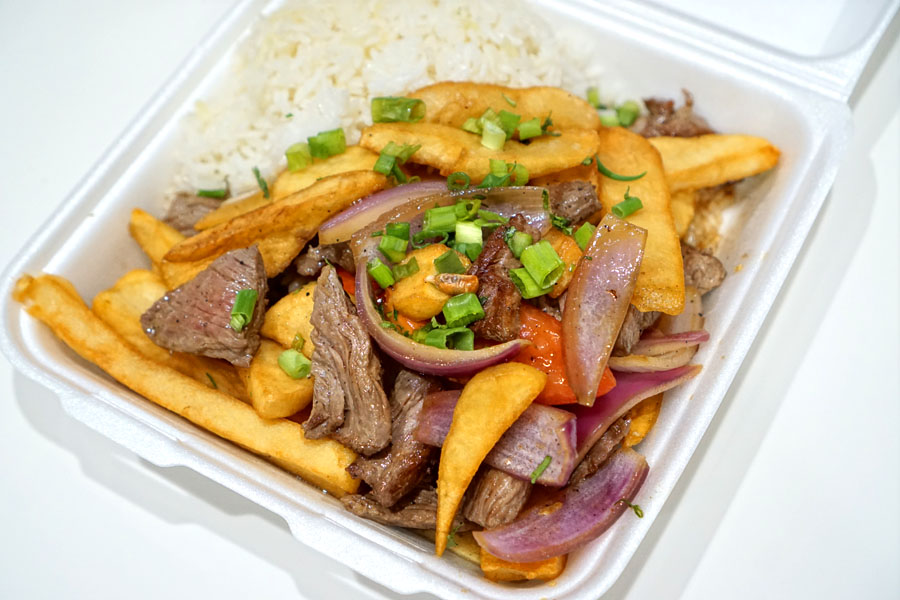 Lomo Saltado [$16.99]
| Stir fry beef marinated in soy sauce with tomatoes, red onions, fried potatoes, white rice
I couldn't
not
order the lomo saltado, and fortunately, the dish did not disappoint. The hero here was the beef itself, which ate tender and full-flavored, with an immensely savory soy sauce element that matched perfectly with the well-textured rice. Onions and tomatoes worked for balance of course, and it was hard not to like the potatoes, either.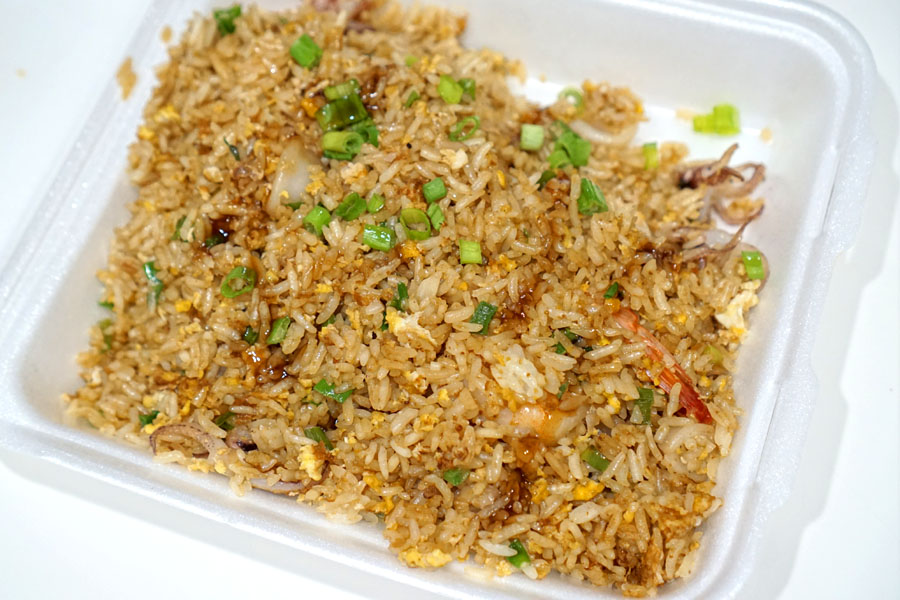 Chaufa de Mariscos [$15.99]
| Fried rice, seafood, scrambled eggs, green onions, soy sauce
The
arroz chaufa
was a favorite as well. The rice showed off a spot on texture, and was loaded with plenty of salty, savory, satisfying flavors that nonetheless never overwhelmed the seafood. The fluffy scrambled eggs were appreciated as well, but not as much as the brightness of those chopped scallions. You can't go wrong with this.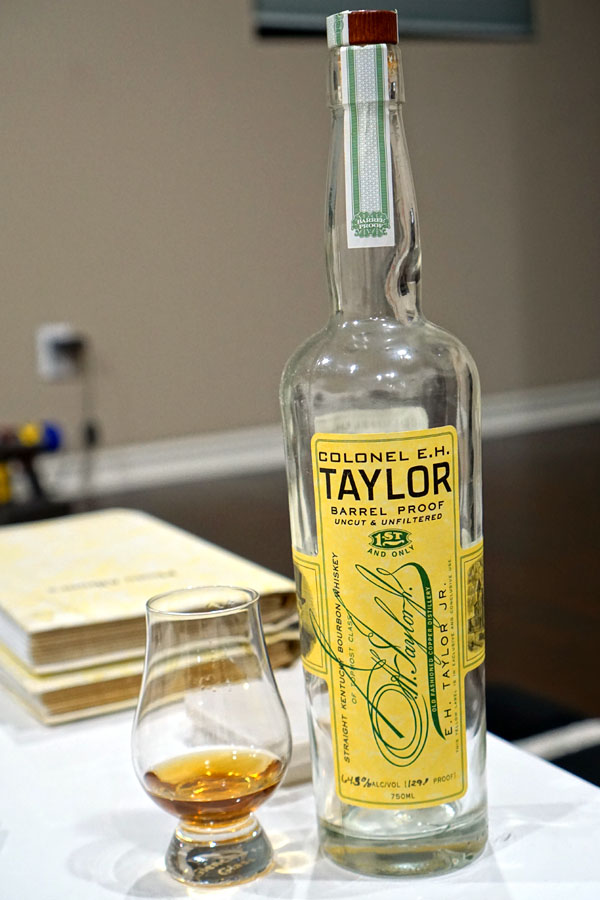 Serving as a bit of a digestif was some bourbon, the
2014 Colonel E.H. Taylor, Jr. Barrel Proof
. Aggressive nose brimming with juicy apple, celery, vanilla, and a bit of funk. Taste-wise, the whiskey was super lush, and came loaded with rich pome fruit, toffee, baking spice, and brown butter. Really nice.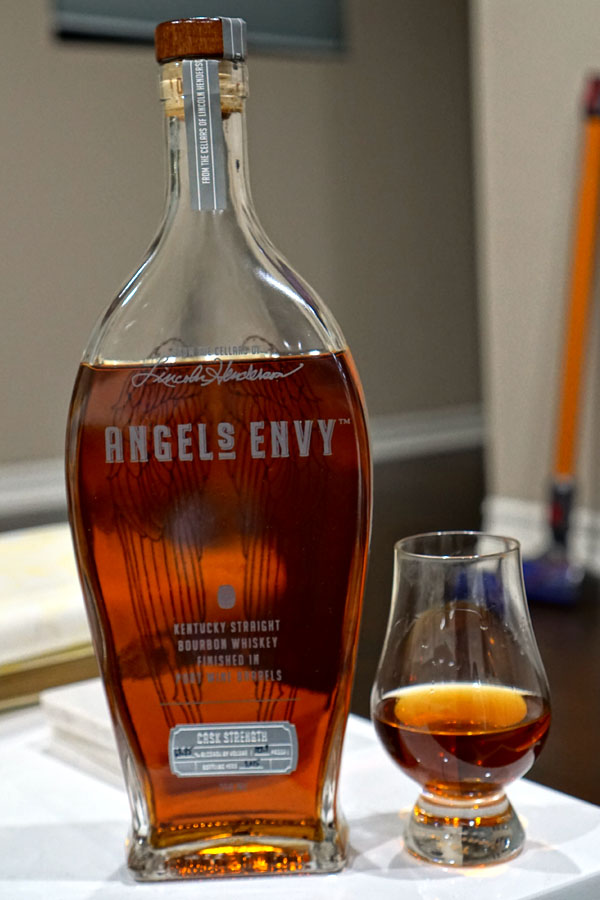 Last up was the
2015 Angel's Envy Cask Strength
, another bourbon, this one finished in port barrels. I got a super fragrant nose loaded with brown sugar and supporting notes of dark fruit and nuts. The whiskey was a treat to drink as well, and had a bevy of spicy, fruity flavors backed by toffee and a lingering hint of herb.
This was sort of a random restaurant visit for me, but I was pretty happy with it. The food doesn't stray too far from the classics, but there's care and intention to the cooking, and I could easily see this place as a go-to neighborhood Peruvian spot. It's worth checking out if you're in the area.