Joy (Los Angeles, CA)
Joy on York
5100 York Blvd, Los Angeles, CA 90042
323.999.7642
www.joyonyork.com
Mon 01/18/2021, 07:45p-09:05p

I recently knocked another place off my to-eat list with a visit to Joy in Highland Park. The work of Chef/Owner Vivian Ku (
Pine & Crane
), the casual, counter service spot focuses on Taiwanese street food-type fare, along with elements of northern Chinese cuisine (Ku's maternal grandparents are from the region). Joy opened on March 8th, 2018, and was warmly received right from the start. Both
Timeout
and the
LA Times
bestowed positive reviews, while
Esquire
evened named Joy one of 2019's "
Best New Restaurants in America
" (along with the likes of
Alta
,
Bon Temps
, Dear John's, and
Sushi Note
). The restaurant closed shortly after the commencement of the coronavirus lockdown last March, but returned for takeout and delivery on May 20th.

Not surprisingly, customers weren't allowed inside, so here's the view from the front window. Do note, though, that Joy actually combined two separate storefronts into one. The left space previously held the longstanding Elsa's Bakery, while the right was the unfortunately-named French eatery Ba (and a mini mart before that). Both businesses closed in 2016, but Elsa's' owner still controls the building (and is thus Ku's landlord).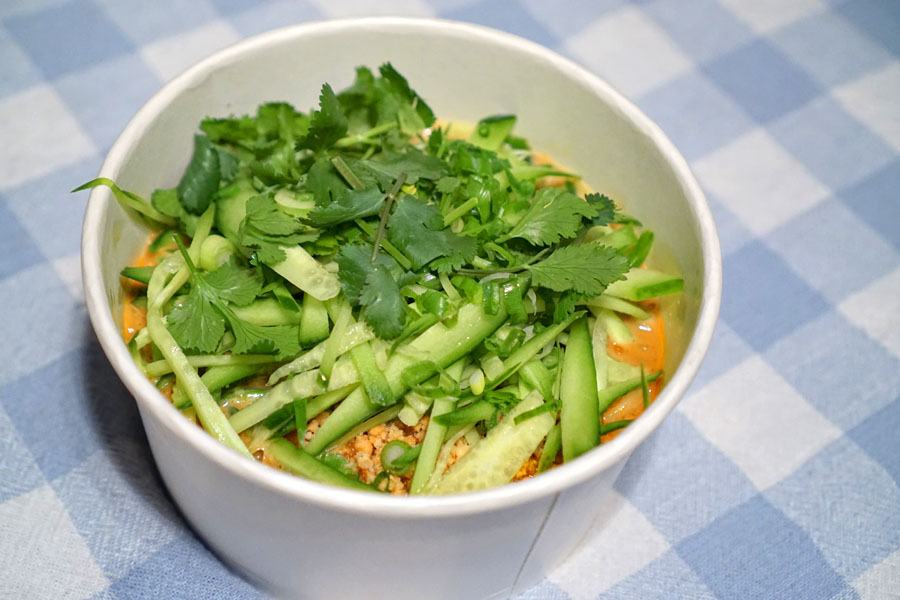 Dan Dan Noodles [$8.50]
| Sesame Peanut Sauce, Cucumbers, Scallions, Cilantro
Let's start with the always popular
dandanmian
. A decidedly non-Sichuan interpretation of the dish, the noodles here were enveloped in a sweet, nutty sauce that was forceful without being domineering. It also had an undercurrent of savor and spice that helped balance out that sweetness, while the crunchy cuts of cucumber brightened the dish perfectly.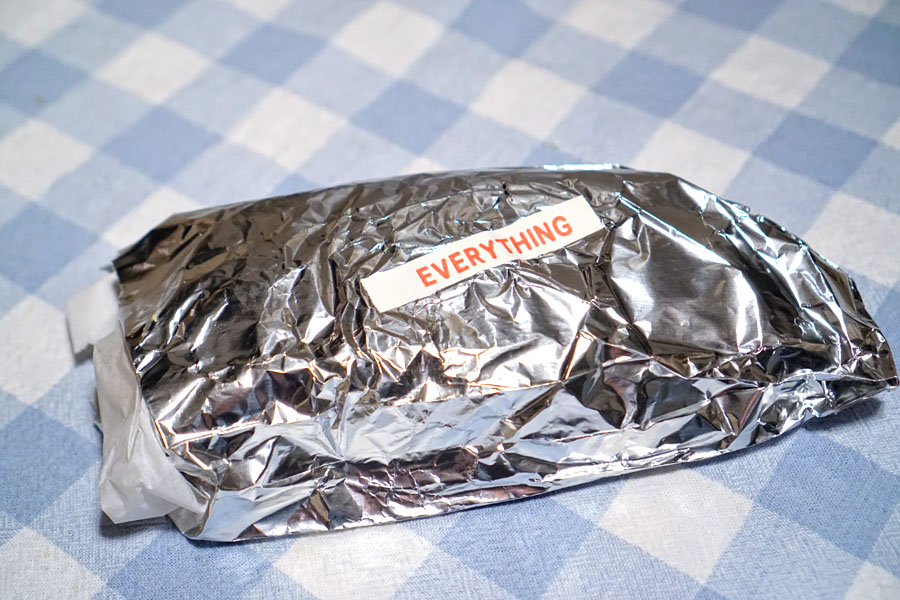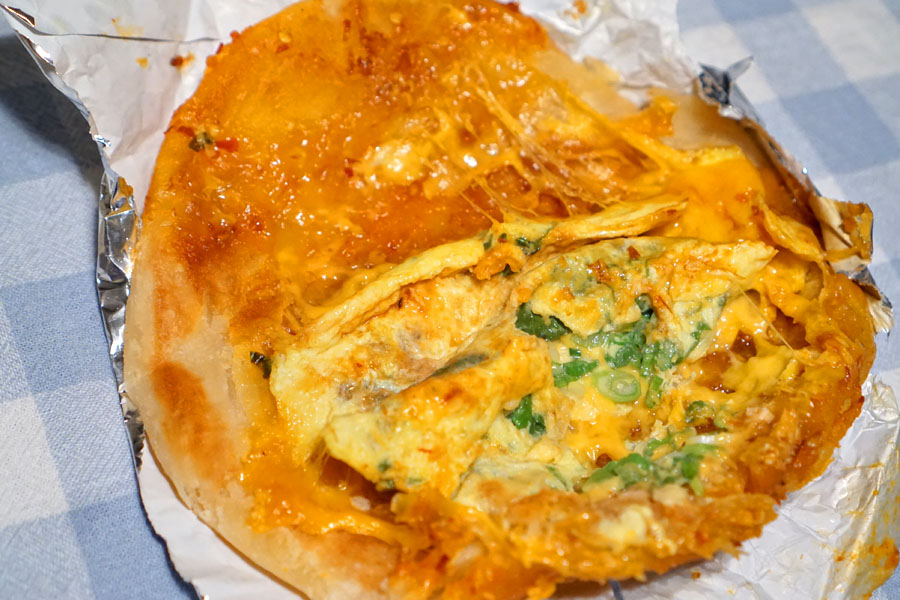 Thousand Layer Pancake + Egg and Cheese [$5.00 + $3.00]
| Add Basil, Add Chili Sauce
Ku's take on
cong zhua bing
has been the dish getting the most press, and I can see why. Despite not being anywhere close to a thousand layers, the pancake was impressive nonetheless, arriving thick, flaky, and a surprisingly good match for the cheese. Eggs were properly fluffy, but the crux of the dish for me was the near-intoxicating fragrance of the basil, which married seamlessly with a light touch of heat from the homemade chili sauce.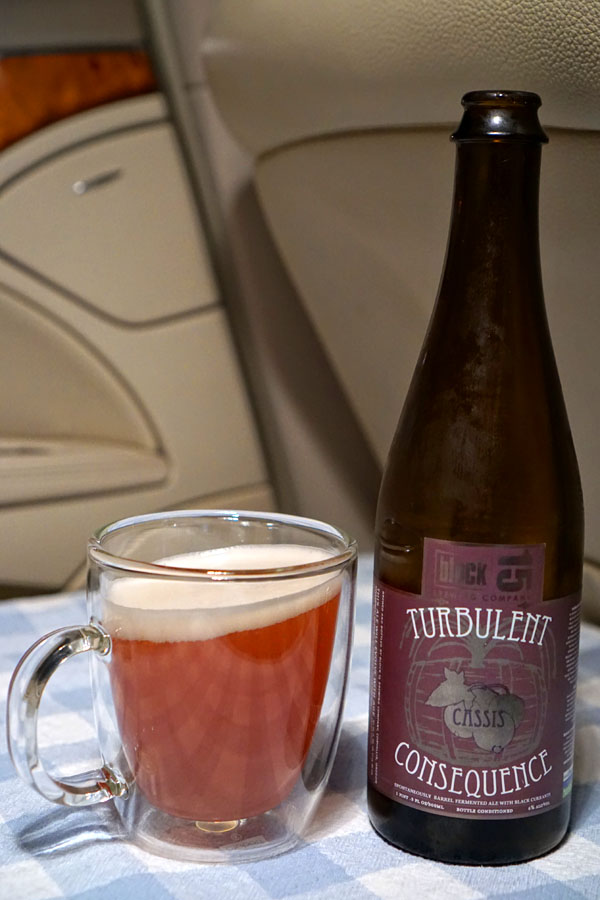 Our first beer tonight was the
2015 Block 15 Turbulent Consequence: Cassis
, a lambic-inspired, spontaneously-fermented, oak-aged sour ale with black currants, bottled with honey. Nose here was tart and juicy, with dark fruit all over the place, backed by a distinctly funky element. Tasting it, I got boatloads of tangy, jammy, vinous fruit, along with an overarching earthiness that fit the bill flawlessly. This was delish, and had aged beautifully.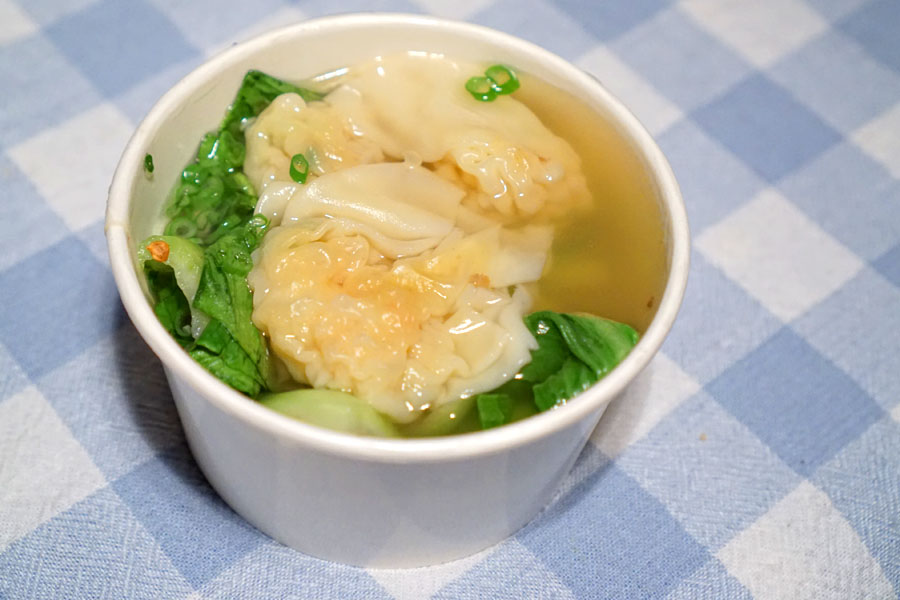 Shrimp Wonton Soup [$5.00]
| A 12-hour Chicken & Pork Broth, Shrimp Wontons, Bok Choy, garnished with Scallions
Wontons can often times be a ho-hum sort of dish, but these were anything but. In fact, they were easily some of the best I've had. I loved the coarsely-minced, firm-ish texture on the shrimp, while their signature brine was joined by a marked ginger-y quality. Enveloped in thin, slippy skins, the shrimp worked hand-in-hand with the vegetal nature of the bok choy, all while an aromatic, homey, heady broth helped bring it all together.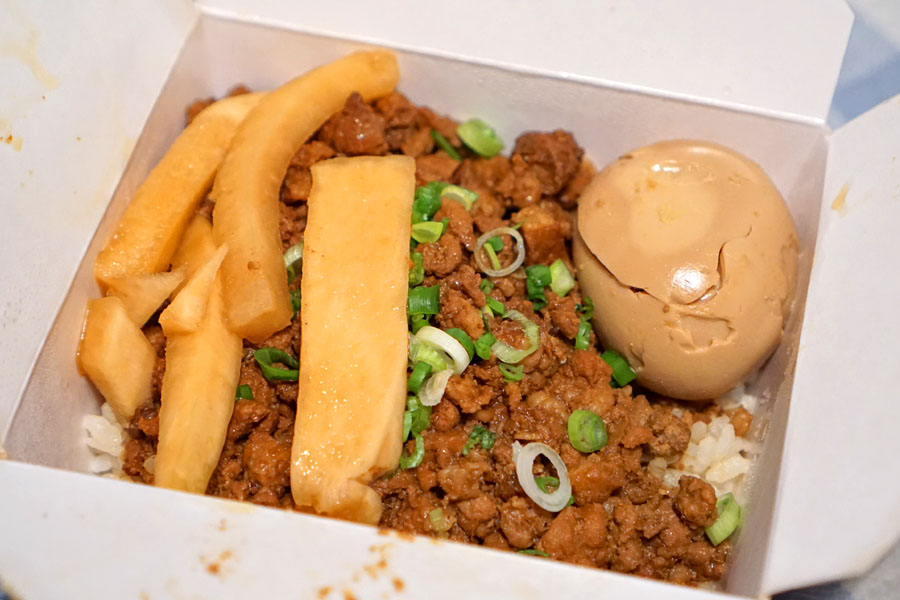 Minced Pork on Rice [$8.00]
| Kurobuta Pork, Soy Braised Egg, House Pickle
The
luroufan
was a must-try for me as well. I found the meat well-spiced, with a palpable soy savor combined with a subdued sweetness. It worked hand in glove with the white rice, while the soy egg imparted additional oomph and umami. Nice crunch and acidity from the thick-cut radish pickles, too.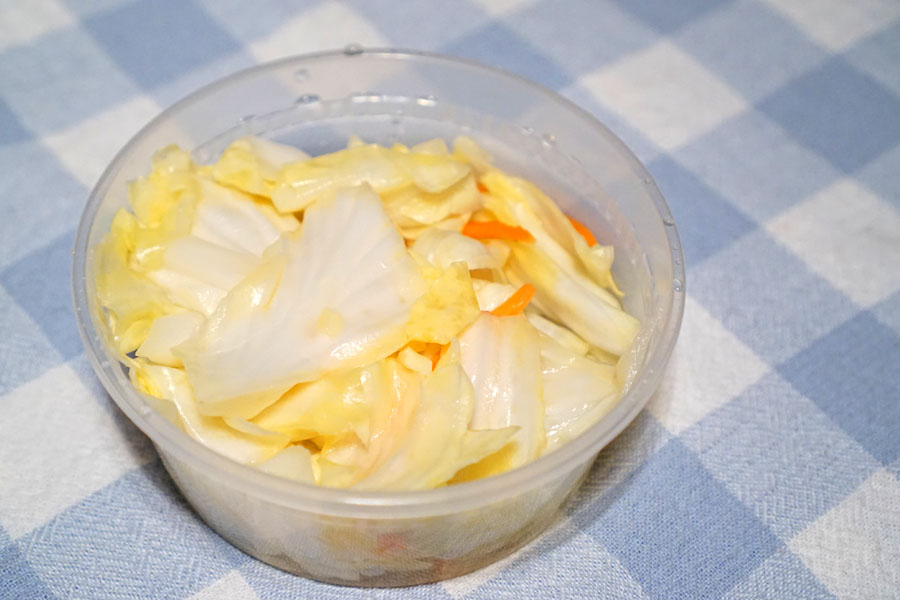 Pickled Cabbage [$3.75]
Joy's rendition of
pao cai
showed off a gentle sourness married with a noticeable sweetness.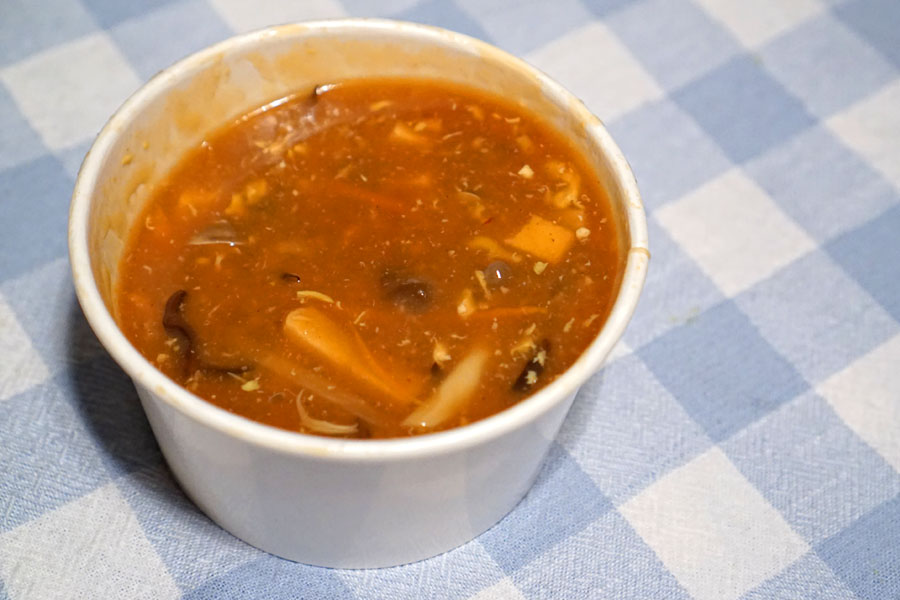 Hot & Sour Soup [$4.00]
| Organic Tofu, Beech Mushrooms, Egg
The
suanla tang
was just what I wanted thanks to a spot on back-and-forth between the soup's familiar, vinegary sourness and its long-lasting, peppery heat. There were some nice textures at play here as well, particularly with those slippery shimeji mushrooms.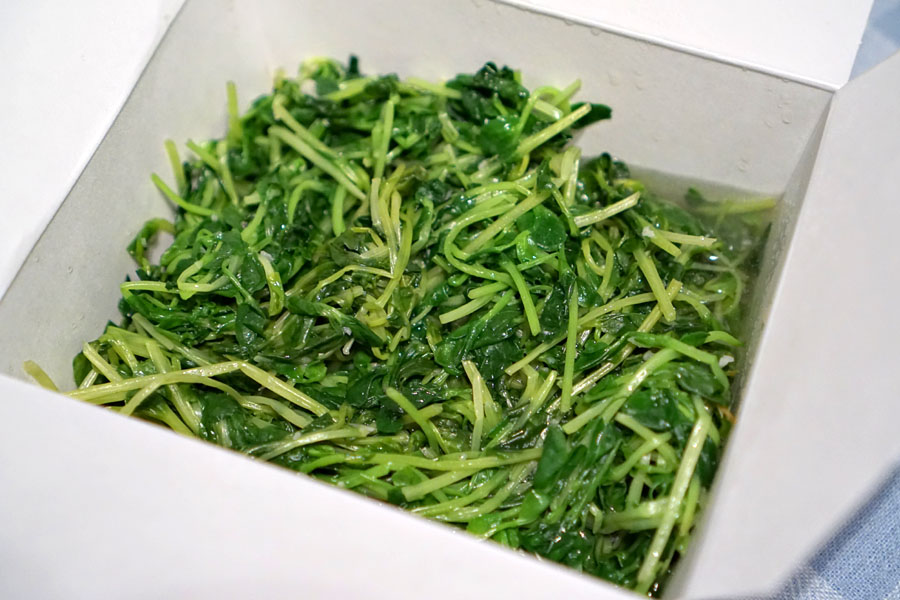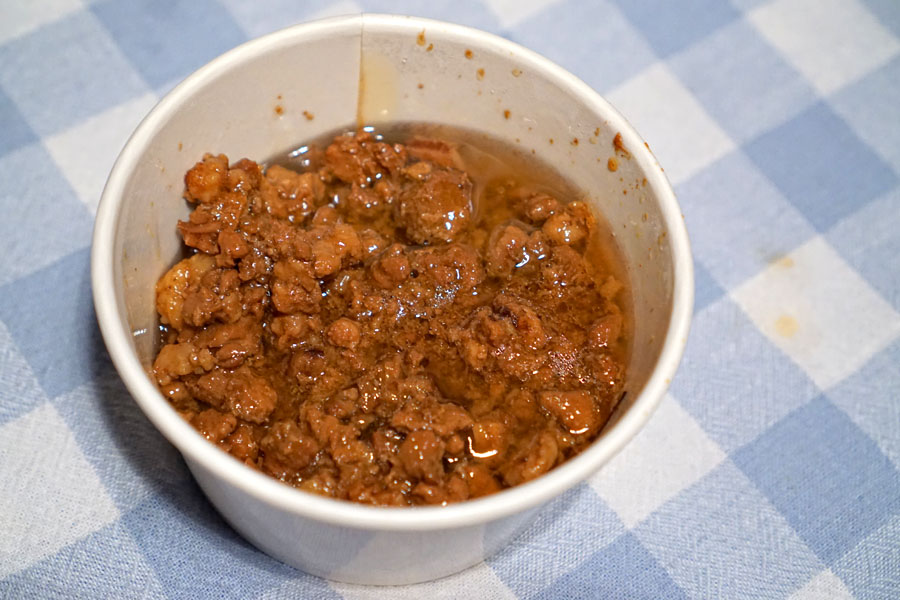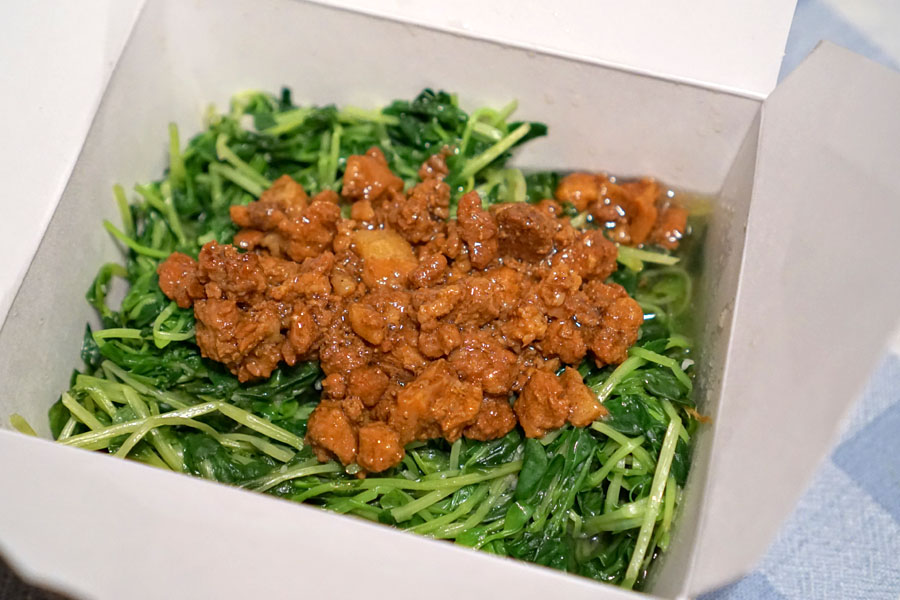 Simple Greens + Add Minced Pork [$5.00 + $1.00]
| Our simple greens rotate due to seasonal and vendor availability. Today's Greens: Pea Shoots with Garlic
A straightforward preparation of
wandou miao
was a bit too heavy-handed with the garlic and salt, but fortunately the savory-sweet minced meat effectively played foil to the greens.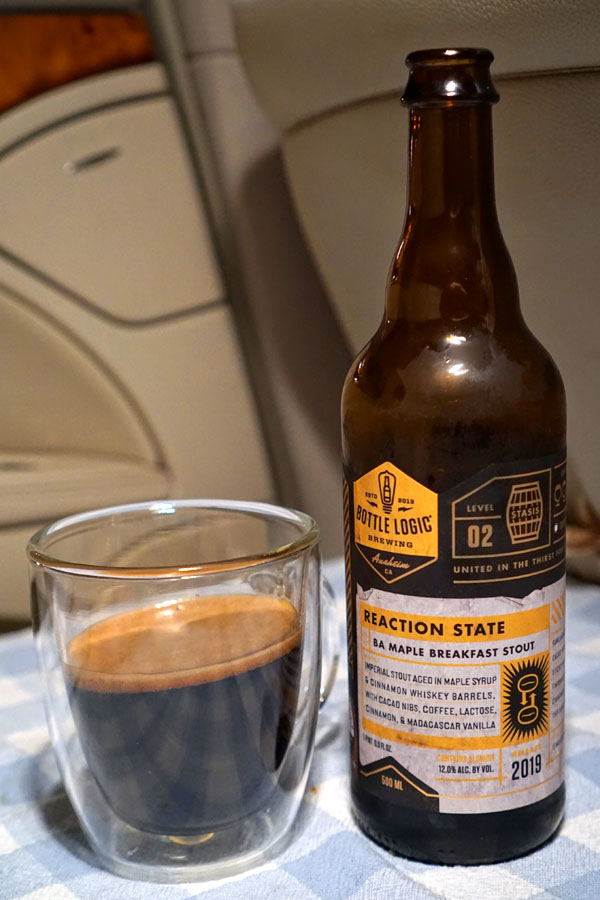 Next to drink came the
2019 Bottle Logic Reaction State
, an imperial breakfast stout aged in maple syrup and cinnamon whiskey barrels, with Ecuadorian cacao nibs, Coldbot Colombian Patroness coffee, lactose, Vietnamese cinnamon, and Madagascar vanilla added. The beer smelled super chocolatey, with some vanilla and dark fruit notes as well. Taste-wise, there was a boatload of rich cocoa powder and maple syrup at the forefront, while cinnamon spice and coffee astringency played supporting roles.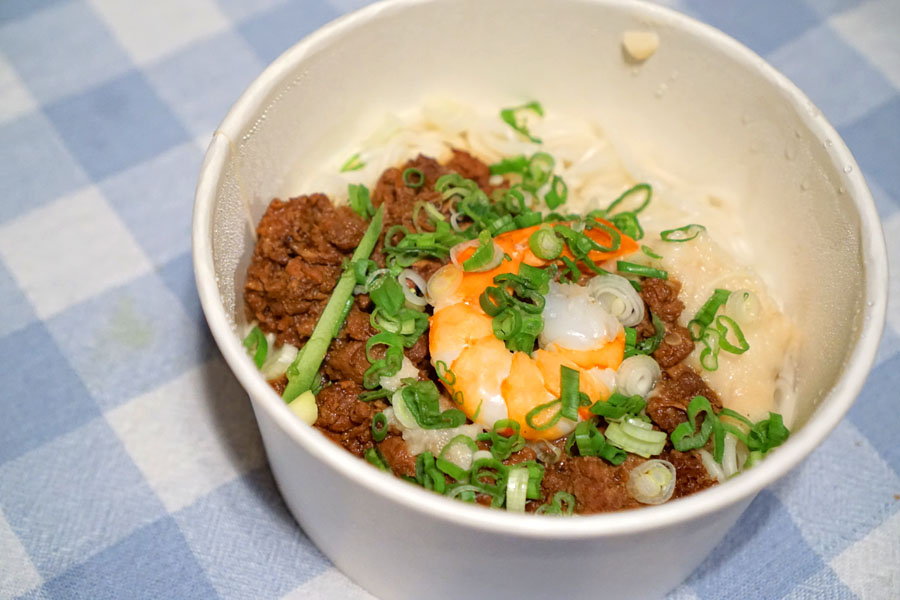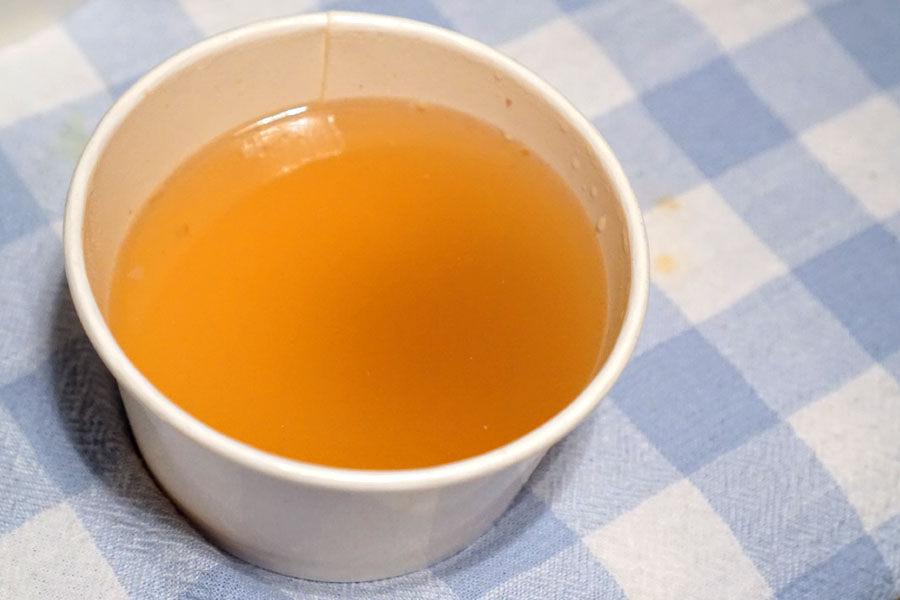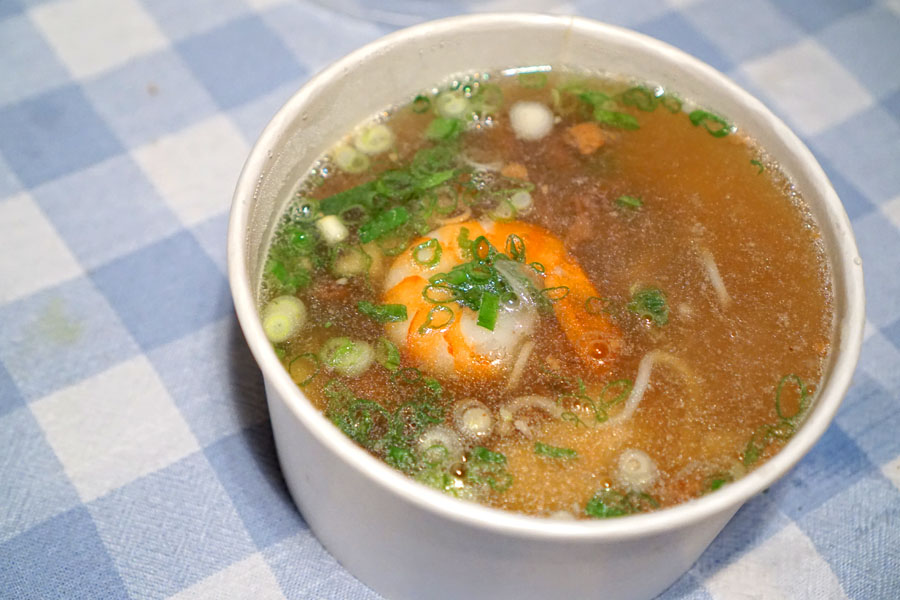 Slack Season Noodles [$8.50]
| Chicken and pork broth, minced pork, garlic, shrimp
A somewhat less frequently encountered dish, the
dan zi mian
commingled a base of slightly sticky, slightly chewy noodles with a wonderfully invigorating, somewhat ginger-y broth. If that wasn't enough, you also had plenty of aggressively flavored minced pork along with a potent dollop of garlic paste for good measure. It all came together quite nicely, and the lone shrimp on top was just about perfect, too.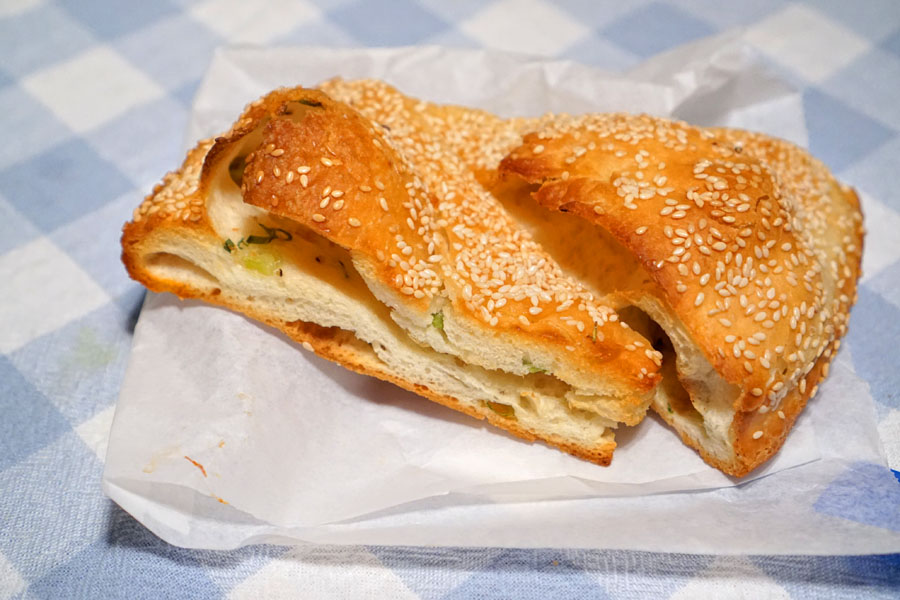 Sesame Scallion Bread [$2.50]
| Baked in house daily
I'm quite the fan of
zhima da bing
, and Joy's was a strong example. I loved the airy crispness of the bread, as well as how it meshed with the robust sesame flavors present. My favorite part? Those terrifically toasty, smoky bits.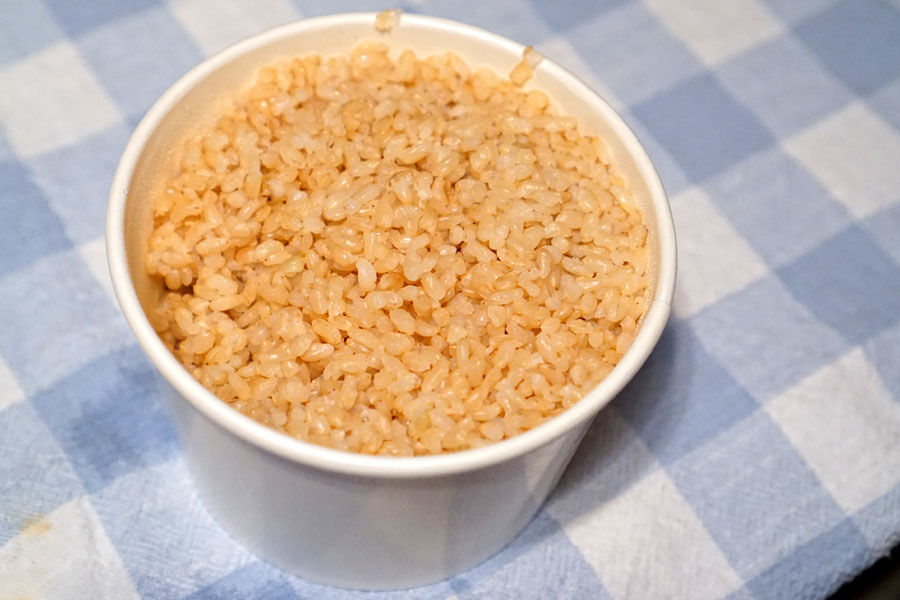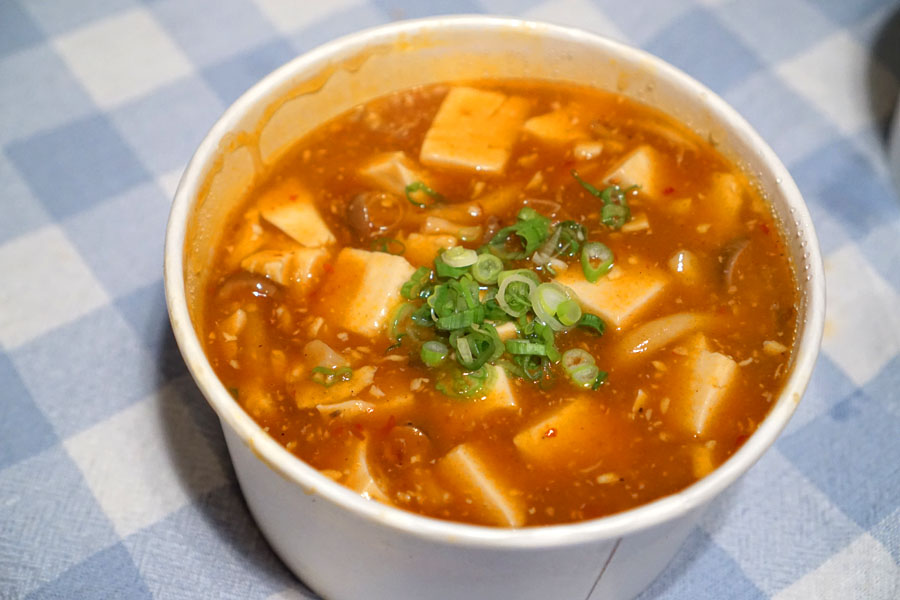 Vegan Mapo Tofu [$10.00]
| Served with your choice of White or Brown Rice
Mapo tofu is one of those things that I always tend to order when it's available. Despite being vegan, this was a reasonable approximation of the traditional dish, though I found it a bit lacking in terms of depth and umami, and I really could've used more
mala
spice as well. Still, pretty enjoyable when taken with the chewy brown rice on the side.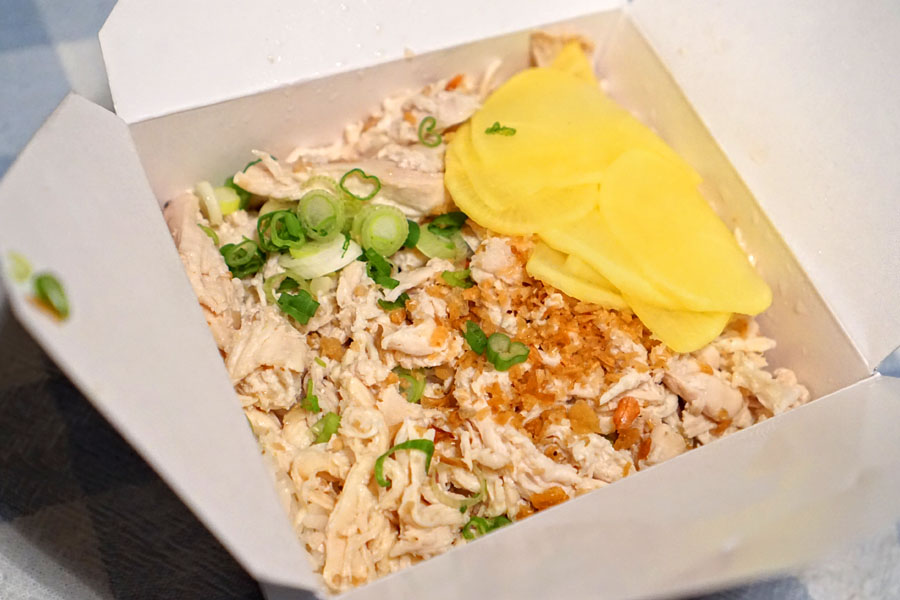 Chiayi Chicken Rice [$8.00]
| Jidori Chicken, Shallot Oil, House Pickle
The
jirou fan
featured tender shreds of elegantly flavored chicken that paired easily with the white rice. At the same time, the use of shallots imparted a delightful savoriness that really lifted the dish, though I could've used more of it.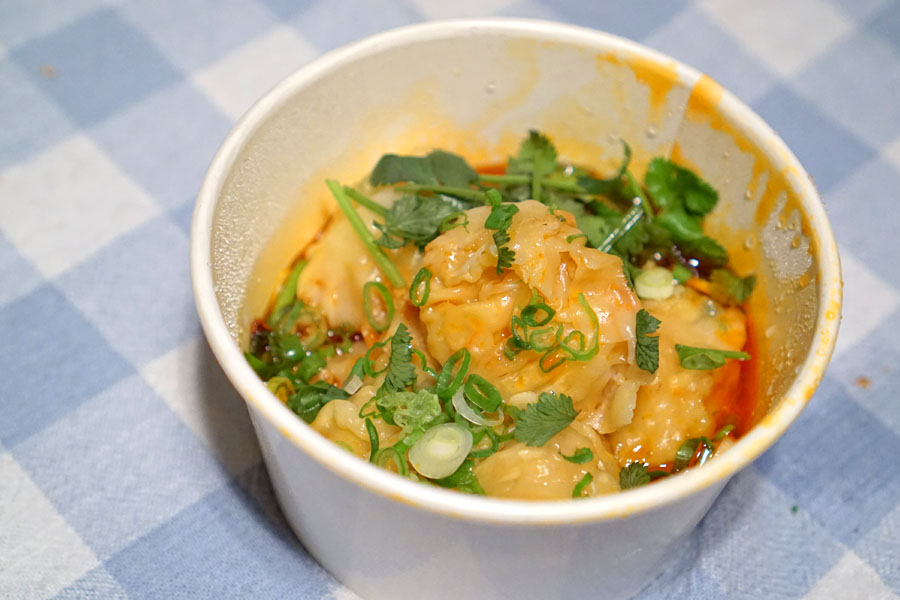 Spicy Shrimp Wontons [$8.00]
| Six wontons chock-full of shrimp, dressed and garnished with scallions and cilantro
The wontons here were just as delicious as those above, and once again, the natural texture and taste of the shrimp were dutifully highlighted despite the spicy flavors present. Excellent contrast from the cilantro here as well.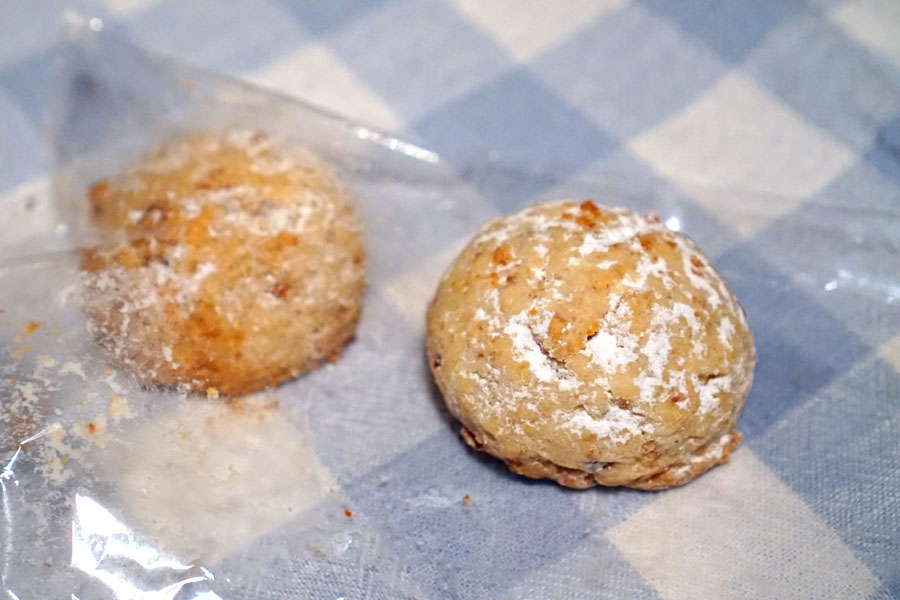 Mexican Wedding Cookies [$3.00]
| Shortbread cookies with walnuts
As a nod to Elsa's Bakery, Joy offers Mexican wedding cakes for dessert, the proceeds from which are donated to various community organizations. Dusted with powdered sugar, the cookies were super crumbly, and incorporated some pleasantly nutty bits.
I was quite content with my dinner tonight, which should come as no surprise given the strength of the cooking I'd previously experienced at Pine & Crane. The food here is classic at its core, certainly, but the way the kitchen approaches the cuisine somehow makes it much more momentous. Joy's a worthwhile addition to the neighborhood, and in fact, it's an addition I wish I had in
my
neighborhood. As for Ku's next steps, she's reportedly planning on opening her third restaurant sometime this year. It'll be a somewhat fancier affair, located at the bottom of the new Aven apartment tower in South Park. I'm looking forward to checking it out, but before the place opens, I might also try Today Starts Here, the Chef's breakfast pop-up that debuted in Chinatown on October 3rd. Taking inspiration from the Taiwanese breakfast dishes sporadically served at Joy, the pop-up occupies the site of the old New Dragon Seafood Restaurant, and might even become permanent if things work out.