Rosemallows (Long Beach, CA)
Rosemallows Bar
225 Long Beach Blvd, Long Beach, CA 90802
562.436.2337
rosemallowsbar.wixsite.com/qrcode
Thu 02/11/2021, 07:30p-09:40p

I recently found myself in Downtown Long Beach and in need of a place to have dinner. I ended up checking out Rosemallows, a cocktail bar with what management describes as an "80's tropical minimalism" aesthetic. Named after the rose mallow (another word for hibiscus), the place opened in late November last year, shortly before outdoor dining was outlawed again due to rising coronavirus cases, and comes to us from none other than craft beer maven Jimmy Han.
Han, of course, is most known for being the driving force behind Beer Belly, which opened
in Koreatown
in 2011 and
in Long Beach
in 2016. Unfortunately, the K-town location closed down in July 2019, while LBC shuttered at the start of 2020. The former is now home to smashburger purveyor Love Hour (where Han is a partner), while the latter was converted to Rosemallows. There was also a Beer Belly outpost at Banc of California Stadium that debuted in April 2018, but it looks like it's also dead and buried.
Note that Tiki Tiki, a tiki bar that opened in an unused section of Beer Belly Long Beach back in August 2018, is still around. The team hopes to get it up and running again once the pandemic situation improves.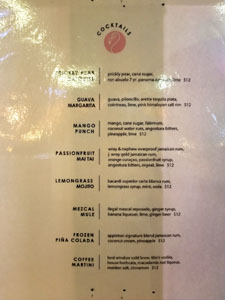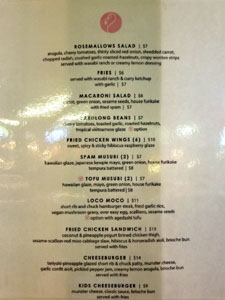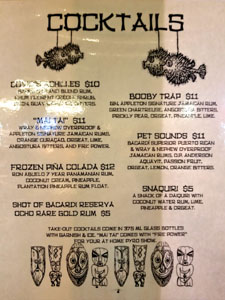 The beverage program at Rosemallows is run by James Squire (a Beer Belly and Tiki Tiki alum), who also manages the FOH. The cocktails here are fruit-forward and tropical-leaning in nature, and might be considered tiki-adjacent, though you can also order directly from the Tiki Tiki menu if you really want to go in that direction. In addition, there's a small array of beers and a few interesting wines on offer. As for the food, it's the work of Chef Dustin Prewitt (Belly Bombz food truck), and definitely has a pan-Asian bent befitting this place's concept. Click for larger versions.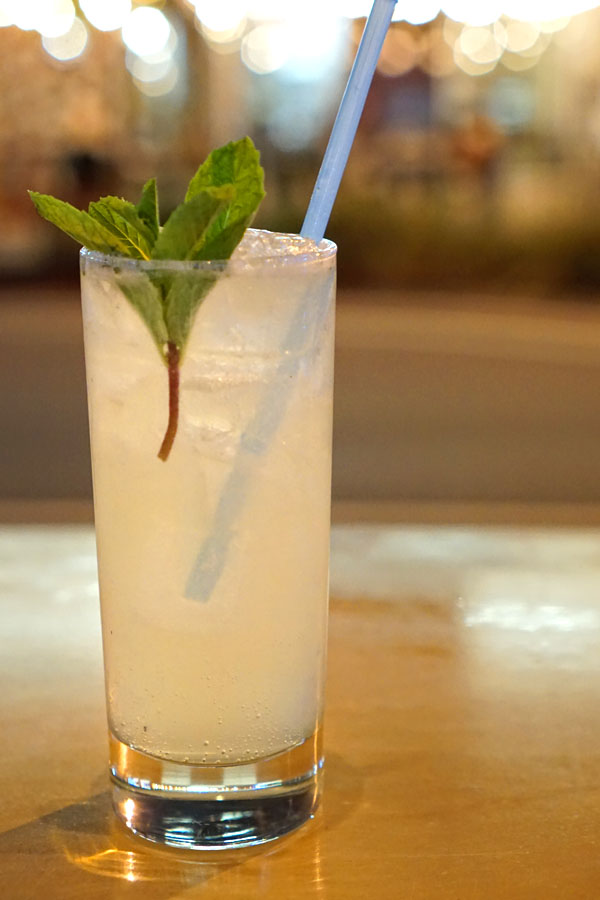 Lemongrass Mojito [$12.00]
| bacardi superior carta blanca rum, lemongrass syrup, mint, soda
As some longtime readers might know, the mojito was my go-to cocktail back in the late aughts, so I decided to revisit the drink tonight. Rosemallows' rendition was classic at its core: a refreshing, fizzy concoction, but one amped up by the zing of lemongrass.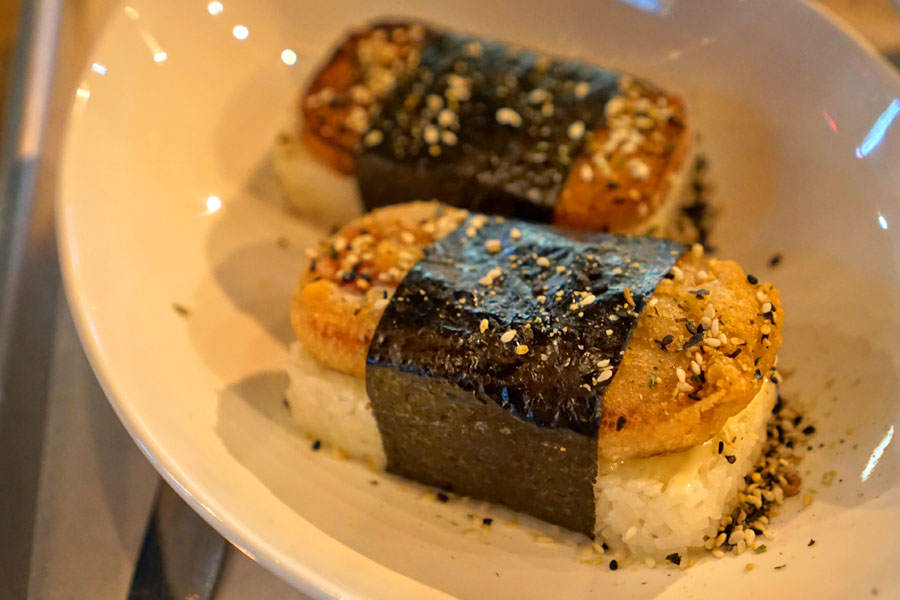 Spam Musubi (2) [$7.00]
| hawaiian glaze, japanese kewpie mayo, green onion, house furikake + tempura battered
First to eat was one of the better Spam musubis I've had. The actual Spam came out well seared, its salty, savory flavors meshing well with the rice while the sesame seeds allowed for even more enjoyment. The tempura'd preparation featured a batter that contributed some further textural interest to the standard dish, but I actually preferred the original.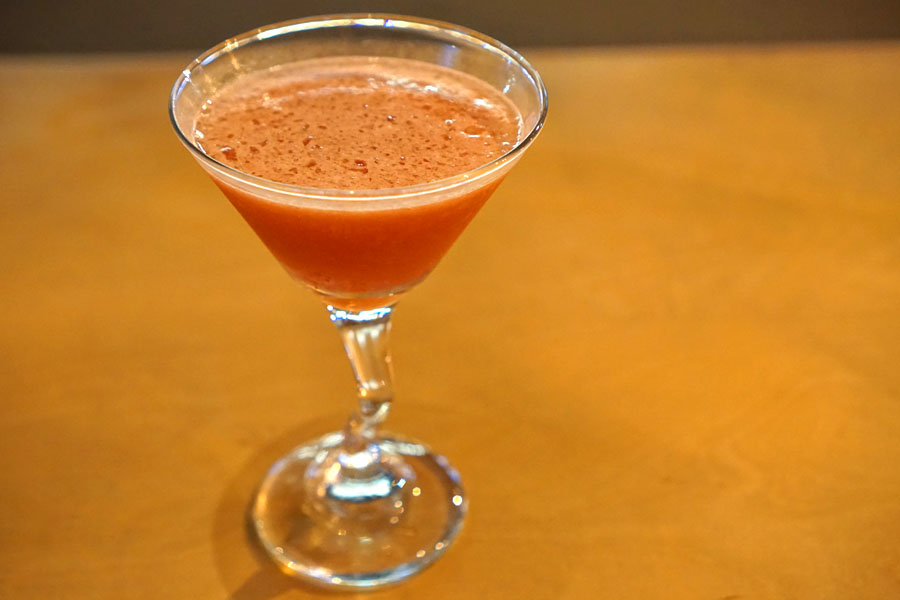 Prickly Pear Daiquiri [$12.00]
| prickly pear, cane sugar, ron abuelo 7 yr. panamanian rum, lime
My second cocktail was this ruby-hued take on the traditional daiquiri. I found it fruity and floral overall, with tart, citrusy notes and a pervasive astringency backed by an undercurrent of chocolate-y flavors.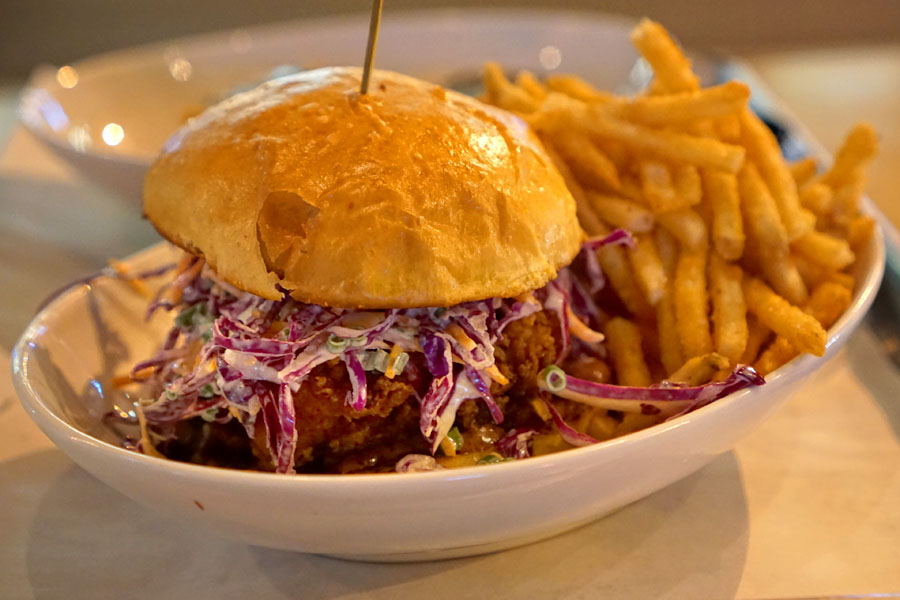 Fried Chicken Sandwich [$13.00]
| coconut & pineapple yogurt brined chicken thigh, sesame-scallion-red miso cabbage slaw, hibiscus & horseradish aioli, brioche bun, served with fries
Next came one of the more interesting chicken sandwiches I've had. The actual bird ate as tender and juicy as I wanted, and showed off a properly crisp crust, but what really struck me was the aioli, which imparted an omnipresent floral note. It was sort of odd, but worked, and I was certainly a fan of the crunchy slaw as well. The fries, meanwhile, were on the crisp, gritty, familiar side, and came with two condiments: an easy-going wasabi ranch and a surprisingly potent curry ketchup.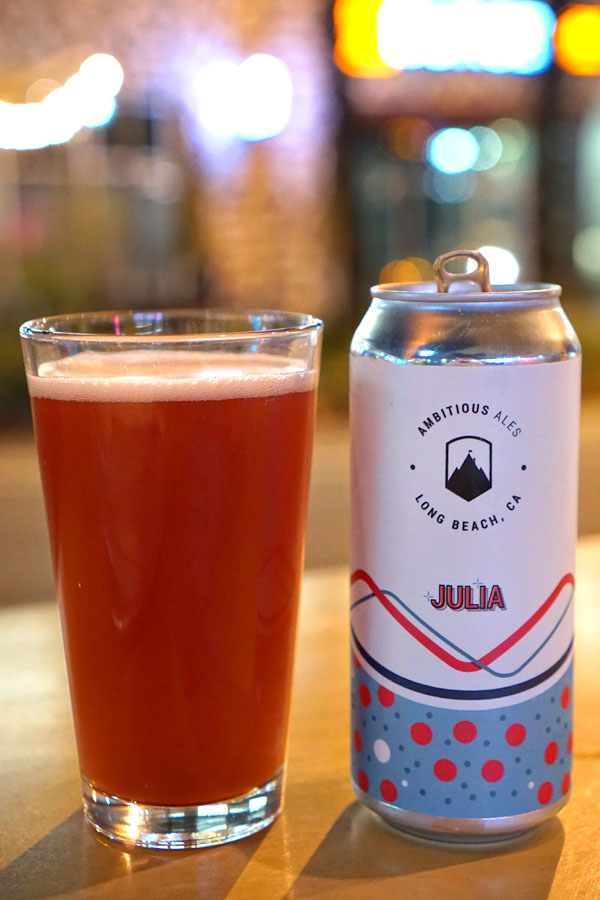 At this point the bar began shutting down, and so I had to switch over to beer. I opted for the
2020 Ambitious Ales Julia [$7]
, a sour blonde ale with raspberry, blackberry, and vanilla. Nose on this one was all about jammy fruit. The beer was soft on the palate, and I got a pretty good amount of tart berries, backed by a slight cereal-y character and wisps of moderating vanilla. This was actually the first beer I've had from the brewery, but now I'm curious to see what else they have to offer.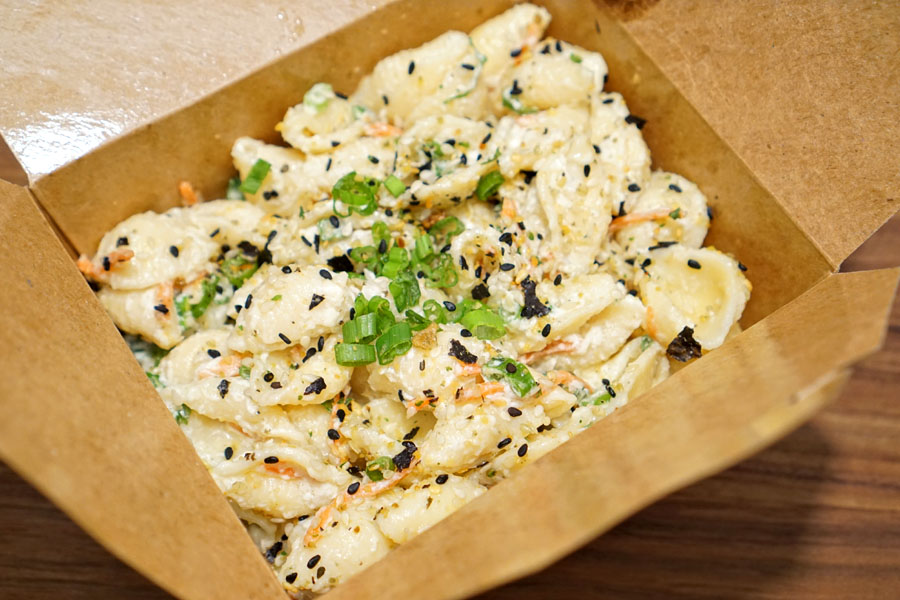 Macaroni Salad [$6.00]
| carrot, green onion, sesame seeds, house furikake
As I mentioned above, the restaurant was closing up shop, so I ended up taking the rest of my meal to-go. Let's start with the mac salad, which was a bit different than what I'm accustomed to, and I'm not just talking about the use of shell pasta. The dish had an austerity to it that was unexpected, as the dominant flavors here were the nuttiness of the sesame and the pungency of the scallions. Sort of neat, actually.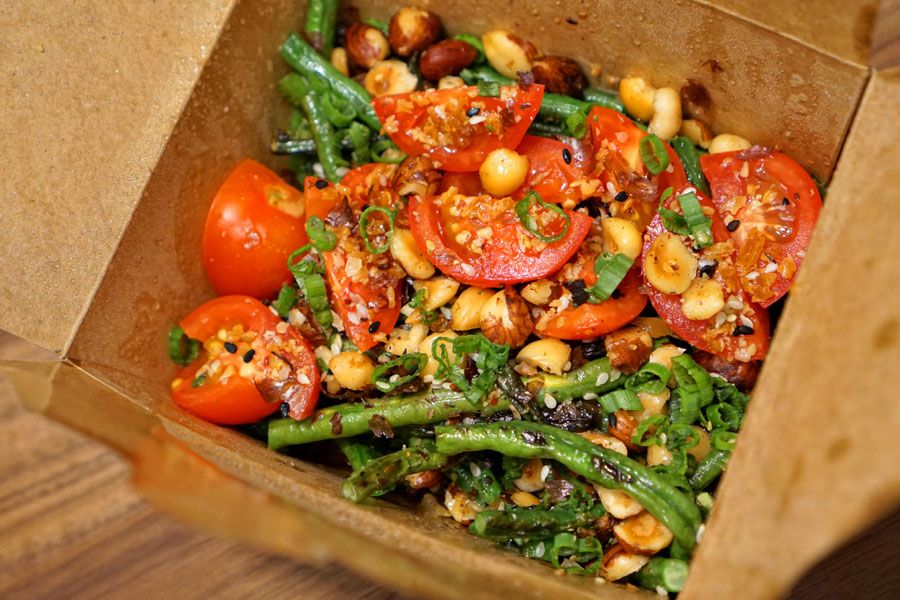 Yardlong Beans [$7.00]
| cherry tomatoes, toasted garlic, roasted hazelnuts, tropical vietnamese glaze
Beans arrived pleasantly crunchy, with a good smoke to 'em--very nice. I also appreciated how the tomatoes lifted the dish, though I wasn't quite as convinced with the hazelnuts.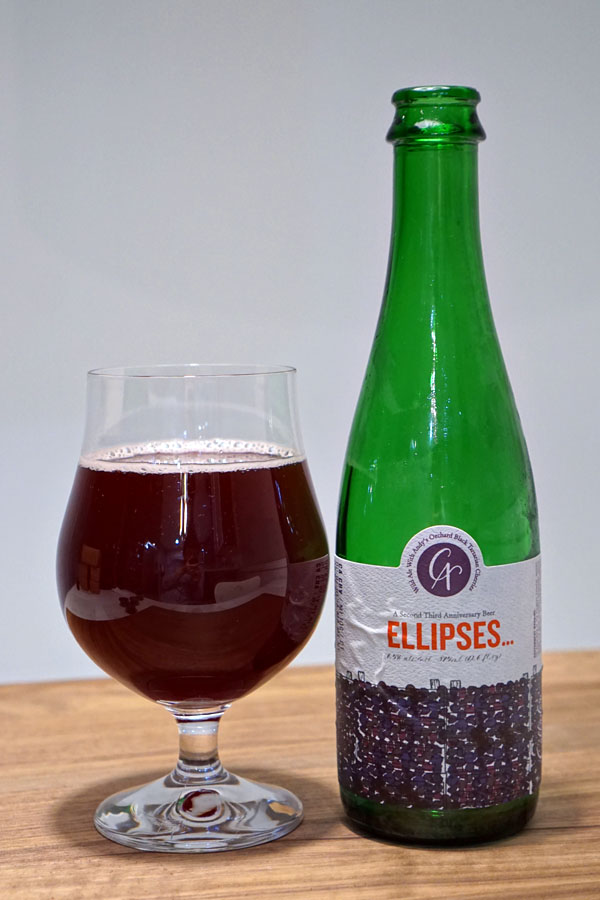 Squire was kind enough to include a complimentary beer with my takeout order, the
2019 Cellador Ellipses
, a wild ale with Black Tartarian cherries that was created for the brewery's third anniversary. The bouquet here was all about aromatic dark fruit laced with plenty of tart, earthy, yeasty notes. Tasting it, I got loads of lush, lingering, almost kriek-like cherry, joined by a barnyard-y funk and a good amount of acidity.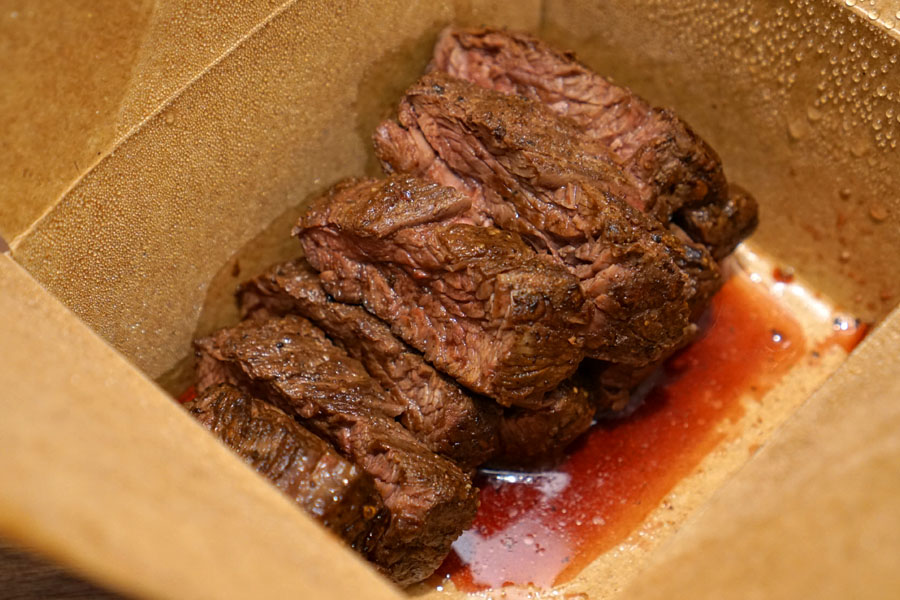 Hanger Steak [$24.00]
Grilled hanger steak was cooked a bit more than I would've liked, but that didn't really end up detracting from the cut. The beef was still well textured, and had a solid sear to it, along with a deep, rich, robust flavor profile that I found extremely satisfying. Yum.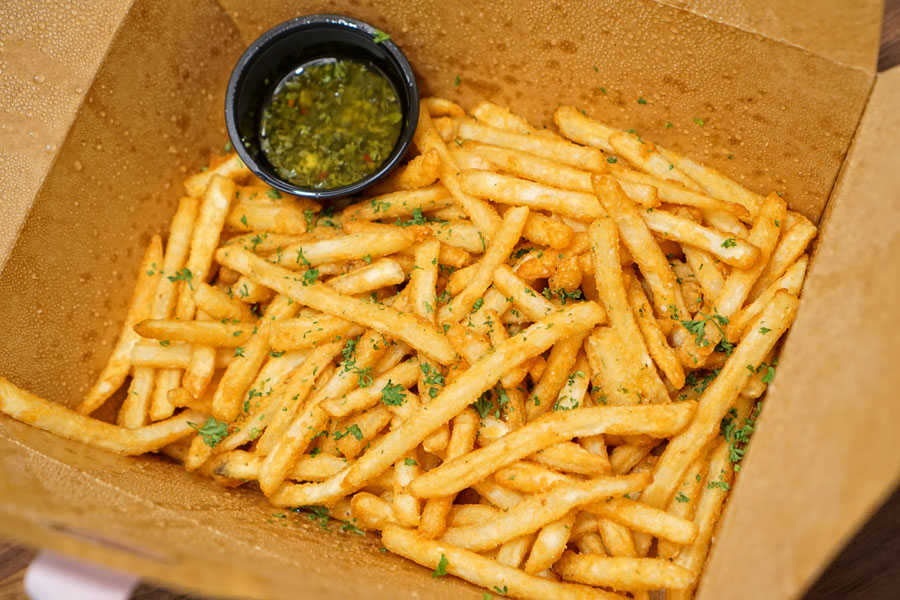 The hanger also came with a serving of fries, which were more aggressively flavored than what I had above with the chicken sandwich. Also appreciated was the zippy chimichurri on the side.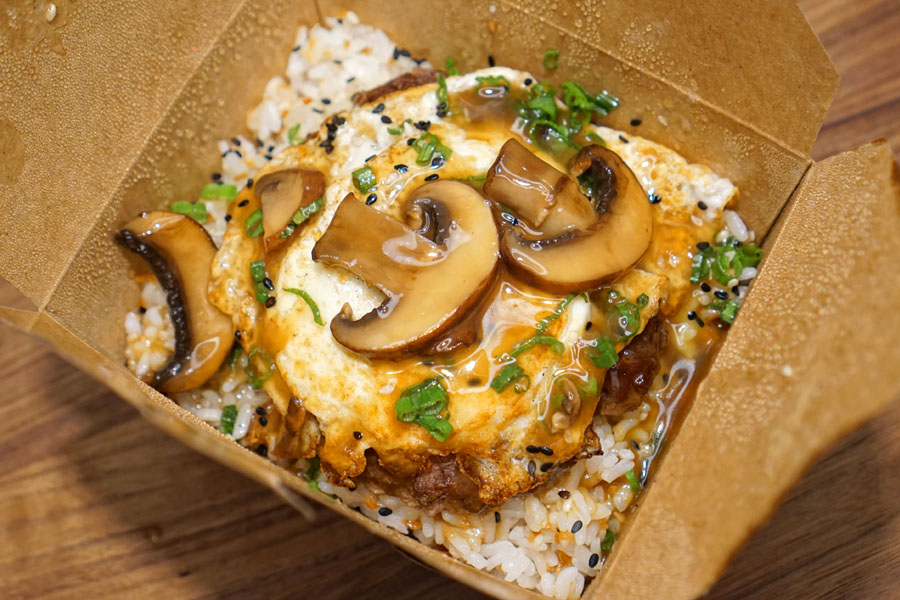 Loco Moco [$11.00]
| short rib and chuck hamburger steak, fried garlic rice, vegan mushroom gravy, over easy egg, scallions, sesame seeds
Loco moco is one of those dishes I always tend to order when I see it on a menu, and Rosemallows' version didn't disappoint. I was impressed with the rice, which was perfectly textured and spot on in terms of seasoning. It played foil to the combination of a full-flavored burger patty and egg, while the savory mushroom gravy helped bind everything together.
Apparently, the reason for the shutter of Beer Belly was due to Han's belief that craft beer's moment had passed. It's a bit unfortunate to hear that, especially since he was one of the early proponents of the genre here in LA, but perhaps there's some truth behind the sentiment. That being said, though I'm sad to see Beer Belly go, Rosemallows looks to be a promising replacement, and will likely also become one of my go-to drinking spots in Long Beach.