Playground (Santa Ana, CA) [6]
Playground Restaurant
220 E 4th St, Santa Ana, CA 92701
714.560.4444
www.playgrounddtsa.com
Fri 02/19/2021, 06:25p-09:10p
Regular readers will probably know that Jason Quinn's
Playground
is easily one of my favorite restaurants in Orange County. I've had takeaway from the spot a couple times already during the coronavirus crisis, but the kitchen switches things up pretty regularly. This makes for good replay value, and what brought me back recently was the place's new menu of Spanish-inspired cuisine.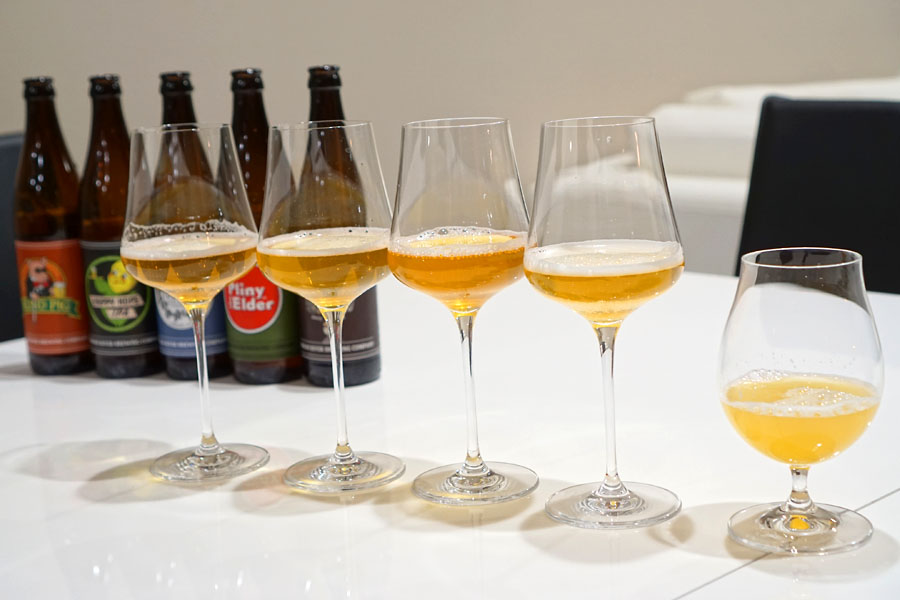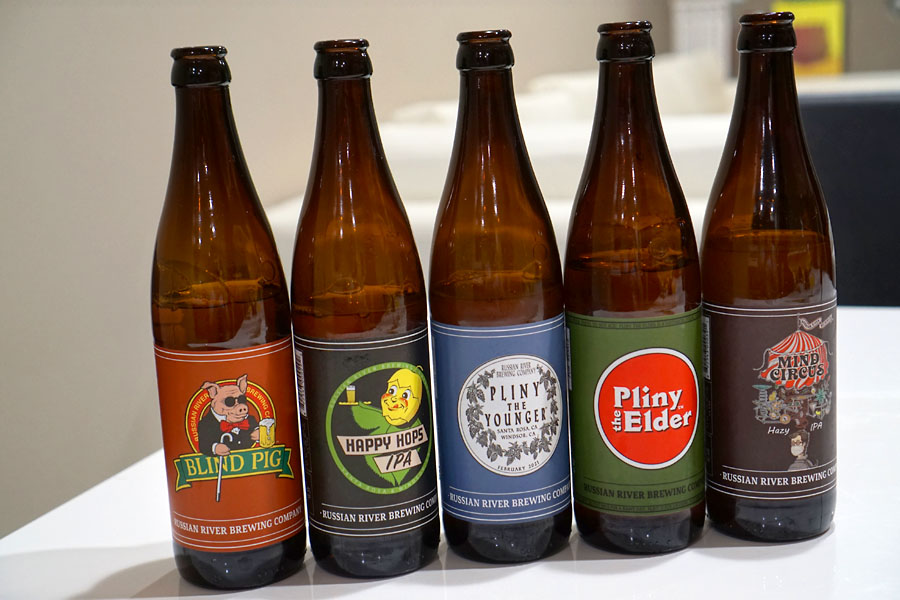 Tonight's dinner began with a tasting of a new batch of India pale ales from lauded NorCal producer Russian River Brewing Company:
2021 Russian River Blind Pig - Sweet, juicy citrus on the nose, joined by a distinct grassiness. The palate was all about bitter, biting, piney hops, but in moderation, and there were also notes of dry herb and sour citrus.
2021 Russian River Happy Hops - I got surprisingly soft, muted aromas at first, but the beer really opened up with some time in the glass, and showed off notes of piney, earthy hops with a touch of citrus. Taste-wise, I found a balanced mix of hop bitterness and fruitiness, with some spice and pungency mixed in.
2021 Russian River Pliny The Younger - Our third beer was certainly the most sought-after of the bunch. A triple IPA, this one had an intense, dank, almost funky bouquet that definitely commanded my attention. This then led to bitter, "weedy" flavors backed by a sweet, fruity backbone, and I even detected some barnyard-y, Burgundian notes.
2021 Russian River Pliny The Elder - Next came Russian River's iconic double IPA, a prototypical example of the West Coast style. I found the nose surprisingly muted at first, but it really intensified as the beer warmed, giving up striking aromas of sweet citrus, urinal cake, and hard candy. Tasting it, I found a smooth, classic flavor profile that blended focused hop bitterness with touches of must and light malt.
2021 Russian River Mind Circus - The lone hazy IPA of the quintet, this one featured a creamy aroma with lots of orange and tropical fruit, along with just a smidge of funk. The palate, though, was relatively sharp for a hazy, and displayed a moderate amount of hoppiness, combined with citrus, grass, some more tropical notes, and light, zesty spice.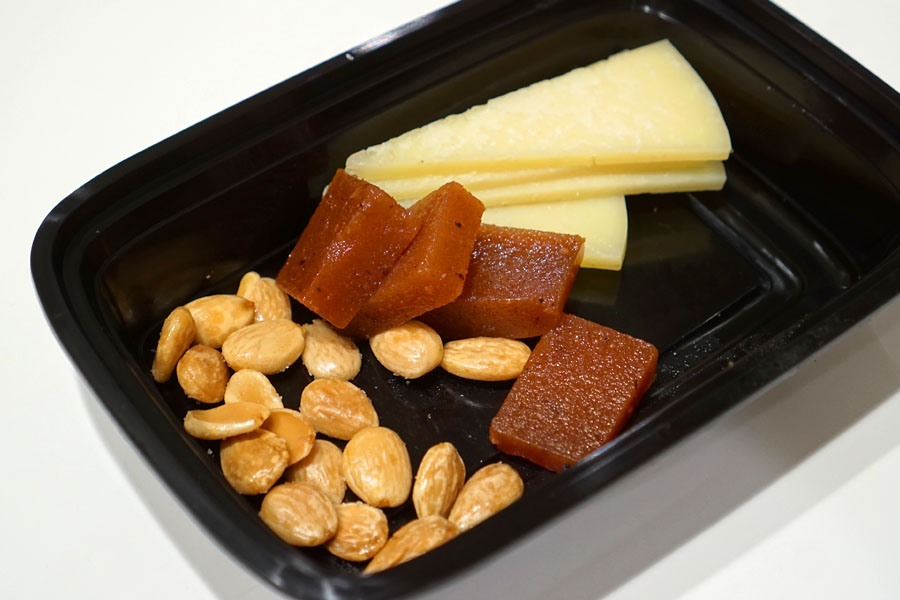 "Triple M" [$10.00]
When I saw this item listed on the menu, I had no idea what it was, though I figured that the dish would feature a trio of ingredients starting with the letter "M." Well, it turns out I was right, since what we had here was Marcona, (dulce de) membrillo, and manchego. It was an unexpectedly effective combination. I really enjoyed the back-and-forth between the sheer sugariness of the quince paste and the sweet-salty-nutty taste of the almonds, all while the cheese moderated the interaction.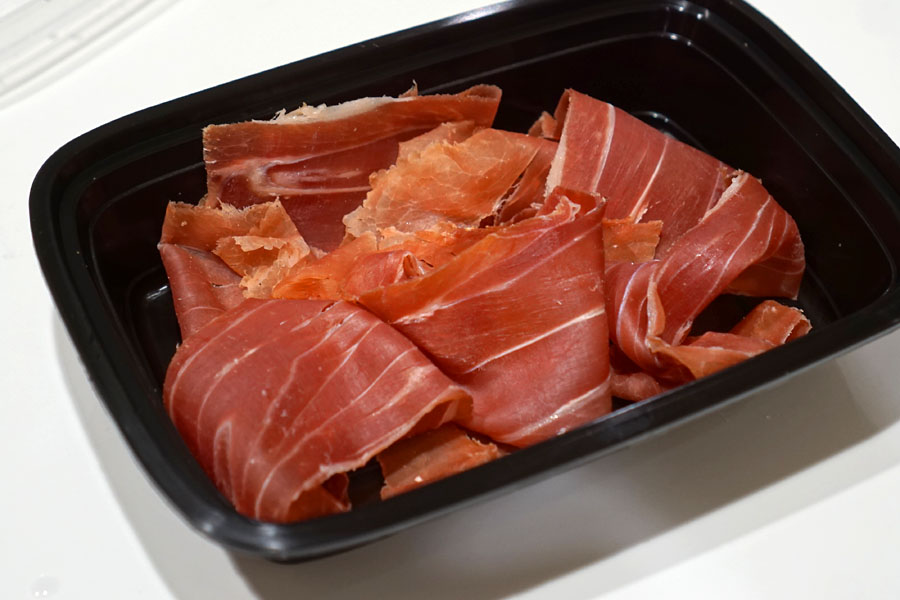 Jamon Serrano [$10.00]
Serrano ham slices were pleasantly firm, and conveyed all the rich, nutty, umami-stuffed flavors that I wanted.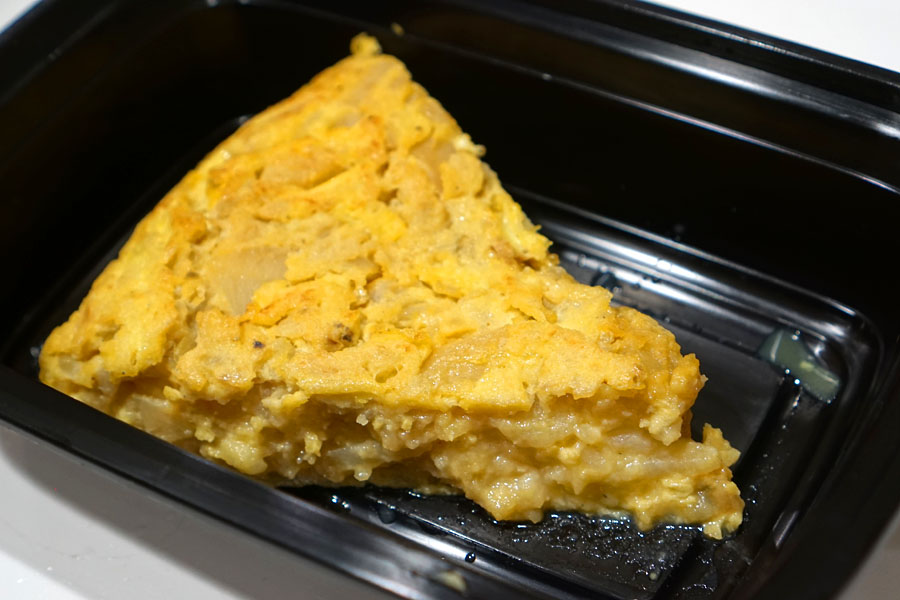 Tortilla Espanol "Bar Nestor" [$10.00]
I felt compelled to try the Spanish omelette, which was ostensibly inspired by the version at San Sebastián's famed pintxo joint Bar Nestor. I found it somewhat more luscious, more gelatinous than what you might typically encounter, though flavors were classic thanks to its spot-on interplay between potato and egg.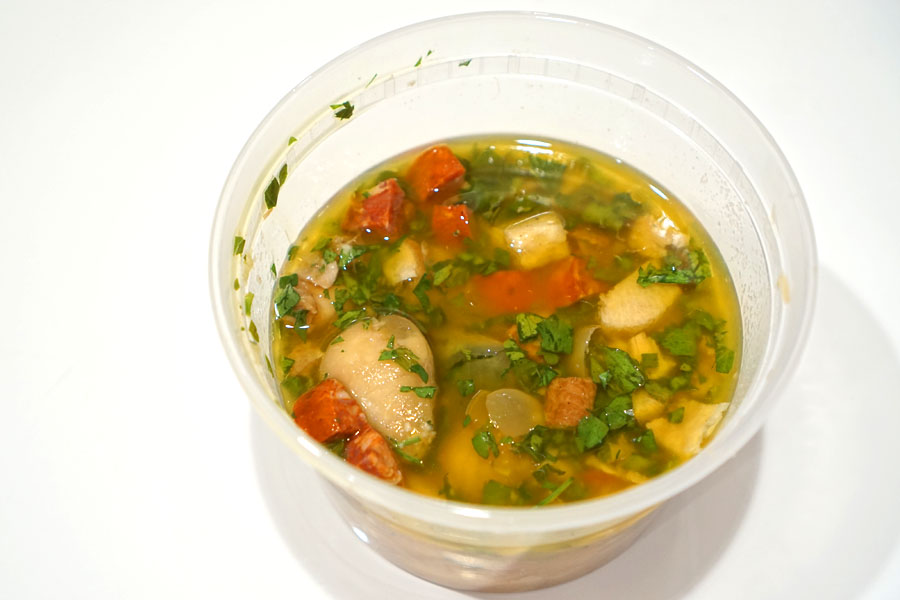 Fabada Asturiana [$14.00]
| You NEED This! NOT vegetarian
This bean stew was a surprise standout, and probably my favorite item of the night. I loved the in-your-face smoke and salt from the cured pork, and how that paired with the brightness of the herbs, while white beans worked wonders to ground the dish.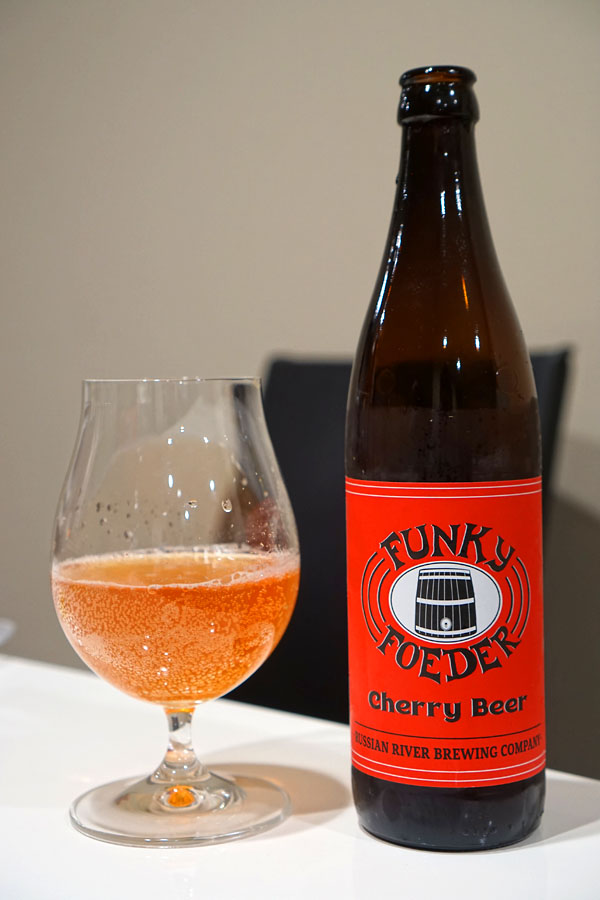 Next to drink was the
2021 Russian River Funky Foeder
, a farmhouse-style ale with cherries. The nose on this one wasn't quite what I was expecting. Sure, there was sour cherry, but also a minty character that threw me off a bit. This mintiness continued on to the palate, where it was joined by deep, rich cherry flavors as well as the requisite tartness, crispness, and funk.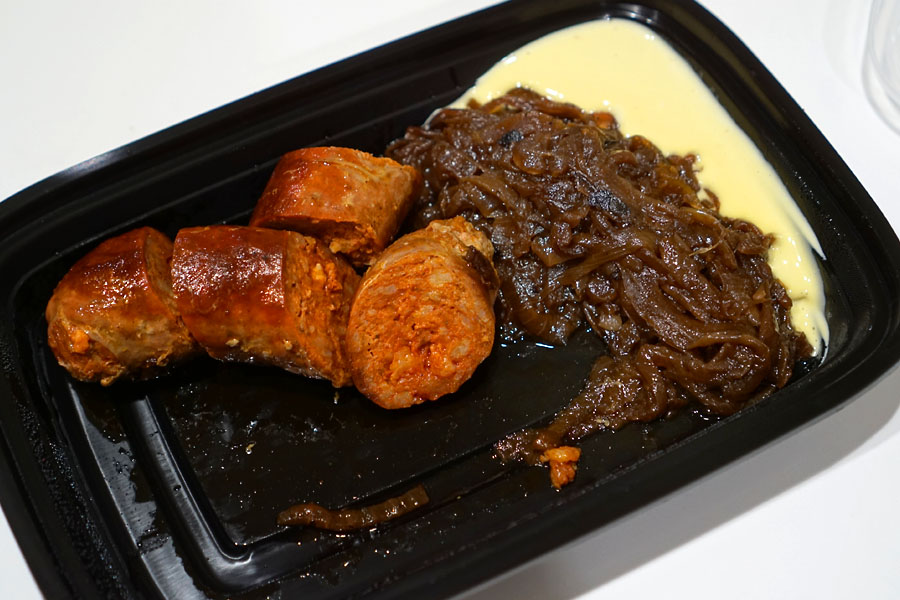 Grilled Chorizo [$10.00]
| Grilled Onions, Saffron Aioli
I'm quite the chorizo fan, and this was a fine example of the sausage. I appreciated its palpable, yet elegant spice and rustic consistency, while the caramelized onions imparted a marked sweetness to the dish. Also key was that aioli, which had an almost mustard-y piquancy to it.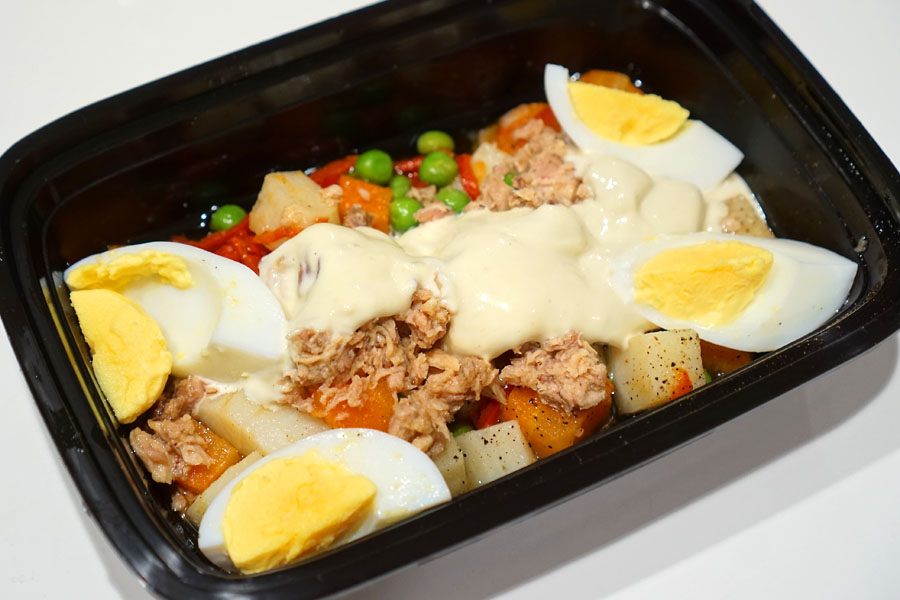 Ensaladilla Rusa [$20.00]
| with the Good Tuna
Given my penchant for canned tuna, Playground's take on the Olivier salad was a must-try. It was an admirable example of the dish, one that highlighted the depth and brine of the tuna while also presenting counterbalancing elements of egg, potato, peas, and carrot.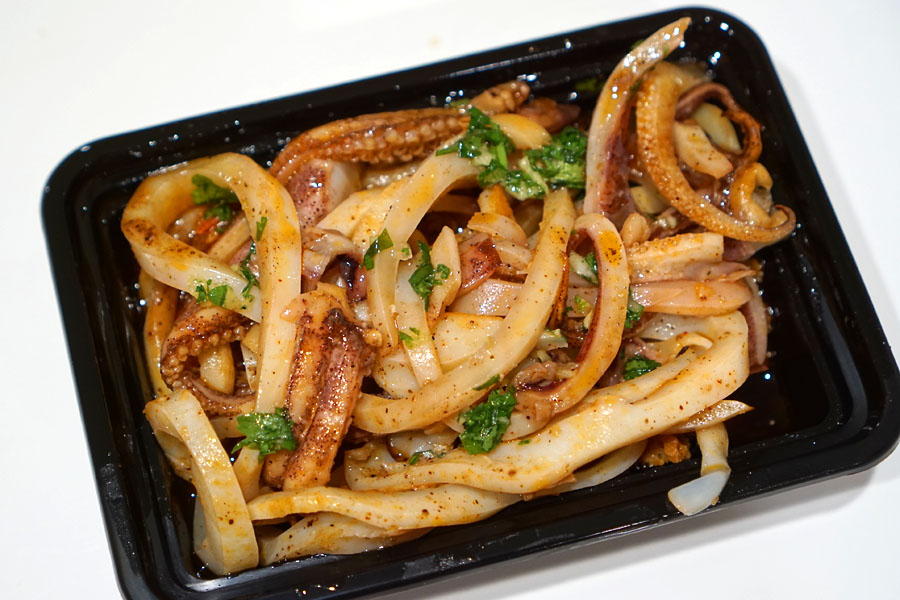 Sword Squid Conserva [$14.00]
| Romesco
The squid was another gotta-try item. It showed off a firm, satisfying, yet still tender texture, while flavors were focused and saline. The bits of greenery made for fitting accompaniments, though I didn't get much from the romesco.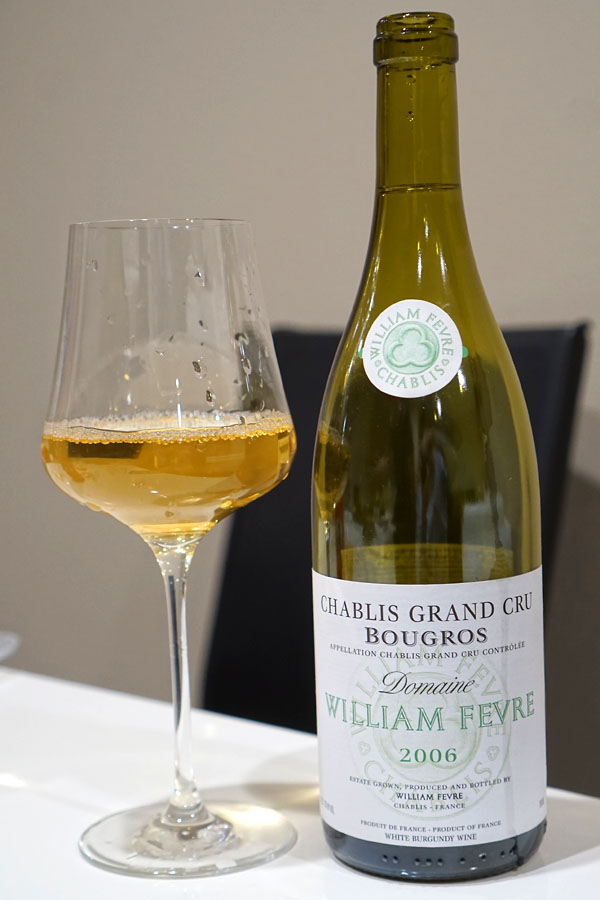 At this point we moved on to the
2006 Domaine William Fèvre Chablis Grand Cru Bougros
. The wine had a powerful bouquet, one that went in a sweet, honeyed, funky, slightly oxidative direction. I found the palate silky smooth, with flavors of tropical fruit, barnyard, minerals, and peppery spice. This was definitely a mature-tasting Burgundy, so you'll probably want to drink this one soon.
Patatas Bravas [$10.00]
| Blumenthal-style
The first time that I encountered Blumenthal potatoes was during my first visit to
Playground
back in 2012. I was a big fan of the contrast between their crispy, crunchy exteriors and fluffy insides, so it was great to see the taters served again tonight, where they functioned as a superb foil to the tangy "brava" flavors at play.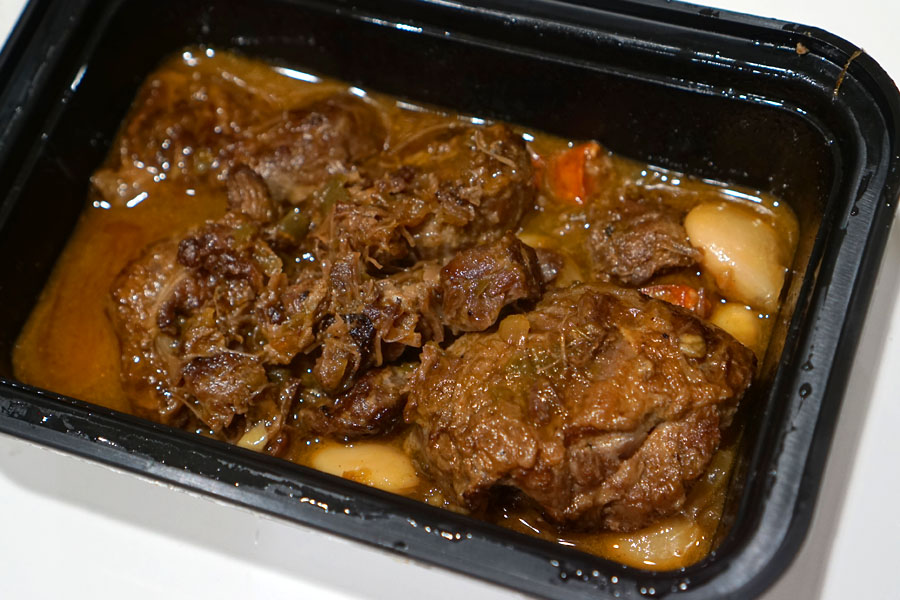 Braised & Glazed Beeler's Pork Cheeks [$28.00]
| Giant Asturian White Beans, 50 Year Sherry Vinegar Glaze
Pork cheek arrived falling-apart tender, and possessed all the rich, dark, deep flavors I was looking forward to. Given the heft of the meat, the white beans functioned beautifully as a counterpoint.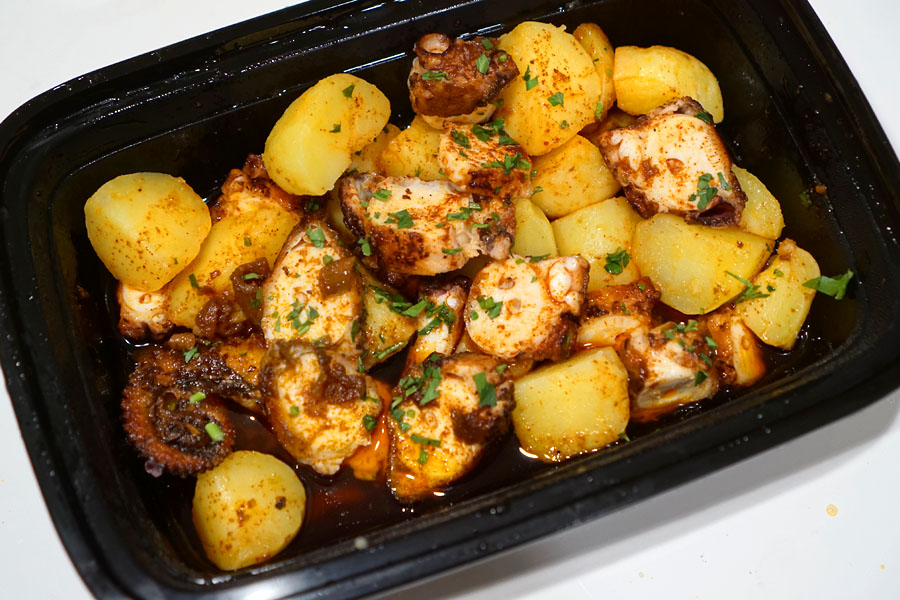 Pulpo Gallega [$26.00]
| Grilled Octopus, Boiled Potatoes, Sherry Vinegar, Lemon, Parsley, Cayenne, Sweet & Smoked Paprika
Octopus came out perfectly textured--tender, yet still substantial--and matched up easily with the bevy of sour, spicy flavors in the dish. Great potatoes, too.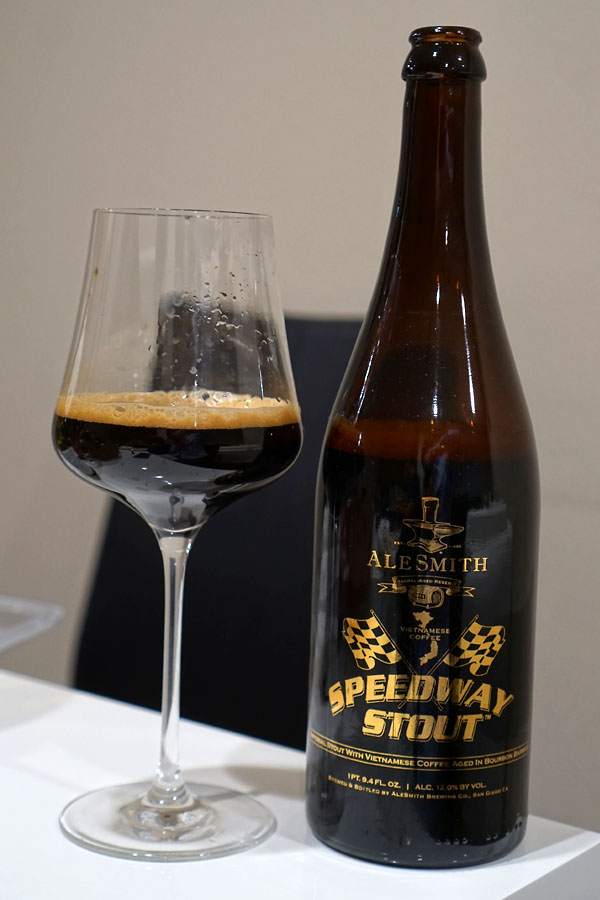 The evening's final beverage was the
cà phê sữa đá
-inspired
2016 AleSmith Bourbon Barrel Aged Vietnamese Coffee Speedway Stout
. The beer had a fragrant nose that showcased bittersweet coffee notes alongside chocolatey, malty qualities. Taste-wise, I found lots of cocoa powder, joined by roasty coffee bitterness, light vanilla, and noticeable oaky nuances.
Catalan Spinach [$14.00]
| Apple, Apricot, Sunflower Seed, Pine Nut, Sultana, Lemon. Vegan
Spinach displayed a vivacious bitterness, one that matched up swimmingly with all the fruity, nutty flavors at hand. Nice array of textures here as well.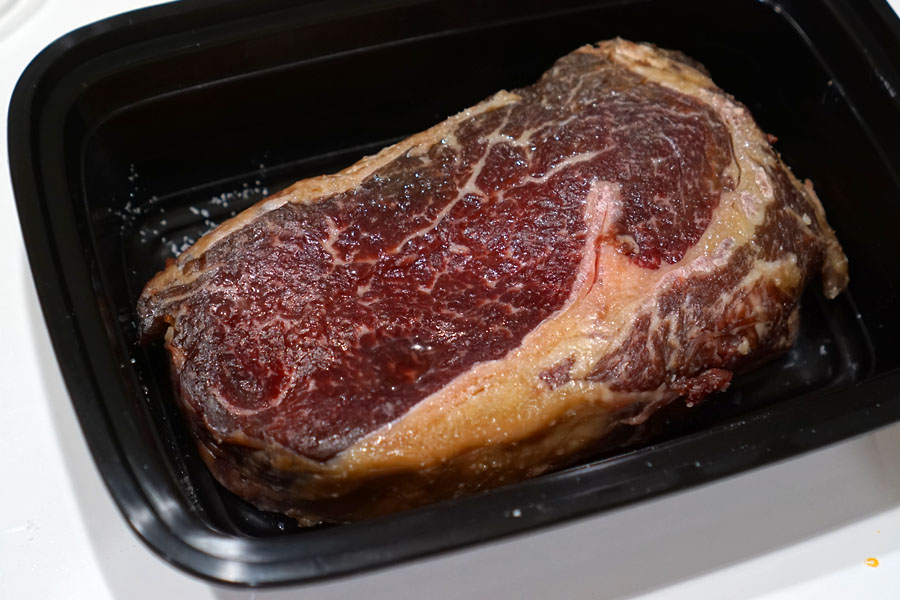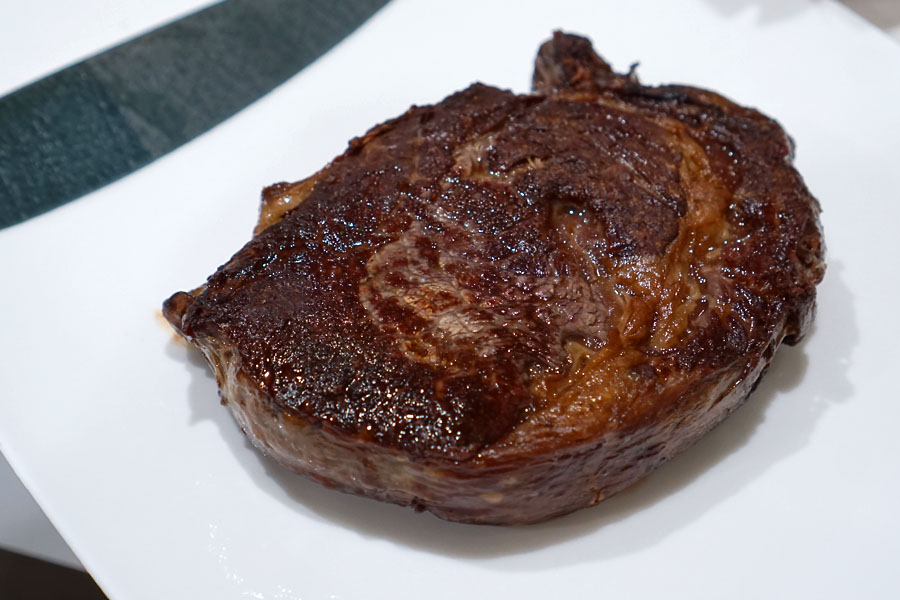 Vaca Vieja Galiciana Ribeye [$50.00]
| 12-15 Year Old Retired Rubia Gallega Dairy Cattle, Mojo Verde - Raw, Seasoned & Tempered for You to Cook at Home
You don't usually find meat from mature cows on menus here in the Southland, so I was glad to see it offered tonight. Compared to your typical steak, this rib-eye had more of a chew to it, but was far from being tough, while flavors were deeper, more robust, more complex. It was an impressive cut of meat, one that was reminiscent of dry-aged beef in fact. If you're able to find "old cow" on a menu here in SoCal, I'd recommend giving it a try.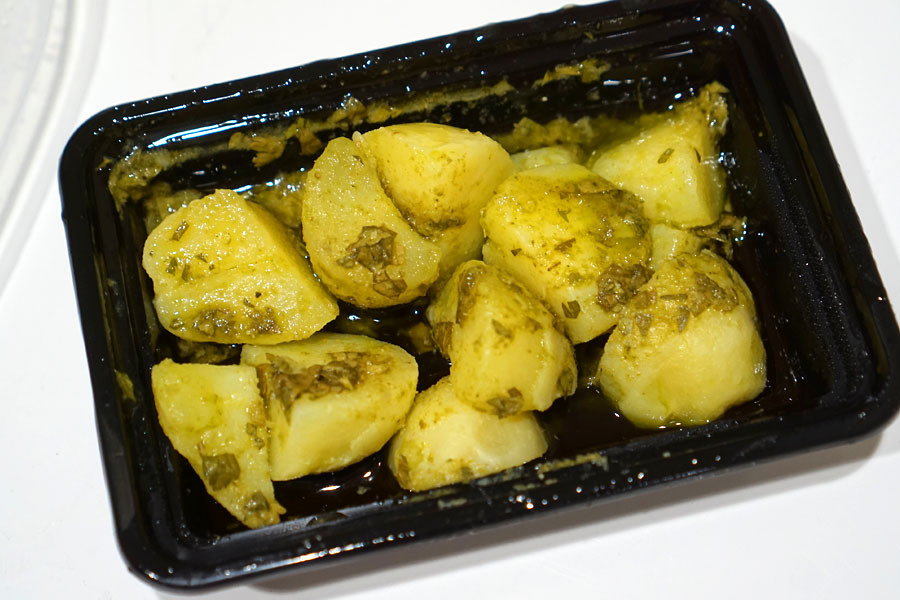 We were also provided a serving of hearty potatoes tossed in a zippy mojo verde, which I believe was meant to accompany the steak above.
Not surprisingly, this was another strong meal from the Playground team. Their rendition of Spanish cuisine was a commendable one, and it reminded me once again that, for some reason, we don't have nearly enough Spanish restaurants here in the Southland. With the pandemic outlook appearing to be improving, I'm hoping that I'll be able to enjoy a proper meal at Playground sometime this year, but I wouldn't be surprised if I return for some more takeout, either.