Kapoor's Akbar (Los Angeles, CA)
Kapoors Akbar Restaurant
701 W Cesar Estrada Chavez Ave, Los Angeles, CA 90012
213.372.5590
www.kapoorsakbar.com
Sat 01/09/2021, 07:25p-09:30p

I recently found myself looking for an Indian eatery to check out in the Downtown area, and after a bit of searching, settled on Kapoor's Akbar. The restaurant is somewhat new, having opened in March 2018, and is located in the former Chinatown home of
Belle Belle's Cue
. The Chef/Owner here is Avinash Kapoor (he also goes by "Avi"), who's actually been a fixture on the Southland's Indian dining scene since the 1980s. In fact, there's actually a surprisingly rich history to the multitude of Akbar-named restaurants that have graced LA throughout the years, so I'll try my best to summarize below.
A bit of history
: The story of Akbar begins with Kapal Dev Kapoor, an industry veteran who had been involved with well over two dozen restaurants in India. In fact, he often worked alongside his brother, Jagdish Kapoor, and the two are apparently the guys who started the Kwality ice cream brand back in 1957. They were also reportedly involved in the founding of New Delhi's Embassy Restaurant, as well as the Gaylord chain of Indian eateries (there was even one of those on La Cienega, which opened in 1986 and transformed into Tanzore in 2007). K.D. Kapoor visited LA in 1977 and happened to meet an old customer of his, Arvind Patel, and the two decided to get into the restaurant business together. They ended up taking over Akbar (590 Washington Blvd in Marina de Rey), a failing Indian joint that had previously opened in 1975, and were able to successfully turn it around.
Enter Avi Kapoor, Kapal's son. The younger Kapoor hails from Baroda (now Vadodara), Gujarat, and grew up cooking alongside his father and uncle. After immigrating to the United States in 1982, he graduated from Saint Monica Catholic High School two years later, and then attended Santa Monica College, finishing in 1988. He started working at the original MdR Akbar soon after his arrival in the US, as did his brother Akhil. A second Akbar, located at 17049 Ventura Blvd in Encino, opened circa September 1985, and also had Patel on as a partner (in fact, his son Umesh worked there, along with another Kapoor brother, Anil). Meanwhile, a third Akbar landed in Arcadia in September 1987, at 650 W Duarte Rd. Curiously, there's also an Akbar on Long Island, NY that might be related.
Things began to unravel, however, when patriarch Kapal Kapoor passed away in late 1991. By the end of 1994, all three Akbars had shuttered. That was hardly the end of the brand, though. At this point, Avinash Kapoor stepped up and, in October 1994, opened Akbar Grill, also located in Encino at 18003 Ventura Blvd, the one-time home of East India Grill. Interestingly, his partner there was Sumant Pardal of the current India Jones Chow Truck, but the restaurant didn't last too long, and was gone around two years later.
Kapoor's next step came soon after, at the very start of 1997, when he teamed up with his brother Atul and opened Akbar Cuisine of India at 3115 Washington Blvd in Marina del Rey, just up the street from the O.G. restaurant. This iteration of Akbar was a bit more relaxed, and rather successful, spawning three other well-known branches: Pasadena (44 N Fair Oaks Ave) in 1997, Santa Monica (2627 Wilshire Blvd) in 1998, and Hermosa Beach (1101 Aviation Blvd, the old Invitation to India) in February 2004. There were also less recognized locations (opened without Atul's involvement it appears) in Redondo Beach (I couldn't locate an address) and Beverly Grove (8514 W 3rd St), both of which seemed to have opened in 2004 and closed at some unknown later date.
In the middle of 2010, Kapoor partnered with Raj Patel and the two took over Spice of India in Houston's Medical Center neighborhood, but he ended up selling the business five years later. The Chef's next venture was Asbury Fusion Indian Bistro, which he opened in August 2010 in the former Westlake home of Chichen Itza (2501 W 6th St); the place was short-lived, however, and looks to have closed at the tail end of 2011. Speaking of shutters, the Akbar in Santa Monica closed in July 2014, while Hermosa Beach transformed into the South Indian-focused Kochi in September 2016, but was gone by May 2019. Meanwhile, Pasadena ended its run in February 2018 due to lease issues, but given that the closure was expected, Kapoor was able to get his new Chinatown spot up and running by March 5th that year.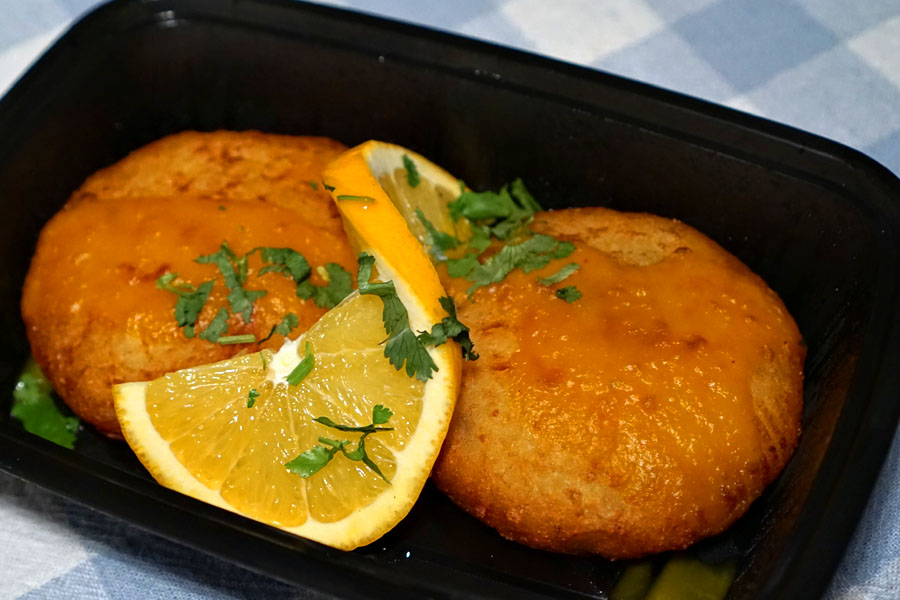 Aloo Aam Tikka [$7.00]
| Potato patties stuffed with green peas & spices, house mango sauce
Let's get started with these rather plump potato patties, which showed off all the classic
aloo
goodness I wanted, but with an apparent, yet not overwhelming layer of sweetness and a finish redolent of spicy mango. I also liked the slight crispness of their exteriors, though I wanted to taste more from the advertised peas.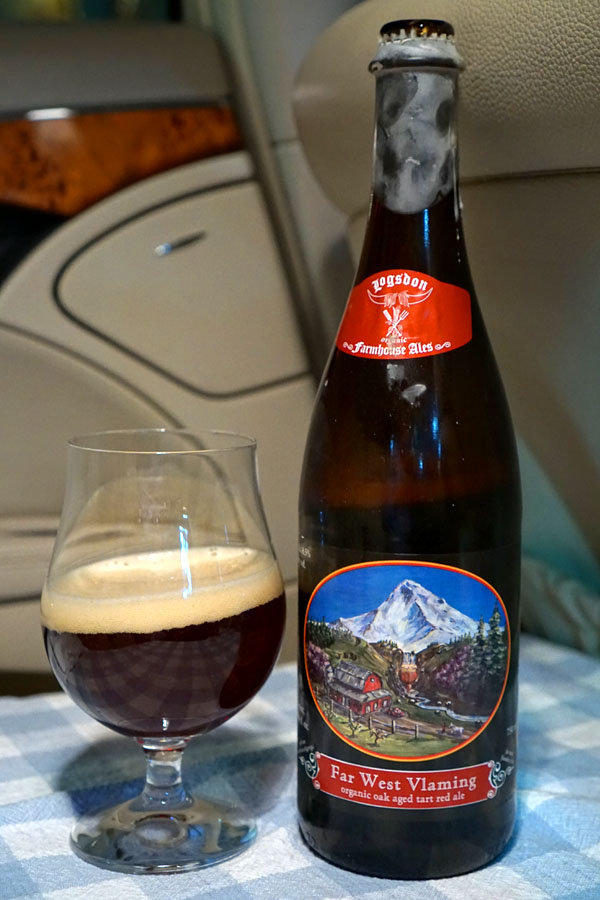 The evening's first beer was the
2013 Logsdon Far West Vlaming
, an oak-aged Flanders-style red ale. Delightful nose of tart-yet-jammy fruit with earth in the background. Taste-wise, we had malty, almost chocolatey flavors combined with a great balance of red fruit, tannic dryness, and lactic acidity. Superbly balanced--this has surely aged gracefully over the past seven years.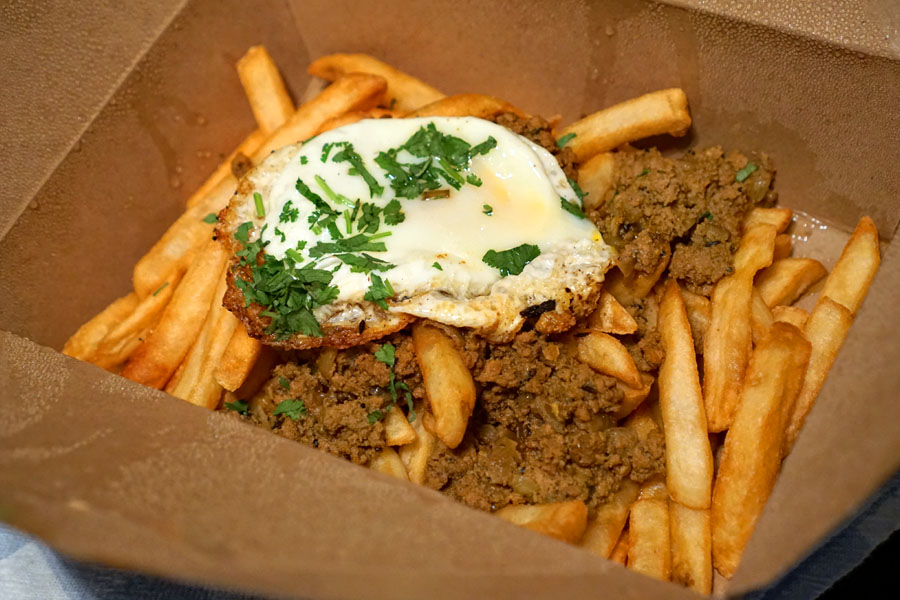 Dirty Fries [$9.00]
| Fries topped with spiced ground lamb masala, sunny egg
The Chef's riff on chili fries featured old school French fries topped with a mildly spiced, subtly sweet lamb
keema
. It was an easy to enjoy, approachable presentation of Indian flavors, and I certainly didn't mind the additional lushness of that runny egg, either.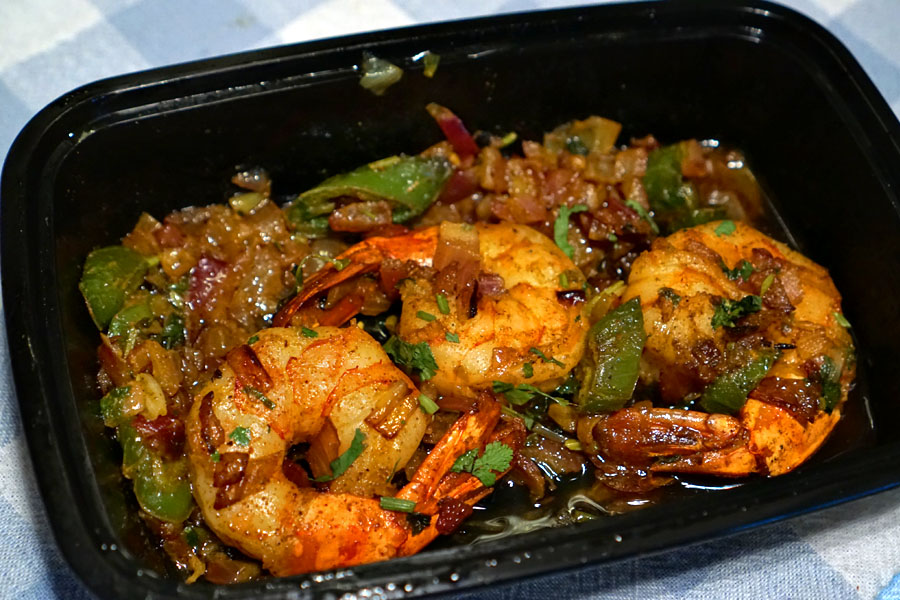 Spicy Garlic Shrimp [$12.00]
| Colossal shrimp prepared with garlic, onions, serrano, tamarind
Goan-styled shrimp were a touch more cooked than I would've liked, but enjoyable nevertheless. They made sense with the restrained heat in the dish, supported by the garlic-onion combination, while the tamarind was in the background.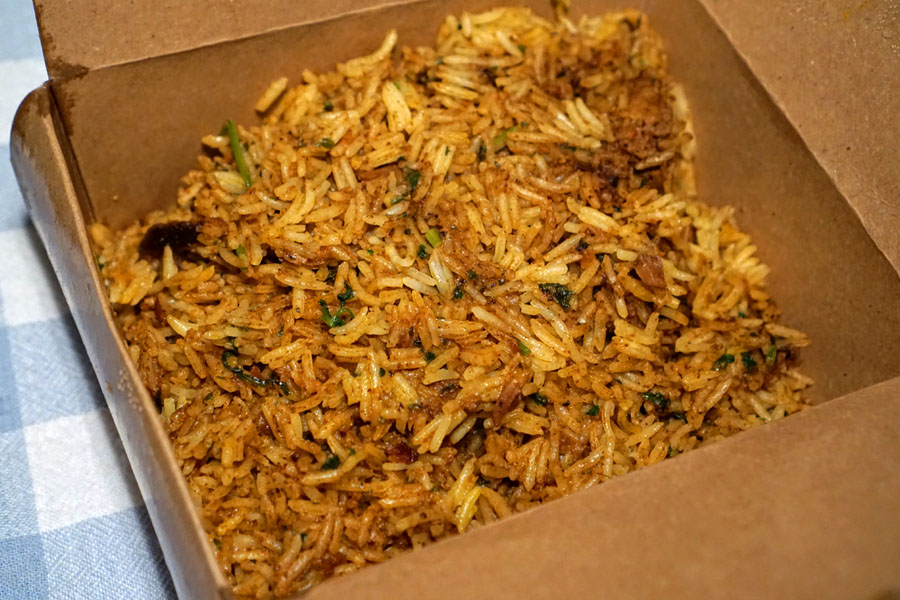 Biryani [$14.00]
| Choice of curried lamb, beef, chicken or shrimp cooked with rice in Moghul style
I've never considered myself a huge fan of biryani, but I have to say that this was no doubt one of the best versions I've tried. The basmati rice arrived perfectly textured and fragrantly spiced, and married easily with the hearty, tender chunks of curried lamb, all while there was this overarching minty note that helped lift the dish.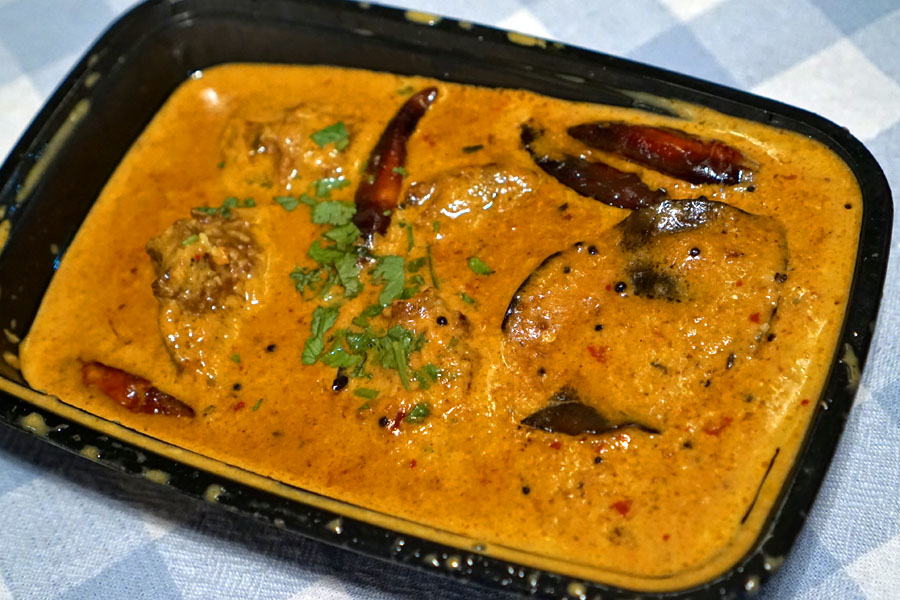 Coco Lamb [$17.00]
| Lamb coconut sauce flavored with a dash of fennel, Chef's signature
Here we have one of Kapoor's most well known creations, and for good reason. The lamb was spot on texturally, and I was impressed by how well the meat meshed with the delicate flavors of coconut milk. Also key was the zippiness from the fennel, which helped energize the dish. Another standout.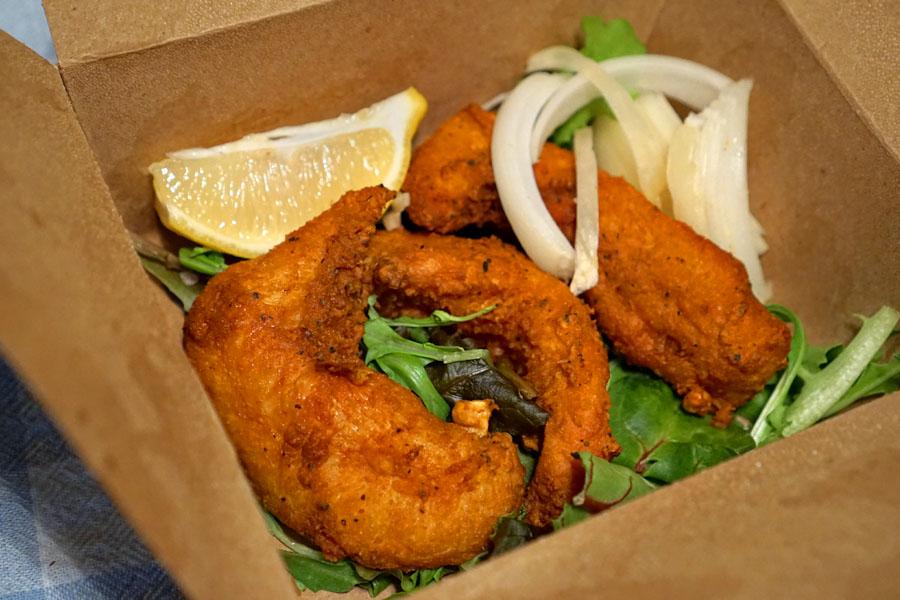 Chicken 65 [$11.00]
| South Indian fried chicken served with fried Serrano chili
Chicken tenders came out on the drier side unfortunately, so I think that thigh meat would've been a better choice here. That being said, the bird's spice-forward flavors were on point, and I really enjoyed the supporting zestiness of the raw onions.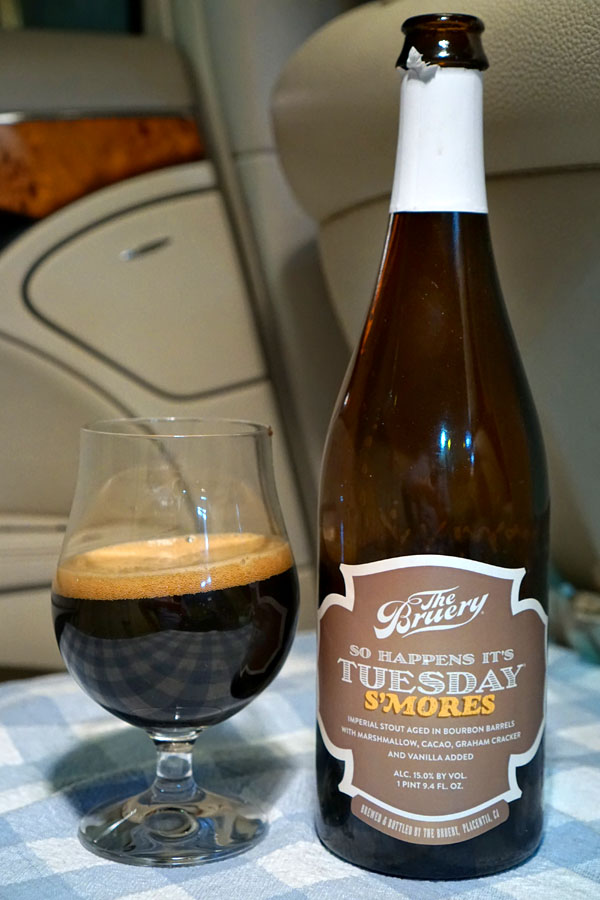 Next to drink was the
2019 The Bruery So Happens It's Tuesday S'mores
, an imperial stout aged in bourbon barrels with marshmallow, cacao nibs, graham cracker, and vanilla. The beer smelled strongly of the expected chocolate, with light vanilla in the back. On the palate, I found the ale super smooth, perhaps due to the marshmallow, while there were also notes of dark fruit, oak, subdued vanilla, and a touch of sweet spice (from the crackers I assume).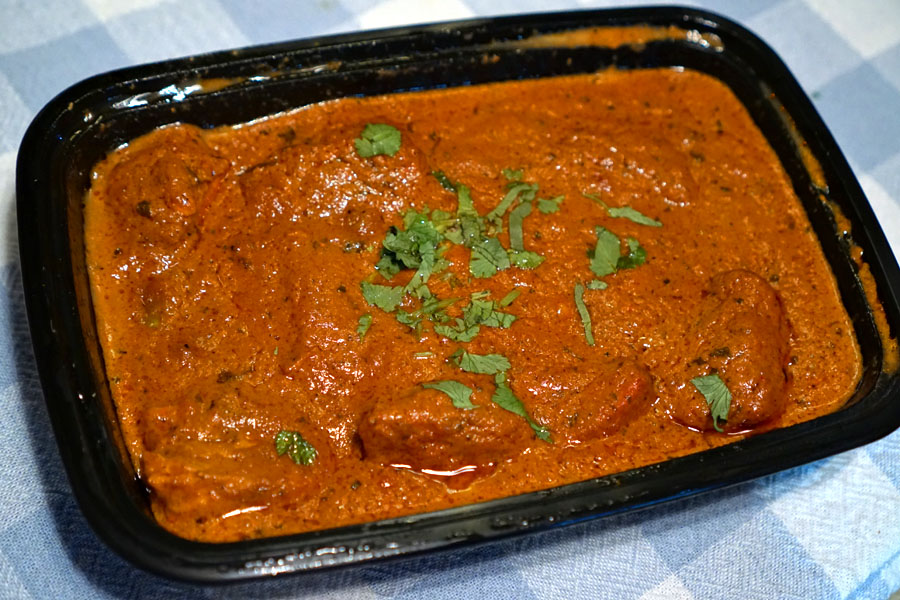 Chicken Tikka Masala [$16.00]
| House favorite – tandoor grilled chicken in tomato sauce, nuts and raisins
Naturally I had to sample Kapoor's take on what must be the most ubiquitous Indian restaurant dish ever, and it was actually a bit unlike what I've typically experienced in the past. I'd say that the dish in general was on the tarter side, while there was a definite nutty crunch present. Raisins were also an unexpected, but not unwelcomed addition, and even the texture of the chicken itself was different, being almost "beefy" in a way.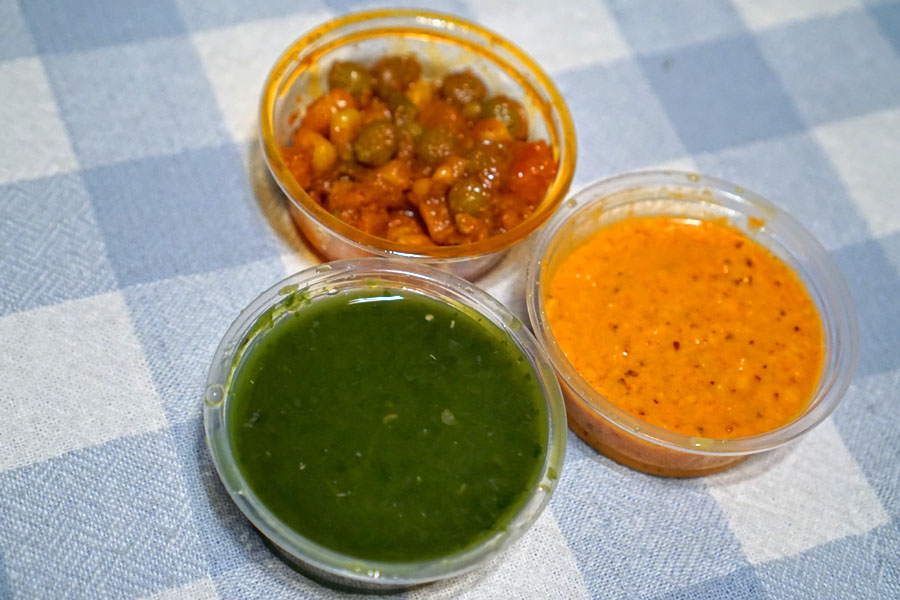 Three complimentary condiments were included with the meal: a sharp, spicy, fruity coconut chutney that was rather unique; a vegetal, surprisingly bracing mint chutney; and an unabashedly potent preparation of what appeared to be pickled corn and peas.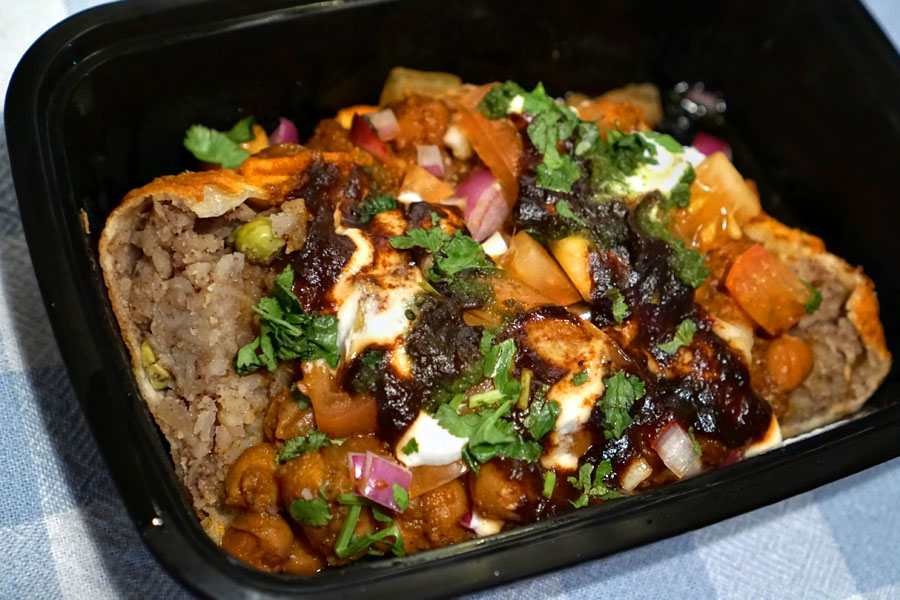 Chana Samosa Chat [$9.00]
| Samosa topped with tomatoes, onion & chana masala, and a variety of chutneys – tangy, sweet, spicy
Potato- and pea-stuffed samosas were broken apart and paired with a variety of sweet-n-sour flavors and the brightness of the tomato-onion mix, but even better was the savory heft of those chickpeas.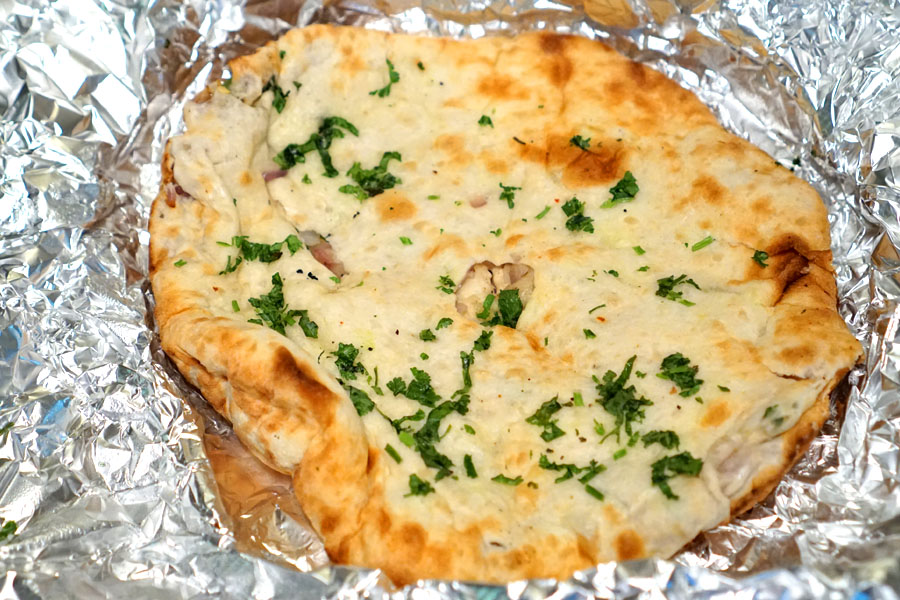 Onion Kulcha [$4.00]
| Nan topped with freshly chopped onion
The naan was probably the softest, most pillowy example I've had. It was also one of the most flavorful, as the kitchen definitely wasn't shy about the onion, nor the cilantro or chili peppers. Yum.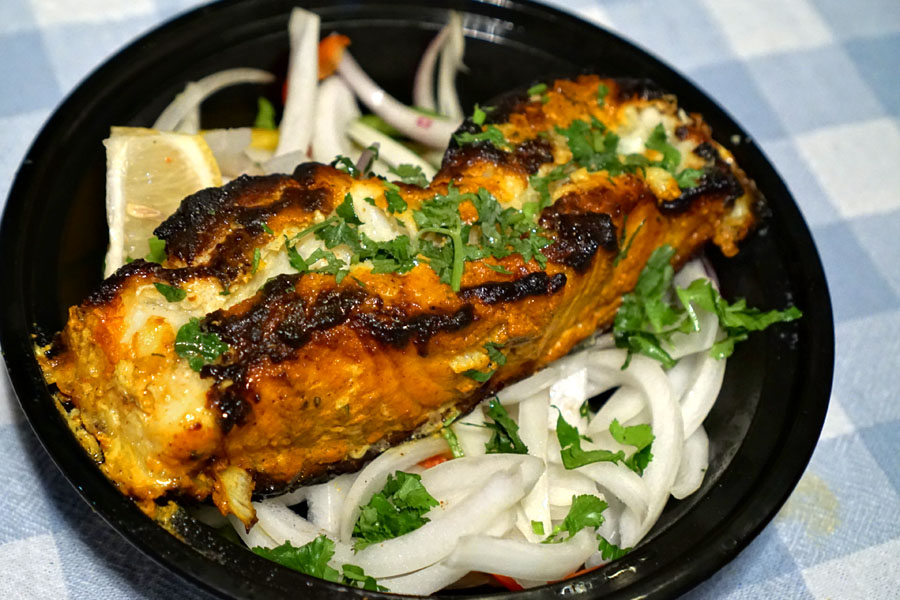 Chilean Seabass [$35.00]
| Chef Kapoor's signature famous tandoori Chilean seabass
Kapoor's signature sea bass was another clear favorite tonight. It showed off a supple, flaky, flavorful flesh, while its skin ate wonderfully savory and crispy. There was also a great smoke character present, and I loved the pungency and crunch from the raw onions, which helped even out the richness of the fish.
I was pretty pleased with my meal at this new incarnation of Akbar. Kapoor does things a bit differently with his cooking, which I appreciate. Think classic flavors, but perhaps with a twist or two. In fact, I wouldn't mind trying more of the menu, and I think this place would be a go-to Indian spot for me if I lived in the area (especially recently, for coronavirus-necessitated takeout).