Nueva (Marina del Rey, CA)
Nueva Restaurant
822 Washington Blvd, Marina del Rey, CA 90292
310.747.6050
www.nuevavenice.com
Sun 01/31/2021, 08:15p-10:10p

As we all know by now, outdoor dining was reinstated by Los Angeles County regulators on January 29th due to an improving coronavirus outlook. It felt appropriate to enjoy a meal out as a bit of a celebration, and so I decided to see what Vartan Abgaryan was up to. I last reported on the Chef back in June 2019, when I dined at
Yours Truly
in Venice. That restaurant was launched in partnership with David Reiss, and Abgaryan has once again teamed up with Reiss Co (as well as Jared Meisler) for Nueva, a modern Mexican "cantina" concept. The place grand-opened on August 11th last year, with Mesraim Llanez (
Guerrilla Tacos
,
E.R.B.
,
Trois Mec
/
Petit Trois
,
Lucques
,
Cliff's Edge
) running the day-to-day and Adam Fournier (
The NoMad
,
Faith & Flower
) in charge of the beverage program.
Do note that, unfortunately, Yours Truly officially closed last November, another victim of the health crisis. Its shutter also resulted in the end of Post Script, a live fire-focused pop-up also helmed by Abgaryan that was situated in the parking lot of The Brig (it lasted a mere two months).


Nueva takes over the former home of
Sunny Spot
, at least the front portion. The rear of the building had already been converted to The Little Friend, which is co-owned by Meisler. Meisler was also responsible for Nueva's design, which is on the colorful, easy-going side. Most of the seating resides in two large patios, which makes for convenient pandemic dining.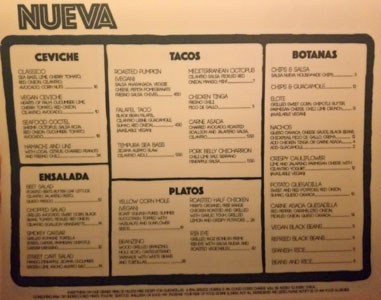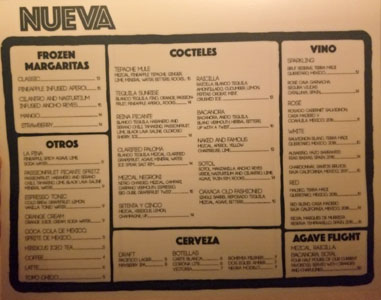 The menu sports a variety of casual-contemporary Mexican-inspired fare. To drink, you get a pretty interesting cocktail list, a handful of beers, and a small array of wine. There's also a large selection of distilled Mexican spirits (curated by Raul Yrastorza of Las Perlas fame), if you're interested. Click for larger versions.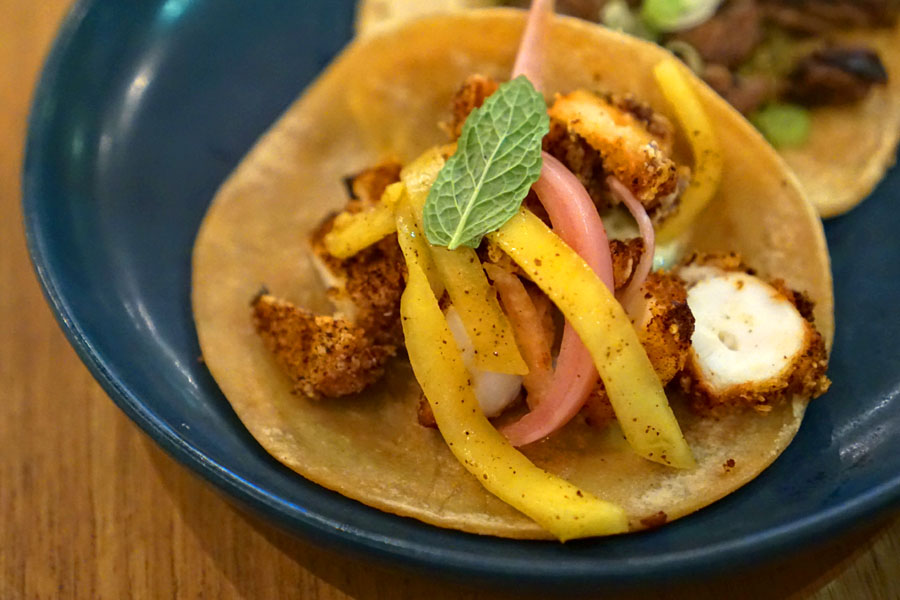 Mediterranean Octopus Taco [$7.00]
| cilantro salsa, pickled red onion, mango, mint
As regular readers probably know, I have a bit of a penchant for octopus, so this was a have-to-try item for me. The octo was spot on, coming out tender yet still substantial, with a wonderfully crisp, lightly-charred, flavorful exterior to boot. Meanwhile, taking things to an even higher level were flashes of fruitiness from the mango, as well as refreshing hits of mint. A very promising start.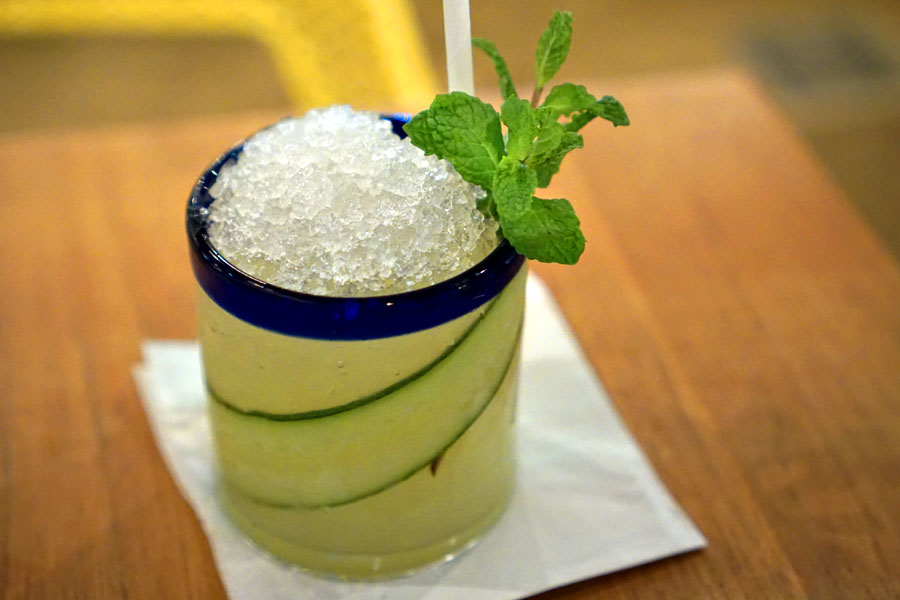 Raicilla [$13.00]
| raicilla, blanco tequila, amontillado, cucumber, lemon, pepitas orgeat, mint, crushed ice
I ended up making my way through four cocktails this evening. This first one was easy-drinking, yet still pretty interesting. I got a restrained sort of sweetness from the orgeat, which was then joined by fresh cucumber notes, a bit of a raisin-y flair, and the nutty, oxidative qualities of sherry in the background.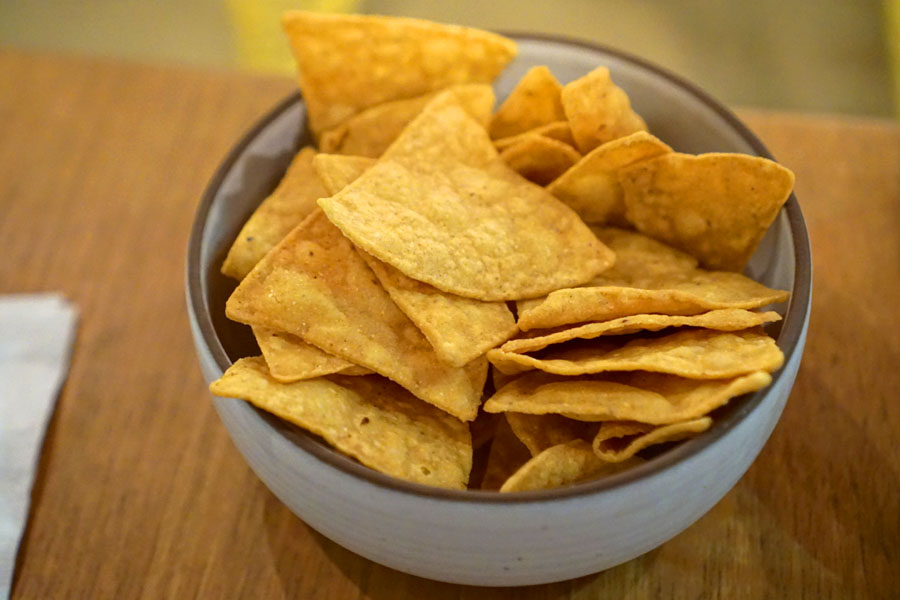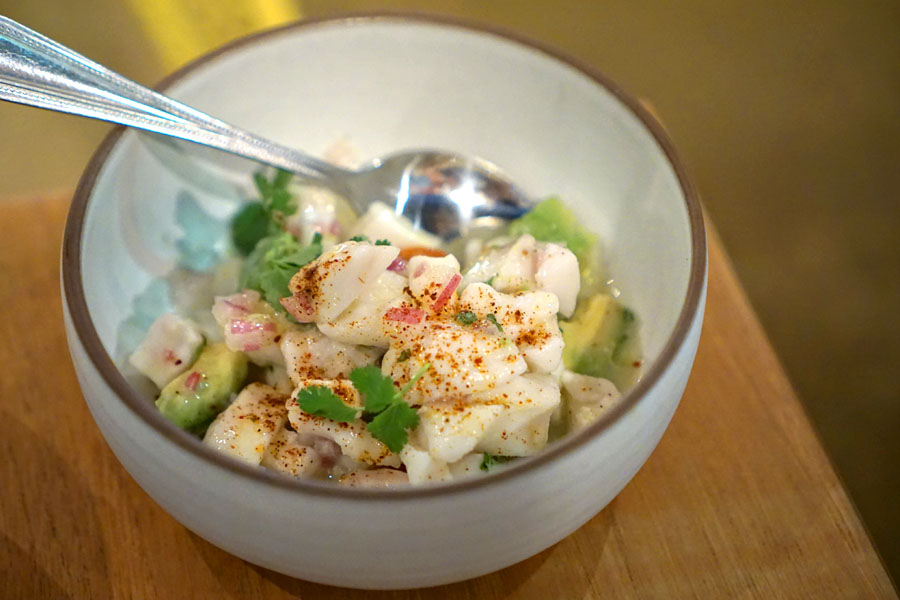 Ceviche Classico [$16.00]
| sea bass, lime, cherry tomato, red onion, cilantro, avocado, corn nuts
This fish ceviche was also a winner. I found the bass gratifyingly firm, while flavors were robust, saline. Serving as counterpoint was the delicate acidity in the dish, while the avocado imparted lusciousness. I could've used more of the advertised
cancha
, but the tortilla chips did provide the needed crunch.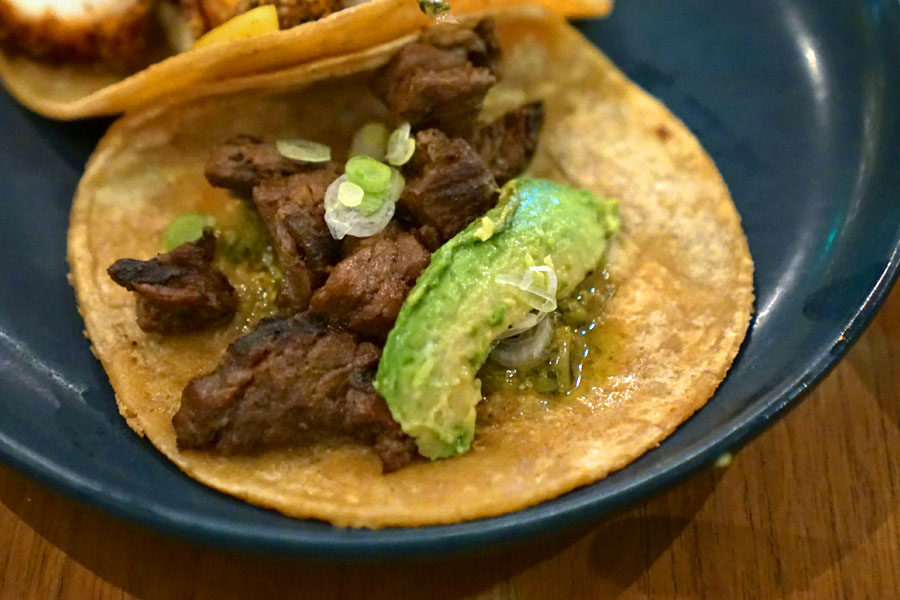 Carne Asada Taco [$5.50]
| charred avocado, roasted scallion and jalapeño salsa, cilantro
Of course I had to sample the most basic taco option, and it managed to deliver. The beef ate tender and full-flavored, and had a pretty decent sear. Adding further oomph to things was the savory, smoky onion, while the avocado smoothed things out.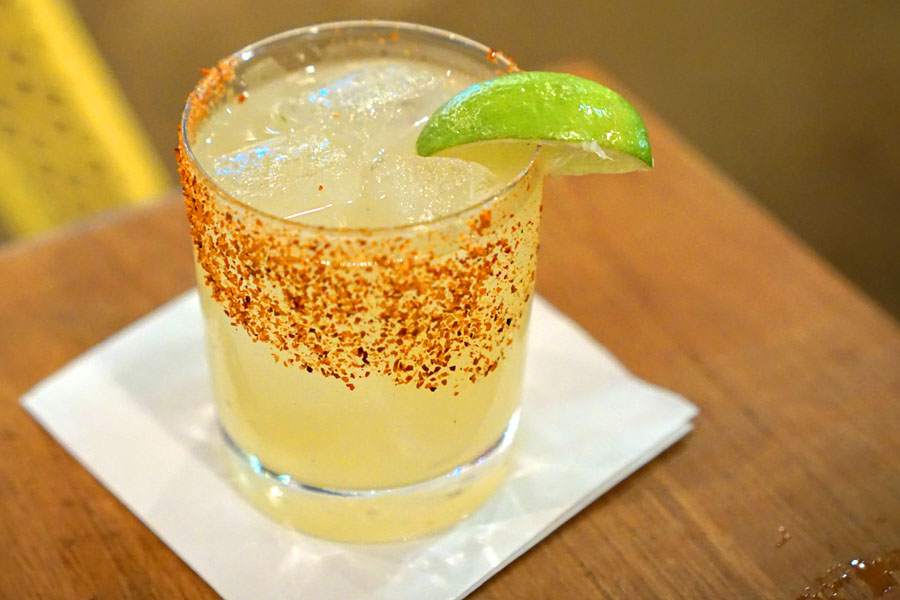 Sotol [$14.00]
| sotol, manzanilla, ancho reyes verde, nasturtium and cilantro, lime, agave, tajin rim, rocks
My second cocktail went in a vegetal, spicy, smoky, and sour direction, and was pretty well balanced in that regard. Do be mindful of the Tajín rim though.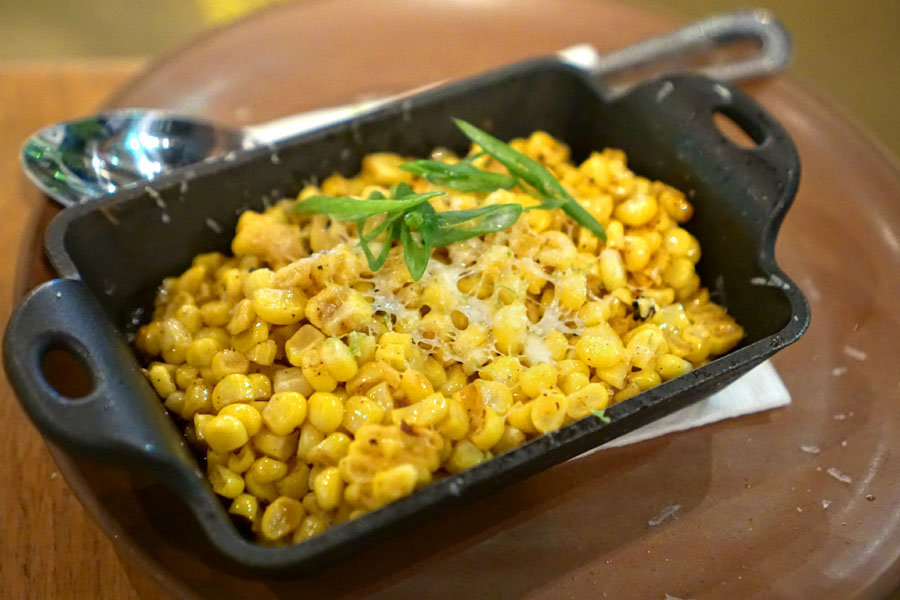 Elote [$8.00]
| grilled sweet corn, chipotle butter, parmesan cheese, chili lime crunch
Esquites
were sweet, buttery, and amped up by the parm, while the lime contributed pricks of acidity.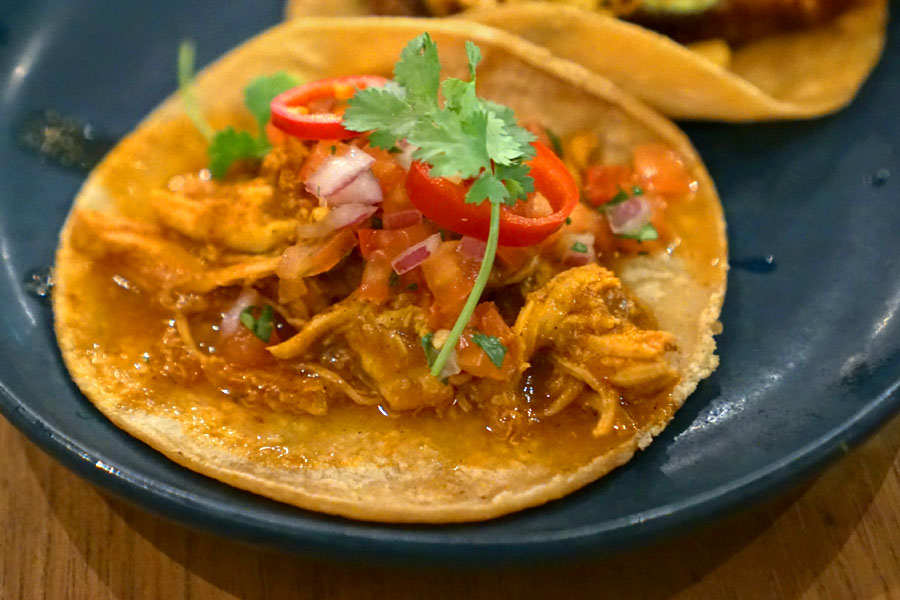 Chicken Tinga Taco [$5.00]
| fresno chili, pico de gallo
Chicken arrived in shredded, flossy form and was gently spiced, with a particularly noticeable tomato element. Given the relative mildness of the bird, the peppers were crucial thanks to the sharp, focused heat they imparted.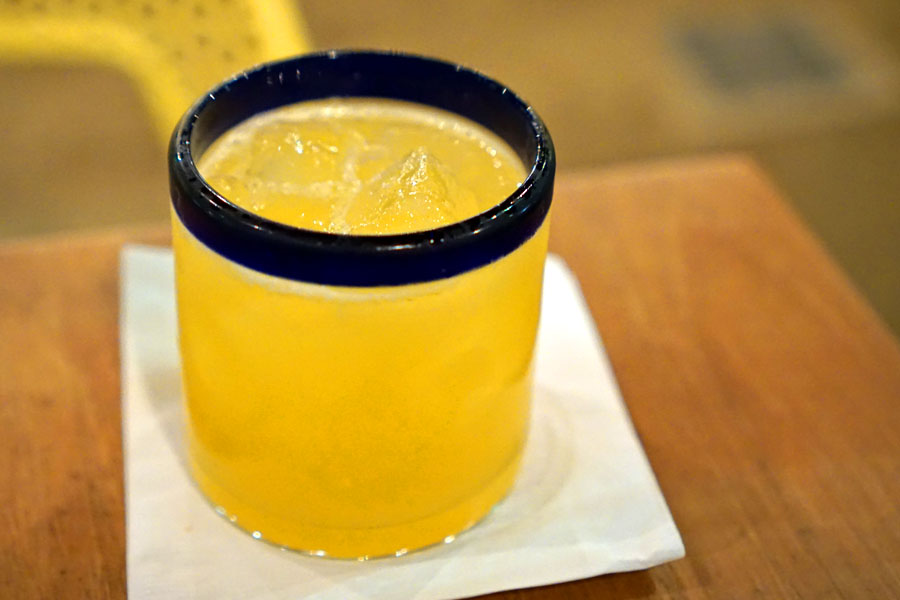 Reina Picante [$14.00]
| blanco tequila, habanero and serrano chili, tamarind, passionfruit, lime, black lava saline, oloroso sherry, ice
This yellow-hued cocktail delivered lots of passion fruit right up front, combined with a palpable, lingering heat, light smoke, and a touch of salinity.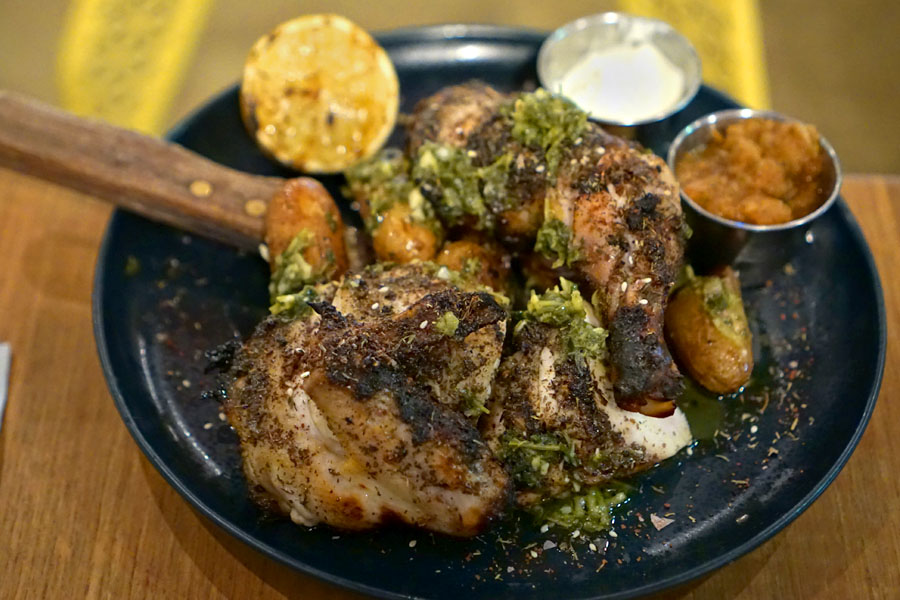 Roasted Half Chicken [$26.00]
| mary's organic, free range chicken roasted and grilled with garlic toum, grilled lemon and crispy potatoes
The roast chicken represented the only real misstep of the night. Texturally, the bird just didn't sit right with me, as I found the meat overly "flaky," and perhaps a bit underdone. The taste was also off, since the kitchen appeared to go overboard with the herbs and citrus, making for a bitter, acrid flavor profile. Fortunately, the potatoes were just about spot on, and I quite liked the creamy, elegantly garlicky
toum
, too.
Pork Belly Chicharron Taco [$5.50]
| chili lime salt, serrano pineapple salsa
My final taco also met the mark. I was impressed by the sheer crispiness of the belly, as well as how its fatty, porcine funk meshed with the fruitiness of the salsa. Unexpectedly well balanced.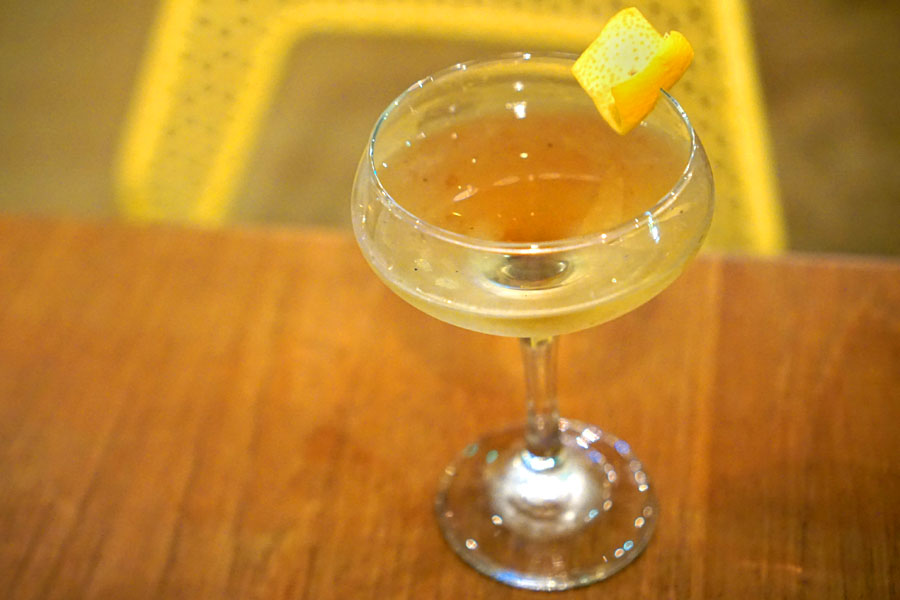 Bacanora [$16.00]
| bacanora, anejo tequila, blanc vermouth, herbal bitters, up with a twist
Tonight's last cocktail was definitely the most potent of the bunch. Think boozy, bittersweet flavors, joined by herbaceous, smoky, astringent nuances, with a smidge of mint on the finish.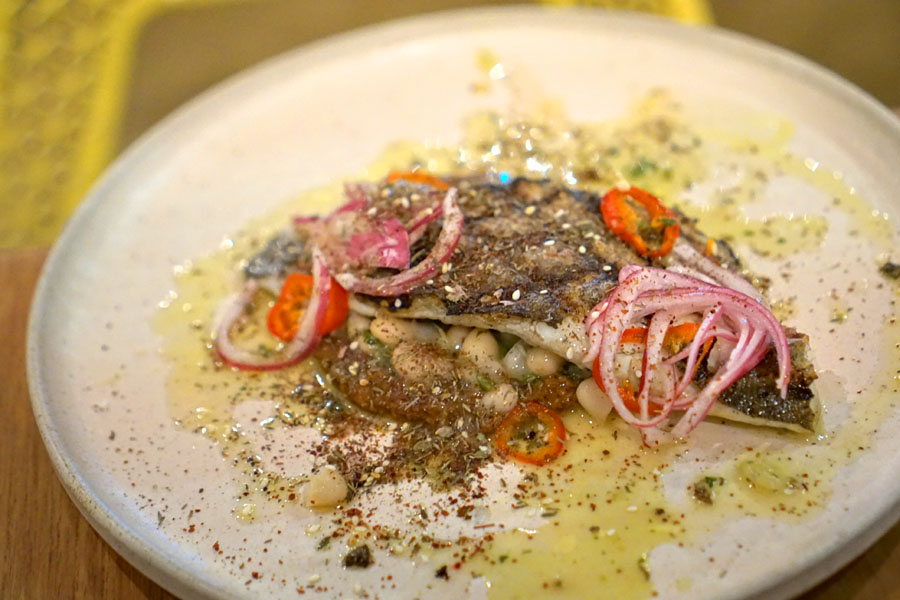 Branzino [$28.00]
| wood grilled branzino, mole rojo, castelvetrano tapenade with white beans and tortillas
The branzino managed to be another standout. The sea bass showed off a supple, succulent consistency, while flavors were saline and smoky. The crux of the dish, though, was that mole, which contributed sweet, nutty notes that married surprisingly well with the fish. I also appreciated the moderating effect of the beans, while the onions added a zestiness to things.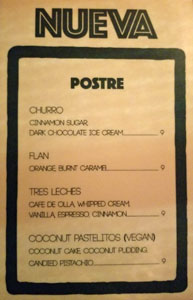 With the savories dispensed with, it was time for a look at the dessert menu. Click for a larger version.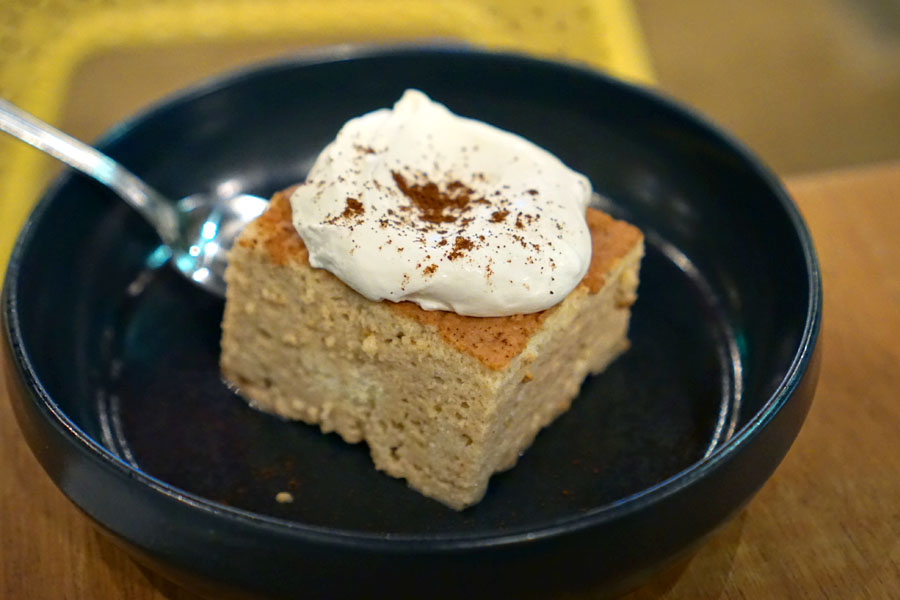 Tres Leches [$9.00]
| cafe de olla, whipped cream, vanilla, espresso, cinnamon
I'm quite the fan of tres leches, and Nueva's version didn't disappoint. I found the cake semi-saturated in terms of consistency, while flavors were sweet, certainly, but also subtly spicy, with a distinct caramel-like edge.
Well it was certainly nice to be able to dine out again, and hopefully this time it'll last. As for Nueva, with the exception of the chicken, I was generally pleased with my meal here. This is a fun, relaxed sort of spot (it seems like it'd be great for dates), and a worthwhile replacement for Sunny Spot. I'll be on the lookout for what Abgaryan and company do next.