Burgerlords (Los Angeles, CA)
Burgerlords Restaurant
943 N Broadway, Los Angeles, CA 90012
323.405.4012
www.burgerlords.com
Sat 05/22/2021, 07:50p-08:40p

I recently stopped by Chinatown after doing some shopping, and decided to try Burgerlords for dinner. It's a spot that I'd been mildly curious about for some time now, and comes to us from brothers Frederick Guerrero and Maximilian Guerrero, whose father is none other than
Andre Guerrero
. These days, the elder Guerrero is probably most known for founding The Oinkster up in Eagle Rock back in 2006, and in fact, it's there where, while working at the restaurant, the brothers really discovered the craft of the hamburger. They even started a
Tumblr called Burgerlords
to document their passion. After leaving The Oinkster, the Guerrero brothers founded
Slow Culture
, an art gallery in Highland Park, in August 2013 (it shuttered four years later). In 2015, Fred and Max reached back to their mutual love of burgers, and decided to open a place together. They ended up partnering with Kevin Hockin, and launched Burgerlords at Chinatown's Central Plaza that October.
The takeout-focused eatery was generally well received, and in January 2017, the brothers started serving out of Highland Park music venue The Hi Hat. Meanwhile, Jesse Furman (Free Range LA) was hired as Executive Chef in November, and made some notable additions to the menu, such as the tofu nuggets and tahini milkshakes. The Hi Hat location ended up closing in May 2018, but just months later, it was announced that the Guerreros would be taking over the former home of Diep Tran's Good Girl Dinette. Burgerlords Highland Park eventually debuted in March 2019, replete with proper indoor seating as well as beer/wine. The biggest shock, though, came in July last year, when Burgerlords announced that it was going 100% vegan, ostensibly due to the coronavirus-induced controversies surrounding meat processing facilities that were in the news around that time.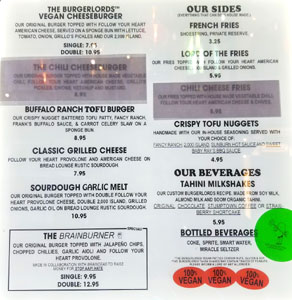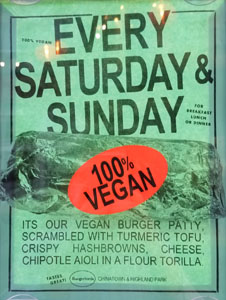 And speaking of going vegan, pictured above is the menu, which is centered on Burgerlords' house-made meatless patty, reportedly made from a blend of 30 or so veggies, grains, nuts, and spices. There's also a weekend-only breakfast burrito that sells out early, so unfortunately I wasn't able to try it. Click for larger versions.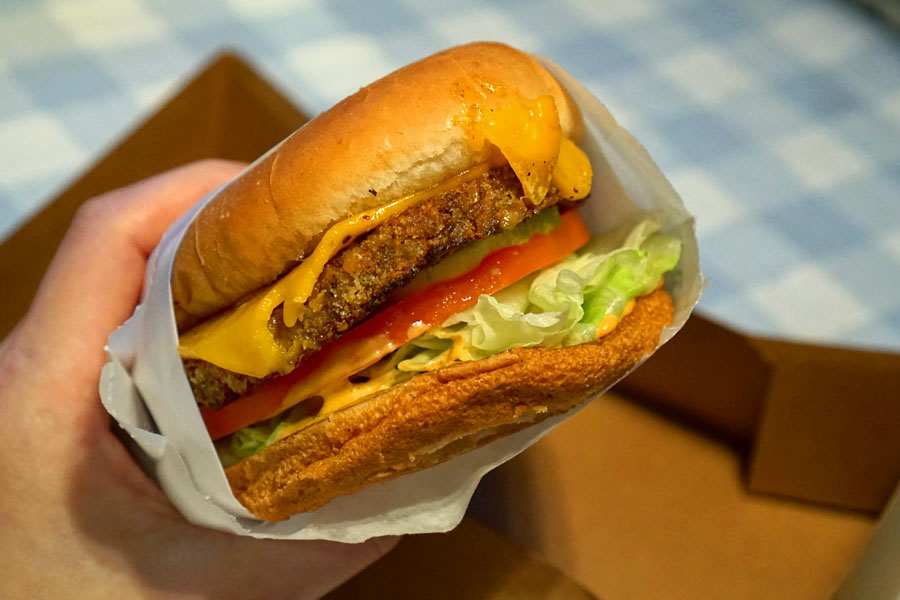 The Burgerlords Vegan Cheeseburger - Single [$7.95]
| Our original burger topped with Follow Your Heart American cheese, served on a sponge bun with lettuce, tomato, onion, Grillo's pickles and our 2,000 island.
It made sense to begin with Burgerlords' most classic offering. The signature patty ate crisp and flavorful, with a distinct nutty bent, while the cheese was surprisingly convincing. Also crucial were the lettuce and onion, which functioned for contrast just like you'd expect. Overall, though this was clearly different compared to a standard hamburger, it was still quite pleasurable.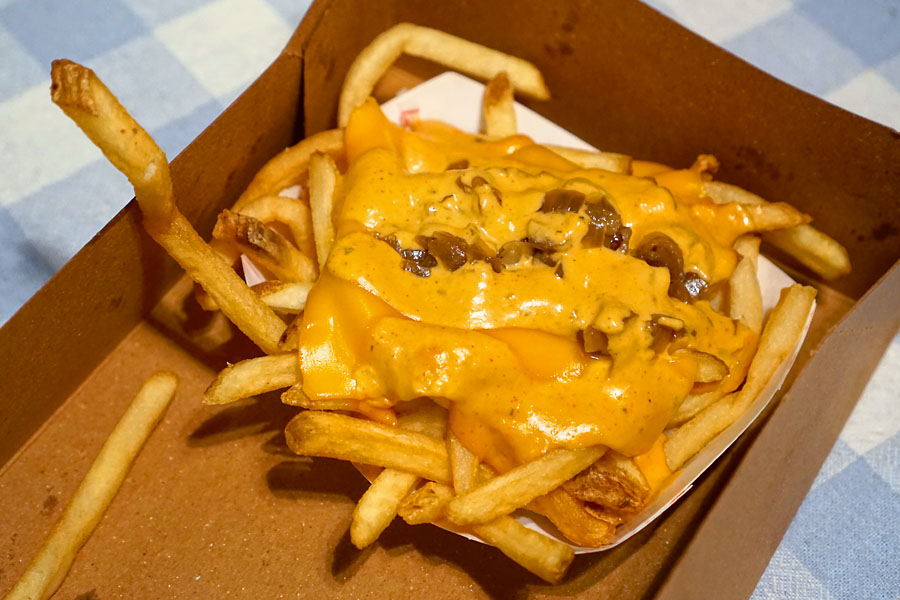 Lord of the Fries [$5.95]
| Our fries topped with Follow Your Heart American cheese, 2,000 island & grilled onions.
Next came the restaurant's take on In-N-Out's iconic animal fries, and I found the actual fries here superior. However, what struck me the most was the surprisingly large amount of smoke from the onions, which married well with their inherent sweetness. Everything came together pretty well.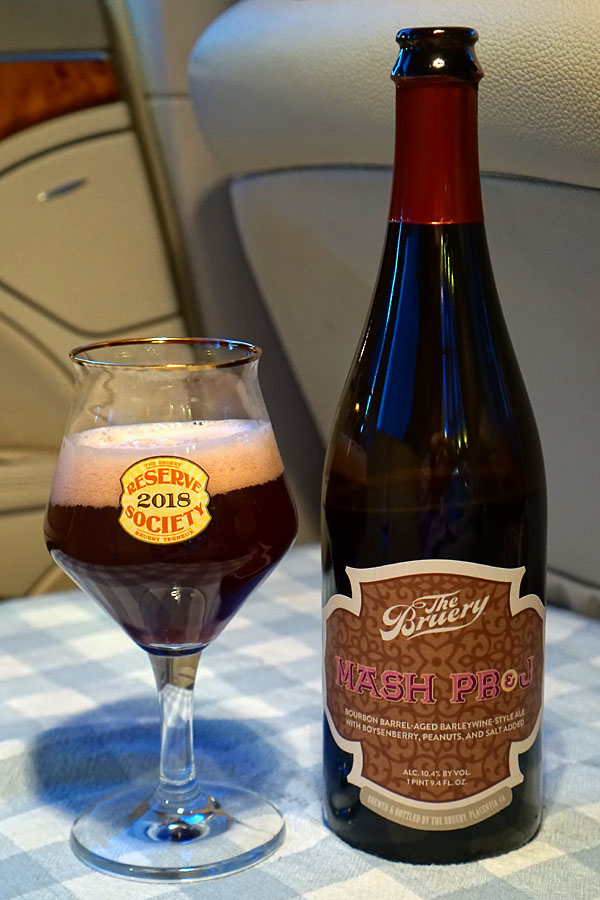 To drink, I opened up a bottle of the
2020 The Bruery Mash PB&J
, a bourbon barrel-aged barley wine with boysenberry, peanut powder, and salt. The beer had a malty, cereal-forward nose, but with a very noticeable berry backing. Tasting the ale, I got coffee-esque notes up front, mixed with bitter, nutty elements, while the fruit came in later and stuck around. This one didn't capture the essence of a peanut butter and jelly sandwich as much as I would've liked.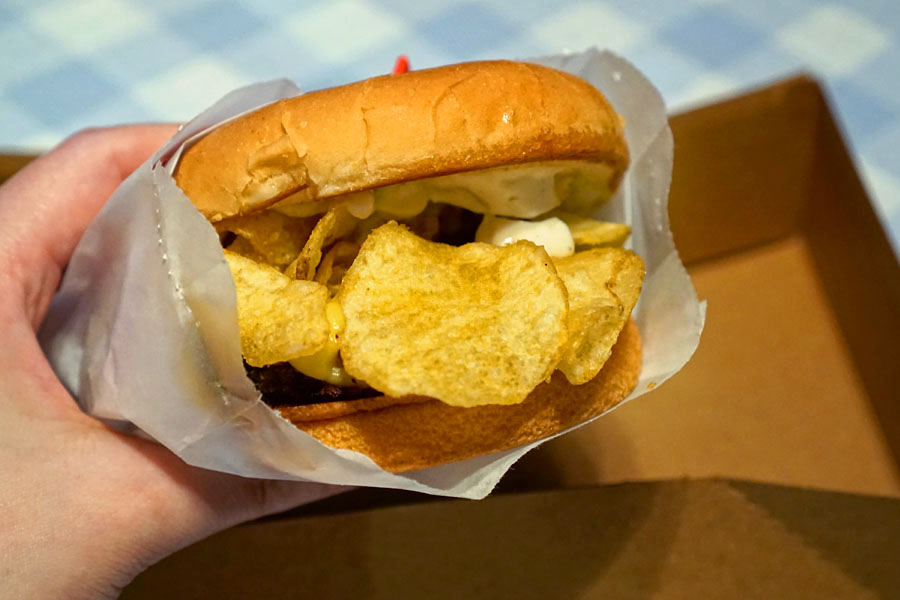 The Brainburner - Single [$9.95]
| Our original burger topped with jalapeño chips, chopped chilies, garlic aioli and Follow Your Heart Provolone
Though this burger featured the same patty as the cheeseburger above, it was an altogether different eating experience. I got a potent, vegetal funk and long-lasting heat that took me a bit by surprise, but fortunately, the cheese and garlic aioli helped keep it all in check. Great crunch from those chips, too.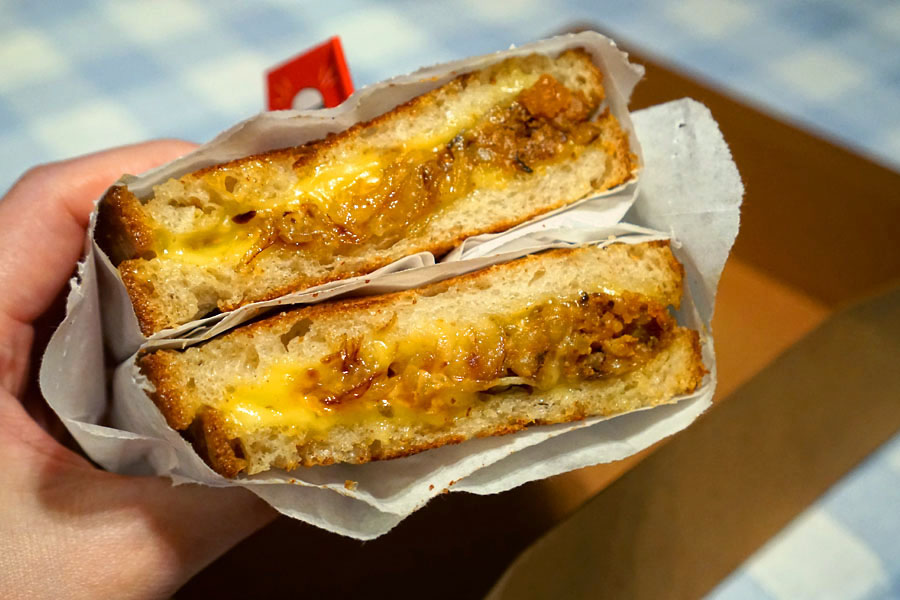 Sourdough Garlic Melt [$9.95]
| Our original burger topped with double Follow Your Heart Provolone cheese, double 2,000 island, grilled onions, garlic oil on Bread Lounge rustic sourdough.
Last up was Burgerlords' version of the patty melt. The "meat" here was definitely more rustic in its preparation, and had some potato-like characteristics that I didn't get above. The gooey melted cheese was pretty spot-on, and the caramelized onions did their thing as well. Superb crispness on the griddled bread, too.
I should've come here earlier, as I really would've liked to have tried the Guerreros' traditional, beef-based burger. That being said, what I sampled tonight was actually pretty satisfying, and I didn't really miss the meat all that much. So yes, it does seem like Burgerlords is a sensible entry into Southern California's burger joint lexicon.