The Crack Shack (Costa Mesa, CA)
The Crack Shack
196 E 17th St, Costa Mesa, CA 92627
949.383.5040
www.crackshack.com
Sun 05/23/2021, 07:50p-09:05p

About six years ago, I had a lovely dinner at San Diego's
Juniper & Ivy
, an upscale modern American joint started by Chef Richard Blais and financier Michael Rosen. At the end of my post, I wrote that the two partners were "working on a second restaurant, an all-day, fast-casual spot called The Crack Shack" that will "focus on food made from chicken and eggs." The chicken-centric eatery ended up debuting at the tail end of 2015, taking up residence inside an old welding shop right next door to Juniper & Ivy. Running the kitchen was CdC Bradley Austin (ex-sous at J&I), while Jon Sloan (ex-EC at J&I) and Dan Pena served as Culinary Director and Director of Operations, respectively.
The place was a hit pretty much right from the start, and this success resulted in a second Crack Shack hatching in Encinitas in February 2017, set inside a former Coco's. A Costa Mesa restaurant (the subject of this report) followed in November that year, while an outpost at Westfield Century City dropped in July 2018, and Pasadena (in the old Firehouse Recording Studio space) arrived in November. The team then expanded to Las Vegas in September 2019 with the opening of a location at Park MGM. Do note that Blais is apparently no longer involved in the day-to-day operations of The Crack Shack, though he retains an ownership stake. He's reportedly extricated himself from Juniper & Ivy as well.

The Crack Shack occupies a building that was actually previously home to a Chase bank branch. The space has been thoroughly reworked, as you can see.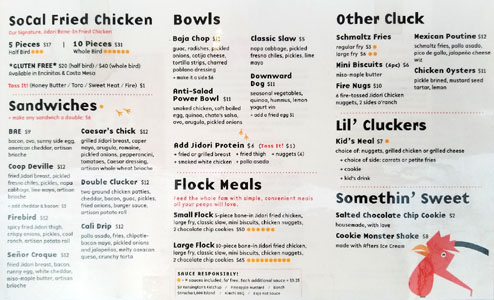 The menu is about what you'd expect, with various incarnations of Jidori chicken available in an array of formats. Also, keep in mind that the place has a full bar, so beer, wine, and cocktails are all available (though I didn't partake since I ordered my food to-go). Click for a larger version.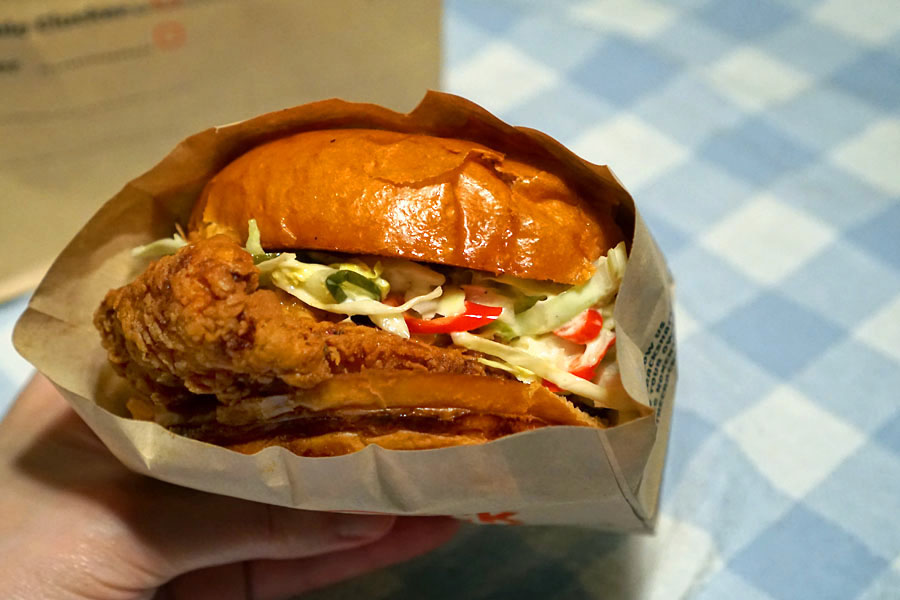 Coop Deville [$12.00]
| fried Jidori breast, pickled fresno chiles, pickles, napa cabbage, lime mayo, artisan brioche
Up first was the most classic of the sandwiches offered. It featured a well-seasoned breast that was actually pretty juicy, and which did a commendale job showing off the innate goodness of the chicken. The pickles and veggies worked just as you'd expect for contrast, while the Fresnos imparted a smidge of heat.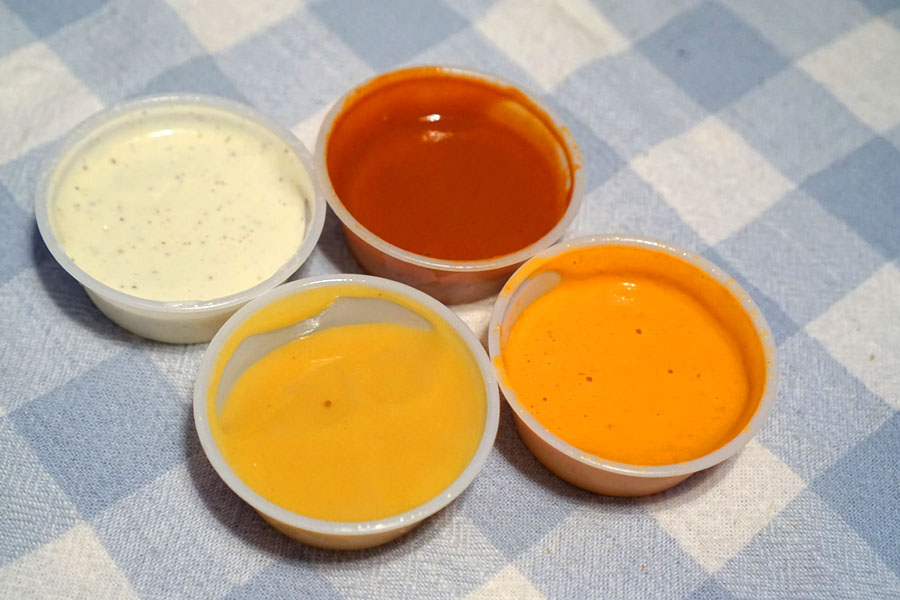 Given that I purchased four sandwiches, I was allotted four complimentary sauces. Clock-wise from lower-left:
Pineapple Mustard - Too heavy on the fruity notes for me, as I wanted more pungency, more zing.
Ranch - A particularly viscous preparation, with a strong herby component.
Baja Hot Sauce - This one had a sour, prickly heat that really did enliven things.
Sriracha 1,000 Island - The vegetal spice of the sriracha clearly dominated, as the sauce didn't really taste much of Thousand Island.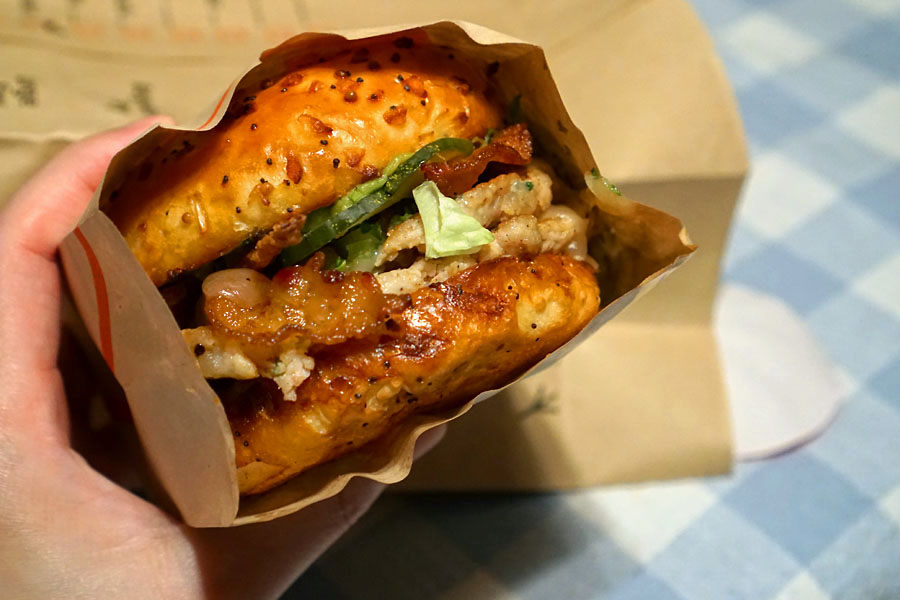 Double Clucker [$12.00]
| two ground chicken patties, cheddar, bacon, guac, pickles, fried onions, burger sauce, artisan potato roll
This was clearly the most hamburger-like of the lot. I quite liked the patties here, which incorporated what I believe was green onion and meshed beautifully with the salt and crunch of the bacon. The brightness of the pickles and guacamole was crucial as well, and overall, this one just came together very nicely.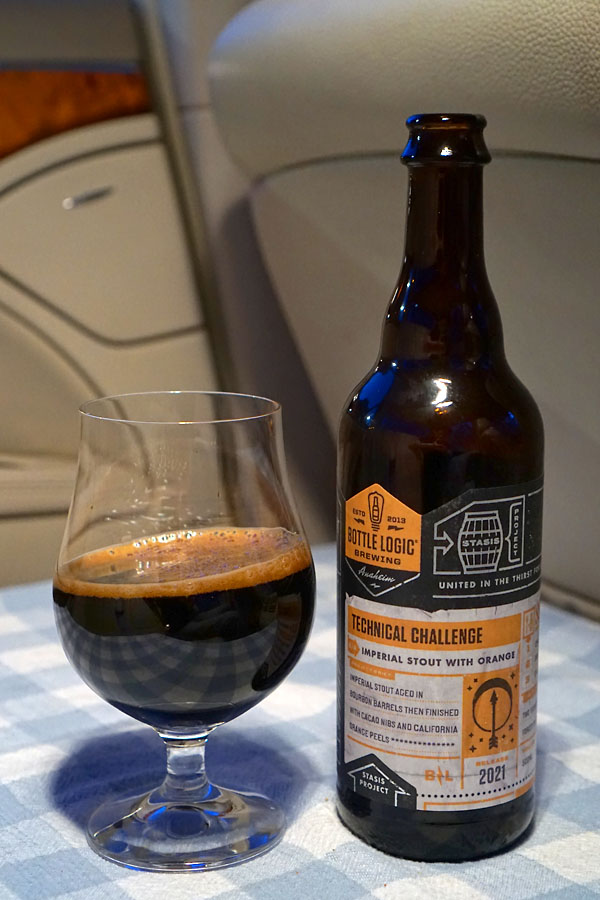 Beverage duties were handled by the
2021 Bottle Logic Technical Challenge
, a Jaffa cake-inspired bourbon barrel-aged imperial stout finished with Ecuadorian cacao nibs, California orange peels, and Madagascar vanilla, created in collaboration with Claremont Craft Ales. The beer smelled just like orange-flavored chocolate candy, while the palate brought more of the same, along with a sharp, tangy spice that almost recalled cinnamon.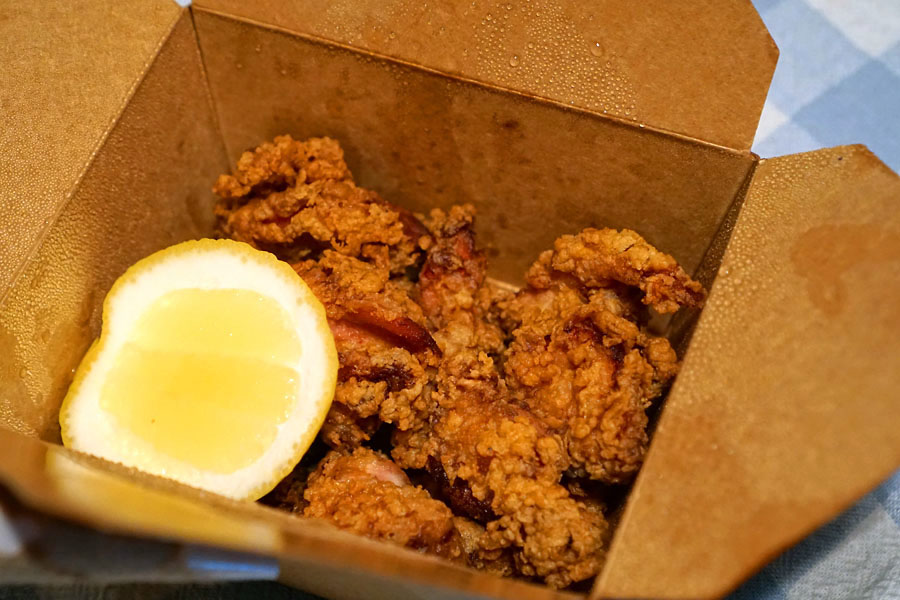 Chicken Oysters [$11.00]
| pickle brined, mustard seed tartar, lemon
Sot-l'y-laisse
fritters were delightfully textured, their juicy, supple consistency playing superbly with the crispy batter. Unfortunately, I also found the oysters underseasoned, so they really called for a dip of sauce or a squirt of lemon to open up. In addition, I wasn't provided with the advertised mustard seed tartar.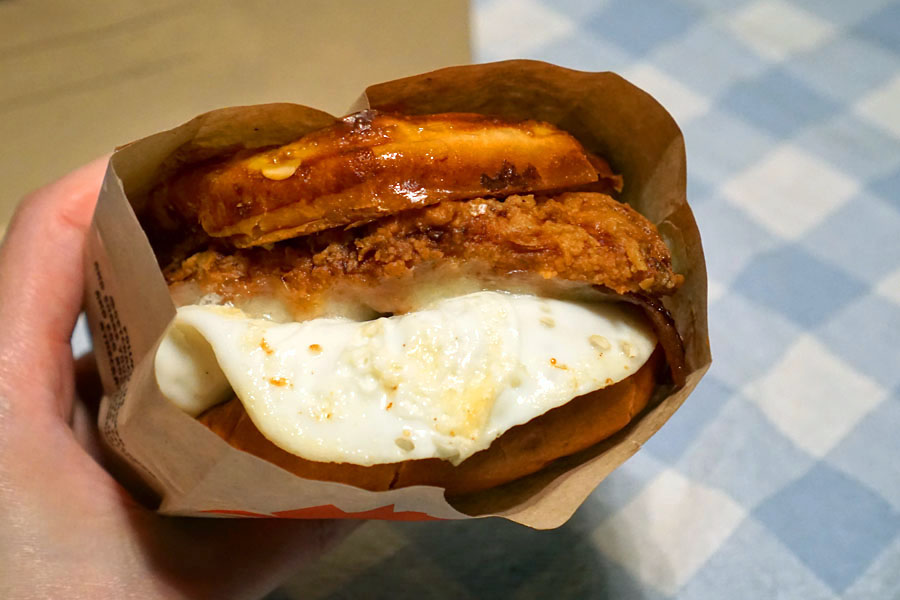 Señor Croque [$12.00]
| fried Jidori breast, bacon, runny egg, white cheddar, miso-maple butter, artisan brioche
This should've been called a "Señora Croque," as the incorporation of egg makes it a riff on the croque madame, not a croque monsieur. Misnomer aside, the breakfast-y sandwich was pretty damn tasty. The lushness of the aforementioned egg really hit the spot, and I was also a fan of the smokiness from the bacon. If that weren't enough, the miso-maple provided an undertone of sweetness that worked surprisingly well with the bird.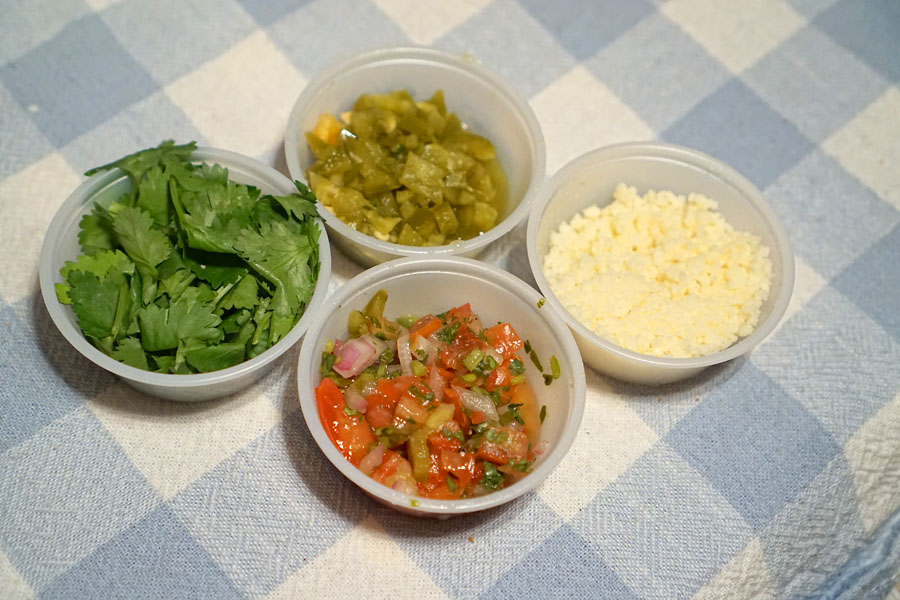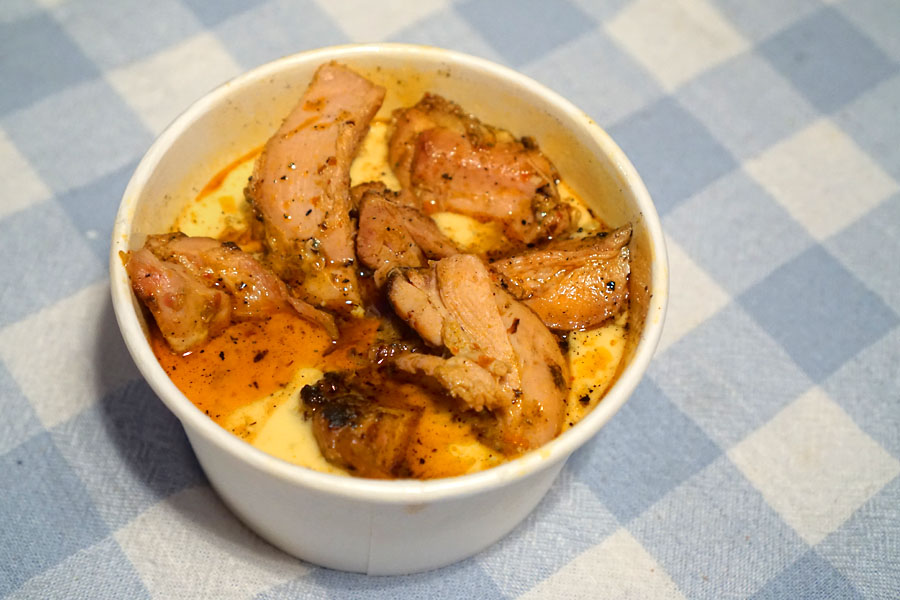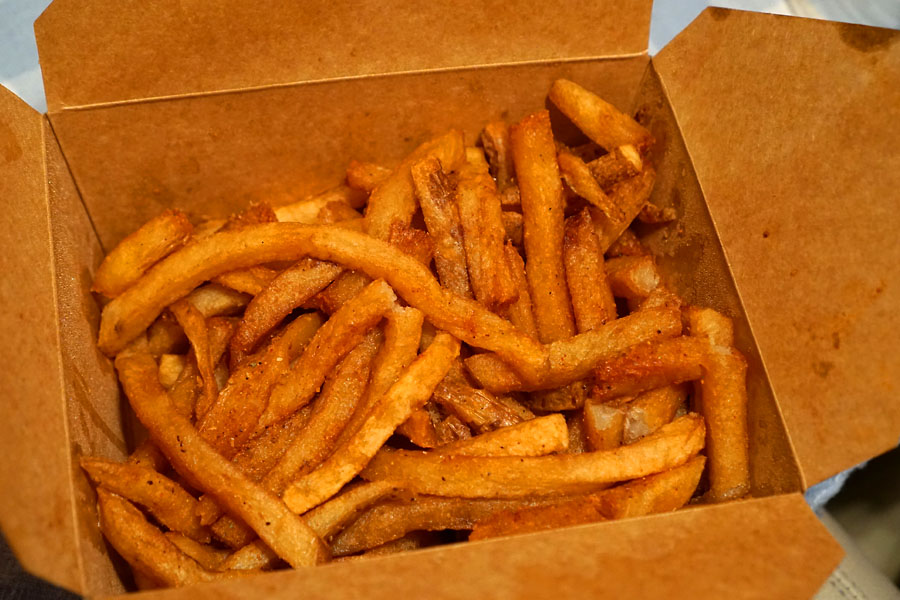 Mexican Poutine [$12.00]
| schmaltz fries, pollo asado, pico de gallo, jalapeño cheese wiz
The components of the poutine were packaged separately, which was probably a good idea. The fries were expertly seasoned, but sadly quite limp. Nevertheless, they did work as a stage for the tender cuts of well-spiced, peppery, smoky chicken, while the chili-boosted liquid cheese imparted an enveloping sort of richness that bound everything together. I can't forget about the crucial freshness from the cilantro and pico, either. A good dish to peck at.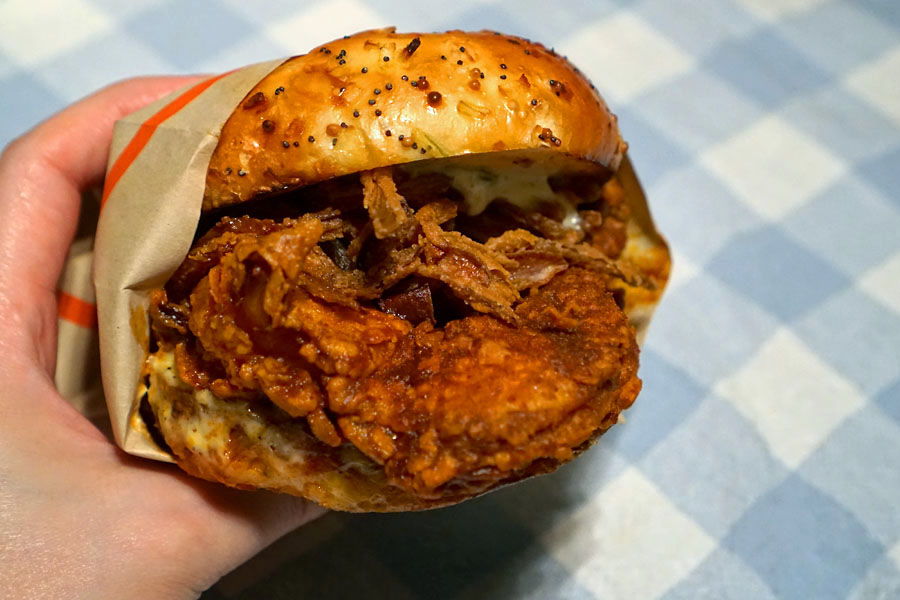 Firebird [$12.00]
| spicy fried Jidori thigh, crispy onions, pickles, cool ranch, artisan potato roll
Last up was The Crack Shack's version of the hot chicken sandwich that everybody's so obsessed with these days. The thigh was pretty flawless thanks to its utter juiciness, perfectly crunchy crust, and dry spice-fueled heat, tinged with a touch of sweetness. It was rather enjoyable just by itself, but the ranch and pickles really did complete the package.
Aside from the underseasoned oysters, I'd say that my meal at The Crack Shack was pretty spot-on, and I can see why so many people flock here. The place's success actually resulted in an investment by Andrew Smith's restaurant-focused
Savory Fund
in September last year. This funding will serve to accelerate the mini-chain's growth, and new locations are apparently already in the works for Denver and Utah.
More interesting to me, though, is Blais' new project, which is located inside the Park Hyatt Aviara Resort in Carlsbad. Called Ember & Rye, it's a contemporary steakhouse concept and debuted recently in March after coronavirus-induced indoor dining restrictions were lifted. It'll certainly be on my list for consideration next time I'm down in the San Diego area.