Miirch Social (Fullerton, CA)
Miirch Social Restaurant
138 W Commonwealth Ave, Fullerton, CA 92832
714.519.3501
miirch.com / www.miirchsocial.com
Thu 05/13/2021, 07:50p-10:00p

If it's Indian fare you seek, I think most Angelenos would agree that Artesia is where you should head, and in fact, it's where I typically get my South Asian fix. However, I was recently recommended a new spot in Downtown Fullerton's SOCO District called Miirch Social, named after the Hindi word मिर्च (
mirch
, or chili pepper). According to the recommender, this was the best Indian food he'd had in the States, which is high praise given that he's actually from Mumbai. Soft-opened at the end of November last year, Miirch Social is the brainchild of Jasjit "Jesse" Singh, who first made his mark in the IT consulting field. His goal with this restaurant is to serve Indian cuisine of course, but with an updated, "global" spin.
To implement his vision, Singh tapped Raunaq Nathowalia of Vancouver's Showshaa to create the menu. However, the day-to-day running of the kitchen is handled by Chef Sidhant Sehgal, who was most recently a sous at Spice Affair in Beverly Hills. Before that, he cooked at Sanjeev Kapoor's Yellow Chilli in Buena Park, as well as at Monsoon and Wok N Tandoor/Tangy Tomato in Artesia.

The building housing Miirch Social was previously home to the longstanding Steamers Jazz Club and Cafe before being turned into The Public House by Evans Brewing Co in late 2016. The decor basically hasn't changed since the Public House days, and as you can see, it didn't appear that there were any coronavirus-related seating restrictions this evening.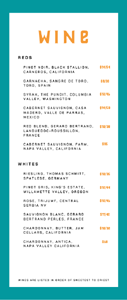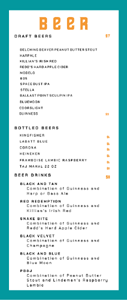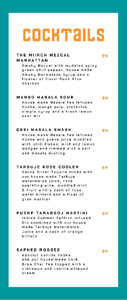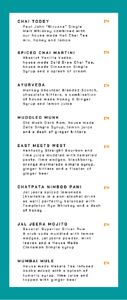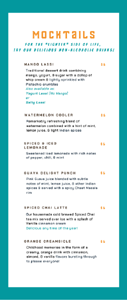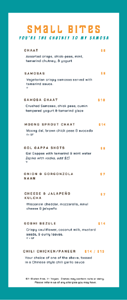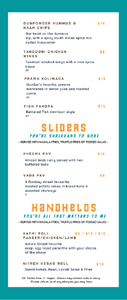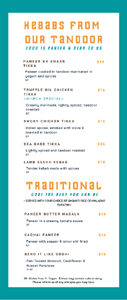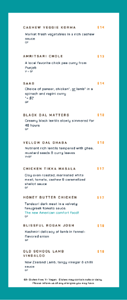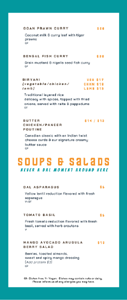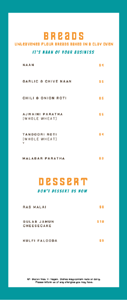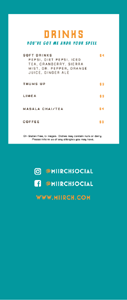 The menu lists a lot of familiar dishes, though many feature untraditional aspects, just as Singh wanted. To drink, you get a small wine list, a dozen beers on tap plus a few more in bottles, and a cocktail list that's certainly the most interesting I've seen at an Indian joint. Corkage is advertised at $20 a bottle. Click for larger versions.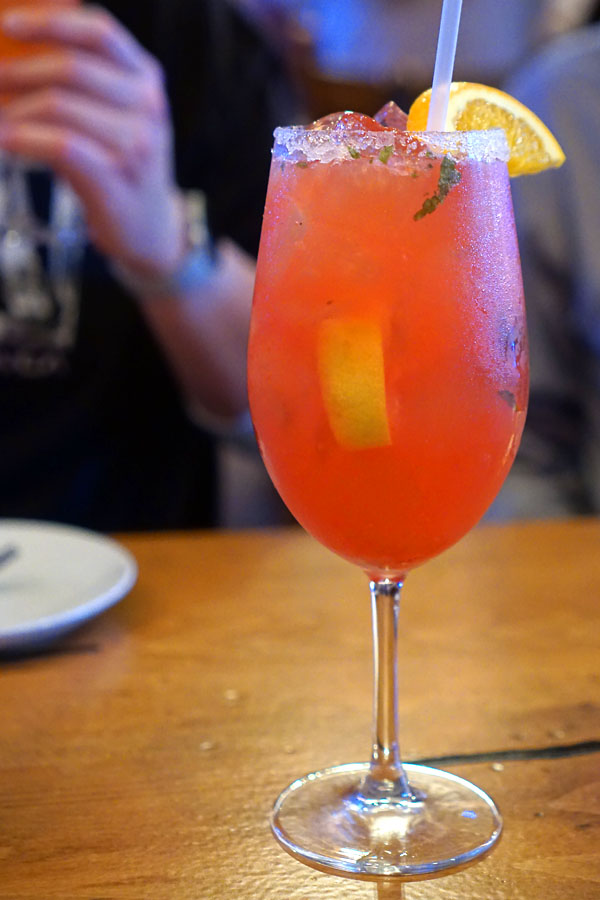 Tarbuje Rose Cooler [$14.00]
| Sauza Silver Tequila mixed with our house made Tarbuje watermelon juice, rose sparkling wine, muddled mint & fruit with a dash of rose water bitters and a float of gran marnier
Speaking of those cocktails, we ended up getting three of them to start. This first one was definitely on the easy-going side thanks to its juicy watermelon flavors, refreshing minty notes, and barely perceptible booziness.
Chili Chicken [$14.00]
| Chicken, tossed in a Chinese style chili garlic sauce
This staple of Indo-Chinese cookery was a table favorite for sure. The chicken came out perfectly textured, and I was a big fan of the bird's sweet heat, which played easily with the crunch and freshness of the bell pepper.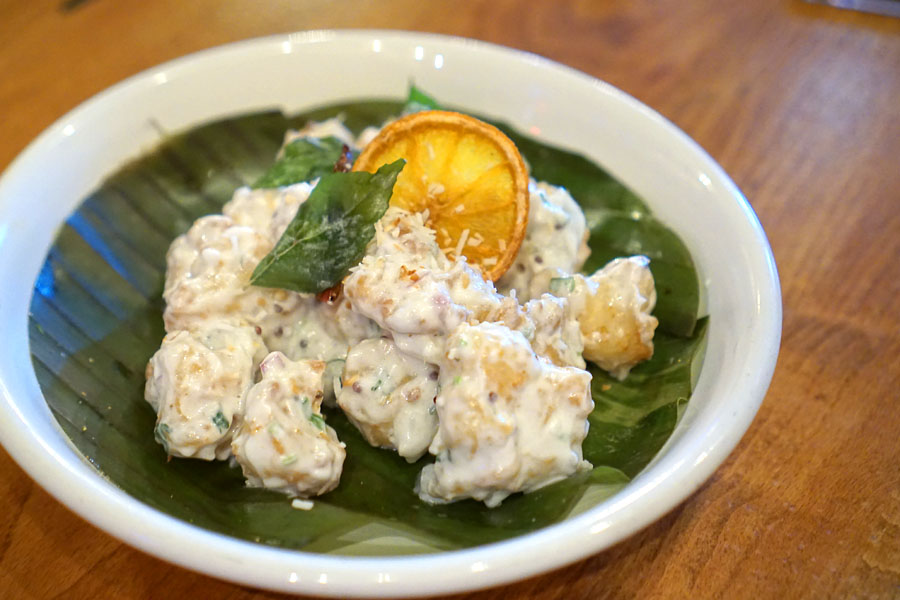 Gobhi Bezule [$14.00]
| Crispy cauliflower, coconut milk, mustard seeds, & curry leaves
Up next was something that was quite unlike any other Indian dish I've had before. Cauliflower came out slightly crisp, and had a definite coconut-fueled sweetness to it, backed by a slight undertone of heat. It was all actually very familiar tasting, though I could certainly understand if you said you wanted this more aggressively seasoned.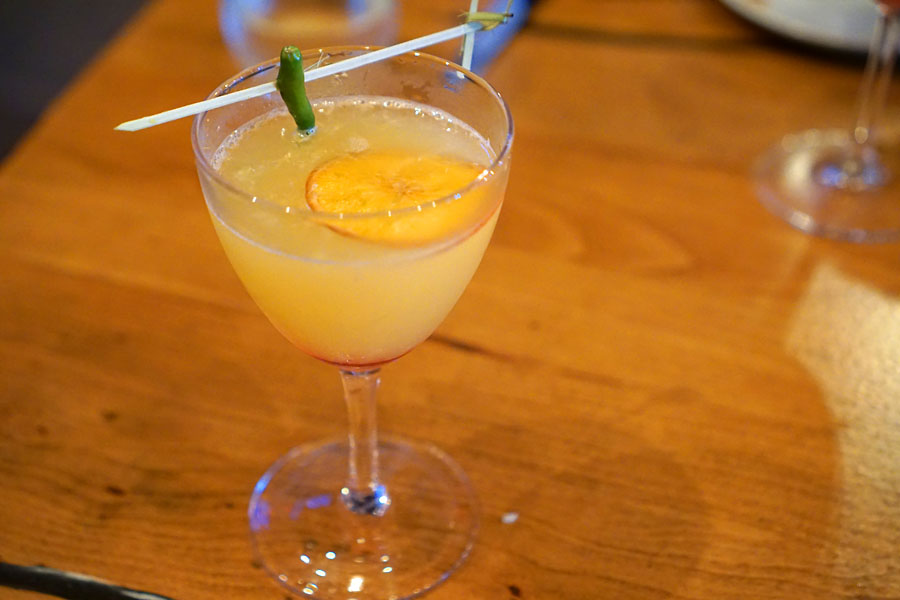 The Miirch Mezcal Manhattan [$14.00]
| Smoky Mezcal with muddled spicy green chili pepper, house made Smoky Marmalade Syrup and a floater of floral Rooh Afza Sharbat
This next drink was supposed to be a riff on the Manhattan, but really didn't taste much at all like the classic cocktail. Instead, I got loads of smoke from the mezcal and syrup, intertwined with a bevy of sugary, floral nuances and just a smidge of heat.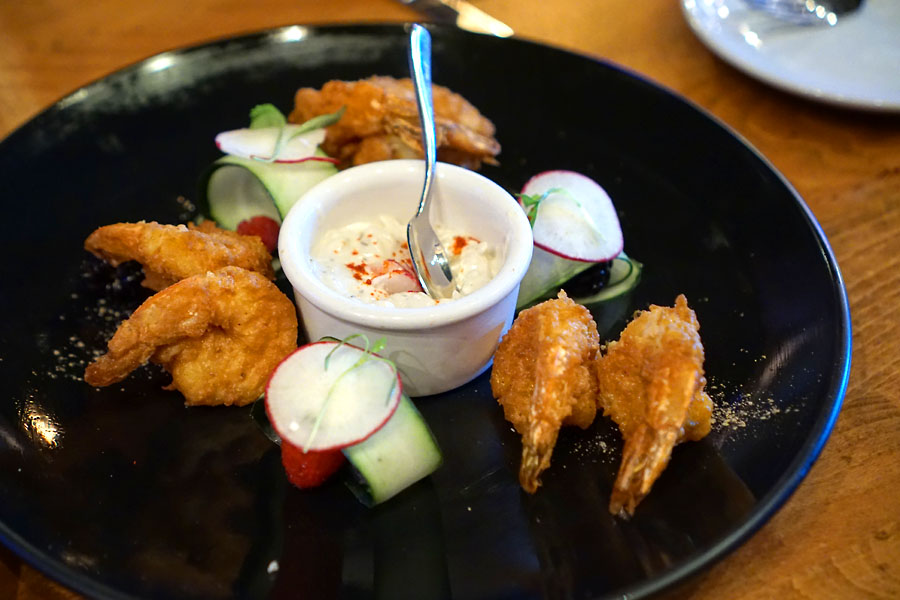 Prawn Koliwada [$15.00]
| Mumbai's favorite, prawns marinated in lemon juice and roasted cumin
This
koliwada
-style dish was a pleasant surprise due to how well the prawns were cooked. I was impressed by the supple-yet-snappy texture on the shrimp, and how their salinity linked up with their crispy, flavorful exteriors. They were very tasty alone, but I did appreciate the cool, creamy condiment in the middle as well (raita I assume?). I will say, though, that the berries and cucumber seemed a bit superfluous.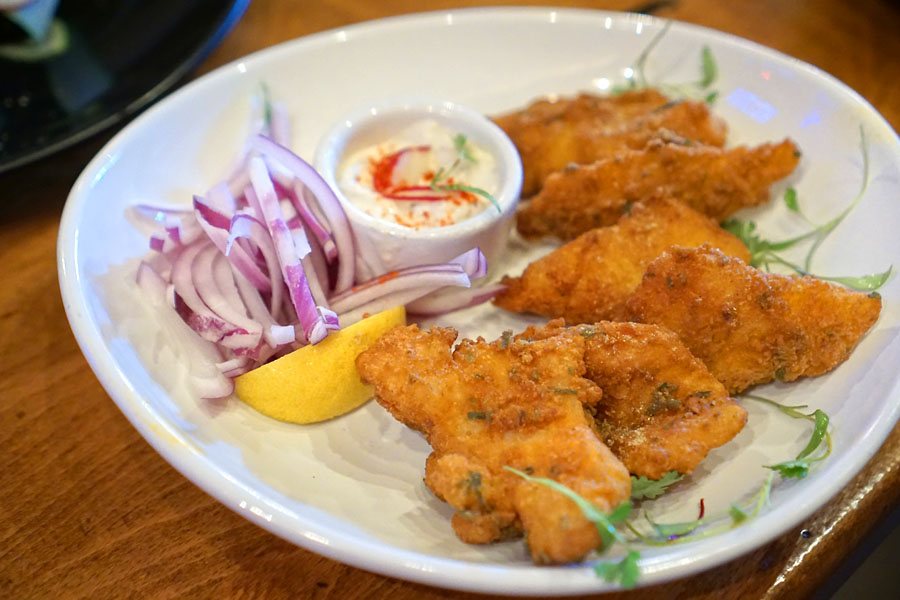 Fish Pakora [$15.00]
| Battered Fish Amritsari style
The shrimp were followed by another impressive presentation of seafood. Again, the fish was just as tender and moist as I could've hoped for, and married beautifully with the delicate spicing of their batter. A squirt of lemon tarted things up a bit, but even better was the bracing nature of the raw onion.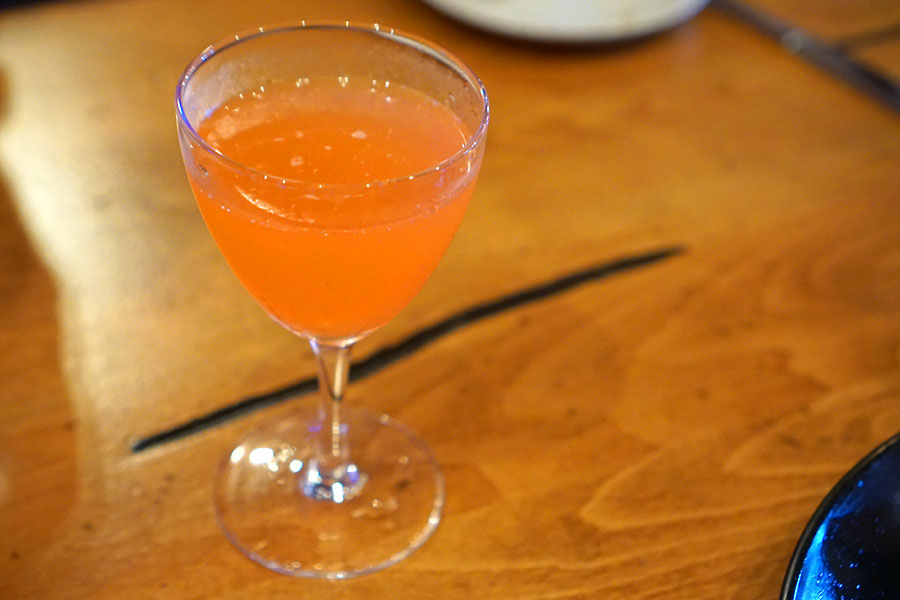 Pushp Tarabooj Martini [$14.00]
| Indian Summer Saffron infused Gin combined with our house made Tarbuje Watermelon Juice and a dash of orange bitters
Miirch Social's take on the martini didn't taste much like the original cocktail. Rather, it was more akin to a diluted Negroni due to its generally bittersweet, somewhat herby flavor profile and inklings of piquancy.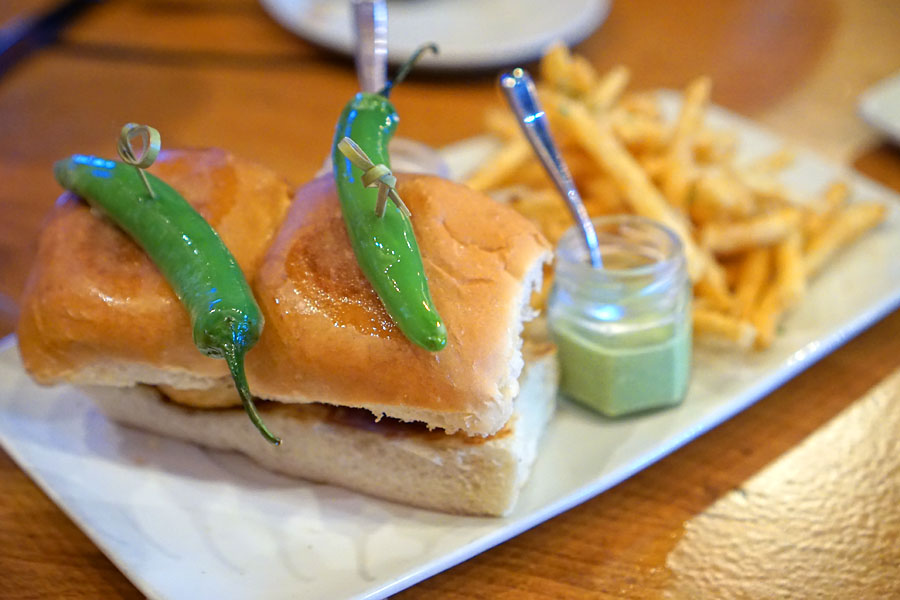 Vada Pav [$9.00]
| A Bombay street favourite, mashed potato cakes in bread buns & assorted chutneys
This Mumbai street food classic combined hearty, homey potato fritters with soft, slightly sweet buns. It's a combo that works better than you might think, especially when brightened up by a dollop of tangy chutney. Note that the dish came with a side of truffle fries, which were actually fairly subtle. Be careful about those chili peppers on top though, since they definitely packed a punch.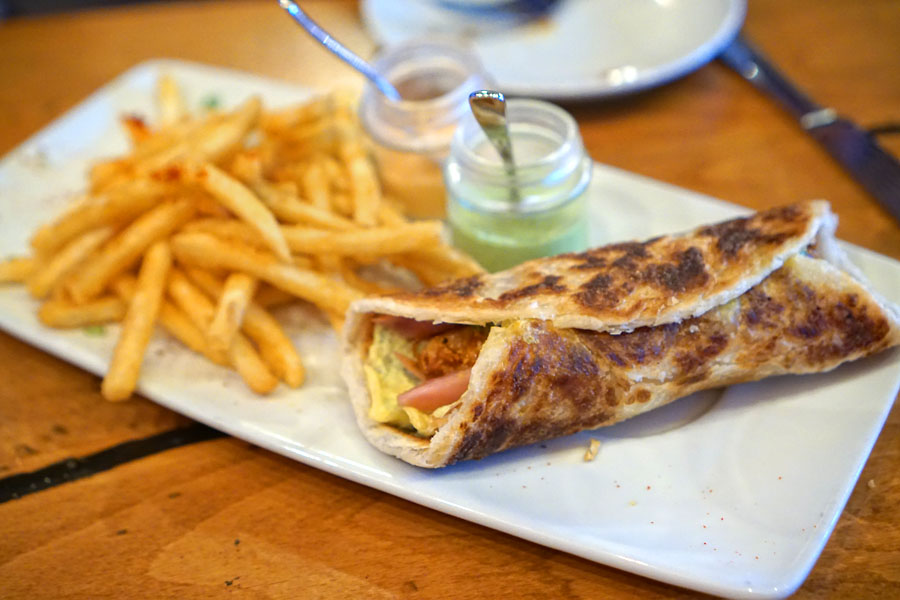 Kathi Roll - Lamb [$12.00]
| India's Street favorite wrap, egg laced paratha with lamb
The restaurant's version of the kati roll was another favorite, mostly due to the lamb itself, which I found perfectly textured and just super flavorful. At the same time, the meat meshed effortlessly with the egg, and I loved all those crispy bits on the flatbread, too. As for the included masala fries, they were spot on in terms of crispness, and again, fairly mildly spiced.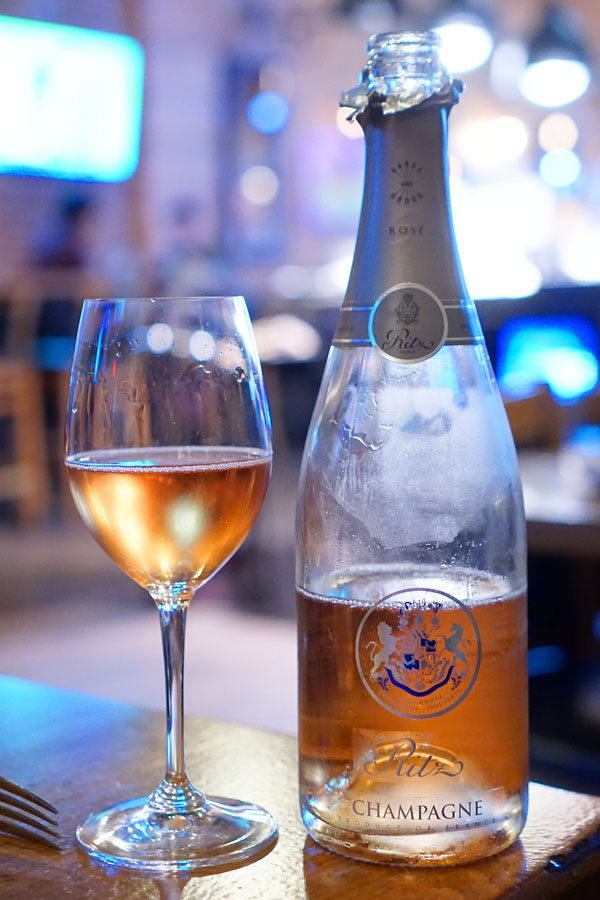 At this point we opened up some wine that we'd brought, beginning with the
NV Barons de Rothschild Champagne Ritz Réserve Rosé
, which was apparently first created for London's famed Ritz Hotel. The nose had an almost shocking amount of strawberry, probably more than any other sparkling wine I've tried, along with a healthy dosing of citrus as well. The palate, meanwhile, was eminently balanced, yet ebullient, with a backbone of toastiness supported by more red fruits, lemon, and a palpable acidity.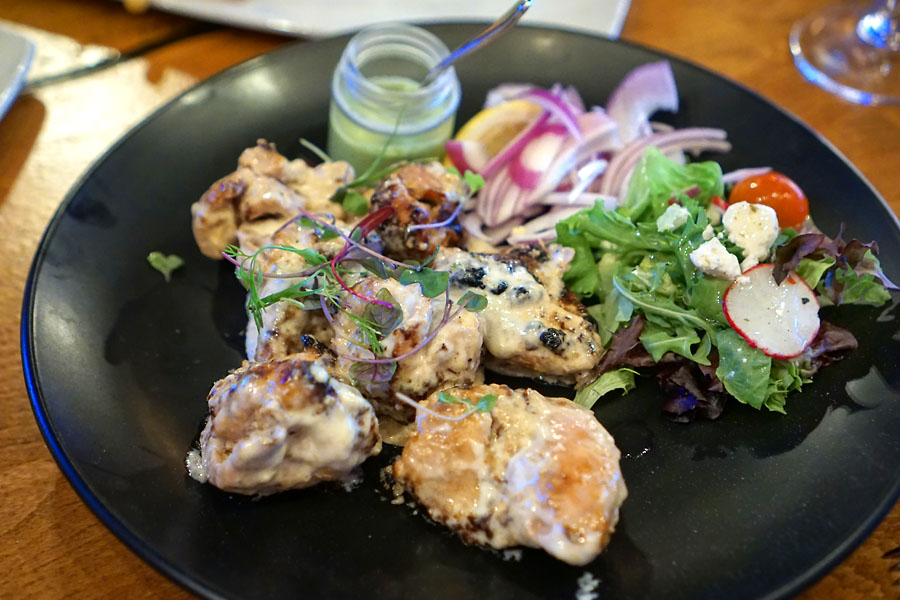 Truffle Oil Chicken Tikka [$16.00]
| Creamy marinade, lightly spiced, tandoor roasted
The skewered chicken was a treat, and also apparently one of the restaurant's signature dishes. The bird boasted the tender, toothsome texture I was looking for, while flavors combined smoke, sear, and spice with a mild application of truffle. Yum.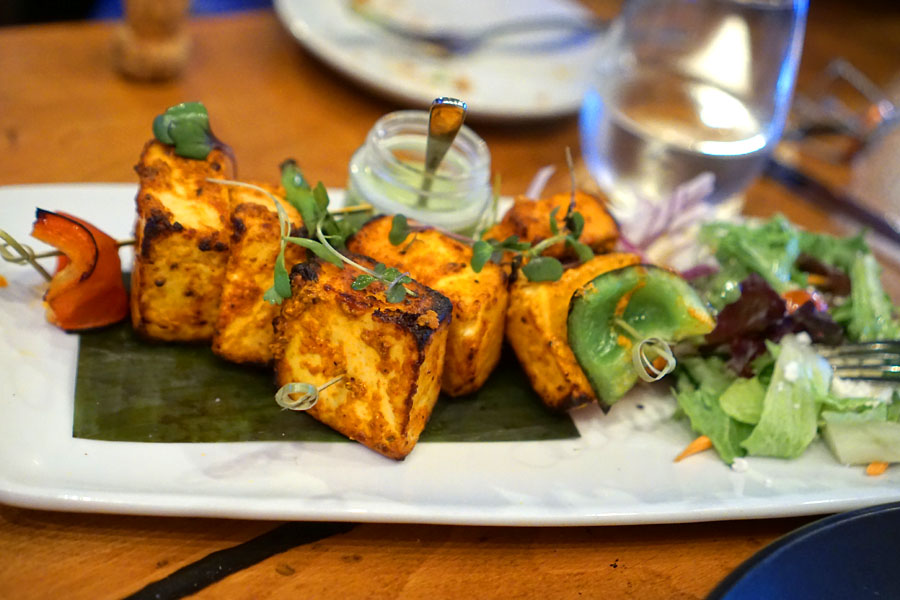 Paneer Ka Khaas Tikka [$14.00]
| Paneer cooked in tandoor marinated in yogurt and spices
Cuboids of cheese were supple but dense, with slightly crispy, seared exteriors that showed off a delectable blend of char, herb, and spicing. I will say, though, that I would've preferred smaller pieces of paneer, so that the flavors could more robustly penetrate.
Lamb Seekh Kebab [$18.00]
| Tender kebab made with spices
Lamb kabobs were expertly spiced, with a lovely element of smoky char to boot, and again, I was very appreciative of the raw red onion. However, the meat wasn't as succulent as I would've liked.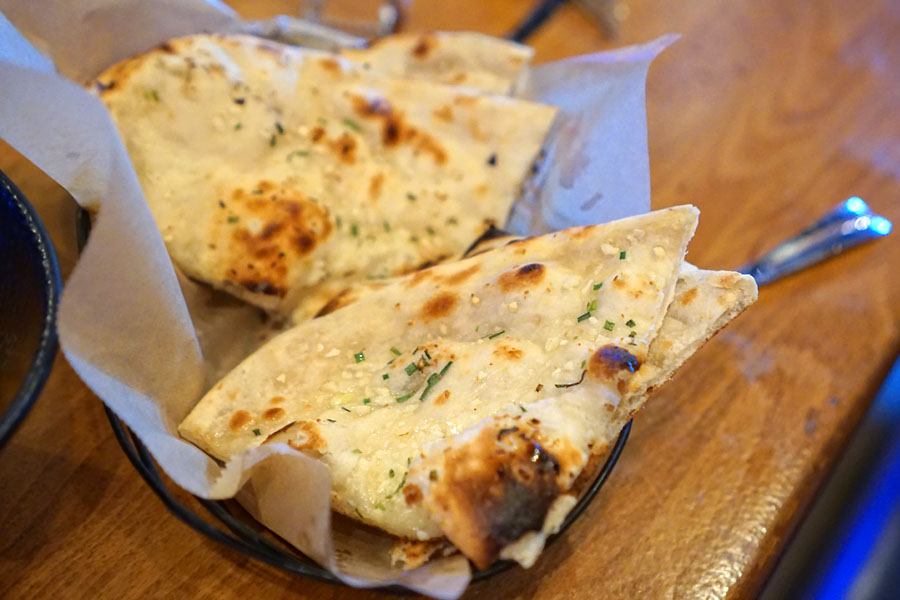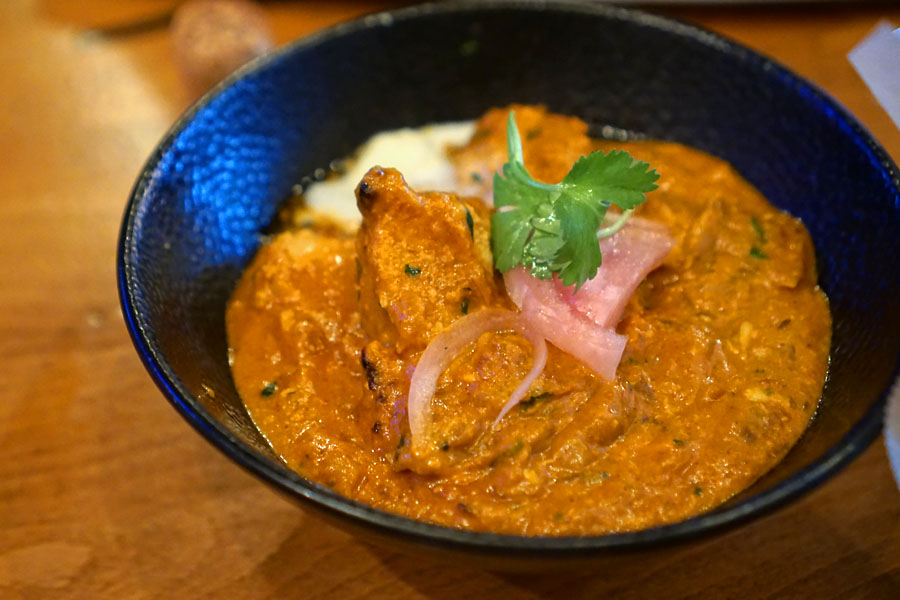 Chicken Tikka Masala + Garlic & Chive Naan [$17.00 + $2.00]
| Clay oven roasted, marinated white meat, tomato, cashew & caramelized shallot sauce
I think everyone in my party pretty much agreed that we
had
to get the chicken tikka masala given its ubiquity, and turns out it was actually quite a bit different than most other iterations I've tried. I'd say that it was less creamy, less sweet than most, with a pervasive, subtle sourness and strong notes of ginger. Not surprisingly, the dish was quite enjoyable just by itself, but was even better when taken with a side of that particularly garlicky naan.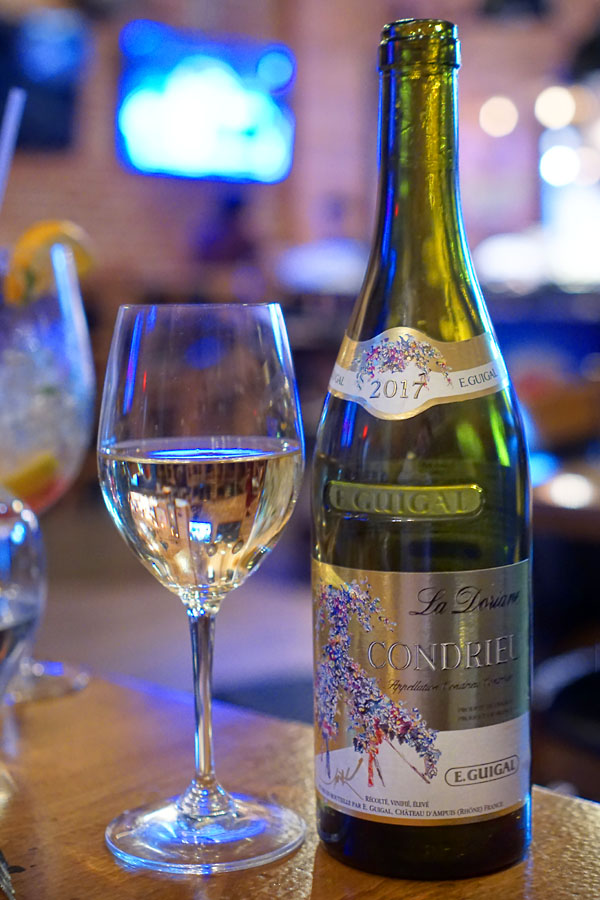 Our final tipple was from Northern Rhône, the
2017 E. Guigal Condrieu La Doriane
. As expected, the Viognier displayed an intensely aromatic nose filled with stone fruit, melon, and flowers--delightful. The palate was fairly lush, and I got more fragrant fruit, along with notes of oak, nuts, and botanicals. Interestingly, one of my dining companions remarked that the wine recalled some sort of vodka-based cocktail.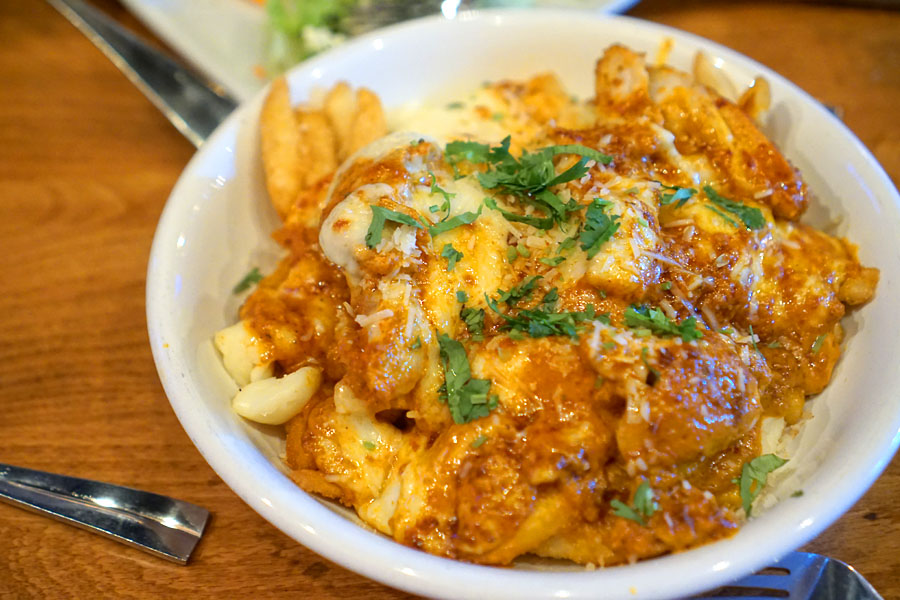 Butter Chicken Poutine [$14.00]
| Canadian classic with an Indian twist cheese curds & our signature creamy butter sauce
An experiment in Indo-Canadian fusion made for a bit of a crowd pleaser. The actual
murgh makhani
was expertly prepared, and ate as homey and comforting as you'd want, though what was interesting was how well it meshed with all that thick, gooey cheese. I found it all unexpectedly harmonious.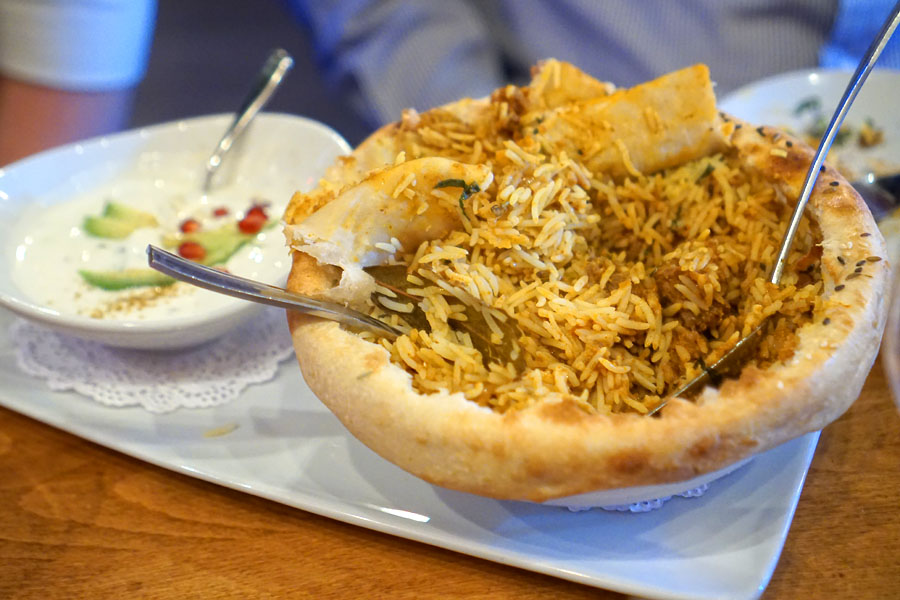 Biryani - Lamb [$19.00]
| Traditional layered rice delicacy with spices, topped with fried onions, served with raita & pappadums
The biryani was also a winner, and made for a fitting conclusion to the savory portion of our meal. Again, as was the case with the kati roll above, the actual lamb itself was spot-on, and a joy to eat even alone. At the same time though, the rice, with its elegant spicing, was just as key, and I also liked the layer of bread on top (the
parda
), which added some further points of interest to the dish. Be sure to make use of the included raita as well; I especially appreciated the tart, juicy pops from those pomegranate seeds.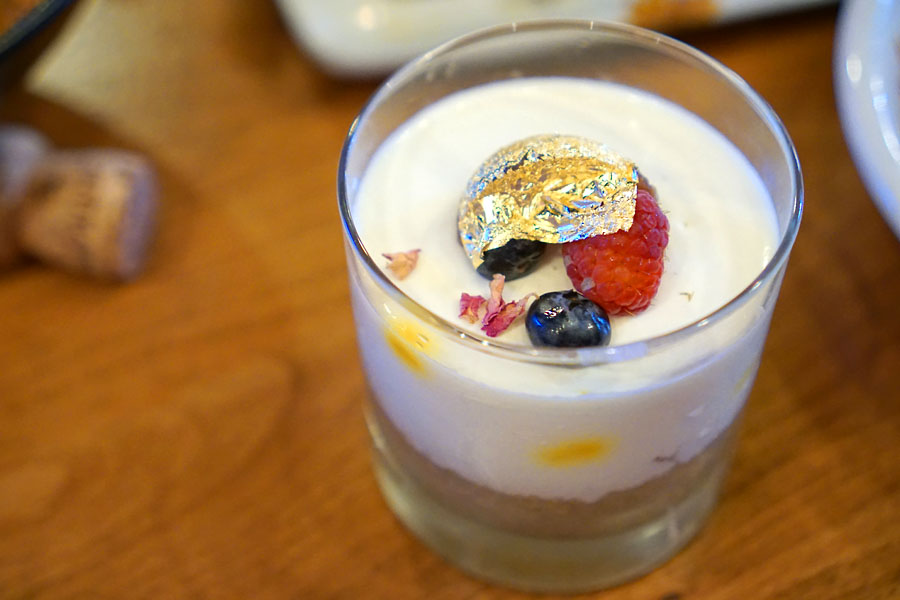 Gulab Jamun Cheesecake [$10.00]
This thoroughly reimagined cheesecake conveyed the floral notes of the dessert's traditional rose water syrup, combined with plenty of sugary, caramel-y flavors and a crust that recalled Danish butter cookies.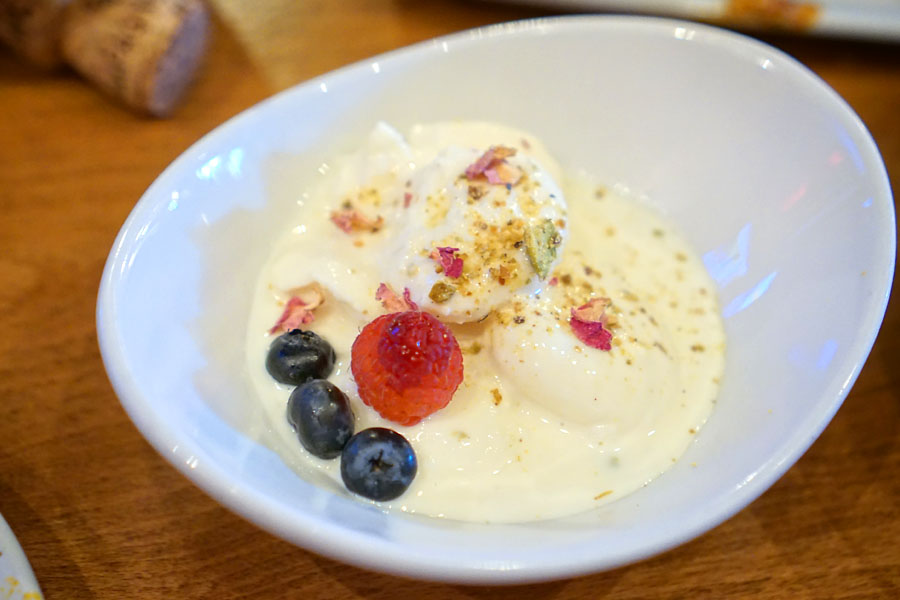 Ras Malai [$8.00]
Ras malai is probably my favorite classical Indian dessert, and what we had here was a sort of a modern take on it. I found it a bit more refined than usual, though I still got the creamy, milky qualities I was expecting, along with the requisite floral, spicy characteristics.
As I mentioned above, the Mumbaikar friend of a friend who recommended Miirch Social said that the place served him the best Indian food he'd had in the US. After dining here, I can sort of understand where he's coming from. For the most part, the cooking was just that much more finessed compared to what you typically find, and the "modern" twists encouraged by Singh don't get in the way, but largely enhance the eating experience. I think this is now going to be one of my go-to Indian spots.