Zam Zam Market (Hawthorne, CA)
ZamZam Market
13649 S Inglewood Ave, Hawthorne, CA 90250
310.978.1927
www.zamzammarketla.com
Tue 05/04/2021, 08:15p-09:15p

I recently had to pay a visit to the Total Wine & More in Redondo Beach in order to pick up some allocated whiskey that I'd won in a lottery. Since I was already going to be in the area, I decided to check out Zam Zam Market, a Pakistani joint that I'd been curious about for some time now. The restaurant comes to us from Fozia Siddiqui, who basically runs the place, and her husband Fahim Siddiqui, who's sometimes referred to as the main chef. The actual division of duties between the two is hazy.
A bit of history
: Though the Siddiquis have familial roots in Delhi and Agra, they were born and raised in Karachi. Fozia immigrated to the United States in 1988 and worked various jobs here in Southern California, including one at a Del Taco apparently. Fahim, meanwhile, arrived in the US a few years later in order to work and support his family back home. Interestingly, it turned out that Fozia's brother knew Fahim, and thus suggested an arranged marriage for the two. They eventually met over a meal at Shahnawaz, and ended up agreeing to the nuptial proposal.
After getting married, the Siddiquis decided to start a restaurant together, and thus opened the first Zam Zam Market at 11028 Washington Blvd in Culver City in 2005 (right down the street from King Fahad Mosque). The place kept a fairly low profile at first, but word soon spread, and the spot became one of Los Angeles' most beloved Pakistani eateries. Sadly, their landlord sold the property in 2014, and faced with higher rents, the couple made the decision to close up shop in November that year (the address is now home to the unfortunately-named Mega Grille). However, given that they knew the end was near, they'd already found a new location for their business in Hawthorne. The market component of the new Zam Zam opened first, while the kitchen began serving food sometime later, in December 2015.

Here we see Zam Zam's admittedly utilitarian interior. The restaurant side of the space occupies the former home of Al-Watan Halal Meat Market, while the market section resides in the old Magic Shoppe Hair Studio. Note the shelves dedicated to each food delivery service, a necessary concession to today's coronavirus environment I suppose.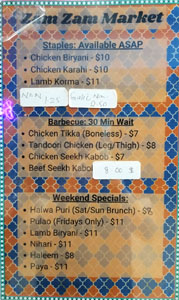 Zam Zam's menu is shown above, and I appreciate how it's so compact compared to what you see at most other Pakistani (or Indian) restaurants. Unfortunately, the barbecue items weren't available this evening, and all the dishes at the bottom are weekend-only, so keep that in mind if you decide to visit. Click for a larger version.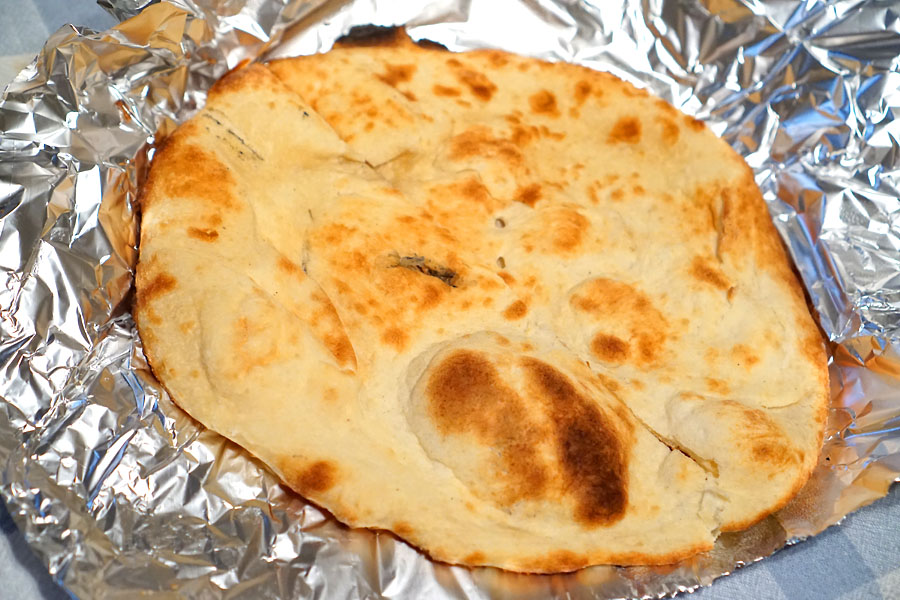 Naan [$1.25]
Naan is an absolute must for a meal like this, and Zam Zam's was pretty impressive. I found the flatbread soft and fluffy, yet substantial, while flavors were simple but satisfying, with a very apparent "breadiness" that I enjoyed. Also a treat were the bitter, charred, crispy bits present, which reminded me of the leopard spotting oft seen on Neapolitan pizzas.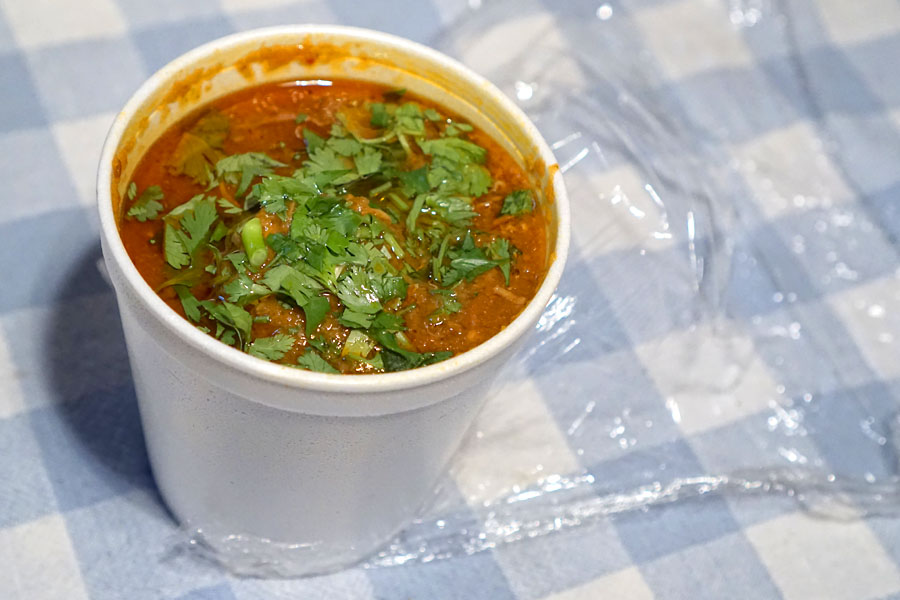 Chicken Karahi [$10.00]
| Our spicy and tangy Chicken Karahi brings together the flavors of our marinated chicken with a stir-fried tomato base and over 10 spices
Siddiqui's
kadai
chicken paired perfectly with the naan above, but was also delicious on its own. The bird was expertly seasoned, and displayed a lot of tomato up front, which then led to more spice-driven complexity and a creeping heat. Bringing up the rear, though, was more tomato sweetness, which helped keep things in check. Great brightness from the cilantro, too.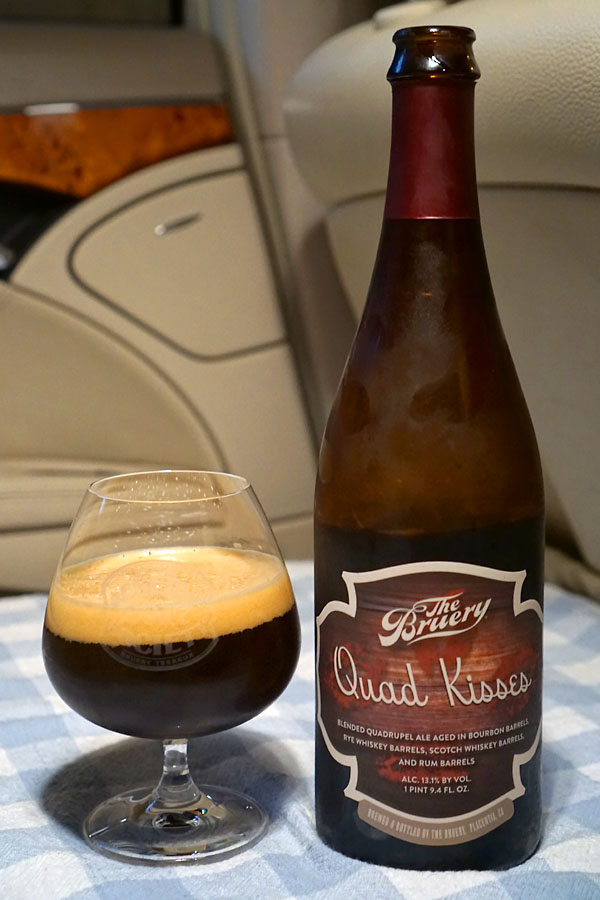 Tonight's beer was the
2020 The Bruery Quad Kisses
, a blended quadrupel briefly aged in a combination of bourbon, rye whiskey, scotch, and rum barrels. Nose was quite appealing, and showed off a mix of raisin and banana bread, backed by a steeliness. Tasting the ale, I got more of those dark fruit flavors, along with barrel notes, light toffee, minerality, and some somewhat unfamiliar bitter, astringent elements.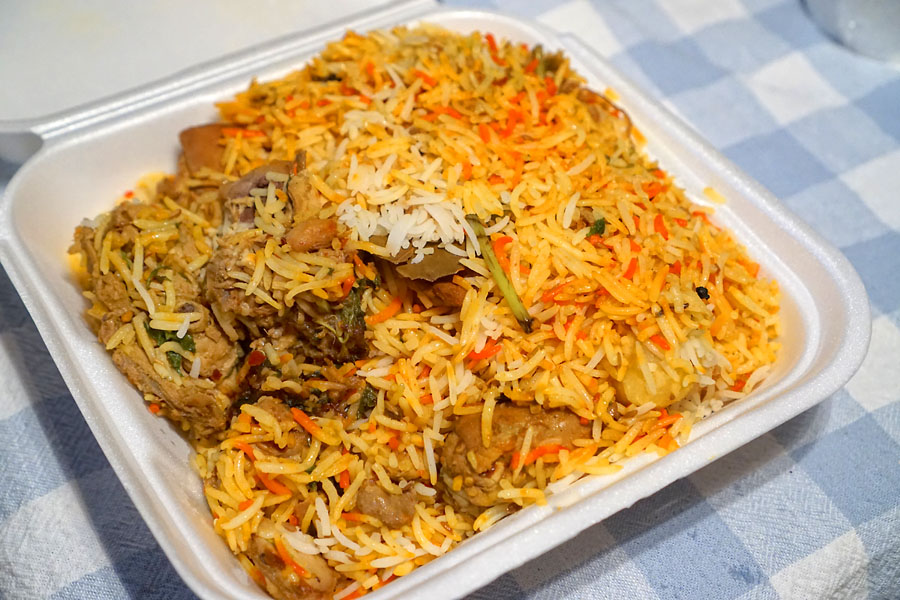 Karachi-Style Chicken Biryani [$10.00]
| Our legendary Chicken Biryani complete with fragrant rice and juicy chicken cooked to perfection with our unique Karachi-style cooking techniques
The biryani is Zam Zam's signature dish, and with good reason. It was certainly one of the best I've had. The actual was chicken came out beautifully spiced, with lots of bay leaf and what seemed like ginger. Even better, though, was the super long-grained, parboiled basmati rice itself, which I found immensely fragrant and multifaceted. The biryani also arrived with a pale green, raita-like chutney, which imparted a wonderfully refreshing, herby, citrusy bent to the dish.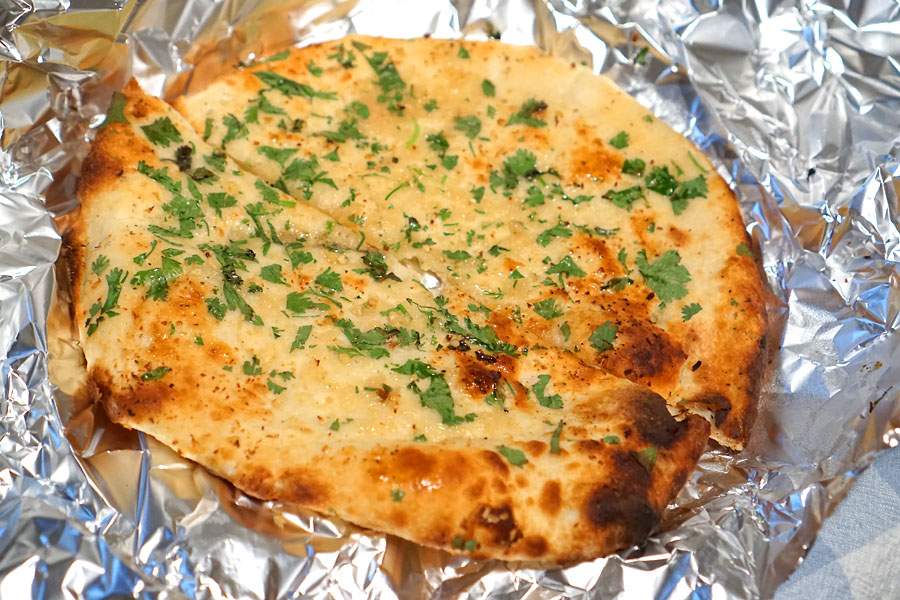 Garlic Naan [$2.50]
As good as the naan above was, it should come as no surprise that the garlic-boosted version was even tastier. The bread smelled fantastic, and was almost buttery in its presentation, while texturally, there was that same back-and-forth between supple and crispy bits. Yum.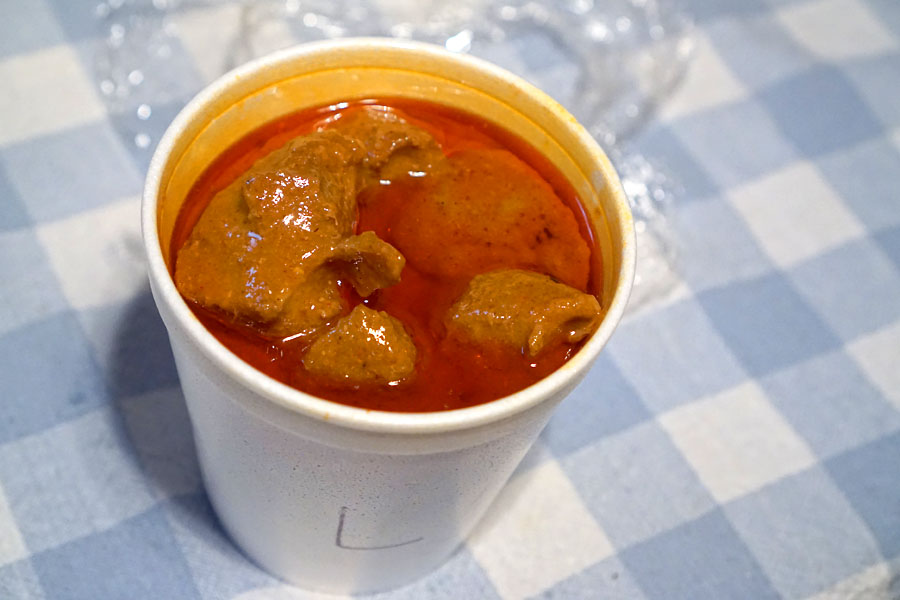 Lamb Korma [$11.00]
| Our soft, marinated Lamb in traditional yogurt and Kewra essential oil-based curry
Last up was the
qorma
, which was also a delight. Chunks of lamb were gratifyingly textured, and seemed to get more and more flavorful as I chewed. What really struck me here was the sheer herbaceousness of the dish, which just paired superbly with the heft of the meat.
I'd wanted to try Zam-Zam Market for years now, and I'm finally glad that I did. Tonight's meal was strong across the board, and in fact, all the dishes I sampled were among the best of their respective types that I've had. I may just have to return (on a weekend) to give the rest of the menu a go.