Momoyama (Fountain Valley, CA)
Momoyama Restaurant
18906 Brookhurst St, Fountain Valley, CA 92708
714.941.5440
www.facebook.com/Momoyama-103817027935907/
Sat 05/15/2021, 07:30p-10:30p

As you may know from reading this blog, OC is home to a pretty robust sushi scene, and one of the latest higher-end entrants is a place that I'd been curious about ever since it opened last spring: Momoyama (or 桃山). Though the name may translate into "peach mountain," the restaurant's moniker actually pays tribute to the Azuchi–Momoyama period, a span of Japanese history where the country was unified for the first time by samurai leader Toyotomi Hideyoshi. The Chef behind this establishment is Taiki Kuramoto, whom some of you may remember from his long tenure at Hamamori.
About the Chef
: Kuramoto Taiki was born on Kyushu, but his family soon moved to Hiroshima and then Yokohama, where he lived from age five to 29. He developed a love of snowboarding early on, and even competed professionally. However, realizing the need for a more sustainable career, he attended Tokyo's Senshu University from 1994 to 1997, and was able to achieve a bachelor's degree in computer programming. It was during this time when Kuramoto began working at sushi restaurants. He continued cooking after graduation, and also began managing other snowboarders. He wound up getting married in 2002, and had a daughter in 2006.
Shortly after her birth, he decided to move to Southern California, joining his parents and sister, who'd been Stateside for over a decade by that point. At the start of 2007, Kuramoto was able to secure employment at Wasa Sushi (locations in Newport Beach and Irvine), which was owned by James Hamamori at the time. In December that year, he helped open Hamamori's eponymous spot at South Coast Plaza, and ended up staying there for 12 years, though he did also run the kitchen at Clay Conley's Imoto in Palm Beach, FL for a brief period starting in November 2012.
After decamping from Hamamori at the very start of 2020, he began working on opening Momoyama, which debuted in May last year. Initially, the place offered takeout only, but began on-site dining on June 12th, with indoor seating starting at the end of September. Of course, due to a spike in coronavirus cases, Momoyama reverted to takeaway-only in December. Outside dining returned in late January this year, and the proper sushi bar experience arrived in mid-March; hopefully it'll be permanent this time.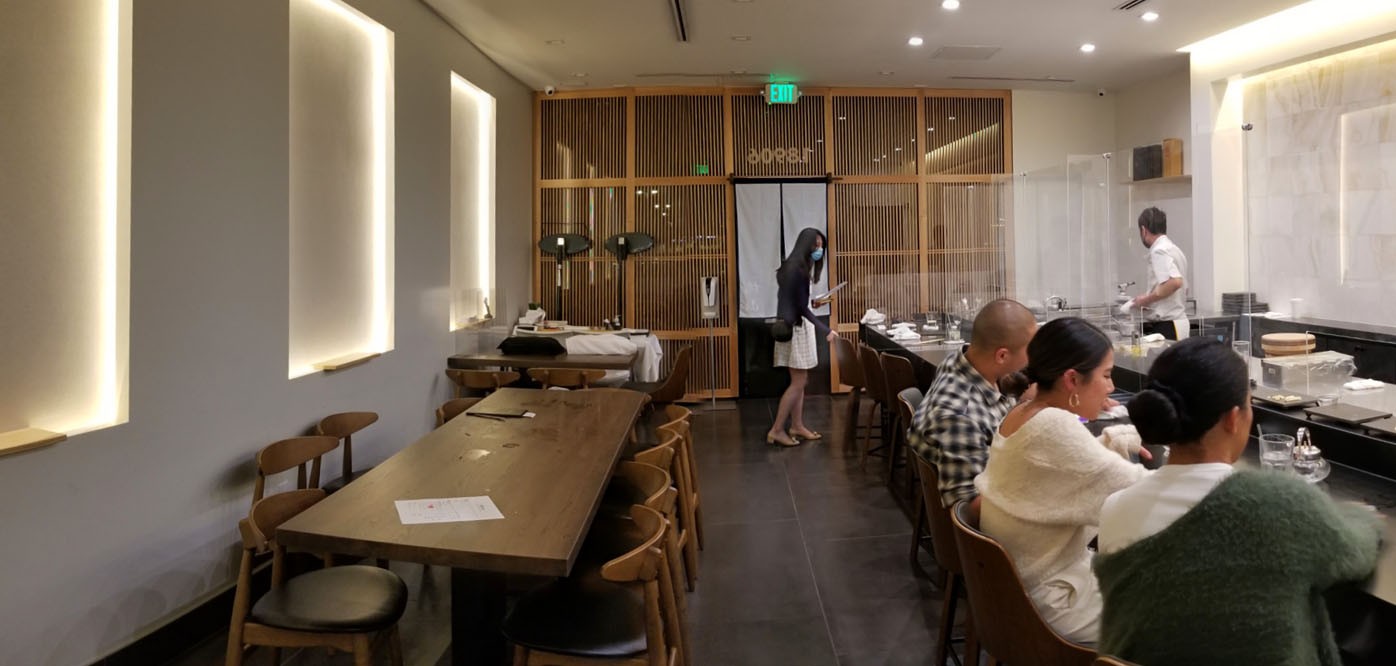 Momoyama takes over the former home of the longstanding Shimura, which was started by Naoshige Takahashi all the way back in 1986 (though he sold the place around 2016). There's room for around a dozen diners at the sushi counter, while two tables double that capacity. Do note that the restaurant only offers two seatings a night--5:15 and 7:30--and thus all diners are served at the same time. Curiously, Kuramoto chose to open in this location due to its relatively close proximity to Hamamori, the thought being to still be accessible to his old customer base.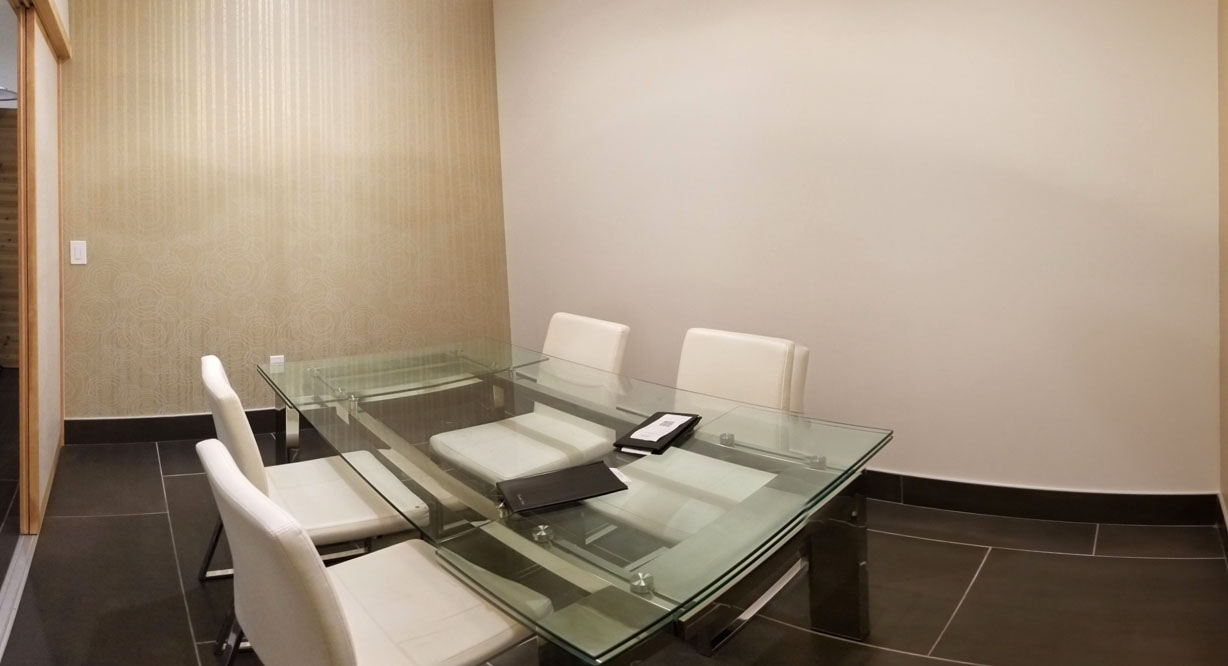 If you prefer, there's also a private dining room in the back.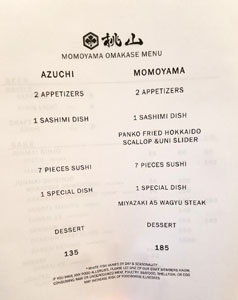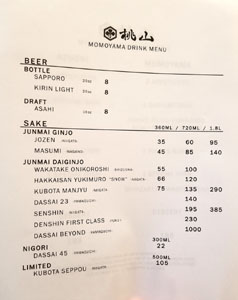 As for the menu, it's pretty simple: you get your choice of two omakase options, Azuchi and Momoyama, and we went with the latter. Drink-wise, there's a couple of the usual Japanese beers and a small list of sake, though no wine, interestingly. Corkage was $35 a bottle. Click for larger versions.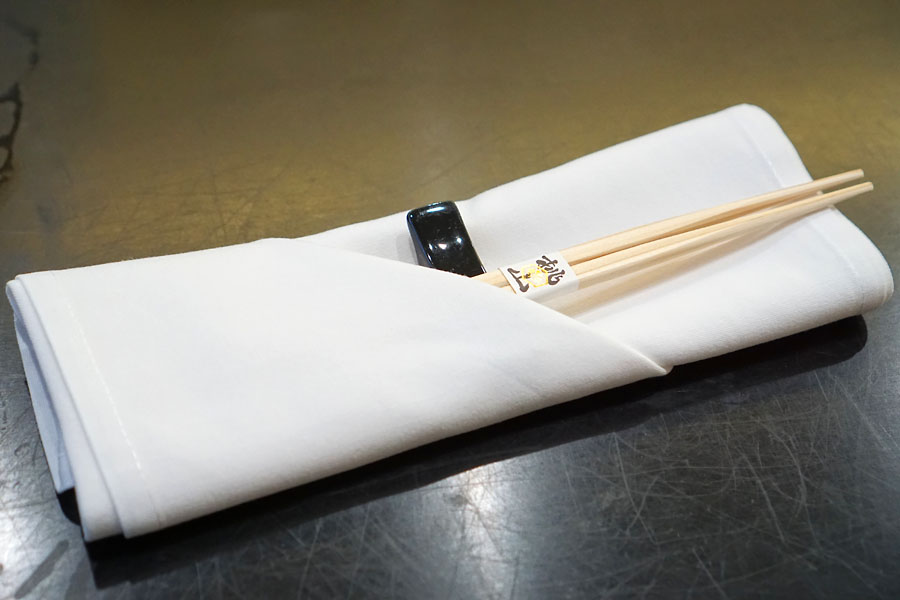 This was the place setting that greeted us at the sushi bar.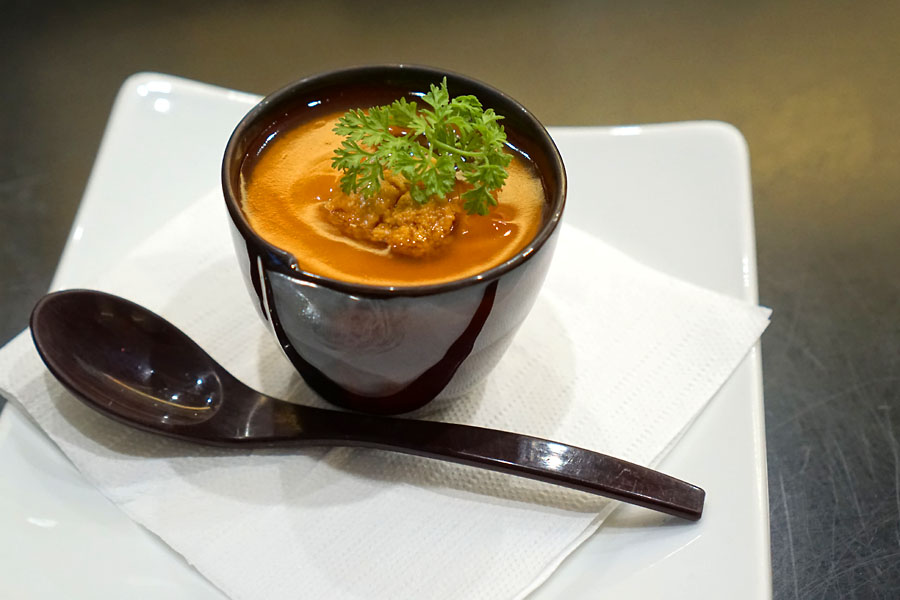 1: Chawanmushi
Kuramoto got the ball rolling with a rather agreeable rendition of chawanmushi. When I punctured the top of the steamed egg, I was rewarded with an explosive umami-fueled aroma that really set the stage for the dish. The actual custard was as soft and silky as I wanted, while the flavors of Santa Barbara uni, mushroom, and shrimp were all in harmony, accented by the zestiness of the herbs up top. A promising start.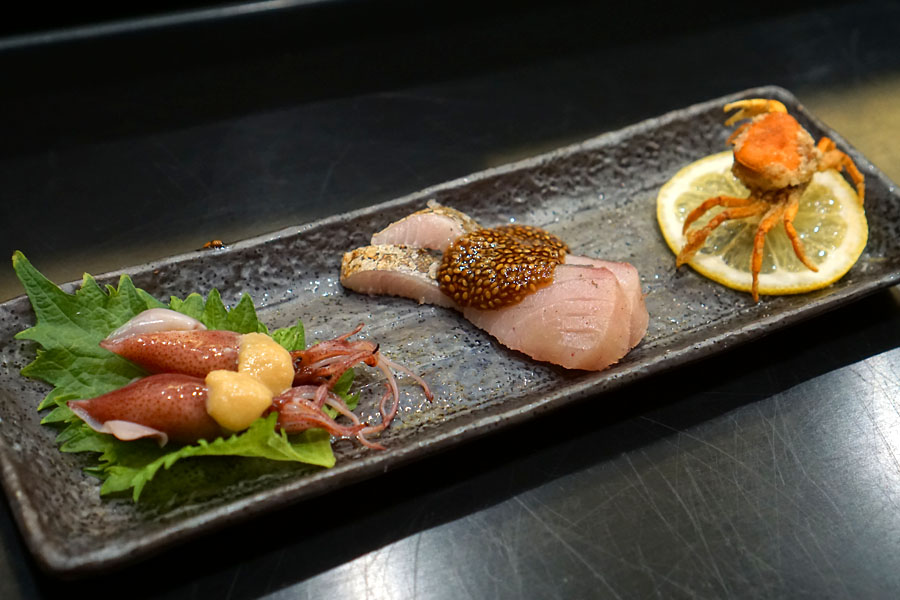 2: Zensai
Next came a threesome of small appetizers. I began with the diminutive
sawagani
(Japanese river crab), which was wonderfully crunchy and briny. This was followed by slices of
sawara
mackerel that were imbued with an intensely fragrant, floral, almost incense-like pecan smoke. Said smoke worked surprisingly well with the richness of the fish, while the chia seed pudding on top was unexpectedly subtle in its tanginess. Last up was the
hotaru-ika
(firefly squid), which had its salinity evened out by the sweet-sour nature of
sumiso
(miso vinegar). A commendable assortment of bites.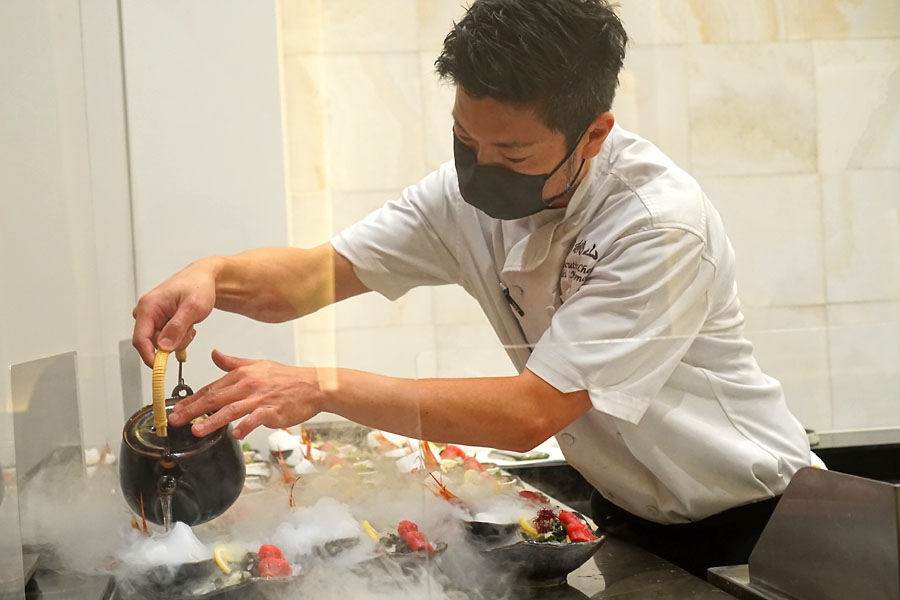 Above we see Taiki-san preparing our next course...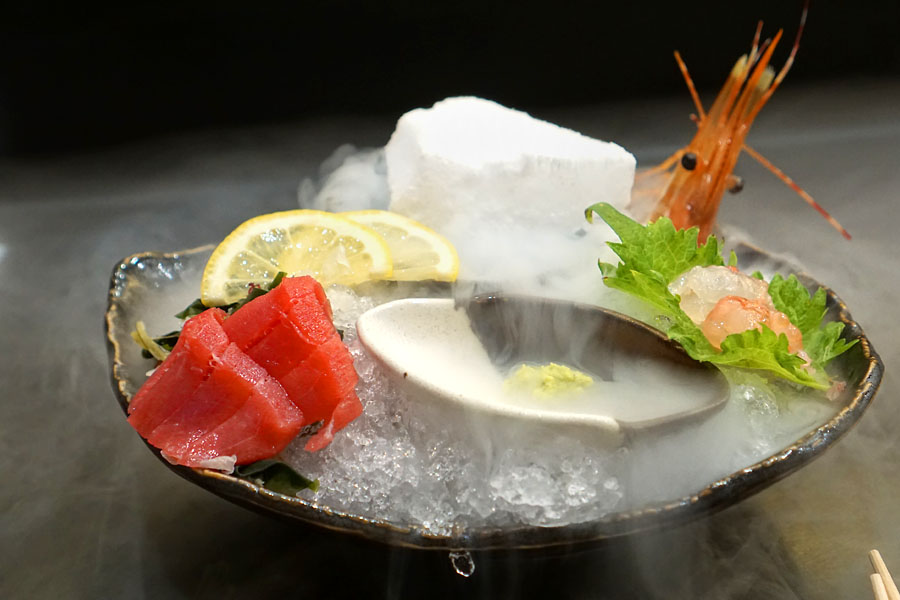 3: Sashimi
...Which was a duet of sashimi. Up first was the sweet shrimp, a sticky, snappy presentation with a mild taste that really opened up with a dab of soy sauce. The shrimp was joined by cuts of Mexico-sourced bluefin, which featured a refined, growing savoriness that was heightened by the soy, while wasabi seemed to draw out the fish's natural sweetness.
4: Panko Fried Hokkaido Scallop & Uni Slider
Fried scallops were delightful. Their signature sweetness was well conveyed, and transitioned smoothly to the cool, oceany nature of the sea urchin, all while that crispy, savory panko crust moderated the interaction. Nice undercurrent of truffle funk here as well.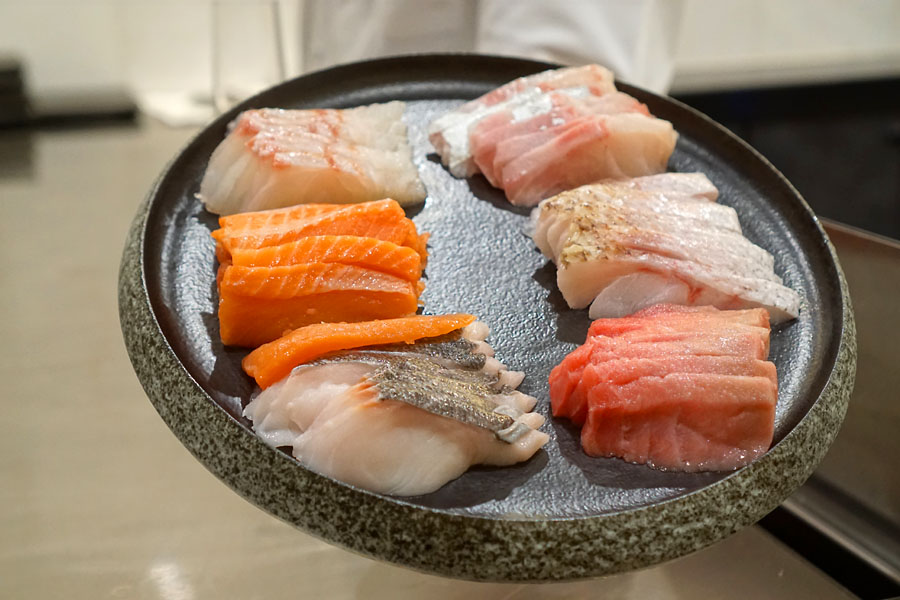 At this point we were presented with the fish to be used in our
nigiri
selections below.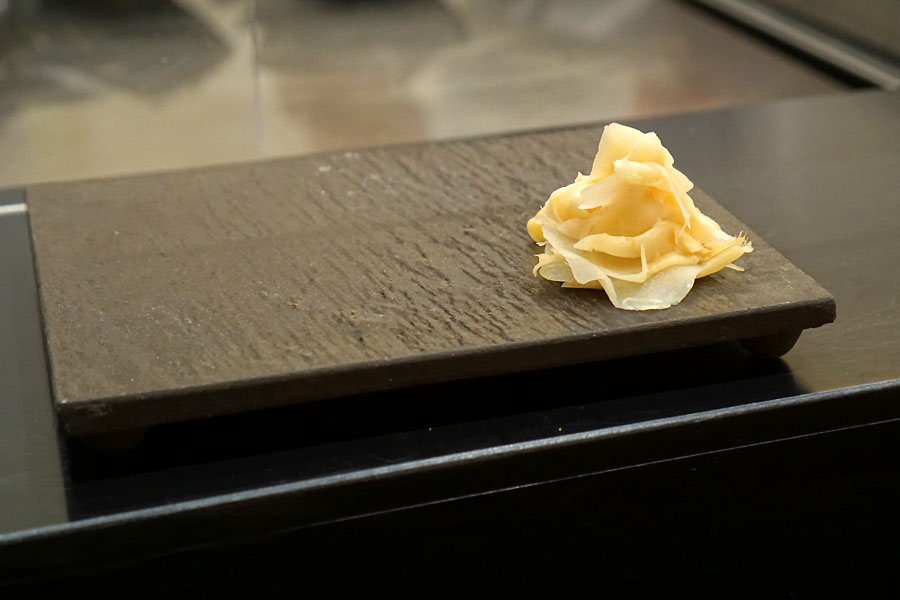 I found Momoyama's ginger on the sweeter side, though it still had the spicy backbone that I wanted.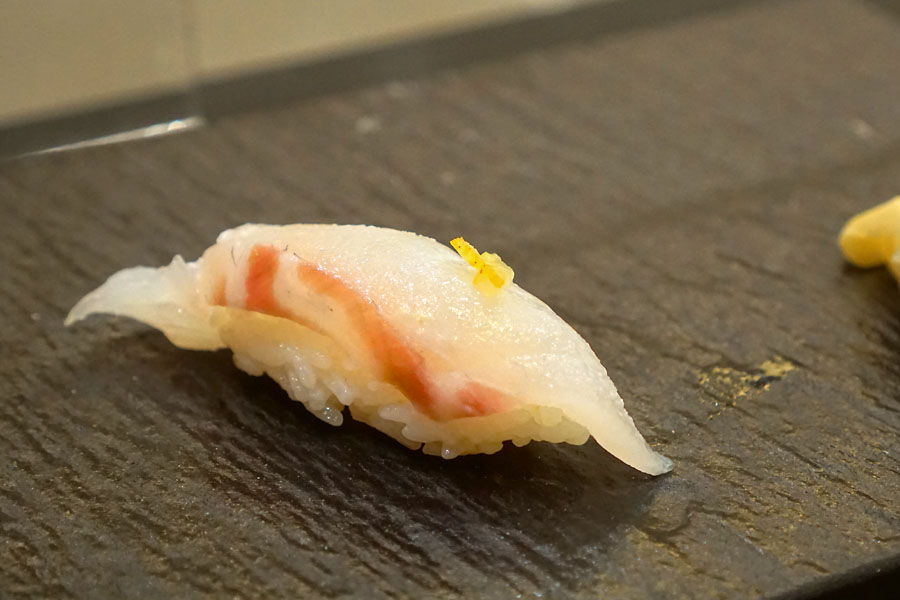 5: Madai
Our first piece of sushi made use of Japanese sea bream, which is apparently the Chef's third favorite
neta
. The fish was super supple, and showed off lovely accents of salt and citrus that contrasted nicely with the extremely neutral nature of Kuramoto's Japan-sourced rice.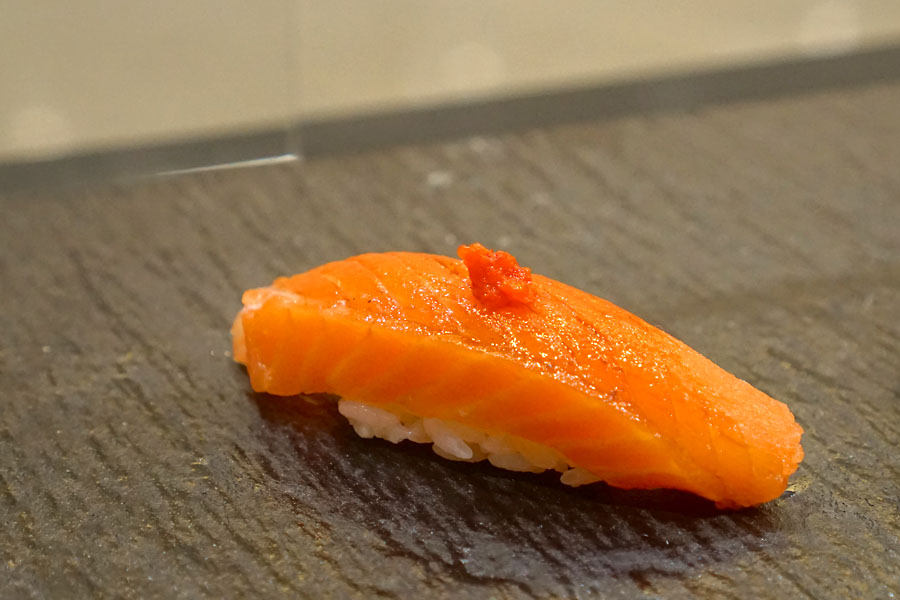 6: Sakura Masu
Not surprisingly, cherry salmon from Aomori ate lush and fatty, though what was surprising was the potent, piercing heat from the dollop of chili paste on top.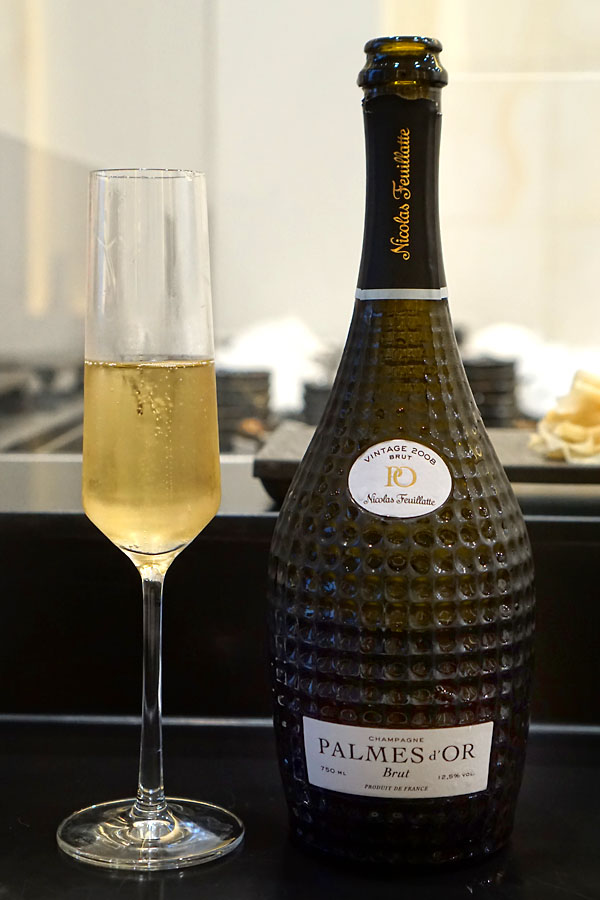 To drink, I brought a bottle of the
2008 Nicolas Feuillatte Champagne Brut Palmes d'Or
. The bouquet on this one went in a decidedly bready, fruity direction at first blush, but then showed off a nuttiness that grew and grew. Tasting the wine, I got more of that toast, intertwined with preserves. An earthy, grassy element appeared on the mid-palate, while the back end displayed some saline.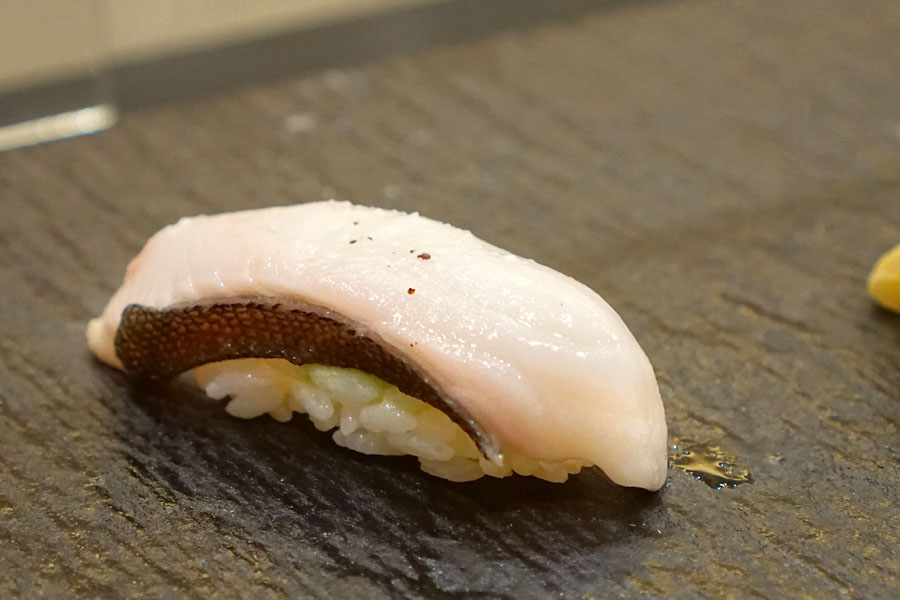 7: Gindara
Next up was the black cod (or sablefish), Kuramoto's second favorite sushi topping. I loved the slick texture of the fish here, while its potent flavor profile was effectively complemented by hits of salt, char, and wasabi. Delish.
8: Shima Aji
Striped jack from Ehime Prefecture displayed a pleasantly "crunchy" bite, which linked up well with the
arare
sprinkled on top of the fish. Flavors, meanwhile, were subtle at first, with the rice and wasabi coming in later and lingering.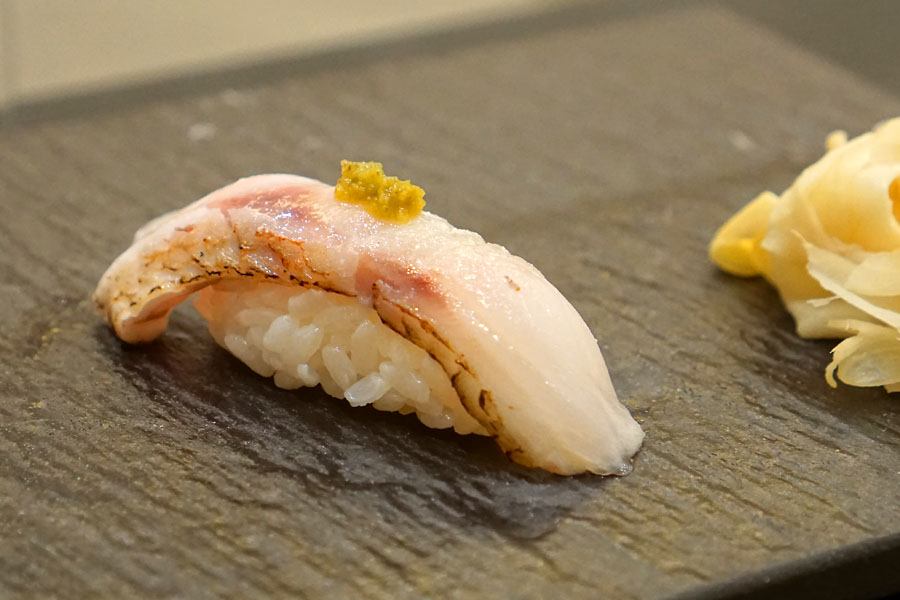 9: Nodoguro
And here we come to the Chef's favorite fish, which just happens to be mine as well. The ocean perch had this gloriously supple, slick texture that really melded seamlessly with the rice. Taste-wise, I got fantastic elements of sear and smoke that complemented the
akamutsu
beautifully, while the sour spice of
yuzukosho
served as the perfect finishing touch. A standout.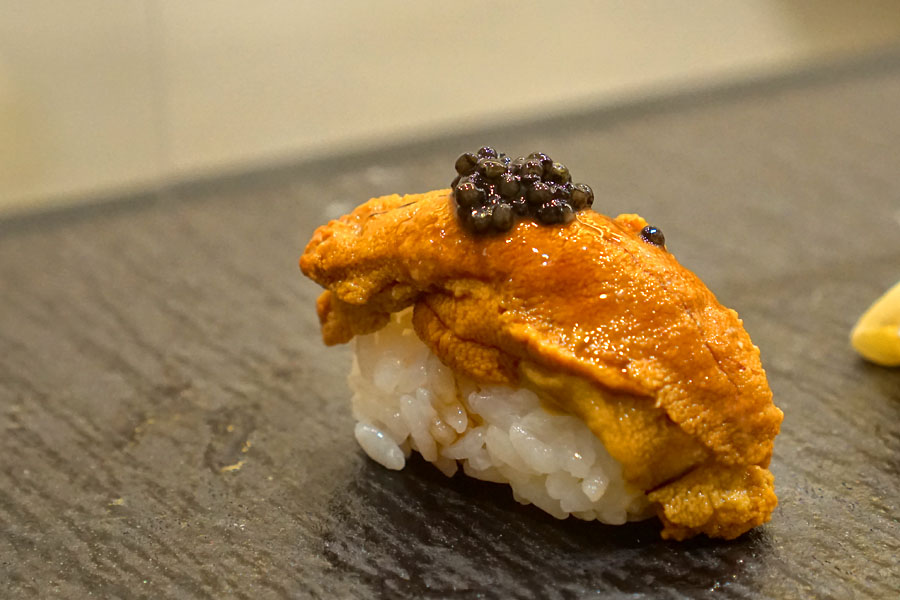 10: Uni
Sea urchin came from Canada, and I'm not sure if I've actually had Canuck uni before. I found it denser, brasher than its Santa Barbara counterpart, with its sweetness really at the forefront, while Osetra caviar boosted the brine factor. The
shari
really was crucial here for balance.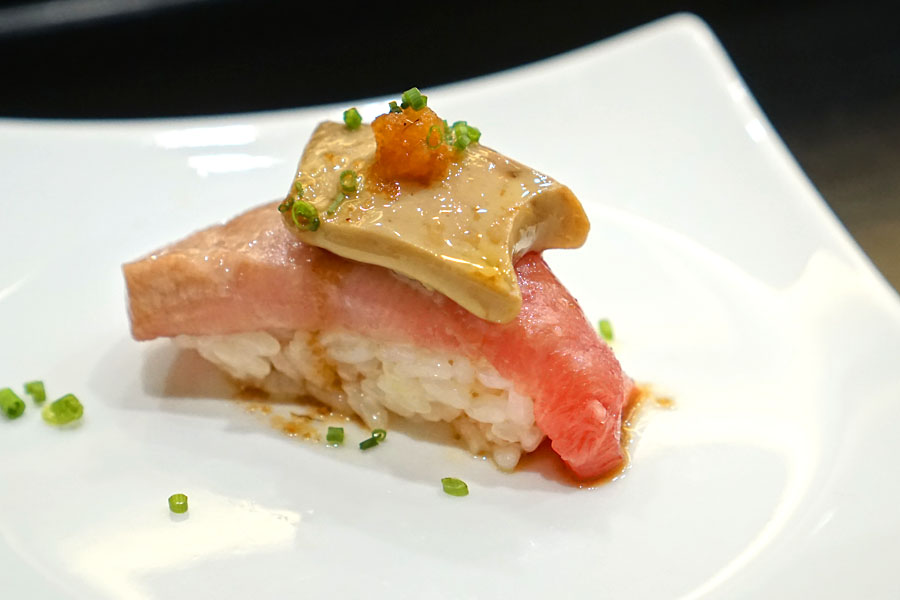 11: Toro & Foie Gras
Shown above is clearly the most decadent bite of the night. The unmistakable fattiness of the tuna belly clearly made itself known first, but things then transitioned into the even more luscious nature of the liver. There was definitely some heavy-on-heavy action here, but fortunately things didn't get out of hand thanks once again to the rice, as well as a pervasive tartness from what might've been ponzu.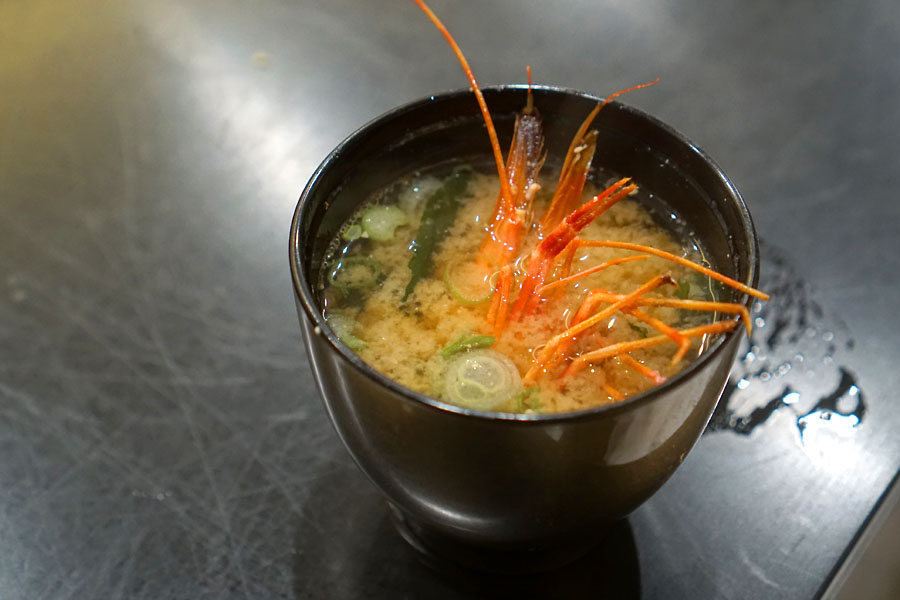 12a: Amaebi No Misoshiru
The heads from the sweet shrimp above were brought out and presented in your choice of miso soup or fried form. The former made for a hearty, cozy slurping experience, and I appreciated all the tofu and wakame in there as well.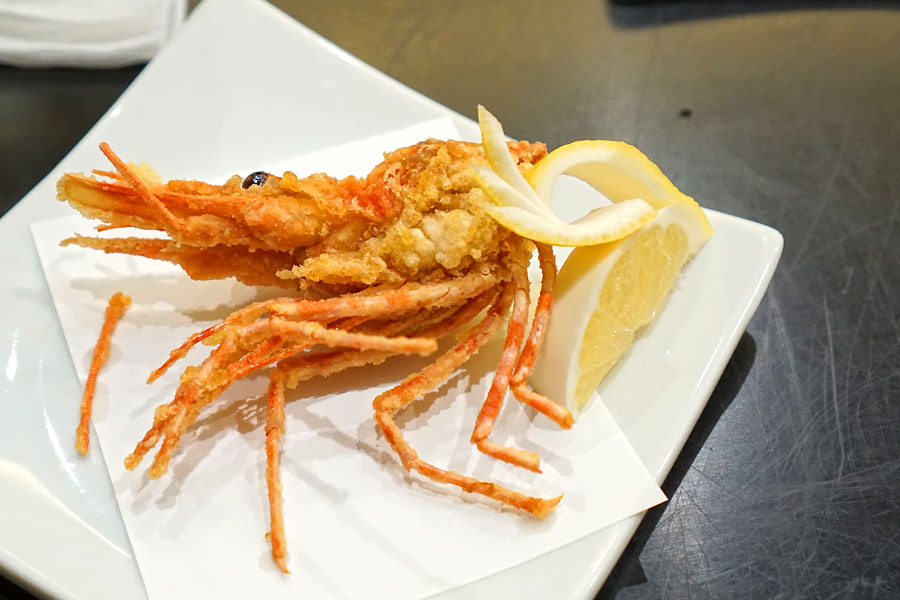 12b: Amaebi No Atama-Age
However, I certainly have a soft spot for fried shrimp head, and it's what I'd recommend. The preparation tonight was just what I wanted, an amalgam of crunchy-creamy and sweet-saline that undoubtedly hit the spot. Can't go wrong with this.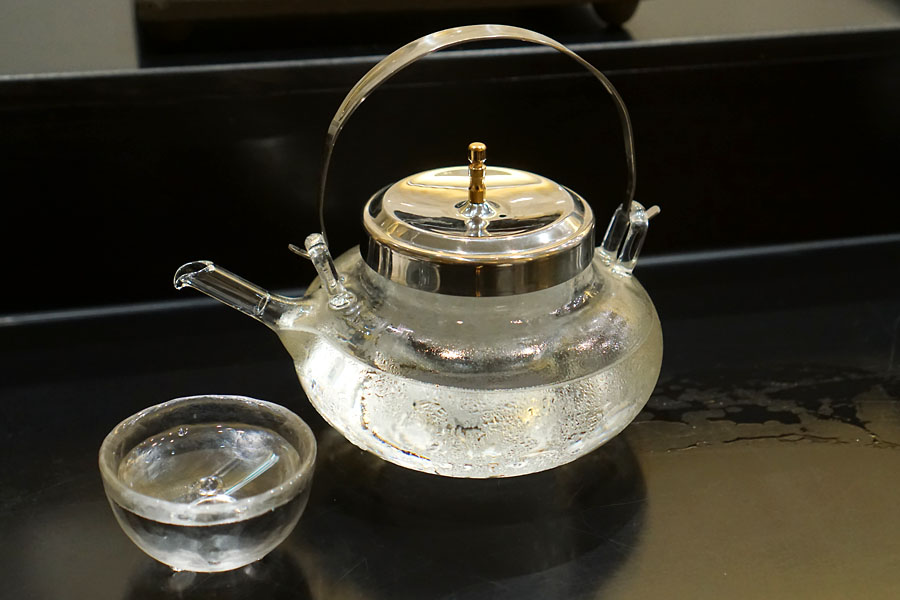 With our Champagne dispensed with, the Chef graciously offered complimentary pours of the
Jozen Junmai Ginjo
from Niigata. The sake was actually quite lovely thanks to its smooth, easy-going, eminently fruity flavors cut by just a smidge of rice character.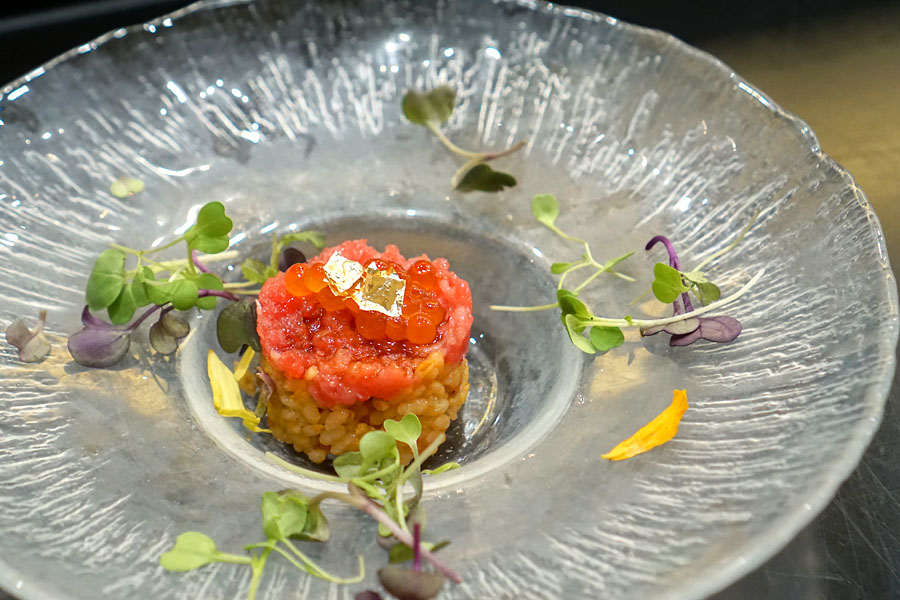 13: Uni Rice with Toro
Tonight's "special dish" paired a potent uni-infused rice with chopped toro. The tuna actually softened the dish, while a few globules of ikura imparted some well-placed pricks of salt.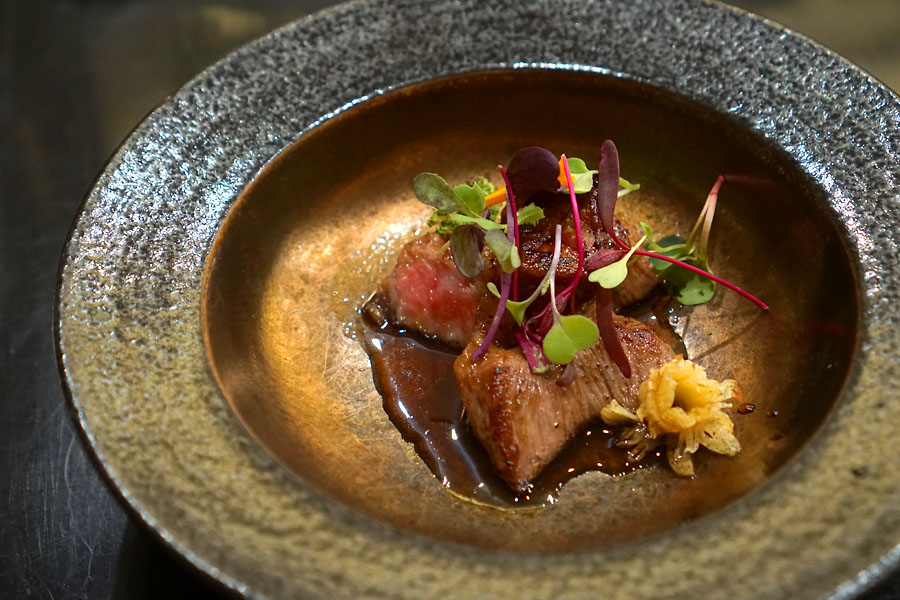 14: Miyazaki A5 Wagyu Steak
In our final savory, wagyu beef was paired with a pretty spot-on rendition of seared foie gras. However, I found the accompanying sauce rather overwhelming, and it tended to mask the beef, making this the least successful dish of the night.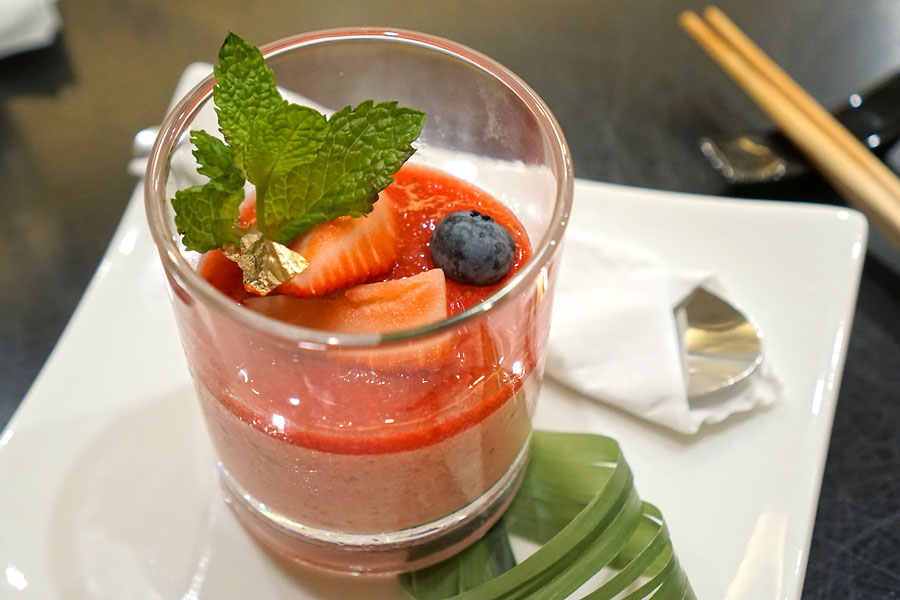 15: Strawberry Mousse
The pure, sweet, unmitigated strawberry flavors in our dessert made for a fitting end to the meal.
Chalk this one up as another win for Orange County's ever-growing sushi scene, as Momoyama looks to be a contender at the upper range of that space. There's a certain earnestness in the Chef's cooking, and that facet pairs well with his personality, which is on the affable, fun-loving side. Now I would like to see Kuramoto focus on his more traditional preparations, since that's where his cooking shines the most, and I'll have to check back here somewhere down the line. In the meantime, you might want to put Momoyama on your "to-try" list if you're a fellow sushi aficionado.