Chang'an (Tustin, CA)
Chang'an Restaurant
13051 Newport Ave, Tustin, CA 92780
949.771.9666 / 949.324.5558
www.tastechangan.com
Wed 05/26/2021, 08:05p-10:00p

When it comes to Chinese food in Southern California, the San Gabriel Valley is usually the place to go, but a friend recently turned me on to an intriguing new entrant in the sleepy OC suburb of Tustin. Named 品味长安 (
pǐnwèi Cháng'ān
), the restaurant takes its inspiration from Chang'an, an ancient capital city that's now known as Xi'an, the seat of government for modern-day Shaanxi Province. It's the first US project from the
百姓厨房
(
bǎixìng chúfáng
, or China Folk's Restaurant) hospitality group, which was founded in Xi'an in September 1999 by Wei Wang and Yan Yu. The company boasts 20 or so locations in Shaanxi, while its first overseas expansion came in October 2013 with the opening of a Chang'an in Vancouver. This Orange County outpost debuted on April 10th this year, and, unsurprisingly given its name, aims to highlight Shaanxi cuisine. Do note that, at the moment, the restaurant is reservations-only (I'm assuming because of coronavirus-related reasons), so I wouldn't try just walking in.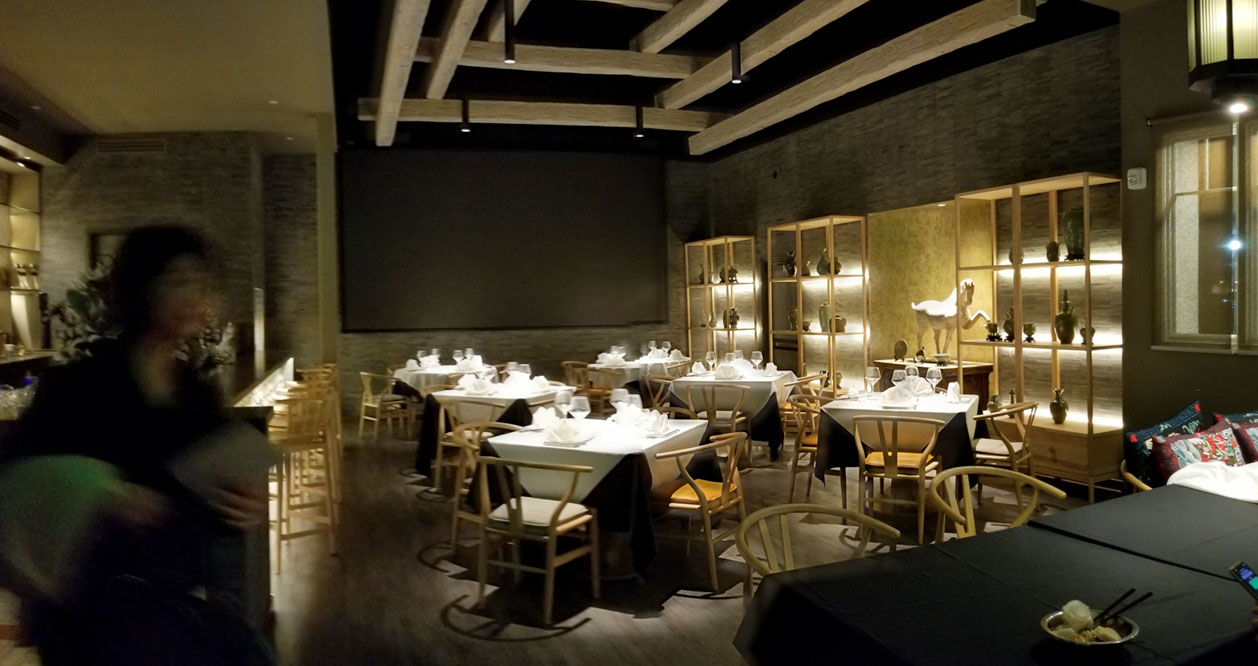 Chang'an replaces the longstanding Nieuport 17 Restaurant, which was opened all the way back in 1969 in Santa Ana by ex-Navy pilot Bill Bettis. The business moved to Tustin in 1990, and was sold to Cameron Irons in 2010 before closing in 2015. In any case, as you can see, the interior has been completely redone, and is meant to evoke a "miniature cultural museum." I can sort of see that, as this might be the nicest looking Chinese spot I've ever been to.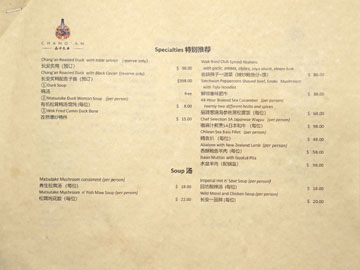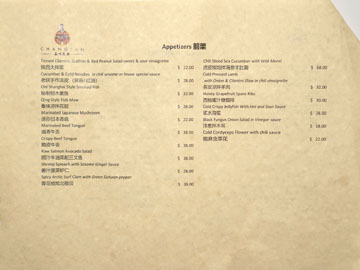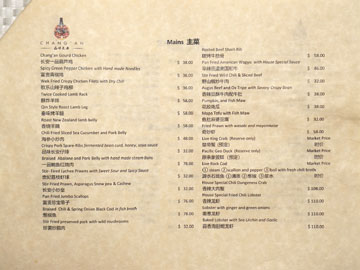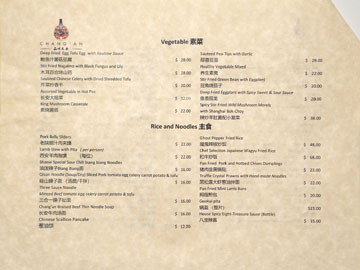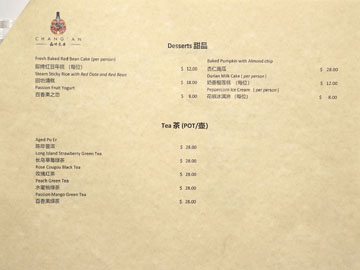 The menu's shown above, a fairly lengthy affair centered on Shaanxi cooking, though there are certainly influences from the rest of China. With regard to booze, the place just secured its liquor license, so the wine list is incredibly small, though I'm sure that it'll grow. We wisely opted to BYOB, and thus paid a $30 per bottle corkage fee. Click for larger versions.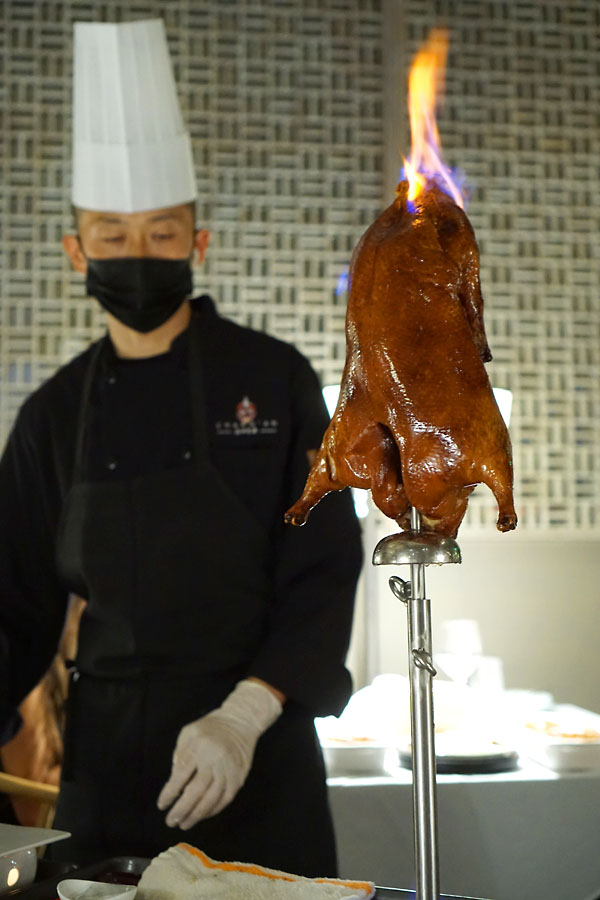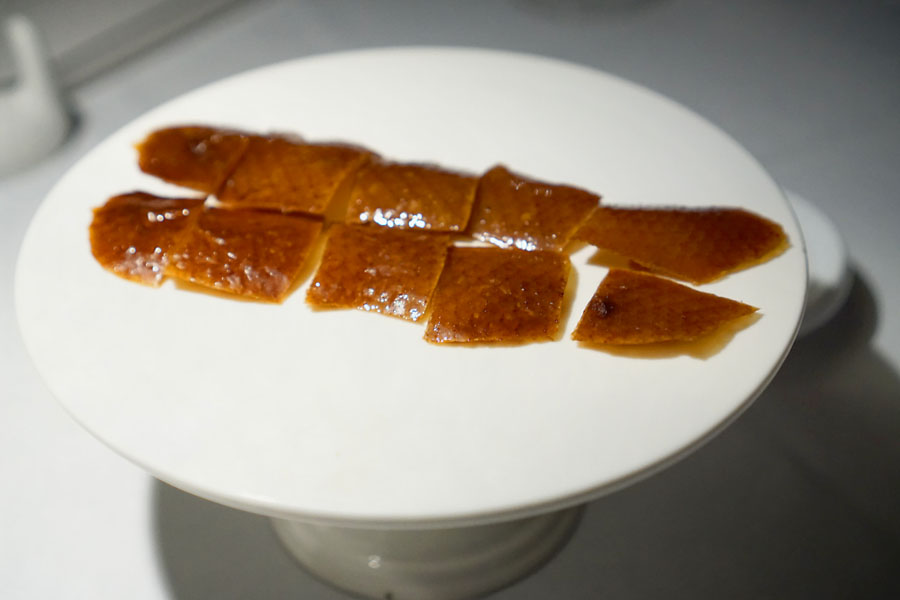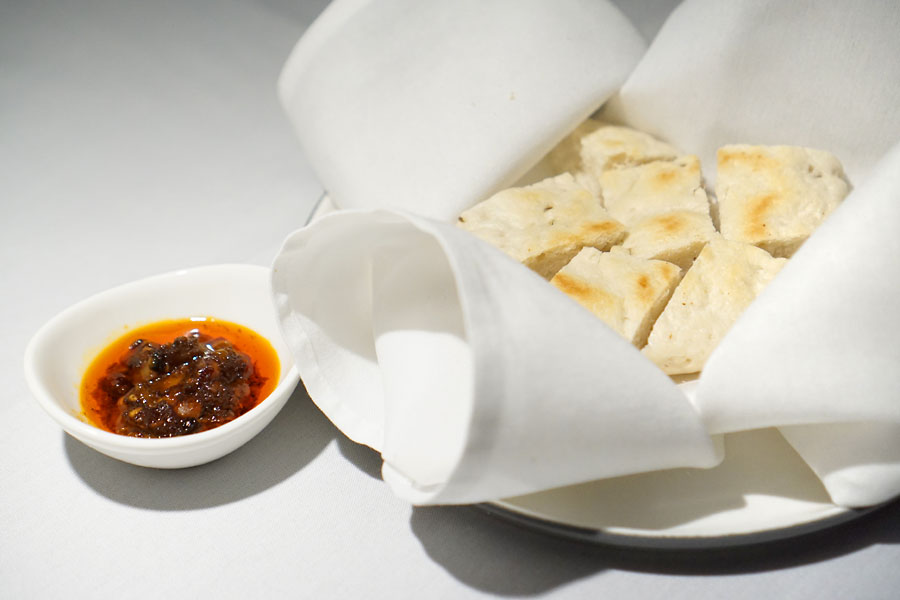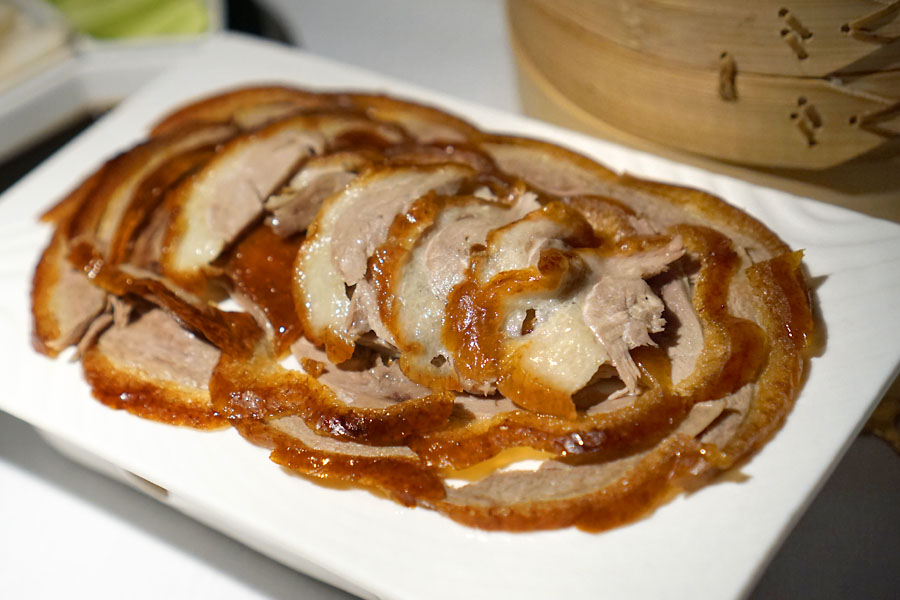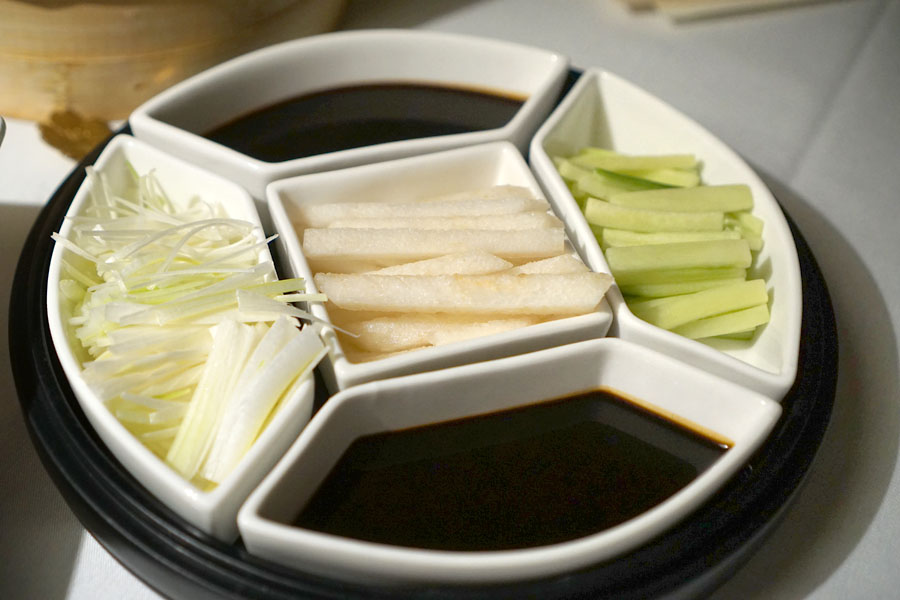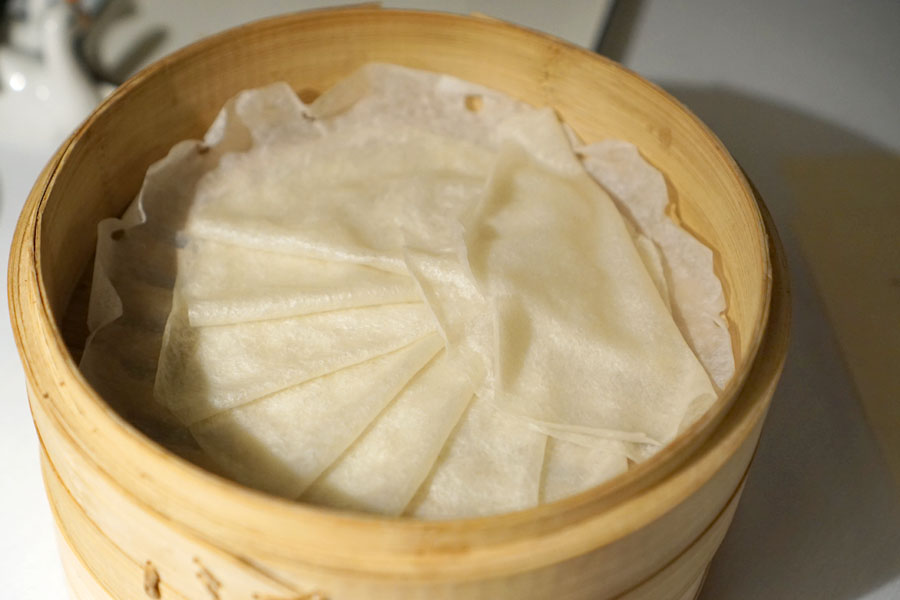 Chang'an Roasted Duck [$98.00]
| with table service
Our meal commenced with this impressive tableside presentation of
baijiu
-flambéed Peking duck, which we had to reserve in advance. We were first served cuts of super crispy, salty, savory skin, which paired effortlessly with the included brown sugar. This was followed by the utterly juicy, thin-skinned meat, which came imbued with an elegant, yet palpable anatine funk. The duck was very enjoyable by itself, but really came alive when married with traditional accoutrements of spring onion, cucumber, pear, sweet bean sauce (
tiánmiànjiàng
), and those delightfully stretchy
chūn bǐng
pancakes. We were also given a serving of dense, subtly sweet
guōkuī
flatbread, which combined beautifully with the accompanying
bā bǎo jiàng
, a spicy-sweet-savory, almost XO-like sauce that I sort of want to put on everything now. This was right up there was with best preparations of Peking duck I've had, though I do wish we could've sampled the rest of the bird in more forms.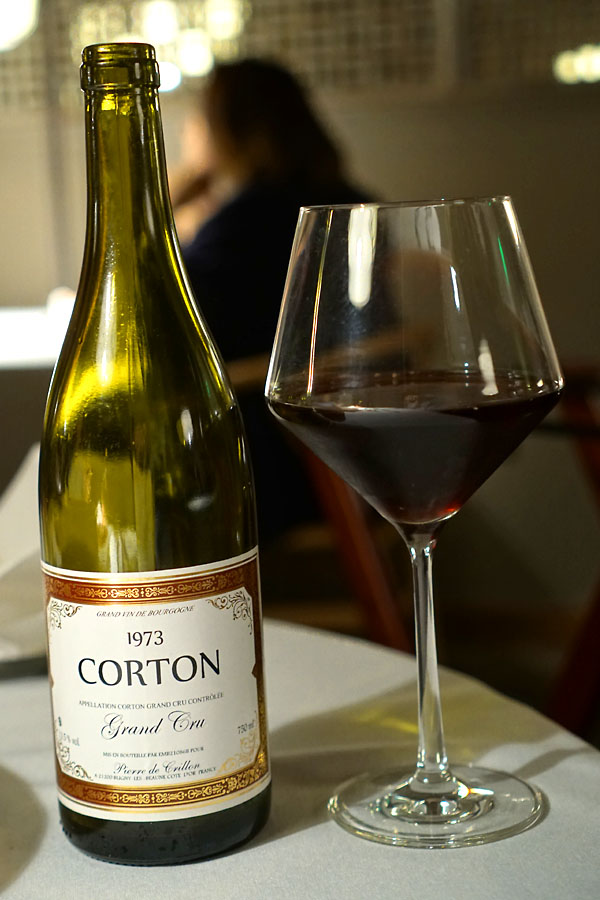 As mentioned above, we brought a couple bottles to drink, the first of which was the
1973 Pierre de Crillon Corton
. The Burgundy showed off a bouquet that was simply alluring in how it was both mature and vivacious at the same time, with the primary focus being understated dark fruit. Tasting it, I found sophisticated, if slightly dusty berries, countered by a trace of peppery spice, and overall, the wine was surprisingly full of life for a bottling nearing 50 years of age.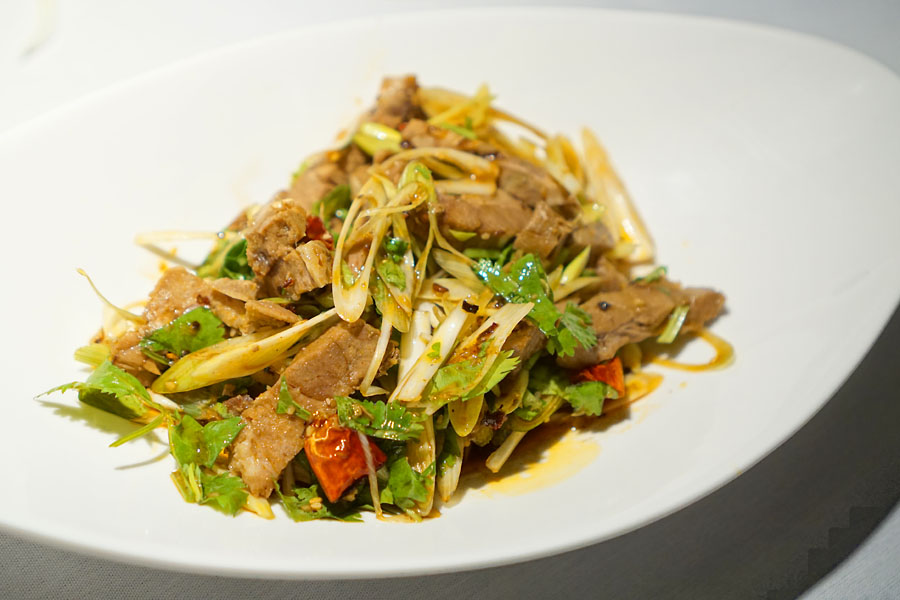 Cold Pressed Lamb [$32.00]
| with Onion & Cilantro Slaw in chili vinaigrette
Our
liángbàn yángròu
featured dense, gratifying cuts of lamb that were at once tender and chewy. The meat had a definite weight to it, so I thoroughly liked the sharp contrast imparted by the cilantro/onion/chili combination.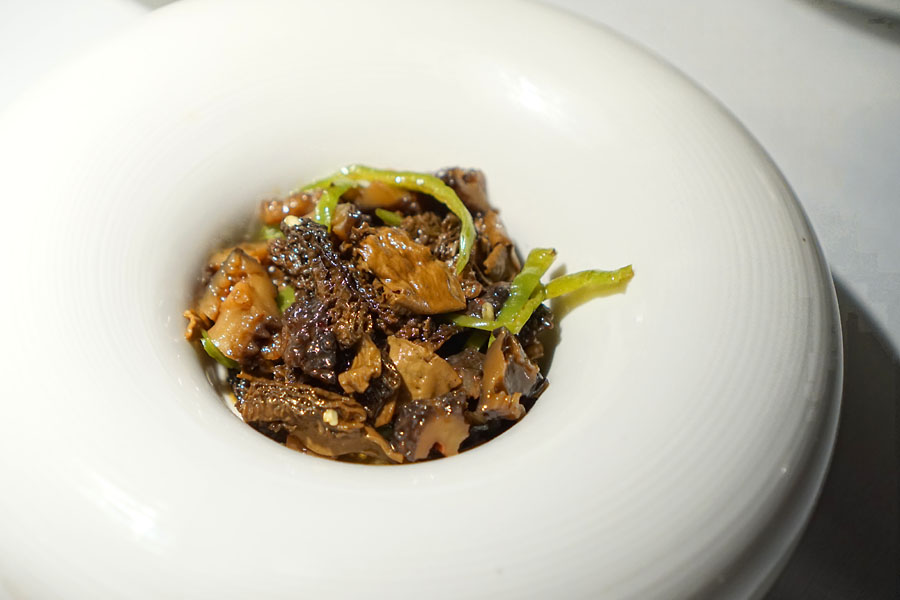 Chili Sliced Sea Cucumber [$68.00]
| with Wild Morel
Cool, slick cuts of
hǎishēn
were delicately flavored, with a distinct umami element set against an omnipresent, yet subtle sourness and smidges of sweetness and spice. As the sea cucumbers were relatively mild in terms of taste, they were enhanced by the darker, earthier tones of the morel mushrooms.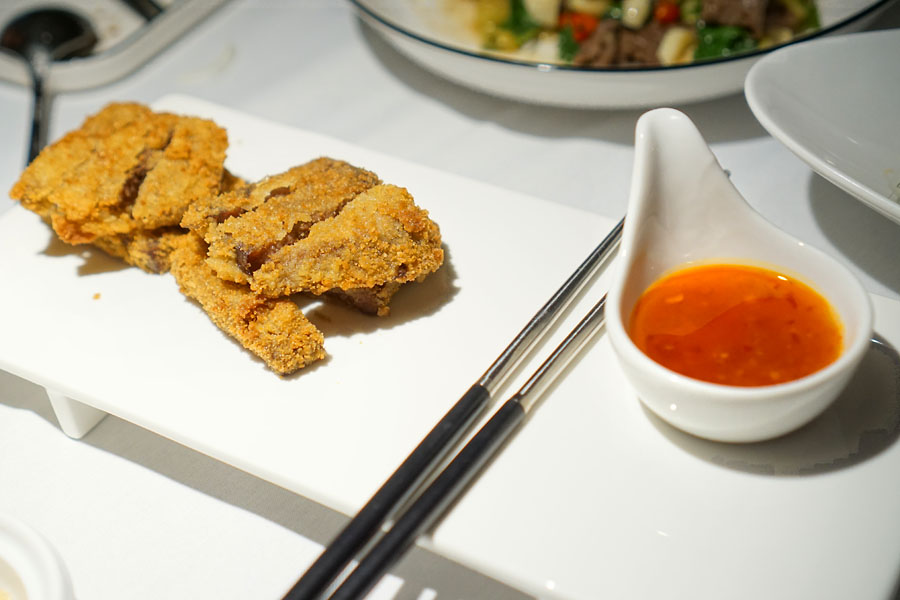 Crispy Beef Tongue [$38.00]
Tongue is actually one of my favorite cuts of beef, so I was curious to try this dish. It didn't let me down. The offal possessed a rather refined flavor profile, and I was particularly fond of the back-and-froth between the tongue's supple consistency and its gritty, crispy coating. It was even better with a dab of the included sweet-n-sour sauce.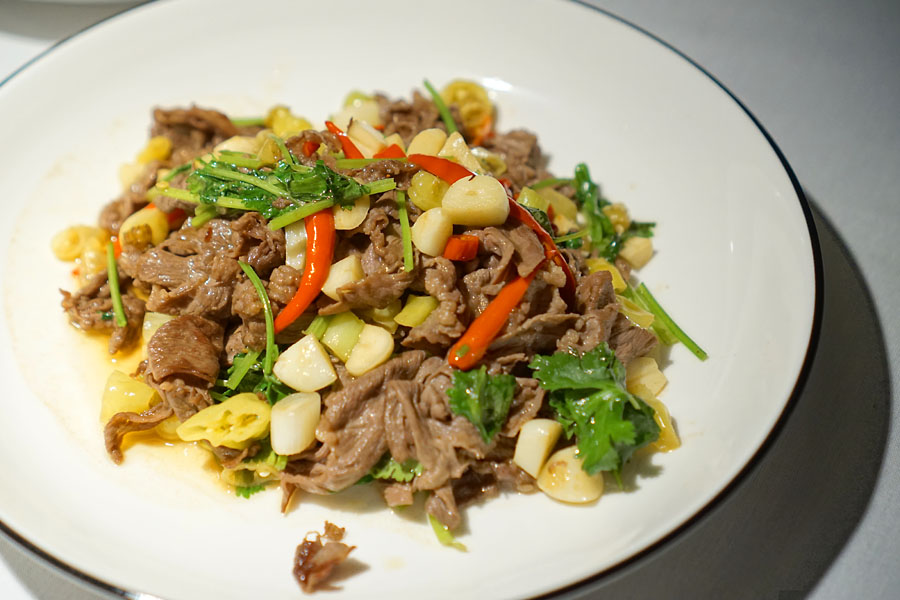 Stir Fried Wild Chili & Sliced Beef [$32.00]
Slices of beef were tender and fine-flavored, but actually held their own against the pungent heat of the peppers, which managed to be potent yet not overwhelming. That being said, you may want to think twice about ordering this if you're sensitive to heat.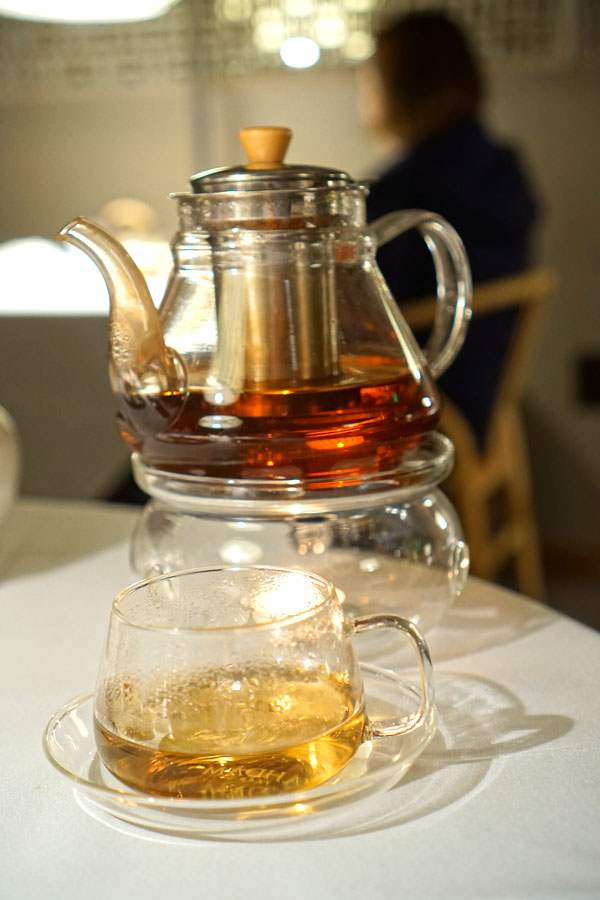 With our first bottle dispensed with, we opted to order some tea, specifically the
Aged Pu Er [$28.00]
, a full-flavored brew that matched up quite well with the food.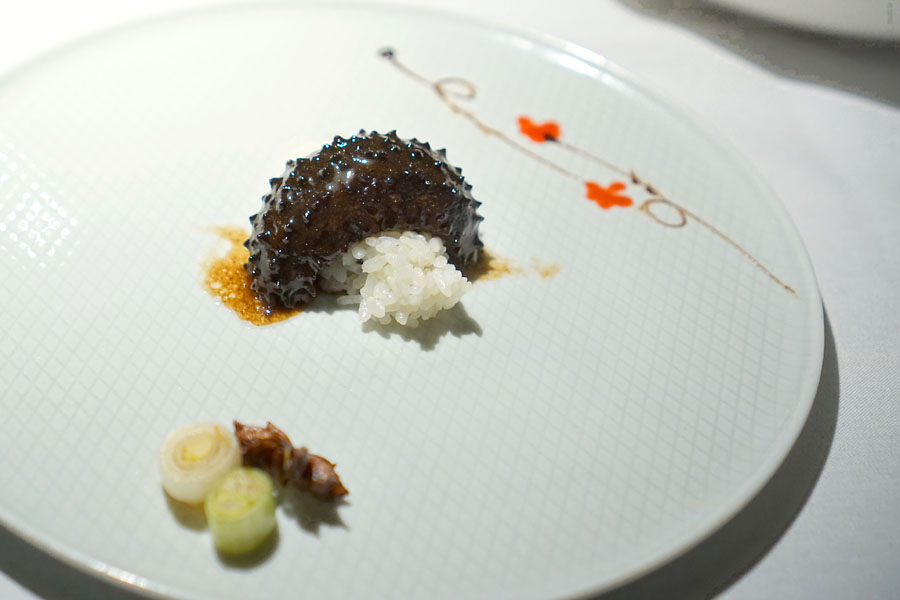 48-Hour Braised Sea Cucumber [$68.00]
| twenty-two different herbs and spices
While KFC may boast a secret blend of 11 herbs and spices, Chang'an doubles that amount for their sea cucumber. The results were truly worth it, and in fact, this might've just been the best preparation I've ever had. Texturally, the
hǎishēn
was perfect with its slippery, gelatinous texture. However, its taste was far more impressive, demonstrating a complex,
zòngzi
-like spice up front that transitioned gorgeously to a truffle-like woodsiness on the back end that lingered long and strong. Also key was the rice, which functioned as a crucial moderating force.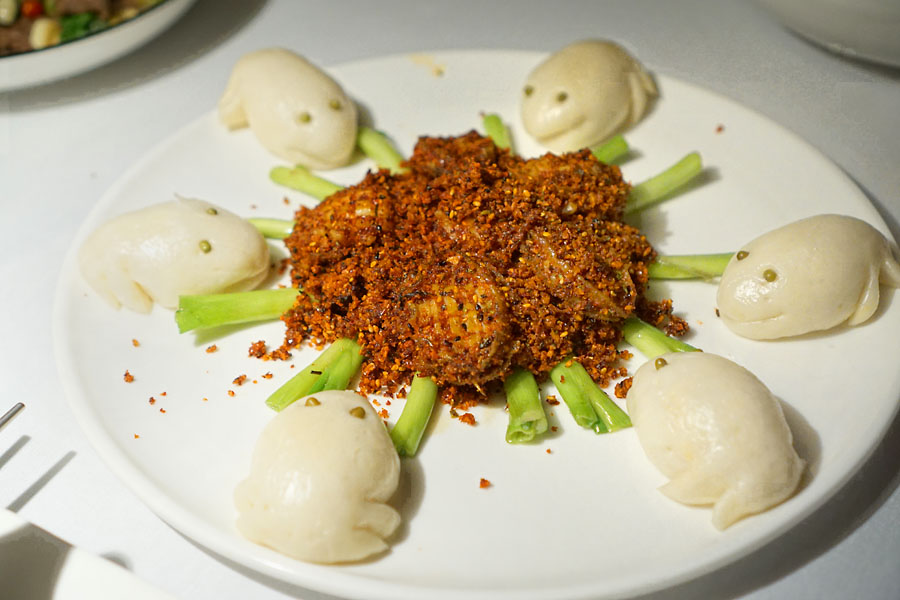 Wok-fried Chili-Spiced Abalone [$88.00]
| with garlic, onions, chilies, soya sauce, steam bun
This next dish was also a favorite of mine. Generously-sized portions of abalone were superbly textured and a joy to eat with all the spicy, saline, garlicky components in the dish. However, what really took this over the top were those wonderfully soft, fluffy, frog-shaped buns, which functioned flawlessly as a foil to the potent flavors of the
bàoyú
. I loved the zesty, crunchy nature of those green onions, too.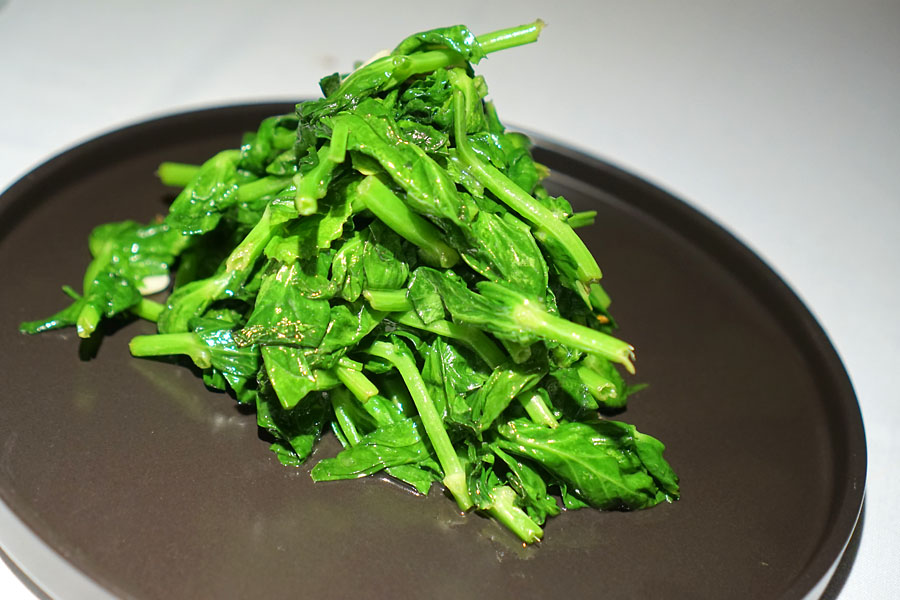 Sauteed Pea-Tips [$28.00]
| with Garlic
Dòu miáo
is probably my favorite vegetable to order at Chinese restaurants, and the version tonight was as good as any I've had (maybe the best?). I appreciated how the crunch and freshness of the pea shoots were so vibrantly presented, as well as how that all meshed with the unquestionably savory, garlicky notes in the dish. Can't go wrong with this.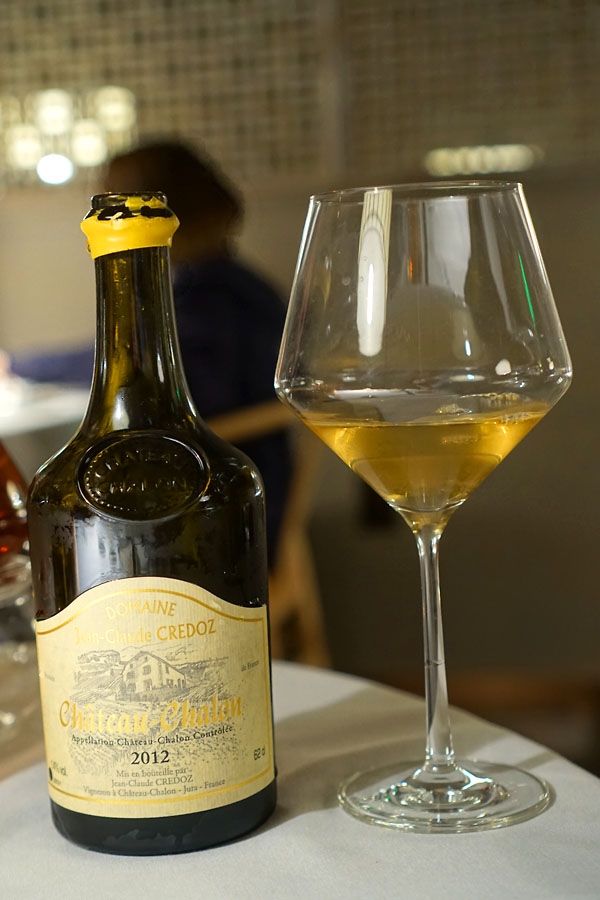 The second bottle we brought was the
2012 Domaine Jean-Claude Credoz Château-Chalon Vin Jaune
, a wine unique to France's Jura region that's made from the Savagnin grape. I got intense, in-your-face aromas that went in a decidedly nutty, oxidative direction that recalled Sherry. The palate, meanwhile, brought smoky, toasty qualities along with a boatload of almond and an undercurrent of spicy yellow fruit.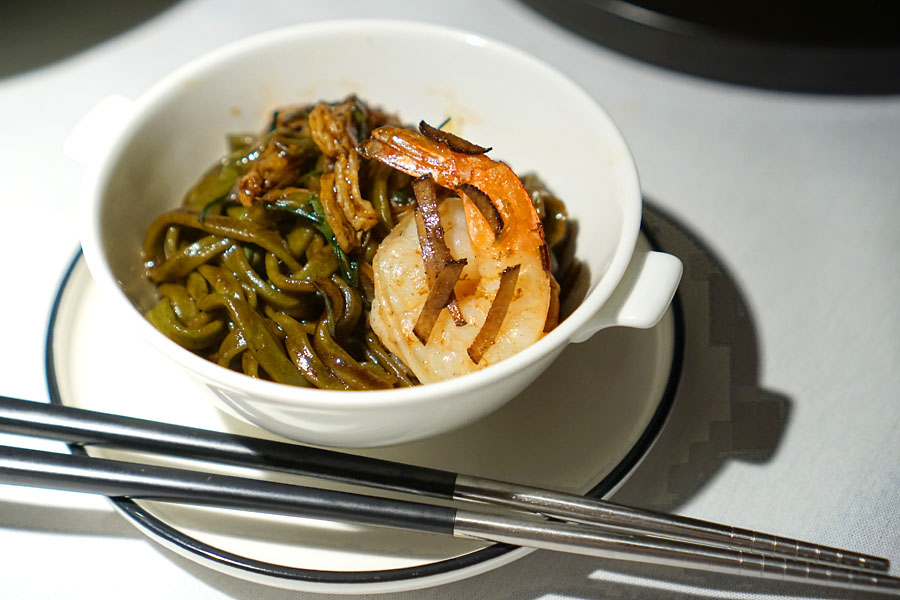 Truffle Crystal Prawns [$22.00]
| with Hand-made Noodles
Scallion noodles were unabashedly salty and savory, with a toothsome texture that displayed just enough chew. However, the hero here was the semi-translucent shrimp, which was perfectly supple and snappy, and just teeming with the kind of oceany goodness I was looking for.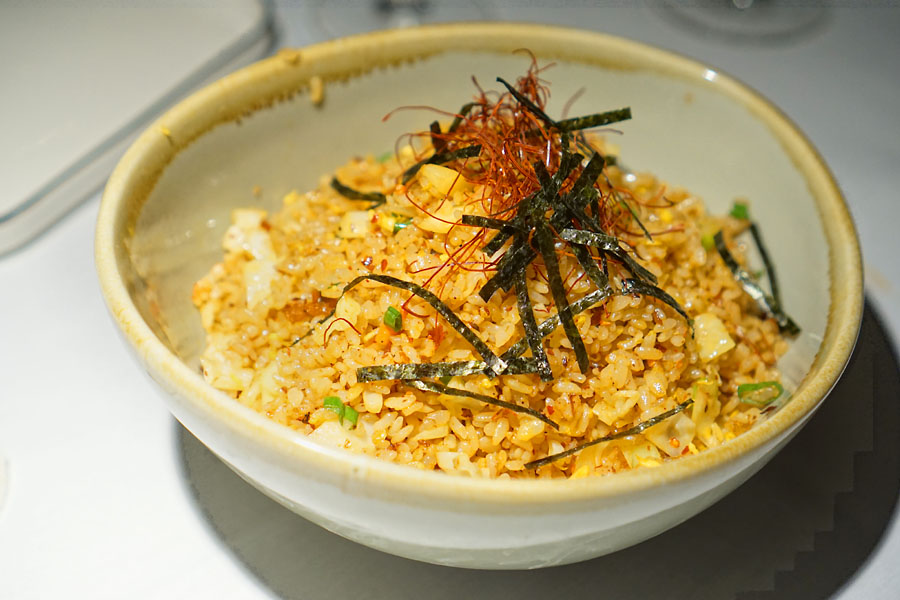 Ghost Pepper Fried Rice [$48.00]
Our final savory dish was the traditional closer of rice. Despite the cachet of using ghost peppers, the level of heat here was pretty manageable, and was of the "dry spice" variety. Said heat complemented the deep brine and savor of the perfectly cooked scallops, and I was a big fan of the crunchy veggies scattered throughout, too.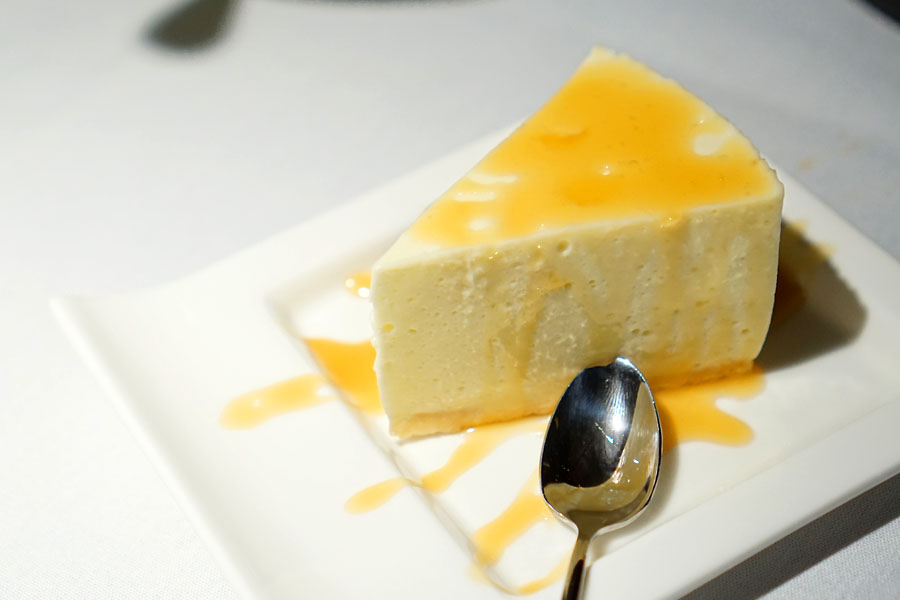 Durian Milk Cake [$12.00]
Time for dessert. Our first was the
nǎi xiāng liúlián gāo
, a patently lush, creamy cake that definitely showed off the barnyard-y sweetness of durian. Interestingly though, the crust of the cake was arguably even more intense, and recalled a funky washed-rind cheese.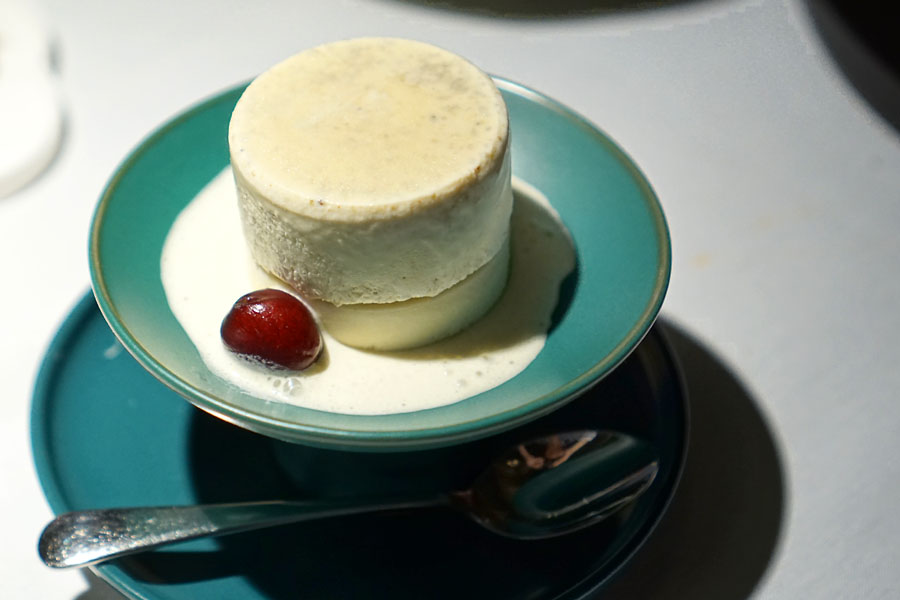 Peppercorn Ice Cream [$8.00]
Our server actually warned us of the fierce
málà
flavors in this ice cream, and with good reason it turns out. The floral-fragrant, numbing, pungent qualities of Sichuan pepper were brazenly presented to be sure, making this a dessert that's probably not suited for everybody. I do have to commend the kitchen for not toning this one down.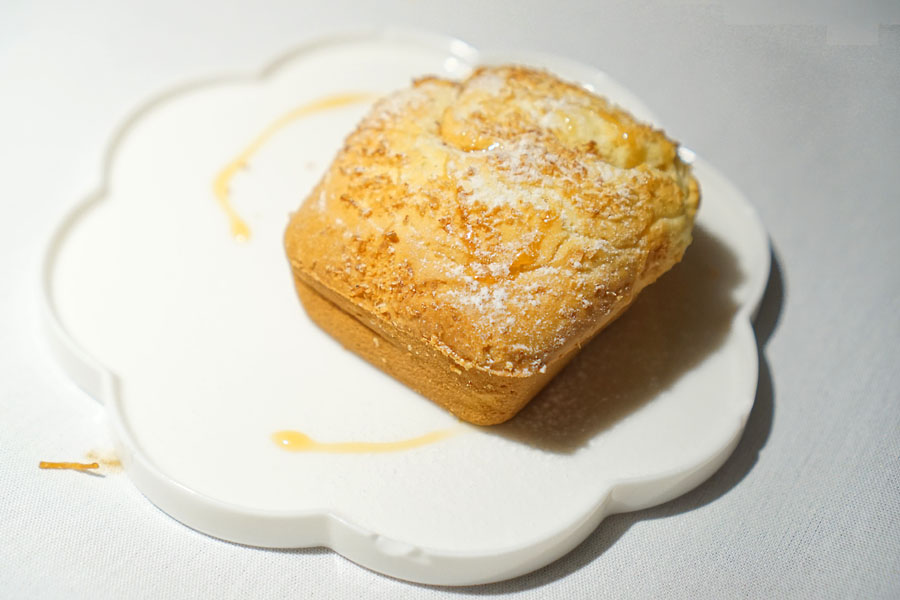 Fresh Baked Red Bean Cake [$12.00]
Last up was the
hóngdòu niángāo
, which had a wonderfully sticky, chewy texture combined with a restrained red bean sugariness. It ended up being my favorite of the three desserts.
Chang'an has been a bit of a controversial restaurant opening, mostly because of its prices, which are high, and I don't mean high for a Chinese restaurant, but high for any restaurant that's not a Michelin-level tasting menu joint. In fact, this is very likely the most expensive Chinese spot I've been to, and if you come, expect to spend $120 or more per person. But I didn't mind, since what I was served tonight was most certainly some of the best, most unique Chinese food I've ever had, and my dining companions would agree with that notion. There's just nothing else quite like it in the Los Angeles area as far as I know, and I'm glad to have a dining option like this nearby. In fact, my fellow diners and I even mentioned that we'd be open to returning relatively soon in order to try more of the menu, so we'll see if that happens.