Flaco (Los Angeles, CA)
Flaco Restaurant
5652 Hollywood Blvd, Los Angeles, CA 90028
323.499.1260
www.flacoshop.com
Fri 05/07/2021, 07:55p-09:00p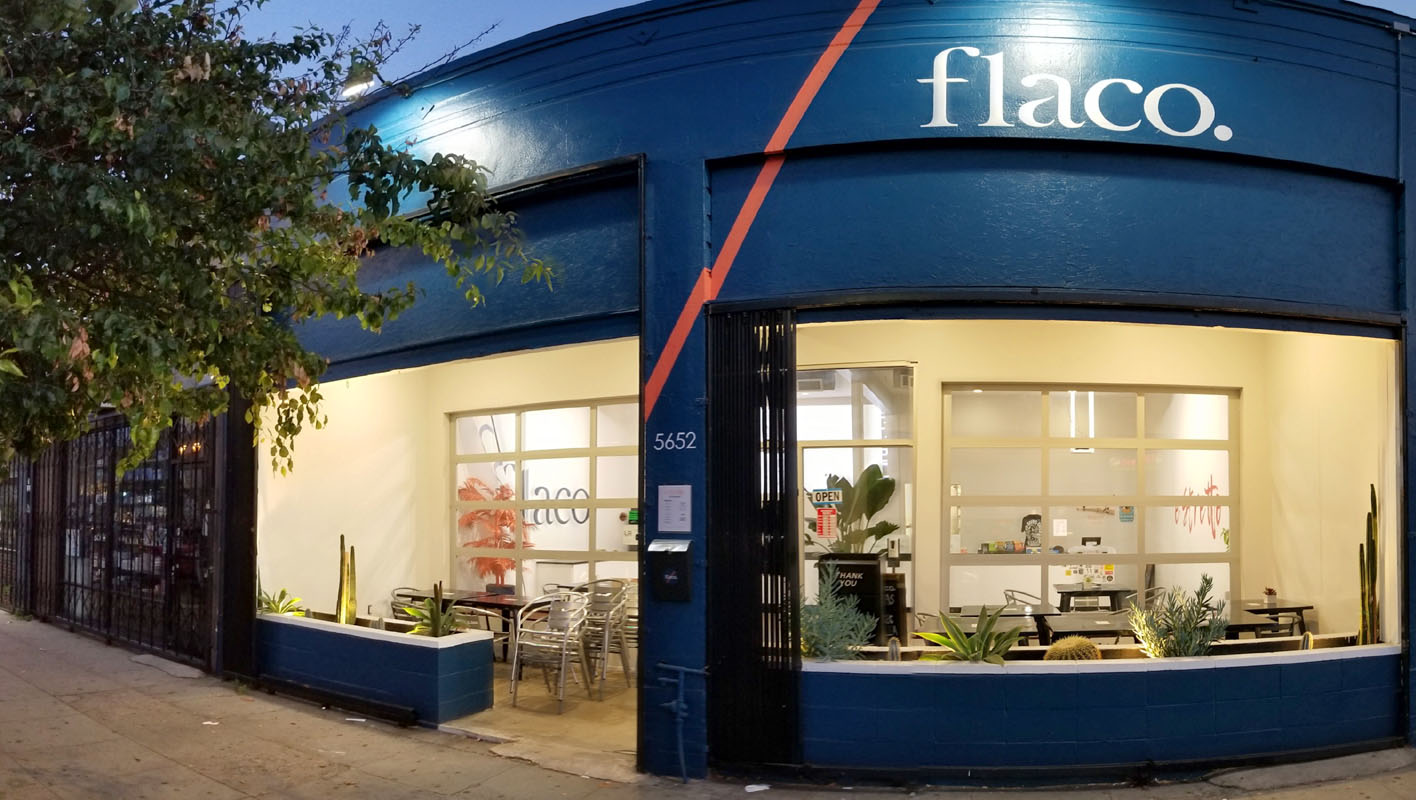 I recently decided to pay a visit to the East Hollywood-adjacent Flaco, which bills itself as a specialist in carnitas, ostensibly cooked Michoacán-style in traditional copper
cazos
. Named after the Spanish word for "thin," the place debuted in early November after nearly two years of planning. It's the brainchild of none other than Steve Livigni, who of course first made a name for himself with the Houston brothers in the early 2010s (La Descarga, Harvard & Stone, Pour Vous), but is probably most known for his work with Happy to Serve You Hospitality Group (Black Market,
Scopa
/Old Lightning, The Chestnut Club,
Dama
).

The structure that houses Flaco was previously home to two separate businesses: Narek Market and Hollywood Cristal Drinking Water & Ice. However, the two storefronts were eventually combined for the short-lived M.A.P - Meat and Provisions (a rotisserie joint) before being turned into Flaco. Note that Joel Miller and Dave Fernie's sandwich shop E Stretto shares the space (the original location is in Downtown). And as we can see, there was no indoor seating tonight, though I imagine that'll change as the coronavirus situation improves.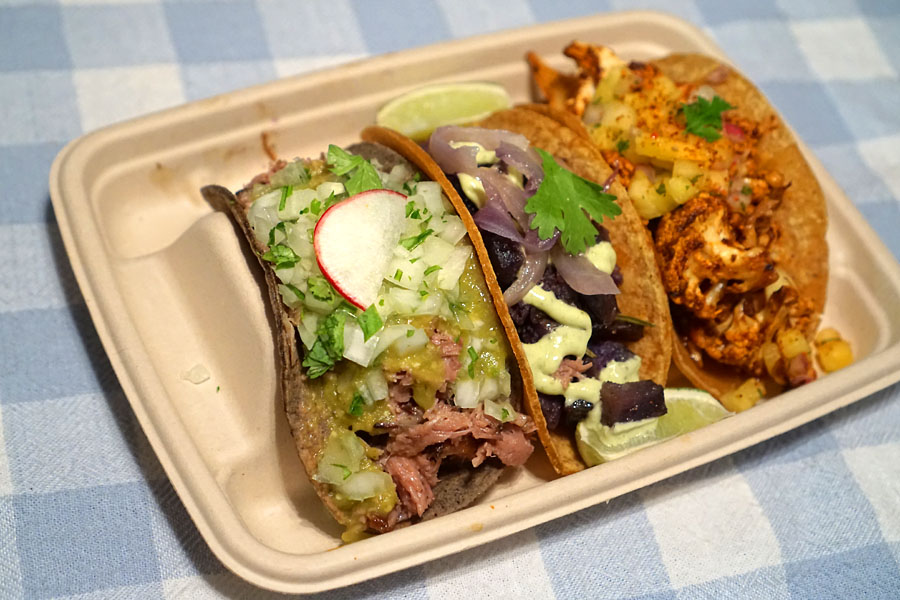 Now on to the food. I ended up ordering one each of the three tacos on offer, and they arrived in a specialized taco takeout container. I'd never seen one of these before, but it's a great idea.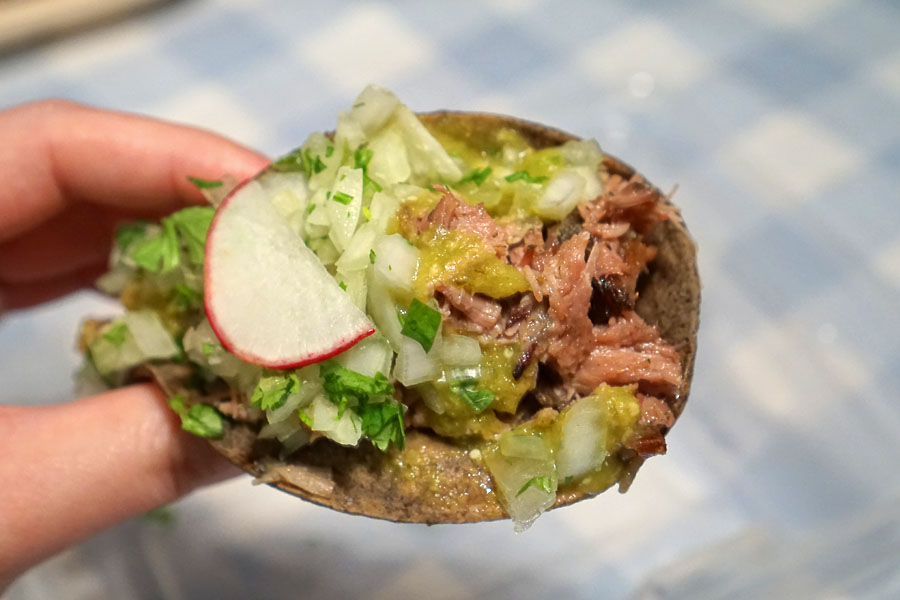 Carnitas Taco [$3.75]
| Our signature taco. One Michoacan style pork carnitas taco slow cooked for over four hours. Served on a Kernel of Truth organic blue corn tortilla and topped with onions, cilantro, radish, & mild salsa verde.
Naturally, I began with the carnitas taco, and it was pretty damn delicious. Texturally, the meat was just tender enough, and had the charred crispy bits I was looking for. Its taste, meanwhile, was a proper blend of salt, savor, smoke, and porcine funk, all offset by a wonderfully vegetal, citric salsa and bracing bits of raw onion. At the same time, the substantial tortilla from Boyle Heights purveyor
Kernel of Truth Organics
helped moderate all that was happening.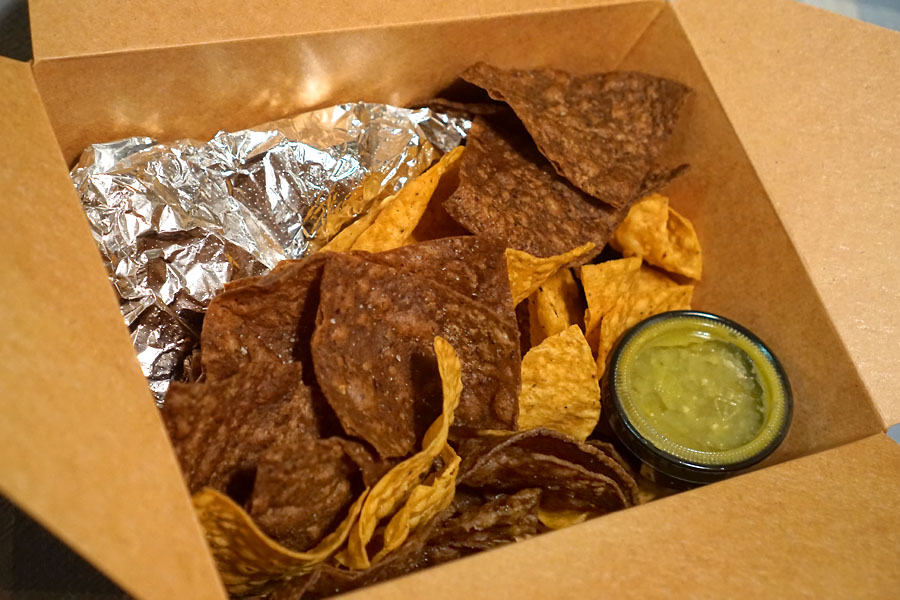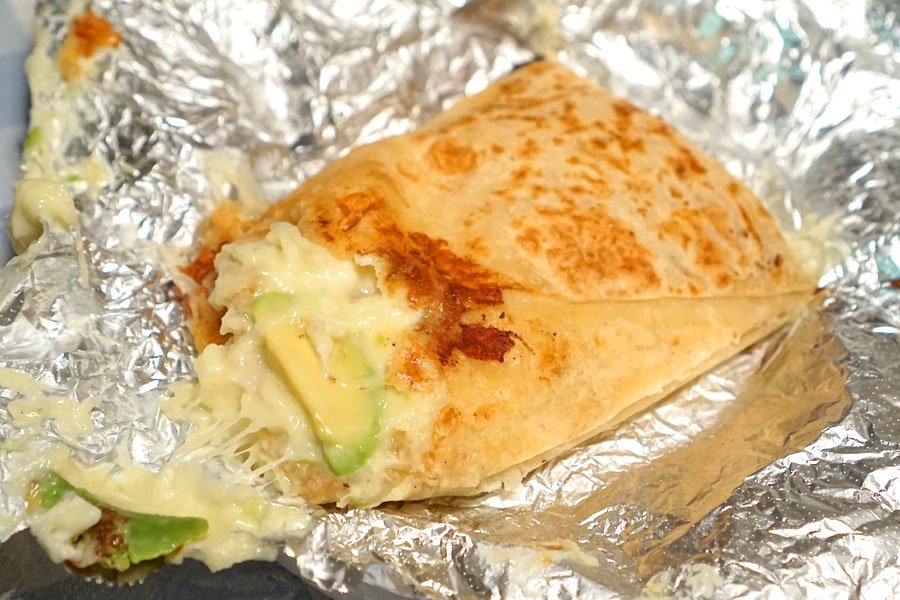 Quesadilla Suiza [$9.00]
| A big flour tortilla filled with monterey jack cheese, avocado and crema. Comes with your choice of salsa and Kernel of Truth organic tortilla chips.
Next came perhaps the most indulgent quesadilla I'd ever had: this dense, hefty slug of cheese stuffed inside a well-griddled flour tortilla, with a measure of avocado for some semblance of balance. This one really called for some acidity to brighten things up, so be sure to apply some of the included salsa.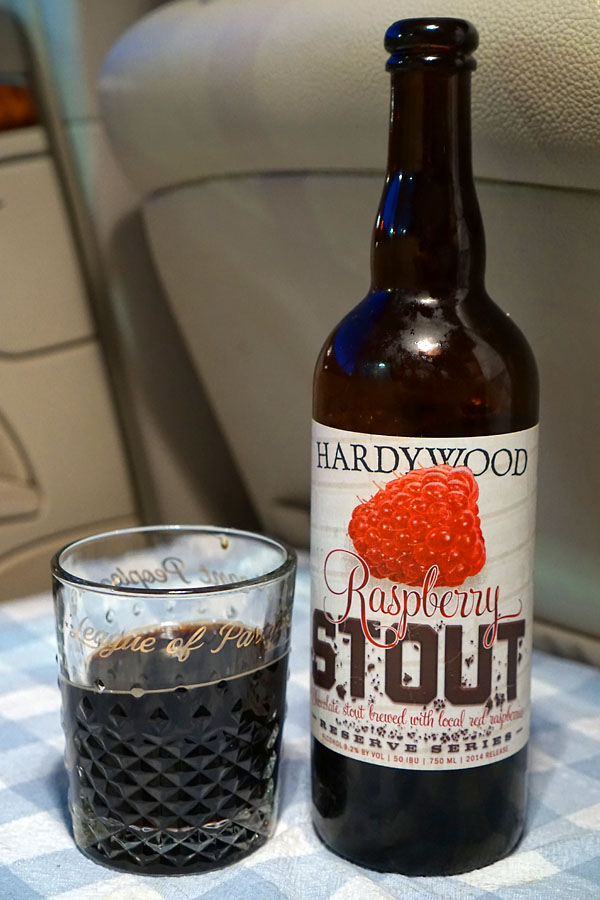 To drink, we have the
2014 Hardywood Raspberry Stout
, brewed with chocolate malt, cacao nibs, and local raspberries from Agriberry Farm. The nose here showed off a surprisingly large amount of fruit, all backed by a plethora of chocolatey, malty notes. In terms of taste, the beer really did recall a raspberry truffle, though the finish did demonstrate a bit of a bitter, metallic character. I was very pleasantly surprised at how well this one held up over the past seven years.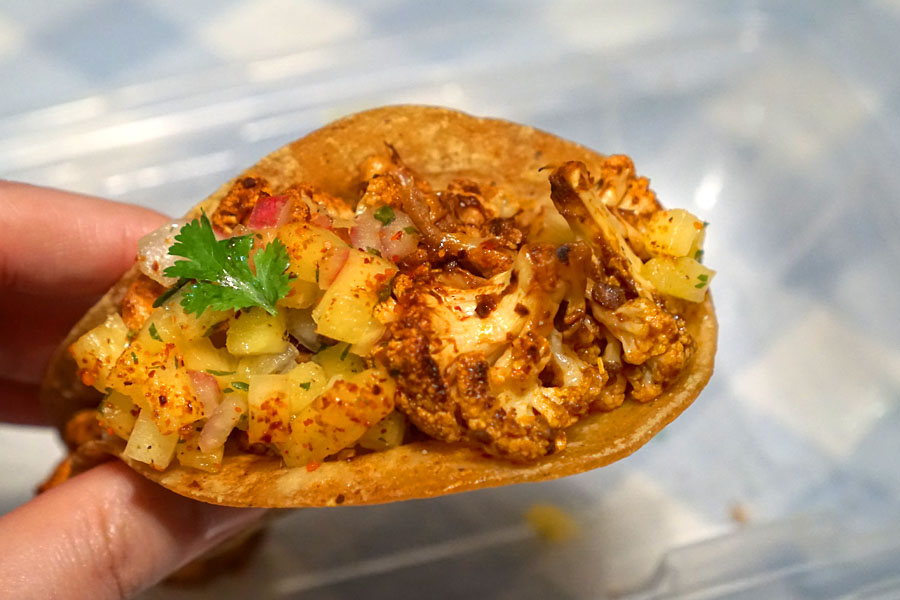 Cauliflower al Pastor Taco [$3.75]
| Roasted cauliflower, black beans, chipotle, pineapple agua fresca, cilantro.
The first of two vegan tacos, this cauliflower-based preparation displayed a surprisingly potent, nutty heat, one that was somewhat offset by the sweetness of pineapple. I also appreciated the crunch of the florets, though I wanted to taste more from the advertised black beans.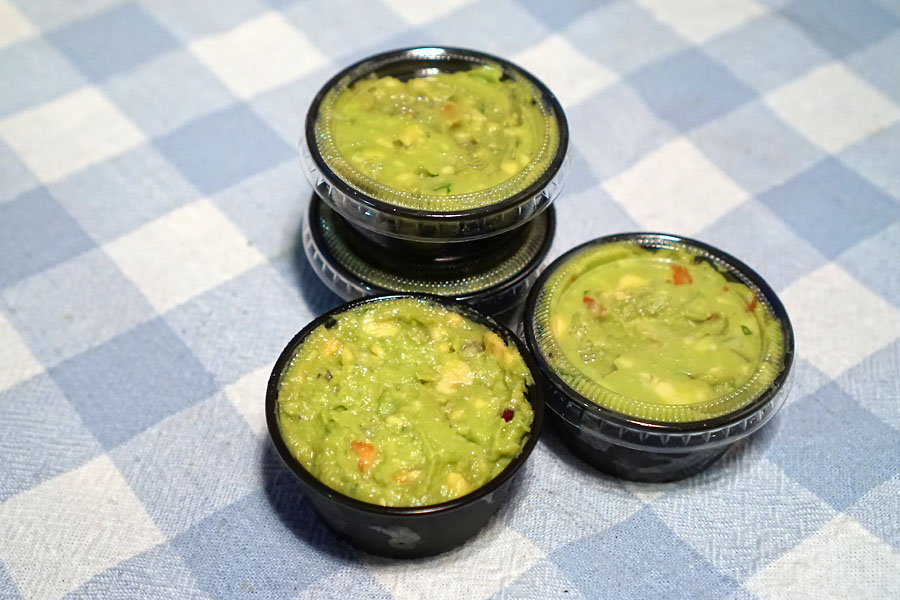 Guacamole - Small [$3.00]
| Our signature guacamole made fresh daily. Ingredients: Avocado, tomato, red onion, cilantro, garlic, lime juice, lemon juice, salt and pepper.
Flaco's guac was nicely textured, and possessed a persistent twang of tart citrus to go along with the avocado's lushness. Note that I actually only ordered one serving, but was graciously provided three extras by the staff, as I was one of the last customers of the night, and apparently the restaurant had surplus food.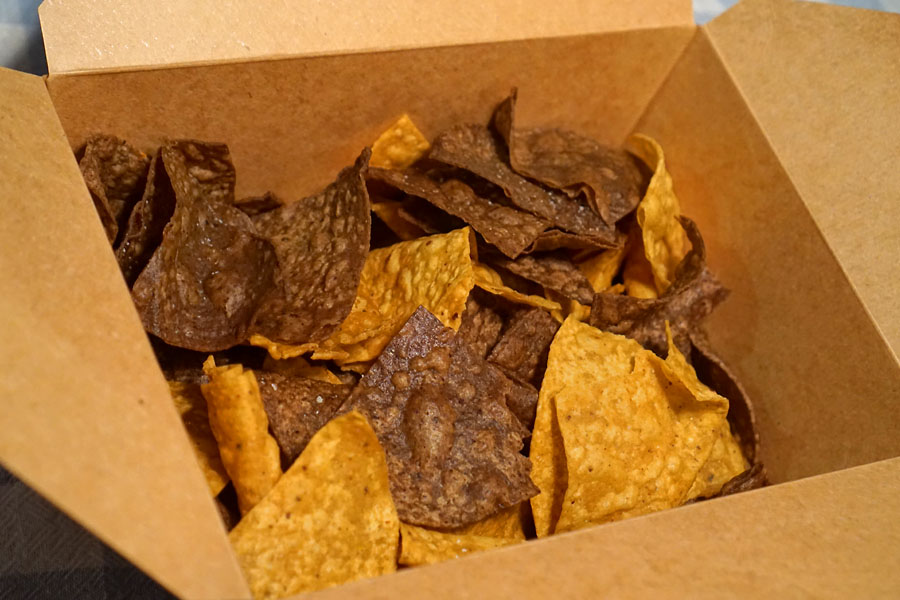 Similarly, I was also given a box of tortilla chips free of charge. Sourced again from Kernel of Truth, they were on the brittle, frangible side (not a bad thing), and very corn-forward, with some delightful hits of salt to boot.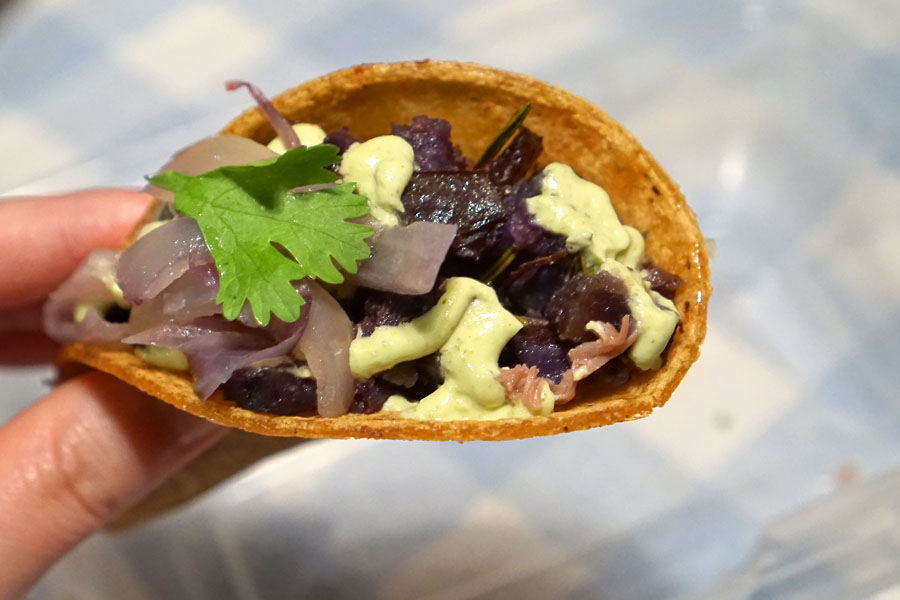 Purple Potato Taco [$3.75]
| Purple potatoes roasted in coconut oil, vegan refried black beans, caramelized red onion with cinnamon, vegan crema (tofutti, coconut milk, cilantro, lime, avocado) and cilantro served on a yellow Kernel of Truth corn tortilla.
My second vegan taco was also pretty successful. The potatoes were hearty and herby and even floral, with a delightfully liberal dosing of what I believe was rosemary. A squirt of lime enlivened the dish even more, as did the zing of those red onions, while even more crucial was that crema, which helped tie everything together.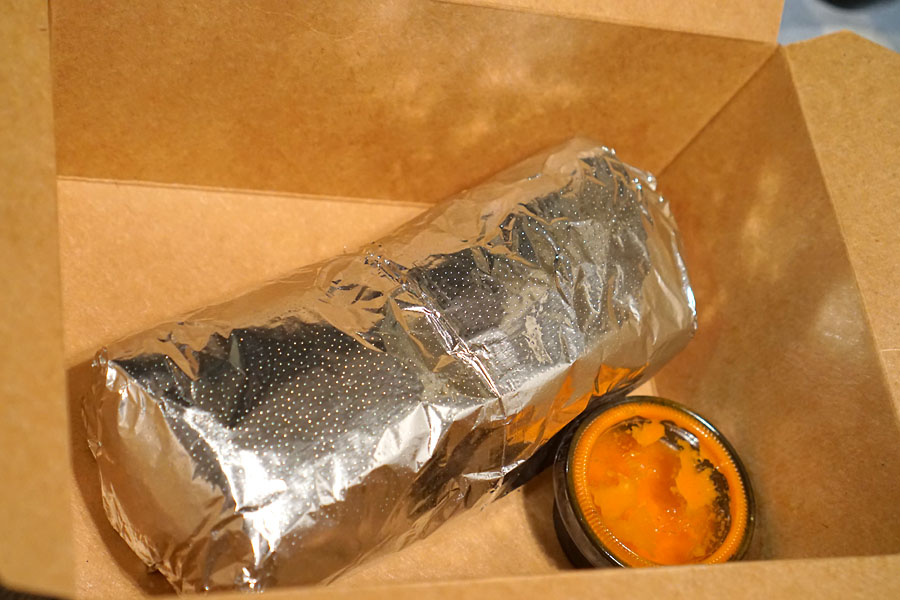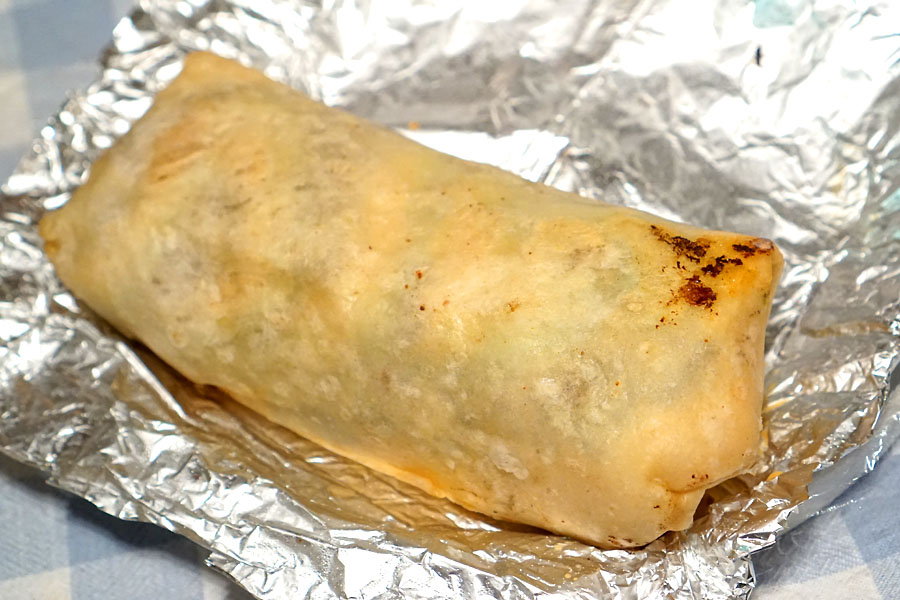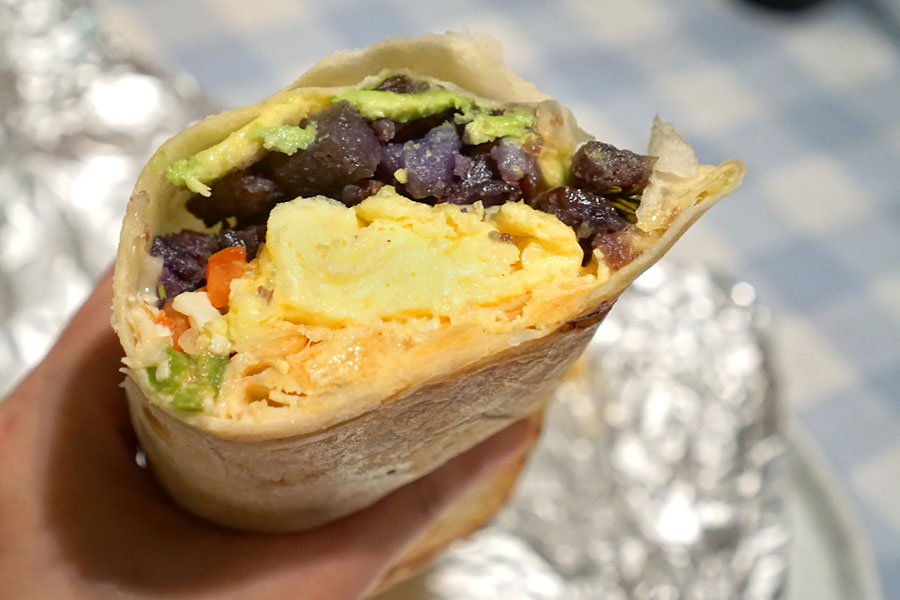 Breakfast Burrito [$10.00]
| A big sonora style flour tortilla filled with 3 eggs, fried purple potatoes, avocado, pico de gallo, monterey jack cheese and chipotle crema.
As you may know, I have a hard time resisting a breakfast burrito on a menu, so we'll end with one. The super fluffy egg was a treat, and again, I was a big fan of the sheer herbaceousness of the potatoes. Simultaneously, overarching notes of avocado uplifted the dish, and I can't forget about the sharp, spicy elements from the included Fresno chile salsa, which added a welcomed exclamation point to things. I actually hadn't had a breakfast burrito without bacon or sausage or chorizo in a long while, but I have to say that I didn't really miss the meat here.
For being a carnitas specialist spot, there was surprisingly little of the shredded pork on the menu, so I'd like to see some more variety. Carnitas nachos anyone? That being said, the carnitas I did have was quite good, and the rest of the meal largely delivered as well. I could imagine Flaco being a replicable concept, so it wouldn't surprise me if more of these eventually pop up. But before that happens, it looks like Livigni and company are opening up a bar next door later this year, and you can bet that I'll be checking it out.