Hiroki (Philadelphia, PA)
Hiroki Restaurant
1355 N Front St, Philadelphia, PA 19122
215.422.3222
www.hirokisan.com
Wed 08/04/2021, 08:00p-10:10p

Coming from LA, I'm used to having access to high quality sushi, but I was curious to see what Philadelphia had to offer in this arena. Philly's not exactly known as a hotbed for Japanese cuisine, but after doing a bit of research, I came across Hiroki (宏樹), which certainly seemed legit. The Fishtown omakase spot is backed by local hospitality group
Method Co
, and debuted on May 22 2019 with Executive Chef Hiroki Fujiyama at the helm.
About the Chef
: Fujiyama Hiroki was born in August 1971 in Kyoto. He was raised in Japan's former capital, and spent considerable time in the City's Gion district. He eventually immigrated to the United States around 2000, and settled in the northern Virgina-southern Maryland area. During this period, Fujiyama worked at various restaurants in the vicinity of DC, but ended up moving to Philadelphia in 2005. Here, he joined the team at Masaharu Morimoto and Stephen Starr's iconic Morimoto, and eventually rose to the position of head sushi chef. He was a crucial part of the kitchen there, but left in 2018 to join the team behind Hiroki. Interestingly, this place was originally envisioned as a nigiri-only joint, but the Chef convinced his partners to add more seasonal, kaiseki-inspired elements to the menu.
Do note that it was not Fujiyama-san who served us this evening, but one Shinkai(?)-san, who's second-in-command. The reason for this, I was told, was because Fujiyama was in the back helping out, as the kitchen had apparently lost a cook.

Hiroki resides in the old Warren Frigerators building, which has been heavily remodeled by
Stokes Architecture + Design
using a
machiya
(a traditional house oft found in Kyoto) inspiration. Pictured above is the view from my seat at the restaurant's white oak sushi counter. There's table seating available as well, and total capacity is 26.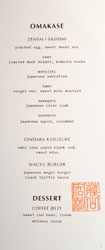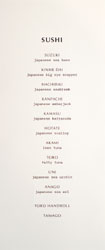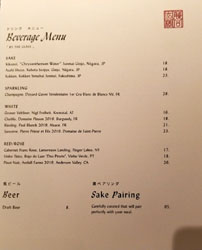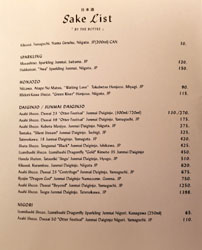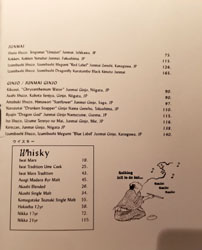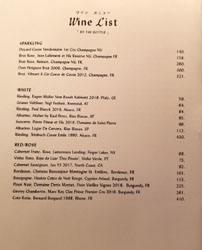 Food-wise, your only option here is omakase priced at $145, plus 20% service. However, you do get many more choices for beverages. There's a pretty decent array of sakes available, some Japanese whisky, and the wine list isn't too bad, either. Hiroki even offers a six-course sake pairing at $65pp. Click for larger versions.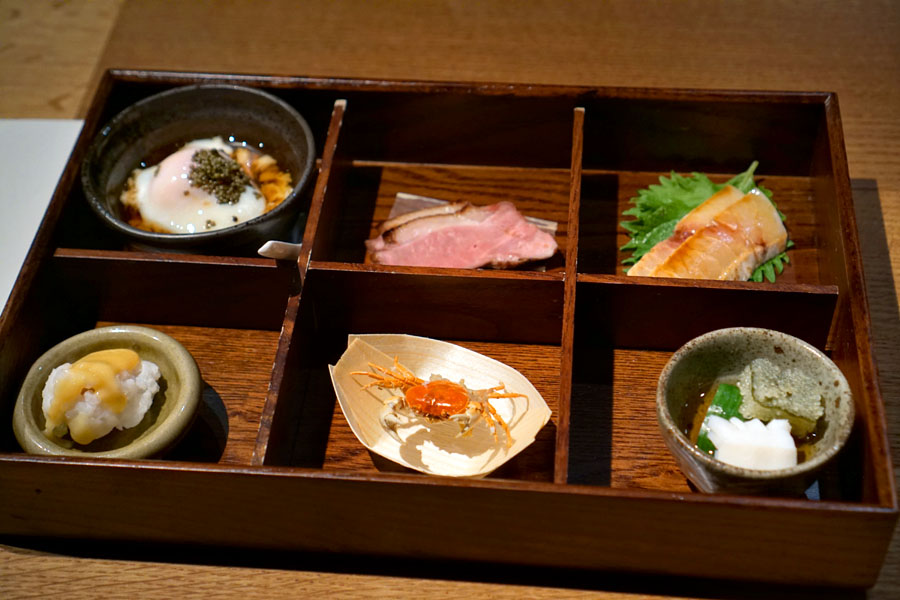 My meal began, as is traditional, with a selection of
zensai
.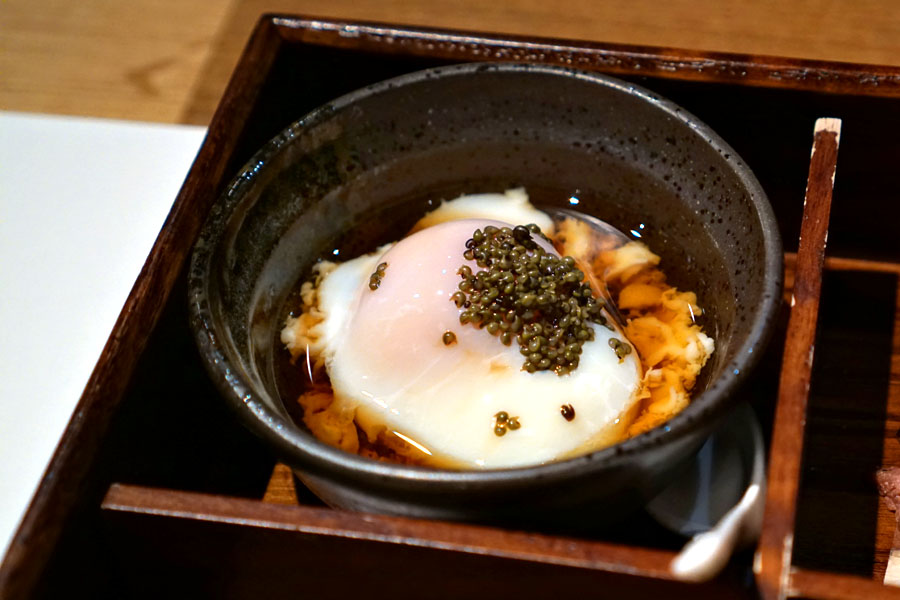 1a: onsen tamago
| poached egg, sweet dashi soy
First up was the poached egg, a dense, creamy preparation perked up by the
tonburi
on top. Its accompanying broth was relatively mild, with a marked sweetness, though I really would've liked to have tasted more depth of savor.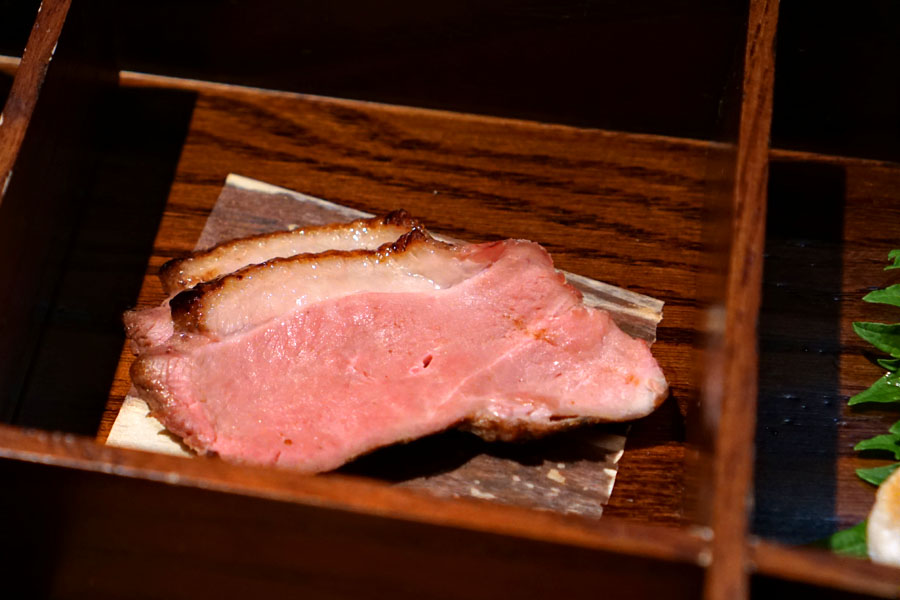 1b: kamo
| roasted duck breast
Cured and roasted duck breast was a winner, its flavor presenting itself as simultaneously earthy and elegant. Great textures, too.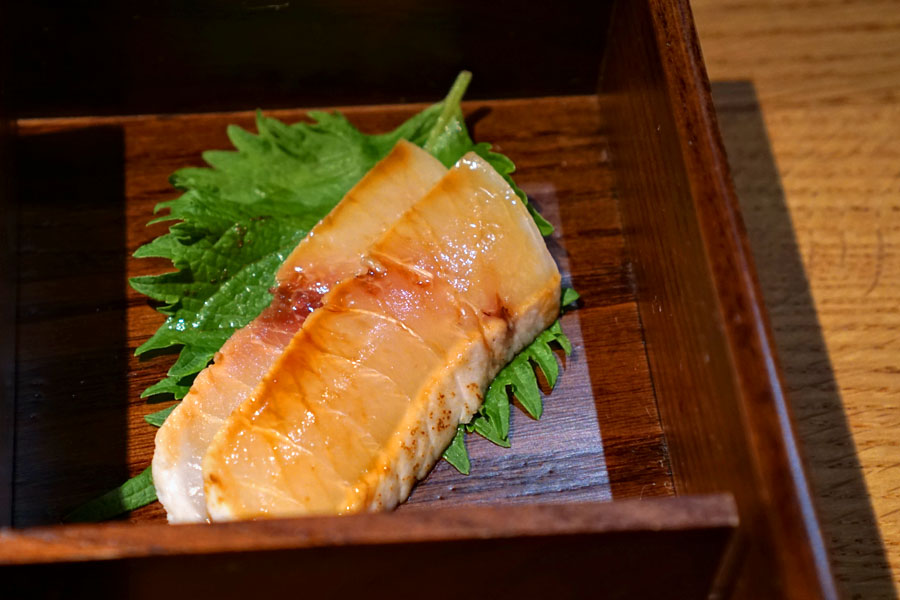 1c: mekajiki
| japanese swordfish
Swordfish was lovely. I enjoyed its slightly firm, slightly crunchy consistency, while its soy-fueled savoriness matched up swimmingly with the mintiness of shiso.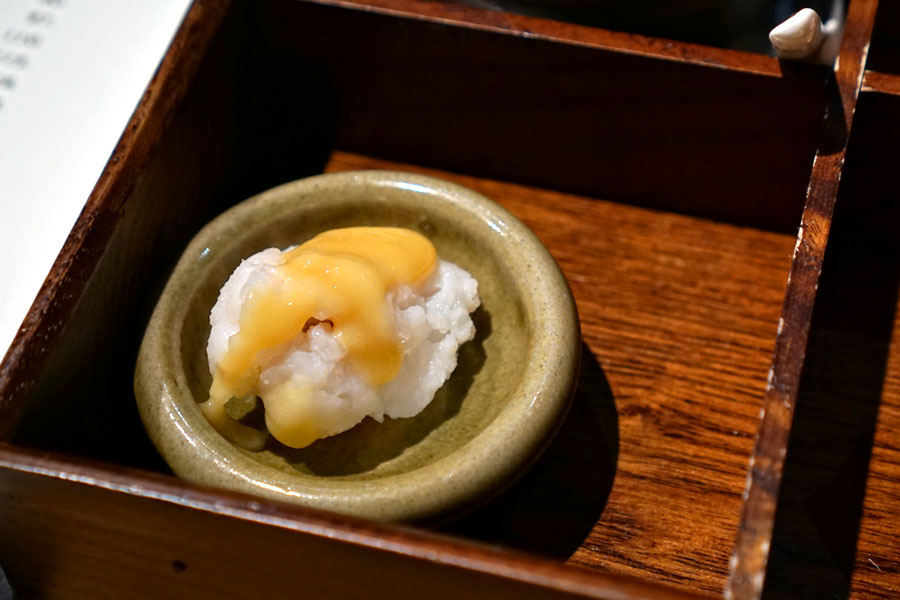 1d: hamo
| conger eel, sweet miso mustard
Pike conger arrived mildly flavored, with minimal small bones, and was deftly perked up by an excellent zingy-sweet miso-mustard sauce.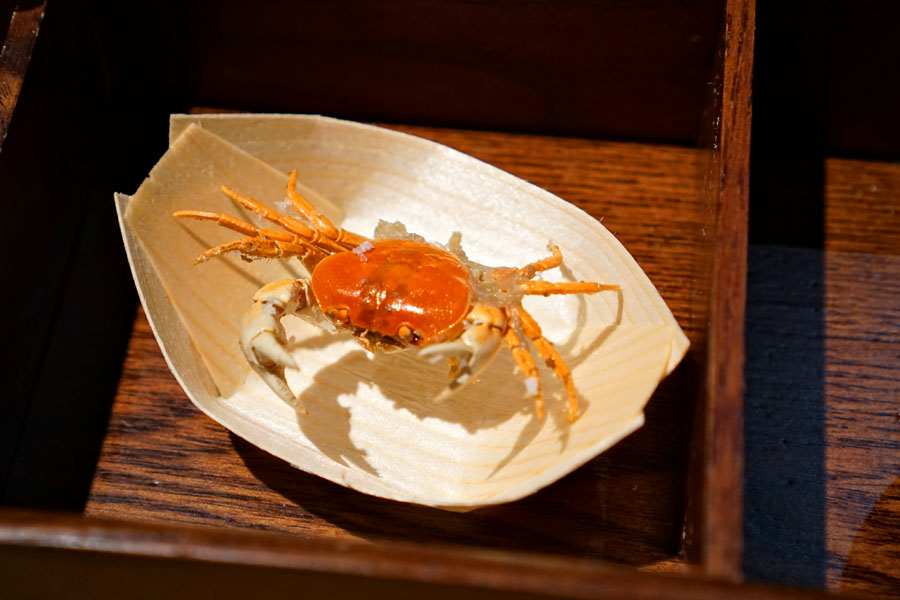 1e: sawagani
| japanese river crab
This tiny freshwater crab was delightfully crunchy, and had a decidedly briny flavor profile backed by a palpable sweetness.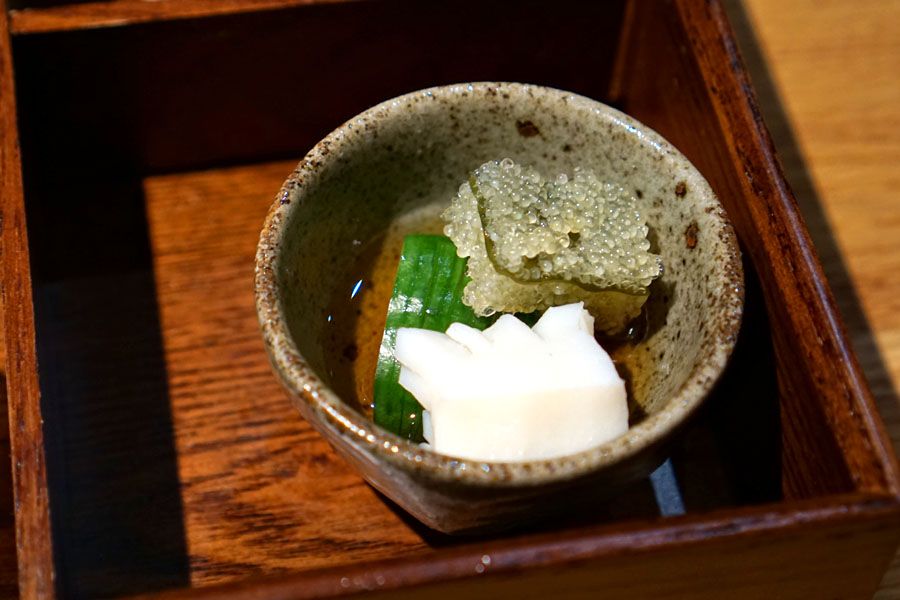 1f: sunomono
| komochi konbu, japanese squid, cucumber
Last up were some pickle-y things. The squid had a particularly gratifying texture I'll say, while the cucumber came out as crunchy and tangy as I expected. However, the hero here was the herring roe on kelp, with its gritty-crispy consistency and restrained salinity.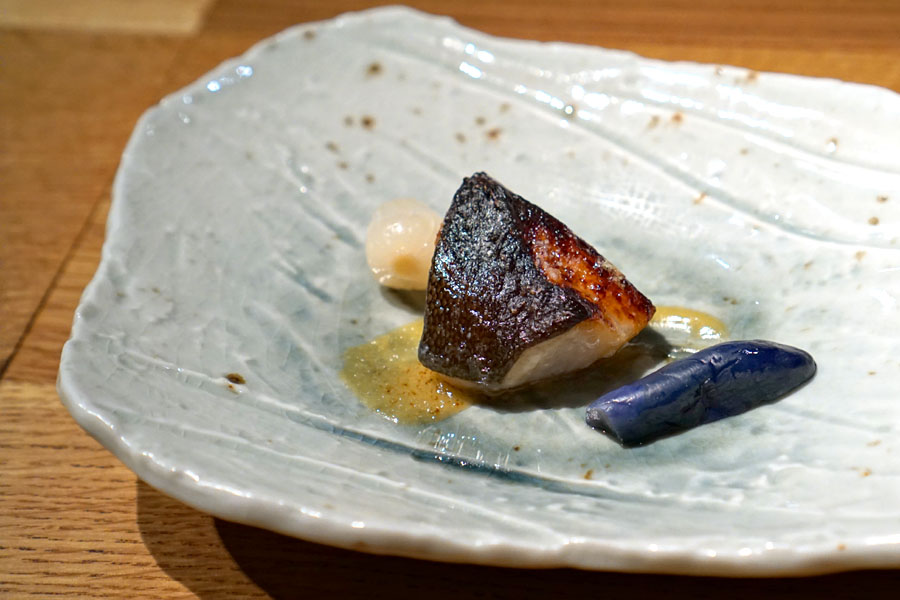 2: gindara kasuzuke
| sake lees cured black cod, sweet miso
Next up was the sablefish, an utterly rich, fatty, flaky presentation with a beautiful sear. The fish matched easily with the sweetness of the miso, and I loved the pickles here, too. A favorite.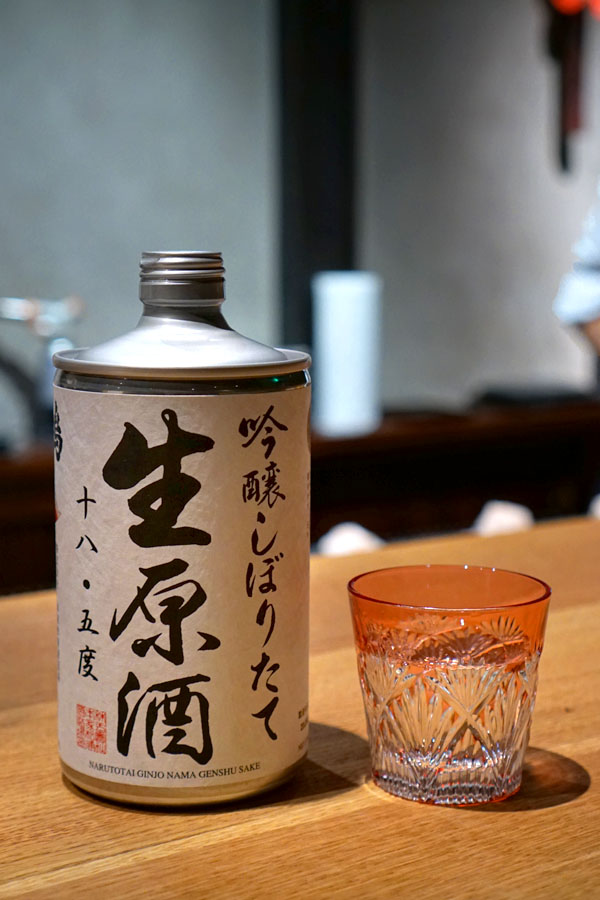 To drink, I opted for a bottle of the
2020 Narutotai "Drunken Snapper" Ginjo Nama Genshu [$110]
from Tokushima's Honke Matsuura Shuzo. The sake demonstrated an intense nose brimming with an
umeshu
-esque sweetness and a touch of barnyard. The palate was thick, rich, and slightly hot, its ricey sweetness mingling with fruitier notes before finishing dry.
3: wagyu burger
| japanese wagyu burger, black truffle sauce
A miniature patty of Miyazaki wagyu was as luxurious as I wanted, its depth and considerable earthiness further boosted by the musk of truffle, while a noticeable sweetness in the sauce kept it all in check.
Hearty chunks of
gari
and pickled cucumber signaled the beginning of the sushi portion of the meal.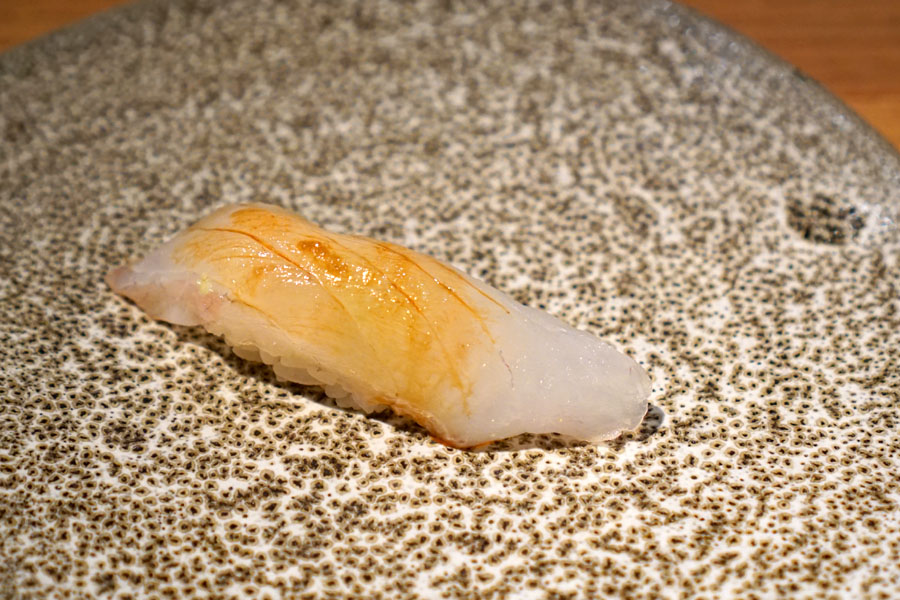 4: suzuki
| japanese sea bass
Sea bass made for a pretty sophisticated bite, its noticeable umami flavors playing off the zing of wasabi in textbook fashion. This fish was spot-on texturally, too. A promising start.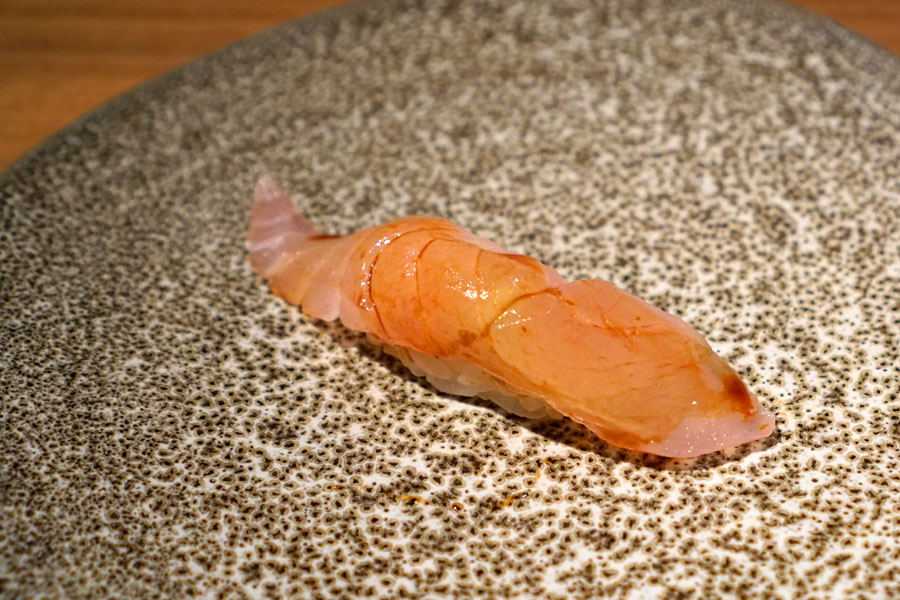 5: kinme dai
| japanese big eye snapper
Golden eye snapper was also on point in terms of texture, and possesed just the right amount of wasabi heat. What stood out, though, was the warmness of the
shari
and how it interacted with the fish.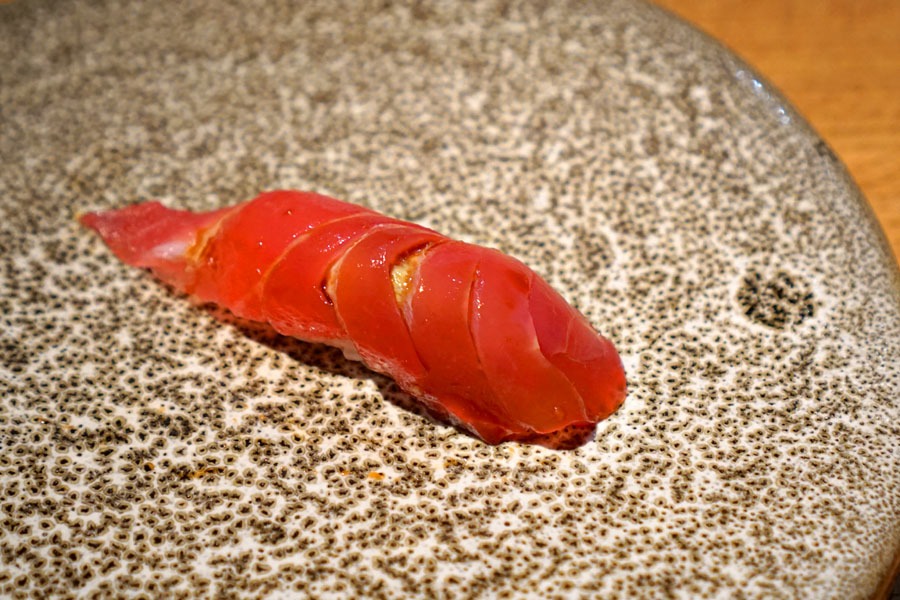 6: hachibiki
| japanese seabream
I'd never had rubyfish before, so I was happy to see it offered tonight. I loved its slight bit of chew, as well as how its brine seemed to grow the more I munched. Again, the warm, slight tangy rice made itself known on the finish here, and worked superbly as a counterpoint to the fish.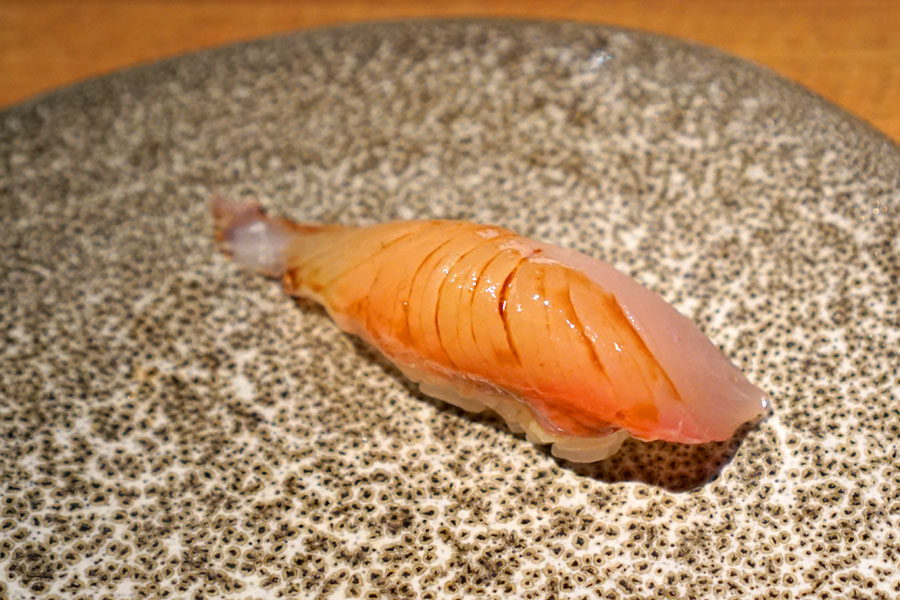 7: kanpachi
| japanese amberjack
Amberjack featured loads of depth and umami, but went down easy. Yum.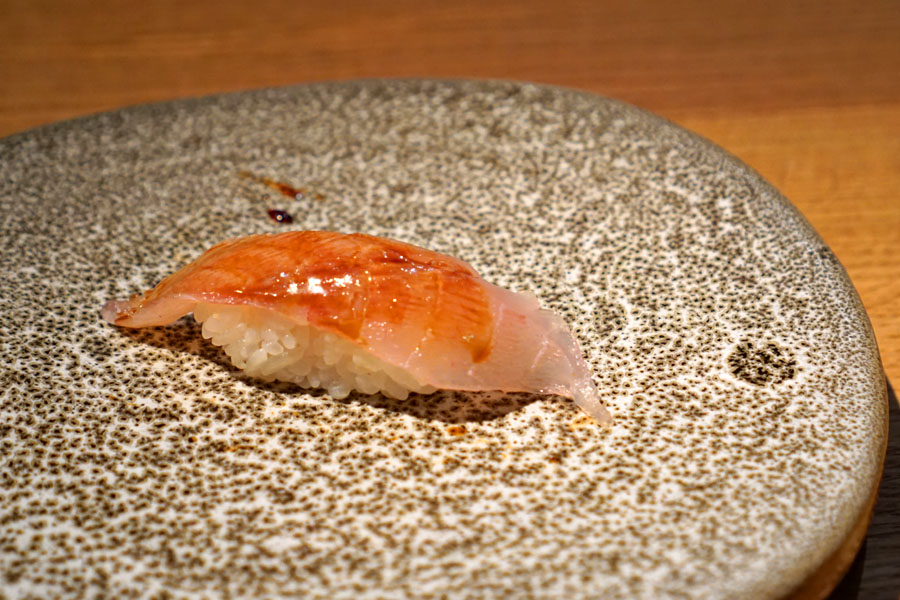 8: kamasu
| japanese barracuda
This was an especially concentrated cut of barracuda, with a considerable brine, and perhaps because of that, the rice tasted seemingly milder.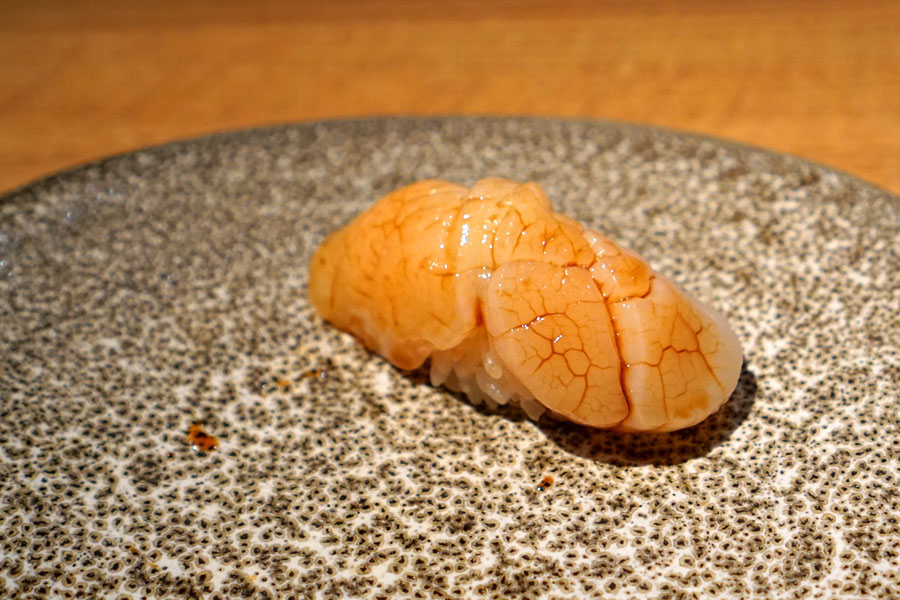 9: hotate
| japanese scallop
Scallop showed off a great marriage of sweetness and salinity, one that linked up easily with the punch of wasabi on the back end.
10: akami
| lean tuna
A cut of garnet-hued bluefin from Massachusetts was deeply flavored, its sweetness and savor elevated even further by the soy.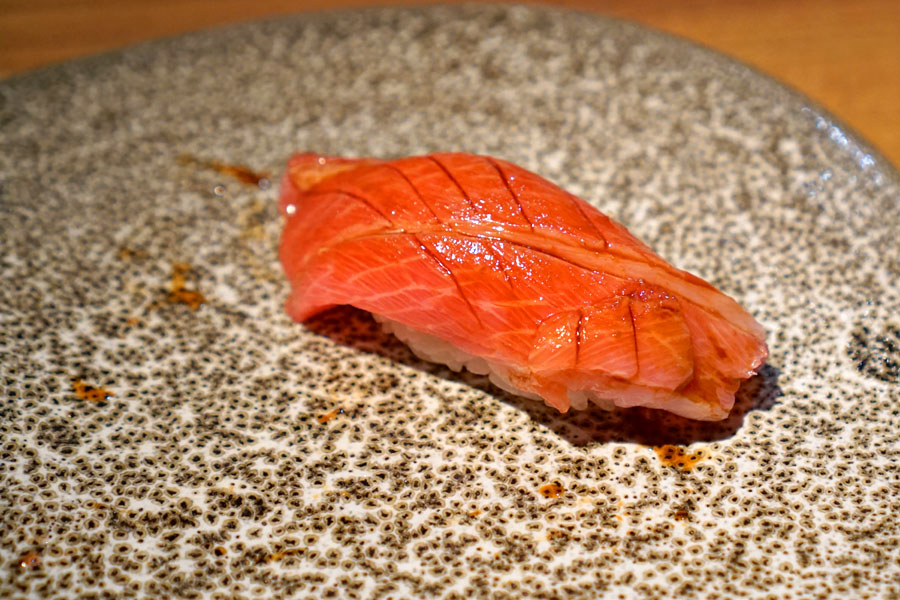 11: toro
| fatty tuna
The belly of the tuna, meanwhile, was a much fattier, much more luscious presentation, with a very distinct fruity quality.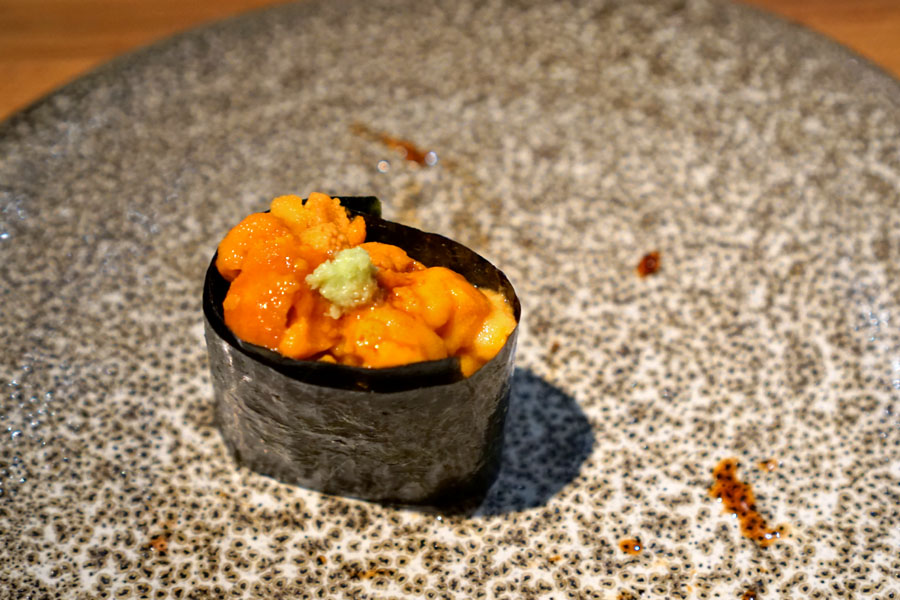 12: uni
| japanese sea urchin
Bafun
urchin from Hokkaido conveyed a cool, sweet salinity with a veil of minerality. And as always, the contribution from the nori was much appreciated.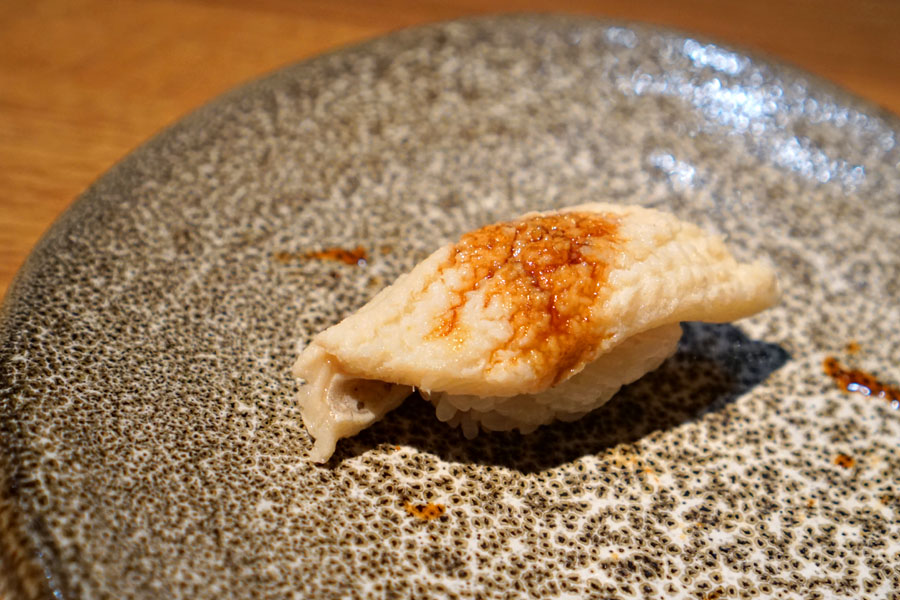 13: anago
| japanese sea eel
Sea eel arrived super supple, with a sugary-n-savory "stewed" flavor that I quite liked.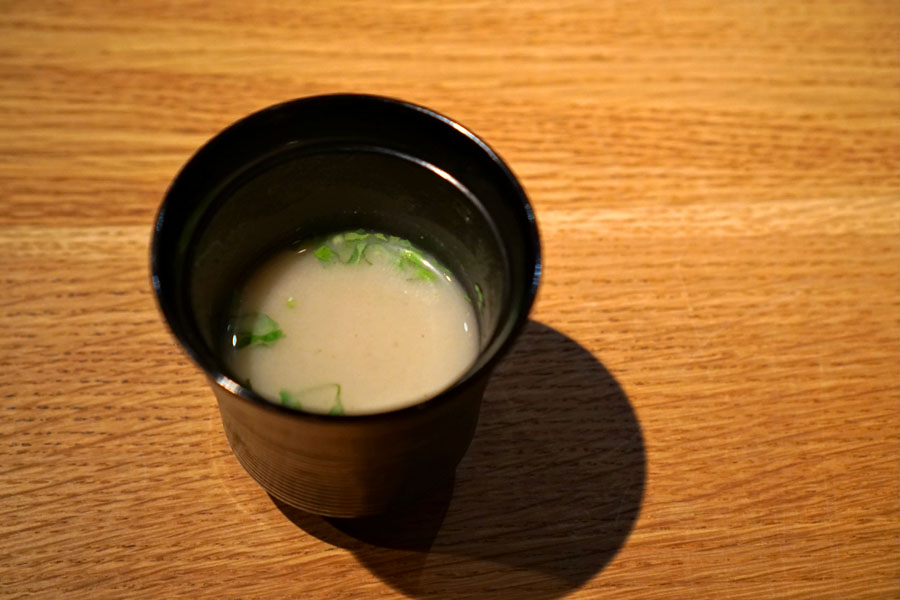 14: omugi misoshiru
Here we had an earthy-sweet barley miso soup tarted up with scallion and
myoga
.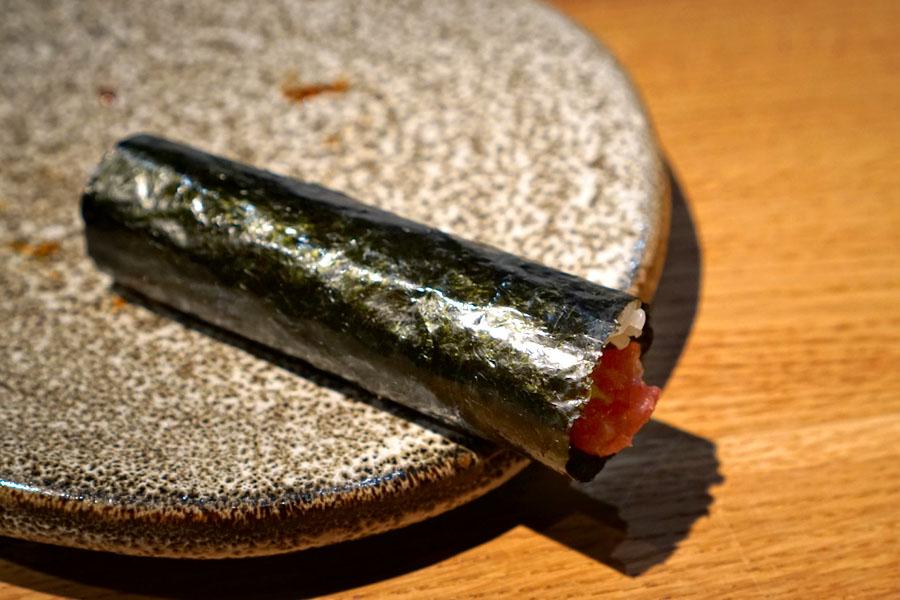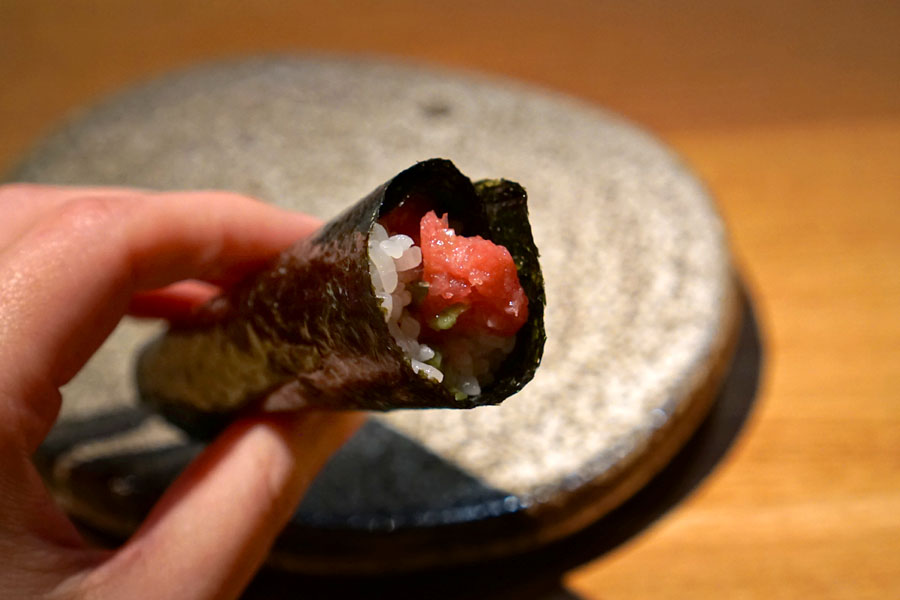 15: toro handroll
A classic toro hand roll was made even better by the crunch of
arare
. Great nori here to boot.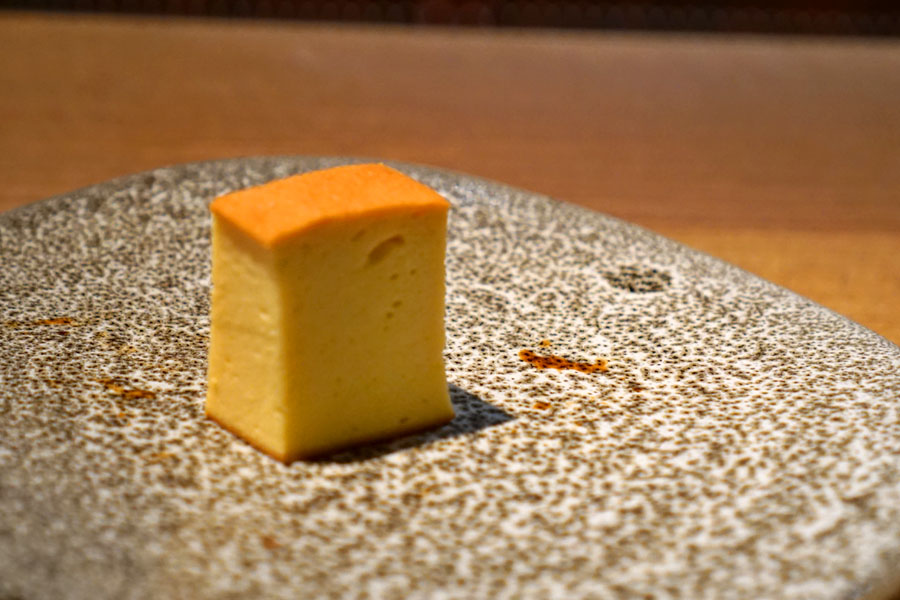 16: tamago
The traditional finisher of egg managed to be surprisingly light and airy, as well as moist, and had a subtle sweetness underpinned by a smidge of brine.
17: coffee jelly
| sweet red bean, cream, whiskey syrup
Dessert combined lightly bittersweet coffee flavors with the sugariness of red bean, while the green tea "Pocky" served as a fun, crunchy accent piece.
I'm glad to report that Philadelphia does indeed have worthwhile sushi. I'd say that the food here is a notch below what you might expect to find at a top tier place in SoCal (such as
Kaneyoshi
), while at $145 a head, it's a pretty good deal, too. I've read that Royal and Sakana are two other sushi spots in Philly that might be worth checking out, so perhaps I'll pay them a visit on a future trip.