Vernick Food & Drink (Philadelphia, PA)
Vernick Food and Drink
2031 Walnut St, Philadelphia, PA 19103
267.639.6644
www.vernickphilly.com
Tue 08/02/2021, 08:30p-10:25p

If you recall, I was sent to Philadelphia for work back in January 2020, and with the COVID-19 situation improving, I traveled their again recently for business. For my first meal in the City, I opted for Rittenhouse Square's Vernick Food & Drink, a bistro-ish spot from Chef Greg Vernick that actually came recommended to me by multiple Lyft drivers during my last trip here.
About the Chef
: Gregory Vernick was born in Philadelphia in September 1980, and was raised in nearby Cherry Hill, NJ. His mother Beth ran the health-focused Haddonfield Diet Shop, while his grandfather had a butcher shop called Friedman's Market in Center City. He started his restaurant career serving water ice in Margate City on the Jersey Shore, but eventually went on to attain a hospitality management degree from Boston University (where he met his future wife Julie Holden). Following, Vernick enrolled at the Culinary Institute of America at Hyde Park (c/o 2005), and also studied at the French Culinary Institute later on.
He externed at Ken Oringer's Clio in Boston, and also cooked briefly at
Per Se
not too long after it opened. He then went to work for Jean-Georges Vongerichten, first helping open Perry Street in 2005 (under Gregory Brainin) before moving on to sous positions at the flagship
Jean Georges
, Nougatine, and Spice Market. Vernick then became a corporate trainer for the company, a role that took him across the globe, but left the organization in 2010. Afterward, he worked a stint at Henry Cabral's Tarry Tavern at Tarrytown, NY, and then served as CdC at Marco Moreira's Tocqueville in Manhattan (replacing David Coleman, who left in September 2010). In early 2011, the Chef returned to Philly to cook at Talula's Garden in Washington Square, but during this period, he and Julie were already planning their own spot.
Vernick Food & Drink thus opened on May 1st 2012, and was well received right from the start, as the place was a "Best New Restaurant" semifinalist from James Beard the following year. In 2015 and 2016, Vernick received Beard's "Best Chef: Mid-Atlantic" nomination, then finally won in 2017. This success allowed the Chef to debut Vernick Coffee Bar at Philadelphia's Four Seasons in October 2018, which was followed by Vernick Fish at the same hotel in August 2019. In November 2019, he added Vernick Wine next door to the original restaurant, and the shop later began selling grocery items in July last year during the shutdowns (though that part seems to have ceased).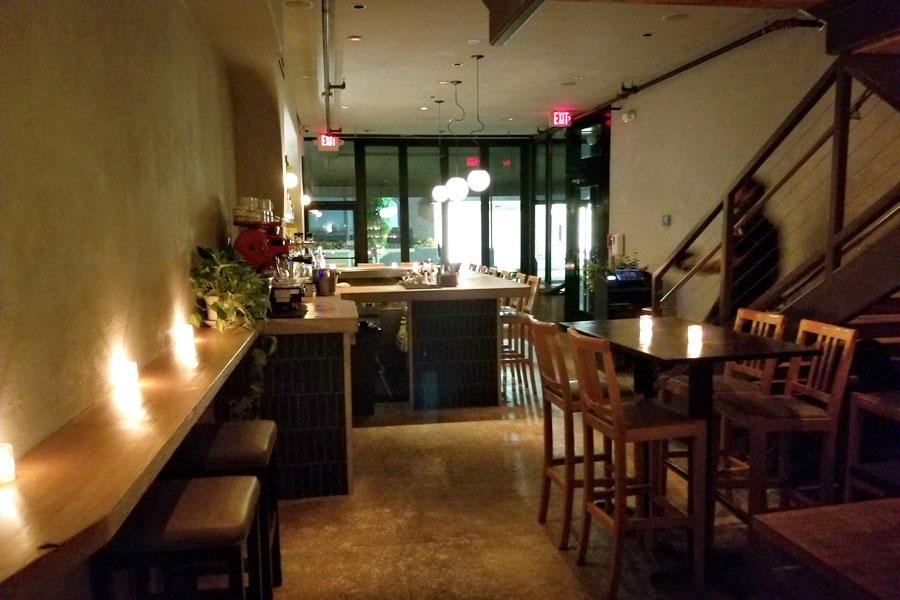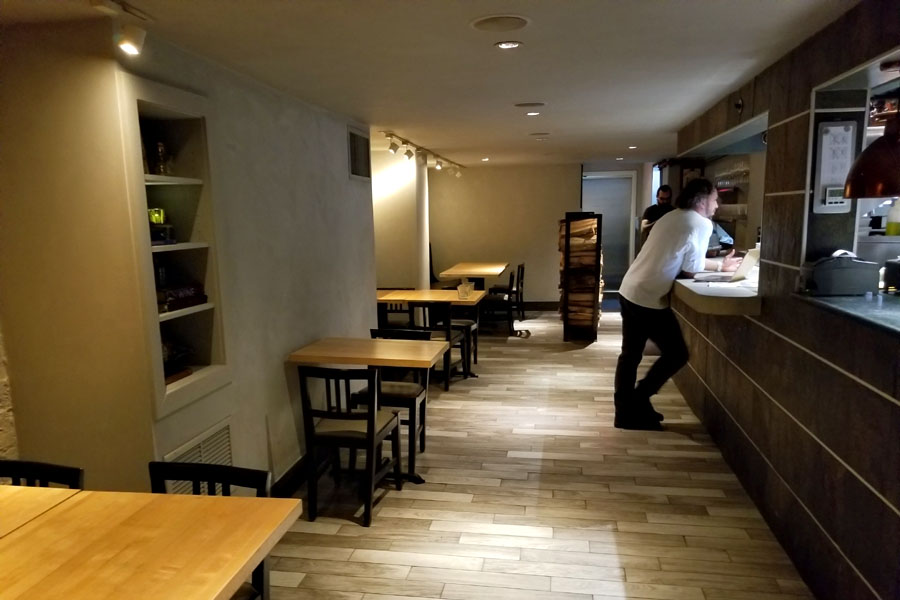 Vernick occupies a two-level structure that was previously a bookstore from what I've read. Shown above are the downstairs bar area and the rear dining room. There's also a larger upstairs dining room seating up to 45 (not pictured).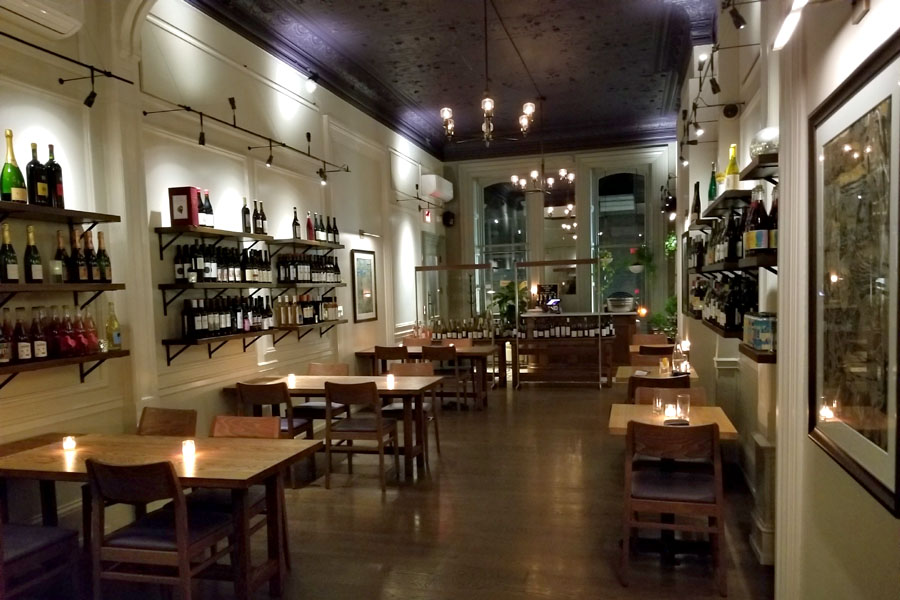 However, I was seated in the building next door, at a connected space that also functions as the aforementioned wine shop. The room can also be used for private dining/events.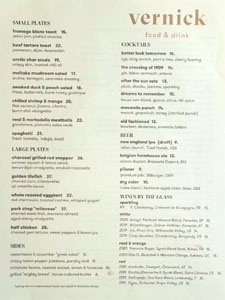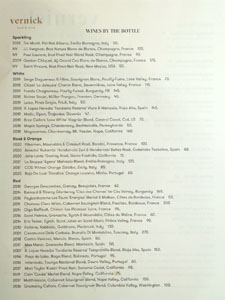 Here we see Vernick's menu, which is refreshingly compact, I'm guessing due to limitations brought on by the pandemic. The kitchen also does a six-course tasting menu at $135 a head, but it's only available Thursdays through Saturdays. Drink-wise, you get a small array of cocktails, a handful of beers, as well as a relatively brief, Old World-leaning wine list. Click for larger versions.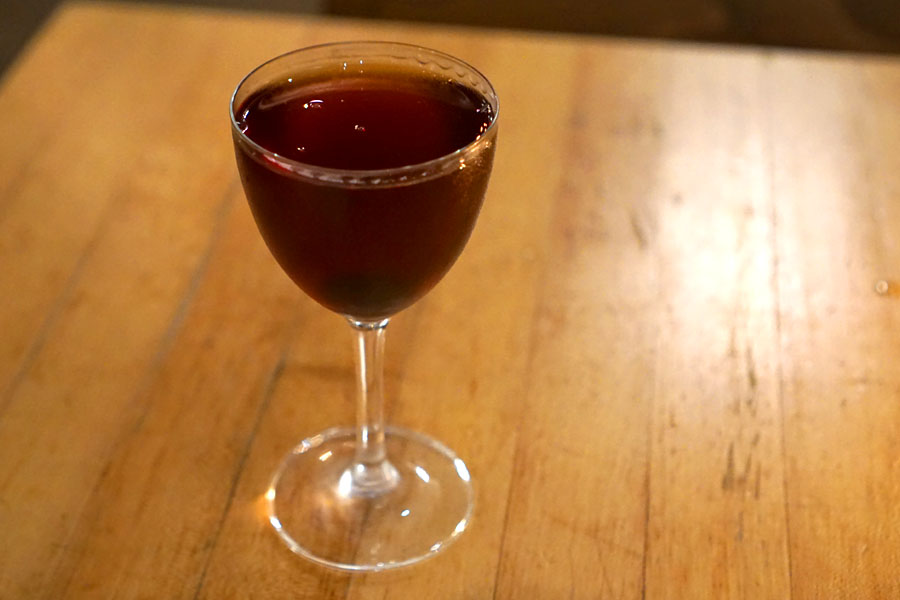 better luck tomorrow [$16.00]
| rye, islay scotch, punt e mes, cherry heering
Justin Lin's
Better Luck Tomorrow
is one of my favorite films, so I was hoping that this cocktail was named after it, but instead, it turns out that the drink draws its name from an identically-monikered bar in Houston. In any case, the nose on this one really showed off the pungent, smoky nature of the scotch, but backed by a marked sweetness. Taste-wise, I found this scotch-forward again, with the rye playing more of a supporting role alongside a healthy dosing of dark fruit, while the finish went in a smoky, bitter, herbaceous direction.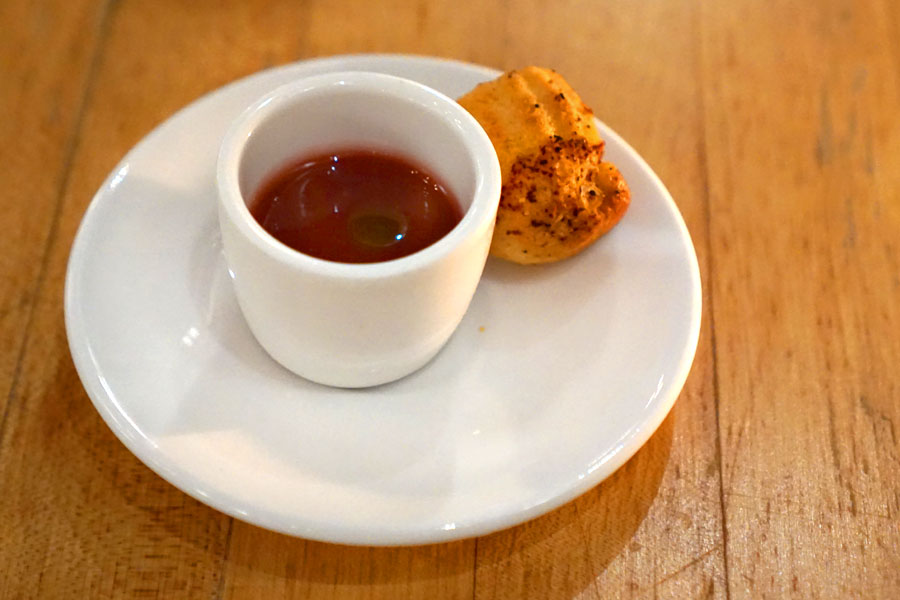 Serving as tonight's amuse bouche was this spicy-sweet blood peach gazpacho laced with zesty tarragon. On the side was a house-made espelette cornbread that mimicked some of the sweet 'n' spicy notes found in the soup.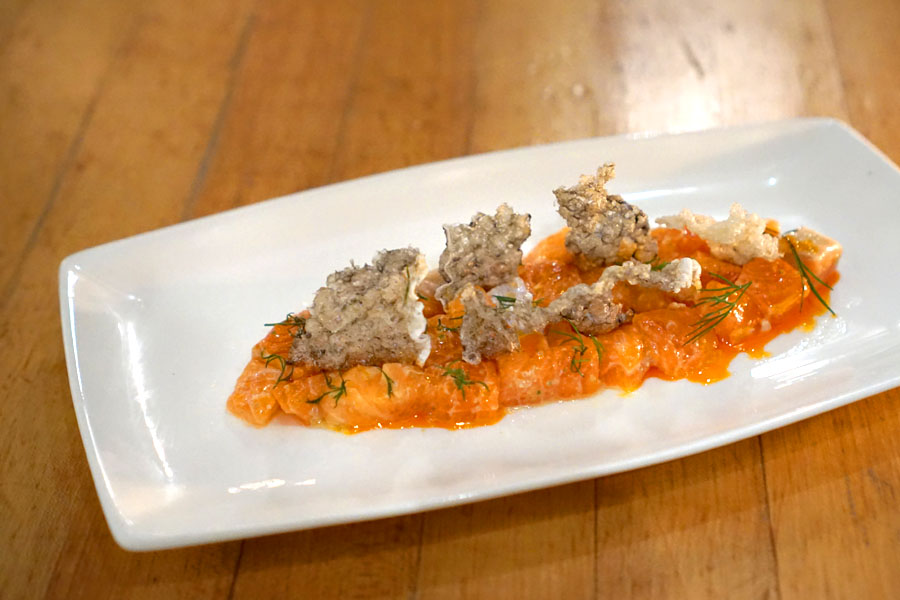 arctic char crudo [$19.00]
| crispy skin, toasted chili oil
Cubes of Arctic char were lush and briny, their richness offset by the subtle heat of their chili oil dressing. The fish's crunchy, salty skin worked effortlessly a counterpoint in both taste and texture, and I quite liked the freshness imparted by the dill, too.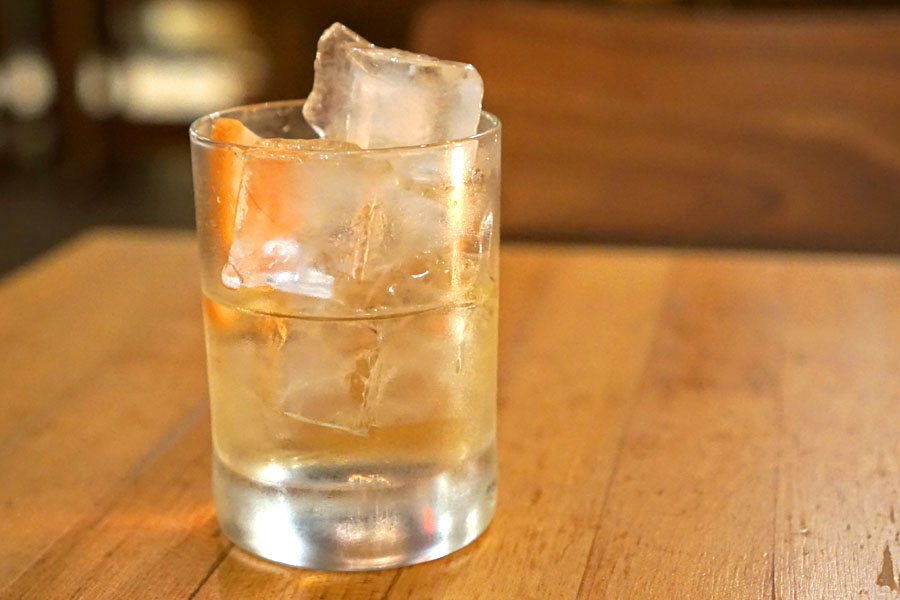 macondo punch [$14.00]
| mezcal, grapefruit, honey (clarified punch)
I'm a sucker for clarified punches in general, so of course I had to order this. The cocktail had a surprisingly subdued mezcal character, with just a slight undercurrent of woodiness and smoke. This then served as a stage for a deftly balanced commingling of sweet and sour from the honey-citrus combo.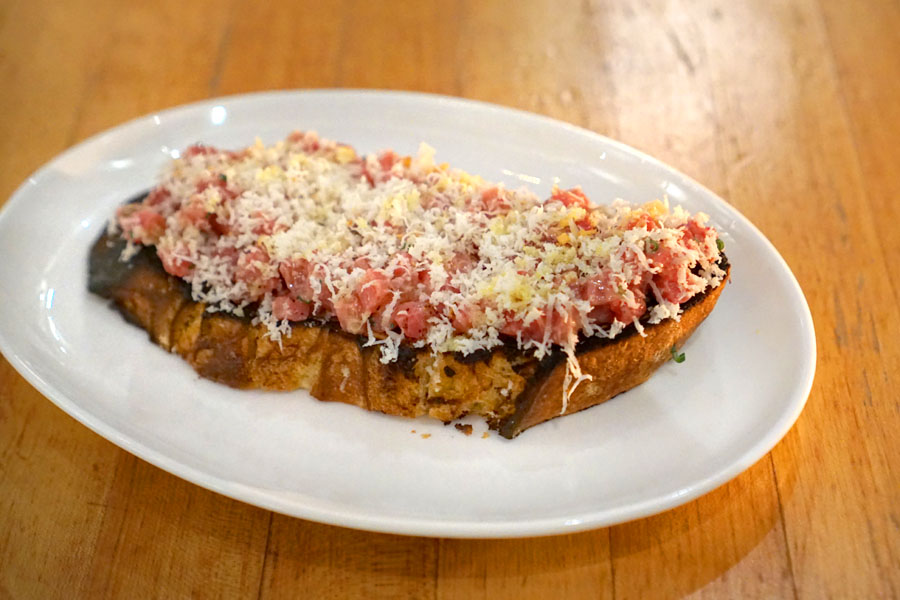 beef tartare toast [$22.00]
| parmesan, dijon, horseradish
Beef tartar is another one of those things that I almost have to order when I see it on a menu, and Vernick's was a strong rendition. The meat itself was pretty spot-on texturally, and its heft paired beautifully with the hot, potent notes of horseradish. Also key were the cheesy overtones from the Parm scattered throughout the dish, and I was a big fan of the contrast provided by the smoky, crunchy bread.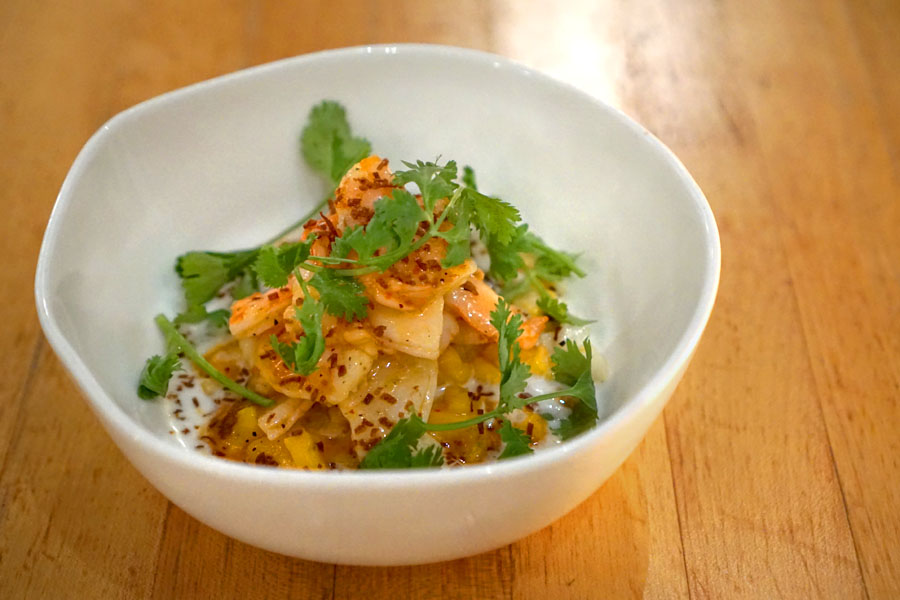 chilled shrimp & mango [$20.00]
| thai coconut, jicama, cilantro, burnt chili vinaigrette
This ostensibly Thai-inspired dish featured cool, refreshing cuts of shrimp elevated by the spicy depth of that chili vin. Sweet, fruity elements of coconut worked to counteract those strong flavors at play, and I definitely appreciated the overarching brightness from the cilantro as well.
dreams to remember [$15.00]
| house rum blend, guava, citrus, tiki spice
My tiki-inspired cocktail showed off loads of guava and what seemed like passion fruit, all commixed with loads of sweet spice and a touch of neutralizing astringency.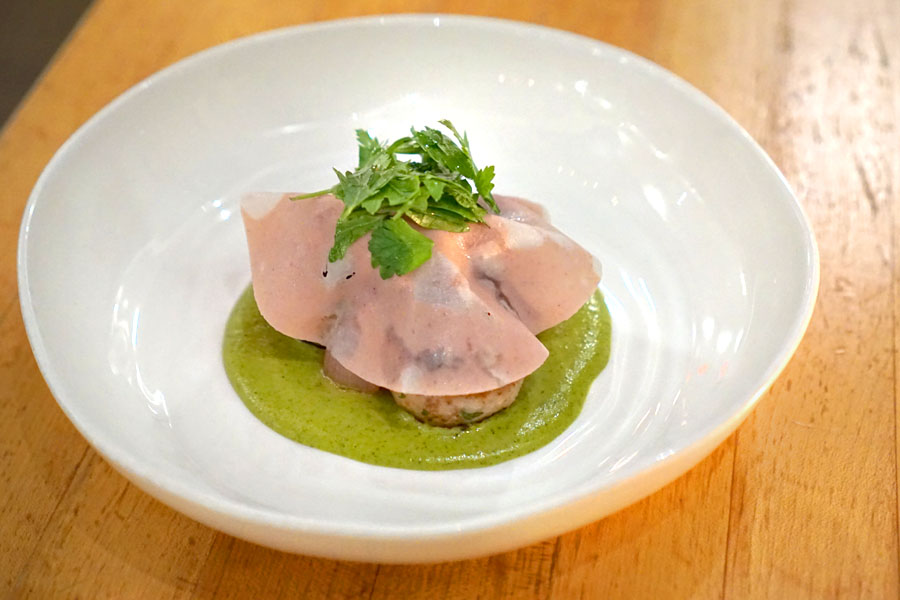 veal & mortadella meatballs [$22.00]
| giardiniera, pistachio salsa verde
Meatballs were tightly-packed and aggressively seasoned, with delightfully crisp exteriors. They were certainly tasty alone, but really sang when paired with the pickled onions and those zippy herbs up top.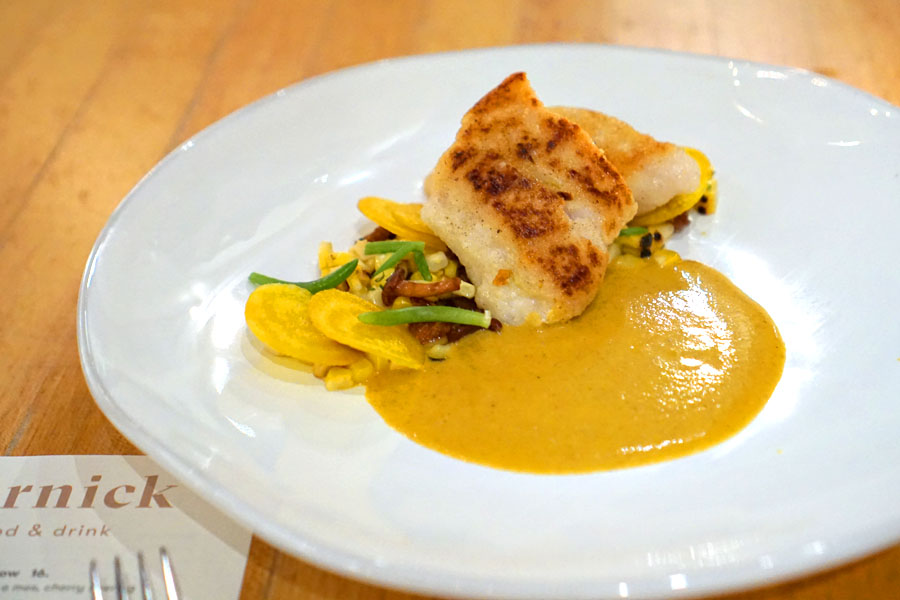 golden tilefish [$37.00]
| charred corn, chanterelles, aji amarillo sauce
Tilefish came out super flaky and satisfyingly juicy, with a strong salinity that I liked. The fish took well to the tanginess of the dish's Peruvian-inspired sauce, but perhaps even better was the restrained sweetness coming from the corn.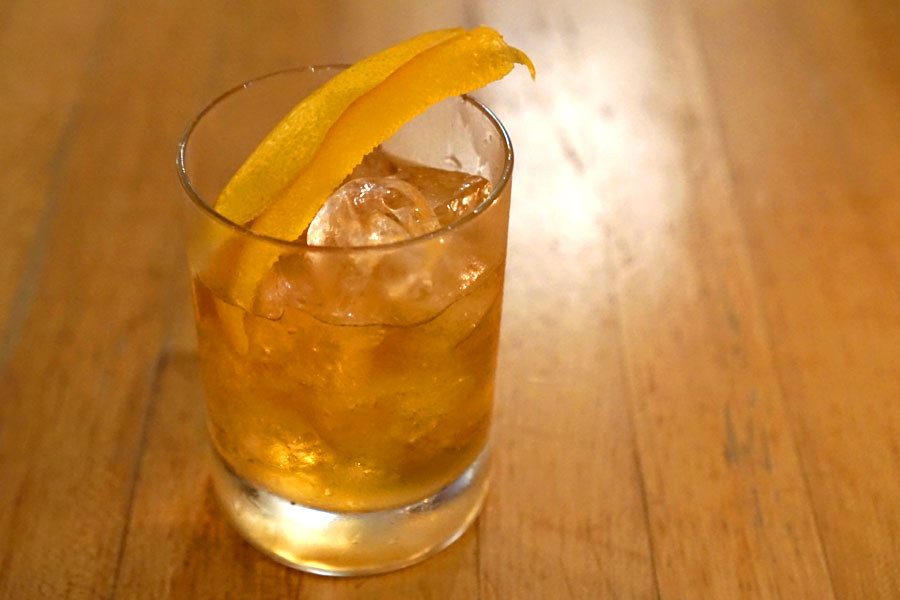 old fashioned [$13.00]
| bourbon, demerara, aromatic bitters
Last up was the most classic of cocktails. The drink had an unusually plentiful amount of citrus on the nose, and I didn't detect much beyond than that. However, things were more interesting on the palate, where I got loads of rich, brown butter-esque flavors cut by piquant spices and undertones of vegetal bitterness.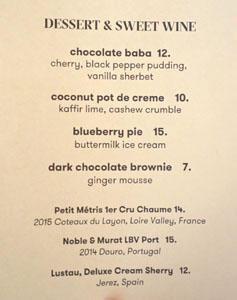 I was pretty full by this point, but still wanted to end with something sweet, and thus asked to see a dessert menu. Click for a larger version.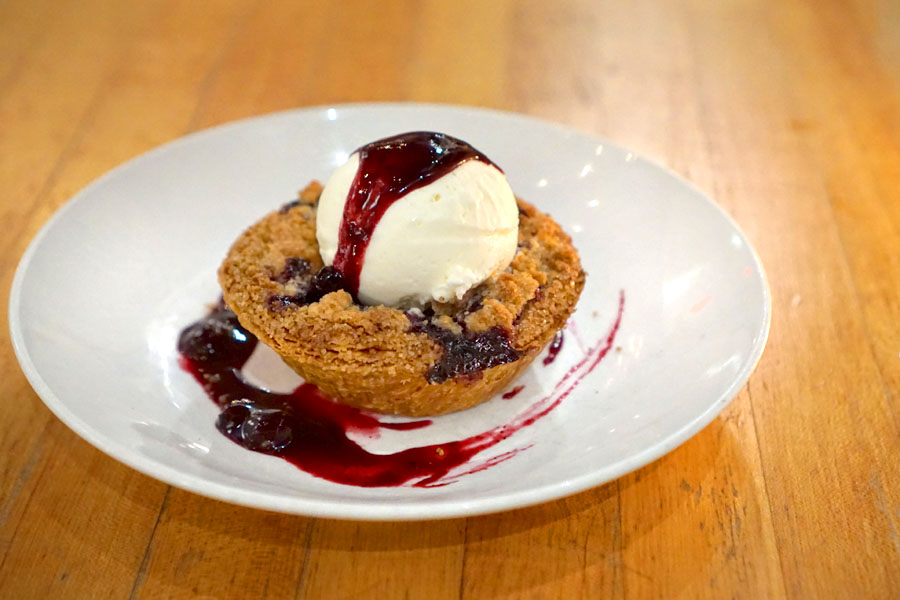 blueberry pie [$15.00]
| ginger mousse
I ended up going with something fairly traditional, and indeed, the pie showcased all the classic, homey blueberry flavors I was looking for. The fruit married easily with the pastry, and of course the ice cream on top made it all the better.
I hadn't been to Philadelphia since before the pandemic, so it was nice to return, and Vernick served as a fitting welcome back meal. The food here's fairly approachable, and has a casualness to it, but is still pretty interesting given the kitchen's willingness to mix things up. Overall, Vernick's an inviting place that's neighborhood-y at its core, but has enough polish to make it a bit of a special occasion spot, so I can understand why it's been a perennial Philly favorite.