River Twice (Philadelphia, PA)
River Twice Restaurant
1601 E Passyunk Ave, Philadelphia, PA 19148
267.457.3698
www.rivertwicerestaurant.com
Thu 08/05/2021, 09:00p-11:10p

For the third and final dinner of my recent Philly trip, I opted for River Twice. I don't remember how I found out about the place, but it seemed interesting to me, so I decided to give it a shot. Situated in the East Passyunk Crossing neighborhood, this is a modern American restaurant that aims to highlight the bounty of the Mid-Atlantic region. It opened back in October 2019, and is led by Chef/Owner Randy Rucker.
About the Chef
: Randall Rucker was born and raised in Tomball, Texas. He first got interested in food thanks to his mother Bootsie (a.k.a. Belinda), but after graduating from Tomball High School in 1997, he didn't initially decide to pursue a culinary career. Rather, he studied at Texas Tech University for two years before dropping out and enrolling at Johnson & Wales (c/o 2001). During this period, he relocated to California to work at restaurants in Big Sur and Napa Valley, with chefs such as Craig von Foerster and Matt Millea. He also underwent
stages
at
Tru
in Chicago and Clio in Boston. Rucker then returned to Texas, settling in Houston, where he helped run things at John Sheely's Riviera Grill and Mockingbird Bistro. In addition, he served as sous at Mark's American Cuisine and worked briefly in the same role at Zoot in Austin, then came back to Houston to cook with Tim Keating at Quattro at the Four Seasons.
At the end of 2005, the Chef opened his first restaurant in Houston in partnership with his mom. Called Laidback Manor, the place was perhaps overly ambitious, and closed in September 2006. Rucker's next step was a gig at Cordúa (now Churrascos) restaurant group, and then an underground dinner series entitled Tenacity Supper Club. The was followed by an EC role at the longstanding Rainbow Lodge in Houston. He was there from 2008 to 2009, but even with that short tenure, was able to garner a four-star review from the
Houston Chronicle
. At this point, Rucker went back to Tomball and teamed up with his mother again to open Bootsie's Heritage Cafe in February 2010. For his efforts, he received semifinalist status for both James Beard's "Best Chef: Southwest" and "Best New Restaurant" awards in 2011, but the eatery shut down in July that year. A companion tasting menu restaurant for Bootsie's called Connate fell through, and in April 2012, so did plans for the related Conãt in Houston.
In 2014, Rucker started work on Bramble, which opened in 2015 in Houston's tony Tanglewood neighborhood, but shuttered the following year. Fall 2016 saw him relocate to West Tisbury on Martha's Vineyard, where he was given the Exec Chef position at Mary and Jackson Kenworth's State Road. He subsequently became Culinary Director for that restaurant as well as its sister eatery Beach Road in Vineyard Haven. This lasted until early 2018, when he started an Executive Chef job at Spicer Mansion in Mystic, Connecticut. However, that position also didn't last long, and in fall 2018, Rucker began conceptualizing River Twice. He got married to girlfriend Amanda Highbloom in January 2019, and the two soon moved back to her hometown of Philadelphia. Back in Philly, the couple partnered up with Amanda's dad, Larry Highbloom, and they were able to open River Twice that October. In July 2020,
Philadelphia
magazine bestowed "
Best New American Restaurant
" honors, while Rucker landed a "
Best Chef
" nod this July from the same publication.
Running the kitchen tonight was Rucker's second-in-command: Sous Chef Kevin McWilliams. A South Jersey native, he began his restaurant career at the age of 15. He eventually relocated to Philly to attend the University of the Arts, and cooked at various places throughout college. After graduating in June 2009 with a BFA in photography, he did pursue art, but the kitchen drew him back in. In 2016, McWilliams became sous at Cafe Lift under Josiah Richmond, and after a year or so, moved over to Fishtown's Kensington Quarters (part of the same hospitality group), where he cooked for both Damon Menapace and his replacement, Katie Maley. 2018 saw him work with Eric Leveillee at Marigold Kitchen, but the restaurant shuttered at the end of January 2019. McWilliams' final step before River Twice was a return to Kensington Quarters (now under the control of Matt Harper) in March of 2019.

River Twice takes over the former home of Izumi, a Japanese spot that managed to last from November 2008 to April 2019. The same basic layout of the restaurant remains, but the space has been revamped by Amanda Rucker and now sports a rather neutral color palate. Guests can be seated and both tables and at the kitchen counter, and there's outdoor seating available as well.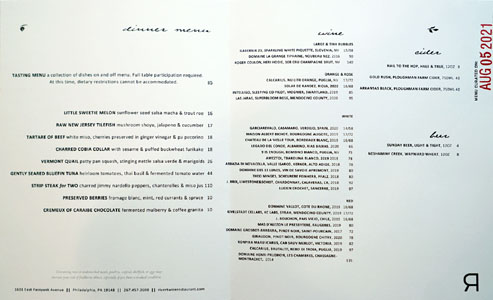 As for the menu, you get a refreshingly compact selection of dishes that changes often, though I opted for the seven-course tasting menu, priced at a reasonable $85 a head. Drink-wise, there's a small but fairly interesting wine list rounded out by a handful of beers and ciders; do note, though, that this was originally a BYOB place. Click for a larger version.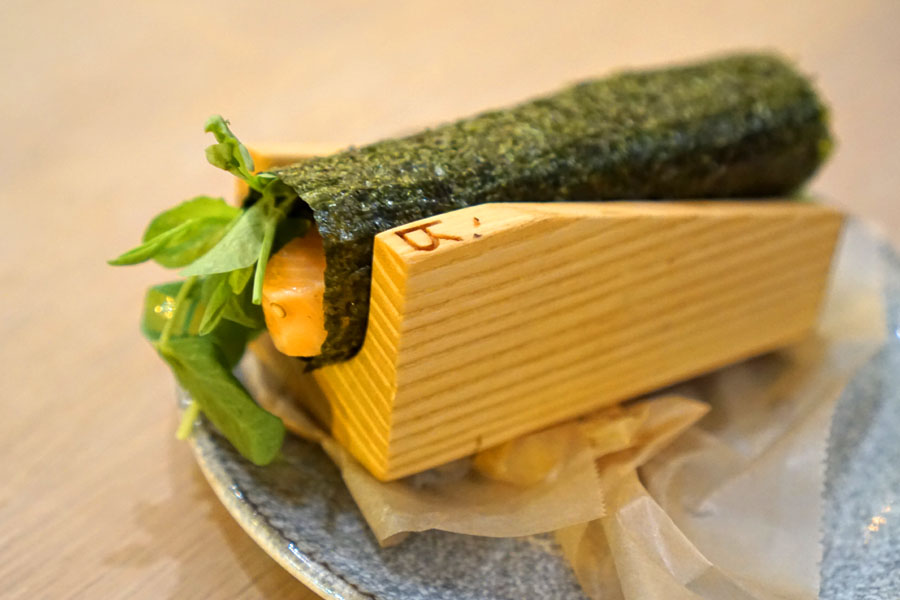 1: Ora King Salmon Handroll
| yuzu, ginger, pea greens, shiso leaf
My meal got off to a delicious but unexpected start thanks to this hand roll. I loved the interplay between the fatty cuts of fish and the zestiness of those pea shoots, all while there was this undercurrent of sweet-n-sour going on. Also key was the umami imparted by the nori, though I would've liked the seaweed crispier.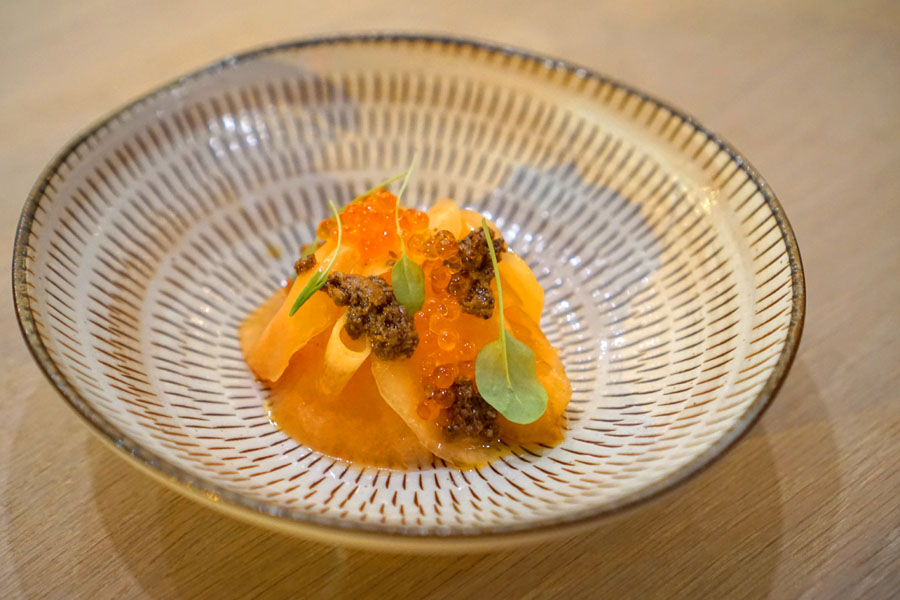 2: Little Sweetie Melon
| sunflower seed salsa macha & trout roe
Thin-cut shards of cantaloupe showed off a delectably floral sweetness that matched up surprisingly well with the sheer saltiness of the roe. The nutty salsa, meanwhile, almost acted like a tempering element.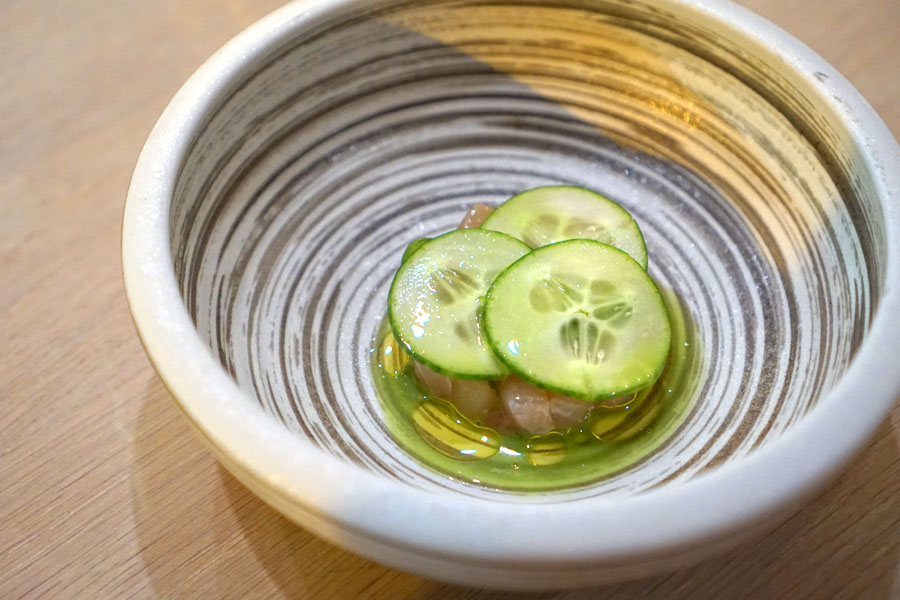 3: Raw New Jersey Tilefish
| mushroom shoyu, jalapeno & cucumber
Tilefish arrived with a satisfying chew, its softly saline flavors augmented by the savoriness of the shoyu. Cucumber provided a necessary brightness to the dish, and I liked the heat imparted by the jalapeños, though I could've used more of it.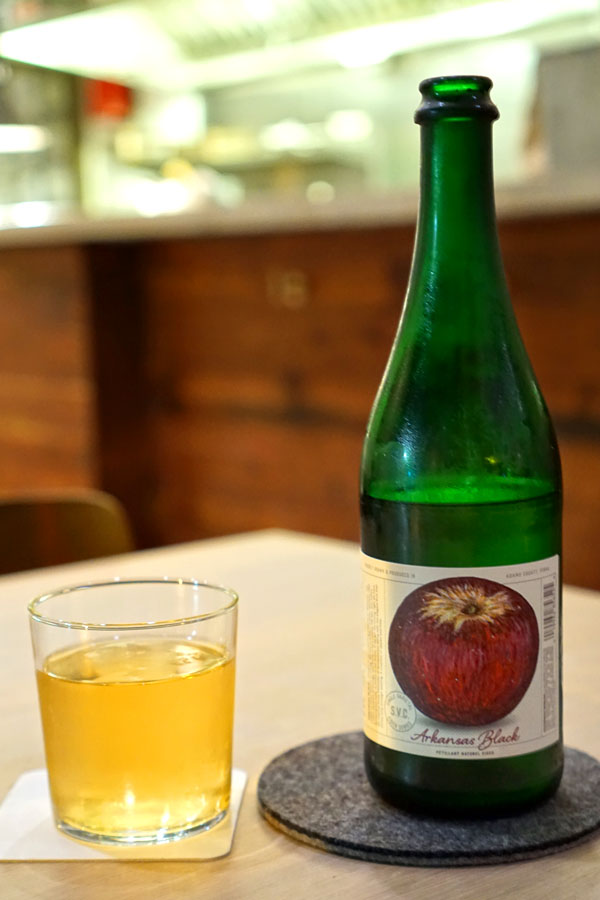 To drink, I decided to go with a bottle of the
Arkansas Black, Ploughman Farm Cider [$40]
. This one was on the dry, light, refreshing side, with a crisp minerality backed by just enough fruit.
4: San Diego Sea Urchin
| piedmont beans, ham hock consomme
Next up was easily one of the most interesting presentations of uni I've ever had. What struck me first was the unabashedly deep, savory, Japanese-y flavors of the consommé, which was complemented by the tangy, crunchy nature of the chopped-up beans. The urchin thus served as the finishing touch to the dish, providing a substantial sweetness that softened and integrated all the other components present.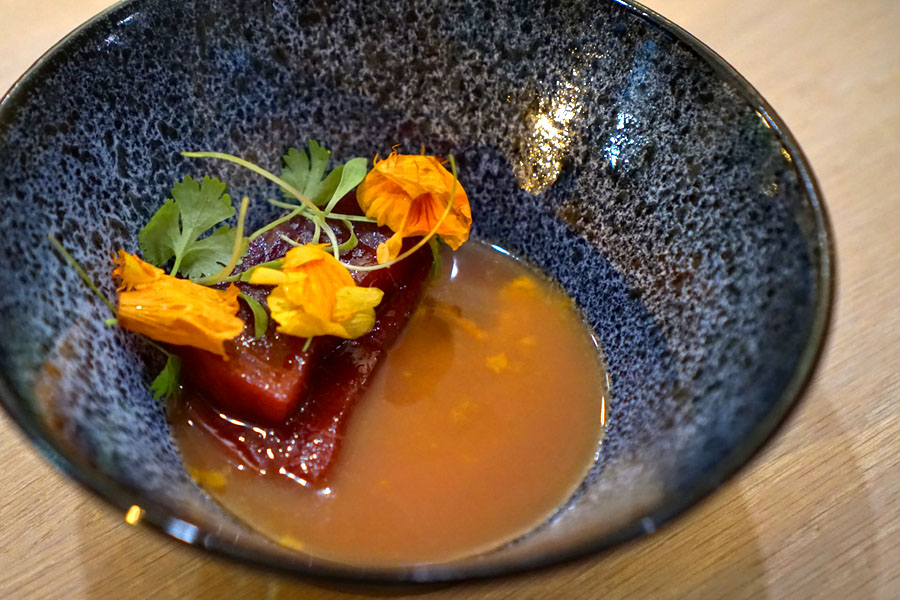 5: Gently Seared Bluefin Tuna
| heirloom tomatoes, thai basil & fermented tomato water
Garnet-hued cuts of tuna arrived dense and meaty, their considerable heft meshing beautifully with both the freshness and funk of the tomato water. The Thai basil was key too, providing a herbaceousness that uplifted the dish. Pretty neat.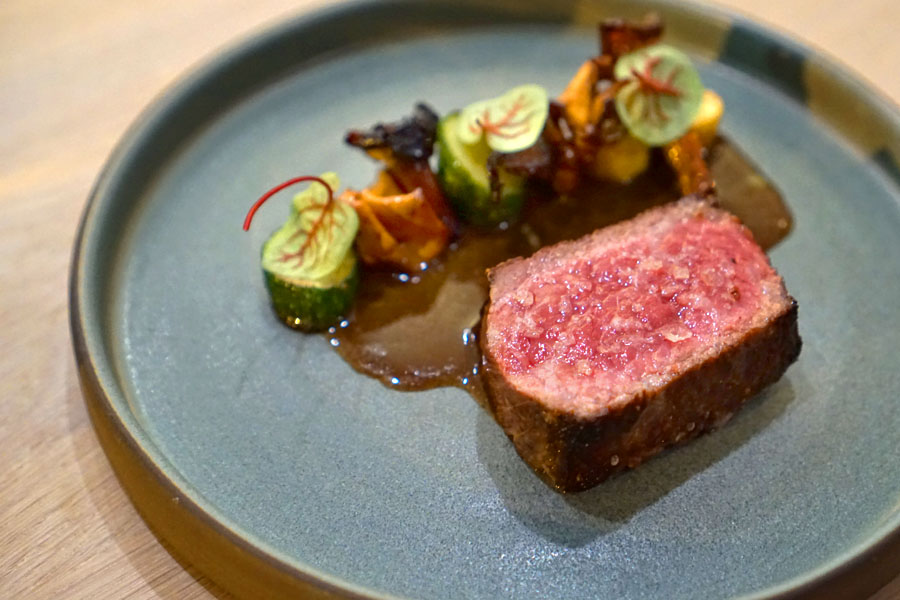 6: Beef Strip Loin
| miso jus, locally-foraged chanterelles, baby squash, red veined sorrel
The strip steak was a winner as well. I loved the beef's sear and well-placed hits of salt, while its deep, savory flavors were boosted by the earthiness of the miso. Meanwhile, the nicely charred mushrooms and squash worked for contrast.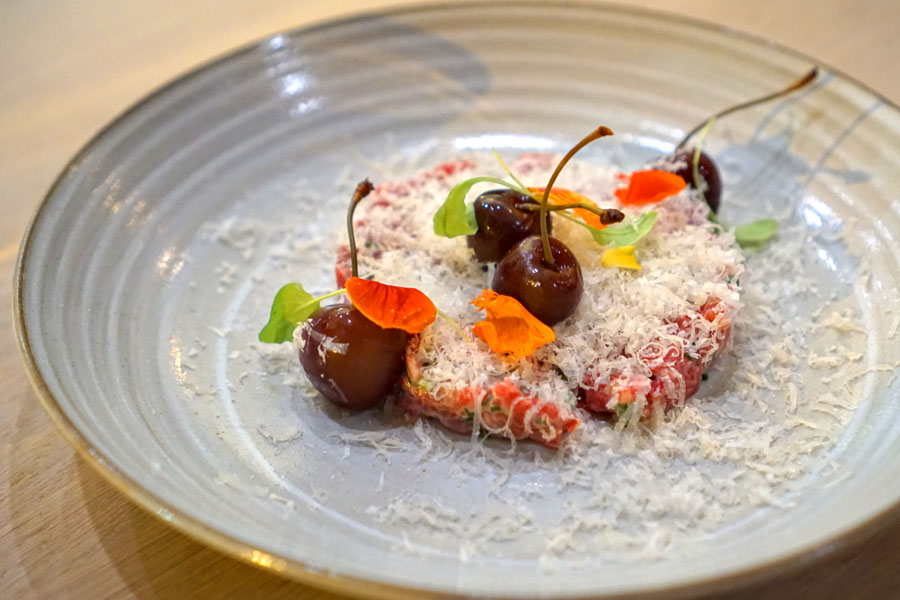 Tartare of Beef [$18.00]
| white miso, cherries preserved in ginger vinegar & pa pecorino
I have a hard time saying no to a beef tartar, so I ended up supplementing my meal with an order. I'm glad I did, since this ended up being one of the most intriguing versions I've tried. The crux here really was that miso, which infused the meat with this sweet, nutty, barnyard-y character. It was fairly intense, so the saltiness of the cheese actually worked as a moderating force to keep everything in check.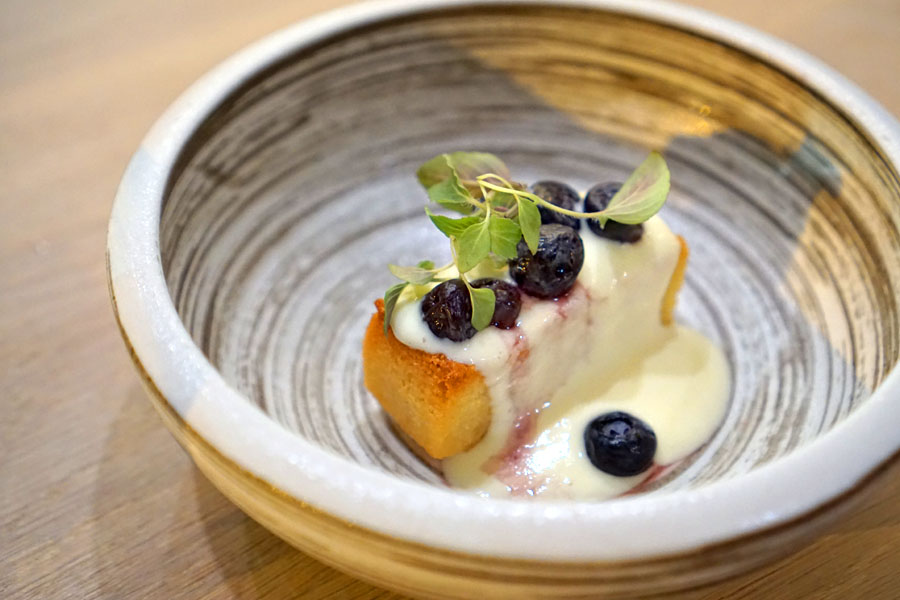 7: Financier
| elderflower, blueberries, fromage blanc
Dessert came in the form of this gritty, corn-based financier. The cake worked well as a base for the back-and-forth between that creamy fresh cheese and those tart-ish blueberries, the whole thing punctuated by a touch of herbiness.
River Twice served me some of the most novel cuisine I've had in Philadelphia, and there were certainly flavor combinations that I'd never encountered prior. I think there's even a bit of a fermentation focus going on. It's pretty obvious that the team is really trying to push the City's food scene in a forward direction, which is great, and it seems at least a subset of diners are responding positively. Now, if you read the Chef's bio above, you'll know that he has a tendency to open and close restaurants rather quickly, so hopefully that won't be an issue in the future here. I'd like to assume that he's mellowed out with age.