The Airliner (Los Angeles, CA)
The Airliner Bar
2419 N Broadway, Los Angeles, CA 90031
323.987.0444
www.airlinerla.com
Sun 08/15/2021, 08:50p-11:15p

I recently put up a post about
The Varnish
, and during my visit there, I asked my bartender, Greg, for any bar recommendations he might have. He rattled off a number of names, but one that caught my attention was The Airliner, a "new" spot in Lincoln Heights that actually has quite a bit of history behind it.
Depending on the source, the place has been around since either 1915, 1923, or 1926, and apparently served as the lounge to a steakhouse next door. For most of the 20th century, The Airliner appears to have been a bar, sometimes with a musical component, though it reportedly turned into a catering business called Airliner Restaurant from around the 1990s to the early 2000s. However, at the end of 2005, Luis Quiroz and Danny Vega re-opened the space as a music venue (originally focused on Latin jazz), one probably most known for hosting Low End Theory for numerous years. In February 2017, The Airliner was revamped by the
Bar Rescue
team (though the episode aired in July 2018), but that wasn't enough to keep things going, as the business was put up for sale a year later
Enter Monica Blair and Sean Kelly, who come from the aerospace and entertainment worlds, respectively (though Kelly was also one of the partners behind Town Pizza in Highland Park). In July 2018, the two formed Moonshiners LLC to purchase The Airliner, and formally took over in August 2019. They closed the bar for a few months in order to remodel, then re-opened on January 24th, 2020. Unfortunately, as a result of the pandemic, the team had to shut down soon after the debut, but were able to come back for a bit from the start of October to the end of November last year. The Airliner's latest grand re-opening was on July 16th, just one day after my visit to The Varnish.
Meanwhile, Blair and Kelly have brought on GM Raul Pool to manage the bar on a day-to-day basis. The Echo Park native is a new hire, and was actually running things over at Lowboy until June this year. Before that, he served Bar Director roles at both Mi Corazon in Los Feliz and Spread Mediterranean Kitchen in Downtown. However, serving me tonight was one Zachary Duke, who hails from South Pasadena. He also comes from Lowboy, and previously worked at
Modern Times
in DTLA and The San Fernando in Glendale, among other spots.

Here we see The Airliner's main bar, which features an undulating copper top and some lovely Craftsman-esque woodwork. The bar's largely original from what I hear, though it's certainly been heavily refurbished, while that Stacy Smith mural behind the banquettes is newly installed. There's also an upstairs space (previously known as the Mile High Club) with a stage and separate bar that's meant for events and whatnot.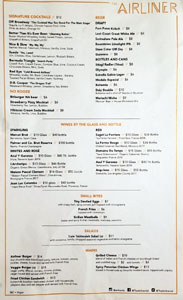 Pictured above is The Airliner's menu. Drink-wise, you get a short-but-intriguing cocktail list put together by Pool, along with some decent beer and wine options. In terms of food, there's a small selection of slightly elevated, bar-appropriate fare. The food menu was initially crafted by Gabriel Cappelli (The Edmon, Re Creo Supper Club, The Lost Knight,
Saint Martha
, The Dressing Room), but it's not clear who's in charge of the kitchen currently. There's also a separate happy hour menu from what I understand, and the team is also looking to add brunch. Click for a larger version.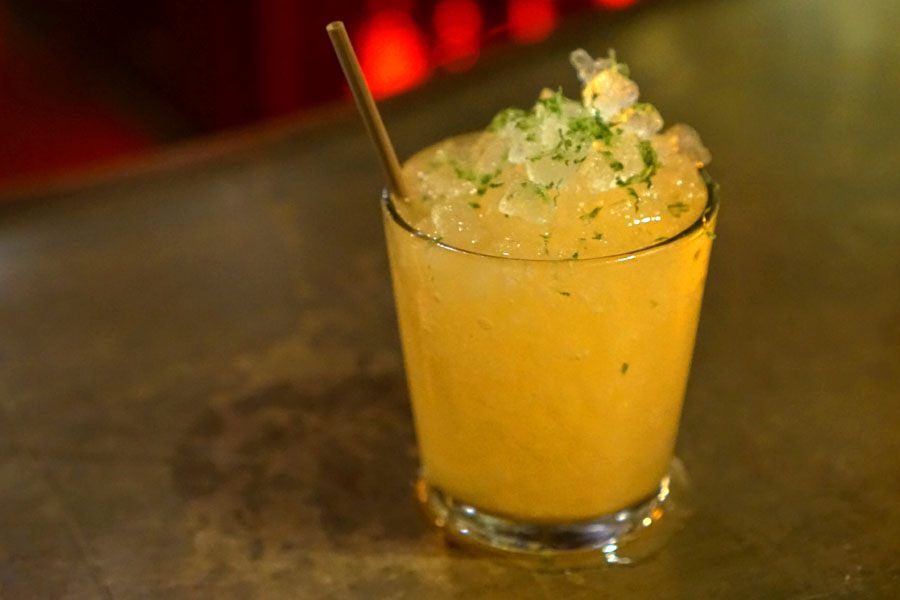 Suede "Yes, Lawd" [$12.00]
| Gin, Chareau Aloe, Cantaloupe, Lemon, Rhubarb Bitters
Duke recommended that I choose the Suede as my first cocktail, and he knew what he was talking about. The drink showed off a delightful melon sweetness, supported by distinct botanical notes, while the aloe imparted an overarching floral layer that really served as the perfect finishing touch.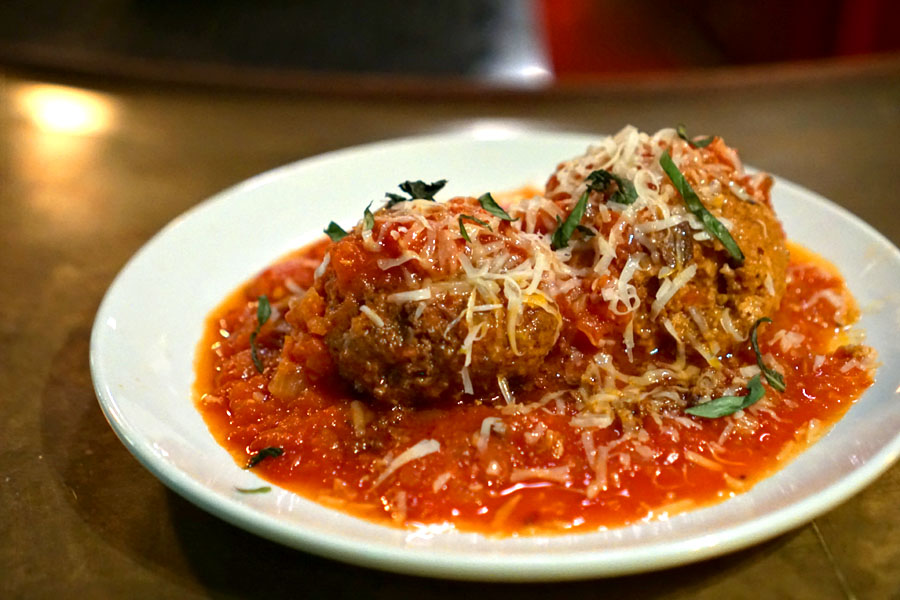 Sicilian Meatballs [$9.00]
| sweet and spicy Sicilian meatballs, marinara, pecorino
My balls were much bigger than expected, and conveyed a cozy, homey flavor profile with a touch of herbaceousness to perk things up. I also appreciated the slight heat in the dish, while the marinara imparted an enveloping sweet-tartness.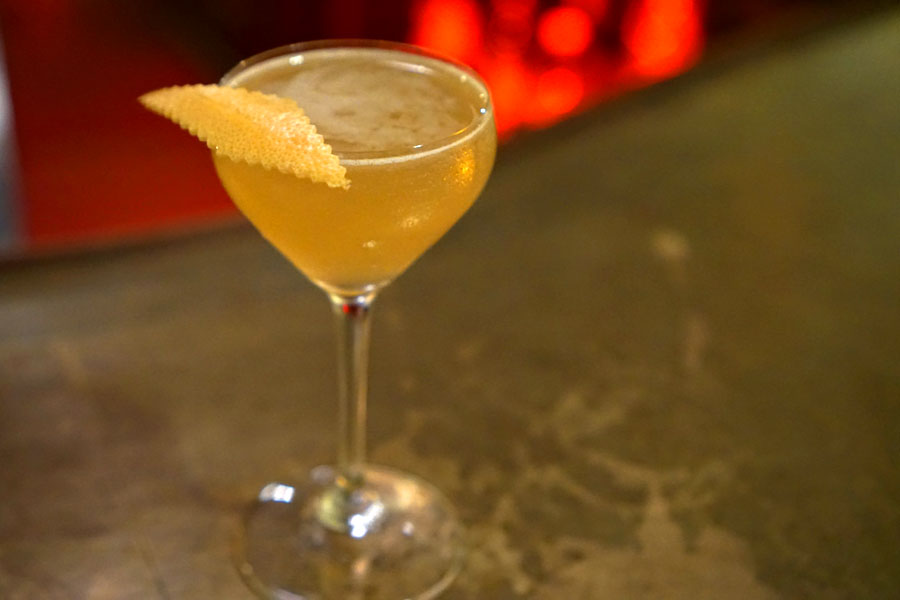 Better That It's Ever Been "Churning Butter" [$12.00]
| Butter Washed Wheatley Vodka, Sweet Potato, Lemon, Grapefruit Bitters, Grapefruit Oil
A lot of you probably don't typically order vodka cocktails, but this is one to get. I found it wonderfully smooth and buttery, its foundation of sweet spice offset by just the right amount of grapefruit-fueled bitterness.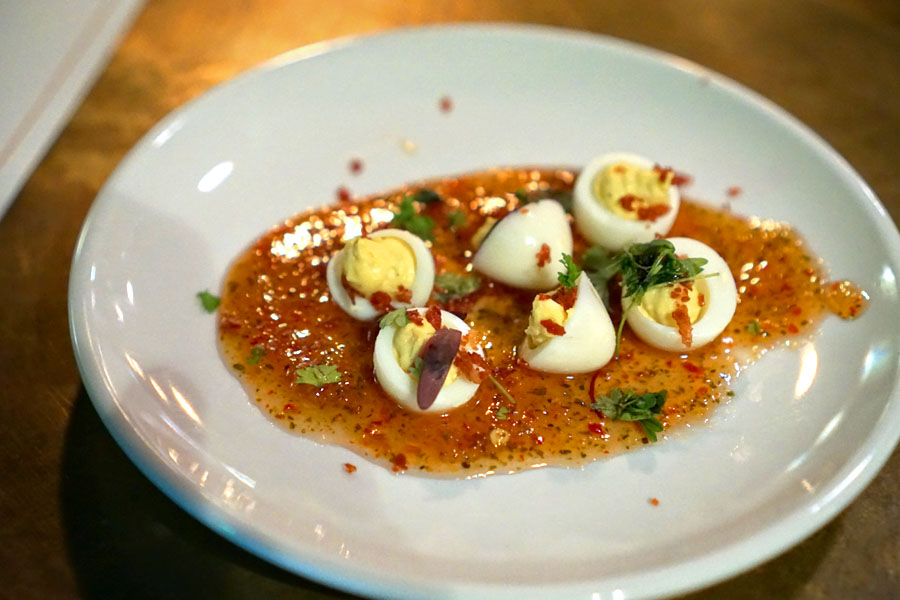 Tiny Deviled Eggs [$7.00]
| with crispy ham, spicy tomato jam, topped with microgreens
I usually have a difficult time turning down deviled eggs, and tonight was no exception to that rule. The quail eggs were just what I expected, but what was surprising was the sweet-heat of that tomato jam, while the ham imparted both salt and crunch.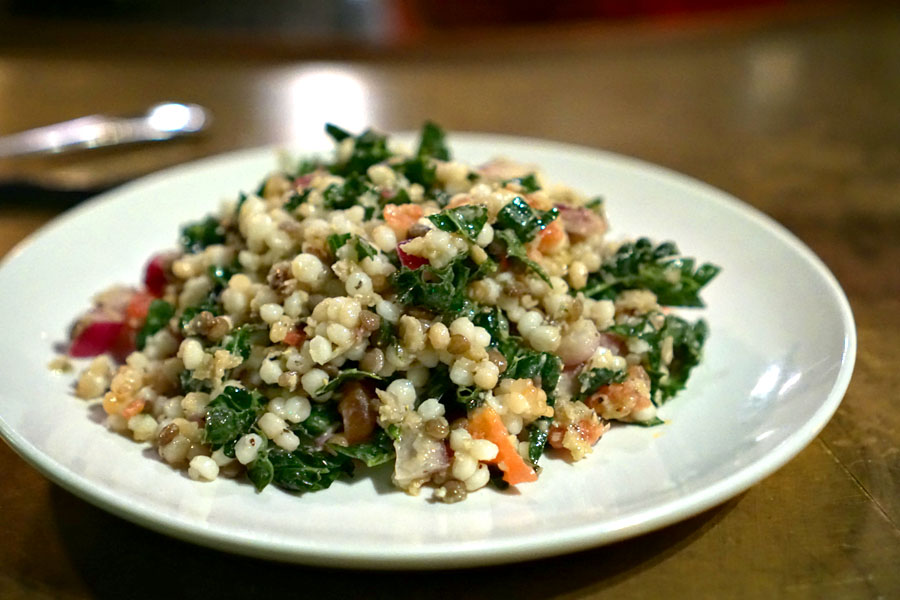 Kale Tabbouleh Salad [$11.00]
| with couscous, lentils, chopped seasonal vegetable and tahini vinaigrette
The salad was a surprise standout. I really enjoyed the back-and-froth between the bitter, earthy kale and the relatively subdued nature of the couscous-lentil combo, all while the dish was punctuated by zesty onion and refreshing cuts of tomato. The various elements just came together effortlessly.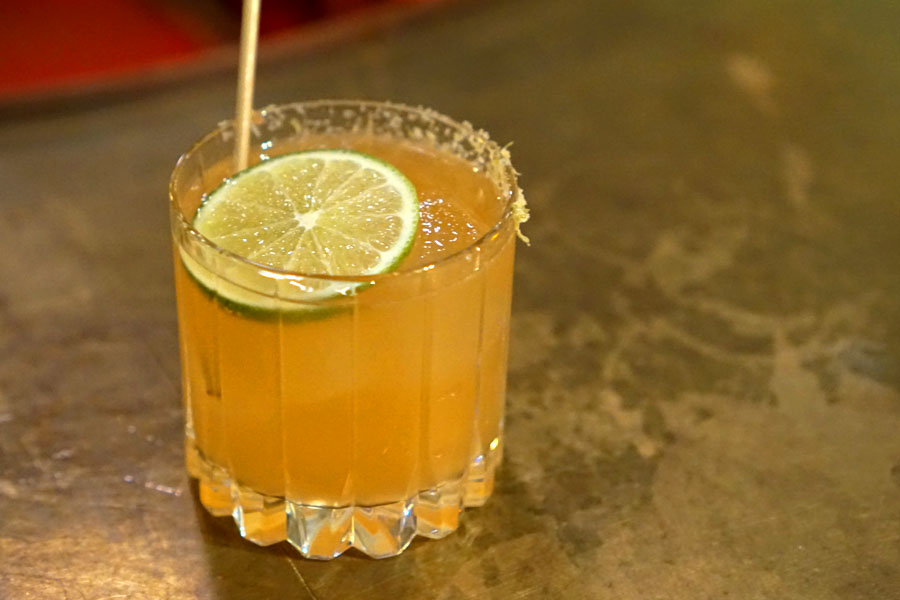 Off Broadway "This Cocktail Was Too Good For The Main Stage" [$12.00]
| Tequila, Lo Fi Amaro, Chinola Passion Fruit, Lime, Chile de Arbol, Orange Oil
I was in the mood for some agave for my third cocktail. With this one, I got a sharp vegetal heat up front, combined with a floral, tropical sweetness. This then led to a bitter, almost minty character from the amaro I'm guessing.

At this point, I decided to check out the patio in the back, which I have to say was surprisingly inviting. It'd be a great spot for the aforementioned brunch that the team is thinking about instituting.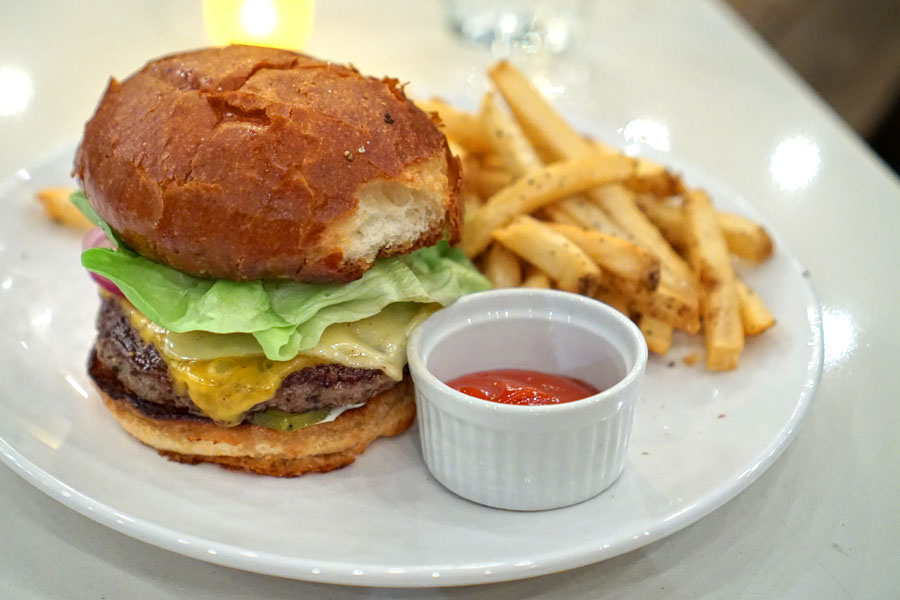 Airliner Burger [$14.00 + $1.00 for extra cheese]
| 6oz chuck/brisket blend beef patty, lettuce, tomato, onions, pickles, cheese, house aioli, served with French fries
I felt compelled to try the signature hamburger of course, and found it to be a proper old school expression. I loved the patty's strong sear and smoke, while the duo of Gruyère and cheddar melded seamlessly with the meat. At the same time, you had all the veggies, which imparted contrast in both taste and texture. Now as for the fries, they were on point; think robustly-seasoned, with crispy exteriors and soft, almost creamy insides.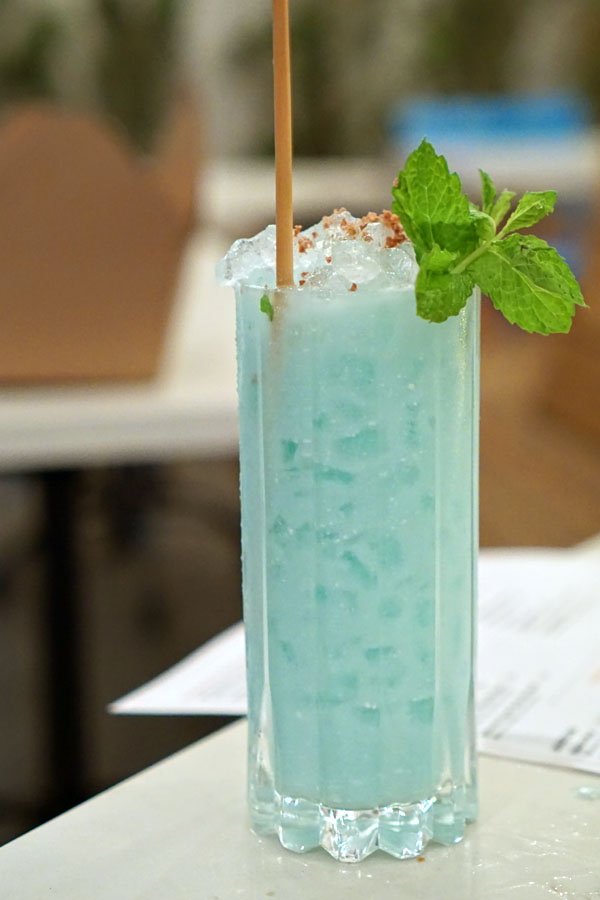 Bermuda Triangle "Search Party" [$12.00]
| Copalli Rum, Copalli Cacao, Combier Blue, Lime, Coconut Cream, Chocolate Bitters, Mint, Soda
This festive-looking cocktail went down rather easily with its base of sugary coconut and light chocolate, all evened out by touches of bitterness and herb.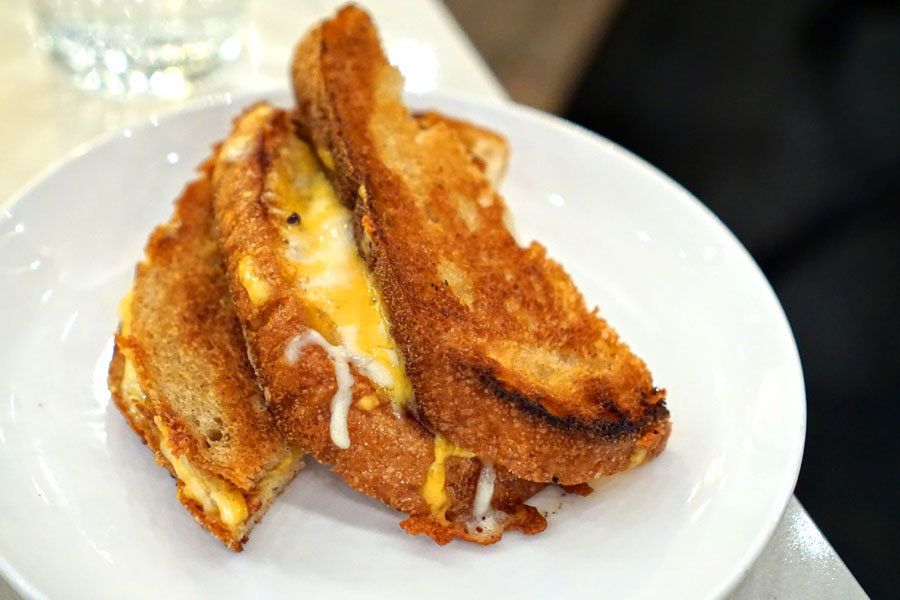 Grilled Cheese [$10.00]
| blend of Italian and French cheeses on sourdough bread
The Airliner's take on grilled cheese featured thick, crispy, well-griddled cuts of sourdough backed by a healthy amount of lush, gooey cheese.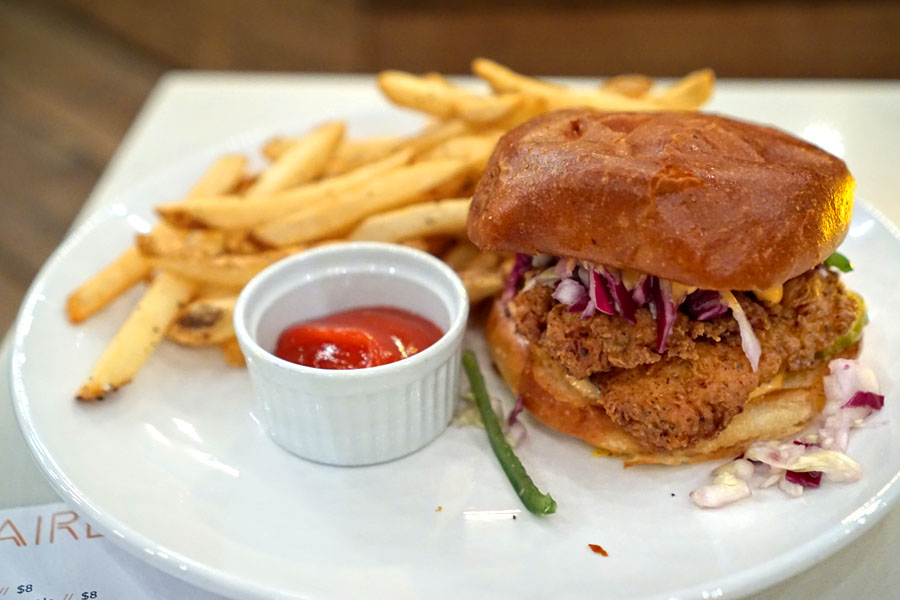 Fried Chicken Sandwich [$13.00]
| buttermilk bourbon marinated chicken with housemade jalapeno slaw and red pepper aioli, served with French fries
I just couldn't resist the fried chicken for my last dish. The bird arrived decently tender and juicy, as was imbued with a distinct sweet heat. I quite liked the counterpoint provided by the bright, crunchy slaw, while the aioli helped bind all the various ingredients together.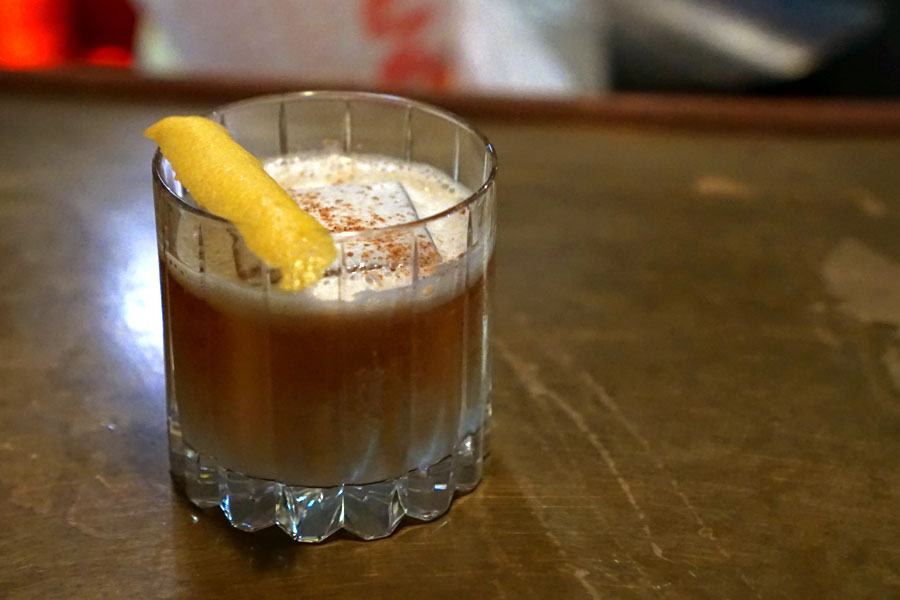 Red Eye "Cold Brewed Airlines" [$12.00]
| Wheatley Vodka, Mr. Black Cold Brew Liqueur, Banana, Toasted Pecan Bitters, Vanilla Cream, Nutmeg
With the food dispensed with, I moved back to the bar and enjoyed Pool's riff on the classic White Russian. The drink was delicious, with bittersweet, cocoa-tinged coffee flavors all over the place, joined by a bit of sweet-spiciness, a smidge of citrus, and very subdued banana. I always like to end with dessert, and since there was no actual dessert on the menu, this cocktail fit the bill nicely.
I'm glad that Greg at The Varnish told me about this spot, since I had a lovely time here. I was pretty impressed with the cocktails, and the food met the mark too, while the overall level of hospitality from Zach and Raul was certainly commendable as well. The place seems to have the right things going for it, and if I lived in the area, I could easily see The Airliner becoming one of my go-to bars.