Yagi Japanese Restaurant (Anaheim, CA)
Yagi Japanese Restaurant
6324 E Santa Ana Canyon Rd, Anaheim, CA 92807
714.974.4512
yagijapanese.wixsite.com/yagi/
Sat 08/28/2021, 07:35p-09:15p

I was recently looking for a new sushi restaurant to try in Orange County, and after ruminating on the subject for a bit, settled on Yagi (八木) over in Anaheim Hills. The place was opened in September 2014 by Chef Nobuyoshi Yagi (who came here from another sushi spot in the area) and his wife Yumiko Morikawa. Yagi-san, for some reason, wasn't behind the bar tonight, but was back in the kitchen, so serving us this evening was an
itamae
by the name of Satoshi, who actually started his sushi career at DTLA's
Sushi Enya
around 2013 before coming here.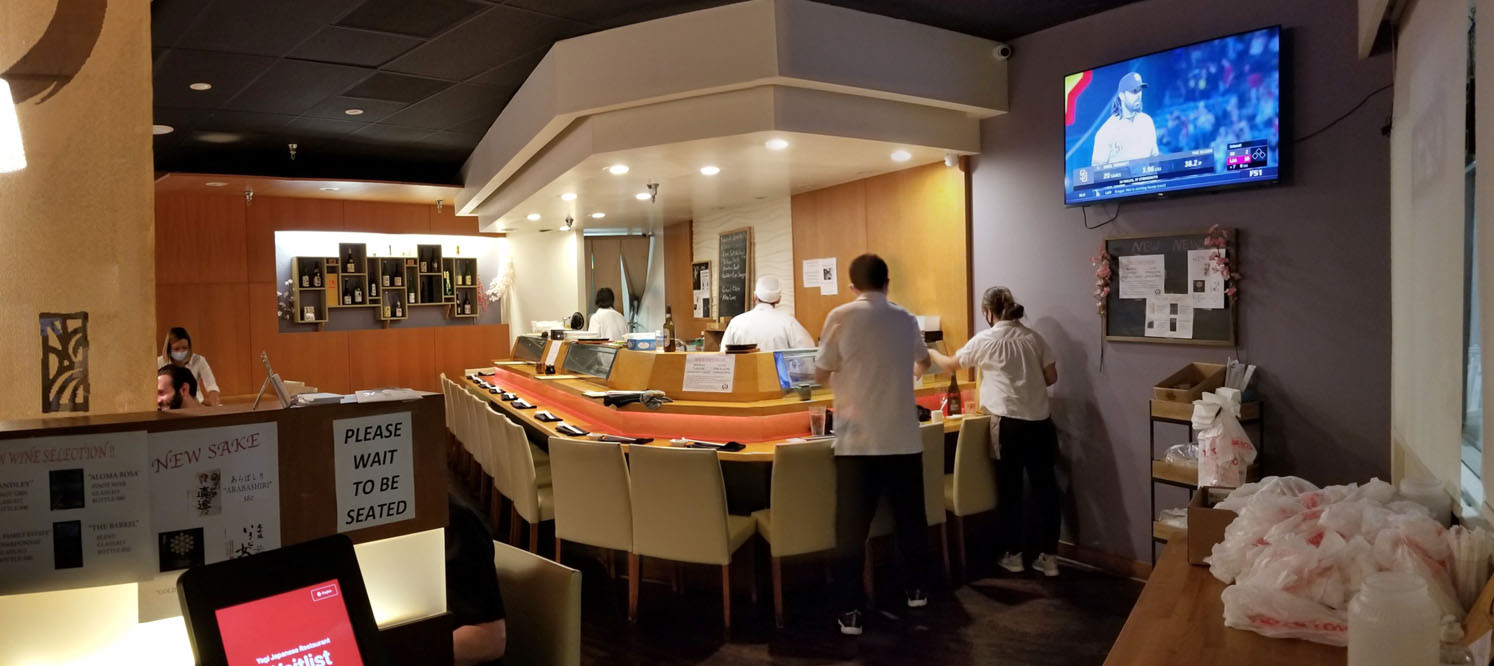 Here's a view of Yagi from the entrance. The space was previously home to Kagura, which was helmed by Chef Atsushi Yokoyama (now running things at
Hanare
), and the decor hasn't really changed much at all from those days. Before that, the storefront was occupied by the longstanding Hamayu, which was originally opened circa 1985 by Yoshiyuki Yuuki before being sold to a series of Korean and Chinese owners in the early/mid 2000s.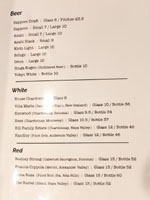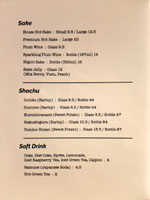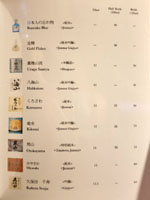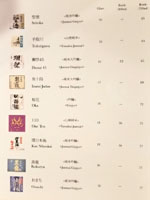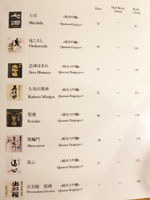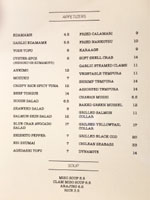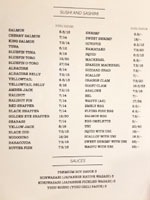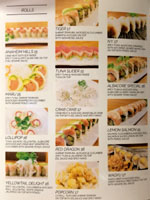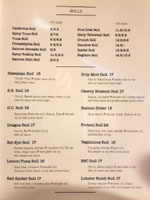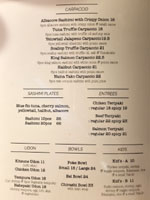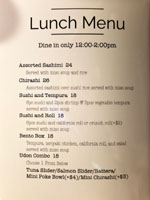 The menu at Yagi is pretty typical and fairly expansive, and includes "creative" rolls, which usually isn't a good sign. However, we were here for the omakase sushi (おまかせ寿司) option, priced at an affordable $65 a head. To drink, there's a decent sake list, as well as a small selection of beer, shochu, and wine. Corkage, meanwhile, was a not-too-bad $25 per bottle. Click for larger versions.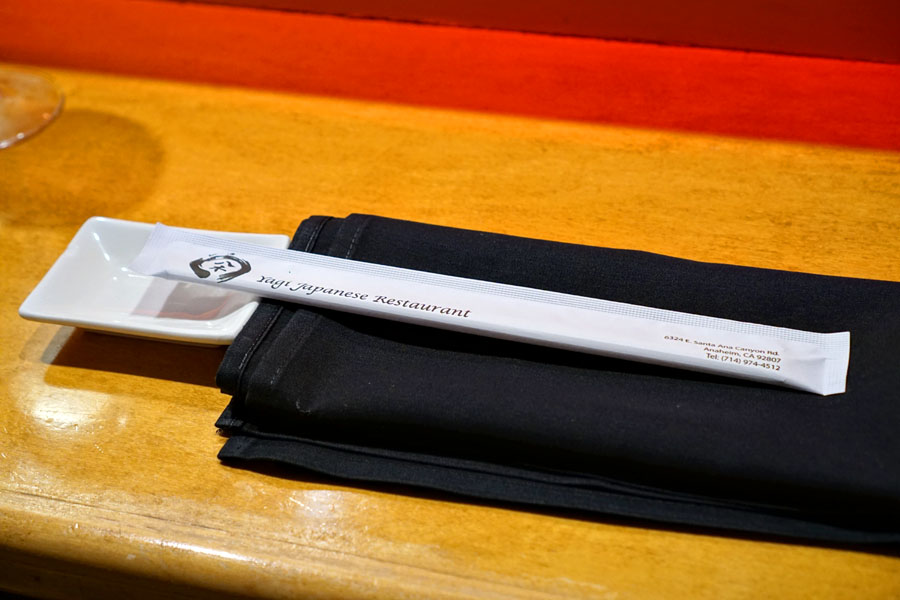 Our seats at the sushi bar were already set by the time we arrived. The place setting was about as simple as it gets.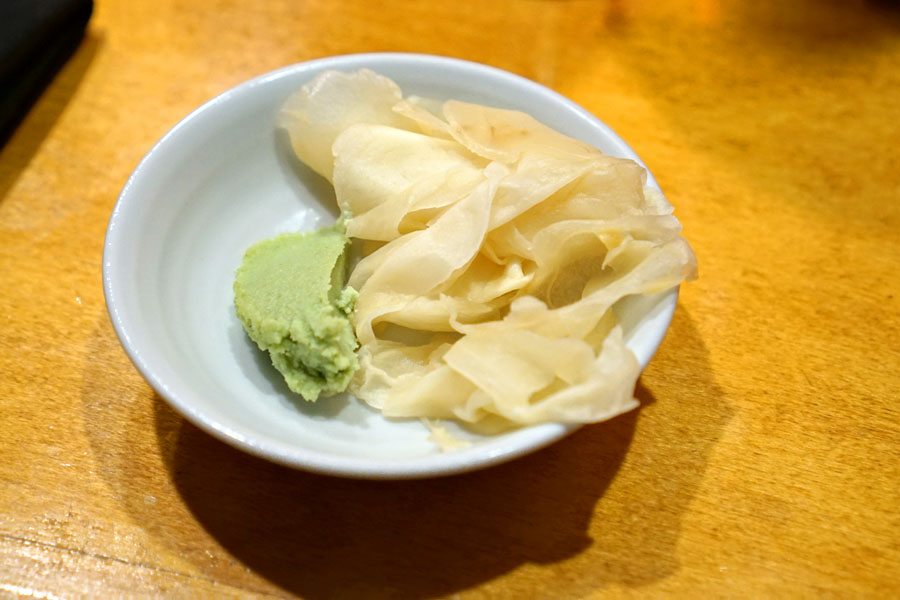 Upon being seated, we were quickly provided with the requisite ginger and wasabi, the latter of which was largely left untouched given that, at least for omakase purposes, all the sushi we received came pre-seasoned (which is the way I strongly prefer).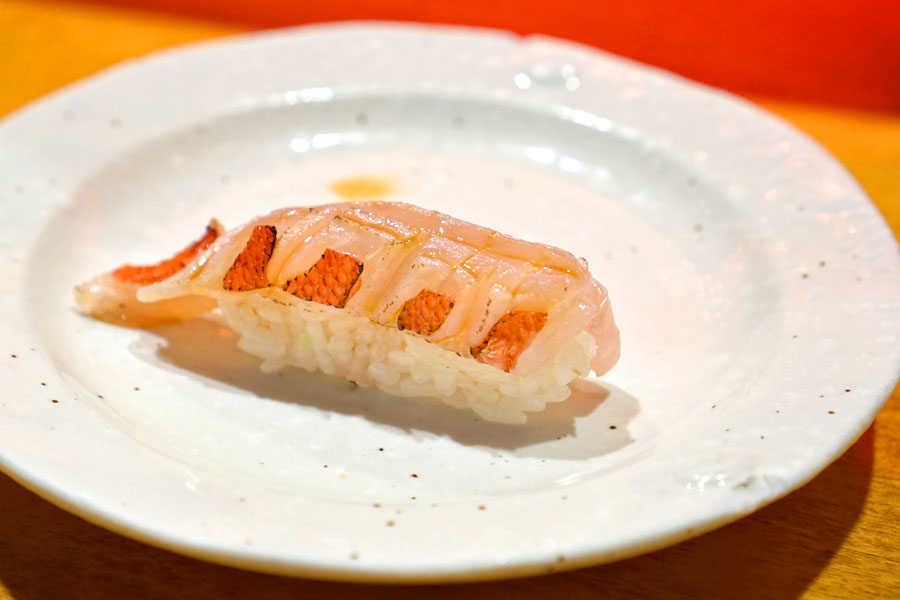 1: Golden Eye Snapper (金目鯛 / Kinmedai)
Up first was one of my favorite fishes for
nigiri
: splendid alfonsino. The cut was smartly seared and gratifyingly textured, while the rice ended up being very apparent on the finish. And as for said rice, it was a bit lacking in delicacy, but certainly did the job.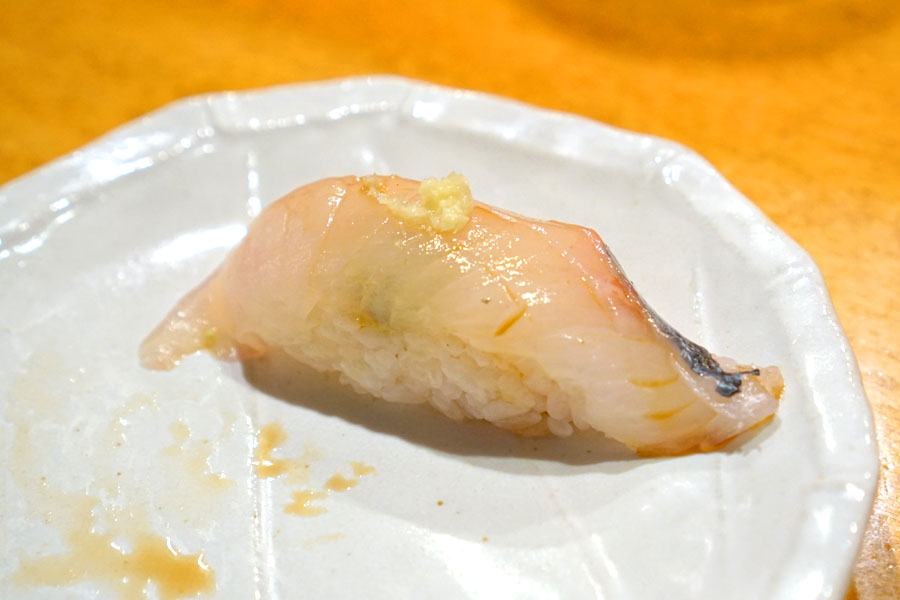 2: Yellow Jack (シマアジ / Shima Aji)
Striped jack showed of a supple, satisfying consistency, while its considerable amount of umami was well matched with the zing of what I believe was ginger on top. Do note that this was served alongside the
kinmedai
above, and this doubling up of sushi was a common theme tonight, one that I would've preferred not to have seen; I'm a firm believer that sushi should be served one-by-one if you're sitting at the bar.
3: Red Snapper (鯛 / Tai)
This tender shard of seabream had a burst of citrus and salt up front that I really enjoyed. This then led to a refined brine and a touch of shiso on the back end.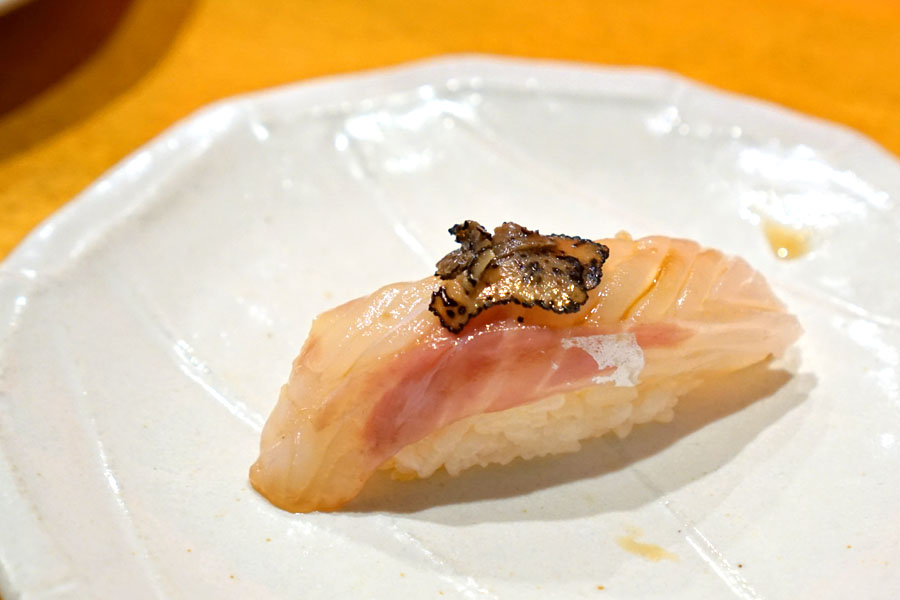 4: Seabass w/Truffle (スズキトリュフのせ / Suzuki Truffle Nose)
Sea bass had a nice bit of chew to it, while its inherent savoriness worked hand-in-hand with the earthiness of the truffle. It all meshed together rather well.
To drink, I brought along a bottle of Burgundy, the
2013 Au Pied du Mont Chauve Chassagne-Montrachet Premier Cru Les Chenevottes
. The wine had a nose of tropical and stone fruits, but supported by a bit of barnyard and butter. I found the palate on the richer, lusher side, its notes of citrus and pear joined by some funk and a spine of minerality.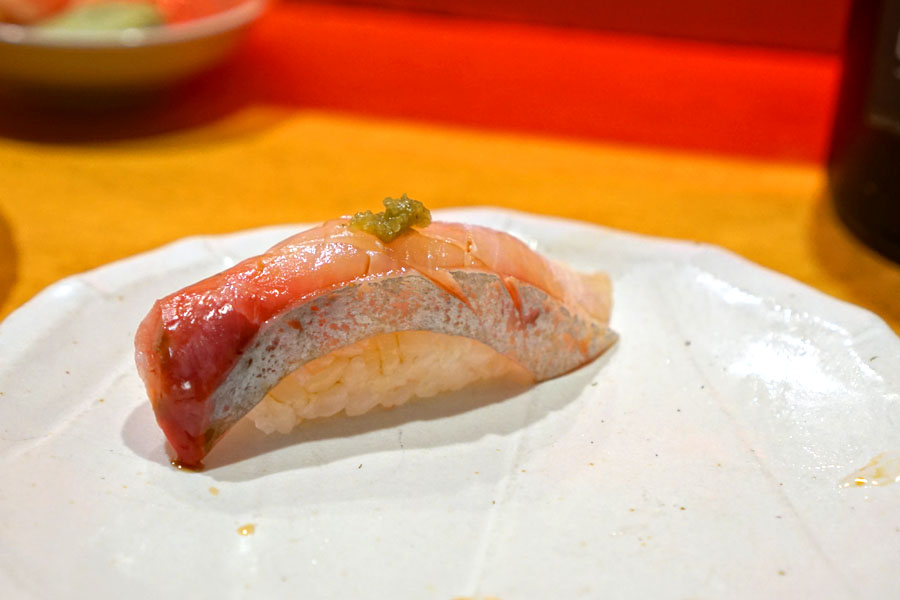 5: Amberjack (かんばち / Kanpachi)
The amberjack had a slight "crunch" that I enjoyed, while a dab of sour-spicy
yuzukosho
complemented the fish's natural sweetness.
6: Black Cod (銀鱈 / Gindara)
The sablefish ate as soft and silky as I expected, its lusciousness offset just enough by the smokiness present.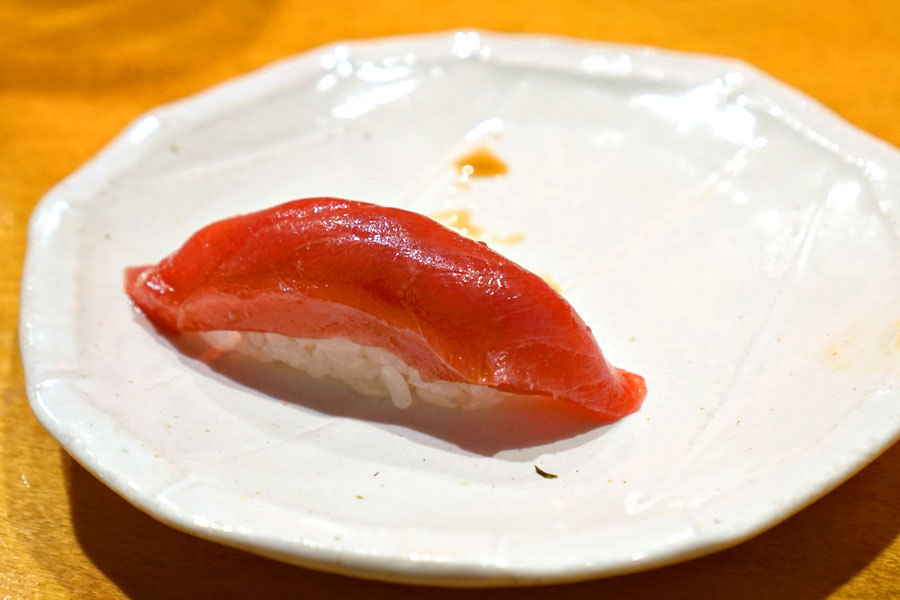 7: Blue Fin Tuna (本鮪 / Hon Maguro)
Spanish bluefin conveyed elements of minerality and umami up front that led to a distinct fruity character toward the rear.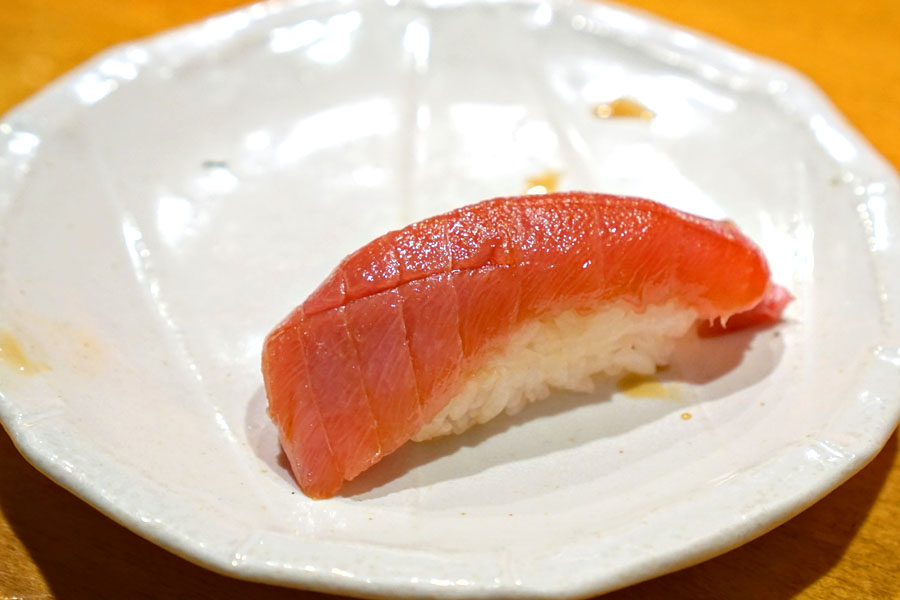 8: Blue Fin Toro (本鮪トロ / Hon Maguro Toro)
Meanwhile, the belly part of the tuna demonstrated a restrained level of fat and oil, one backed up by a marked sweetness.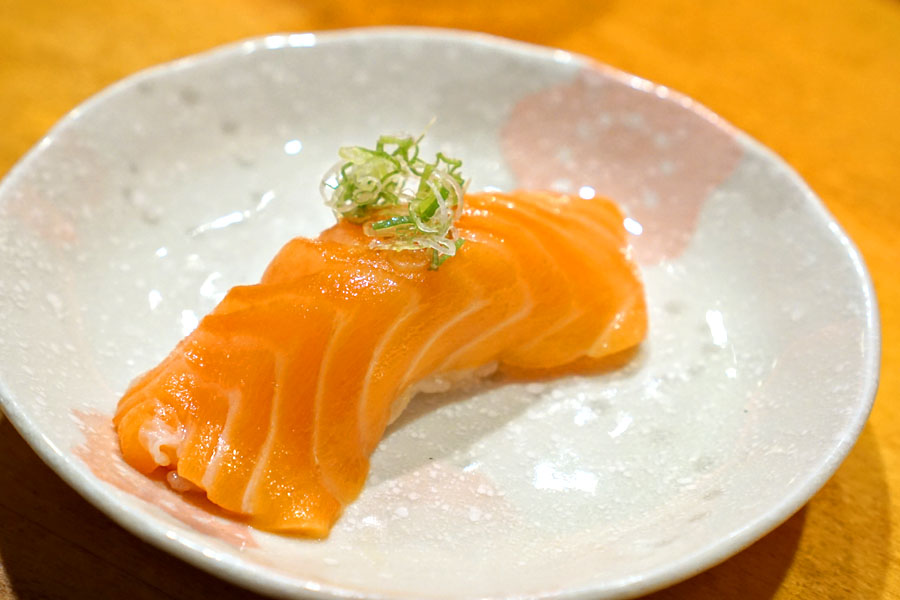 9: King Salmon (キングサーモン)
New Zealand salmon was surprisingly light in terms of taste, though it did get more and more savory as I chewed. Great counterpoint from the scallions here.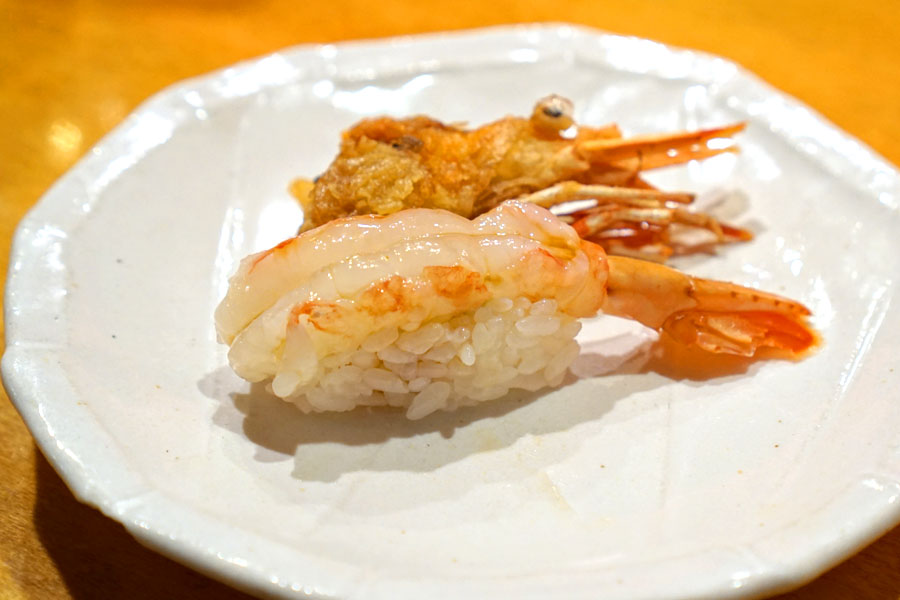 10: Sweet Shrimp (甘エビ / Amaebi)
Sweet shrimp were indeed as sweet as advertised, their creamy, sticky nature evened out by a persistent wasabi heat and a smidge of minerality on the finish. Unfortunately, the shrimp heads came out way too cold, and were thus a bit stale, lacking in their signature crispiness.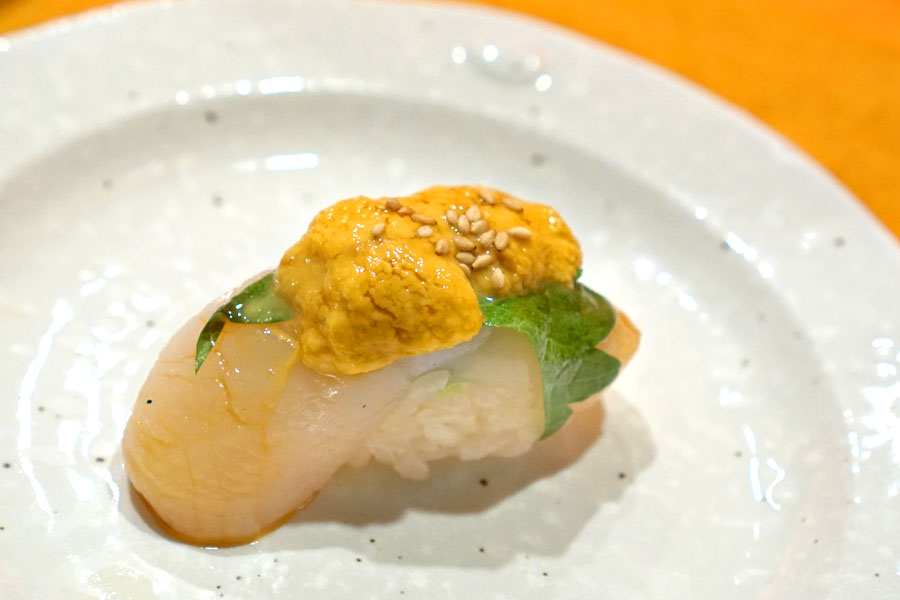 11: Scallop w/ Uni (帆立雲丹のせ / Hotate Uni Nose)
Next up was a marriage of mineral-driven Santa Barbara sea urchin and supple cuts of scallop, accented by minty shiso and piquant hits of wasabi. I think I would've preferred to have experienced these two
neta
separately, though.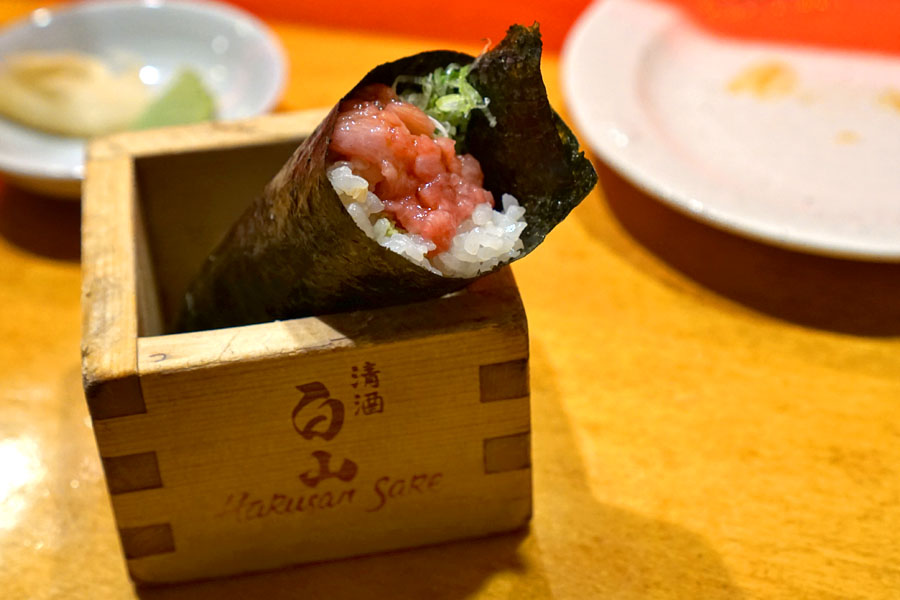 12: Negi Toro Hand Roll (ねぎとろ手巻き / Negitoro Temaki)
This handroll was certainly a winner thanks to its spot-on interplay between the fatty tuna and the unmistakable zestiness of green onion. Great umami backing from the nori, too.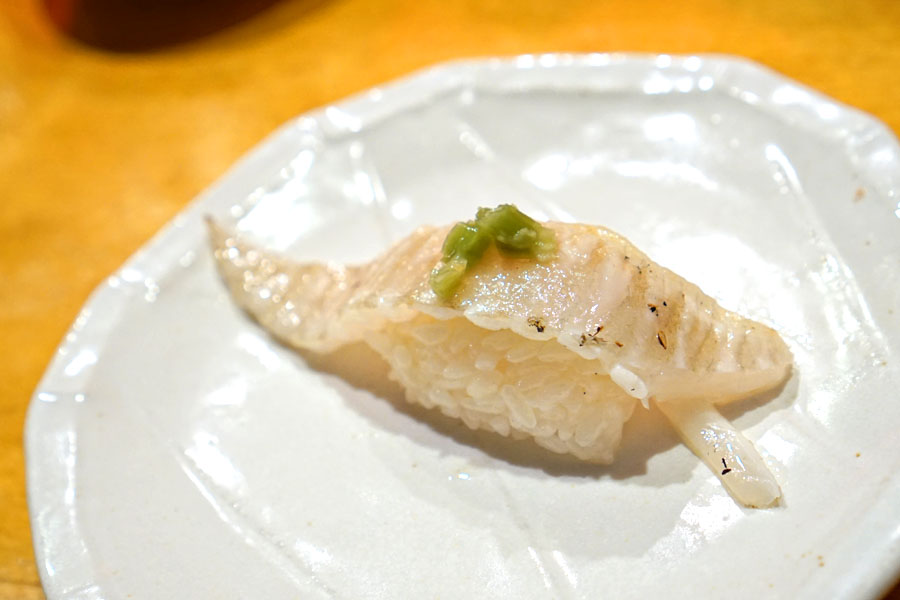 Halibut Fin (縁側 / Engawa) [$3.50]
We ended up adding on a few courses to our meal at this point. Up first was the fluke fin, another favorite. I found it surprisingly luxurious, with an unexpectedly deep savor and a lovely smoke. The rice worked well here for contrast, as did the
kukiwasabi
up top.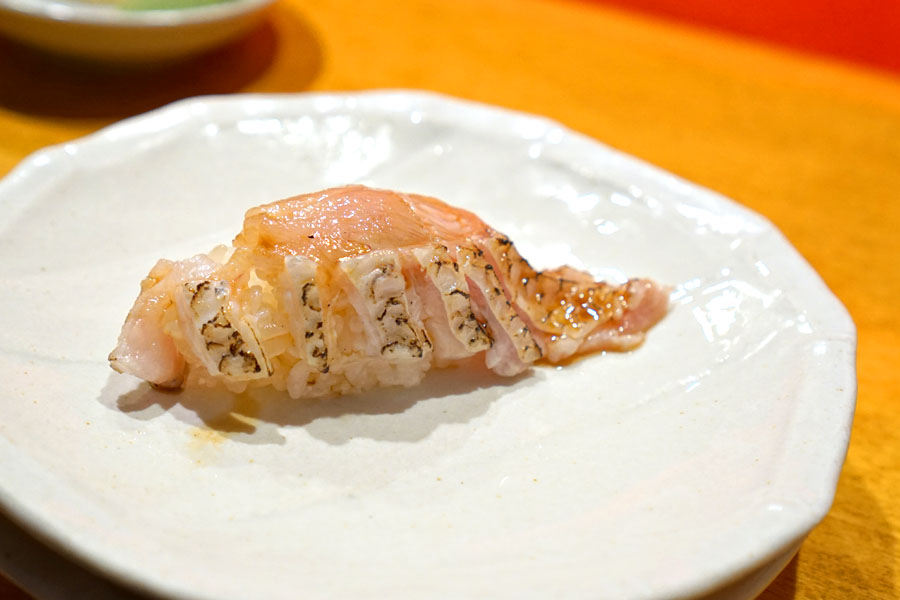 Nodoguro (ノドクロ) [$9.00]
Blackthroat seaperch is my all-time favorite fish (apparently it's Satoshi-san's as well), and I was happy to see it on the menu, since it's generally only offered at higher-end establishments. The bite was just what I expected, the
akamutsu
's elegant presentation of richness and fat smartly paired against bitter char and the moderating effect of the rice. Another standout.
Egg Omelette (玉子 / Tamago) [$2.50]
The traditional closer of egg went in a generally cool, sweet direction, though with an undercurrent of salinity.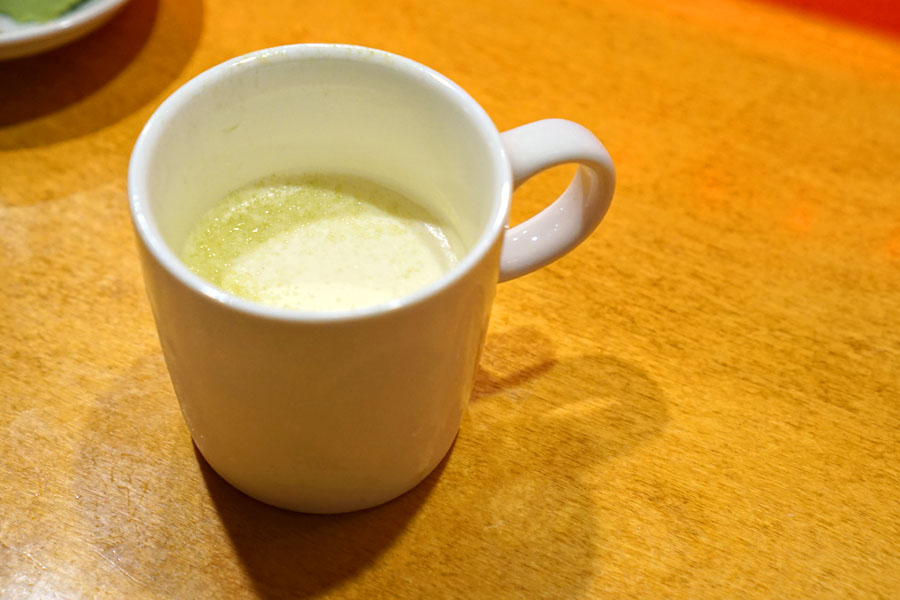 13: Panna Cotta (パンナコッタ)
Dessert duties were handled by a version of panna cotta that blended green tea bitterness with what seemed like the sugariness of condensed milk.
I enjoyed a nice meal at Yagi, which had actually occupied a row on my spreadsheet of restaurants to try for a few years now. Most of the food was on point, and I'd say the prices are pretty reasonable for the quality. The disappointing fried shrimp head was a major misstep though, and as mentioned above, the
shari
could've been a bit more sophisticated. Overall, Yagi seems like a place that can appeal to both sushi veterans and novices alike, and works as a solid neighborhood-y type of spot.