Camphor (Los Angeles, CA)
Camphor Restaurant
923 E 3rd St, Los Angeles, CA 90013
213.626.8888
www.camphor.la
Sun 04/10/2022, 08:15p-11:40p

The latest big debut to hit the Arts District is Camphor, and it's one that I was super excited about. The new restaurant takes over the former home of Mei Lin's
Nightshade
, and in fact, the place even has the same financial backer:
No.8
hospitality group (most known for Lock & Key). Grand-opened on February 23rd, Camphor describes itself as a "modern bistro," and is led by Co-Executive Chefs Max Boonthanakit and Lijo George.
About the Chefs
: Maxou Boonthanakit was born in January 1992 to a Thai father and a Taiwanese mother, and grew up in the Atlanta area. He got his first real restaurant job at age 13 at Zyng Asian Grill in the suburb of Marietta, and later worked at Veni Vidi Vici and Tierra in ATL proper. His family eventually moved to Southern California, settling in Diamond Bar, and in May 2009, Boonthanakit started cooking at Mimi's House, a local Taiwanese joint, where he stayed for a year. After graduating from Diamond Bar High School in 2010, he attended the Culinary Institute of America at Hyde Park, but never completed his studies. Rather, after externing at
The Bazaar
for three months, he took a full-time position there, working in pastry for a year under Frania Mendivil. In August 2012, he landed a pastry gig at
Michael Voltaggio
's
Ink
, where he befriended Mei Lin.
Boonthanakit became pastry cook at
Republique
in June 2014, which was quickly followed by
stages
at Bo.lan and Gaggan in Bangkok. Starting in June 2015, he worked for a couple years as Mei Lin's sous after her win on
Top Chef: Boston
, assisting her with various events and the conceptualization of her first solo restaurant. Following a quick apprenticeship at Copenhagen's Relae in spring 2017, Boonthanakit began heading up pastry at the first incarnation of
Kato
, but left a year later to serve as opening CdC for Lin at Nightshade, which debuted in January 2019. During this period, he also consulted for Downtown's
Rossoblu
on a new bread/pastry program. In August 2019, he started a job at Blue by Alain Ducasse in Bangkok, leading their pastry department, a position he held until late 2021. In addition to his restaurant endeavors, Boonthanakit (along with wife Wendi Ogata) is also the founder of
Boon Sauce
, a condiment company focused on artisanal chili crisp.
Lijo George is the second part of the kitchen equation at Camphor, and hails from Thrissur, a city in the state of Kerala, India. He decided that he wanted to pursue a hospitality career in 2005, and thus enrolled at the Kuttukaran Institute of Hotel Management (KIHM) in Kochi, Kerala. During this time, he got his first experience in the kitchen as a trainee in a hotel in Goa, and after graduating in May 2008, landed a cooking gig at Kempegowda International Airport in Bengaluru, Karnataka. However, George left after only four months for a role at Royal Orchid Hotels, but following a false start with the company, he ended up at another job in Bangalore. He disliked the position though, and after leaving and taking a break from the industry, he did eventually start working for Royal Orchid in August 2009. That post only lasted for about a year though, and the following October, George found himself in Dubai. There, he served as commis at 101 Dining, a restaurant by Yannick Alléno at the One&Only The Palm hotel.
He was unsatisfied there, though, and decamped at the end of 2012 to return to Kerala. Subsequently, a former colleague at 101, Elie Fischmann, got him a line cook job at IDAM, an Alain Ducasse eatery at the Museum of Islamic Art in Doha, Qatar. He started there in May 2013 and remained for two years before transitioning to another Ducasse property: Spoon at the InterContinental Hong Kong, under Stéphane Gortina. George stayed on when Spoon turned into the seafood-focused Rech at the start of 2017, and in October 2019, he became exec sous at Bangkok's Blue by Alain Ducasse, which was under the command of Wilfrid Hocquet. It was here where he met Boonthanakit for the first time, and the two remained in Thailand until the latter half of 2021, which they moved Stateside to launch Camphor.

Inside, things haven't changed all that much since the Nightshade days (even the tables and chairs are the same I believe), though overall the space has a lighter feel.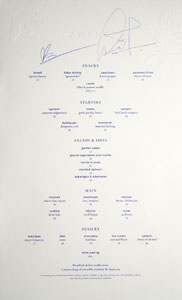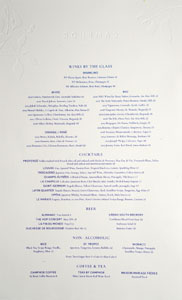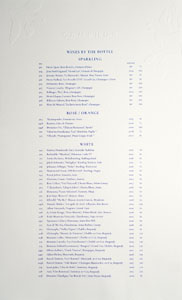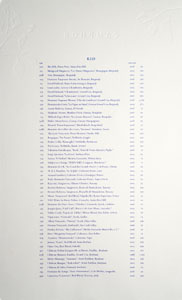 As for Camphor's menu, it has a basis in French bistrot fare, but also incorporates just a bit of an Asian influence. Beverage-wise, you get to enjoy cocktails by Andrew Paniagua (Lock & Key, Ledlow) and a tight wine list put together by Kalani Lau (
Capo
). Click for larger versions.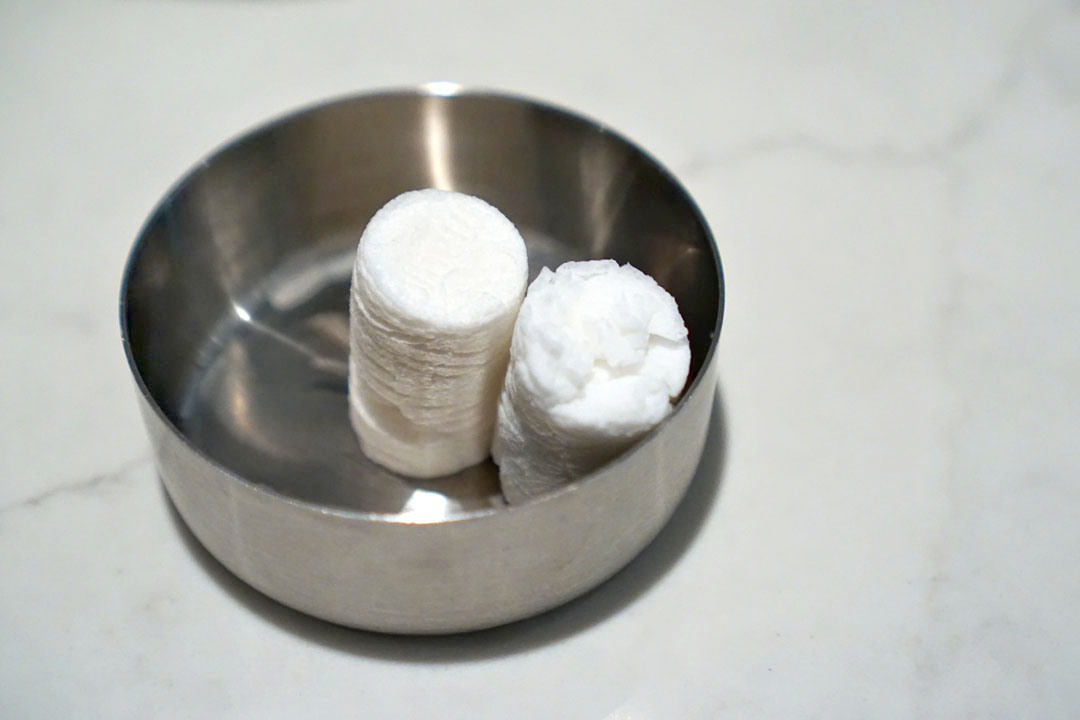 The compressed napkins were a nice touch to begin the meal with: just add water.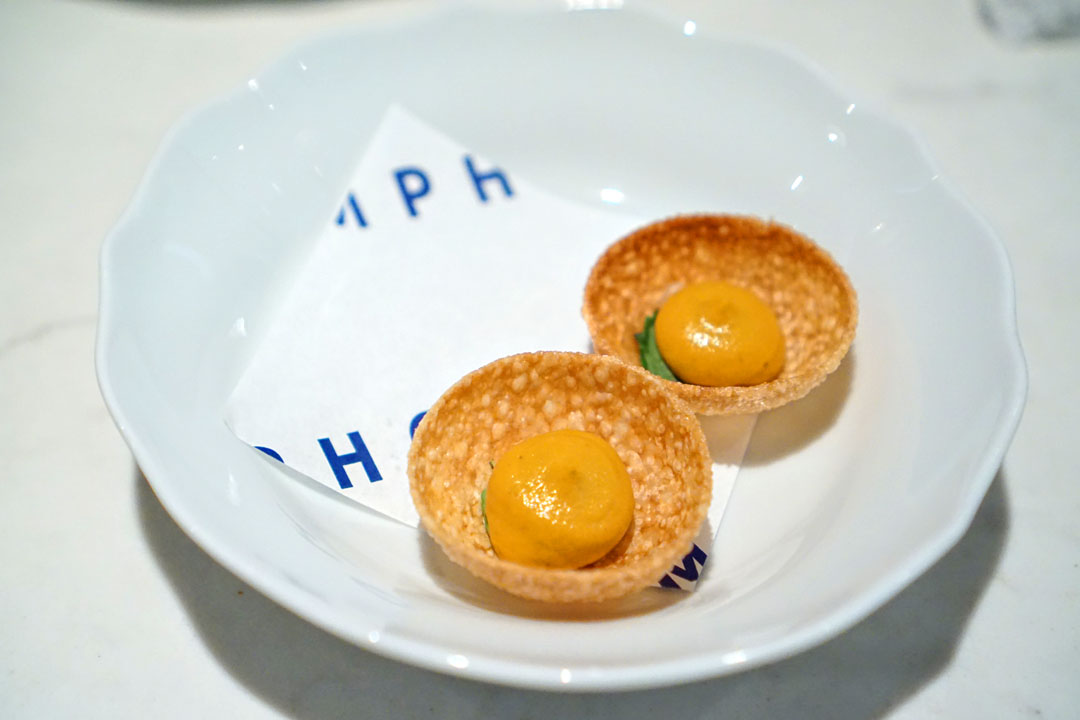 Things kicked off with a couple complementary bites comprising sweet potato-cashew cream and herbs, set in a crunchy, savory lentil cup. You don't see an amuse bouche offered at most non-tasting menu restaurants, so I think its presence does almost serve as a statement of intent, and really did set the tone for the rest of the dinner.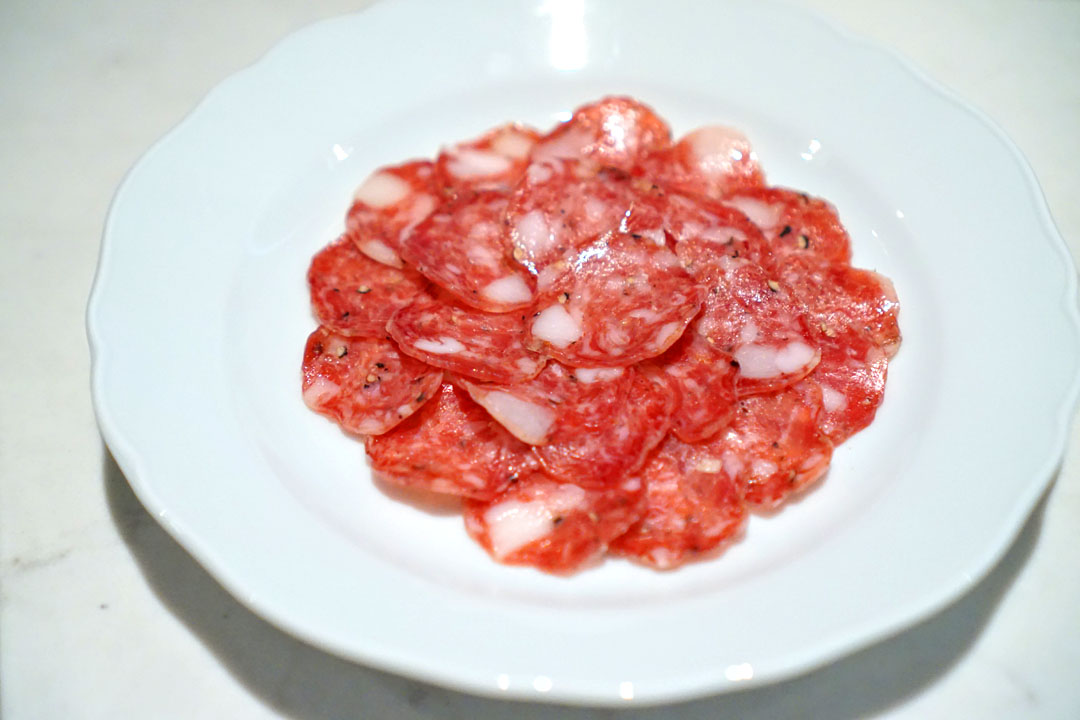 saucisson [$12.00]
| brown pepper
I'm a sucker for sausage, and this dry-cured example hit the spot with its mix of sweet, salty, spicy, and herbaceous flavors. Given how good this was, I'd love to see the kitchen attempt other forms of charcuterie.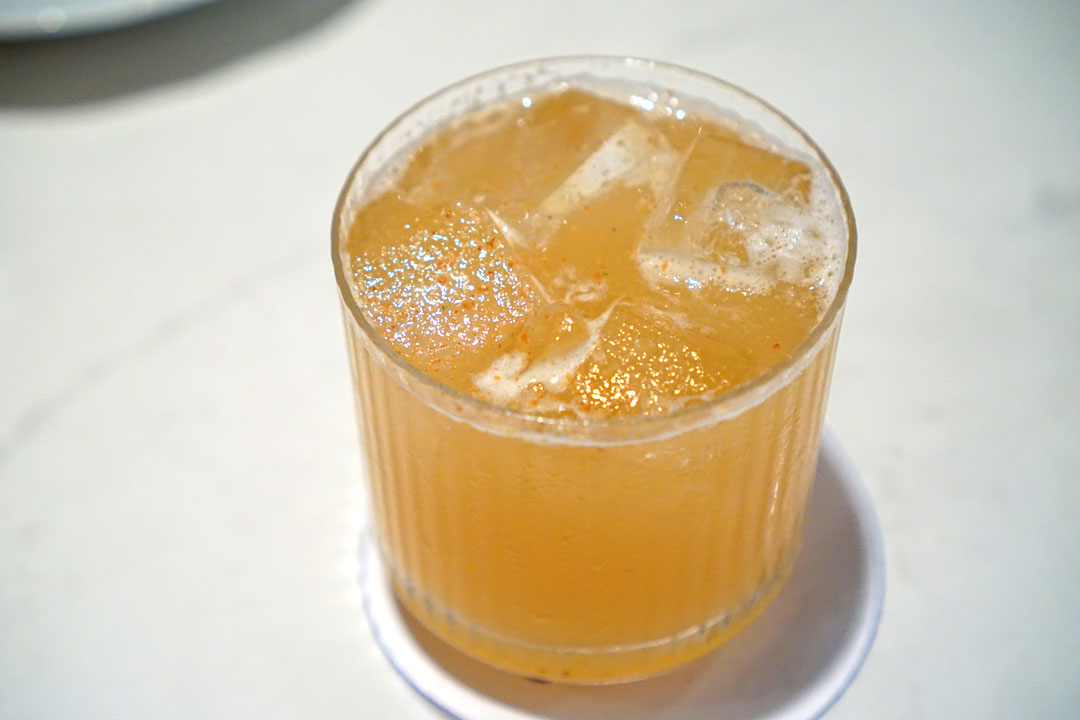 La Chapelle [$17.00]
| Calvados, Jamaican Rum, Chai Masala cider, Vanilla, Herbal honey liqueur
We opted for cocktails this evening, and this first one was probably my favorite thanks to its marriage of aromatic masala chai spice and fragrant vanilla, all rendered in a soft, smooth package that subtly suggested the presence of calvados.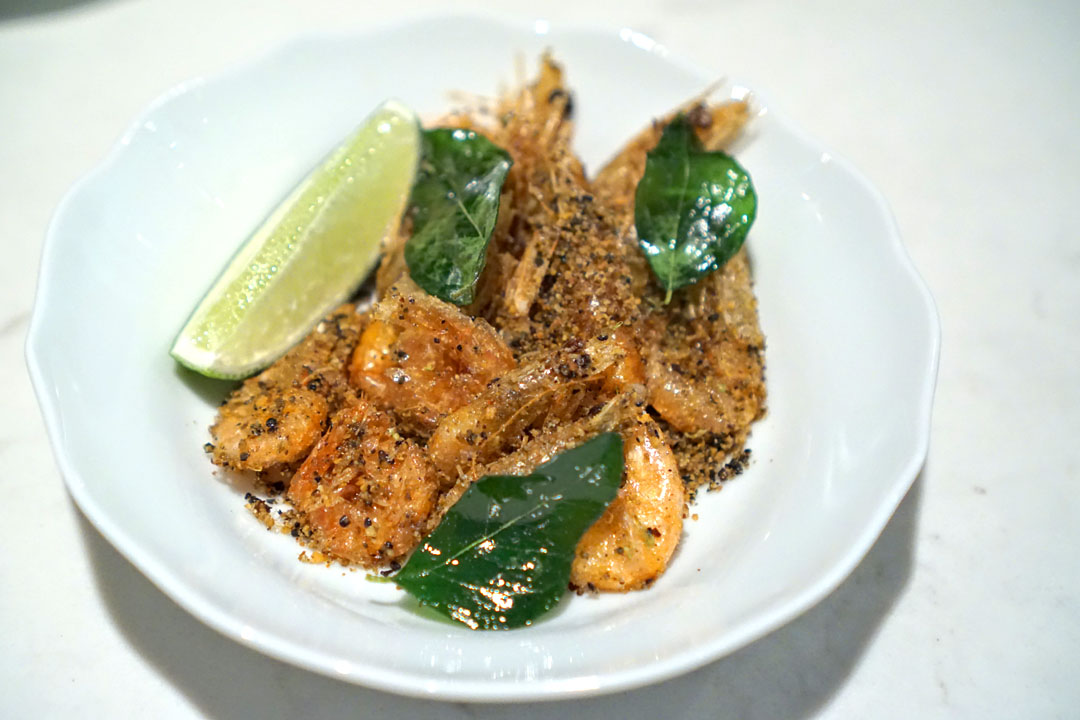 baby shrimp [$12.00]
| "gunpowder"
Flash-fried shrimp were delightfully crunchy, and served as a vessel for the multifaceted, sweet-n-spicy nature of the dish's Indian-inspired seasoning. Try this both with and without a squirt of lime.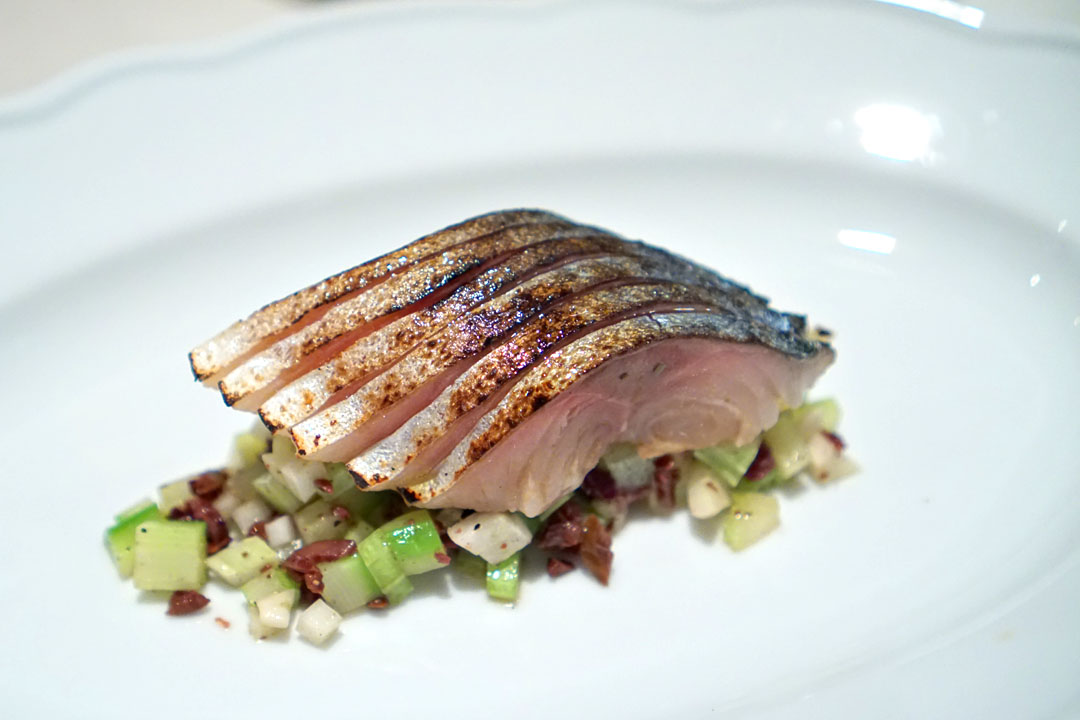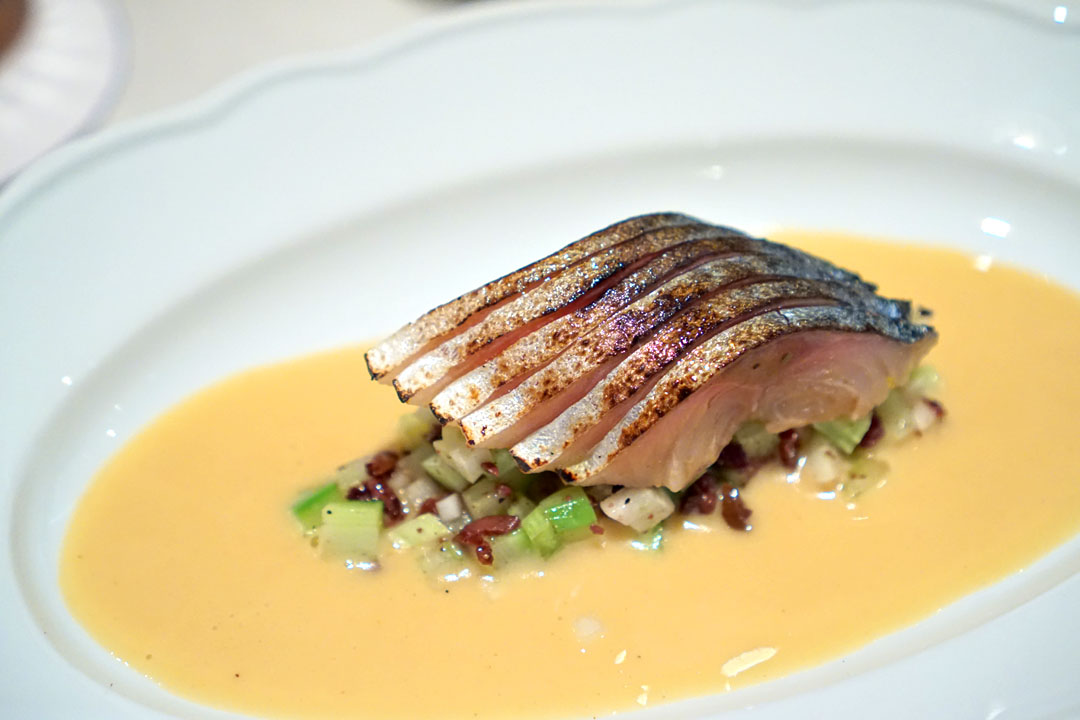 mackerel [$25.00]
| mustard dressing
The four day-aged mackerel was a favorite of our server, and he knew what he was talking about. The smoky-saline qualities of the fish were forcefully conveyed, but also deftly softened by the sweet, tart Burgundy mustard jus, as well as the bitter crunch of those veggies.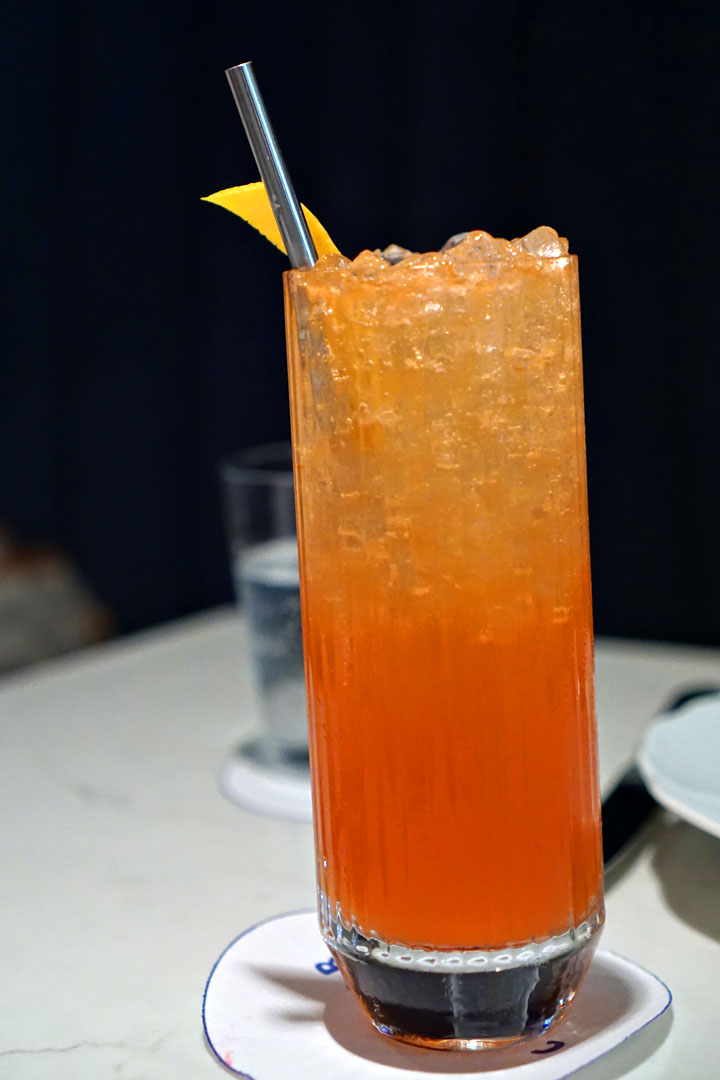 Nice [$12.00]
| Black Tea, Verjus Rouge, Vanilla, Raspberry, Mint
The Nice cocktail was indeed quite nice, its tangy, fruity flavors well matched with undertones of black tea.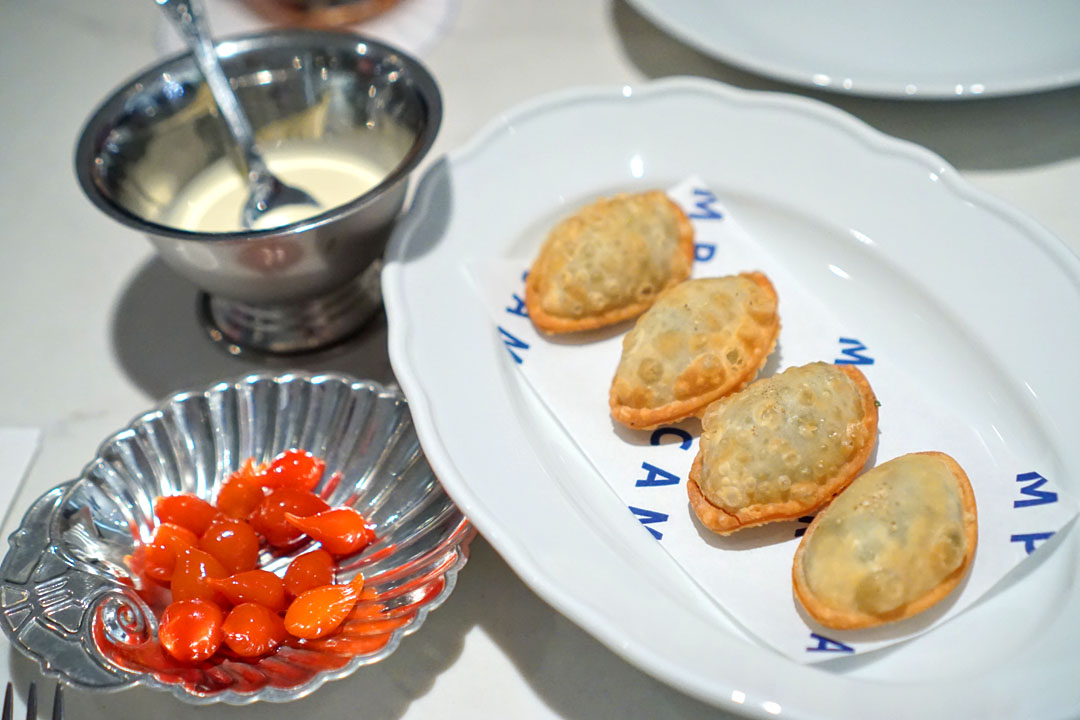 barbajuan [$25.00]
| dungeness crab
Fritters stuffed with crab and greens made for fun little bites. The application of aioli really did a nice job enhancing the Dungeness' natural sweetness, while the zippy Peruvian sweet chili peppers served as the perfect finishing touch.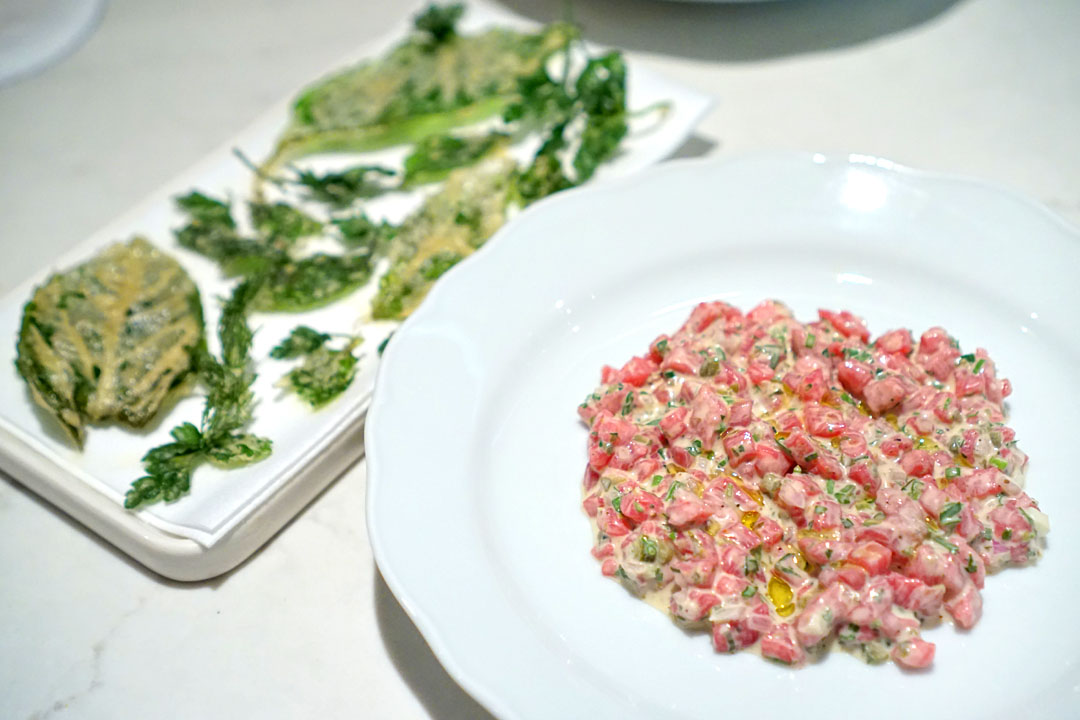 tartare [$24.00]
| beef, herb tempura
I have a hard time turning down a tartar, and I'm glad I didn't, since this was one of the best I've had. The beef was faultless texturally, and I was a big fan of the creamy, tangy dressing that bound it all together. If that wasn't enough, we also had a selection of fried herbs, which imparted both crunch and additional complexity.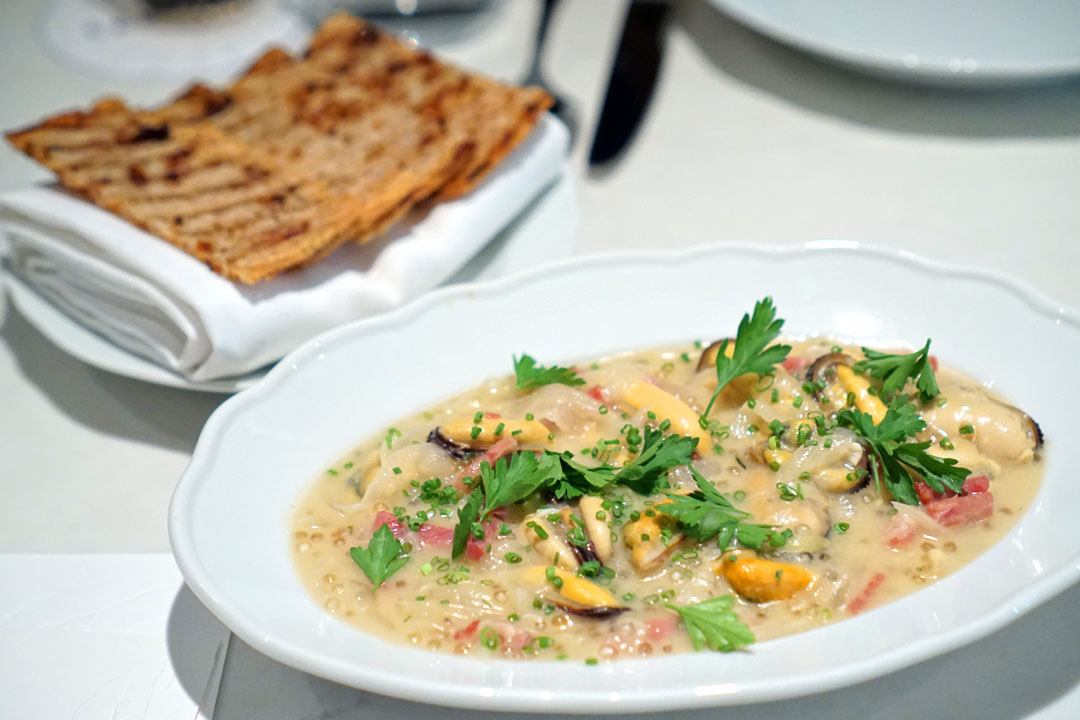 mussels [$30.00]
| white wine, bacon
Mussels arrived wonderfully plump, their salinity juxtaposed against a background of sweet onion and smoky bacon. I was also quite smitten by the included "panini crostini", which offered up a crispiness that was just a joy texturally and a perfect match to the mussels. In addition, the fact that the shells were removed was a very thoughtful touch that I wish more restaurants would emulate.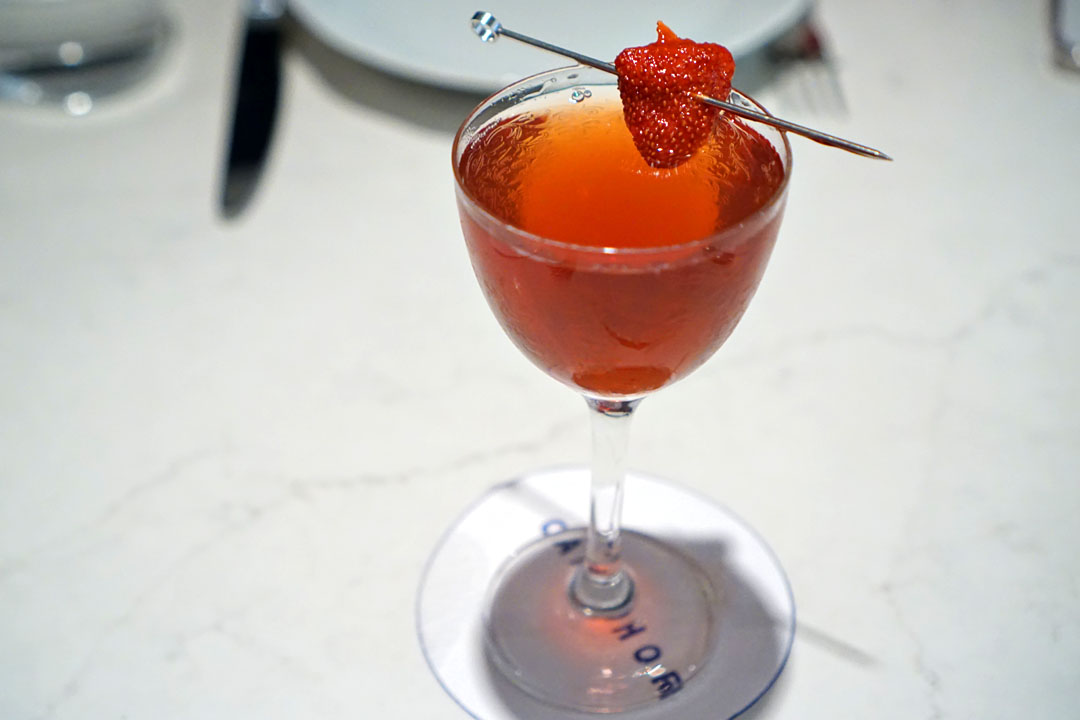 Le Marais [$18.00]
| Cognac, Bourbon, 10 year Port, Harry's berries infused Verjus Rouge, Banana, Gentian
This next cocktail was also a winner due to its commingling of fruity and cacao-esque flavors, all overarched by nutty, bitter, and herby notes.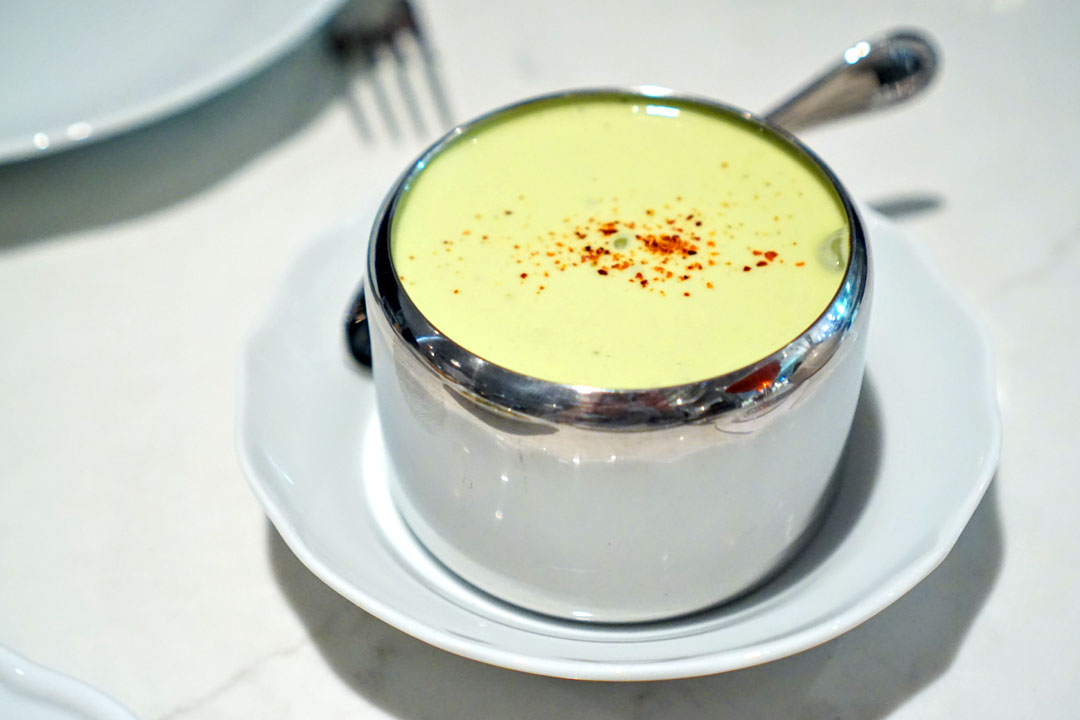 lentils & lamb [$16.00]
An ostensibly Indian-inflected preparation of lamb neck and lentils came out beautifully spiced, its deep, earthy, homey flavors contrasting superbly with a top layer of light, zesty aquafaba. Cozy and novel at the same time, and a surprise standout for me.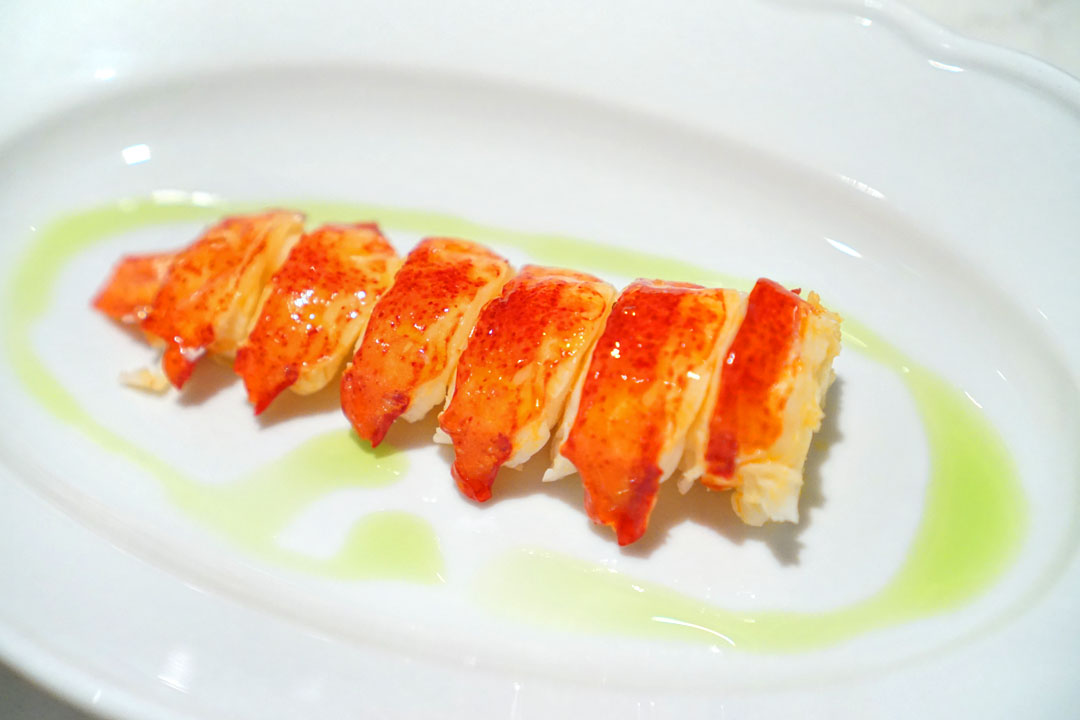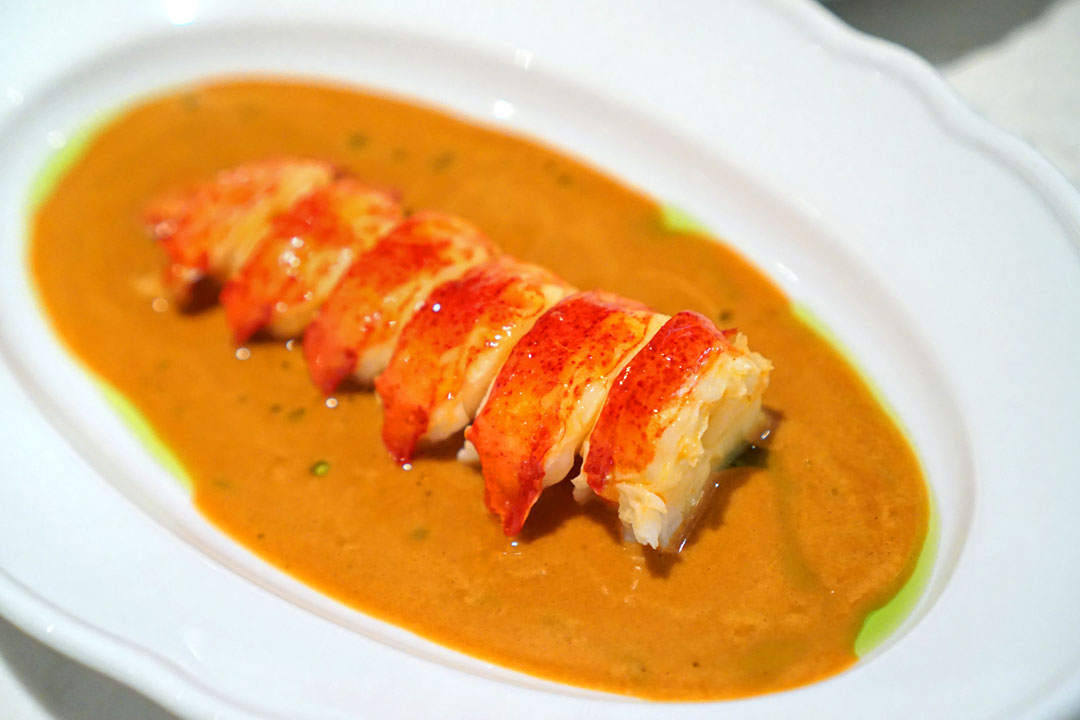 lobster [$90.00]
| coral bisque
The poached lobster tail was just about the most exemplary example I've had, with an immensely gratifying chew and a sweetness that was augmented by the incredible potency of a cognac- and coral-boosted bisque.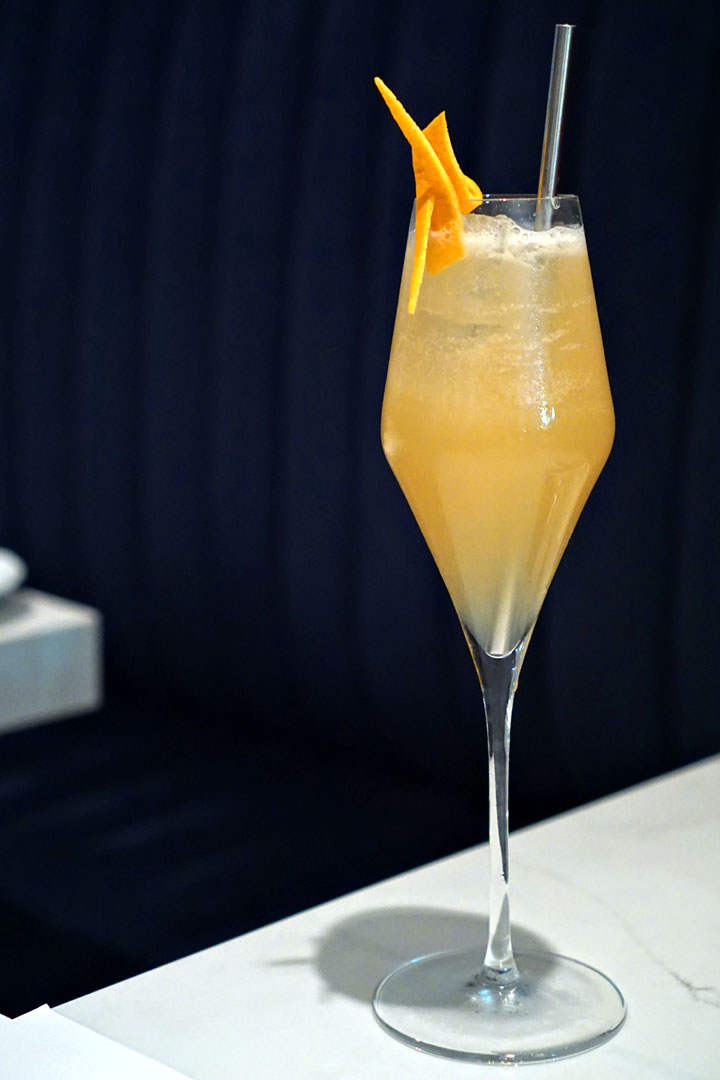 Louvre [$17.00]
| Gin, Aperitif Wine, Passion fruit, Tropical black tea, Lemon, Sparkling Wine
Pictured here is the easiest-drinking cocktail of the night, one with an intense, yet never cloying fruitiness that linked up easily with the black tea, all while gin added some necessary structure and balance to the mix.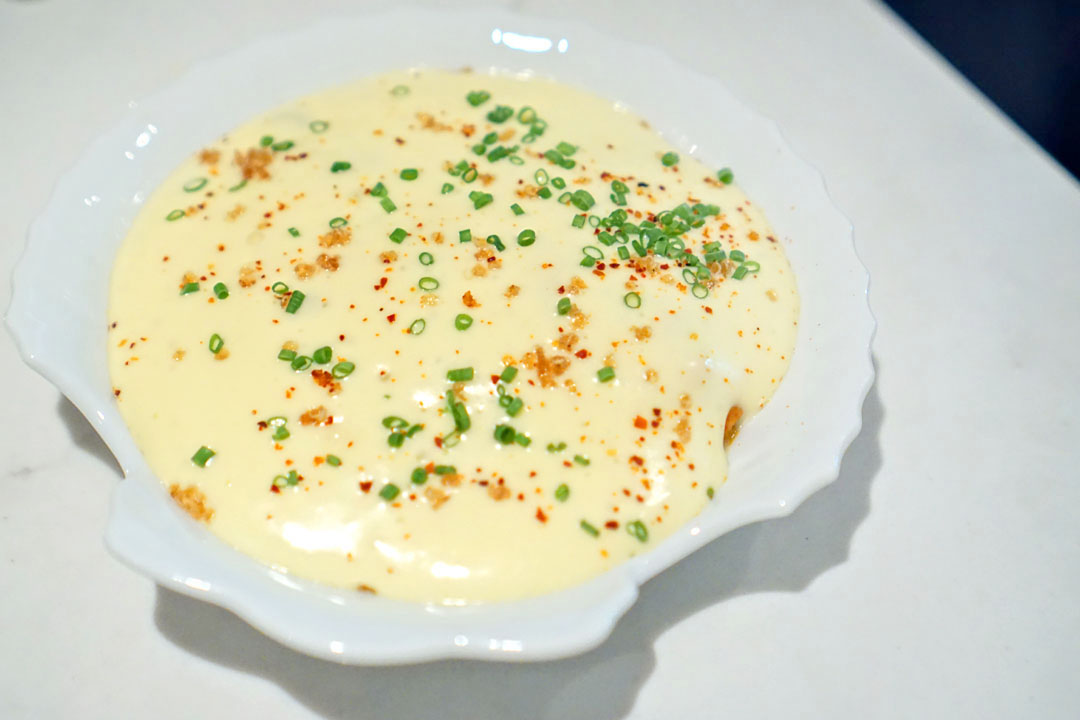 The tail above also came with a lobster salad, which I actually didn't expect. I was pretty damn good though, as the dish's topping of hollandaise seemed to draw out the natural sweetness of the meat, and I thoroughly enjoyed the countering crunch of the quinoa mixed in, too.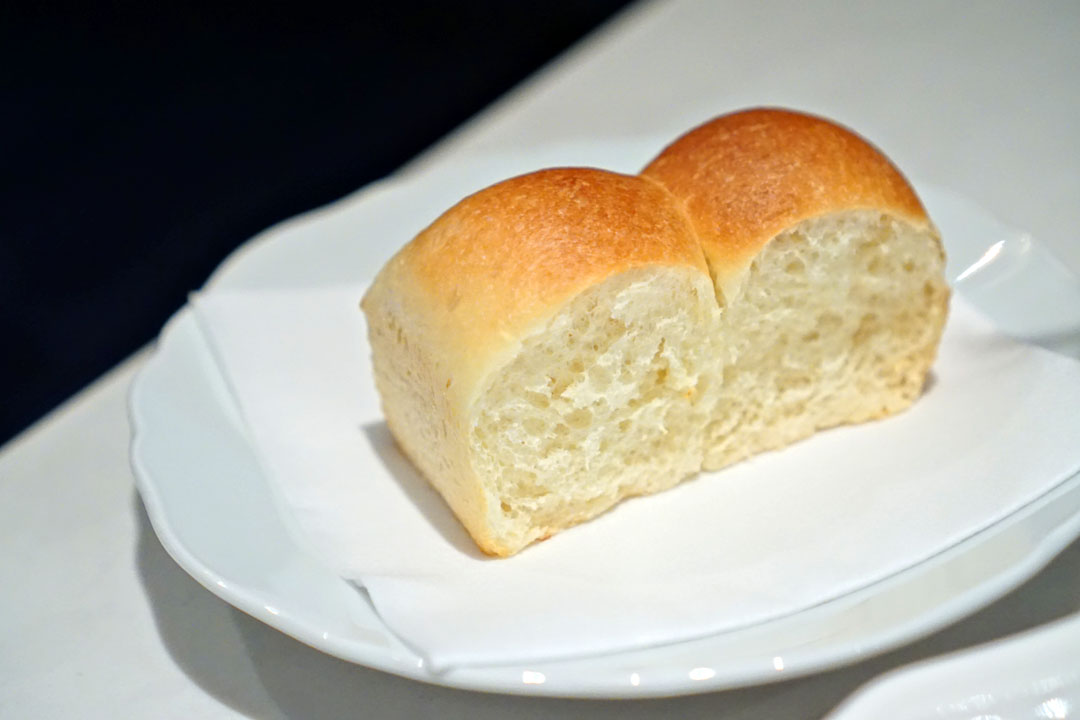 We were also provided some bread to sop up the remaining lobster bisque with, and it served this purpose admirably.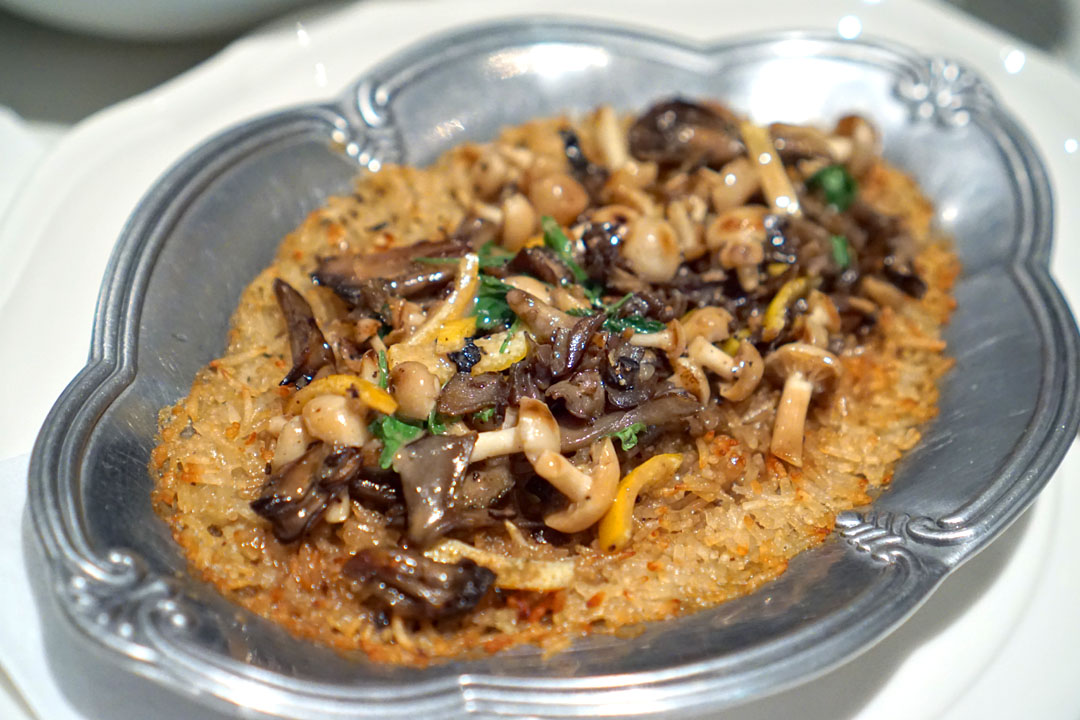 mushroom [$32.00]
| rice, madeira
The star of the show here was the rice, which ate sublimely crispy and tender at the same time, while the dish's South Asian seasoning meshed impeccably with the sheer woodsiness of the 'shrooms. Another surprise highlight.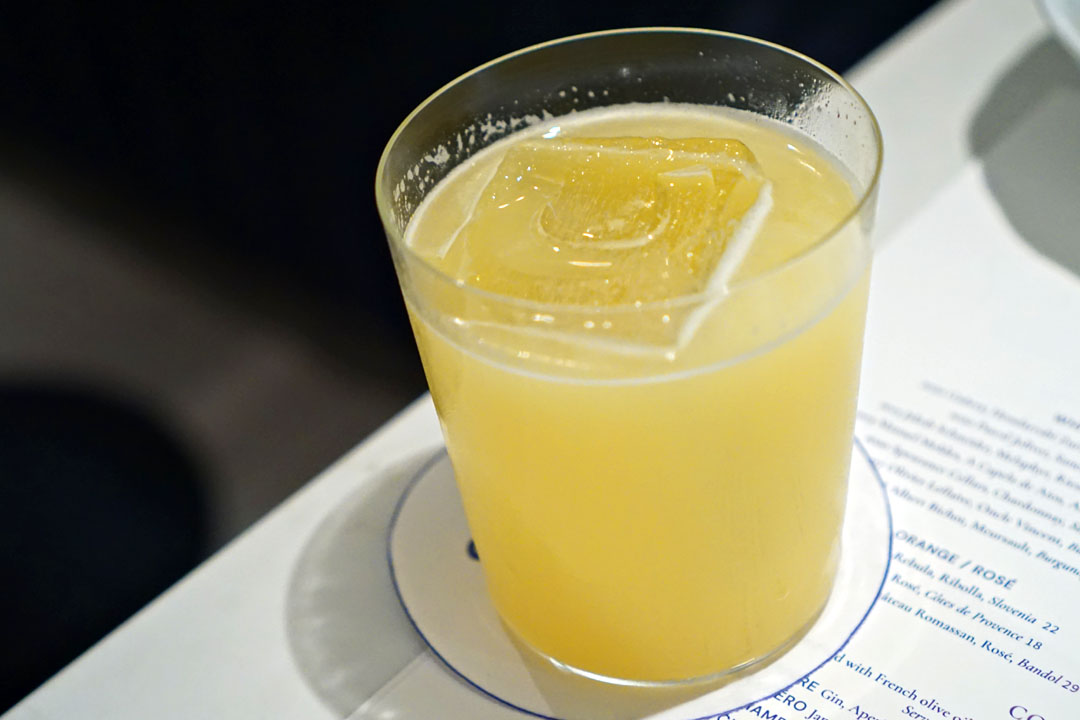 Latin Quarter [$17.00]
| Tequila Blanco, Mezcal, Green Chartreuse, Basil, Semillon Verjus, Tangerine, Egg white
My penultimate cocktail was also to my liking. What stood out the most here was the palpably grape-y nature of the verjuice, which combined unexpectedly well with the Chartreuse, while the duet of agave spirits provided the necessary oomph.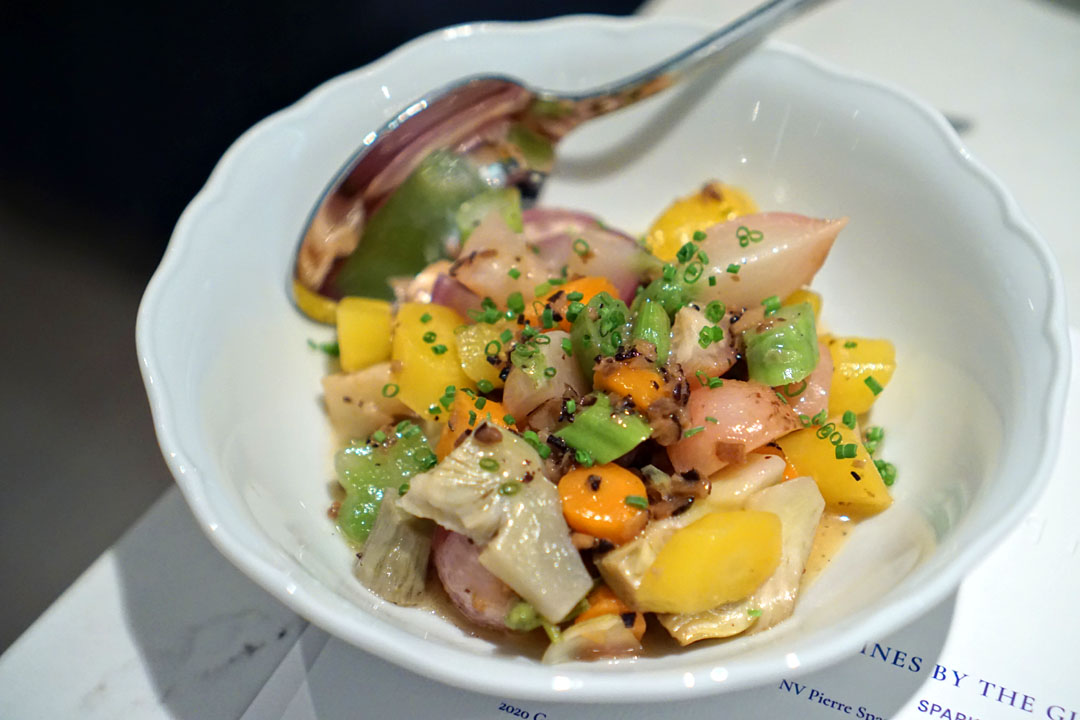 glazed vegetables with truffle [$20.00]
Even in this seemingly simple dish, each and every vegetable was well-presented, well-textured, and took well to the musk of truffle.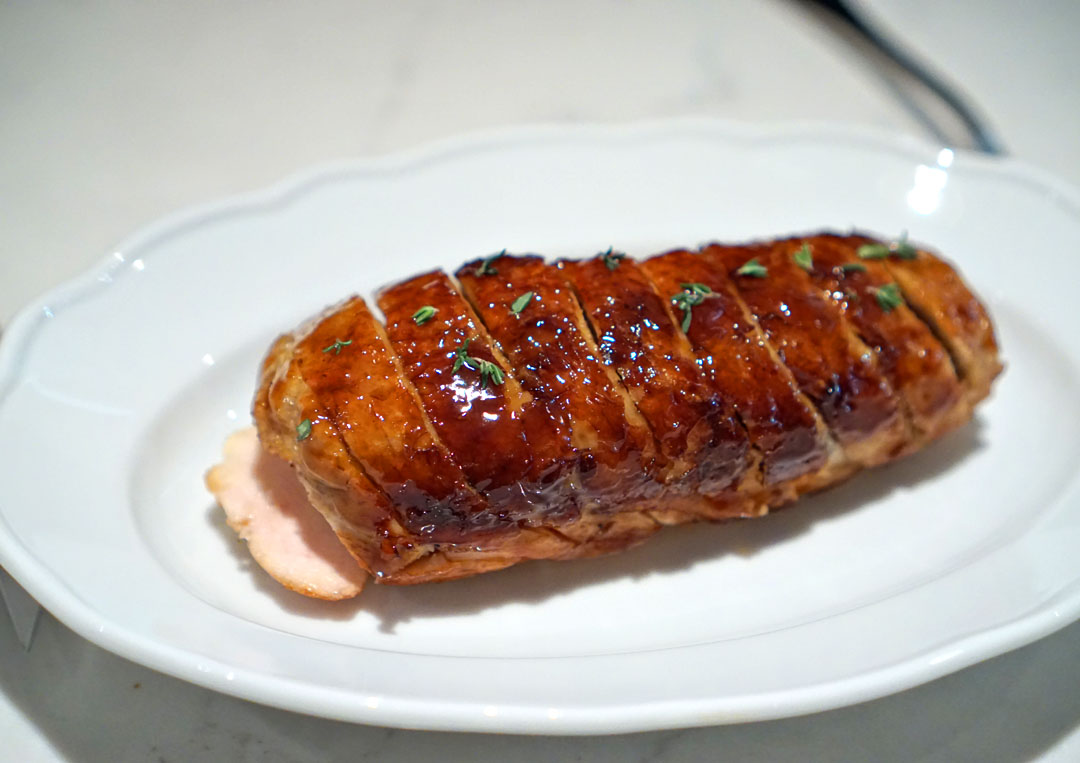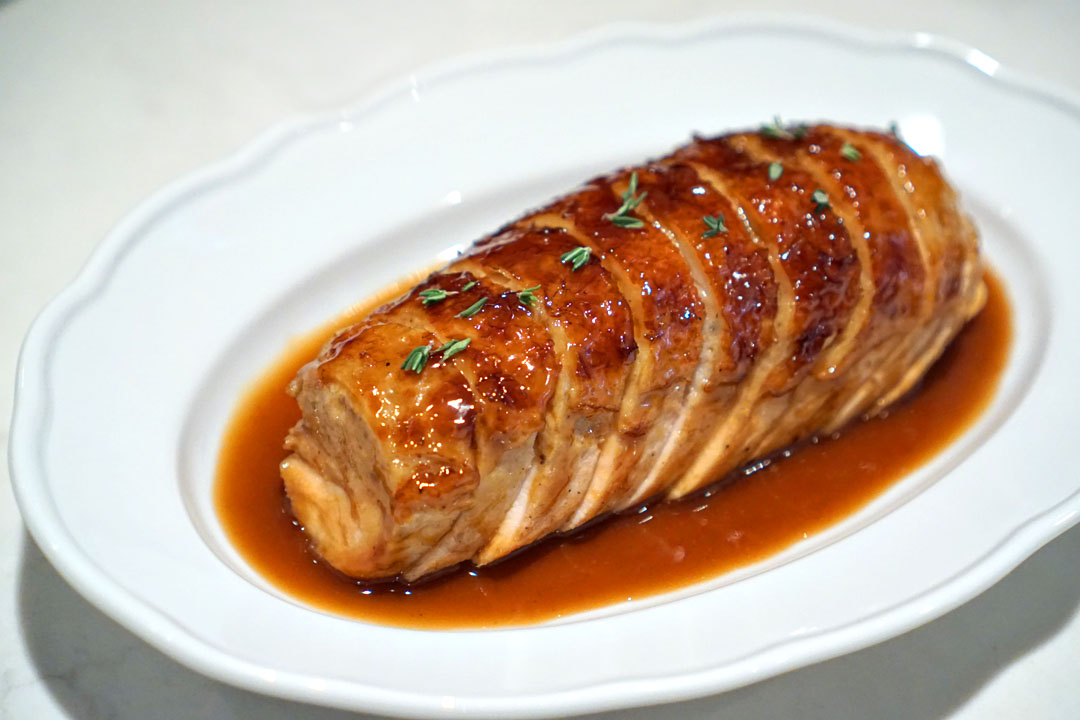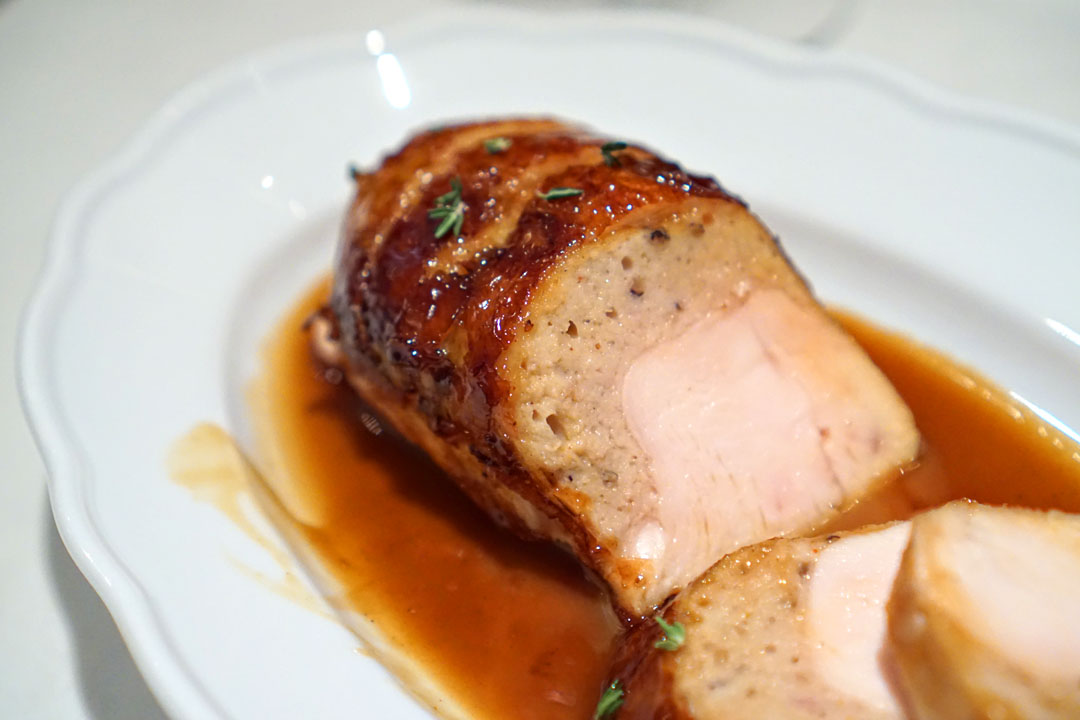 chicken [$40.00]
| thyme, chicken jus
I don't think I've eaten roast chicken like this before, which is a shame, because it was likely one of the best preparations of the bird I've had. Sous vide'd breast was unusually juicy, tender, and flavorful--a feat by itself--but the real hero was the thigh and mushroom mousse, which imparted a wonderful spicing and complexity that truly elevated the dish. Meanwhile, kicking things up yet another notch was that brown butter-thyme chicken jus, which augmented the depth and concentration factor even further.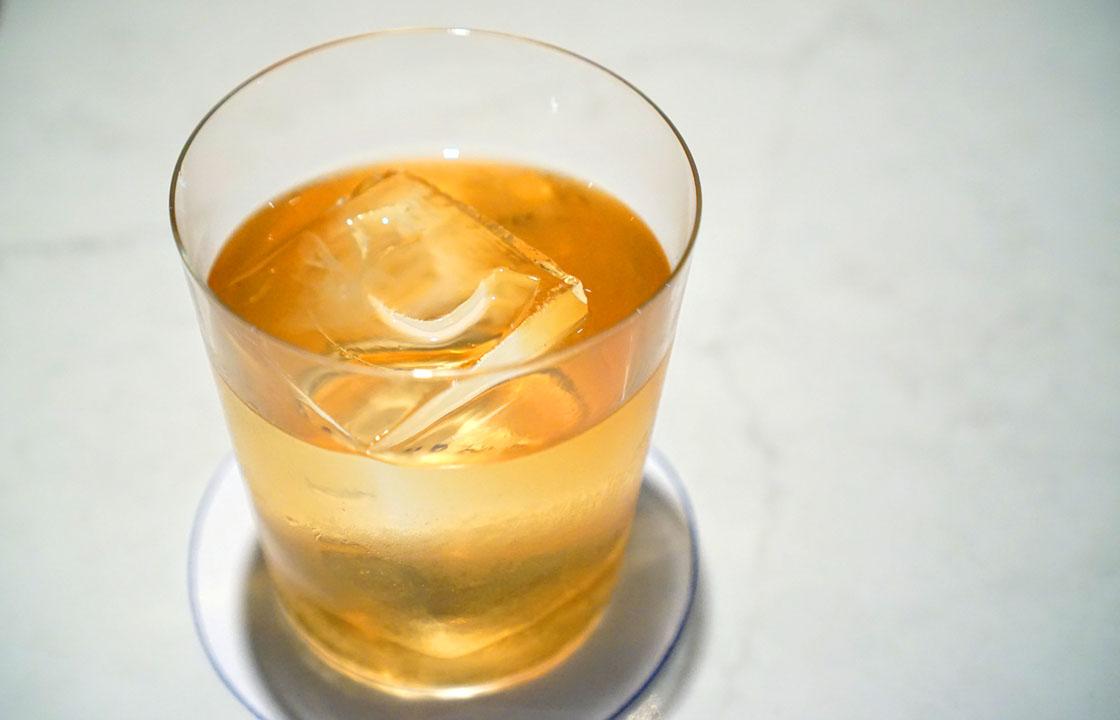 Opéra [$22.00]
| Japanese Whisky, Vermouth Blanc, Amaro, Peach, Mole bitters
My last cocktail was certainly the heftiest of the bunch, and displayed an apple-like sweetness on the nose, while the palate blended delectable nuances of stone fruit and cacao with a plethora of bitter, boozy notes.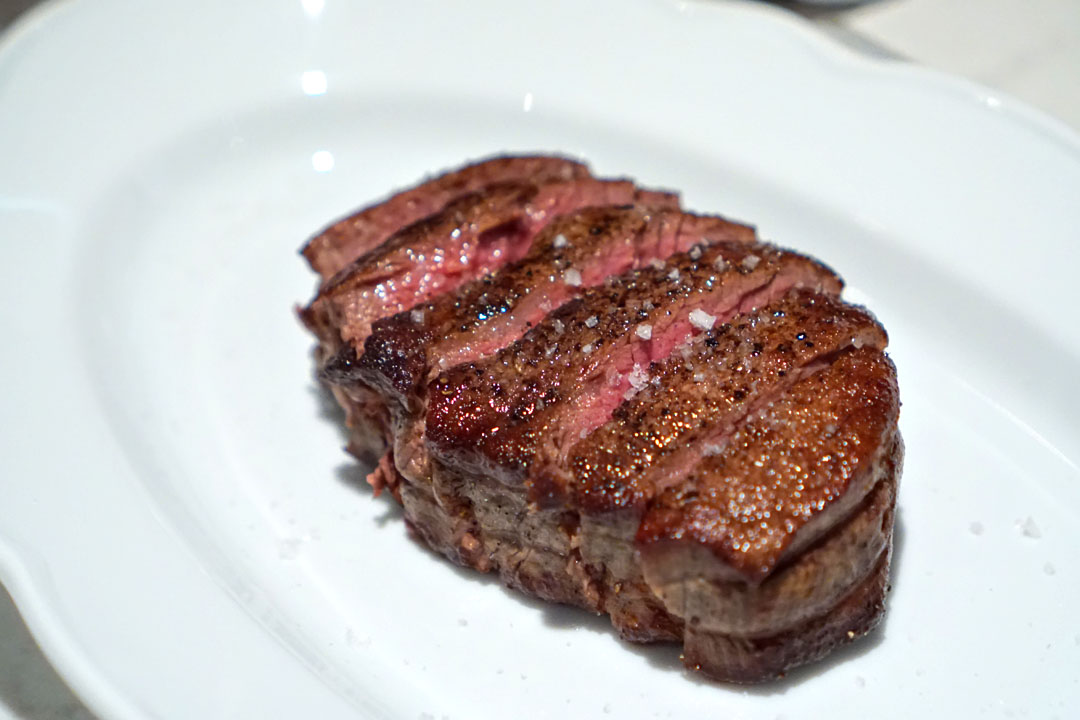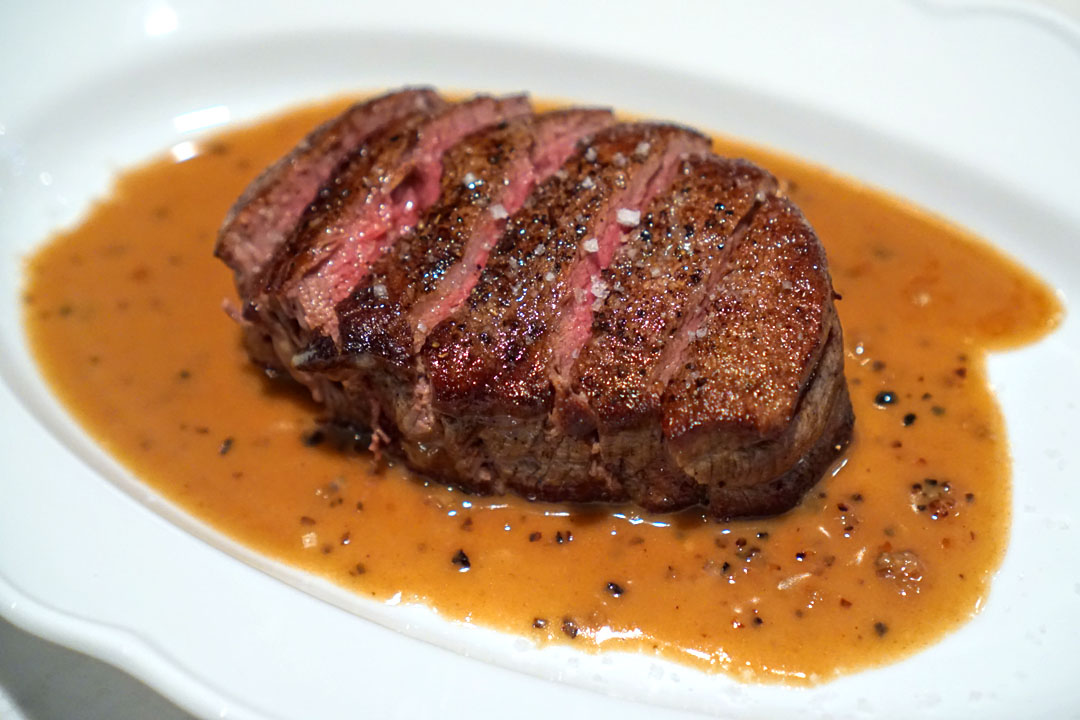 steak [$72.00]
| au Poivre
Our final savory brought out tenderloin, one with a superb sear, spot-on cook, and a refined beefiness that was complemented by a robust black peppercorn cream and well-placed pricks of salt.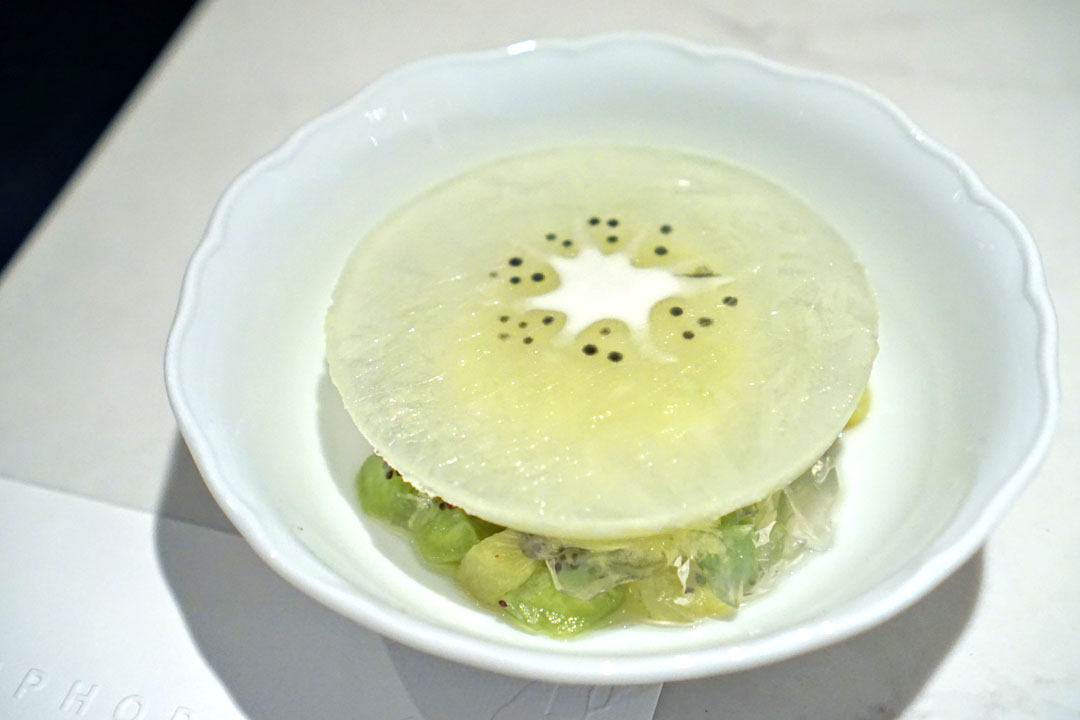 kiwi [$18.00]
| mint
The unmistakable sweet-tang of kiwifruit was nicely conveyed in our first dessert, matching up surprisingly well with refreshing notes of mint, and I was very much into the dessert's array of textures to boot. This was kiwi presented in a way I'd never experienced or could even imagine.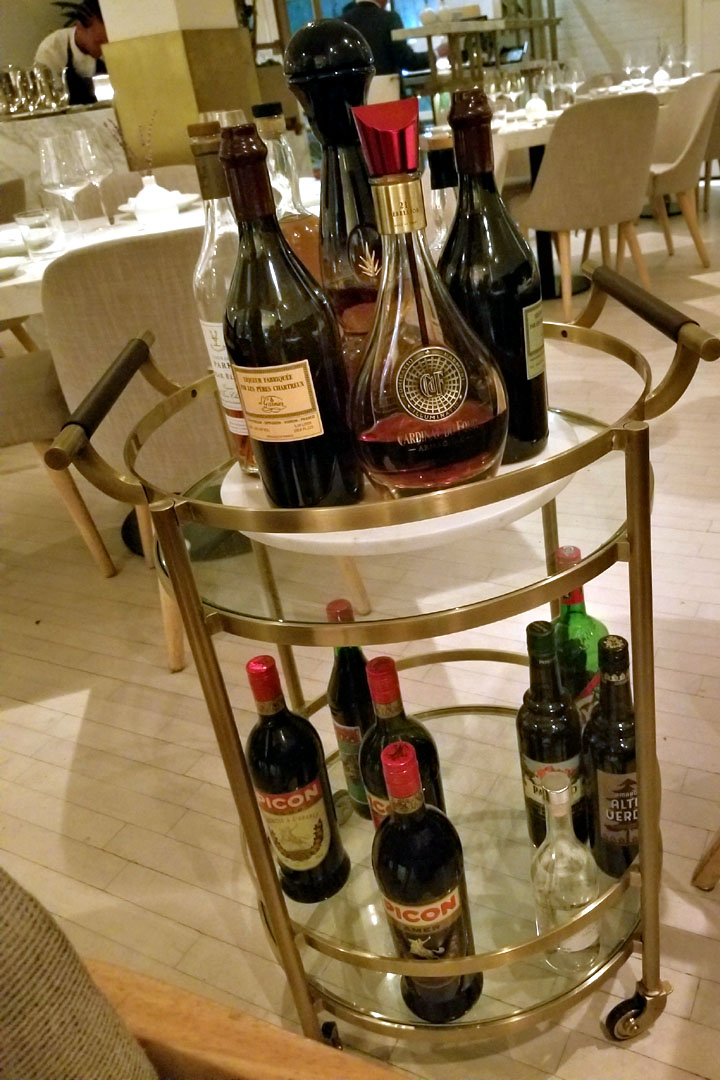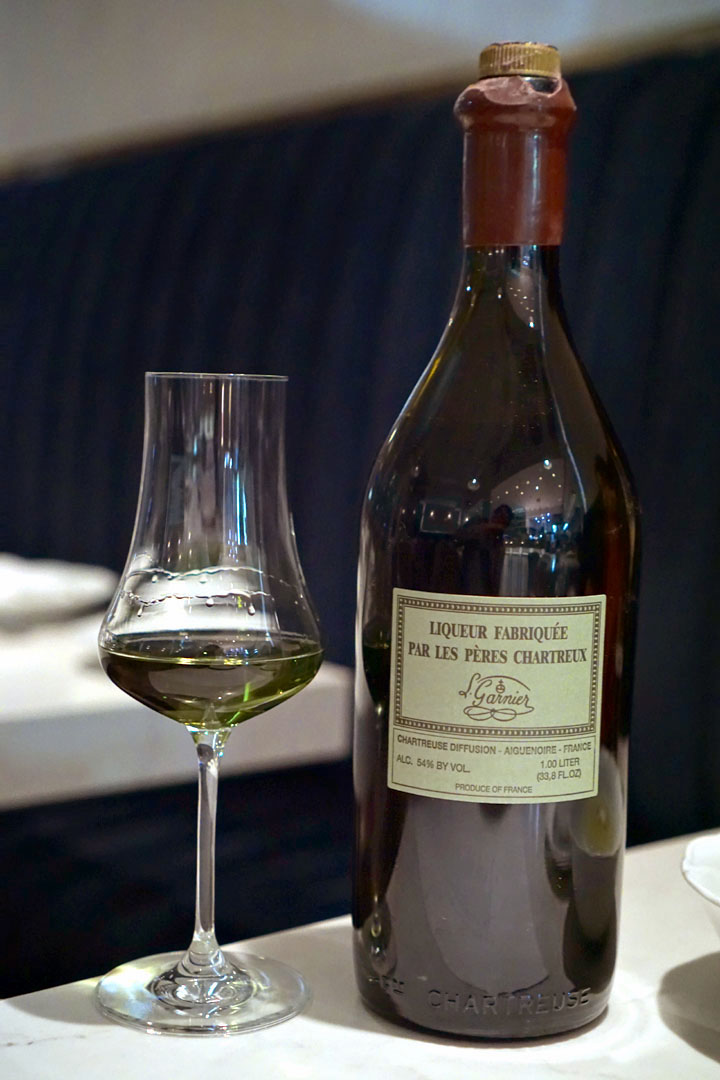 Along with dessert came Camphor's after-dinner drink cart. I was in the mood for a digestif, and opted for a pour of the
Chartreuse VEP Verte [$65.00]
, an extra-aged (10+ years I'm told) version of the standard liqueur. The bouquet here was intense, almost nasal passage-clearing, with loads of herbaceous, piney notes layered over sugary alcoholic heat. On the palate, I found this thick and tongue-coating, its medicinal, minty, spicy nature undergirded by a soft, persistent, countervailing sweetness--power and finesse all rolled into one. This was great, and after trying it for the first time, I now want to buy a bottle for myself.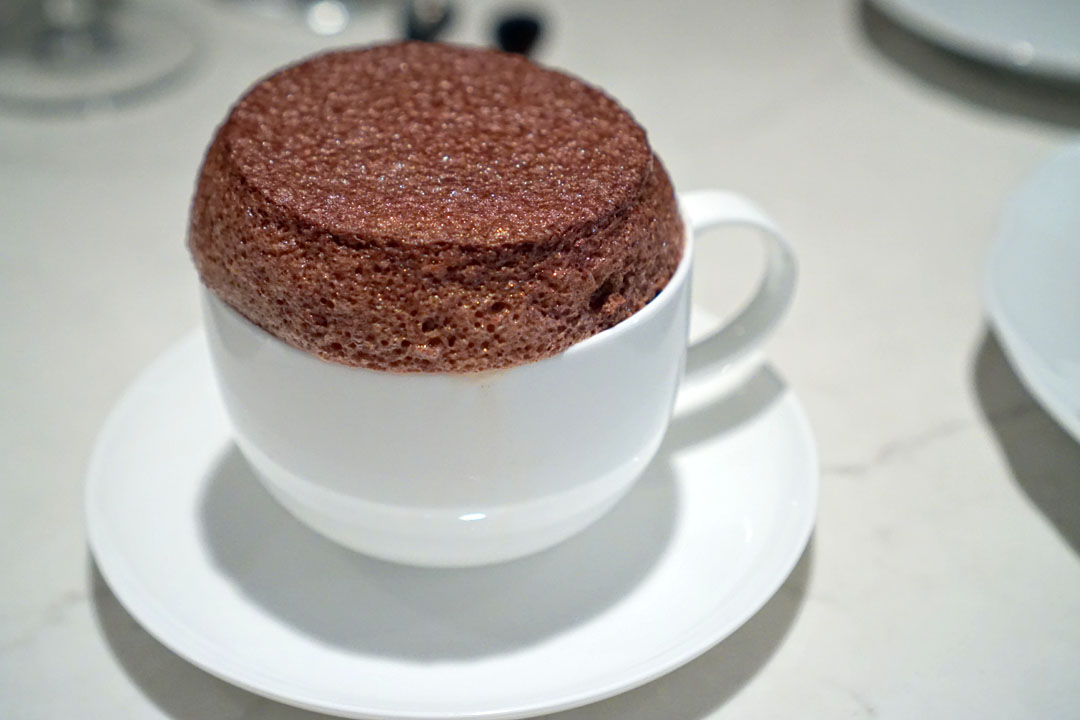 chocolate [$19.00]
| hazelnut
The requisite chocolate dessert may have looked like a soufflé, but was actually something much more special. The amalgam of chocolate and hazelnut was pretty masterful, and I was impressed by the textural play, too. Excellent ice cream as well.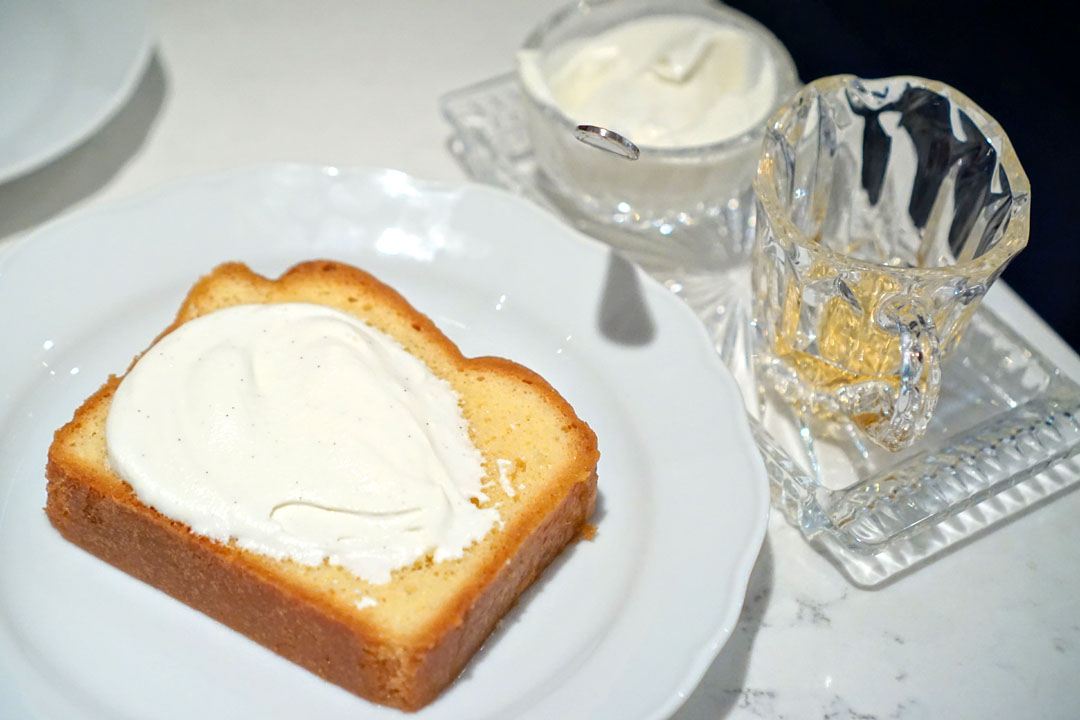 savarin [$28.00]
| choice of alcohol
Essentially a riff on a baba au rhum, the savarin made for a fun ending to our meal. The cake did a good job soaking in all the fruity, boozy goodness of the Smith & Cross rum (recommended by our server), all while the whipped cream tempered the interaction.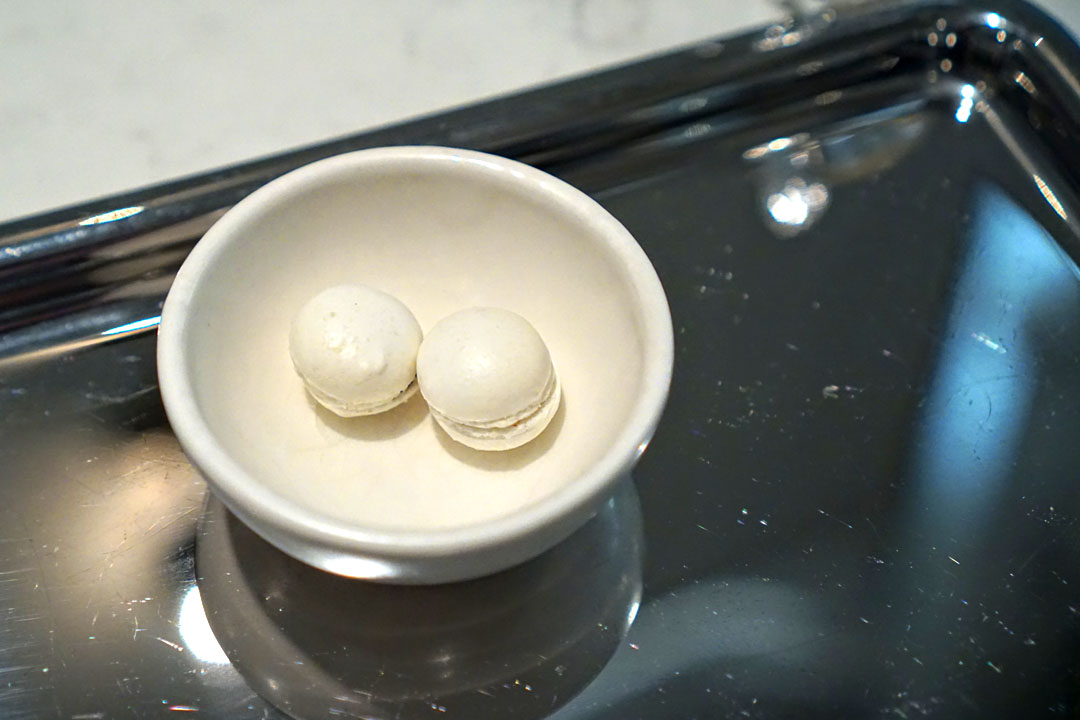 To close: the tiniest macarons I'd ever seen, flavored with tangy lime and filled with rich chocolate ganache.
I was a fan of Nightshade, and was definitely hoping that it'd re-open following its pandemic shutter, but I'm happy to report that Camphor is a fantastic replacement. The cooking here is rooted in classical French, certainly, but it's such a refreshing, elevated, elegant take on the cuisine, one utilizing inspiration from the Chefs' backgrounds in an uncommonly astute manner. Both conceptualization and technique were just about flawless, and I don't think there's anything quite like Camphor in LA. I'm really looking forward to seeing where George and Boonthanakit take things.