Napa Rose (Anaheim, CA) [2]
Napa Rose
1600 S Disneyland Dr, Anaheim, CA 92802
714.300.7170
disneyland.disney.go.com/disneyland/en_US/hotels/dining/detail?name=NapaRoseDiningPage
Sun 11/25/2007, 07:45p-09:35p
This was my third visit to Napa Rose, which actually came about rather spontaneously (the original plan was to go to
Grace
). My previous visit was documented
here
and covers the basics of the restaurant. So with that out of the way, we'll jump right into the victuals.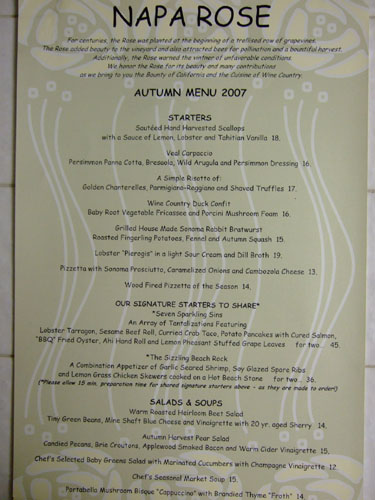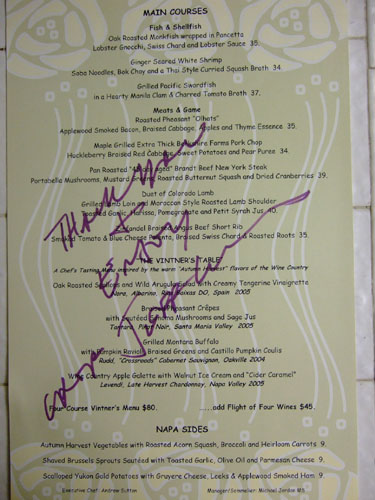 Compared to the last menu, this one is quite different, with only a few items repeated. I definitely appreciate a changing menu, as it tends to keep things novel and me wanting to come back. Executive Chef Andrew Sutton wasn't in this night, so the menu was signed by Sous Chef Jeffrey Cummins. Click for larger versions.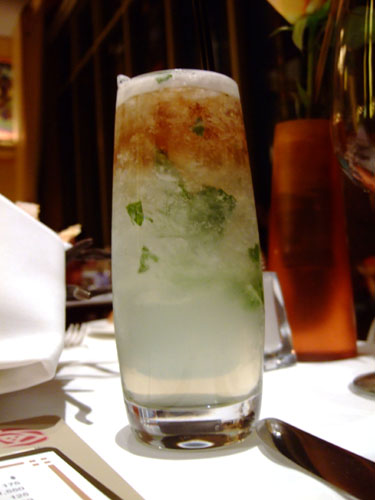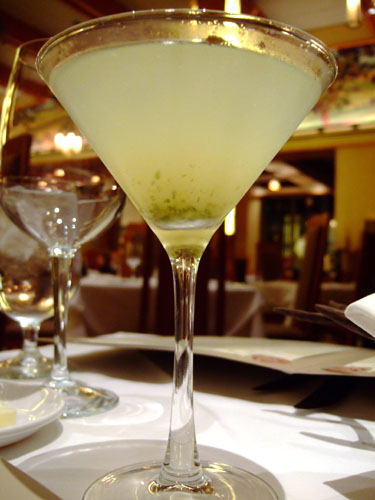 Of course I started with a mojito, which seemed to have something extra mixed in, I'm not sure what. In any case, it was definitely more balanced than the example I had on my previous visit. My dining companion had a cucumber martini; I was a bit skeptical at first, but it turned out to be one of the best martinis I've had in recent memory.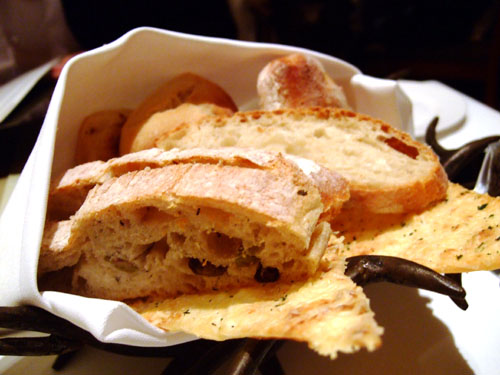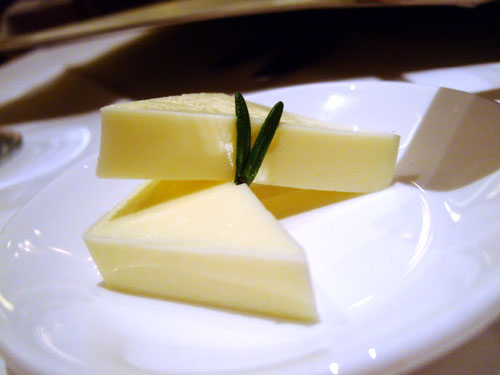 Four types of bread were offered: crispy flatbread, ciabatta, French, and olive, my favorite being the flatbread once again. Butter was smooth and spreadable.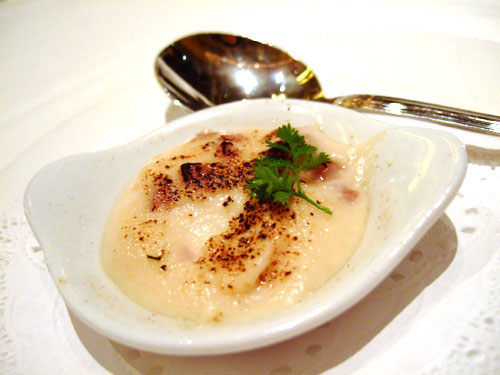 Amuse Bouche: Sweet & Savory Parsnip Apple Purée
With Sage and Ham. I'm not usually a fan of mixing sweet and savory (hence my disdain for Hawaiian pizza), but this worked out surprisingly well, perhaps because the apple and parsnip flavors didn't quite come to the forefront as disparate savors.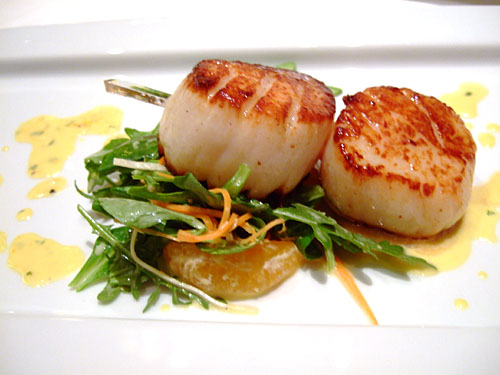 1: Oak Roasted Scallops
Nora, Albarino, Rias Baixas DO, Spain 2005
With Wild Arugula Salad with Creamy Tangerine Vinaigrette. The scallops were quite generous in portion, fresh, and seared rare, with a firm, yet resilient texture. The avocado added a creamy tactile element, while the bitterness of the arugula and the tartness of the vinaigrette balanced the sweetness of the scallop. The Albarino was crisp and refreshing, delivering floral notes and hints of stone fruit from nose to finish.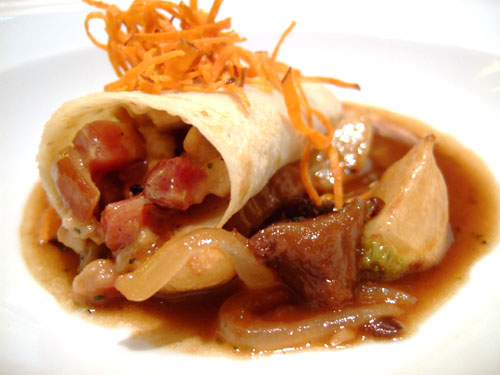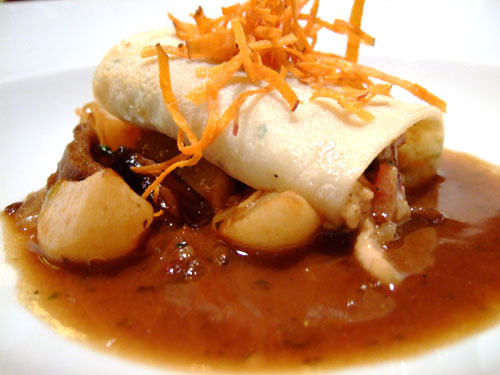 2: Braised Pheasant Crêpes
Tantara, Pinot Noir, Santa Maria Valley 2005
With Sautéed Sonoma Mushrooms and Sage Jus. I found the pheasant intense and powerful, with a strong smokiness to it. It was not too far off from chicken, though it definitely had a "wilder" taste to it. A rich dish like this deserves a wine that can stand up to it. The Tantara fit the bill nicely, and was a relatively dry example of the varietal, with expressions of earth, tobacco, and dark fruit.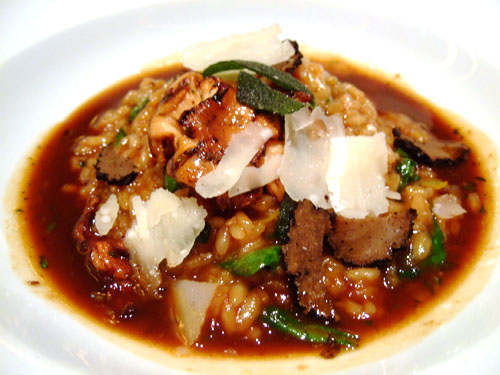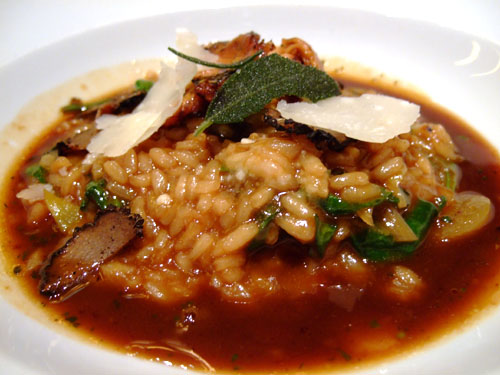 Supplement: A Simple Risotto
Of Golden Chanterelles, Parmigiano-Reggiano and Shaved Truffles. The texture of the risotto wasn't as smooth or slick as it could be, though I appreciated the application of Parmigiano-Reggiano and truffles, which added a loamy richness to the already luxurious dish. This wasn't as good as the example I had at
Patina
(which was a revelation), but I quite enjoyed it nevertheless.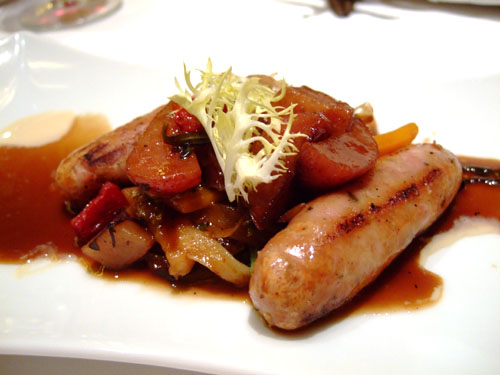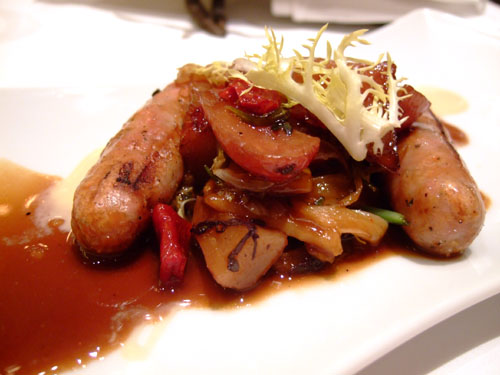 Supplement: Grilled House Made Sonoma Rabbit Bratwurst
With Roasted Fingerling Potatoes, Fennel and Autumn Squash. The brats tasted almost exactly like what I expect bratwurst to taste like; if I didn't already know, I wouldn't have guessed that this was rabbit. That being said, these were quite delicious and left me wanting more, though I didn't particularly care for the squash.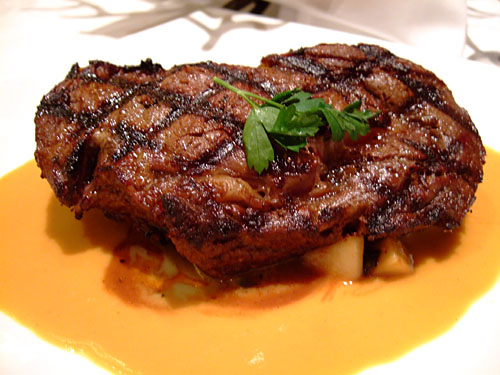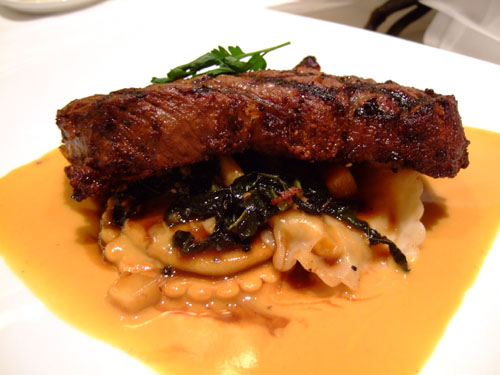 3: Grilled Montana Buffalo
Rudd, "Crossroads" Cabernet Sauvignon, Oakville 2004
With Pumpkin Ravioli, Braised Greens and Castillo Pumpkin Coulis. Did you know that what we call "buffalo" in the US is actually bison? Not that it matters. I've had bison filet mignon before, which I found to be tougher and less flavorful than the equivalent steak cut. This cut was actually fairly tender, though it still lacked the sumptuousness than a traditional steak has. The Rudd proved to be a worthy complement, but the restaurant actually ran out before two glasses could be fully filled. Thus, the 2005 Caymus Cabernet Sauvignon was substituted instead. I'd say the Caymus was more mellow, yet more complex, with silkier tannins. More of a thinking man's wine actually, as compared to the more fruit-forward Rudd.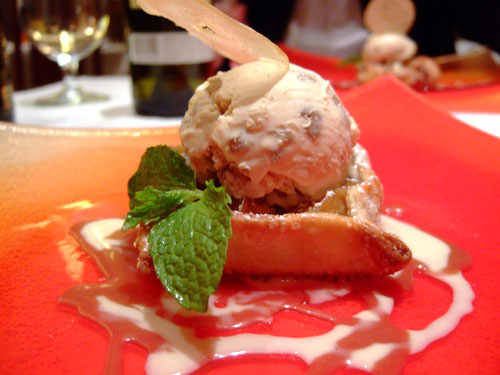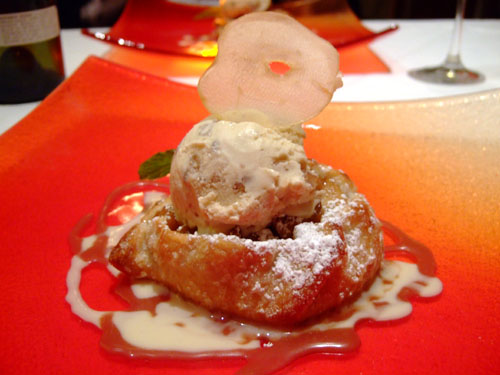 4: Wine Country Apple Galette
Levendi, Late Harvest Chardonnay, Napa Valley 2005
With Walnut Ice Cream and "Cider Caramel." I'm usually not a huge fan of apple tarts, but rather enjoyed this. The walnut flavors in the ice cream were subtle rather than overbearing, which I definitely preferred as I'm not fan of the nut. Overall it didn't have an in-your-face sweetness but rather provided a soft interplay between the different complementing flavors and textures on the plate. The same thing could be said of the Levendi late harvest, actually. Neither dessert nor dessert wine outshined each other.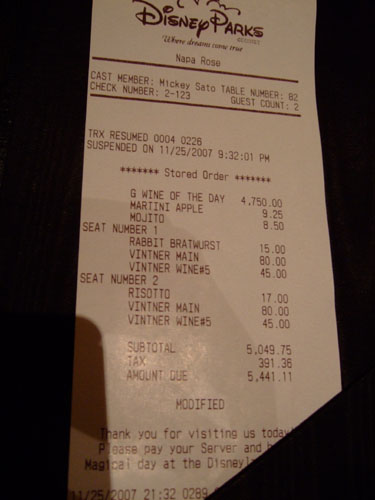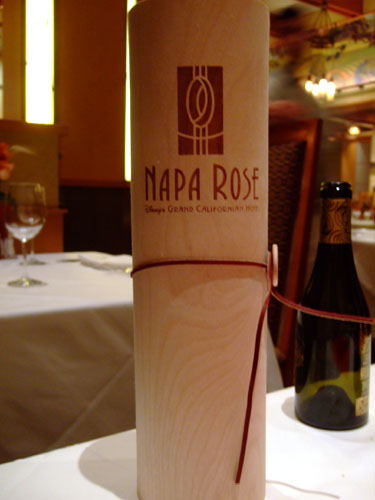 I present to you the largest tab I've ever had at a restaurant (by a huge margin). That must have been some "wine of the day!"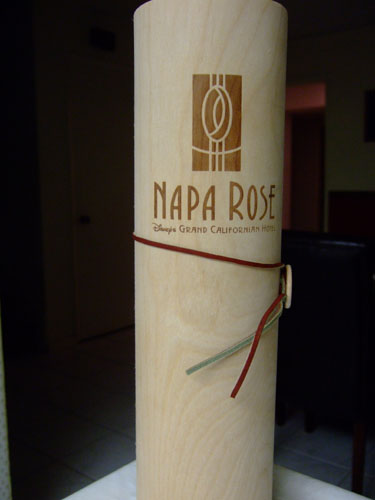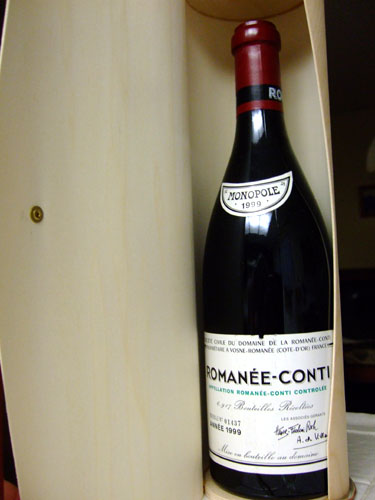 Indeed it was. But what was it? None other than a 1999 DRC Romanée-Conti. Believe it or not, $4,750 is actually a fantastic price for the bottle, as it routinely sells for more than $7,000. Purchased more as an investment than an imbibement, this wine is far too precious to drink right now. Here's what preeminent wine critic Robert Parker has to say about this effort:
The medium to dark ruby-colored 1999 Romanee-Conti is mind-boggling. It has a hugely expressive nose of super-ripe black cherries, candied plums, and violets. Full-bodied and possessing a magnificent breadth of sweet, penetrating fruits, this is an unbelievably complex wine. It coats the palate with its velvety sweet cherries, jammy blackberries, and fruit-soaked tannin. Perfectly balanced and seamless, this gem has a remarkably long finish. This is a wine of exemplary precision, delineation, and power with undescribable class and refinement. - 99 points
Much of what I concluded about Napa Rose in my previous blog could be repeated here. However, I am happy to report that service this time around was markedly improved.