Seol Ak San (Stanton, CA)
Seol Ak San
12140 Beach Blvd, Stanton, CA 90680
714.799.7977
www.yelp.com/biz/seol-ak-san-stanton (Yelp, restaurant has no web site)
Sat 04/04/2009, 06:20p-08:10p
You know, I think this is the first time I've written about Korean BBQ on this blog (obviously, I've
had
it before, but just haven't blogged about it). What happened was that
Wandering Chopsticks
(who I hadn't seen since
Fogo de Chão
) had organized a small get-together (Seol Ak San is her favorite KBBQ is Orange County), and invited me, Fiona of
Gourmet Pigs
, and Mike of
Right Way to Eat
.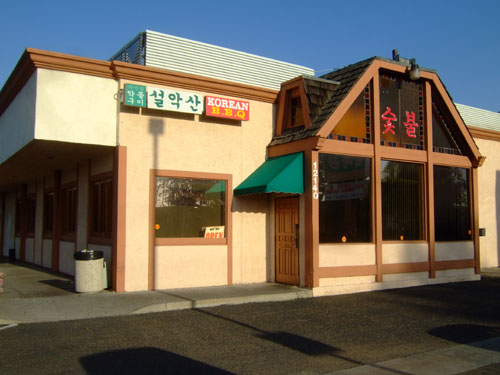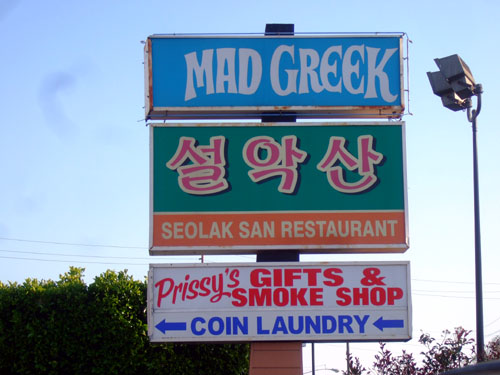 The restaurant is located on Beach Blvd in Stanton, away from "Little Seoul," the epicenter of Korean activity along Garden Grove Blvd (between Beach and Brookhurst). There's a parking lot out front, but if that's full, there should be plenty more in the back. As for the name, Seol Ak San is named after the highest mountain in the Taebaek range, situated in eastern South Korea in Gangwon province. The mountain is more commonly spelled
Seoraksan
, and is well-known for its bucolic beauty, especially during autumn.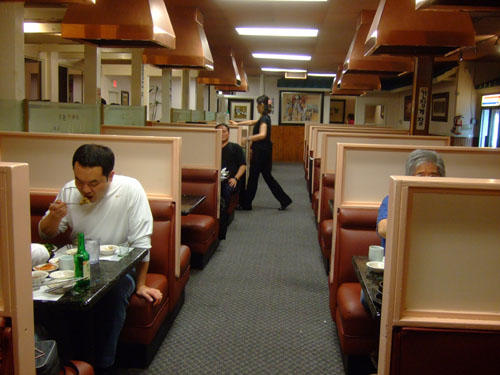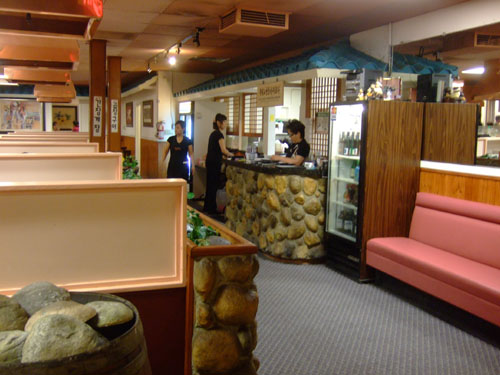 The interior is somewhat dated, but comfortable (I wasn't exactly expecting much). The space consists mostly of booths (four-seaters), but there are also stand-alone tables (for larger parties).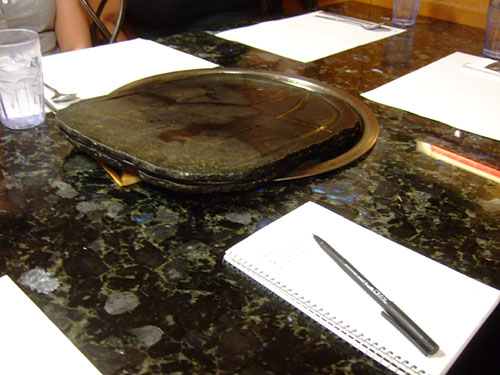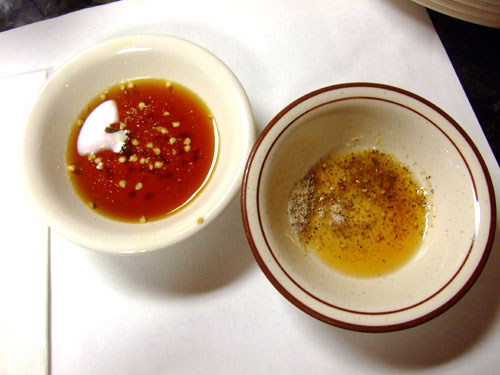 What the restaurant is most famous for it its use of stone slabs to cook the meat (heated by a gas burner, not charcoal); I don't think I've ever seen this method employed at any other Korean BBQ restaurant. Apparently, this lessens the smoke and grease imparted to the cooked meats. Two sauces were provided from the get go; I believe they were a soy sauce/vinegar/chili pepper sauce and a sesame oil/salt/black pepper sauce.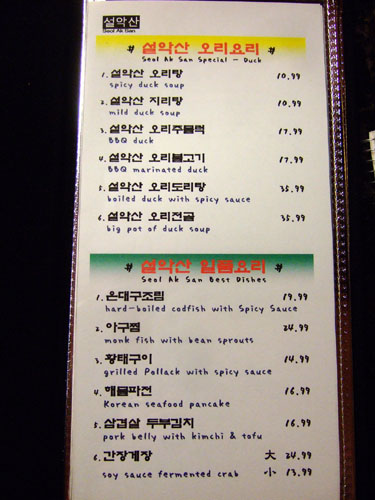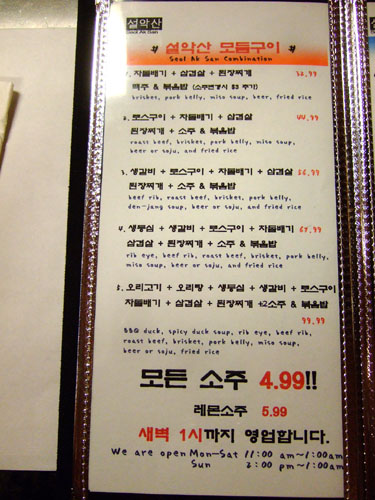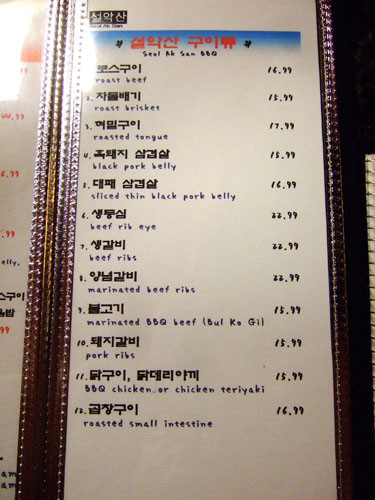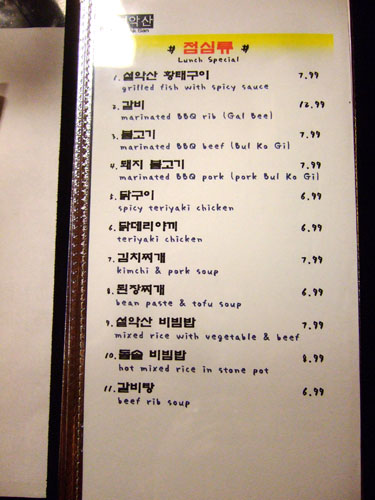 Seol Ak San's menu is shown above; click for larger versions. The restaurant is known for its duck, a rather uncommon ingredient among Korean eateries.
I'll begin with a run-through of the banchan, or side dishes, that we were given. I was hoping to see
gae jang
(spicy marinated raw crab, which Wandering Chopsticks had told me about), but alas, it wasn't there.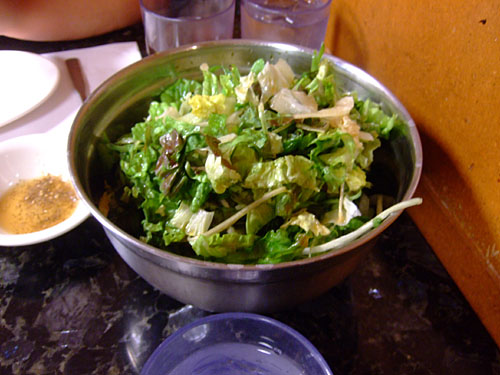 Lettuce Salad
Ok, this technically isn't considered a banchan, but we were first given a bowl of salad to start. It wasn't anything special, but did provide a light, refreshing contrast to some of the heavier dishes we had.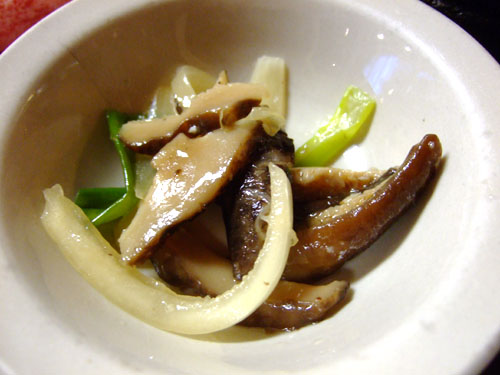 Buh Sut Jo Rim
The mushrooms were served with scallion, and I believe they were also marinated in sesame oil.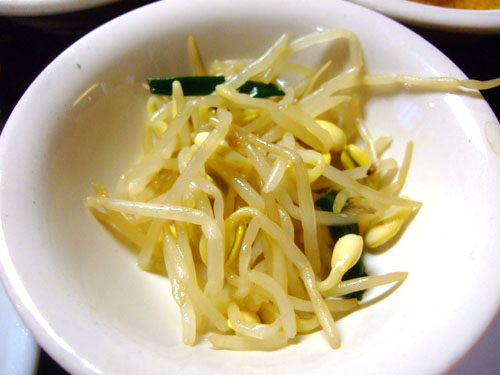 Kongnamul
One of the most popular banchan,
kongnamul
is simply boiled soybean sprouts and green onions doused in sesame oil, served cold. Nice and crunchy, as expected.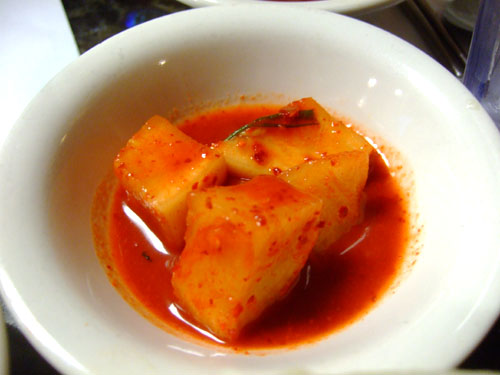 Ggakdugi
A type of kimchi,
ggakdugi
is made from
mu
(daikon) instead of the typical cabbage. I usually find it a bit milder than standard kimchi, and I really like its crunchy texture. Nice!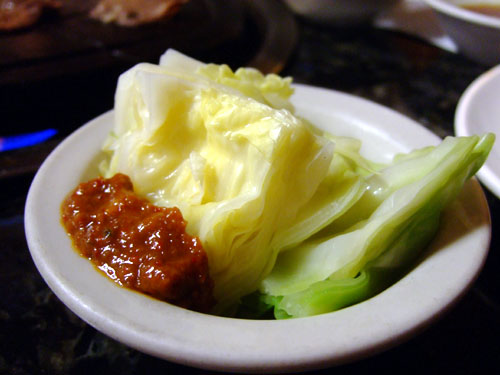 Cabbage with Doenjang
A simple dish of cabbage, accompanied by
doenjang
(literally "thick paste"), a Korean fermented soybean paste. I expected a bit more from this dish, as I found the cabbage lacking in crispness, and the
doenjang
a bit too overpowering.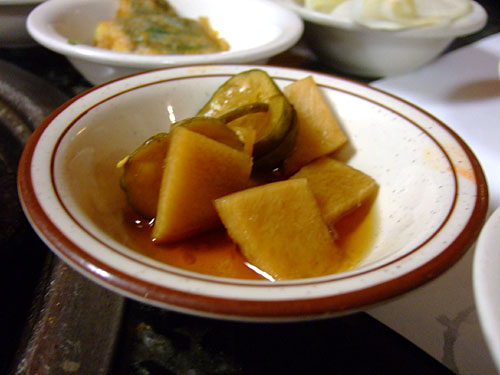 Mu Jo Rim
This was
mu
(daikon), mixed with cucumber, both marinated in soy sauce. It was one of the weaker banchan of the night.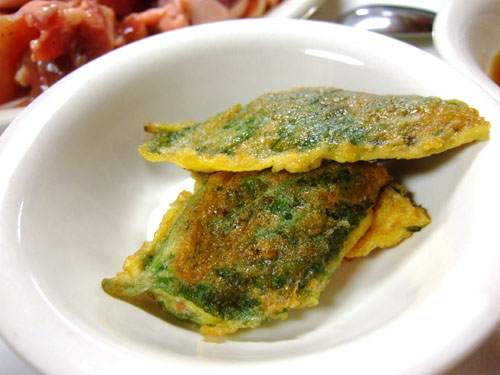 Kkaennip Jeon
I'm not 100% sure of the name here, but I believe this was a
jeon
(egg batter pancake) made with
kkaennip
, or perilla leaves. Interestingly, though
kkaennip
means "sesame leaf," the plant is not related at all to sesame. It was actually my favorite banchan, with the leaves adding a nice tang to the rich, delicious egg batter.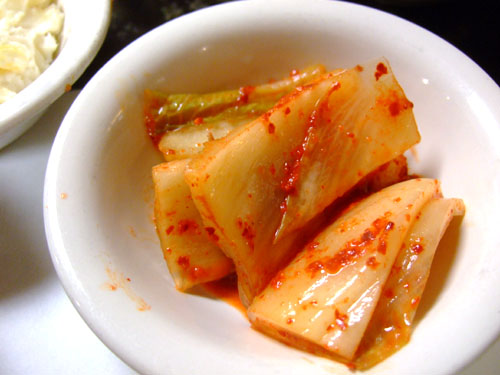 Baechu Kimchi
The quintessential banchan, we have here
baechu
kimchi, made with Napa cabbage. Spicy, salty, and crisp: the way it should be.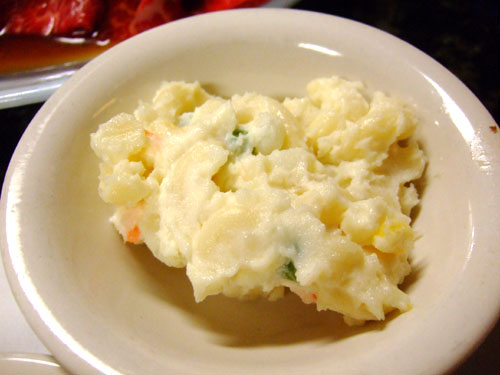 Gamja Salad
Korean-style potato salad is always something I look forward to, and this example did not disappoint.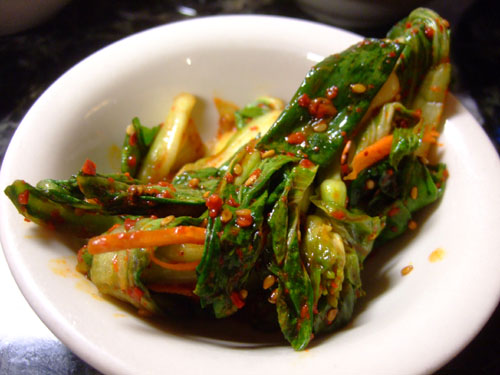 Gut Juh Ri Kimchi
This was an unfermented preparation of kimchi, made right away and meant to be served quickly. Compared to the normal variety, it was quite a bit spicier, with a texture that was obviously more "leafy." Quite good.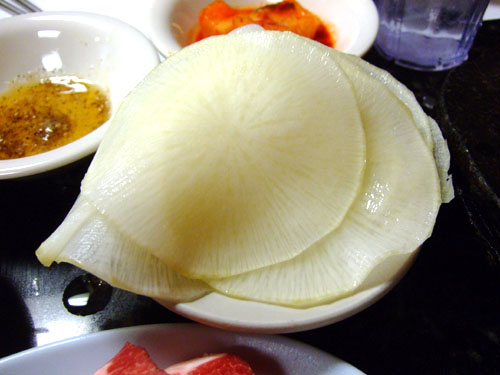 Sliced Mu
Instead of
dduk bot sam
(rice noodle paper), two plates of sliced
mu
(daikon) were presented for us to wrap the meats with.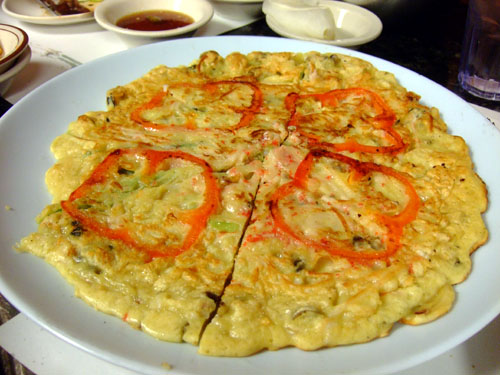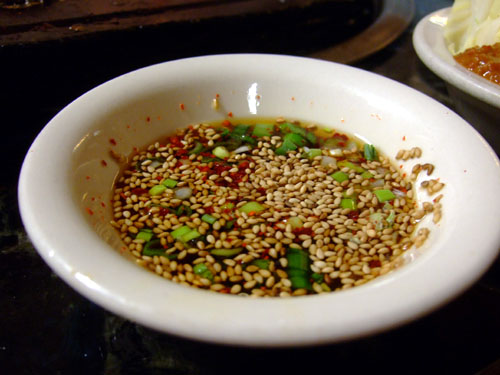 Korean Seafood Pancake [$16.99]
This was a
haemul jeon
, or pancake with seafoood (compared to a
saengseonjeon
, a pancake made
only
with fish), served with a sesame sauce. I really enjoyed this one, savoring the interplay between the different tastes and textures present in the pancake. Each component was apparent on its own, but the whole amalgam was well-integrated. Delicious.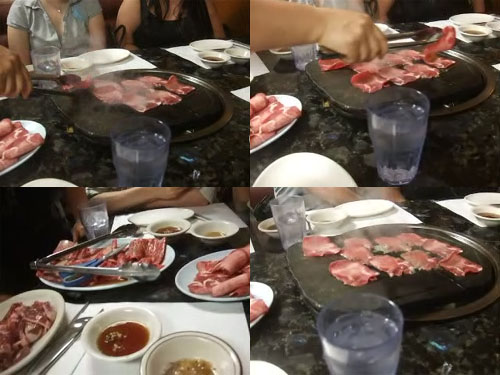 With the formalities out of the way, it was time to get grillin'. The waitresses at Seol Ak San do most of the cooking for you, and in the video above, we see the first round of tongue going on the stone.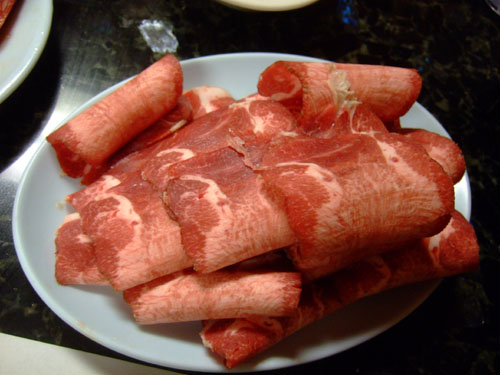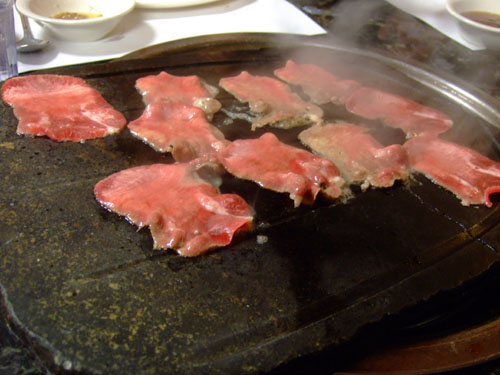 Roasted Tongue [$17.99]
The tongue had a slightly rubbery texture, which I expected, but was a bit tougher than I'd like. The flavor was actually quite strong and unctuous, slightly reminiscent of foie gras in fact. Decent, but not as good as the tongue I've had at
Totoraku
or
Tsuruhashi
(granted, those are Japanese
yakiniku
places, not strictly Korean BBQ).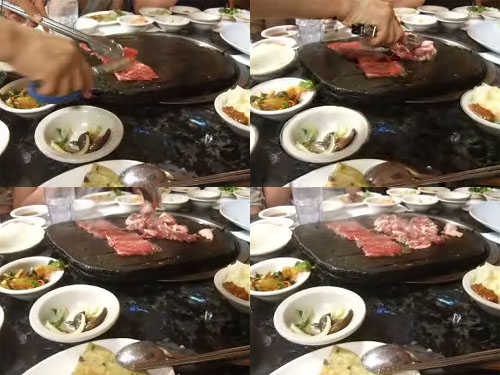 In this video, we see our waitress cooking up some galbi and duck.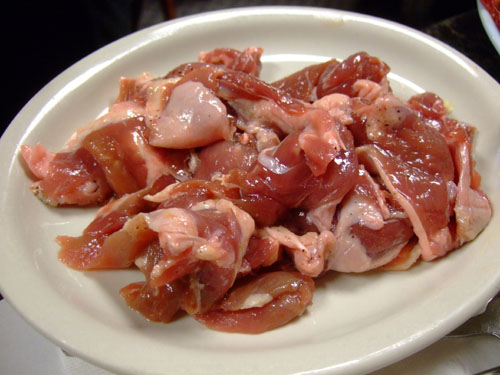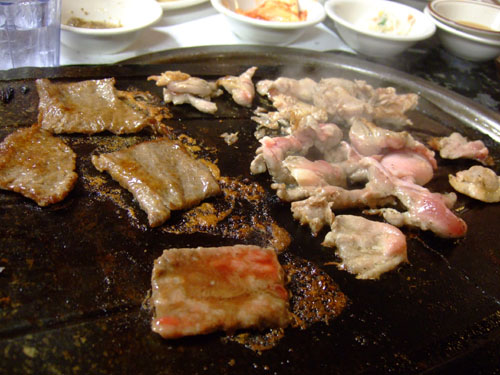 BBQ Duck [$17.99]
Seol Ak San is known for duck, so we had to try some. The duck didn't appear to be marinated, which may explain the rather weak flavor. Some sauce would really help here. I did however, enjoy its soft, tender, texture.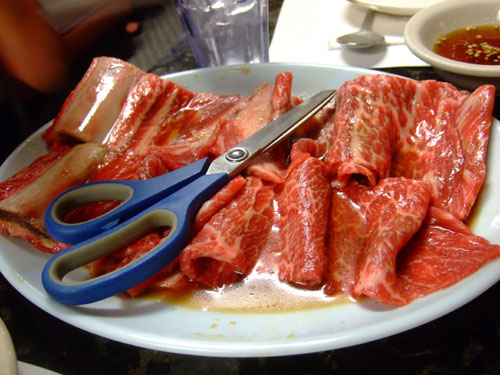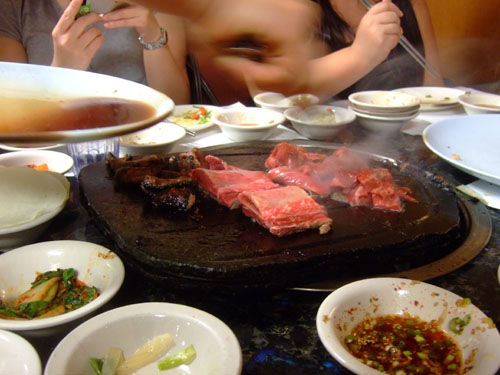 Marinated Beef Ribs (Galbi) [$22.99]
The meat of preference for many, galbi is basically marinated beef short ribs. Galbi, or kalbi, is typically flavored with a concoction consisting of
ganjang
(Korean soy sauce), garlic, and sugar. The result is a delightful flavor that pits sweet against savory--nice. The marbling of the meat was sufficient to give it a good amount of juiciness, but some pieces were overly tough.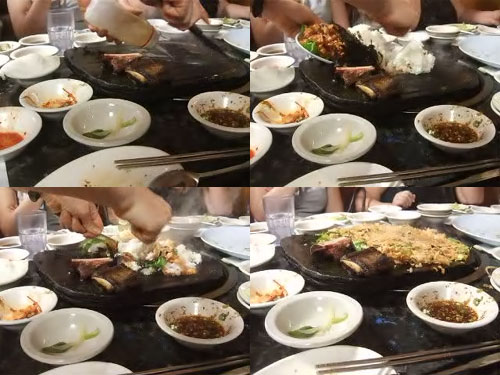 The
pièce de résistance
of a meal at Seol Ak San is the making of the
kimchi bokkeumbap
, or kimchi fried rice. The video shows the process of cleaning the grilling surface and the mixing of the various ingredients. Beware: I hear that if you have rice along with your barbequed meat earlier in the meal, you will not get this.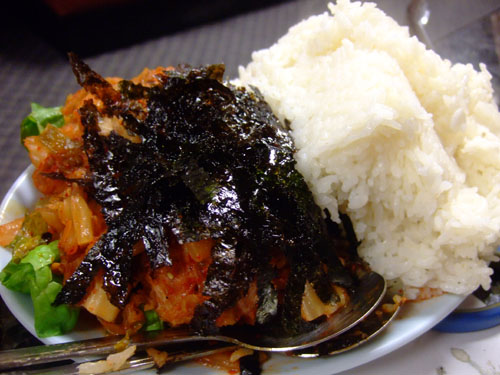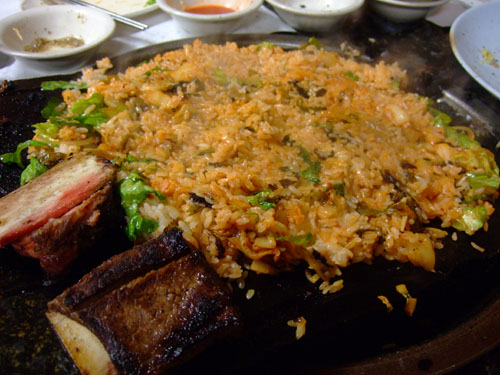 The
kimchi bokkeumbap
consisted of rice, kimchi, lettuce,
gim
(seaweed), and bits of leftover galbi. We let the rice sit for a while, to have it form a nice crunchy layer of rice, à la
dolsot bibimbap
. The problem was that the kimchi was too tangy, overpowering the rest of the ingredients in the dish. It was tasty, but not nearly as good as the
kimchi bokkeumbap
at
Jeon Ju
.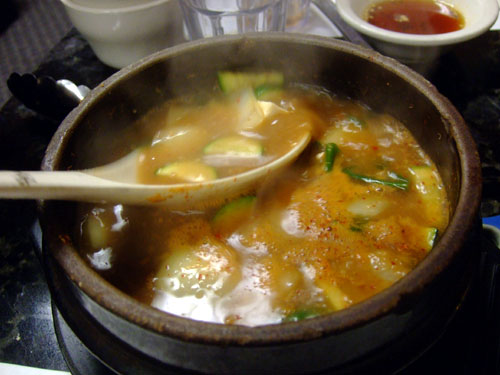 Along with the fried rice came a complementary (if you order two rounds of meat, apparently) order of
doenjang jjigae
, a stew of tofu, zucchini, and chili pepper, flavored with
doenjang
(fermented soybean paste). Not bad, but nothing to write home about.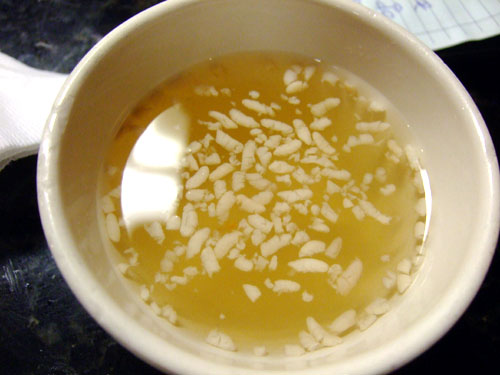 We ended the meal with cups of
shik hye
, a fermented sweet rice drink made from barley malt and glutinous rice. It was a cool, refreshing drink that was sweet, but not too sweet--a nice way to cap off the night.
All in all, I enjoyed the meal. However, as Wandering Chopsticks called this her favorite Korean BBQ in Orange County, I was expecting more--I was expecting to be wowed. Instead, I found Seol Ak San to be merely good, though I applaud them for mixing things up a bit by using the stone slab and by offering up duck meat. Oh well, maybe it's time to try Shik Do Rak...