Twist by Pierre Gagnaire (Las Vegas, NV)
Twist by Pierre Gagnaire
3752 Las Vegas Blvd S, Las Vegas, NV 89109
888.881.9367
www.mandarinoriental.com/lasvegas/dining/twist/
Sat 12/05/2009, 09:00p-01:45a
I mentioned a few weeks back that
Bouchon Beverly Hills
was the most widely-anticipated opening of the year in Los Angeles. Well, Twist Las Vegas might be the most widely-anticipated opening of the year
in the country
. Twist by Pierre Gagnaire is, of course, the only place in the US where one can experience the cuisine of the iconoclastic chef, and despite having a constellation of seven other restaurants, Gaganire has trailed his contemporaries--Alain Ducasse,
Joël Robuchon
,
Guy Savoy
--in establishing an outpost here in the desert, bringing the heart of Rue Balzac to the glitz and glamour of The Strip. Gagnaire's cookery has been described as experimental, whimsical, inspirational, unpredictable even, a study in going just over the edge of what's acceptable. Upon hearing that the Chef was to open in Las Vegas, how could I not put my name down for a reservation, opening night, of course? Joining me were Eric, Holly of
The Michelin Project
, Minh, Ryan of
Only Eat What Feeds Your Soul
, Will of
FoodDigger
.
A brief biography of Chef Gagnaire: he was born April 9, 1950 in the Apinac commune of the Loire department of France. The oldest of four children, Gagnaire had little choice but become a chef, given that his father Jean-Claude ran the restaurant Le Clos Fleuri in Saint-Priest-en-Jarez. In 1965, at age 14, he started as a pastry apprentice at Chez Juliette in Rhône-Alpes. Then, in 1968, Gagnaire spent a summer working for the legendary Paul Bocuse. Later, he obtained a
commis
position at Tante Alice in Lyon, and in 1969, became a roast cook (
rôtisseur
) at Charbonnières les Bains. Gagnaire's next step, military service in 1970, would take him to the French Navy, where he was
cuisinier admiral
on the Surcouf D621, a T 47 class destroyer. Following, in 1973 at the age of 23, Gagnaire entered the kitchens at the Intercontinental Hotel in Paris, where he was a
commis
. Lucas Carton beckoned in 1974, and the chef spent a brief time there before traveling for two years, learning all that he could from the new world.
In 1976, he returned to Saint-Étienne to run his father's Clos Fleuri, and maintained its
macaron Michelin
the next year. The time spent here was not pleasant, however, as the Chef struggled to cook what he wanted under the shadow of his father. The restaurant shuttered once Jean-Claude retired, but interestingly, it appears that it's
still around
. Gagnaire started his own restaurant on St.-Étienne's rue Georges Teyssier in 1981. Named Aux Passementiers, it quickly garnered a Michelin star, as well as an 18/20 rating in the Gault Millau in 1984. The second
étoile Michelin
came in 1986, but the restaurant was soon replaced by Restaurant Pierre Gagnaire on rue de la Richelandière. Three stars came in 1992, as did a Gault Millau rating of 19.5/20, but the restaurant struggled financially and fell into bankruptcy in 1995. As to the cause of the failure, "Gagnaire blamed Michelin, whose standards had forced him to borrow millions to buy and restore a spectacular Art Deco house in Saint-Étienne," wrote Jeffrey Steingarten in
The Man Who Ate Everything
.
In April 1996, the Japanese cult cooking program
Iron Chef
aired a "
France Special
" featuring Gagnaire, who fought Iron Chef French Hiroyuki Sakai in an homard lobster battle. After triumphing over the Iron Chef, Gagnaire seemed rejuvenated, intent on putting his bankruptcy behind him and starting anew. And that he did. Later that year, Gagnaire bounced back in a big way, debuting his eponymous eatery in the Hotel Balzac on Paris' Champs-Elysées. Two Michelin rosettes arrived in 1997, while another made its way the following year. At this point, Gagnaire had cemented his place in the culinary world, and in 2001, he began collaborating with physical chemist Hervé This, one of the progenitors of molecular gastronomy, in the process adding various avant garde and intellectual flourishes to his style.
It was also around this time that Gagnaire started to build his empire. The first expansion came in 2002, when the Chef partnered with restaurateur Mourad Mazouz to open Sketch in London. As an aside, it was at Sketch where Gagnaire would meet his current wife, Sylvie Le Bihan, who was a customer (à la
Ludo
). The two married on Bastille Day in 2007 and currently reside with Sylvie's three children in Paris, near the Bois de Boulogne. The Chef also has two grown children from his first marriage (which ended in 2005), and his first wife, Chantal, is still involved with the restaurants. Getting back, Gagnaire then ventured to the low-end, taking over Gaya Rive Gauche bistro in Paris and turning it into Gaya par Pierre Gagnaire in 2004. Asia was next, with Pierre Gagnaire à Tokyo in 2005, Pierre à Hong Kong in 2006 (also at the Mandarin Oriental), and finally Reflets Par Pierre Gagnaire Dubai and Pierre Gagnaire à Seoul in 2008.
This brings us to the present, to Twist by Pierre Gagnaire, a $7 million restaurant on the 23rd floor Sky Lobby of the Mandarin Oriental hotel in the $8.5 billion CityCenter development. The place had been in work for three years, but unlike most of Gagnaire's other satellite operations, Twist will not be a true "gastronomic" restaurant, nor a bistro like Gaya either. Instead, it will be somewhere in the middle, but also something that's intended to be uniquely American in character. Gagnaire is, of course, a pioneer in French fusion cuisine, a master of weaving together seemingly disparate tastes and textures, and at Twist, as with his other restaurants, diners will be presented with familiar French flavors, done up with a "twist" of genius by the Chef. And though Gagnaire will be here for the first few weeks after opening, he will eventually yield control over to his Chef de Cuisine Pascal Sanchez, who previously headed the kitchens over at Sketch.



As for the physical space, awash in subtle tones of silver and gray, it is the handiwork of the ubiquitous Adam Tihany, who also designed the rooms and public spaces. Twist seats 72 and offers guests a stunning view of the Vegas skyline through 20-foot windows, accented by 300 suspended, shining spheres and a "floating" wine loft.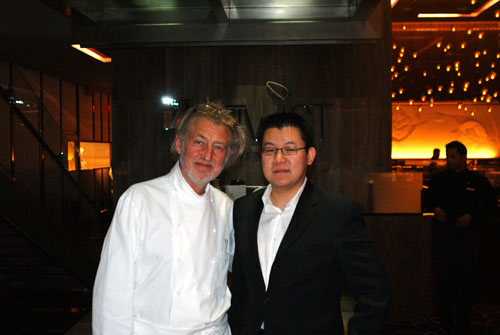 While waiting at the bar for the rest of the party to arrive, Chef Gagnaire happened to walk by, and we grabbed him for a quick photo opp. We also presented him with a gift from
Ludovic Lefebvre
, a signed copy of his cookbook
Crave: The Feast of the Five Senses
. Ludo, at one point in his career, worked under Gagnaire, who encouraged him to experiment with unconventional taste, texture, and ingredient combinations, a facet that would greatly influence Ludo's own burgeoning style. Ludo had wanted to visit Twist on opening night, but was tied up with other obligations.
I also ran into Bobby and Stephanie from
Gourmands Review
. I previously met them at
Bouchon
, where I mentioned that they should make the trip out to Vegas for Twist's grand opening (lo and behold, they took my advice!).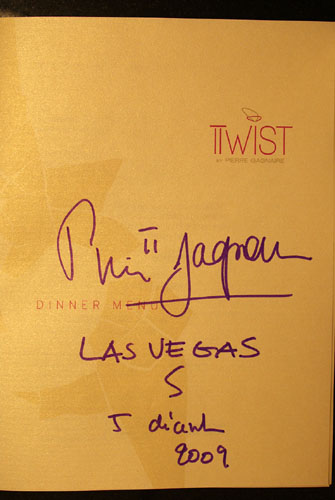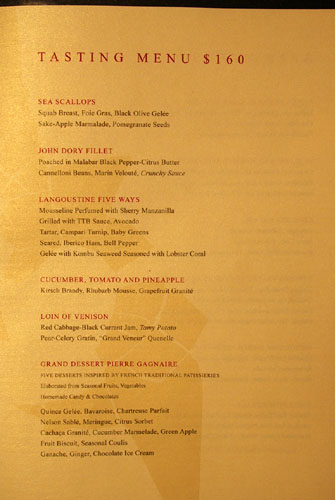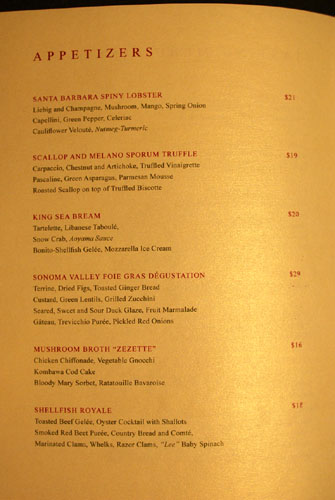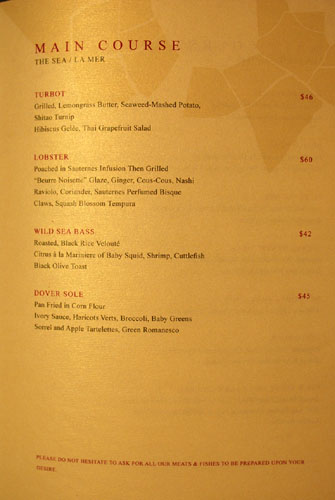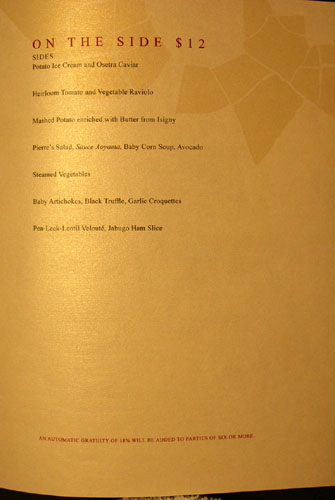 As it stands now, the menu consists of a six-course tasting menu for $160, backed up by a number of à la carte selections; click for larger versions. We, naturally, went for the tasting, with supplementary courses consisting of two orders of each appetizer. Expect the menu to evolve as Gagnaire and company better discern the American palate.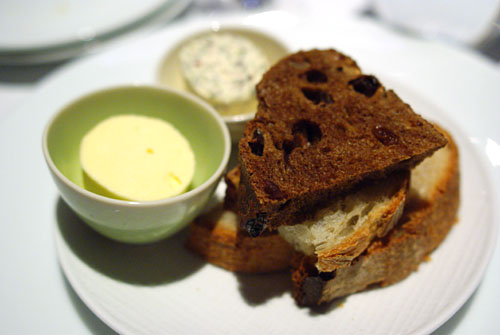 A trio of bread was on offer, served with seaweed butter and a fantastic cow's milk unsalted butter from the Isigny AOC in Normandy. From top to bottom, we have a wheat molasses with raisin and walnut, a country rye, and a French ciabatta. All were quite delectable.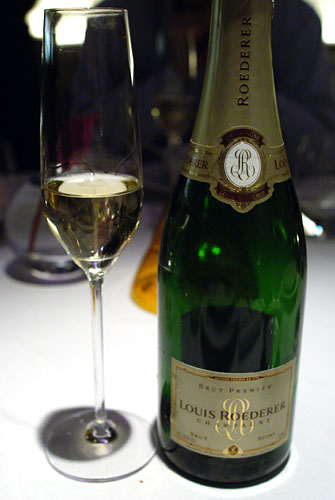 There is no set wine pairing offered, and given that we had a party of six, we decided to go with a few bottles, chosen by Wine Director-slash-Sommelier Julie Lin (formerly of RM Seafood and Rao's). The only constraints were that the selections would be capped at $500, and that there would be Champagne to begin. With that in mind, we started with the Louis Roederer Champagne Brut Premier [$150]. It was a fairly prototypical Champagne, showing lovely fruity notes of citrus and stone fruit, with a nice counterbalancing minerality and great acidity.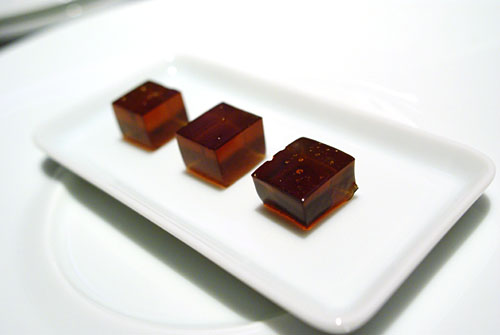 Canapé 1: Irish Gelée Perfumed with Guinness and Jack Daniels
Our first bites consisted of cuboids of gelée, imbued with a distinct alcoholic essence. Interesting.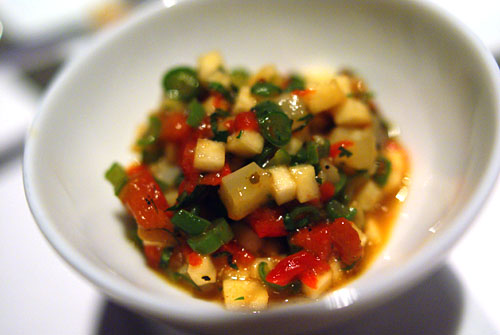 Canapé 2: Salad of Cuttlefish, Haricot Vert, Red Bell Pepper, Celeriac
This next canapé was also my favorite, with the base of cuttlefish forming a platform on which the various veggies could really sing. A perfect amalgam of light, bright flavors.
Canapé 3: Yukon Gold Potato Chip, Smoked Sardine, Golden Raisin
Next, we have a your basic potato chip, topped with smoked sardine. The depth of flavor was profound here, with the intense smack of sardine only mildly tempered by the sweet raisins and earthy potato.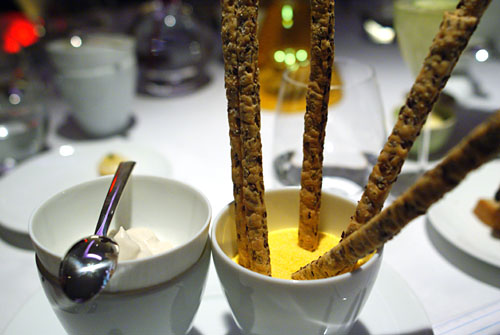 Canapé 4: Flax Seed Garlic Cracker, Bluefin Chantilly
Also superb were these spears of savory, slightly spicy flax seed and garlic crackers. They were delicious on their own, but even better when paired with the creamy, smoky, salty, subtly fishy Chantilly.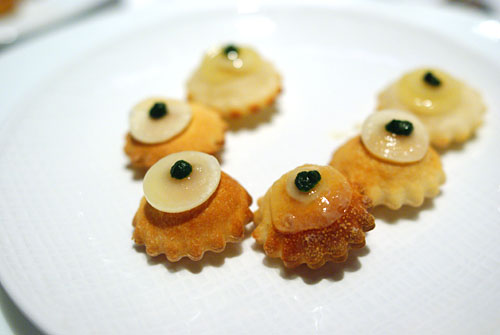 Canapé 5: Pecorino Soufflé, Spinach Velouté
A simple, savory, cheesy, buttery bite, accented by a tinge of spinach. Ryan likened this to a Cheez-It cracker!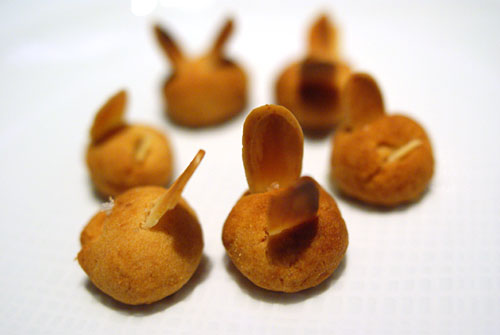 Canapé 6: Toasted Almond Sablé
Some cute rabbit-eared butter cookies, with a lovely accent of almond.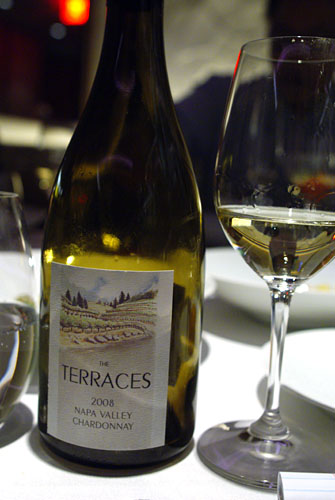 Next, Lin chose the 2008 The Terraces Chardonnay [$85], a light, mineral-driven, subtly fruity Chard with a crisp, focused, refreshing acidity. Very nice, considering I'm not usually a fan of California Chardonnay.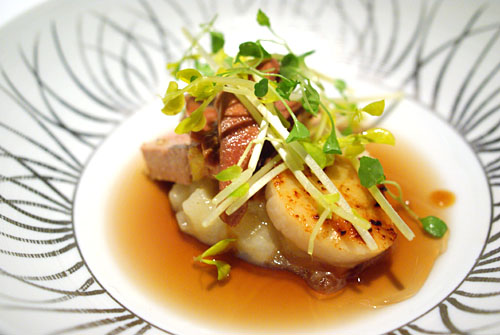 1: SEA SCALLOPS
Squab Breast, Foie Gras, Black Olive Gelée
Sake-Apple Marmalade, Pomegranate Seeds
The complexity of this dish really set the tone for the evening. I first tried each of the three main elements alone: the scallop was nicely caramelized, with a firm yet supple texture; the squab, meanwhile, was very savory, very apparent; finally, the foie gras possessed a pure, unmitigated essence of liver that was quite enchanting. Mixing things up a bit, I really appreciated the interplay between the scallop and the sweet marmalade, and the relationship between the luxurious foie and the bitter greens was fantastic.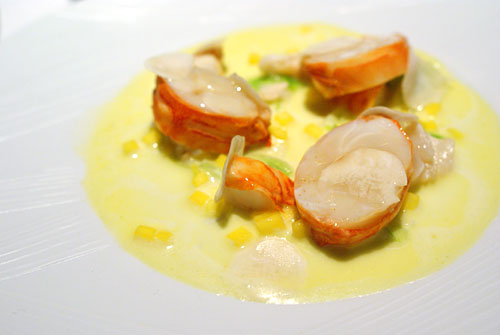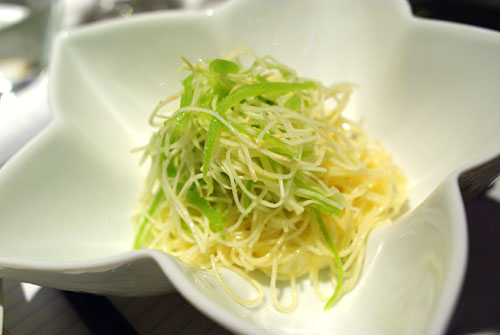 Supplement: SANTA BARBARA SPINY LOBSTER [$21.00]
Liebig and Champagne, Mushroom, Mango, Spring Onion
Capellini, Green Pepper, Celeriac
Cauliflower Velouté, Nutmeg-Turmeric
Here we have beautifully cooked lobster, with a crisp, snappy body highlighting a delightfully sweet sapor. It was paired with a sauce that was undeniably complex, with simultaneously sweet, herbal, spicy, earthy, tangy, and bitter flavors in an intriguing, indescribable commixture. I also enjoyed the use of capellini noodles, lightened up by the application of green pepper.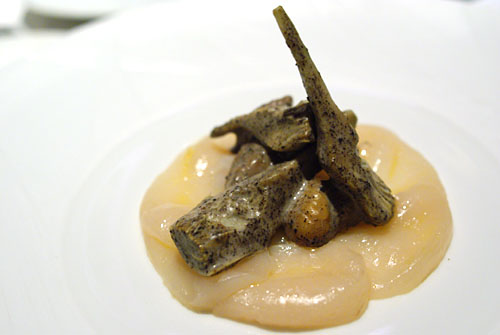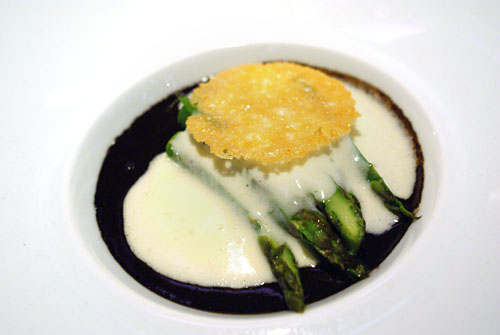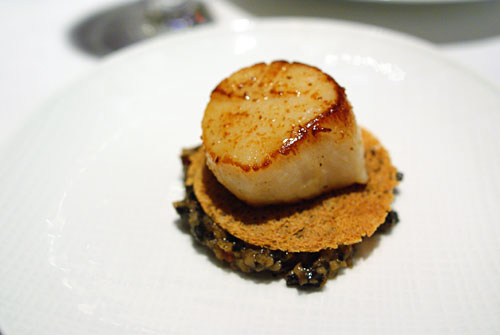 Supplement: SCALLOP AND MELANO SPORUM TRUFFLE [$19.00]
Carpaccio, Chestnut and Artichoke, Truffled Vinaigrette
Pascaline, Green Asparagus, Parmesan Mousse
Roasted Scallop on top of Truffled Biscotte
A recurring theme throughout the night, Gagnaire's appetizers would utilize multiple plates, with seemingly incongruous flavors on each: First, I loved the tangy artichoke here, set off by the weighty truffle vinaigrette, but the key for me was the interaction between the piquant vegetable and the smooth, creamy, delicate scallop. Next, the asparagus was perfectly cooked, and its pungency was accented wonderfully by the rich, creamy Parmesan. Finally, we have easily one of the most approachable items of the night. The pairing of mild, subtly briny scallop with the earthy decadence of truffle is a classic, but immensely effective, pairing.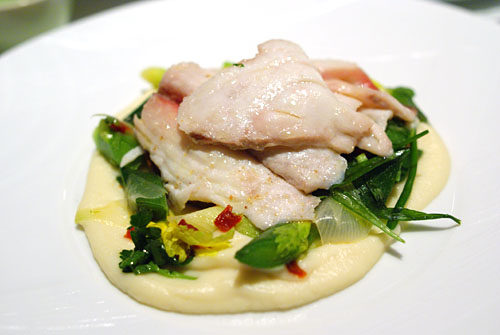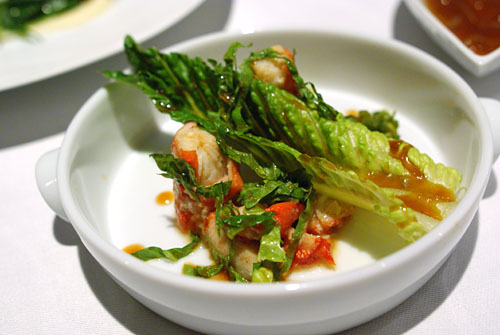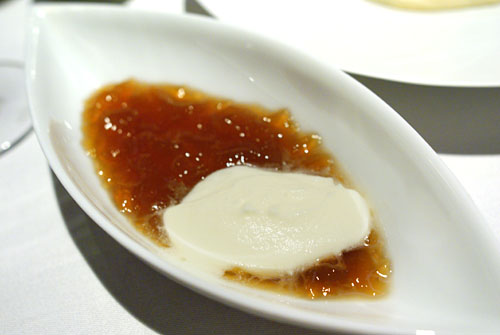 Supplement: KING SEA BREAM [$20.00]
Tartelette, Libanese Taboulé
Snow Crab, Aoyama Sauce
Bonito-Shellfish Gelée, Mozzarella Ice Cream
I really enjoyed the sea bream, with its wonderful, tender texture and supremely delicate flavor; it was absolutely fantastic with the tangy vegetables in the tabouleh. The "cookie" underneath, meanwhile, added a palpable weight and textural contrast into the mix. As good as the sea bream was, the king crab "salad" was even better, refreshingly replete with sweet chunks of crab, dressed in a soy-, dashi-, and mirin-based sauce. I did get some linkage between the crab and the super savory bonito-shellfish gelée, but I didn't quite get the rationale behind the gelée's presence.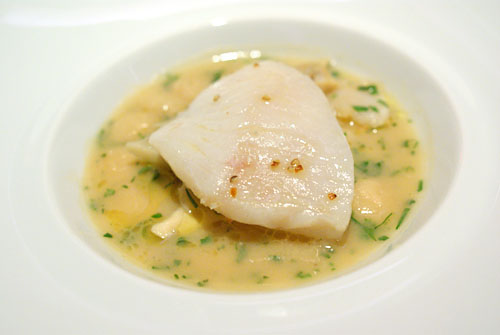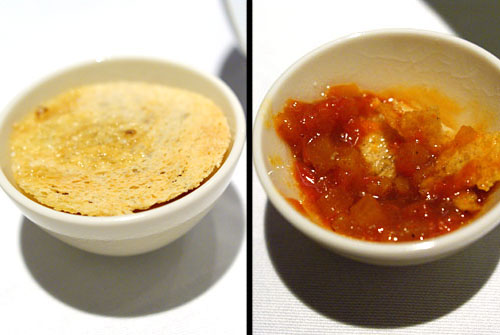 2: JOHN DORY FILLET
Poached in Malabar Black Pepper-Citrus Butter
Cannelloni Beans, Marin Velouté, Crunchy Sauce
This was probably the best John Dory I've ever had. It possessed a nicely firm consistency paired with an unabashedly savory flavor, with just the slightest peppery tinge. As delicious as the fish was, its accoutrements really made the dish for me. The use of clams provided a fantastic chew and a beautiful brininess, while the beans added a superb earthiness and gravity. At this point, the dish was complete for me. I didn't quite understand the "crunchy sauce," which was a grapefruit and tomato sauce with an almost salsa-like savor, topped with a crunchy cover that we were instructed to break and mix into the amalgamation.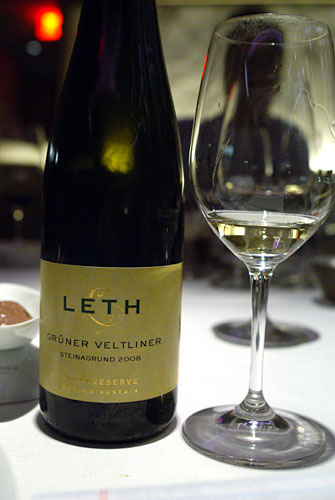 For our continuing gauntlet of seafood, we were provided the 2008 Leth Grüner Veltliner Lagenreserve Steinagrund Wagram [$75]. GVs generally sit well with me, and this was no exception, showing tart citrus notes balanced by a superb mineral flair. Quite good.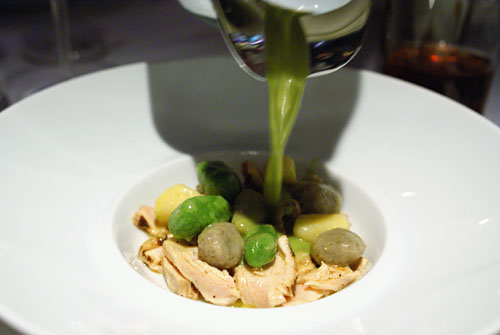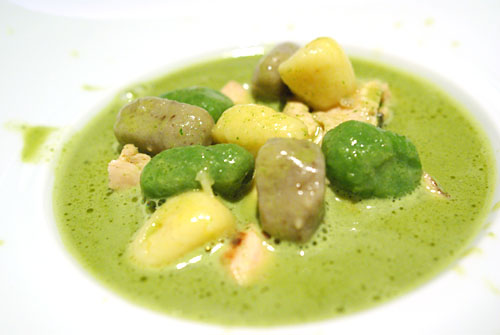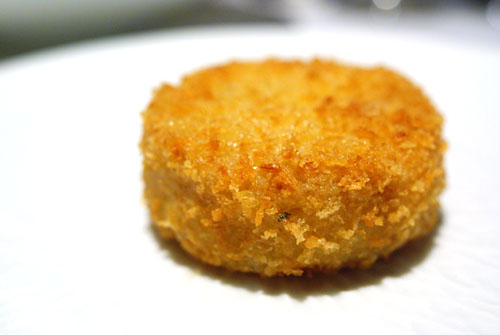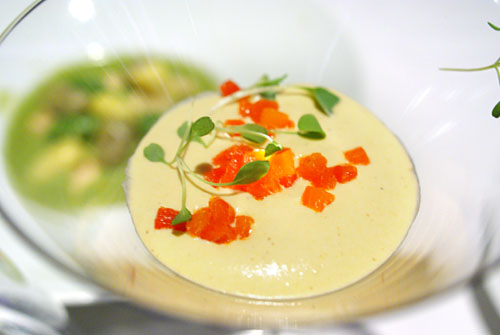 Supplement: MUSHROOM BROTH "ZEZETTE" [$16.00]
Chicken Chiffonade, Vegetable Gnocchi
Kombawa Cod Cake
Bloody Mary Sorbet, Ratatouille Bavaroise
Here we have one of my favorite courses of the night. The chicken chiffonade (strips) were perfectly cooked, and went beautifully with the broth, with the entire commixture being slightly reminiscent of Thai green curry. The three types of gnocchi, meanwhile, added texture and weight. This elevated chicken to another level for me. The cod cake was just as good as the bird, with its crispy exterior hiding a wonderfully sweet, savory, juicy interior. Finally, we have gorgeous, creamy, refreshing sorbet, perked up beautifully by the ratatouille vegetables. All three elements here were simply fantastic, but taking everything together in one bite was even more so.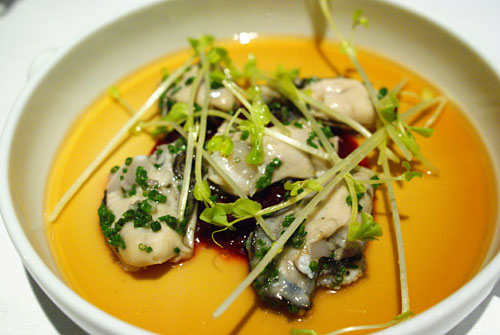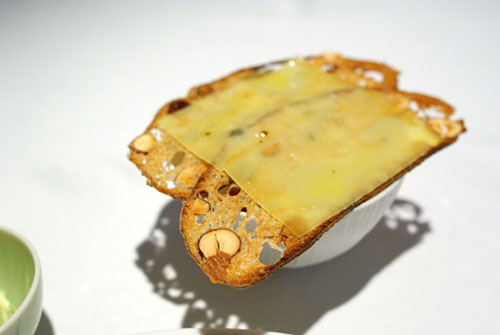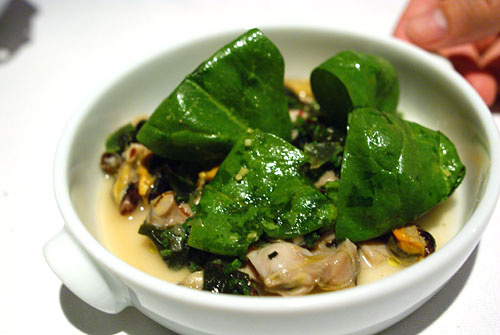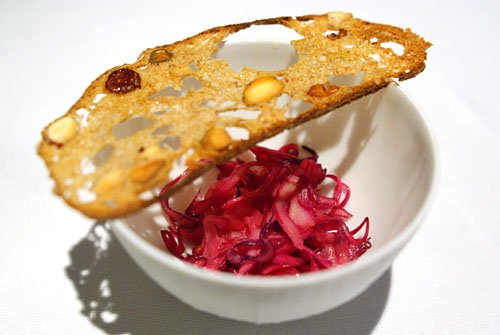 Supplement: SHELLFISH ROYALE [$18.00]
Toasted Beef Gelée, Oyster Cocktail with Shallots
Smoked Red Beet Purée, Country Bread and Comté
Marinated Clams, Whelks, Razor Clams, "Lee" Baby Spinach
Next was Gagnaire's "royale," which is traditionally a layered dish. We had some beautiful oysters, appropriately briny alone, but wonderfully sandwiched between the contrasting flavors of the sweet beet and bitter popcorn greens (microgreens from actual germinated popcorn!)--they really set off the mollusks perfectly. The toasted bread, served with Comté cheese and red cabbage, seemed a bit incongruous at first, but its gravity actually complemented by the oysters nicely. Finally, we have my favorite component here, a "seafood salad" of sorts, with three types of shellfish tossed with spinach. It demonstrated the profoundly pure, deeply briny quintessence of the sea. Holly even mentioned that it was like eating a "tidepool," which of course made me think of "Autumn Tidal Pool" dish at
Manresa
.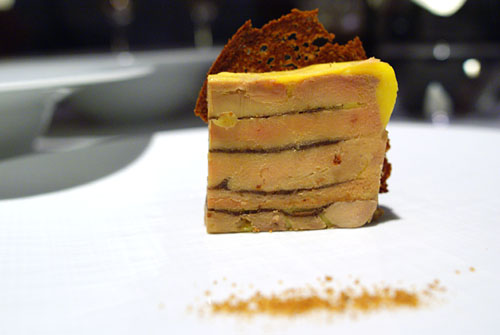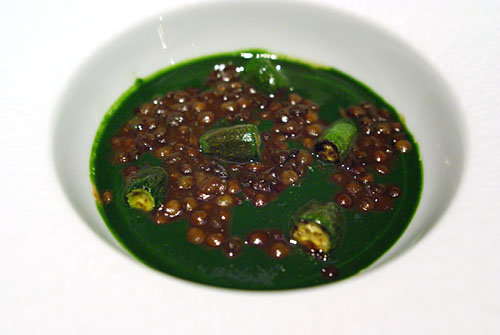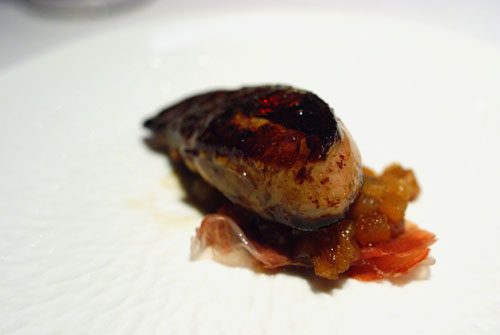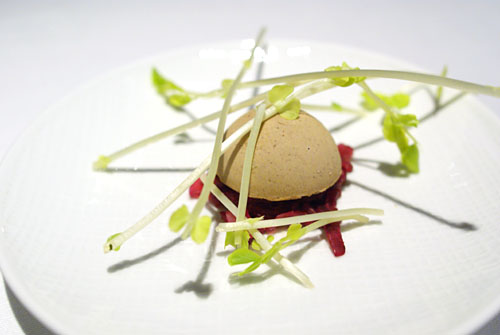 Supplement: SONOMA VALLEY FOIE GRAS DÉGUSTATION [$29.00]
Terrine, Dried Figs, Toasted Ginger Bread
Custard, Green Lentils, Grilled Zucchini
Seared, Sweet and Sour Duck Glaze, Fruit Marmalade
Gâteau, Trevicchio Purée, Pickled Red Onions
One of the courses that we were most excited about was this quartet of foie gras. We started off with the terrine, which was fairly prototypical, with the essence of foie gras accented by the sweetness of fig; the interesting point here was the slight spice of ginger. I really enjoyed the second preparation, which consisted of a very delicate--ethereal almost--foie gras custard. Given its considerable lightness, the gravitas provided by the lentils was simply superb, while the zucchini added some textural variation. Third was a seared preparation, which was surprisingly to my tastes, with the unctuous character of the liver on the attack, along with a bit of sweetness on the finish. They saved the best for last apparently, as this foie gras "cake" was simply one of the strongest preparations of foie I've ever had. The interplay between the subtly sweet red onions and bitter greens was magical.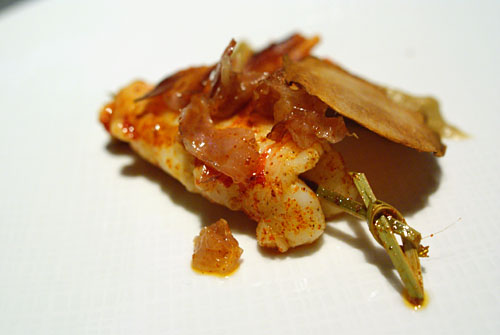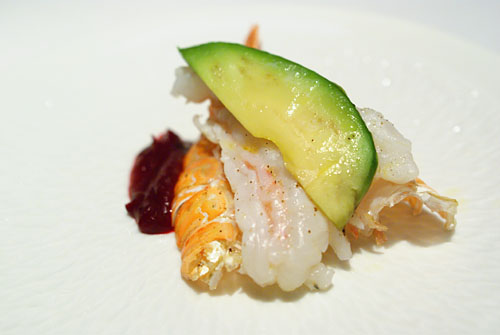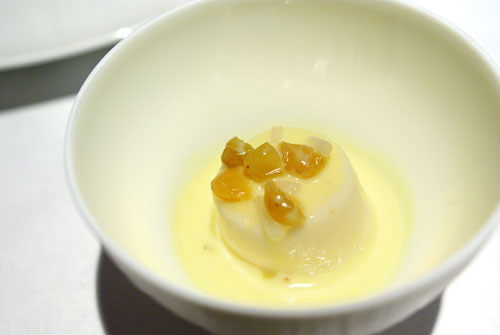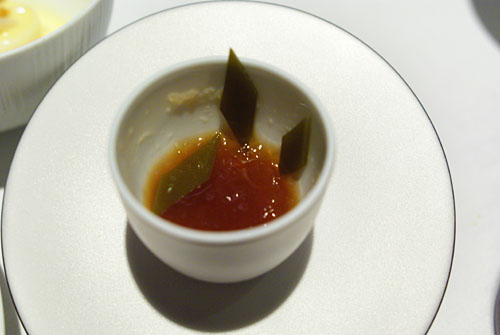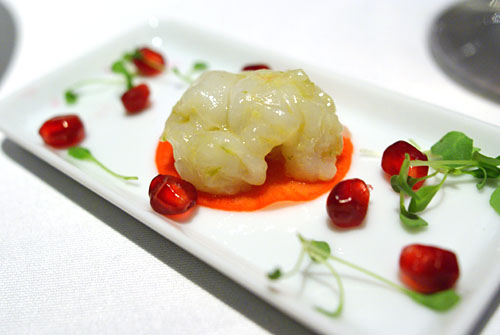 3: LANGOUSTINE FIVE WAYS
Seared, Iberico Ham, Bell Pepper
Grilled with TTB Sauce, Avocado
Mousseline Perfumed with Sherry Manzanilla
Gelée with Kombu Seaweed Seasoned with Lobster Coral
Tartar, Campari Turnip, Baby Greens
The quintet of langoustine is one of Gagnaire's signature dishes. We were instructed to eat the five plates in the order above. First was a seared tail of langoustine. It had a great, toothsome consistency and was beautifully accented by the salty ham, while the pepper left a fascinatingly hot finish. Next was a lightly grilled version, with a wonderfully light texture and delicate flavor; it went well with the creamy avocado. Then we had the mousseline, nicely textured with a lovely zesty counter from the Manzanilla. My favorite out of the five was the gelée; made with lobster innards, it represented the absolute quintessence of langoustine. We finished with the tartar, which was light with a distinctive citrusy tang, marvelously set off by the sweetness of pomegranate.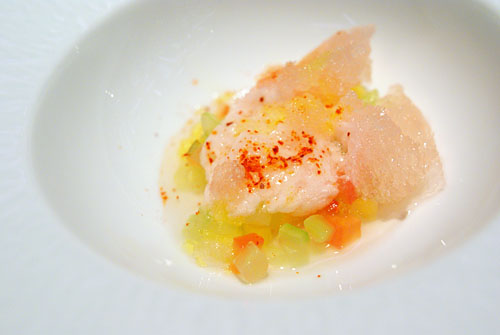 4: CUCUMBER, TOMATO AND PINEAPPLE
Kirsch Brandy, Rhubarb Mousse, Grapefruit Granité
Next, before our main savory course, we were presented with a palate cleanser, a concoction of sous vide vegetables, sweet with a slight bitterness, finishing with the weight of the kirsch.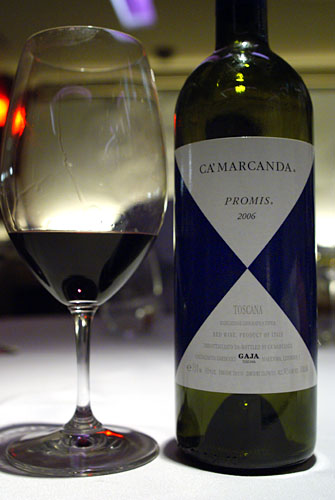 Our final wine, and the only red, was the 2006 Ca' Marcanda (Gaja) Promis Toscana IGT [$165]. As expected from this Italian blend (55% Merlot / 35% Syrah / 10% Sangiovese), I noted a pleasantly tart tannic character, with plenty of dark berry flavor balanced by earthy, herbal elements.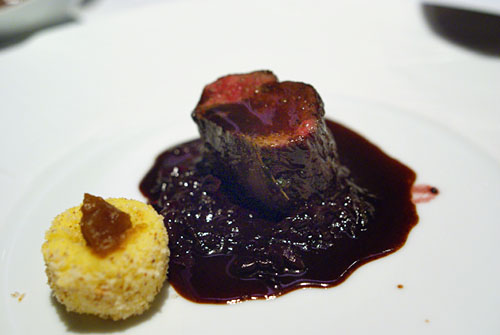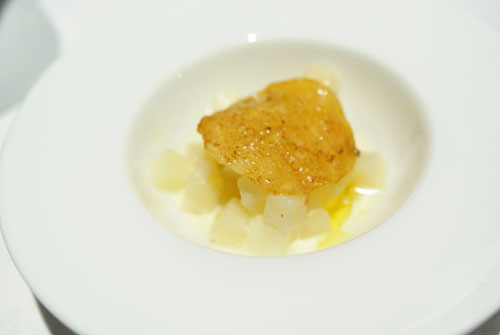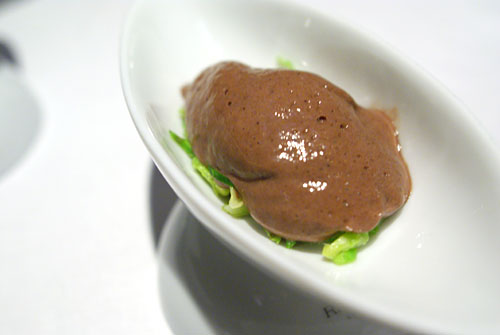 5: LOIN OF VENISON
Red Cabbage-Black Currant Jam, Tamy Potato
Pear-Celery Gratin, "Grand Veneur" Quenelle
For our "main course," we were treated to a filet of oven roasted venison treated with thyme and juniper, with a red currant and red wine sauce. Though the meat wasn't distinctly venison-like, it was still absolutely delectable, with the meat showing a lovely, tender body flavored with a perfect combination of seasonings. The meat easily stood on its own, so I didn't feel that the gratin and quenelle (a huntsman's sauce, basically a pepper sauce augmented with game essence) were necessary.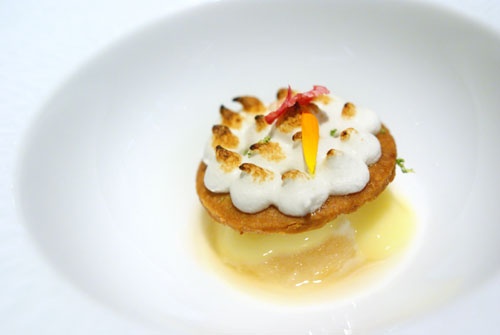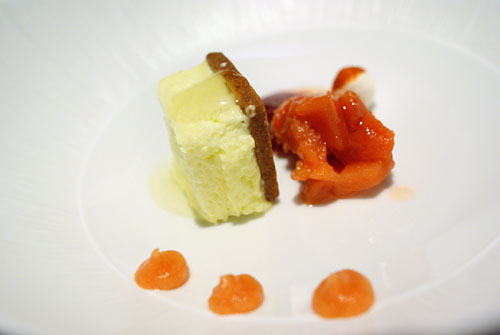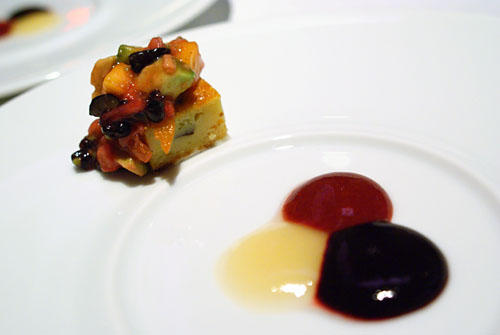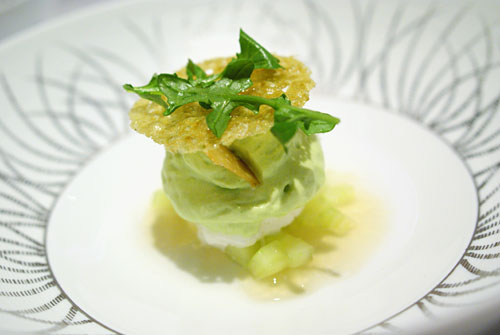 6: GRAND DESSERT PIERRE GAGNAIRE
Nelson Sablé, Meringue, Citrus Sorbet
Quince Gelée, Bavaroise, Chartreuse Parfait
Fruit Biscuit, Seasonal Coulis
Cachaça Granité, Cucumber Marmalade, Green Apple
Ganache, Ginger, Chocolate Ice Cream
As with the savory courses, dessert with Pierre Gagnaire is never a simply affair, consisting of five distinct sweets inspired by traditional French pastries. First up was a sablé cookie, accented by a subtle citrus meringue and a bracingly cold, sour citrus sorbet; I loved the chewy, heavy nature of the cookie. The gelée was next, with a sweet yet tangy flair finishing with a fascinating, herbal alcoholic tinge. The third treat was my favorite, basically a fruit biscuit topped with a tropical fruit salad; think of it as a high-class fruit cake--very nice. Number four was described as a palate cleanser by our server. The sweet tang of apple was strong on the attack, while the finish was imbued with the cool nature of cucumber. The mozzarella, meanwhile, added depth and weight--refreshing! Rounding out the fivesome was a chocolate ganache and chocolate sorbet, set off by candied ginger. It was a nice bittersweet bite, with a lovely crunchy texture to boot.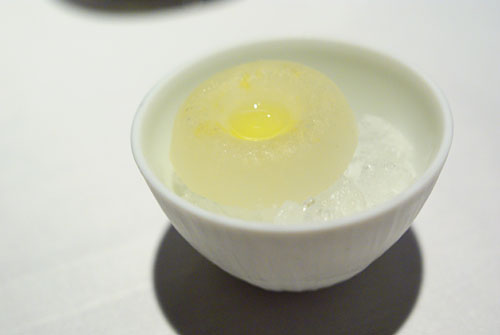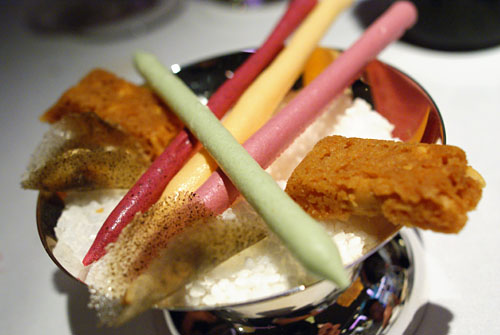 We closed with some petit fours. First, we each received our own bowls of frozen lemon, topped with Spanish olive oil; the result was incredibly tangy, but with a savory finish. We then shared plates of assorted meringues, cookies, and green tea "leafs" with toasted pine nut.
If this post has seemed somewhat more disjointed than usual, there's a reason for that. I don't think that I've ever had this much difficulty putting together a review. Pierre Gagnaire's food is unconventional, surprising, jarring even, with some truly unique combinations of tastes, textures, temperatures, and ingredients. It is challenging, sometimes confusing, and often times intellectual. This is one of those rare instances where I felt that some of the food was truly beyond me--the cuisine must be approached with curiousity, playfulness, and a keenly open mind. If this is the inimitable style of Gagnaire, replete with dangerous juxtapositions and astonishing oppositions, teeming with unexpected but not unwelcome sensations, then I say:
bring it on, I look forward to the challenge
.