The Inn at Little Washington (Washington, VA)
The Inn at Little Washington
Main St & Middle St, Washington, VA 22747
540.675.3800
www.theinnatlittlewashington.com
Thu 01/21/2010, 07:30p-11:00p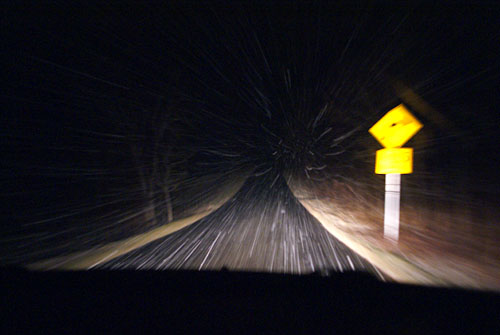 The scene above was captured en route to The Inn at Little Washington, our destination 70 miles outside of DC proper. We braved sub-freezing temperatures, single lane roads in the dark, and blustery snowstorms, but we finally did make it--this place had better be good!
The Inn at Little Washington is inextricably tied to its Chef and Owner, one Patrick O'Connell. A native of the Washington DC area, the self-taught chef started his culinary journey at the age of fifteen, working as a short-order cook at a neighborhood restaurant in Clinton, MD. Later, while pursuing his undergraduate degree in drama from the Catholic University of America, O'Connell waited tables, his first foray to the front-of-the-house. It was also here where the Chef would meet future business (and romantic) partner Reinhardt Lynch. In 1972, O'Connell and Lynch started a catering business, run out of a 100-acre farm in the Shenandoah Valley.
Six years later, in early 1978, the duo debuted The Inn at Little Washington in a small ramshackle "garage," with O'Connell in the kitchen and Lynch running operations. The restaurant achieved critical acclaim from the get go, and eventually, guest rooms were added to the property. Everything seemed to be going swimmingly for the pair, that is, until 2006. In that year, O'Connell and Lynch's personal relationship soured, and the two went to court to break up the business. According to
The Washington Post
, the Chef ended up taking out a $17.5 million loan in order to buy out Lynch's 50% stake in The Inn and related properties.

Putting the drama aside, here we see the main dining room. Enveloped in shades of crimson and flax, the 30-table, Victorian-inspired space is classic, luxurious, romantic.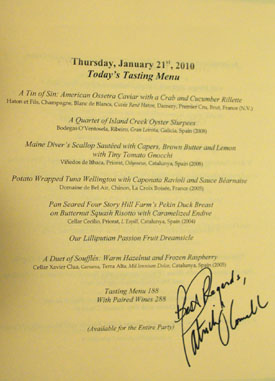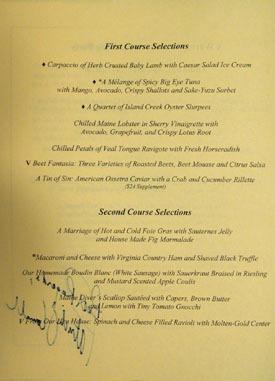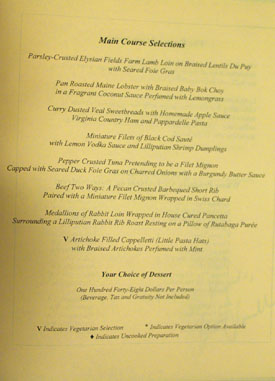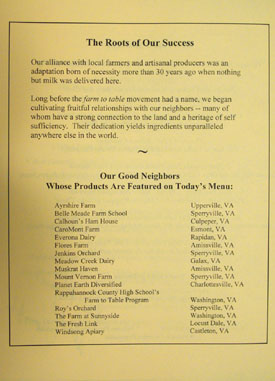 O'Connell's cuisine can be thought of as contemporary American, interlaced with regional, "farm-to-table" touches. His commitment to local suppliers is legendary, and the Chef even dedicates an entire page in the menu to them. Options include a three-course prix fix at $148 per person, or a seven-course tasting menu for $188 (plus $100 for wine)--going for the degustation should be a no brainer for most. Of course, being gluttons (for punishment), we tacked on three additional courses, which added an extra $59 per person. Click for larger versions.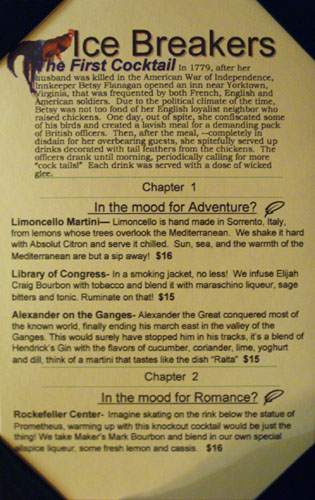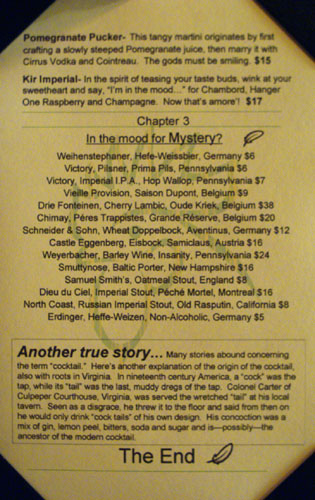 Above, we see the rather verbose (and whimsically historical) cocktail menu. Click for larger versions.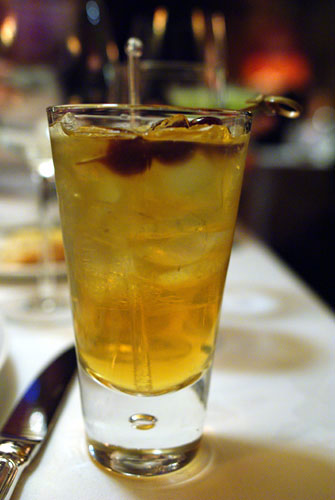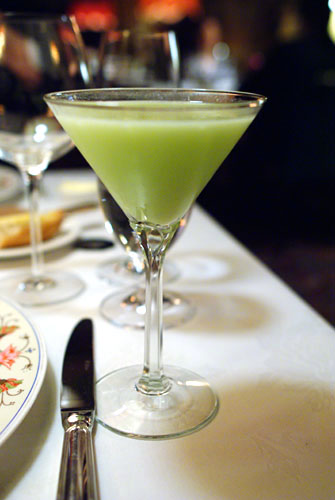 To start, I decided upon the Library of Congress [$15], comprised of tobacco-infused Elijah Craig Bourbon blended with maraschino liqueur, sage bitters, and tonic. The drink was somewhat reminiscent of a classic Manhattan, but with a not unpleasant tobacco tint. My dining companion ordered up Alexander on the Ganges [$15], made with Hendrick's Gin and flavors of cucumber, coriander, lime, yoghurt, and dill. The menu likened the cocktail to
raita
(an Indian yogurt condiment), but it didn't quite get there for me, tasting more like a standard cucumber martini.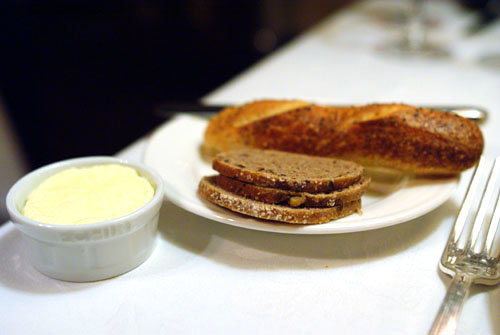 Two types of bread were on offer: a nicely seasoned French baguette, and a lovely sweet-savory pecan-currant rye topped with kosher salt.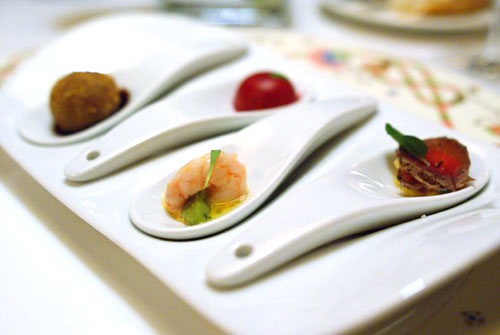 Canapés
A small tray of four little bites was subsequently brought out. However, given that there were two of us at the table, I'm left wondering why we weren't provided one plate per person. Back to front:
Red Wine Risotto Ball - Hearty, dark flavors were joined by the creamy cheesiness of risotto--I wanted a bigger ball!
Beet Purée with Cranberry and Horseradish - Loads of jammy, sweet flavors here in an airy, ethereal package, tinged with just a hint of horseradish.
Rock Shrimp with Guacamole and Red Pepper Remoulade - I loved the tanginess of the guac and how it worked with the natural sweetness of the shrimp, while the red pepper gave the bite a great lingering, spicy finish.
Lamb Carpaccio with Hummus - I didn't get to try this unfortunately. My dining companion, however, seemed to enjoy it well enough.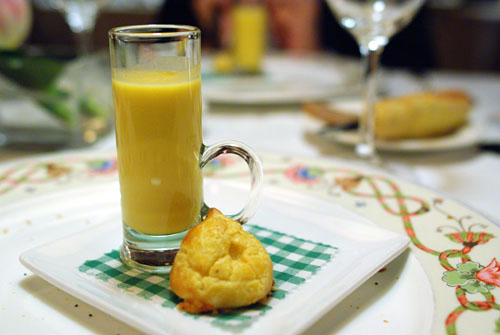 Amuse Bouche: Apple-Rutabaga Soup with Gougère
I first tried the soup, which was sweet and hearty, almost bisque-like in velvety richness. The gougère, on the other hand, was nicely cheesy, with a somewhat flakier consistency than usual. Although both elements on the plate were successful individually, I'm not sure that I understand the linkage between the two.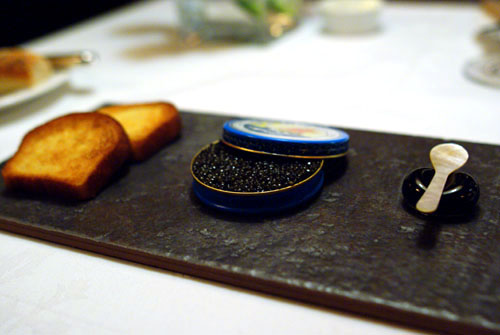 1: A Tin of Sin: American Ossetra Caviar with a Crab and Cucumber Rillette
Haton et Fils, Champagne, Blanc de Blancs, Cuvée René Haton, Damery, Premier Cru, Brut, France (N.V.)
We began with my favorite course of the night: a tin filled with caviar, over a crab and cucumber "salad." Eating all the elements together, I really appreciated the interaction between the sweet, soft bits of peekytoe crab and the focused brine of the caviar. The cucumber, at the same time, gave the dish an overarching coolness, as well as a lovely crunch. Perfect.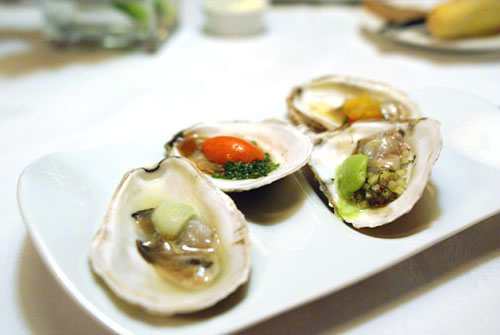 2: A Quartet of Island Creek Oyster Slurpees
Bodegas O'Ventosela, Ribeiro, Gran Leiriña, Galicia, Spain (2008)
Four large-ish oysters, with four different accoutrements. From right to left:
Tequila and Passion Fruit - My favorite. I loved the sweetness of the fruit, matched by the woodiness of the tequila, and how both elements worked with the subtly salty mollusk.
Cucumber - This was also wonderful. The cool cucumber was superb in balancing the brine of the oyster, while the finish was imbued with a lingering, "pickled" flavor.
Balsamic and Cocktail Sauce - The most "classic" of the foursome, the balsamic added a palpable weight to the bivalve, with the cocktail sauce contributing a pleasing tang on the close.
Wasabi - Clearly the least successful preparation for me, the wasabi was far too sweet, and not nearly spicy enough. It failed to stand up to the power of the oyster.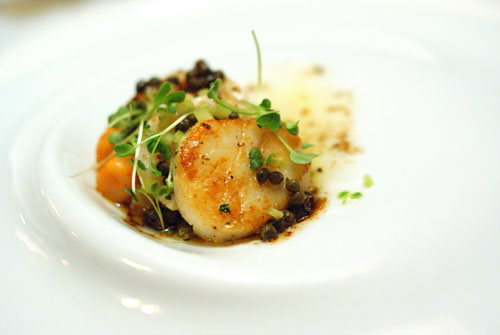 3: Maine Diver's Scallop Sautéed with Capers, Brown Butter and Lemon with Tiny Tomato Gnocchi
Viñedos de Ithaca, Priorat, Odysseus, Catalunya, Spain (2008)
Starting with the scallops, I found that they were firm and dense, perhaps a bit overcooked, but still possessing of their intrinsic sweetness. Their weight was augmented by the brown butter, but the crux of the dish was the interaction of the capers and lemon, which added two differing, yet fitting types of piquancy to the course, effectively countering the scallop as well as the overt sweetness of the gnocchi.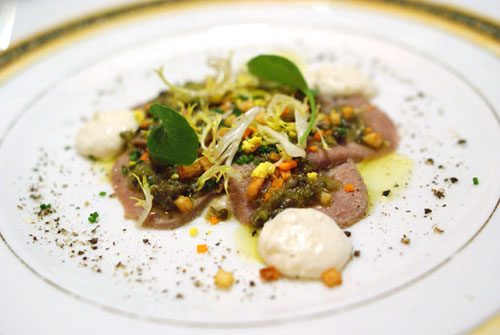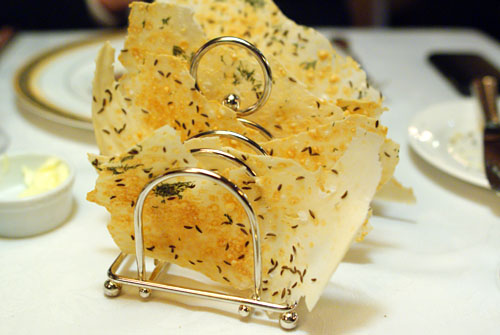 Supplement: Chilled Petals of Veal Tongue Ravigote with Fresh Horseradish
Jermann, Pinot Grigio, Venezia Giulia I.G.T., Italy (2007)
Veal tongue isn't something that I get to have too often, and in fact, I believe that the only other place I've had it was at
CUT
. As such, this was a must-order supplement for me. Taking the tongue alone, I noted a tender consistency paired with a mild, almost "hammy" flavor. I quite appreciated the lightening effect of the frisee and other greens, but felt that the horseradish was perhaps a bit heavy-handed, overwhelming the tongue's natural sapor. The best part of this course, interestingly, were the accompanying caraway crisps, large swaths of spicy goodness that really reminded me of Indian
papadum
!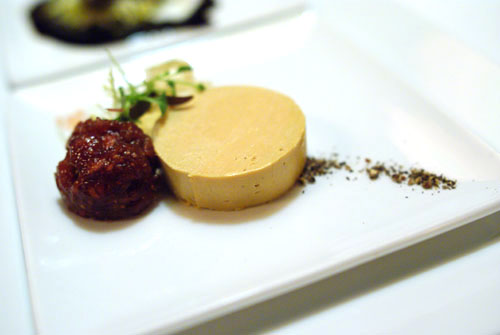 Supplement: A Marriage of Hot and Cold Foie Gras with Sauternes Jelly and House Made Fig Marmalade
Martin Schaetzel, Tokay Pinot Gris, Marckrain, Alsace Grand Cru, France (2005)
Reading the menu initially, I thought that this dish would be a preparation of foie gras in which hot and cold were combined into one (a "marriage"), not merely presented as two separate dishes. In any case, I started with the seared preparation, which wasn't overly sweet as I'd feared. Rather, its lovely char and relatively mild flavor were deftly countered by the use of frisee. As expected though, I preferred the terrine version, imbued with a subtle, yet profound foie gras flavor, with just a touch of sugar from the marmalade and jelly--quite good.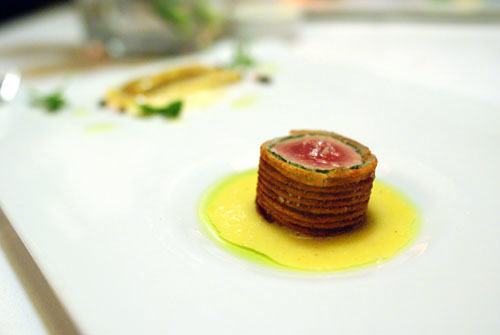 4: Potato Wrapped Tuna Wellington with Caponata Ravioli and Sauce Béarnaise
Domaine de Bel Air, Chinon, La Croix Boisée, France (2005)
Here, we see the Chef's play on the classic Wellington, using tuna in place of beef. The fish was wonderful, a great combination of cooked and rare, and came enrobed in enchanting layers of crispy potato. The tuber's almost hash brown-like savor played the part of a fantastic foil to the fish, adding superb starchy and salty notes to the dish--I wanted more! Unfortunately, I wasn't nearly as fond of the ravioli, which I found overly saccharine, though the microgreens did provide somewhat of an offsetting factor.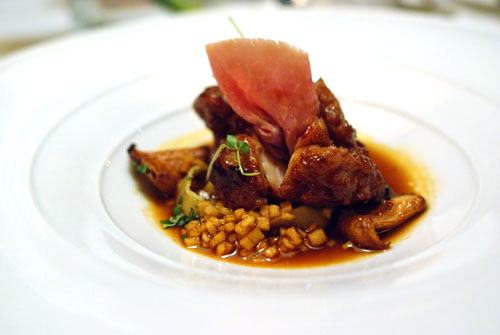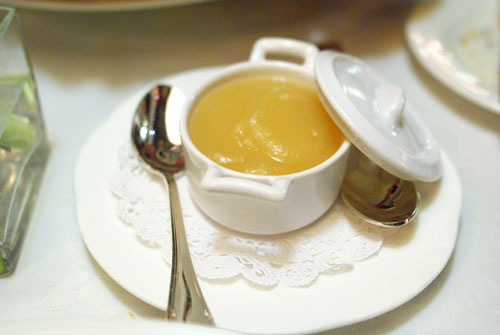 Supplement: Curry Dusted Veal Sweetbreads with Homemade Apple Sauce, Virginia Country Ham and Pappardelle Pasta
La Rioja Alta, Viña Alberdi, Reserva, Rioja, Spain (2002)
I'm somewhat of a sweetbreads slut, so this was another must order for me. Unfortunately, the dish wasn't quite as strong as I'd hoped for. Basically, the sweetbreads' flavor was not accented enough. My palate was more focused on the immense salt coming from the ham and the mushroom, while the applesauce provided a countervailing sweetness. The offal, therefore, was somewhat lost for me in this sweet/savory interplay.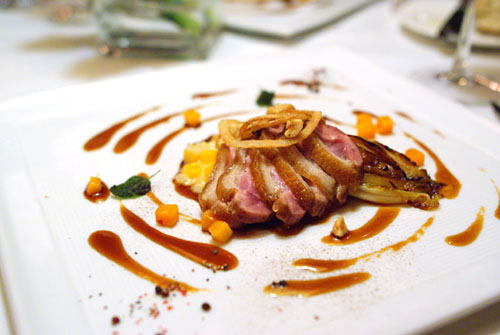 5: Pan Seared Four Story Hill Farm's Pekin Duck Breast on Butternut Squash Risotto with Caramelized Endive
Cellar Cecilio, Priorat, L'Espill, Catalunya, Spain (2004)
Taken alone, the duck demonstrated plenty of "ducky" character, with a delicious, succulent flesh and delightfully savory, crisp skin. My issue, thus, was with the accompanying butternut squash risotto, which proved overwhelmingly sugary for me, obliterating the bird's natural sapor. The bitterness of the endive helped alleviate this somewhat, but even it wasn't enough.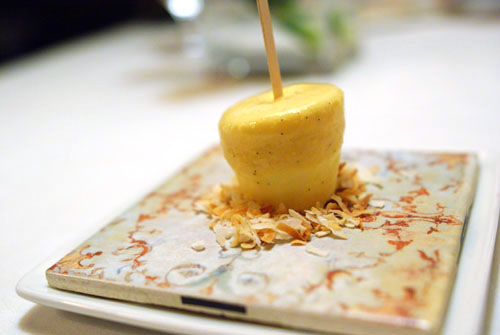 6: Our Lilliputian Passion Fruit Dreamsicle
Moving on to dessert, we began with a dollop of passion fruit sorbet, on a stick, with toasted coconut shavings. I really liked the mélange of tart and creamy flavors inherent in the "Dreamsicle," while the coconut provided an interesting textural contrast.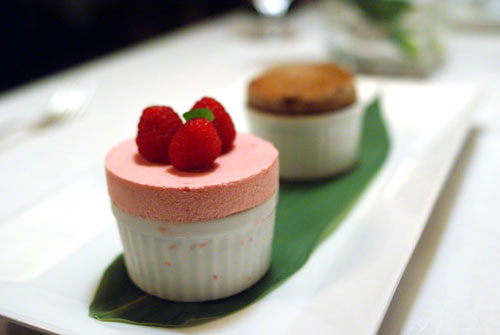 7: A Duet of Soufflés: Warm Hazelnut and Frozen Raspberry
Cellar Xavier Clua, Garnatxa, Terra Alta, Mil.lennium Dolce, Catalunya, Spain (2005)
Finally, we ended with a duo of soufflés. I first attacked the raspberry one, and found it refreshingly cool and fruity, with an almost ice cream-esque character. The hazelnut version, meanwhile, was a prototypical presentation, with pronounced chocolate notes and a bit of nuttiness for good measure. Eating the two together, I appreciated the contrasts in temperature, taste, and texture.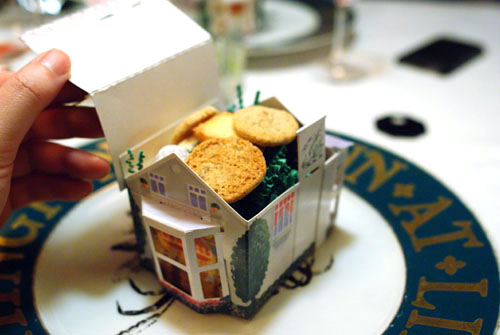 Afterwards, we were each given a small box (modeled after the Inn itself) of various cookies and candies to take home.
We've seen that Chef O'Connell is capable of some fantastic cookery, replete with his signature flourishes and whimsy, his fantastical take on modern American cuisine. At the same time however, the overall experience was marred by a couple of missteps that really did take away some of the magic. In the end, is The Inn at Little Washington still worth the drive? I'd say so, once at least.