Joe's Restaurant (Los Angeles, CA) [2]
Joe's Restaurant
1023 Abbot Kinney Blvd, Los Angeles, CA 90291
310.399.5811
www.joesrestaurant.com
Wed 12/01/2010, 06:00p-11:10p

In the notoriously ephemeral business of restaurants, the fact that Joe Miller's eponymous eatery in Venice will be entering its 20th year of operation in 2011 is an accomplishment worth celebrating. Over the years, the restaurant has gone through more than a few chefs: Miller himself, Jeff Osaka, Josh Gil, Michael Bryant, and even Eva's Mark Gold, among others. The latest in this line up is Kristopher Tominaga, who started at Joe's a few years back, eventually working his way up to the position of top toque. It'd been over two years since my last visit, so when I was invited to a media tasting of Tominaga's new fall menu, I jumped on the opportunity.
About the Chef
: Kris Tominaga's interest in cooking began with his family: his mother was a home economics cooking instructor, and his grandmother an avid baker. He attended CSU Chico, majoring in business, and during this time, began his professional restaurant career at a local Italian eatery. Despite a lack of formal culinary training, Tominaga was quickly promoted to head chef. At this point, he realized that was destined to cook, and following graduation, enrolled in the Jacques Pépin-led Culinary Arts program at Boston University. During his tenure in Boston, Tominaga cooked at the famed L'Espalier under Frank McClelland and Chef de Cuisine James Hackney. Following, he returned home to California, finding his place here at Joe's, where he's stayed ever since.

Recently, Joe's has been emphasizing the importance of its bar, which offers its own menu of small plates (specifically highlighting Miller's housemade charcuterie).



We were seated in the casually elegant, Craftsman-inspired main dining room. Of course, in more conducive weather, there's also the option of an outdoor dining area in the back.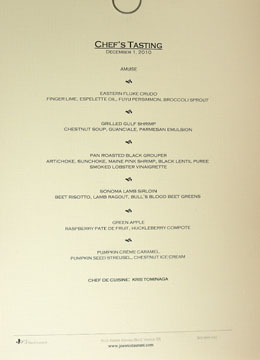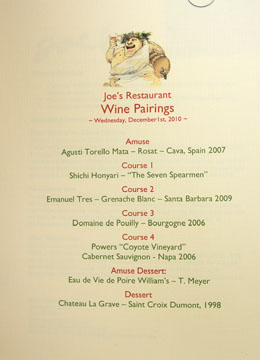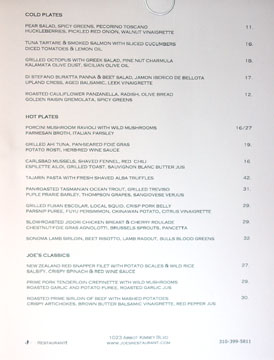 Though many diners choose to dine à la carte at Joe's, the preferred method is to opt for the seven-course Chef's Tasting, normally priced at a reasonable $78, plus only $30 for wine pairings. Click for larger versions.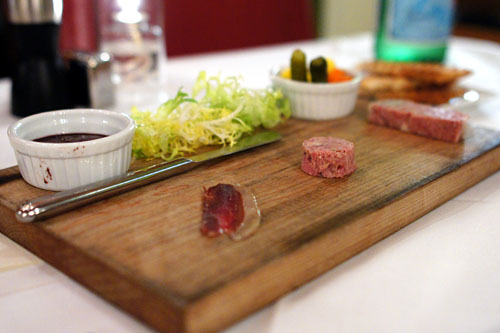 Charcuterie Board
As mentioned above, Joe's is making its own charcuterie now, and to start we were sent a sampler of duck prosciutto, duck galantine, and pork pâté, accompanied by mustard, frisée, pickles, and toasted bread. I began with the pork, and loved its subtly spicy, porcine flavor and immensely satisfying consistency. The duck prosciutto, on the other hand, was loaded with dark, duck-y savor, while the galantine's flavor was deftly augmented by the inclusion of foie gras. A nice spread to kick things off.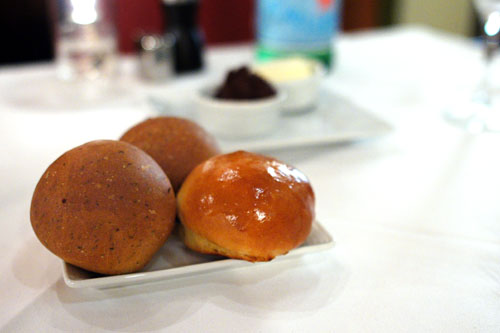 Three varieties of bread were on offer: olive, brioche, and onion & dill, served with butter and tapenade.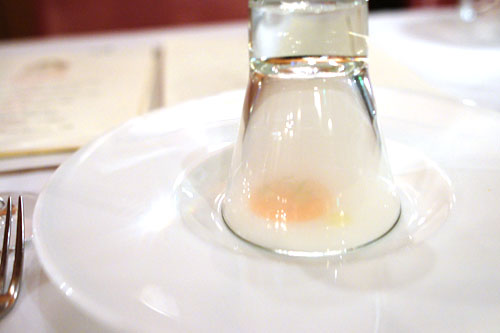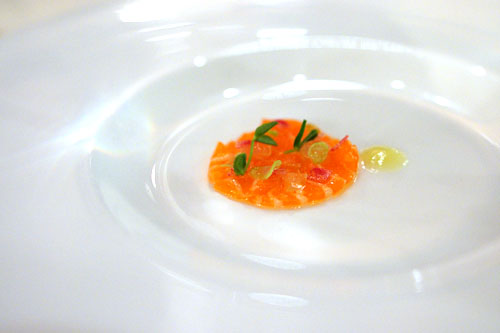 Amuse: Smoked Salmon
Agusti Torello Mata - Rosat - Cava, Spain 2007
Our amuse was rather
Moto
-esqe in presentation, comprised of a disk of smoked salmon, hidden under a smoke-filled drinking glass. The fish was further accompanied by what I believe was cilantro, anchovy, olive oil, and garlic. The intense smokiness of the dish was very apparent initially, and lingered through to the finish, though the essence of salmon was still preserved. Lovely briny close here, too.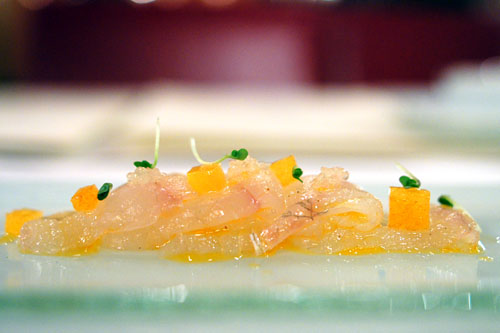 1: Eastern Fluke Crudo
| Finger Lime, Espelette Oil, Fuyu Persimmon, Broccoli Sprout
Shichi Honyari - "The Seven Spearmen"
The meal proper got off to a strong start with this beautiful presentation of fluke. I really appreciated the weight of the chorizo oil on the attack and how it played with the clean, delicate fish. At the same time, the finger lime gave the dish a great effervescent tang on the finish, and also mixed things up texturally. Very nice, especially with the floral, fruity paired sake.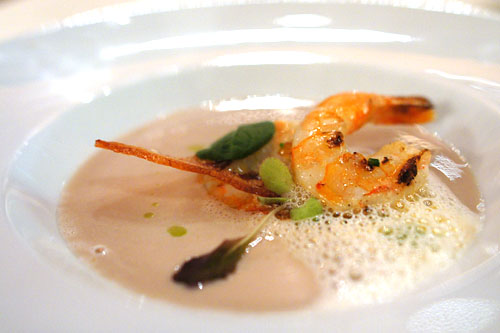 2: Grilled Gulf Shrimp
| Chestnut Soup, Guanciale, Parmesan Emulsion
Emanuel Tres - Grenache Blanc - Santa Barbara 2009
Shrimp arrived expertly cooked to a wonderfully supple, snappy consistency, with a lovely bit of char to boot. I loved the brazen, ocean-y tang of the crustacean, which was nicely augmented by the inclusion of salty guanciale. I was concerned that the chestnut would be too sugary, was it was nicely restrained here. One of the best presentations of shrimp that I've had in recent memory.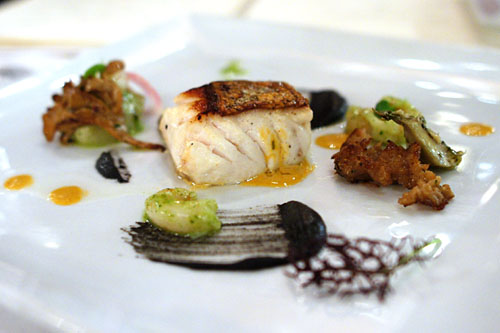 3: Pan Roasted Black Grouper
| Artichoke, Sunchoke, Maine Pink Shrimp, Black Lentil Puree, Smoked Lobster Vinaigrette
Domaine de Pouilly - Bourgogne 2006
Grouper managed to be my favorite course of the evening. I adored its firm, flaky consistency, crisp skin, and rich brine. It was delicious alone, but at the same time, I appreciated the tempering effects of the artichoke and sunchoke, as well as the earthy gravity of the mushrooms. Very nice.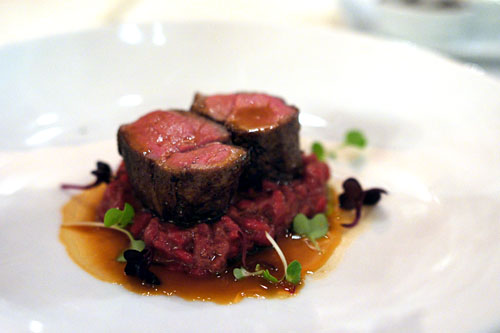 4: Sonoma Lamb Sirloin
| Beet Risotto, Lamb Ragout, Bull's Blood Beet Greens
Powers "Coyote Vineyard" Cabernet Sauvignon - Napa 2006
Our final savory course brought us lamb sirloin, cooked sous vide. The result was an incredibly tender cut of meat, flavorful yet subtle, and adroitly moderated by the beet risotto. I could've used a bit more from the bull's blood greens though. Quite nice with the heady, fruit-forward Cabernet.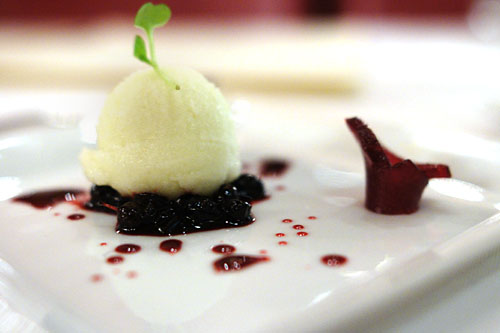 5: Green Apple
| Raspberry Pate De Fruit, Huckleberry Compote
Eau de Vie de Poire William's - T. Meyer
Green apple granité served as our pre-dessert. The bracingly tart, chill apple went gorgeously with the dark, dense, viscous sweetness of the berry compote and
pâté de fruit
.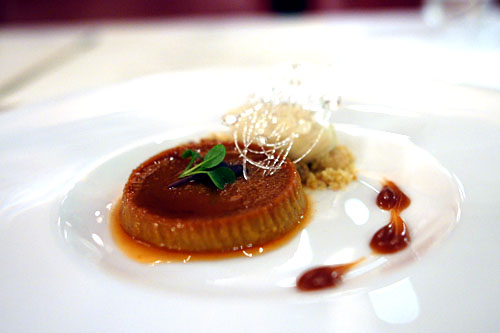 6: Pumpkin Crème Caramel
| Pumpkin Seed Streusel, Chestnut Ice Cream
Chateau La Grave - Saint Croix Dumont, 1998
We closed with a dessert very apropos for the holiday season. It was reminiscent of a pumpkin pie actually, with a hint of spice go along with the sugary heft of caramel. The chestnut ice cream, meanwhile, was greatly appreciated, as were the streusel crumbs, which lent a great bit of crunchiness to the dish.
This was a surprisingly strong showing from Joe's. Compared to
my last visit
two years ago, the food this time around was noticeably more focused, more restrained, more mature. Tominaga really looks like he's coming into his own here, and we should be looking forward to what the young Chef has in store for us next.