Test Kitchen (Los Angeles, CA) [21]
Test Kitchen
9575 W Pico Blvd, Los Angeles, CA 90035
310.277.0133
www.testkitchenla.com
Thu 11/30/2010, 07:00p-10:15p
Toward the end of the recent
Bocuse d'Or dinner at Providence
, I chatted a bit with one of the participating chefs,
Walter Manzke
, and during our discussion, he filled me in on his return to
Test Kitchen
. Rumors of his reappearance had been circulating for weeks, so I was happy to see the speculation come to fruition. I wasn't surprised that he was coming back, but I
was
surprised to hear what he was going to be cooking. Inspired by his recent trip to Spain, Manzke was to team up with Chef Perfecto Rocher of
The Blvd
restaurant at the Beverly Wilshire to present an extensive menu of Spanish tapas.
Rocher, for his part, is a native of Valencia, Spain, and, like Manzke, is also a former
stagiaire
of the famed El Bulli. Rocher started out as a dishwasher at the Manor House Hotel in England, then moved to the likes of Gary Danko and
Manresa
in the Bay Area,
Picasso
in Las Vegas, Arrop and Martin Berasategui in Spain, and was most recently Chef de Cuisine at San Francisco's Campton Place (a follow-up gig at Chez Papa Bistrot fell through).
Other notables in the house tonight:
213 Ventures
CEO Cedd Moses (Caña, Cole's, Seven Grand, Varnish, and more), Christina of
Food Je T'aime
, Jo of
My Last Bite
(with ex-husband Brent),
Mozza
manager
Kate Green
, Sous Chef Phillip Lee from
Hatfield's
, Ryan of
Epicuryan
, in-house photographer
Ryan Tanaka
, New York Giants co-owner and film producer
Steve Tisch
, restaurateur Steven Arroyo (Cobras & Matadors,
Church & State
, Potato Chips, Esquela), and Tsz of
Gastrophoria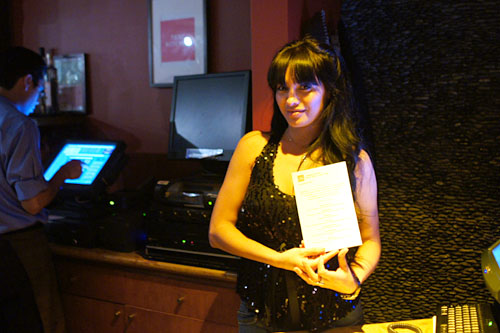 Our hostess Daisy, looking as beautiful and lovely as always.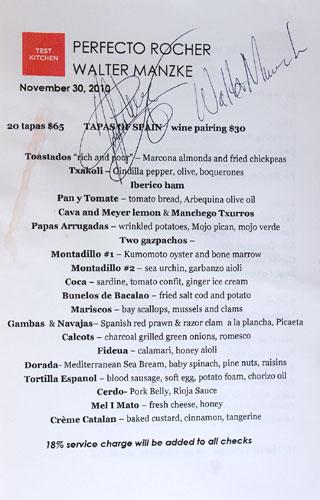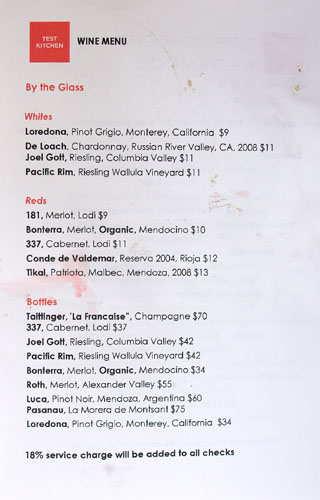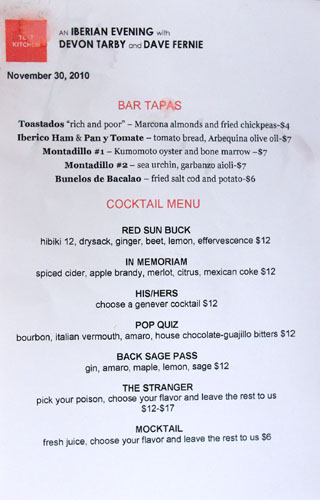 Manzke and Rocher's menu of 20 "bites" (not courses, confusingly) was priced at a reasonably $65, plus $30 for wine pairing. Cocktails by Devon Tarby and Dave Fernie were on offer for $12 each. Click for larger versions.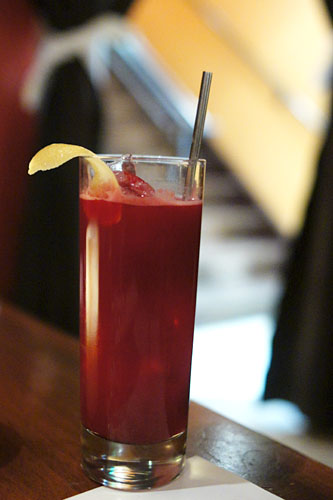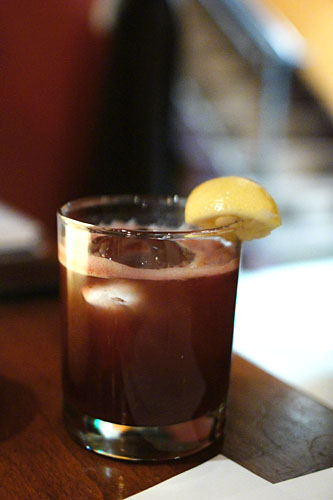 Red Sun Buck [$12.00]
| hibiki 12, drysack, ginger, beet, lemon, effervescence
In Memoriam [$12.00]
| spiced cider, apple brandy, merlot, citrus, mexican coke
As usual, we began with a duet of cocktails. I was enamored with the deep scarlet hue of the Red Sun Buck, and didn't mind its flavor either: tangy and boozy with a ginger-laced attack, leading to the sweetness of beet on the close. The In Memoriam, sort of a take on a sangria, was even better. I loved its interplay of sweet and spicy flavors over a weighty, vinous body of merlot--very nice.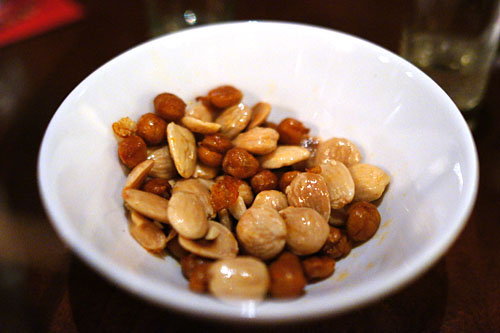 1: Toastados "rich and poor"
| Marcona almonds and fried chickpeas
We were told that, historically, the rich in Spain ate almonds while the poor consumed chickpeas, hence this bowl of toasted Marconas and garbanzos to start. They both showed off a delightful crunch and saltiness, with the almonds hinting at a bit of sweetness as well.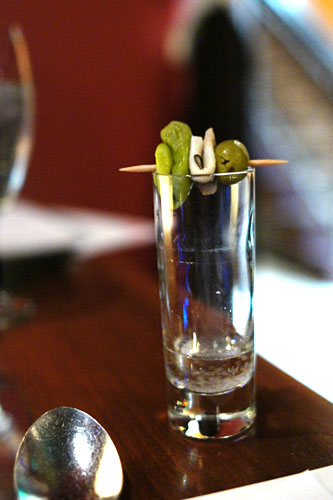 2: Txakoli
| Gindilla pepper, olive, boquerones
Next up was an intriguing shooter of sorts. The marriage of
guindilla
, olive, and
boquerones
(anchovy) deftly conveyed a fascinating interplay of tart, briny, and piquant flavors, which were subsequently tempered by the shot of effervescent, acidic Txakoli wine. A long, lingering finish on this one.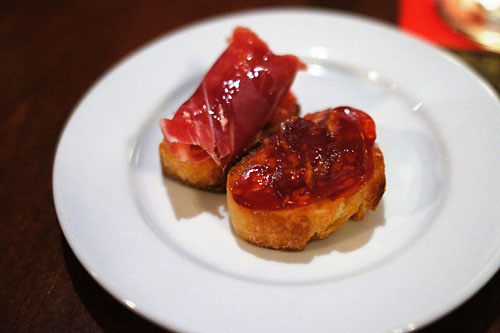 3: Iberico ham
4: Pan y Tomate
| tomato bread, Arbequina olive oil
Jamón ibérico was delicious, as expected, with a silky, smooth consistency backed up by a delectably savory, almost melt-in-your-mouth flavor. The
pan y tomate
was more interesting, with the sweetness of the tomatoes going along nicely with the salty tang of the chorizo topping, all under the overarching weight of olive oil and garlic. My only concern with these two bites was that the bread was a bit too toasty; I would've liked something softer.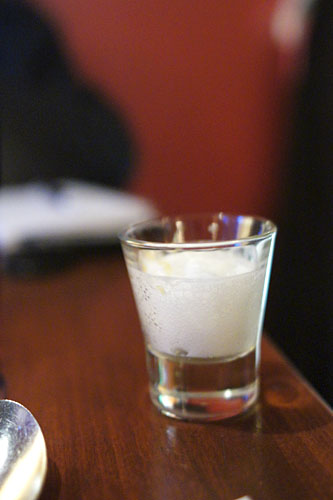 5: Cava and Meyer lemon & Manchego Txurros
A shot of Cava and lemon served as a sort of palate cleanser--intense and lip-puckering in its bright, citric tang. This was followed up with some gorgeous
Queso Manchego
churros, with a great bit of cheesy savor balanced by just a touch of sweetness. Delish, and somewhat reminiscent of the Chinese
you tiao
from which they are derived.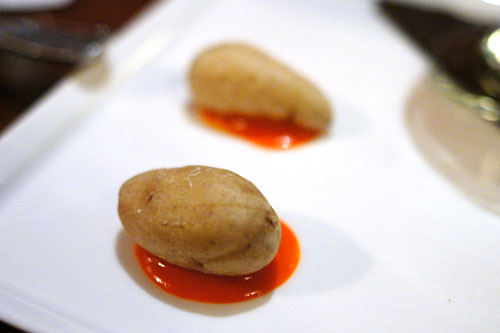 6: Papas Arrugadas
| wrinkled potatoes, Mojo picon, mojo verde
I usually love
papas arrugadas
(wrinkly potatoes), but these lacked the characteristic punch that I was looking for. The taters were nicely textured, but I really wanted to taste more salt. At the same time, I wanted more heat, more zest from the included
mojo picon
, and the
mojo verde
was nowhere to be seen!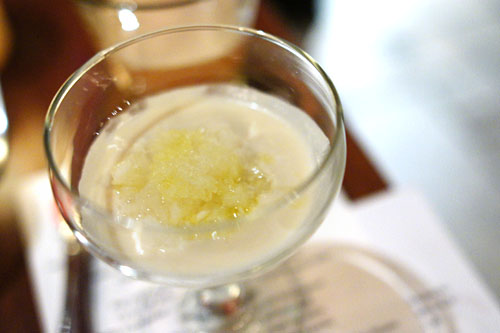 7: Two gazpachos
Here, the Chefs combined
ajoblanco
(a cold soup with almonds, grapes, and garlic) with a traditional gazpacho. The combination was quite effective--a refreshing potage with tasty, tangy, complex vegetal flavors over a backbone of oil and garlic.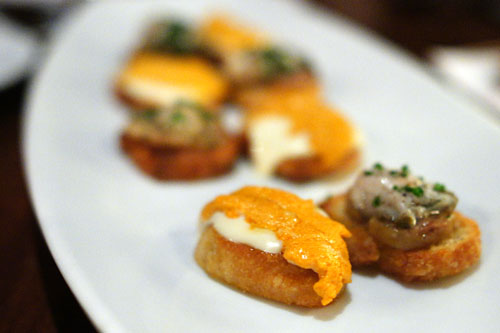 8: Montadillo #1
| Kumomoto oyster and bone marrow
9: Montadillo #2
| sea urchin, garbanzo aioli
Montadillos
are bite-size sandwiches often consumed with alcohol in Spain. The first of the two featured my favorite oyster, Kumamoto, and bone marrow. The brine of the oyster was delightfully intense here, yet deftly balanced by the weight of the marrow. The urchin version was also quite tasty, with the ocean-y sweetness of uni tempered beautifully by the moderating effect of garbanzo. Again though, I wish that the bread here were softer.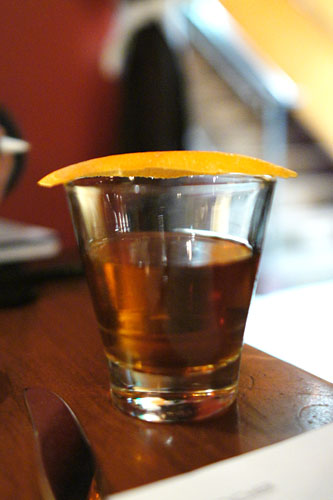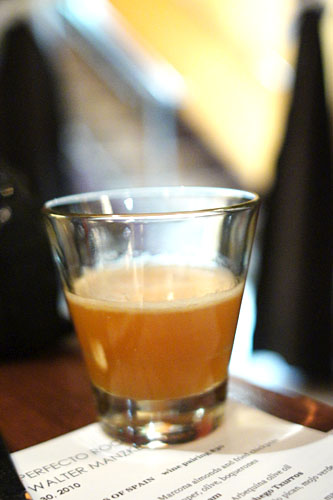 His/Hers [$12.00x2]
| choose a genever cocktail
Devon Tarby and Dave Fernie were manning the bar tonight, and each came up with their own version of a jenever (a gin-like liquor) cocktail. His, Dave's, was smoky with a marked whiskey character, tempered a bit by the aroma of orange zest (one of my dining companions compared it to an Old Fashioned). Hers, on the other hand, was more floral, vegetal, and bitter, with a slight bit of citric sweetness.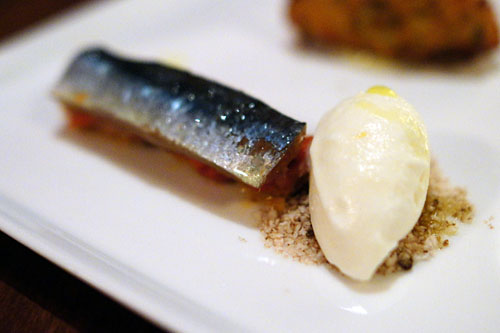 10: Coca
| sardine, tomato confit, ginger ice cream
Next was a take on a classic Spanish pastry: the
coca
. As expected, the sardine was imbued with a focused, fishy savor. I was a bit concerned about the tomato, but its sweetness, in concert with the pastry dough, did actually moderate the sardine rather effectively. I wasn't so keen on the ginger ice cream and coffee crumbs, however, finding them far too sugary for the fish. One of my dining companions even described this as "phyllo dough sushi."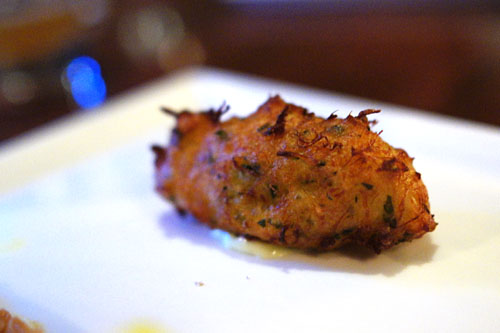 11: Bunelos de Bacalao
| fried salt cod and potato
I've become sort of a salt cod slut over the past couple years, and this was one of the strongest presentations of
bacalao
that I've ever had. I adored the unabashed saltiness of the dish, but I appreciated how the potato and olive oil grounded the fish, and how there was a bit of a vegetal element here as well. Absolutely lovely.
12: Mariscos
| bay scallops, mussels and clams
13: Gambas & Navajas
| Spanish red prawn & razor clam a la plancha, Picaeta
14: Calcots
| charcoal grilled green onions, romesco
Following was our most substantial plate, a cornucopia of various seafood: razor clam, clams, mussels, bay scallops, and Spanish red prawn, garnished with grilled calçot (green onion) and romesco sauce. All of the shellfish dutifully showed off their characteristic brine, with my favorite item being the clams, and I liked the inclusion of the piquant romesco and sweet-smoky calçot. I would've preferred a bit more cooking, though, as some of the seafood was a bit too rare for me.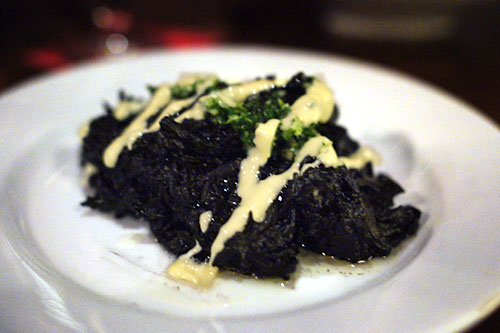 15: Fideua
| calamari, honey aioli
Here was a paella-like dish made with small, thin fideuà noodles, a specialty of Chef Rocher. I appreciated the light brine of the dish, as well as the marked garlic character of the pasta, but I wanted more calamari, as well as a firmer, more al dente texture on the noodles.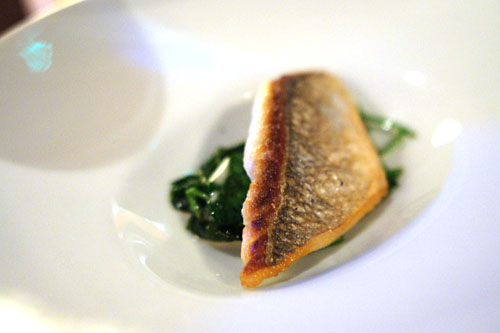 16: Dorada
| Mediterranean Sea Bream, baby spinach, pine nuts, raisins
One of my favorite courses of the evening was the beautifully prepared orata, or gilt-head sea bream. I loved the fish's texture as well as its savory, mouth-watering flavor, deftly balanced by the slight bitterness of spinach. Very nice.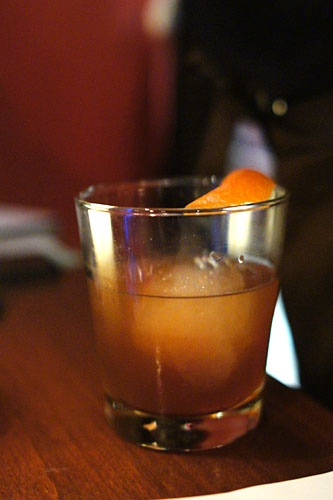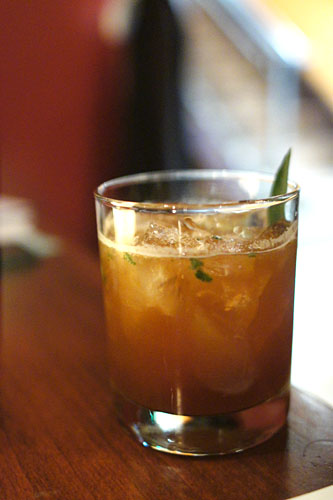 Pop Quiz [$12.00]
| bourbon, italian vermouth, amaro, house chocolate-guajillo bitters
Back Sage Pass [$12.00]
| gin, amaro, maple, lemon, sage
The Pop Quiz was a hefty, viscous, bittersweet concoction with a almost cough medicine-esque character. Meanwhile, the Back Sage Pass was sweet with a strong herbaceous character; I likened it to "drinking a Christmas tree!"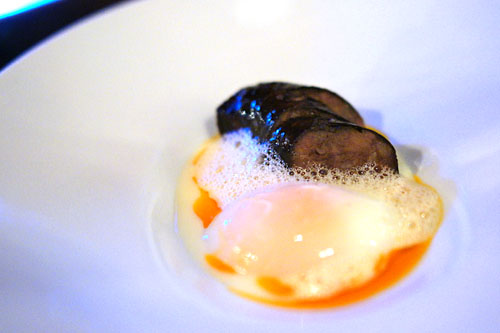 17: Tortilla Espanol
| blood sausage, soft egg, potato foam, chorizo oil
I've never been a huge fan of blood sausage, but absolutely adored this preparation. The morcilla was fantastic alone, showing off a bold, heady savor balanced by what I believe was the inclusion of rice. At the same time, the potato helped temper the dish even further, and how could I not appreciate the lusciousness of that runny egg? Excellent.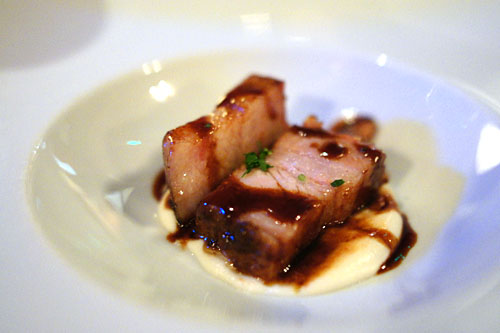 18: Cerdo
| Pork Belly, Rioja Sauce
Pork belly, unfortunately, was a bit of a letdown. The meat itself was a touch chewier than I'd like, and the flavors of Rioja, pear, and celery paired with the pig seemed a bit unbalanced. It almost had an Asian tinge to it, but not quite.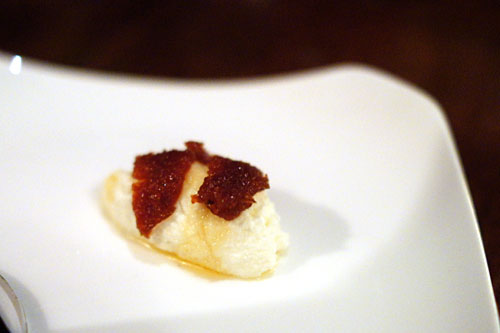 19: Mel I Mato
| fresh cheese, honey
Our first dessert brought us a tiny quenelle of housemade goat cheese, topped with wildflower honey and a dehydrated quince paste "leather." I actually enjoyed this, finding the subtle saltiness of the cheese a fitting match to the brazen sweetness of honey and fruit.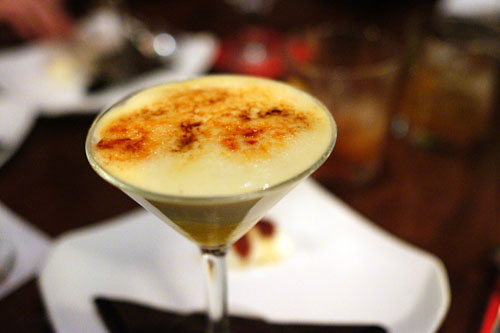 20: Crème Catalan
| baked custard, cinnamon, tangerine
We closed with a glass of
crema catalana
, basically Spain's answer to the vaunted crème brûlée. What struck me most here was the dessert's delightful trace of cinnamon spice, as well as the sharp citrus tang of the tangerine sorbet at the bottom. A table favorite.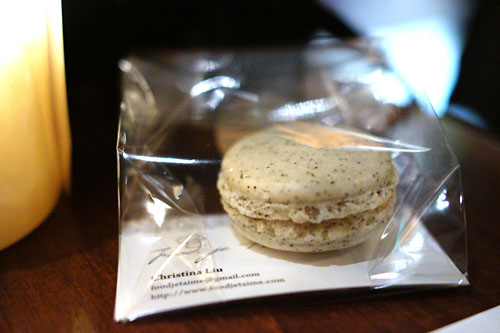 Christina of
Food, Je T'aime
was kind enough to bring along some of her homemade Earl Grey Salted Caramel macarons. She is, of course, well-known as a bit of a macaron maniac, and this was one of her most ambitious efforts yet. It paid off, though, as the macaron was one of the best I've ever had, showing off a beautiful interplay between the fragrant flavors of the tea and the salted sweetness of caramel. I loved the rich, chewy consistency of the caramel as well, and how it played with the falling-apart delicate shells. Christina once claimed that her macarons were superior to those of famed Parisian pâtisserie
Ladurée
; now I see why!
The idea of Manzke and Rocher doing a collaborative tapas night seemed like a curious idea to me, but they worked it out admirably despite a handful of misfires. What I liked most about the dinner was how they managed to present Spanish classics in new, creative manners while still preserving the original character of the traditional dish. If either of the two Chefs are thinking of opening a Spanish restaurant, then I'm certainly game!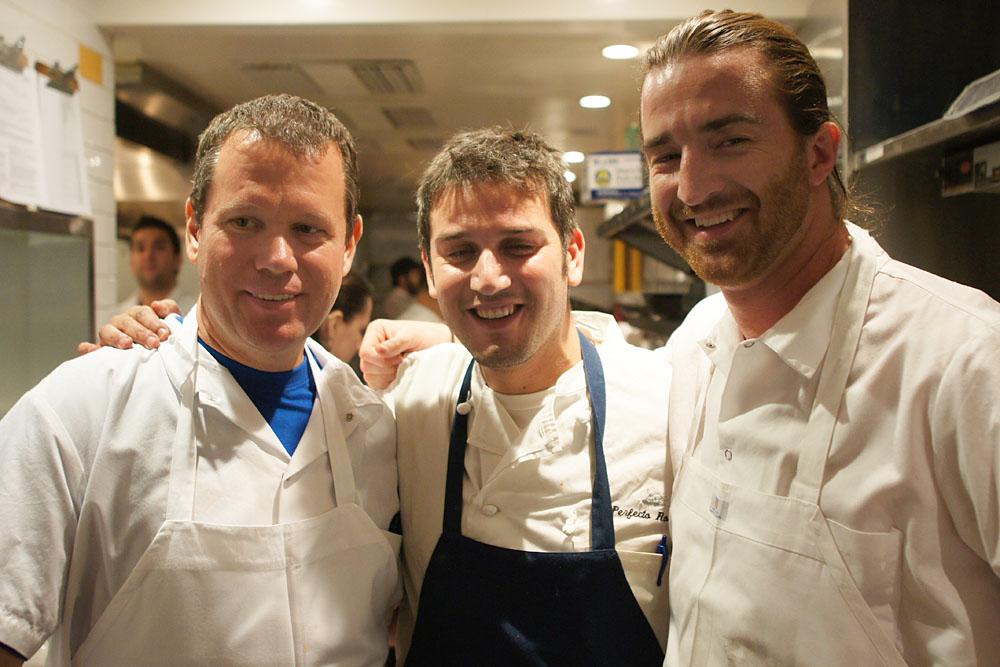 Previous Test Kitchen posts: Alain Giraud (11/04), Guillermo Barreto - Diego Hernandez - Ismene Venegas (10/27), Ricardo Zarate (10/16), Javier Plascensia (10/13), Marcel Vigneron (10/1), Suzanne Griswold - Rachael Narins (9/30), Adam Horton (9/27), Steve Samson - Zach Pollack (9/23), Joshua Smith (9/21), Amy Pressman (9/20), Shelley Cooper (9/17), John Sedlar (9/15), Amanda Baumgarten - Dylan Hallas - Dan Moody (9/14), TiGeorges Laguerre (9/6), Vartan Abgaryan (9/4), Neal Fraser (8/31), Michael Voltaggio (8/29), Walter Manzke (8/25), Ricardo Zarate (8/24), Jordan Kahn (8/18).