Test Kitchen (Los Angeles, CA) [23]
Test Kitchen
9575 W Pico Blvd, Los Angeles, CA 90035
310.277.0133
www.testkitchenla.com
Mon 12/13/2010, 07:30p-11:30p

All good things must come to an end?
Monday, December 13th marked the last night of Test Kitchen, LA's seminal restaurant-without-a-chef (not
the other way around
). The brainchild of
Rivera
co-owner Bill Chait and budding restarateur Brian Saltsburg, Test Kitchen has helped define the City's culinary Zeitgeist over the past few months, showcasing an ever-changing selection of rotating cooks, all anchored by resident chef-at-large Ricardo Zarate. To celebrate Test Kitchen's short but wildly popular tenure, one ultimate, blow-out charity benefit finale was planned, featuring some of the pop-up's most popular guest chefs:
Neal Fraser
,
Alain Giraud
,
Walter Manzke
,
Amy Pressman
,
Steve Samson/Zack Pollack
,
Michael Voltaggio
, and, of course,
Zarate
himself.
The night's proceeds benefitted
Gettlove
and
Share Our Strength
, and sponsors included Beautiful Creatures(?), sustainable and eco-friendly seafood supplier
Eco Pez
,
Fiji Water
,
Intelligentsia Coffee
,
L.A. Specialty Produce
,
La Quercia
, the
National Pork Board
,
Newport Meat Company
, beverage marketer/distributor
Wine Warehouse
, spirit/wine distributor
Young's Market Company
, and wineries
Baker Lane
,
Blandy's
,
La Fenêtre
,
Martian Ranch
,
Stoller Vineyards
, and
Torbreck
.
Notables guests in attendance this final evening included: Chefs Adam Cole and
AJ Ramirez
from Ink (the upcoming
Michael Voltaggio
project), Chef
Adam Horton
from
Saddle Peak Lodge
, Chef
Alex Reznik
(formerly of Ivan Kane's Café Was), Chef
Amanda Baumgarten
from Water Grill, Andrea Rademan from the
IFW&TWA
, Chef
Ben Bailly
from Fraiche, Bill of
Street Gourmet LA
, Chef Chris "CJ" Jacobsen from The Yard, Chef
Christian Page
from Daily Dose, Christine of the defunct
Folie à Choisauce
, Chef
Dan Moody
from
LudoBites
(and his soon-to-be pop-up), Darin of
Darin Dines
, Chef Elderoy Arendse (formerly of Fraiche), Elliott of
F for Food
, Chef
Eric Greenspan
from The Foundry on Melrose, Chef
Gary Menes
from The Hall Courtyard Brasserie, Chef Haru Kishi from Chaya Brasserie, Jo of
My Last Bite
(with husband Peter), Chef Josiah Citrin from
Melisse
, Julian a.k.a.
DJ Jewelz
,
Mozza
manager
Kate Green
, Chef Kevin Meehan from
Café Pinot
, Chef Kris Tominaga from
Joe's
, Chef
Marcel Vigneron
from Bar 210, Marian of
Marian the Foodie
, Noelle of the departed
Drink 'n' Dive
, Nguyen and Thi Tran from
Starry Kitchen
, Chef Ori Menashe from
Angelini Osteria
, Chef
Perfecto Rocher
from Blvd, Ryan of
Epicuryan
,
Shawna Dawson
from
SauceLA
, Pastry Chef Sherry Yard from
Spago
, Uri Burstein from
Prescriptive Music
(supplier of the tunes for Test Kitchen), Pastry Chef Waylynn Lucas from
Saam/The Bazaar
, and many more that I'm sure I missed.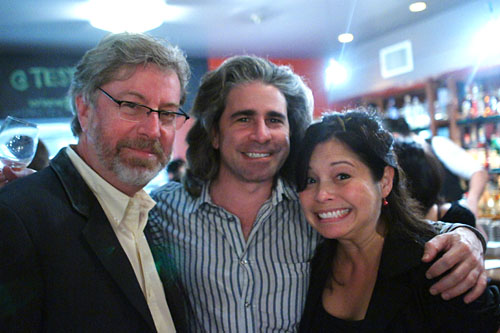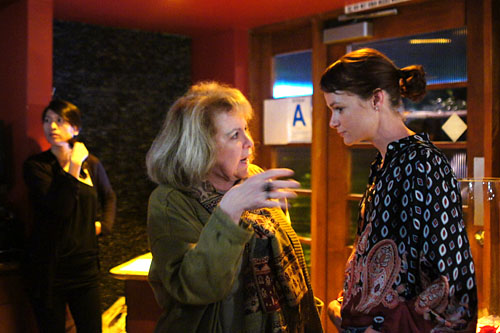 Left:
Of course, the first people we run into are
Jo
(just look at that smile) and husband Peter, shown here with TK co-founder
Brian Saltsburg
.
Right:
Food and travel writer Andrea Rademan, chatting with Bill Chait's girlfriend.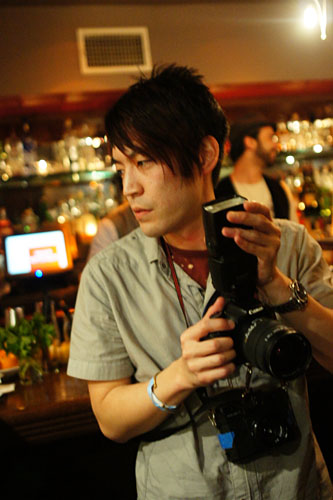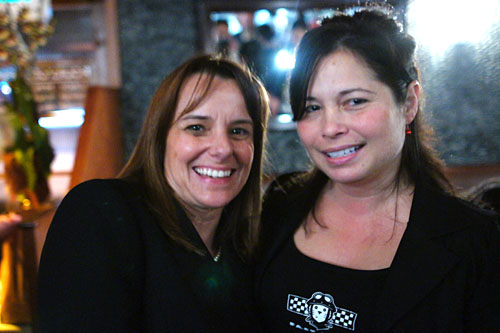 Left:
No dinner here would be complete without a sighting of Test Kitchen's resident photographer
Ryan Tanaka
.
Right:
Jo
, this time posing with a representative from
Share Our Strength
.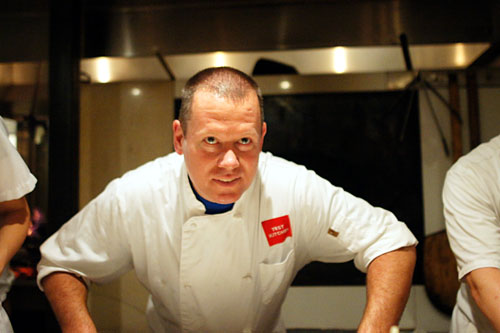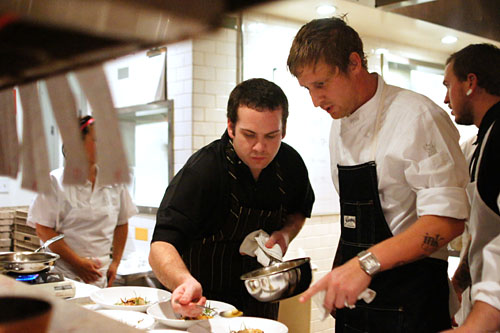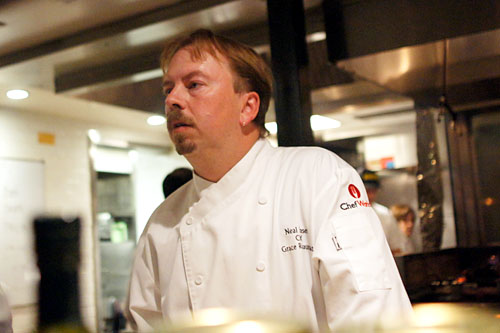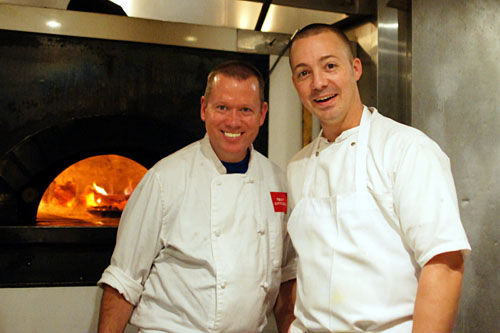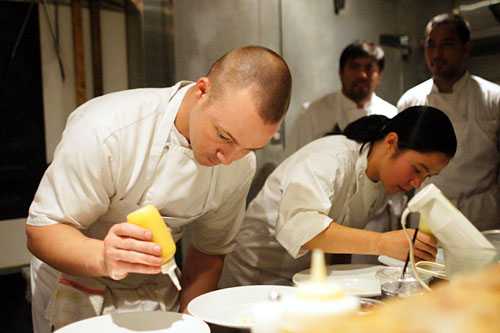 Scenes from the kitchen:
Walter Manzke
,
Klein De Bow
,
Michael Voltaggio
,
Neal Fraser
,
Jon Butler
, Margarita Manzke.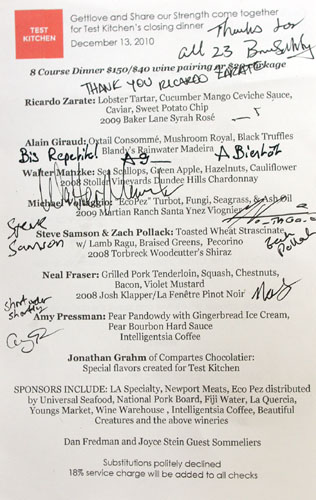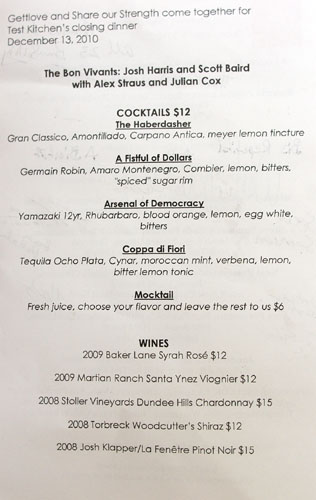 Closing time--cue the
Semisonic
. The menu featured eight courses, priced at $150, plus an additional $40 for wine pairings. Click for larger versions.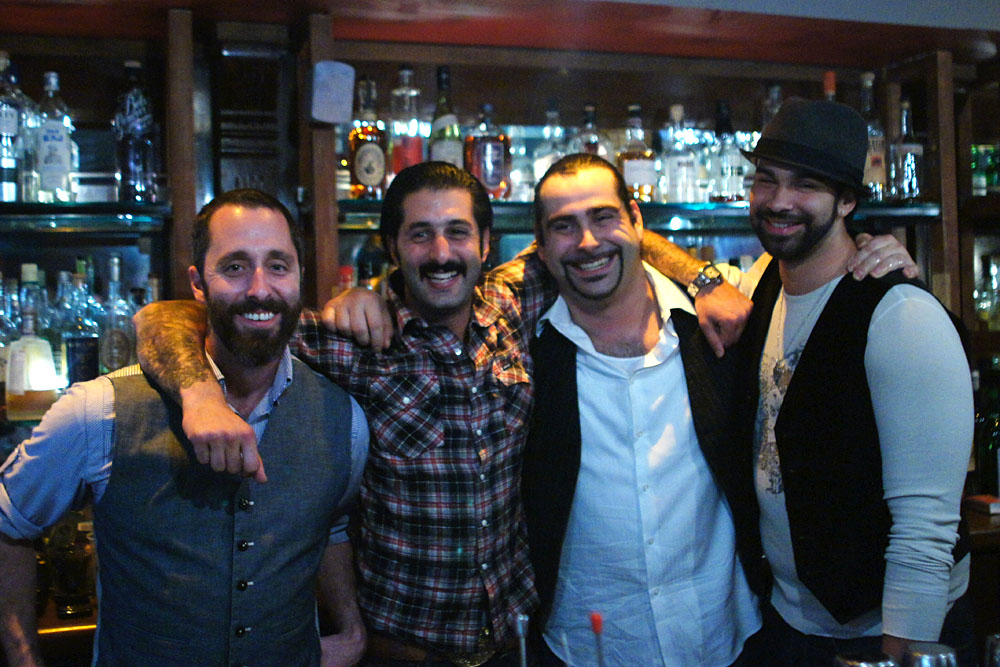 Cocktails, meanwhile, were the charge of Scott Baird & Josh Harris of
The Bon Vivants
,
Alex Straus
(most recently of Hemingway's), and resident barman
Julian Cox
.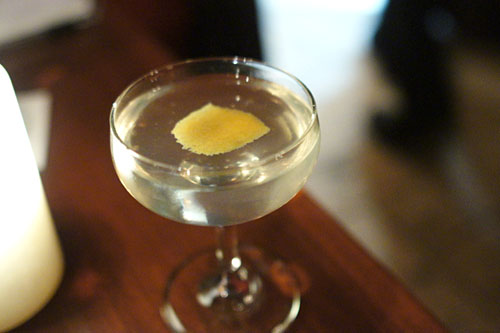 Del Rio [$12.00]
| Tequila, Orange, St. Germain
I decided to do a wine pairing for the first time ever at Test Kitchen, given that the cocktail list hadn't changed since my last visit. There was one exception though: the Del Rio, a new off-menu concoction. It was actually quite tasty, with a bright, floral, citrus-kissed aroma leading to herbal, sweet flavors with a hint of heat. Not bad!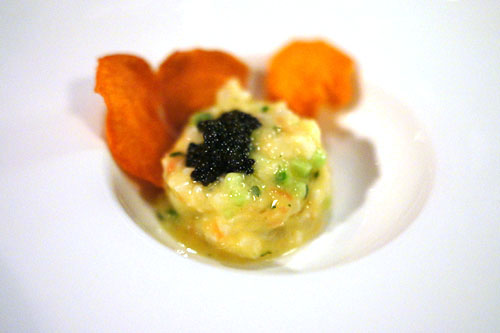 1: Lobster Tartar
| Cucumber Mango Ceviche Sauce, Caviar, Sweet Potato Chip [
Ricardo Zarate
]
2009 Baker Lane Syrah Rosé
We began with a ceviche from Ricardo Zarate. The lobster was sweet, with marked undertones of ginger joined by just a hint of heat from the
aji amarillo
. At the same time, the mango heightened the natural sweetness of the crustacean--though I could've used a bit less of it--while the American sturgeon caviar gave the dish a nicely salty finish. Perhaps my favorite items here though were the sweet potato chips, which lent a great textural play to the course.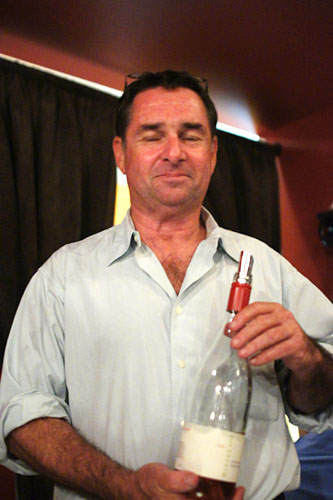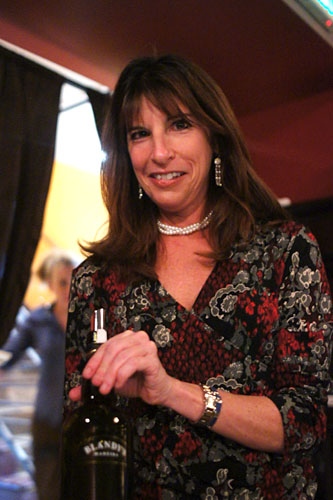 Guest sommeliers for the evening
Dan Fredman
and Joyce Stein.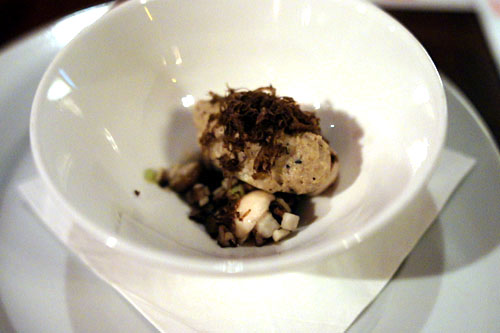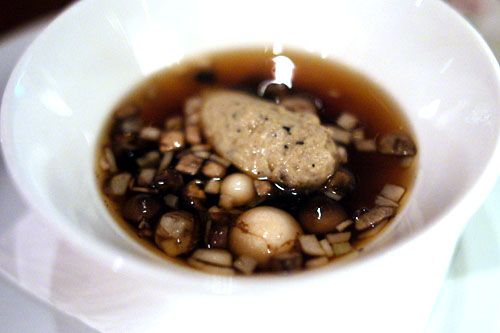 2: Oxtail Consommé
| Mushroom Royal, Black Truffles [
Alain Giraud
]
Blandy's Rainwater Madeira
Next up was perhaps the tastiest consommé that I'd ever experienced. The soup's bouquet was imbued with a beefy, umami-tinged essence, but its flavor was actually quite restrained, showing off the rich taste of shimeji mushrooms. The crux of the dish, however, was the chicken-black truffle quenelle, which added a heady, hearty flavor to the dish that I adored.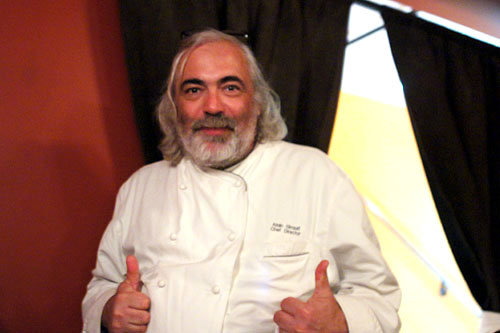 Giraud's consommé gets two thumbs up.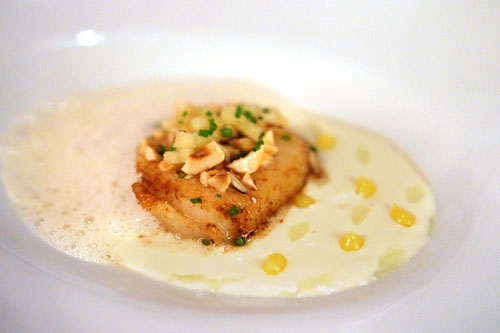 3: Sea Scallops
| Green Apple, Hazelnuts, Cauliflower [
Walter Manzke
]
2008 Stoller Vineyards Dundee Hills Chardonnay
Manzke presented a solitary scallop, topped with chopped hazelnuts, over a green apple-cauliflower purée and green apple foam. The scallop itself arrived perfectly cooked, and I appreciated the countervailing flavors of the apple and cauliflower. The hazelnuts, meanwhile, augmented the bivalve's natural sugariness, but I would've liked a tad less crunchiness from then.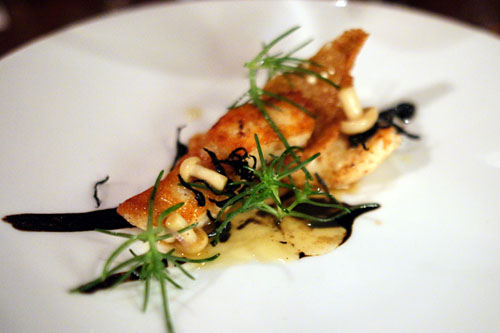 4: "EcoPez" Turbot
| Fungi, Seagrass, Ash Oil [
Michael Voltaggio
]
2009 Martian Ranch Santa Ynez Viognier
To create the ash element used here, Voltaggio burned leek and mushroom over an open fire, dehydrated and ground up the remains, then mixed the resultant amalgam with EVOO. The fungi, meanwhile, was represented by button and shiitake mushrooms. The fish itself was deftly pan seared, showcasing a firm yet supple flesh paired with a delectably crisp skin, and went beautifully with the ash, mushrooms, and light, tempering flavors of the seagrass especially. Arguably the best preparation of turbot that I've ever had.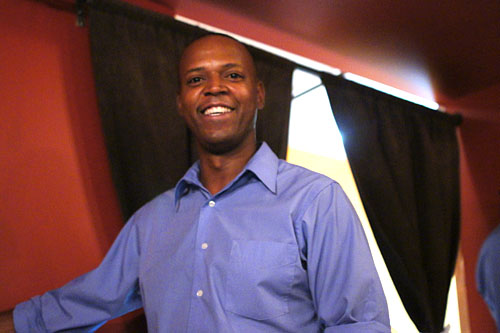 One of the benefits of always sitting at Table 44 ("the kevinEats table") was our server Aaron. He always took good care of us.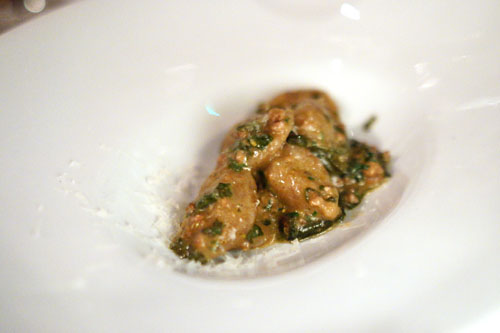 5: Toasted Wheat Strascinate
| Lamb Ragu, Braised Greens, Pecorino [
Steve Samson & Zach Pollack
]
2008 Torbreck Woodcutter's Shiraz
Strascinate refers to a ear- or disk-shaped wheat and semolina pasta, traditionally from the Puglia region of Italy. The pasta was, of course, housemade, and had a slightly doughy consistency that I enjoyed. The strascinate went superbly with the rustic flavors of the paired lamb ragu, and I appreciated the subtle bitterness from the Swiss chard used. I quite liked the salty overtones of the Pecorino as well.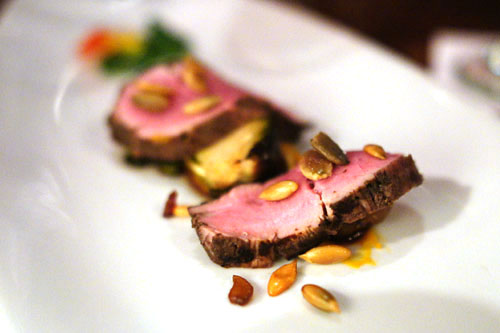 6: Grilled Pork Tenderloin
| Squash, Chestnuts, Bacon, Violet Mustard [
Neal Fraser
]
2008 Josh Klapper/La Fenêtre Pinot Noir
Undeniably tender, succulent, and profoundly flavorful, the tenderloin here was one of the best pieces of pork that I'd ever tasted. The meat easily stood alone, but I also appreciated the smoky nuttiness of the pepitas, as well as the astringency of the nasturtium. However, the chestnut and squash purée was a touch sweet for me; the dish would've been perfect had it just been left off the plate.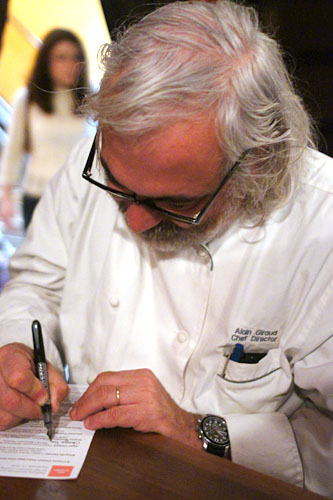 Chef Giraud gets working on those menus.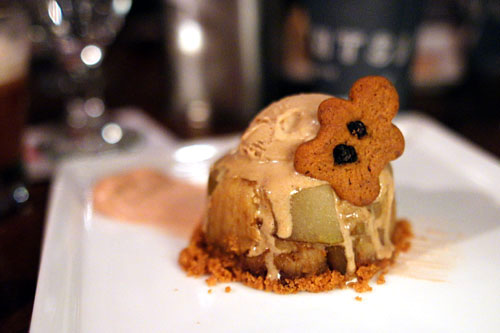 7: Pear Pandowdy
| Gingerbread Ice Cream, Pear Bourbon Hard Sauce [
Amy Pressman
]
Intelligentsia Coffee
Tonight was actually my first time having a pandowdy, which is basically a dish of sliced fruit, baked with sugar and spices in a deep dish, then covered in a thick, crisp, crumbly battered crust, often served with ice cream. Here, the dessert was almost bread pudding-like in certain parts, and I enjoyed its sweet, spicy character as well as the boozy flavor of the accompanying Knob Creek hard sauce. Note the "Jewish man" decoration of rye flour.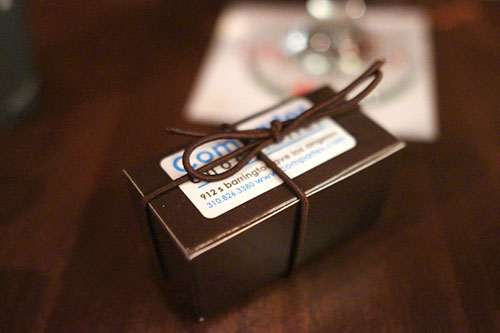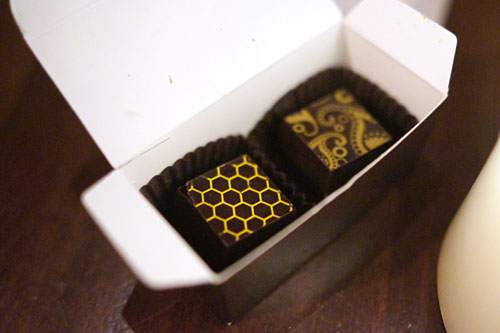 8: Compartes Chocolatier Chocolates
| Special flavors created for Test Kitchen [
Jonathan Grahm
]
Legendary chocolatier
Compartes
provided a selection of truffles to close the meal. Flavors included Macallan 18, peanut butter, rosemary truffle, and raspberry ganache, among others.
With dinner dispensed with, we wandered into the kitchen...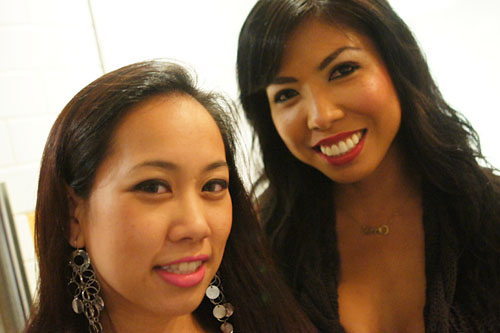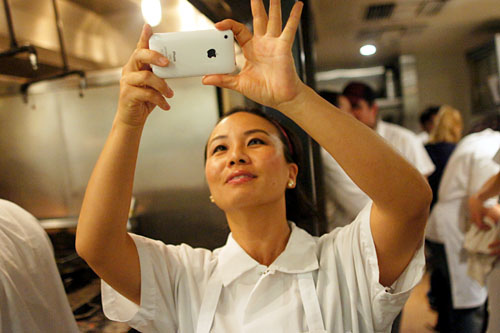 Left:
Lovely ladies
Marian
and friend
Joy
.
Right:
Chef
Lynda Kim
snaps a pic.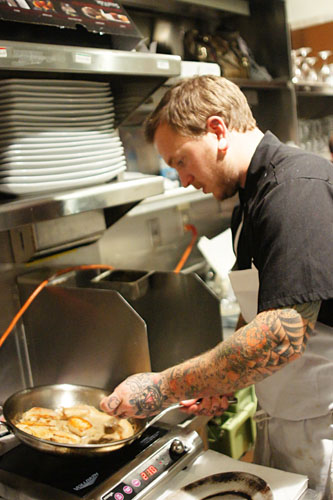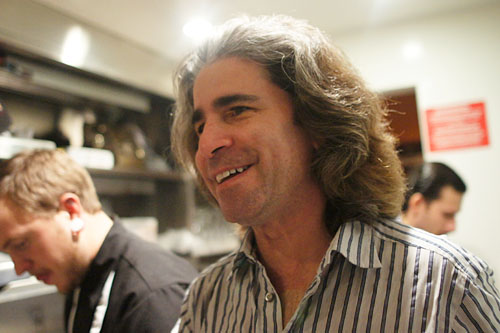 Left:
Michael Voltaggio's Chef de Cuisine Cole Dickinson wins the award for most tats.
Right:
The instigator.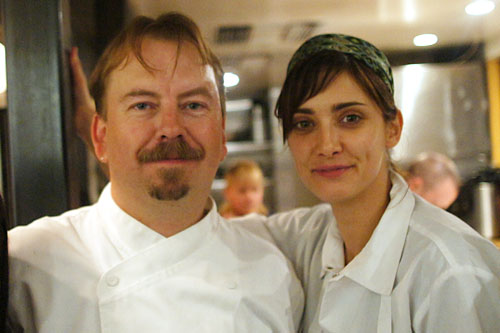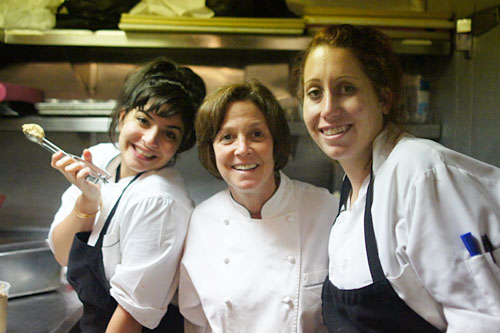 Left:
Fraser has good reason to smile.
Right:
Pressman and her angels:
Renee Faris
and Leslie Slocovich.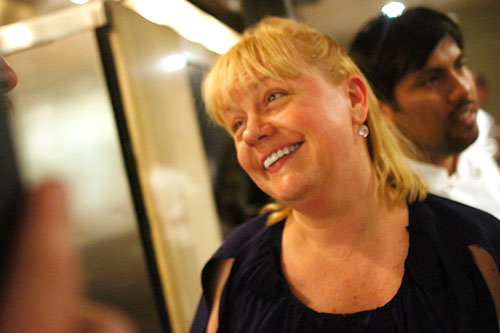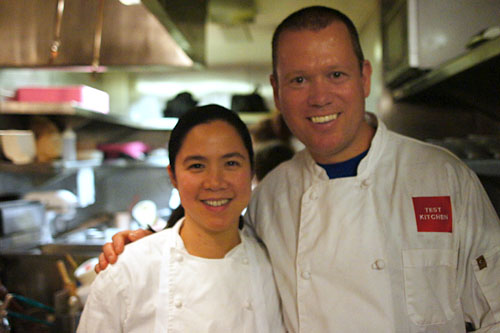 Left:
The inimitable Sherry Yard.
Right:
The Manzkes.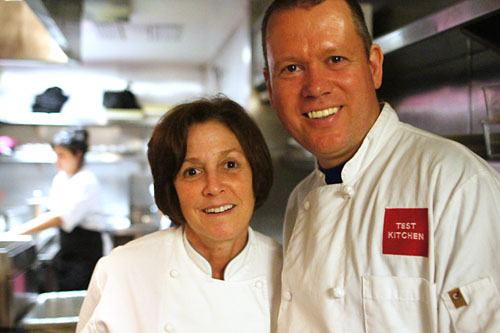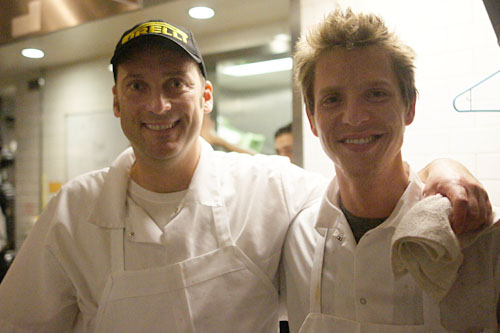 Left:
Amy Pressman
and
Walter Manzke
.
Right:
Steve Samson & Zach Pollack
(sorry for the subpar photo guys).
And now, on my way out...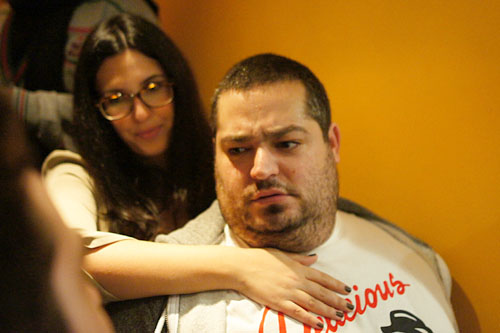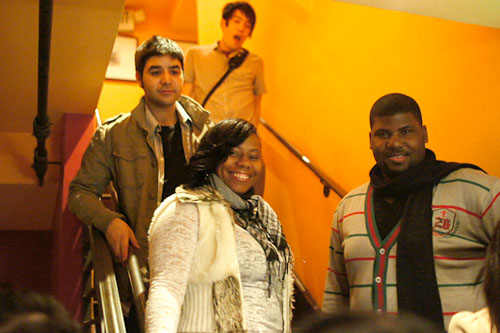 Left:
Pawing
Eric Greenspan
.
Right:
Who are these dashing people?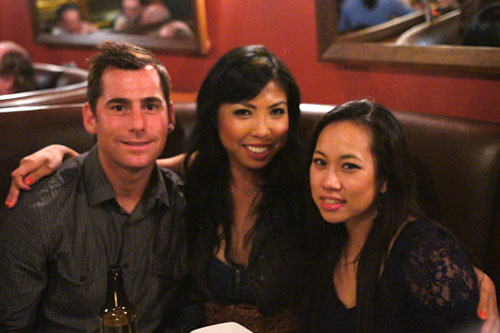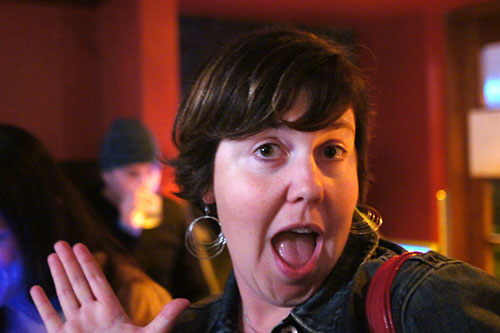 Left:
Kevin Meehan
, with Asian persuasion
Marian
and
Joy
.
Right:
Who else, but
Noelle
?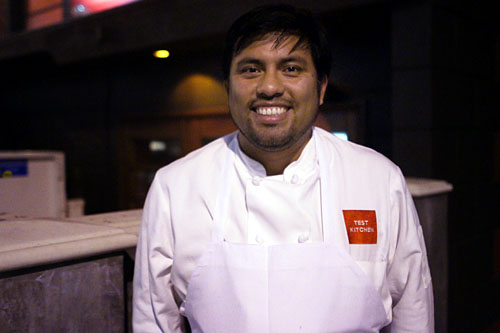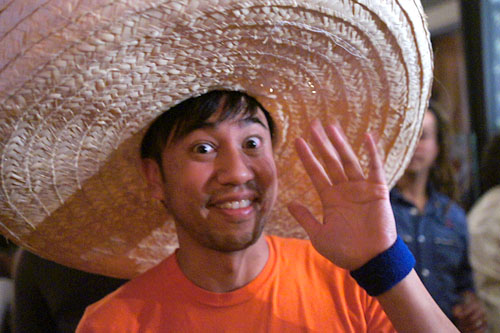 Left:
The man behind it all: Test Kitchen's resident chef,
Ricardo Zarate
.
Right:
Bye-bye everybody!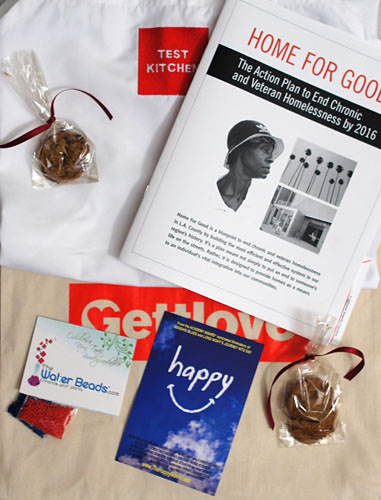 The
Gettlove
gift bag, replete with random cookies,
Water Beads
, a coupon for a free DVD of
The Happy Movie
, Gettlove literature, and a stylish Test Kitchen apron.
And with that, we come to the end of a brief era in Los Angeles gastronomy. It was a fitting conclusion to Test Kitchen, with the chefs putting up a strong suite of dishes that really did justice to the concept. What's next? The building housing Test Kitchen, now known as "The Townhouse," will serve as home to Samson & Pollack's upcoming Southern Italian eatery Sotto on the first floor, while the second floor will house Zarate's upscale Peruvian restaurant Picca. Finally, the tiny third floor will be dedicated to a small bar helmed by Julian Cox. Look for the restaurants to debut in the February-March timeframe, with the bar coming sometime afterward. Meanwhile, we haven't heard the last from Chait, Saltsburg and company--there have been rumors circulating that the pop-up will, well, pop-up again somewhere else in the City, and perhaps even across the country. Stay tuned; this story ain't over yet...
Previous Test Kitchen posts: Elderoy Arendse - Ori Menashe (12/11), Walter Manzke - Perfecto Rocher (11/30), Alain Giraud (11/04), Guillermo Barreto - Diego Hernandez - Ismene Venegas (10/27), Ricardo Zarate (10/16), Javier Plascensia (10/13), Marcel Vigneron (10/1), Suzanne Griswold - Rachael Narins (9/30), Adam Horton (9/27), Steve Samson - Zach Pollack (9/23), Joshua Smith (9/21), Amy Pressman (9/20), Shelley Cooper (9/17), John Sedlar (9/15), Amanda Baumgarten - Dylan Hallas - Dan Moody (9/14), TiGeorges Laguerre (9/6), Vartan Abgaryan (9/4), Neal Fraser (8/31), Michael Voltaggio (8/29), Walter Manzke (8/25), Ricardo Zarate (8/24), Jordan Kahn (8/18).