Red Medicine (Beverly Hills, CA)
Red Medicine Restaurant
8400 Wilshire Blvd, Beverly Hills, CA 90211
323.651.5500
www.redmedicinela.com
Thu 12/09/2010, 06:45p-10:50p
Yes, it's true. Jordan Kahn, the pastry phenom who rocked our palates at
XIV
, is cooking Vietnamese food in Los Angeles. Actually, it's not quite Vietnamese food, but rather
Vietnamese-inspired
food that's the talk of the town here at Red Medicine, Kahn's first solo venture, opened in partnership with former
Michael Mina
beverage director Noah Ellis and
Umami
maven Adam Fleischman. The place was supposed to debut on
July 10
, but, as is par for the course in the restaurant biz, delays were inevitable, leading to an eventual December 9th opening.
The idea for the restaurant first arose while Kahn and Ellis were working for Mina. After leaving work well past midnight absolutely famished, the two would inevitably grub, with food of choice slanting more often than not toward Asian, the light, feminine flavors of Vietnamese in particular. Hence, the idea of a Vietnamese-y, late night eatery targeted toward industry folk was born. As for the name,
Medicine
also refers to the healing, therapeutic effects of the food, while
Red
references the "hot & spicy" nature of the cuisine, and is traditionally a color of good fortune, success, and honor in parts of Asia (not to mention its association with communism). There is, of course, also that
Fugazi album
.
About the Chef *
: Born in Savannah, Georgia, to a Cuban-American family, Kahn's obsession with food began at an early age, when he started cooking by his Cuban grandmother's side (to this day, he's still pretty deft with the cuisine, so perhaps a Cuban eatery's on the horizon?). When he was 13, his mother presented him with a copy of
The French Laundry Cookbook
, which, the Chef concedes, he read cover-to-cover in a single day--you might call it the book that changed his life. Kahn began his culinary career at local eatery Trattoria Rivazza when he was 15, starting at the very bottom as a dishwasher. The Chef, of course, quickly worked his way up the line, and eventually moved to the nearby
Sapphire Grill
, taking on a role in pastry.
Kahn graduated early from high school, and to celebrate the occasion, his mother took him to dine at
French Laundry
. After an incredible meal, he vowed to return to work at the restaurant, a prophecy he would eventually fulfill. Following graduation, he enrolled at Johnson & Wales University in Charleston to attain his culinary degree, and during his stint here, externed in pastry at the nearby Charleston Grill. Fed up with the nonchalance of his peers, Kahn petitioned to graduate early, and achieved his degree in only eight months, at age 16. After this, he made good on his word to Thomas Keller, and returned to the Laundry for a three-month
stage
. He was 17 at this point, the youngest chef ever to work in that kitchen. With his
stage
in the savory stuff coming to an end, Kahn managed to join TFL's pastry team, headed at the time by Sebastien Rouxel. Rouxel served as a mentor to the young Chef, and it's at this point in his career where Kahn really started to come into his own.
In 2004, Rouxel asked him to move to New York to serve on the opening pastry team at
Per Se
. Not surprisingly, Kahn excelled in Manhattan, even impressing the likes of Keller himself, who offered him the position of head pastry chef at the restaurant (Rouxel would be moving on to a corporate role). The Chef, however, declined, instead opting to move to Chicago to work for
Alinea
's Grant Achatz, whom Kahn had thoroughly dazzled during a dinner service at Per Se. 2005 saw Kahn start at Alinea, not as a chef, but as a runner, a role that gave him considerable insight into how the front-of-the-house functioned. After a couple months, he was able to team up with Alinea's star Pastry Chef, Alex Stupak, and was able to further refine his technique. Stupak, of course, would leave for Wylie Dufresne's wd~50 in New York, and once again, Kahn was offered the role of lead pastry chef. Once again, he declined.
In 2006, Kahn moved back to Manhattan, taking on the Pastry Chef position at Varietal, but despite positive press for his desserts, the restaurant quickly folded. It was now 2007; Kahn was 23. At this point, the Chef jumped to the Left Coast, landing in San Francisco at
Michael Mina
's flagship eatery. Kahn rapidly transitioned to a corporate role in the organization, however, and spent much of his time traveling around the country, opening various restaurants for Mina--Bourbon Steak in Detroit and Miami, SaltWater in Detroit, Nemi in Mexico City. The SBE-Mina joint venture
XIV
, which opened in October 2008, served as his final assignment. LA intrigued him, and he decided to stay. At first, Kahn was given free rein in the pastry department, and as a result, his desserts at XIV were simply amazing, easily some of the best I've ever tasted. Unfortunately, SBE chief Sam Nazarian made it a point to dumb down the food to the point of being unrecognizable, and thus Kahn was out the door by March this year, allowing him to focus squarely on Red Medicine.
* Adapted in part from Food GPS.

The former Hokusai location has been completely transformed by production designer
Charisse Cardenas
. The minimalist space marks her first attempt at restaurant design and makes significant use of reclaimed wood--both on the walls (Douglas fir) and for the custom-made furniture (maple)--and polished concrete, giving the room a weathered, industrial look. The Gjelina- and
Animal
-inspired restaurant features a semi-open kitchen (filled with pre-owned equipment), a 60-person dining room, an eight-seater bar (oak), and additional lounge seating for around 16.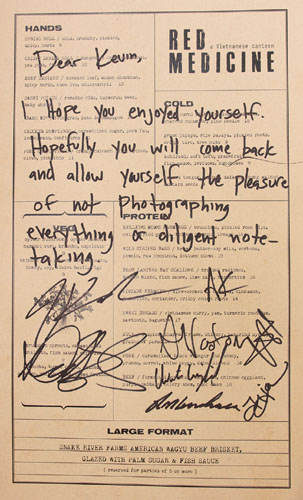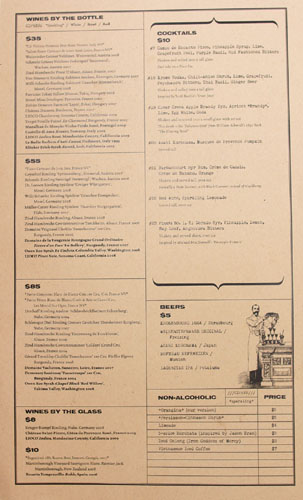 Red Medicine's menu is separated into five self-explanatory categories: Hands, Cold, Veg, Protein, and Large Format. Pretty much everything is served family style, and is easily shared, an important consideration given that my goal tonight was to gamut the menu (i.e. order everything). As for the beverages, Ellis offers up a small selection of handcrafted cocktails, while Fleischman heads up the Riesling-heavy wine list. There are a handful of interesting non-alcoholic choices as well. Click for larger versions.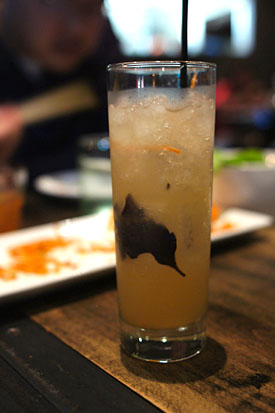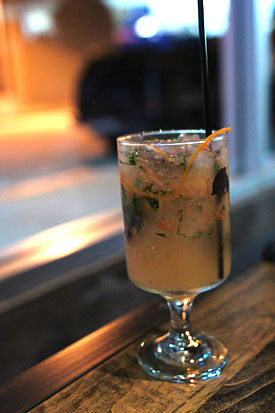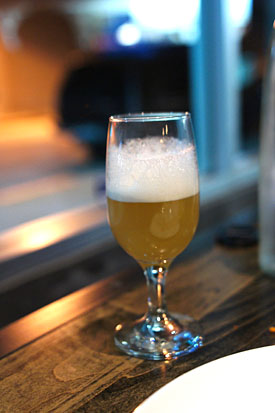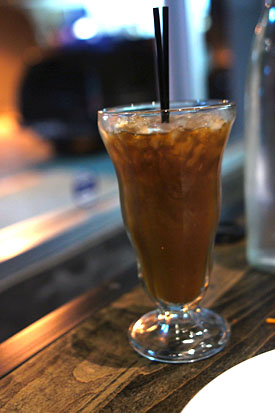 #7 - Campo de Encanto Pisco, Pineapple Syrup, Lime, Grapefruit Peel, Purple Basil, Old Fashioned Bitters [$10.00]
#18 - Krome Vodka, Chili-Anise Shrub, Lime, Grapefruit, Peychaud's Bitters, Thai Basil, Ginger Beer [$10.00]
#19 - Clear Creek Apple Brandy 2yr, Apricot "Brandy", Lime, Egg White, Soda [$10.00]
#20 - Asahi Kuronama, Musquee de Provence Pumpkin [$10.00]
We, of course, had to try all of the cocktails, and started off with this foursome. My favorite was #7, with its fantastic aromatics and complex sweet-tangy-herbal flavor, all under subtle overtones of pineapple. #18 was also quite delicious, with a wonderful spiciness and beautiful basil tinge over a base of ginger beer and vodka. #19, meanwhile, was a pure expression of brandy, with a bracingly saccharine nose and a good balance between boozy and citrus flavors. Finally, there was #20, a blend of beer and pumpkin. I appreciated the initial attack of pumpkin, while the finished was laced with the essence of beer; one of my dining companions even called it "tea-like."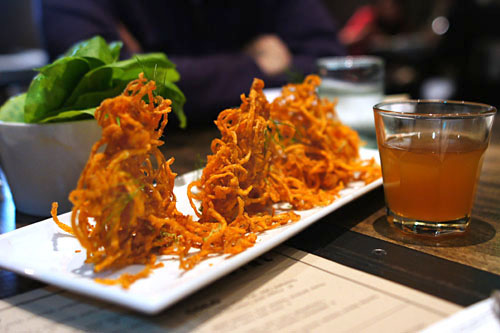 SWEET POTATO [$9.00]
| romaine ribs, turmeric, beer, baby shrimp
We started off with crispy threads of beer battered sweet potato, done up with dried shrimp. The shrimp lent a fantastic bit of weight and brine to the sweet potato, countering its natural sweetness beautifully. At the same time, the fish sauce gave the dish a lovely touch of piquancy, while the lettuce lightened things up. A wonderful start to dinner.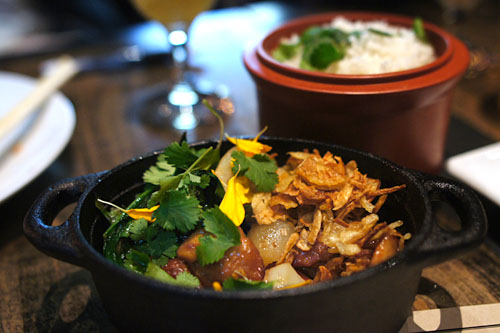 PINTADE FERMIER [$14.00]
| slow-cooked in caramel, cinnamon, dandelion, coriander, crispy onion roots
Pintade
refers to a type of Guinea hen, and here, the bird was delicious, showing off dark, sweetish flavors deftly moderated by the application of cilantro and bitter vegetables. Quite nice, especially when eaten over rice.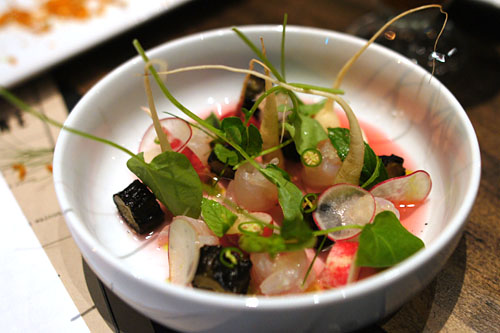 FLUKE [$15.00]
| cured with lime leaf, radishes, charred cucumber, pine needle
Fluke was beautifully-presented, light, and clean-tasting, accented with just the slightest bit of lime. I adored the interaction between the fish and the bright tang of radish, while the charred cucumber added a bit of gravity to the dish. A table favorite.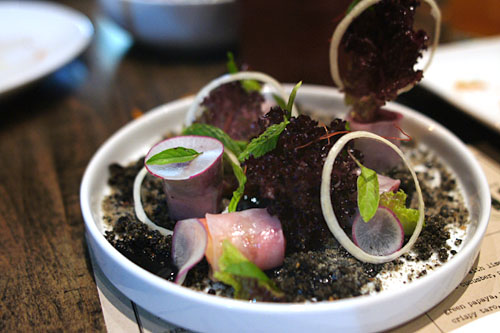 SPRING ROLL [$8.00]
| cold, crunchy, pickled, spicy, herbs
The "spring rolls" definitely lived up to their moniker of cold, crunchy, pickled, spicy, and herbaceous, but there was also a marked bit of sweetness to the dish, heightened by the application of a sort of black sesame "soil." A mélange of lovely textures here to boot.
"BANH MI" [$14.00]
| foie gras, pate de campagne
Kahn's reimagined banh mi was definitely one of the highlights of the evening. I tasted the clean, unadulterated taste of foie gras, augmented in heft by the use of liver-y country pâté. To this amalgam, the pickled vegetables formed a perfect counterbalance, offsetting the weight of the forcemeats gorgeously. Great lingering spice, too.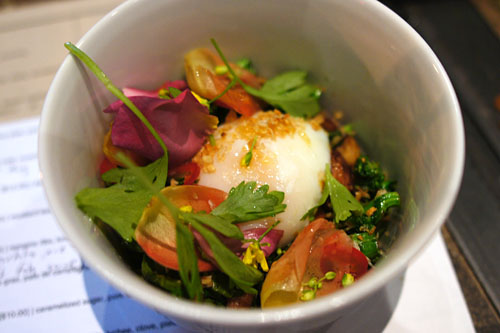 KELLEY'S MOM'S FARM EGG [$10.00]
| brassicas, pickled rose hips, chili, fried garlic, boiled peanuts, lovage
Next up was another standout dish. We had here a perfectly cooked, runny farm egg, unabashedly luscious and creamy in consistency with a salty tang. It went superbly with the astringent, peppery zest of the paired veggies.
GREEN PAPAYA [$9.00]
| ripe papaya, pickled roots, crispy taro, tree nuts
Kahn's papaya salad at
Test Kitchen
was the best that I'd ever had, and his version tonight continued that tradition of excellence. I loved the crunchy, light, succulent strands of papaya, and their fantastic interplay with the tangy root vegetables and tree nuts. Beautiful, bright flavors and wonderful textures.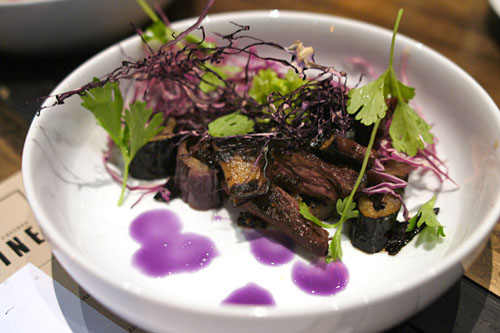 BEEF [$18.00]
| fermented soy bean, bacon XO, chinese eggplant, purple cabbage, celery stem, nuoc cham
This reminded me of a reworked and refined version of Kahn's beef bavette at
Test Kitchen
. The steak was nicely textured and imbued with a great bovine savor. It stood up admirably to the heady weight of soy bean, as well as the slight smokiness of the eggplant. The cabbage and celery, meanwhile, helped to lighten the dish. Quite good.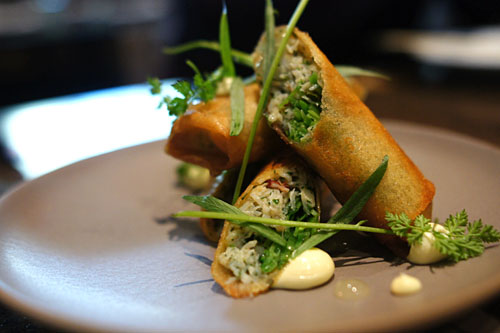 CRISPY SPRING ROLL [$12.00]
| dungeness crab, calamansi, pea pods, fines herbs
These crispy spring rolls were among the best I've had. I loved how the sweet, briny essence of crab was so adeptly presented here. The pea pods added a light touch of vegetal flavor to the dish, and I really appreciated the slight sourness imparted by the calamansi as well.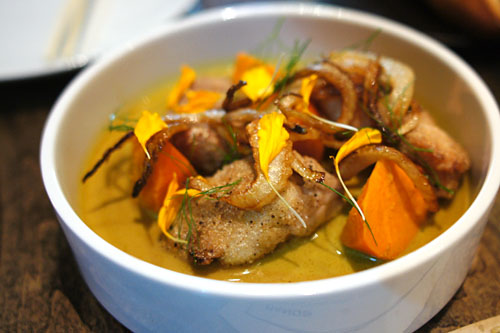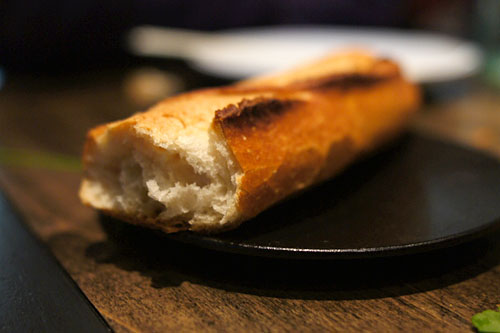 SWEET BREADS [$17.00]
| vietnamese curry, yam, turmeric root jam, sawtooth, baguette
Sweetbreads showed off their characteristic, rich flavor, and were augmented by the liberal application of curry. Some of my dining companions felt that the curry was overwhelming, but I welcomed its tempering effect. A heavy, hearty dish, nicely moderated when eaten with the paired baguette. Didn't get much of the sawtooth though.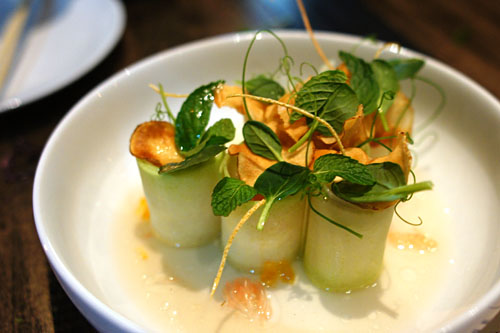 KOHLRABI [$9.00]
| soft tofu, grapefruit, fish sauce, lettuces, sunchokes
Here, the mild, crisp sweetness of kohlrabi was heightened by the use of soft tofu, while the fish sauce added a certain amount of gravity to the dish. I wasn't as sold on the use of sunchoke, but did enjoy the lingering astringency of the course. Benign, but the flavors didn't quite click for me.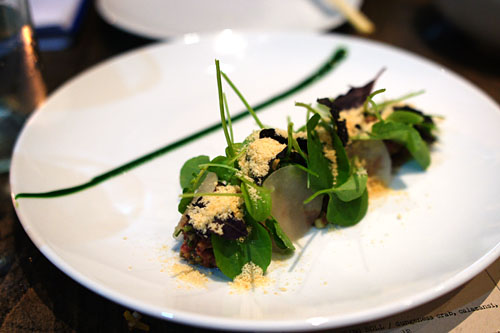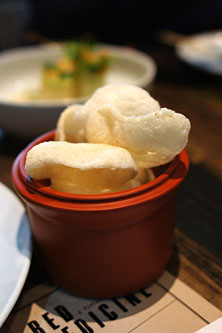 BEEF TARTARE [$13.00]
| mustard leaf, water chestnut, spicy herbs, nuoc leo, chlorophyll
The beef tartar was one of the most intriguing, as well as tastiest, that I've had in a while. The spicy herbs and tangy mustard formed a superb counter to the meat, and I found the use of
nuoc leo
(peanut condiment, presented here in powder form) especially interesting. Loved the chlorophyll sauce as well.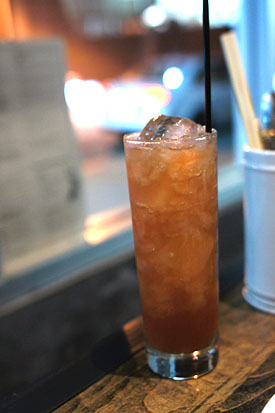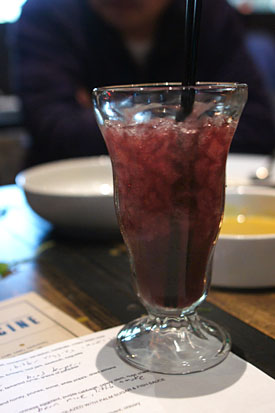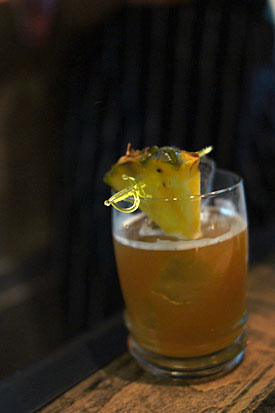 #21 - Barbancourt 8yr Rum, Crème de Cassis, Creme de Banana, Orange [$10.00]
#22 - Red Wine, Sparkling Lemonade [$10.00]
#23 - Pimm's No. 1, El Dorado 5yr, Pineapple, Lemon, Bay Leaf, Angostura Bitters [$10.00]
Our second round of cocktails brought us #21, which showed off a lovely banana tinge and hint of citrus over a great interplay of cassis and rum. #22 was simple, but effective, with the lightness of the lemonade playing beautifully with the vinous heft of the red wine. We ended with #23, my favorite of the troika. I really enjoyed its initial pineapple bouquet, leading to complex, sweet, spicy, and herbaceous flavors on the palate.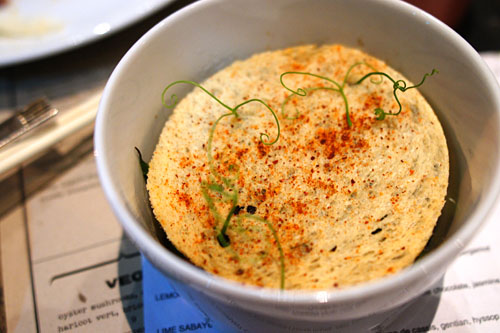 OYSTER MUSHROOMS [$9.00]
| oyster sauce, haricot vert, brioche, espelette
Oyster mushrooms were teeming with prototypical, dark, savory, umami-tinged goodness, balanced in part by the application of green beans as well as brioche. A somewhat Chinese-y preparation.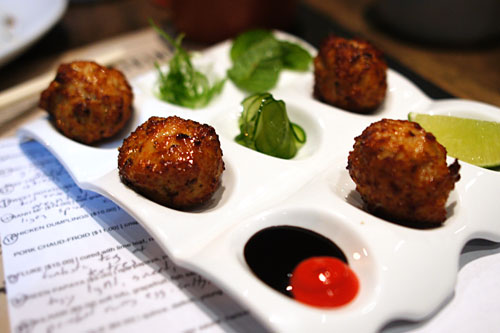 CHICKEN DUMPLINGS [$10.00]
| caramelized sugar, pork fat, lemongrass, confitures
As I've said before, meat in balled form rarely disappoints. The chicken demonstrated a nice mix of sweet and salty flavors, which were subsequently countered by application of the various veggies at play. I also loved the heat imparted by the Sriracha-esque condiment--everything worked together beautifully.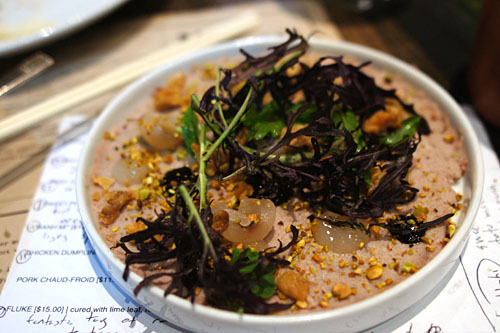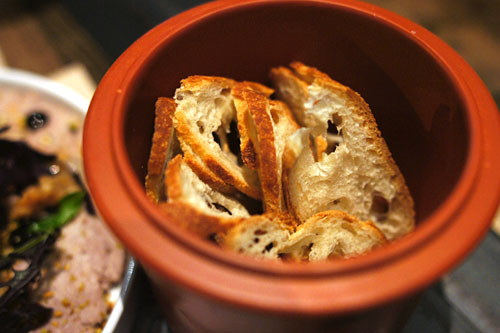 PORK CHAUD-FROID [$11.00]
| crispy chicken skin, lychee, clove, pistachio
Pork was presented here in a thin, almost pâté-like form. I enjoyed the heady, porcine sapor of the meat, as well as the added luxury of chicken skin, but the lychee rendered the amalgamation a tad sugary for my tastes.
CALVE'S TONGUE [$9.00]
| quince, daikon, young walnut, mustard seeds
Tongue was arguably the most tender that I've ever had, with a heady, hefty flavor to boot. I would've liked to have seen less quince, due to its sugariness, but the daikon and mustard did help temper things down a bit.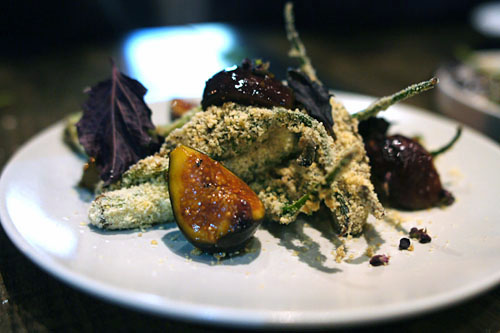 CHINESE LION PEPPER [$9.00]
| almond skins, honey, soy, violet basil, figs
Don't let the name fool you, Chinese lion pepper is merely another moniker for the ubiquitous shishito pepper. As such, it showed of the shishito's signature flavor, with just a touch of creeping spice. The almond helped balance the heat, and I even liked the use of fig here.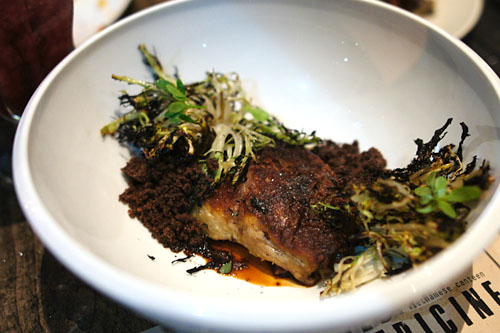 DUCK [$17.00]
| 5-spice, charred frisee, chicory, tamarind syrup, grains of paradise
Duck was suitably tender and luscious, tasty alone but also conveying a sweet spiciness expertly countervailed by the smoky frisée and slight hint of astringency from the chicory.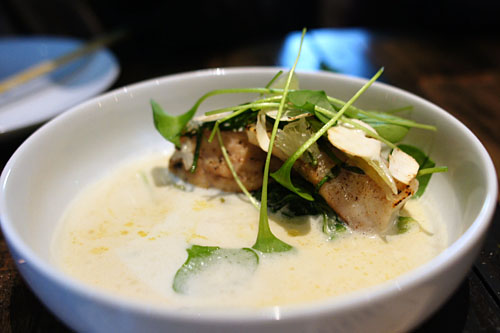 WILD STRIPED BASS [$19.00]
| brown butter-soy milk, verbena, pomelo, raw chestnut, lettuce stems
Striped bass was dense and firm, with a flavor that was sweet at first, but finishing with a nice bit of brine. The brown butter-soy concoction was a bit overwhelming for me, as I would've liked the inherent flavor of the bass to be more apparent. I did, however, appreciate the tempering effect of the lettuce stems.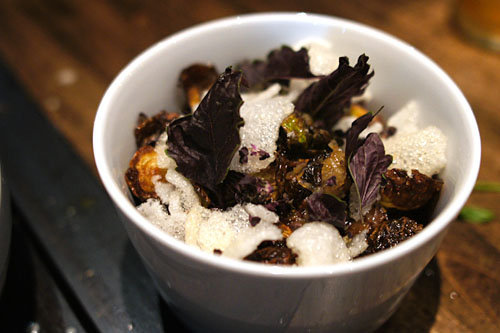 BRUSSEL'S SPROUTS [$9.00]
| caramelized shallots, fish sauce, vermouth
Here, the intrinsic astringency of the Brussels sprouts was accented by the bitter tinge imparted by their char, while the caramelized shallots added further gravity to the dish. The use of shrimp crackers, meanwhile, lent a crispy texture and light sweetness to the course that helped integrate things. We were torn, however, on whether we wanted more of the sprouts' inherent pungency to show through.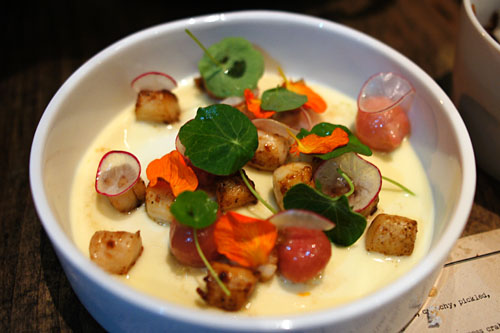 BLUE LANTERN BAY SCALLOPS [$18.00]
| braised radishes, beurre blanc, fish sauce, lime skin, nasturtium
Bay scallops were beautifully plated, but a bit over for me. In terms of taste, the bivalves were richly flavored, and the application of radish actually seemed to intensify their brine. The nasturtium, fortunately, helped moderate the course.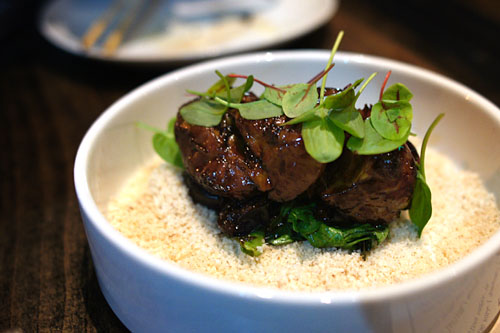 PORK [$16.00]
| caramelized black vinegar and honey, prunes, sorrel, white poppy, dried almond
Undeniably melt-in-your-mouth in consistency, the pork was another standout. The meat was teeming with pork-y savor, and I really appreciated the creeping bit of black vinegar. The sorrel, meanwhile, did help balance the dish.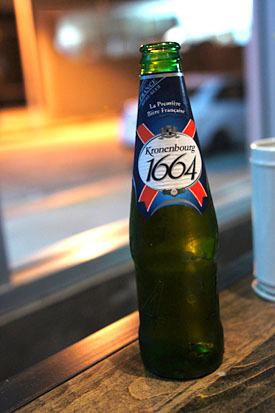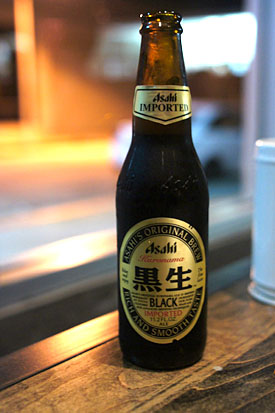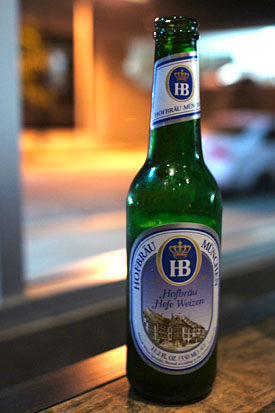 With all seven cocktails sampled, we headed for the brewskies, all priced at a reasonable $5: Kronenbourg 1664, Asahi Kuronama, Hofbrau Hefeweizen, and Lagunitas IPA.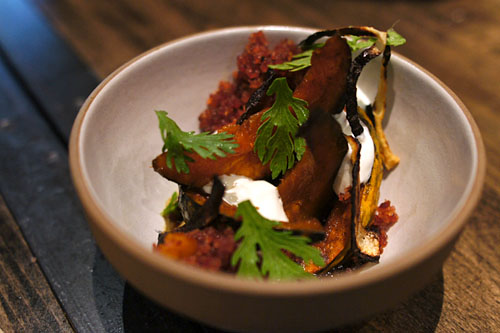 KABOCHA [$9.00]
| burnt onion, chinese sausage, edible ferns, creme fraiche
I'm no fan of kabocha, so it's no surprise that I found the squash too sweet for my tastes. The crème fraiche did aid in tempering the sugariness of the pumpkin, but didn't go far enough for me.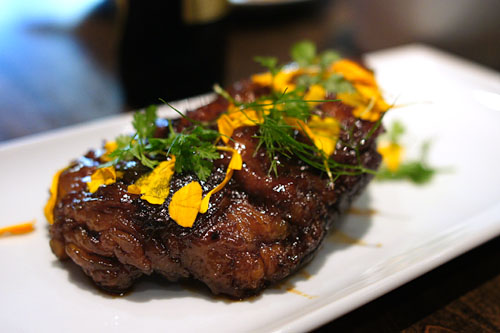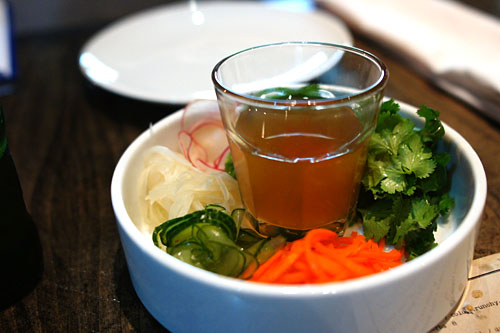 SNAKE RIVER FARMS AMERICAN WAGYU BEEF BRISKET [$60.00]
| glazed with palm sugar & fish sauce
We ended the savory portion of our meal with the lone "large format" offering: a large 2-lb brisket of American wagyu beef. The meat was immensely heavy, with a rich, beefy flavor augmented by a hint of sweetness from the palm sugar. It was actually a bit overwhelming when eaten alone. However, when taken in concert with the various pickled vegetables and fish sauce, everything just came together gorgeously, making for a thoroughly enjoyable eating experience.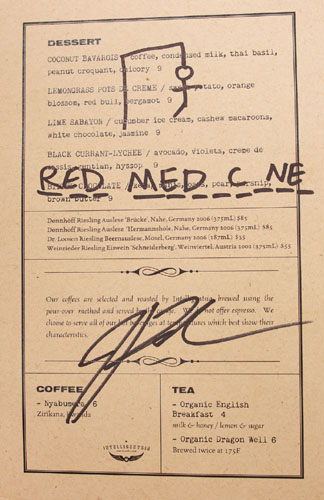 Kahn is, of course, best known for his desserts, and, for the first time since
XIV
, they're presented here at Red Medicine in all their artful glory. Click for a larger version.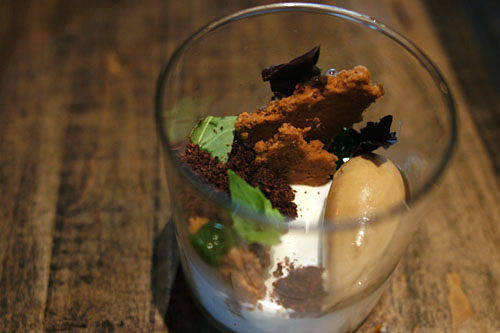 COCONUT BAVAROIS [$9.00]
| coffee, condensed milk, thai basil, peanut croquant, chicory
Our first dessert was very similar to one that I'd had previously at
Test Kitchen
. It showed off an expert interplay of tastes and textures, with the soft sweetness of the coconut cream deftly countered by the bitter chunks of coffee. At the same time, the peanut added an overarching nuttiness to the course, and I loved the hint of savoriness on the close.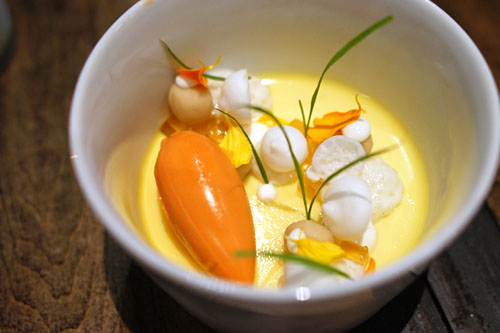 LEMONGRASS POTS DE CREME [$9.00]
| sweet potato, orange blossom, red bull, bergamot
The use of lemongrass almost gave the dessert a Thai-tinged character. Its citric flavor was nicely accompanied by the sugary weight of sweet potato, and I quite liked the aromatic component of the bergamot as well. Lovely textures, too.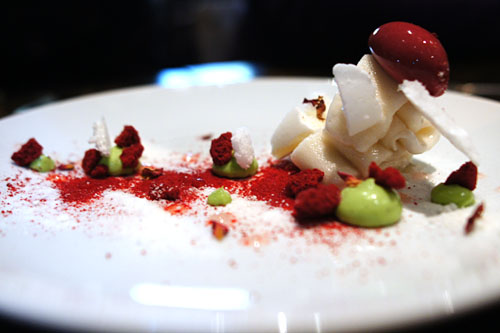 BLACK CURRANT-LYCHEE [$9.00]
| avocado, violets, creme de cassis, gentian, hyssop
Next up was arguably my favorite dessert of the evening. The pairing of black currant with lychee was masterful, forming a wonderful, sweet admixture accented by the avocado. In addition, I absolutely adored the herbal-floral complexity contributed by the violet, gentian, and hyssop.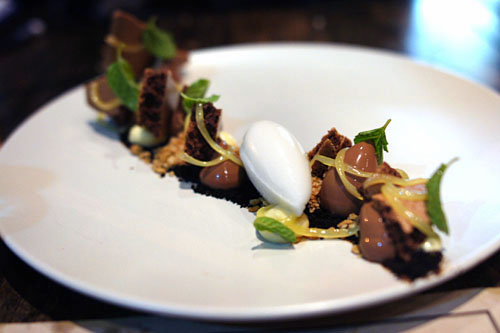 BITTER CHOCOLATE [$9.00]
| kecap manis, oats, pear, parsnip, brown butter
This dessert showed off a pleasant bittersweet flavor kicked up a notch by the inclusion of brown butter and
kecap manis
(sweet Indonesian soy sauce). The oats, meanwhile, served to ground the dish, and the pear, to lighten it.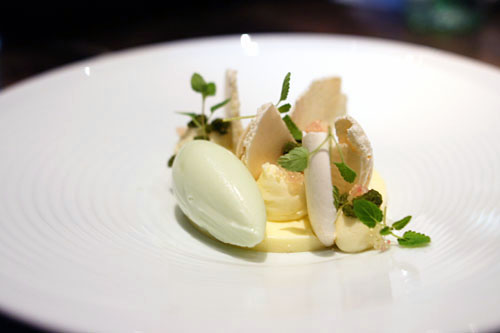 LIME SABAYON [$9.00]
| cucumber ice cream, cashew macaroons, white chocolate, jasmine
Between this and the currant-lychee, I'm not sure which was my favorite dessert, though it suffices to say that this was pretty much faultless. The lime sabayon was perfect with the cool tang of cucumber ice cream, and I loved the inclusion of the nutty macarons. The white chocolate, meanwhile, added a stout sweetness to the dish, and I really liked the crunch imparted by the finger lime vesicles.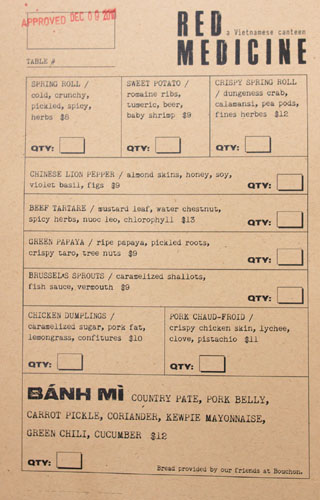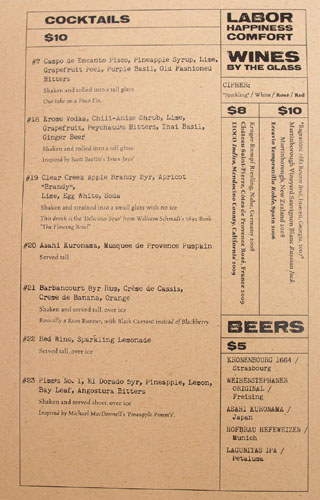 Given Red Medicine's focus on attracting restaurant industry patrons, the bar menu is available until 2:00am. It's basically a subset of the standard menu, save for one lone item:
bánh mì
. Click for larger versions.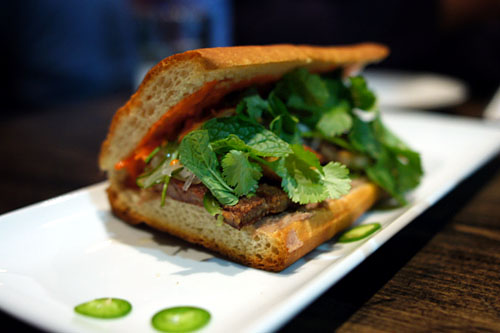 BÁNH MÌ [$12.00]
| country pate, pork belly, carrot pickle, coriander, kewpie mayonnaise, green chili, cucumber
Kahn's bánh mì is only served at the bar, so we moseyed on over after we were finished with the meal proper. The sandwich is based on the richness of pork, heightened by the use of chicken liver, which gave the dish a heavy, almost foie gras-esque flavor. The spicy mayo, meanwhile, helped to counteract the meat, but the crux of the course was the veggies, which did a great job in balancing out the sheer gravity of the pork--I wanted more of those pickles. Quite tasty.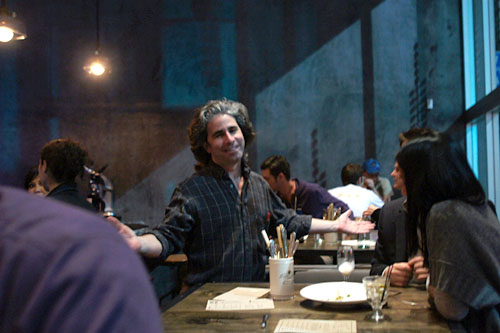 Speaking of industry folk, the inimitable
Brian Saltsburg
showed up towards the end of the evening, joined by
Test Kitchen
manager
Stephane Bombet
.
I fully expect that Red Medicine will be widely panned for not being "authentic." That would be missing the point though, as Kahn never set out to do straight Vietnamese food; in fact, he'll be the first to tell you to drive down to Little Saigon for such fare. His vision here was to present Vietnamese-inspired flavors and dishes through his own lens, reimagining tradition, reinterpreting convention. Kahn was able to successfully convey the essence of Vietnamese cuisine in new, exciting, beautiful ways, without wandering into the nebulous territory of "fusion" cuisine. And then there's the desserts, my god, which are arguably the best in the City--it's the Jordan Kahn that we Angelenos fell in love with, and he's back in full force at Red Medicine. This was a promising start to be sure, and I look forward to big things from Kahn and company here.