Test Kitchen (Los Angeles, CA) [22]
Test Kitchen
9575 W Pico Blvd, Los Angeles, CA 90035
310.277.0133
www.testkitchenla.com
Sat 12/11/2010, 08:30p-11:15p
The final Test Kitchen dinner prior to the restaurant's blow-out charity event brought us chefs Elderoy Arendse and Ori Menashe, collaborating on a black and white truffle menu with
Tuber
mavens Marco and Michael Pietroiacovo, a.k.a.
The Truffle Brothers
.
The South African-born Arendse was formerly Executive Chef at Fraiche, where he was recently replaced by
Petrossian
's Ben Bailly. Previously, he served as Jason Travi's Sous, and also worked for Gino Angelini at
Angelini Osteria
. Menashe, an Israeli native, also began his culinary career under the tutelage of Chef Angelini, working at both his eponymous osteria and at the now-defunct La Terza. He later moved to
Pizzeria Mozza
and All'Angelo, then returned to Angelini Osteria as Chef de Cuisine.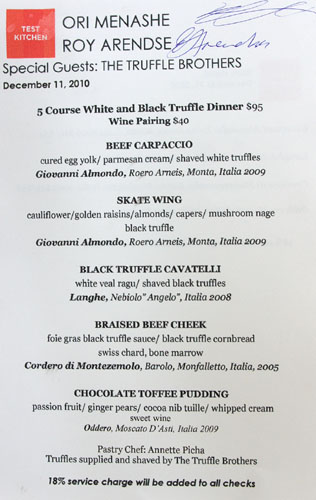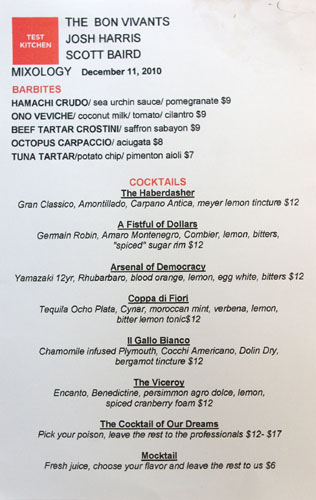 Arendse and Menashe's five-course menu was priced at $95, plus $40 for wine, while cocktails were the charge of guest barmen Josh Harris and Scott Baird, otherwise known as the
Bon Vivants
. Click for larger versions.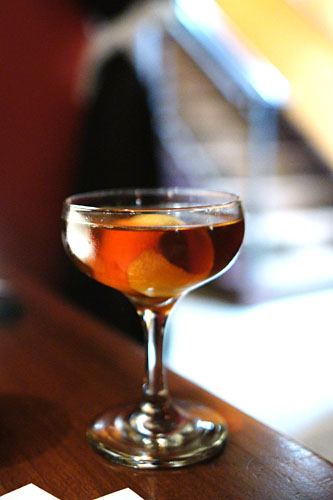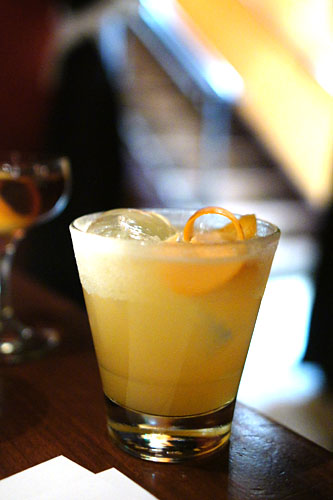 The Haberdasher [$12.00]
| Gran Classico, Amontillado, Carpano Antica, meyer lemon tincture
A Fistful of Dollars [$12.00]
| Germain Robin, Amaro Montenegro, Combier, lemon, bitters, "spiced" sugar rim
Our first of the six on-menu cocktails was The Haberdasher, which showcased dark, viscous, almost chocolate-like flavors, with a bit of an herbal twist; one of my dining companions even tasted Cynar. I enjoyed A Fistful of Dollars even more, with its bittersweet essence of Montenegro playing beautifully with the sweetness of the Combier and the spicy sugared rim, all over a fine base of Germain-Robin.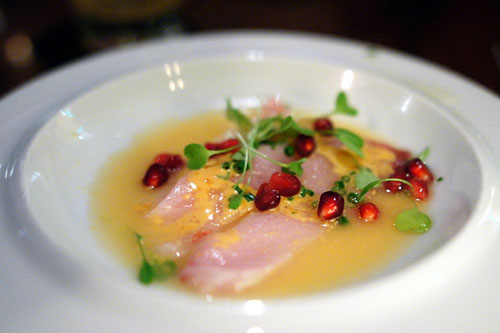 Hamachi Crudo [$9.00]
| sea urchin sauce/ pomegranate
The first of five "bar bites" brought us a lovely hamachi crudo. The fish itself I found mild yet unctuous, with a slight brine enhanced by the application of the sea urchin sauce. At the same time, the pomegranate gave the dish a delightfully tangy finish, as well as a pleasing crunch.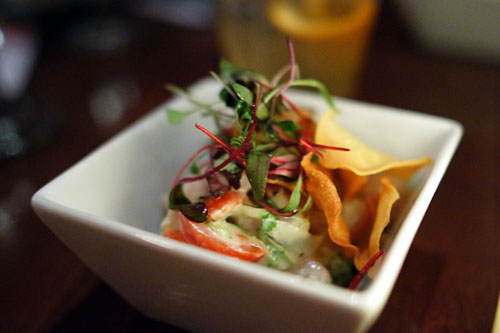 Ono Ceviche [$9.00]
| coconut milk/ tomato/ cilantro
This was probably the best ono that I'd ever tasted. I loved the delicate sweetness of the fish, and how that inherent character was so deftly augmented by the inclusion of tomato and coconut milk. Meanwhile, the cilantro gave the course an overarching zestiness that played perfectly with the wahoo, and I thoroughly enjoyed the crisp saltiness of the potato chips as well.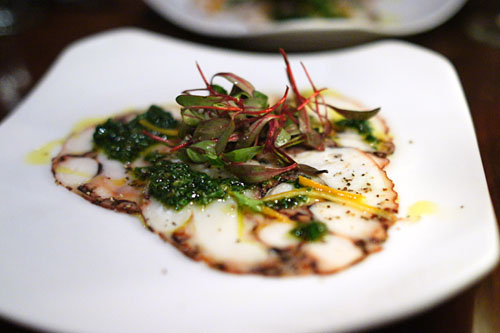 Octopus Carpaccio [$8.00]
| aciugata
Octopus was soft, supple, and satisfying texturally, with a mild flavor expertly complemented by the tangy
aciugata
dressing of anchovy, caper, and orange zest.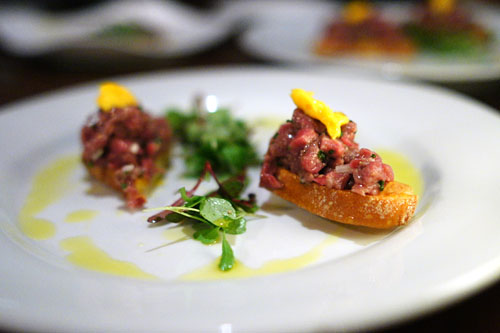 Beef Tartar Crostini [$9.00]
| saffron sabayon
The beef tartar was also one of the strongest presentations that I'd had in recent memory. The tartar itself was awash in bovine sapor, and yet balanced by the piquant tang of its accompanying greenery. The crux of the dish, though, was the saffron, which lent a awesome countervailing flavor that just lingered on and on.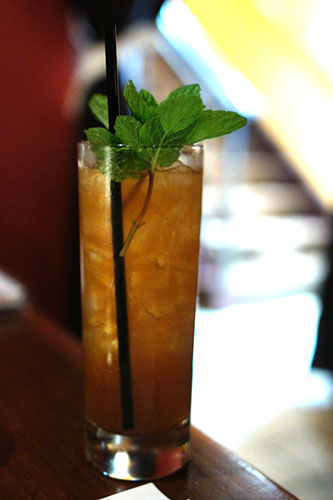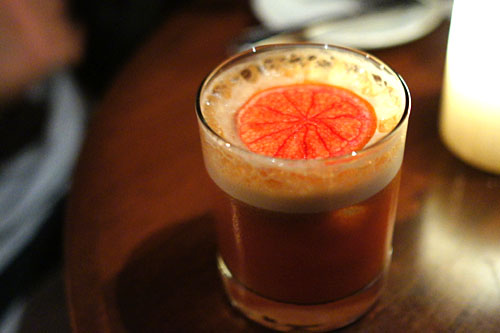 Coppa di Fiori [$12.00]
| Tequila Ocho Plata, Cynar, moroccan mint, verbena, lemon, bitter lemon tonic
Arsenal of Democracy [$12.00]
| Yamazaki 12yr, Rabarbaro, blood orange, lemon, egg white, bitters
Our second round of cocktails began with the Coppa di Fiori, which had a great base of tequila nicely countervailed by the minty, bitter, sour flavors of its accoutrements; I especially appreciated the use of Cynar and mint. The Arsenal of Democracy was just as good, with a delicious bittersweet flavor to go with the woody essence of the Yamazaki.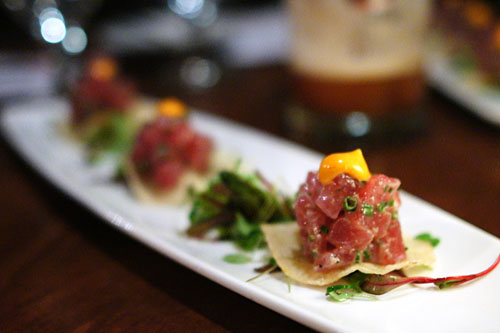 Tuna Tartar [$7.00]
| potato chip/ pimenton aioli
Our last of the snacks was the duo's tuna tartar, "back by popular demand." I can see why. The dish showcased a fantastic spiciness from the paprika that went along beautifully with the admixture of tuna and chives. At the same time, the potato chips added a touch of salt to the fray, and also mixed things up texturally. Very nice.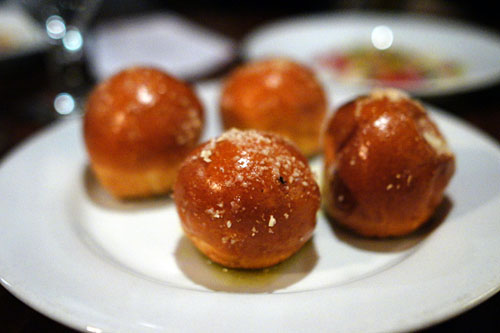 Buttery, salted brioche to begin.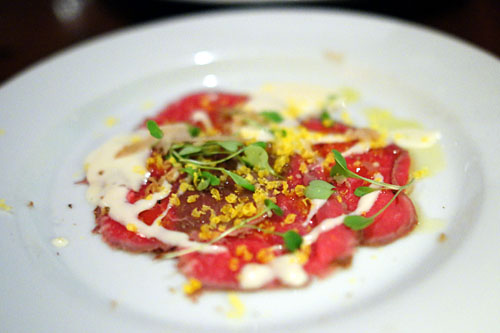 1: Beef Carpaccio
| cured egg yolk/ parmesan cream/ shaved white truffles
Giovanni Almondo, Roero Arneis, Monta, Italia 2009
Our meal proper began with one of the strongest beef carpaccios that I can remember. I loved how the beef was so deftly enhanced by the Parmesan and egg yolk, while the white truffles added an intoxicating, overarching heft to the entire dish.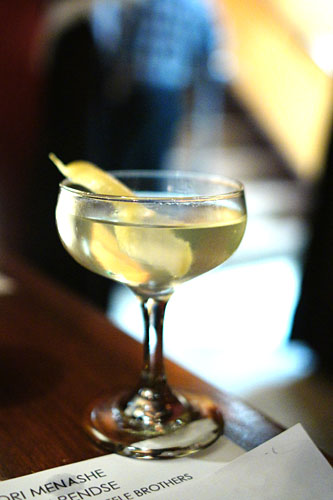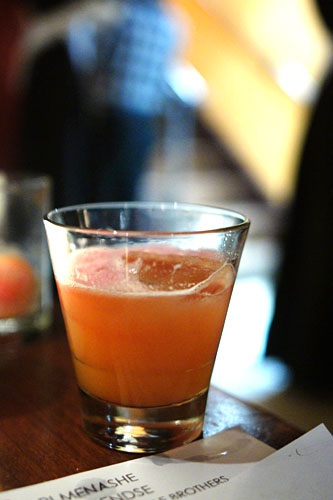 Il Gallo Bianco [$12.00]
| Chamomile infused Plymouth, Cocchi Americano, Dolin Dry, bergamot tincture
The Viceroy [$12.00]
| Encanto, Benedictine, persimmon agro dolce, lemon, spiced cranberry foam
Il Gallo Bianco was certainly enjoyable, demonstrating a strong lemon-y nose and plenty of floral, spicy, herbaceous flavors on the palate, all finishing with a boozy kick. The Viceroy was also quite delicious, with a delightful base of pisco layered with complex sweet 'n' spicy notes from the Benedictine and agrodolce.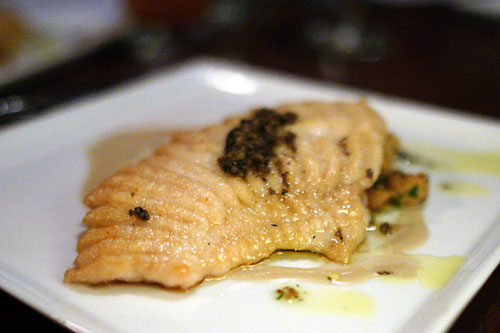 2: Skate Wing
| cauliflower/ golden raisins/ almonds/ capers/ mushroom nage/ black truffle
Giovanni Almondo, Roero Arneis, Monta, Italia 2009
Skate showed off a characteristically firm yet supple, subtly sweet flesh that was nicely enhanced by the earthiness of the truffle-mushroom combination. I appreciated the tempering effect of the cauliflower, but didn't feel that the raisins were quite necessary.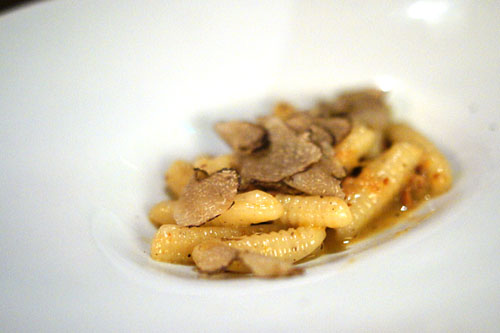 3: Black Truffle Cavatelli
| white veal ragu/ shaved black truffles
Langhe, Nebiolo "Angelo", Italia 2008
Cavatelli made for a hearty, rustic dish. I enjoyed the pasta's slight chewiness, and the interplay of truffle and meaty veal ragu just worked. A simple concept, but satisfying.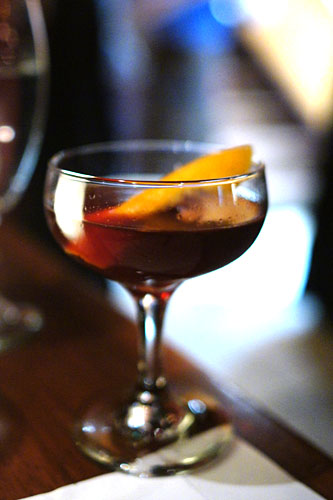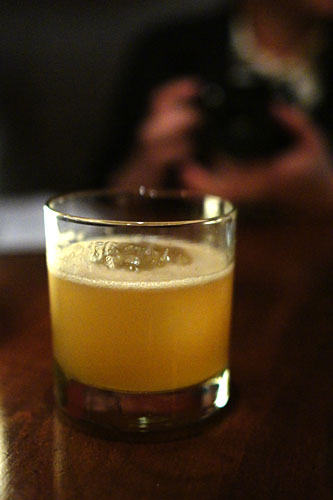 Untitled Rum [$12.00]
| Rhum Agricole, orange bitters, turbinado sugar, flamed orange, Rabarbaro
Untitled Whiskey [$12.00]
| Yamazaki 12yr, butterscotch
At this point, we'd had all of the regular cocktails, so we decided to go with some off-menu specials that our server Aaron had informed us about. The first two were from resident bartender Julian Cox. His first made use of Rhum Agricole, and showed off an intensely smoky attack (too much so for me, in fact), sugary body, and citrus close. The second was described as a sort of "whiskey sour." It was surprisingly subtle, with a bit of a sour tang and the butterscotch moderating the potency of the alcohol nicely.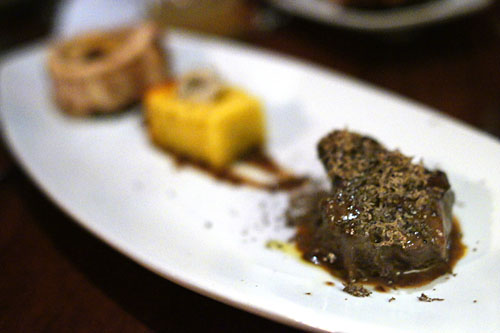 4: Braised Beef Cheek
| foie gras black truffle sauce/ black truffle cornbread/ swiss chard/ bone marrow
Cordero di Montezemolo, Barolo, Monfalletto, Italia 2005
Our final savory of the evening brought us a seven-hour, wine-braised beef cheek. As expected, the beef was tender to the point of being gelatinous, with a rich, dark savor behind a thin veil of black truffle. I thoroughly enjoyed the cornbread, which was just sweet enough, but I did find the marrow too heavy, too salty.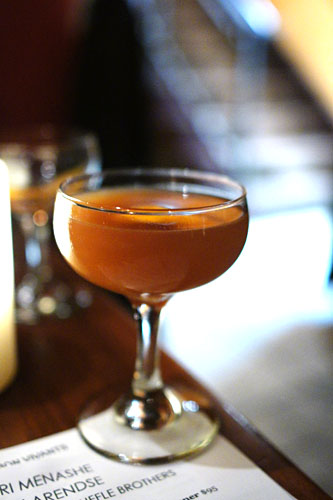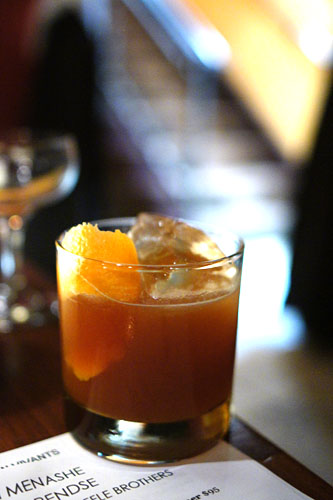 Shogun Esquire [$12.00]
| Yamazaki 12yr, orange zest, butterscotch, Rothman & Winter apricot liqueur, oloroso sherry, Italian bitters
Daiquiri Mélange [$12.00]
| Rhum Agricole, chicory-coffee tincture, Amaro, lime, cinnamon syrup
And now, our final two cocktails of the night, from the Bon Vivants. The Shogun Esquire conveyed a fatty, buttery nose and attack, leading to bittersweet notes of apricot and whiskey to round things out. On the other hand, the Daiquiri Mélange was more upbeat, with bright citrus flavors and great cinnamon spice to complement the rum.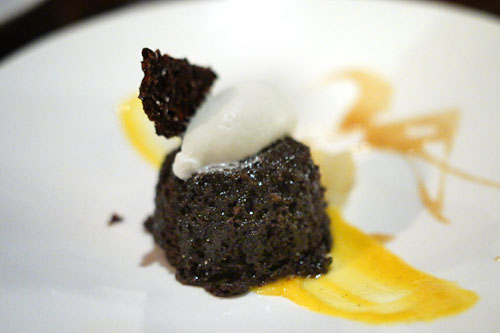 5: Chocolate Toffee Pudding
| passion fruit/ ginger pears/ cocoa nib tuile/ whipped cream/ sweet wine
Oddero, Moscato D'Asti, Italia 2009
Dessert was prepared by Pastry Chef Annette Picha. Having been soaked in toffee, the pudding arrived suitably rich, decadent, with a satisfying savor that needed the whipped cream and fruit for balance. There was a nice bit of nuttiness from the tuile, too.
And there we have it, the final night of Test Kitchen prior to the grand finale. Overall, a strong showing from Arendse and Menashe, with no major issues except for the heavy-handed marrow. As for what's next for the two chefs, Menashe plans on continuing his gig at
Angelini Osteria
. Arendse, fresh off his stint at Fraiche, will be going home to his native South Africa for some R&R before returning stateside. I'm thinking that the duo should start a restaurant together...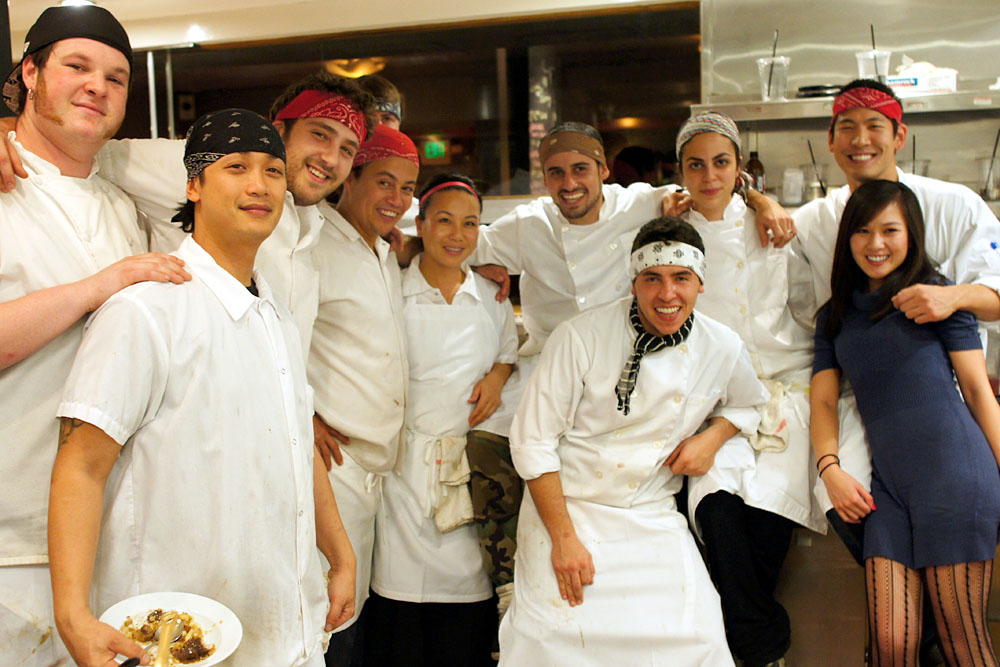 Previous Test Kitchen posts: Walter Manzke - Perfecto Rocher (11/30), Alain Giraud (11/04), Guillermo Barreto - Diego Hernandez - Ismene Venegas (10/27), Ricardo Zarate (10/16), Javier Plascensia (10/13), Marcel Vigneron (10/1), Suzanne Griswold - Rachael Narins (9/30), Adam Horton (9/27), Steve Samson - Zach Pollack (9/23), Joshua Smith (9/21), Amy Pressman (9/20), Shelley Cooper (9/17), John Sedlar (9/15), Amanda Baumgarten - Dylan Hallas - Dan Moody (9/14), TiGeorges Laguerre (9/6), Vartan Abgaryan (9/4), Neal Fraser (8/31), Michael Voltaggio (8/29), Walter Manzke (8/25), Ricardo Zarate (8/24), Jordan Kahn (8/18).