Salt's Cure (West Hollywood, CA)
Salt's Cure
7494 Santa Monica Blvd, West Hollywood, CA 90046
323.850.7258
www.saltscure.com
Fri 12/10/2010, 06:50p-8:50p

Before heading out to a
Dewar's Discovery
event held at the nearby
Jim Henson studios
, we needed a place to enjoy a quick dinner. We decided upon Salt's Cure, a tiny butcher shop-slash-bistro featuring locally-sourced fare and housemade charcuterie.
Salt's Cure is the brainchild of duo Christopher Phelps and Zachary Walters. Phelps began his career at age 15 working at Maryland's Oregon Grille. He eventually made his way to Los Angeles, where he cooked at
Canelé
and The Hungry Cat. For his part, Walters started out at a small Japanese fusion restaurant called Gaijin Sushi in Norman, Oklahoma of all places. He also worked at San Francisco's Rubicon before moving down to Southern California. Here, he took up positions at David Lentz's Hungry Cat, Asia de Cuba, and Alex Palermo's Cube Marketplace.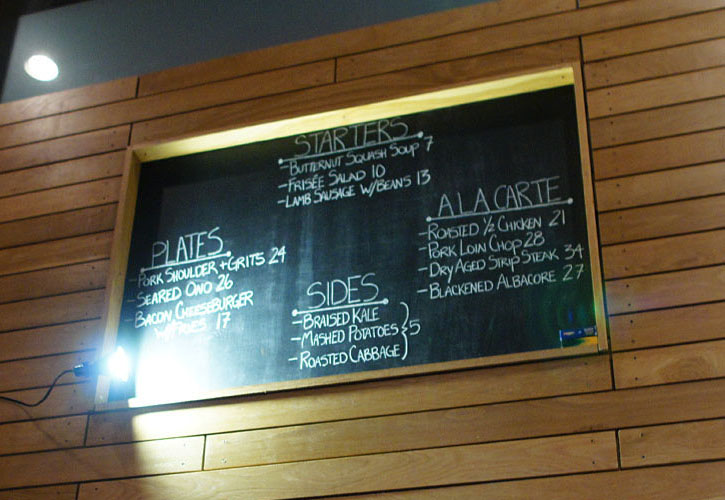 Sitting on your table, you'll find a menu of cured items, as well as the restaurant's California-centric wine and beer list.
But wait, there's more
--look up towards the back of the room and spot the menu board, where the more substantial courses available are listed. Click for larger versions.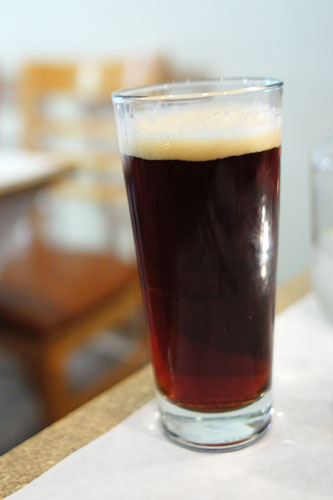 Salt's Cure features one beer on tap, and tonight it was the Brother Thelonius Abbey Ale Draft [$7], a Belgian style dark ale. It was prototypical of the style, showing off hints of dark fruit, caramel, and maple, all accented by an overarching spiciness. Nice.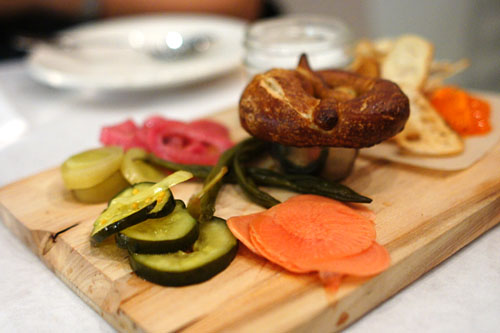 Pickle Plate [$7.00]
We started off with pickles of various types--carrot, green beans, cucumber, leek, red onion--served with a soft pretzel with mustard seeds. My favorite of the bunch was the leek, with its delectably tangy, pungent, onion-y savor. The pretzel was also quite tasty, and I enjoyed the mild piquancy of the paired mustard seeds, as well as their slightly crunchy texture.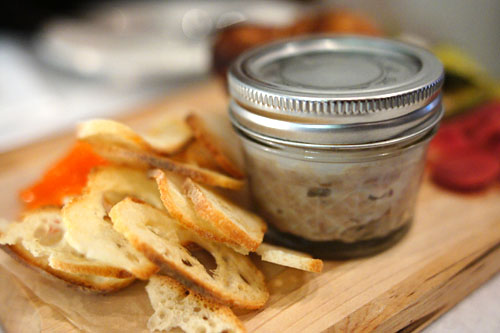 Potted Pork [$12.00]
On the same wooden board came our potted pork, served with brioche and persimmon. The pork was
rillettes
-like in character and undeniably delicious, with a fantastic porcine goodness and a smooth, spreadable consistency (our server likened it to peanut butter). It was superb when eaten with the crispy bread, though I wasn't quite sold on the fruit pairing.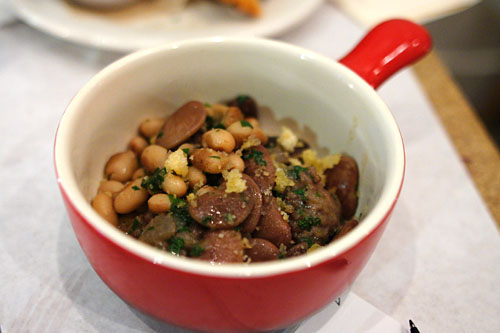 Lamb Sausage with Beans [$13.00]
As regular readers may know, I'm a sucker for encased meats, so up next was this lamb sausage. The meat showed off a rather profound taste, deeply flavored and succulent, with an almost foie gras-esque lusciousness to it. Given the power of the lamb, the beans were crucial in balancing the dish.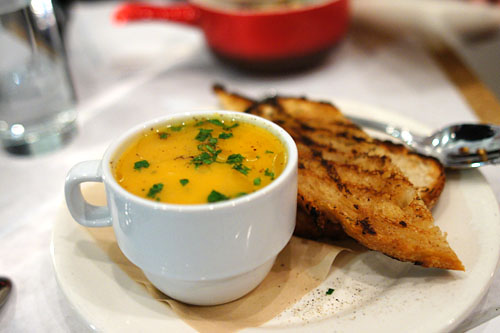 Butternut Squash Soup [$7.00]
My dining companion felt that the soup was too watery, too mild, and I agreed. However, given that I'm generally not huge on butternut squash, I actually didn't mind that the squash's sweetness was restrained here. In any case, we both savored the accompanying pieces of crusty, sweet-ish toast, which were especially enjoyable when dipped in the potage.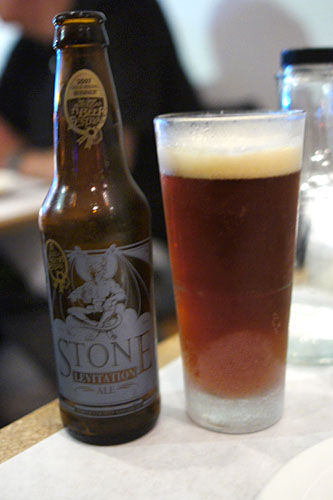 I asked our server for a beer recommendation to go along with the steak, and he suggested the Stone Levitation Ale [$5]. An amber ale, the Levitation featured a keen balance between malty and hoppy flavors, with a bit of citric and herbaceous tang to keep things interesting. Quite good.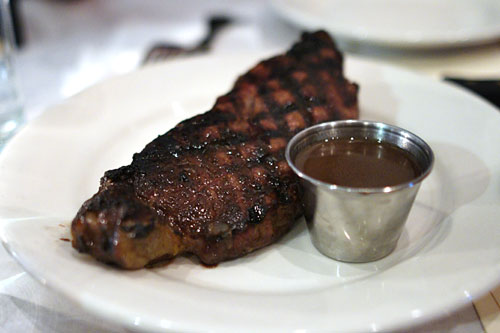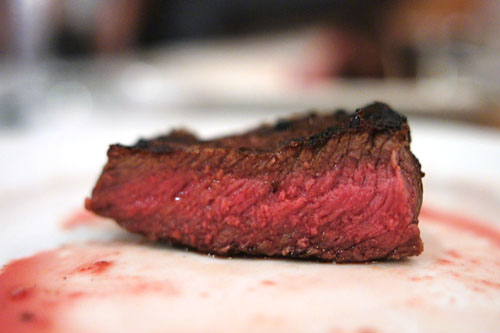 Dry Aged Strip Steak [$34.00]
Our
pièce de résistance
was a grilled NY steak of dry aged beef, served with a red wine reduction. Cooked medium-rare, the meat was suitably succulent, with a very concentrated beefy flavor typical of dry aging; it was quite enjoyable, though the steak's char was perhaps a touch heavy in its bitterness. Furthermore, the beef easily stood alone, making the red wine sauce unnecessary.
Given the
heaps of praise
that Salt's Cure has garnered recently, the meal wasn't quite as revelatory as I'd hoped for. That being said, it was still an enjoyable experience overall, making the restaurant a smart choice in the area.