Moreton Fig (Los Angeles, CA)
Moreton Fig
3607 Trousdale Pkwy, Los Angeles, CA 90089
213.821.3441
www.moretonfig.com
Mon 11/08/2010, 07:00p-11:20p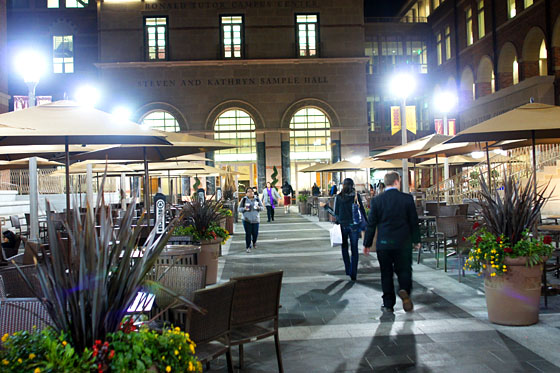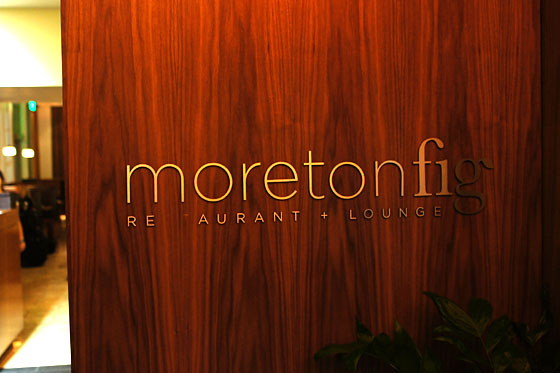 After nearly a decade of planning and construction, USC's new Ronald Tutor Campus Center finally opened this past summer. The 193,000 square-foot edifice hosts nine dining concepts, the most sophisticated of which is Moreton Fig, the spiritual successor to the former Upstairs Commons. Named after USC's historic Moreton Bay fig trees, the restaurant represents a joint venture between USC Hospitality and Bradley Ogden's
Lark Creek Restaurant Group
(CEO Michael Dellar is an alum). A premium, fine dining, farm-to-table eatery situated on a college campus, it's billed as the only restaurant of its type in the country, a fitting testament to the famed excesses of USC. As a former student, one whose on-campus diet consisted mainly of the Chipotle down the street, I, along with some fellow alumni, made sure to pay Moreton Fig a visit for its debut dinner service.
About the Chef
: Moreton Fig is helmed by Executive Chef Todd Koenigsberg, graduate of the Culinary Institute of America at Hyde Park. Koenigsberg's career highlights include positions under Bobby Flay at New York's famed Mesa Grill, Mario Batali at his legendary Babbo, and
Chez Panisse
's Christopher Lee at Eccolo in
Berkeley
. Most recently, the Chef oversaw dining operations at the Google main campus in Mountain View.



The 8,000 square-foot space, awash in earthy tones of cardinal and gold, is both casual and elegant. Seating up to 133 guests, the restaurant is anchored by a gleaming open kitchen and features a full bar, private dining room (seating up to 12), and outdoor patio with views of the restaurant's eponymous fig trees.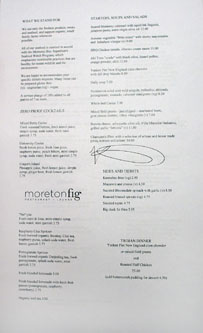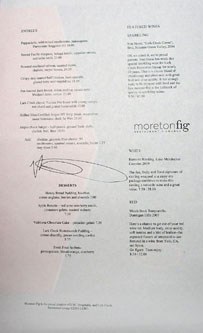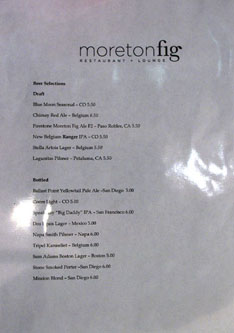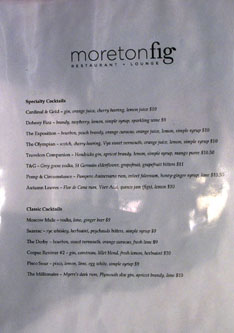 When planning Moreton Fig, student input conveyed a desire for local, seasonal, sustainable food with a comprehensive selection of vegetarian/vegan selections. Koenigsberg's menu reflects just that, with a wide array of choices to suit a variety of tastes and budgets. The beverage menu is also quite respectable, with a surprisingly large array of California wines and a very serviceable beer, cocktail, and mocktail list. Click for larger versions.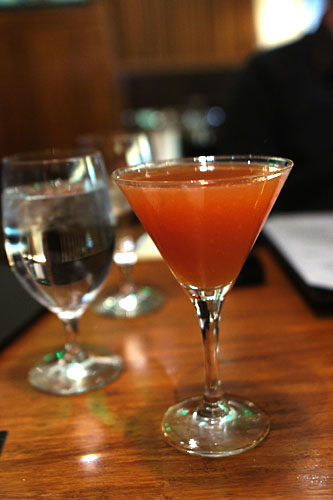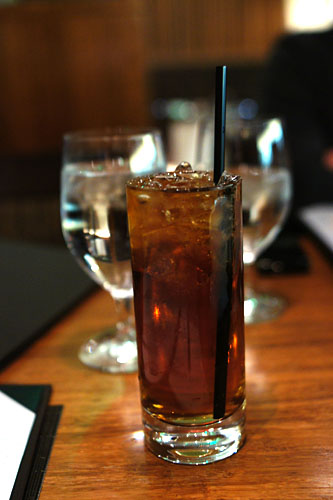 Cardinal & Gold [$10.00]
| gin, orange juice, cherry heering, lemon juice
Pomp & Circumstance [$10.50]
| Pampero Aniversario rum, velvet falernum, honey-ginger syrup, lime
We began with two of the USC-themed specialty cocktails. The Cardinal & Gold highlighted the sweetness of its cherry heering, which was nicely counterbalanced by the slightly herb-y nature of the gin. The Pomp & Circumstance, on the other hand, was somewhat like a rum & Coke, with the falernum providing some additional saccharine complexity.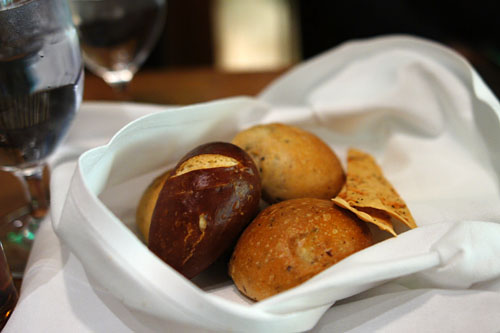 Bread--four types--was passable.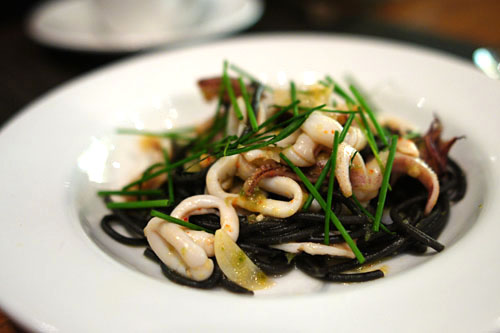 Seared Monterey calamari with squid ink linguini, jalapeno pesto, extra virgin olive oil [$12.00]
Calamari was pleasingly tender, yet with a great bit of snap as well, and went beautifully with the deftly cooked strands of linguini. I really appreciated the creeping heat of the jalapeno pesto, as well as the delicate herbaceous notes in the dish. Very nice--the best item of the night.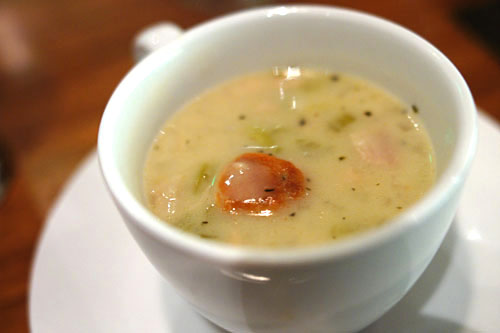 Yankee Pier New England clam chowder with dill drop biscuits [$5.00]
Clam chowder was not to my liking, as I found the soup overly vegetal and lacking in the ocean-y essence of clam. I did, however, enjoy the textural element of the biscuits.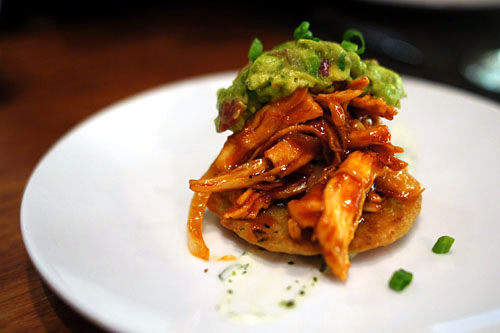 BBQ Chicken tamale, cilantro cream sauce [$11.00]
Chicken was sweet, but not overly so, and went well with the robust tang of the cilantro cream and onion, while the corn-laced flavor of
masa
served as a superb moderating element.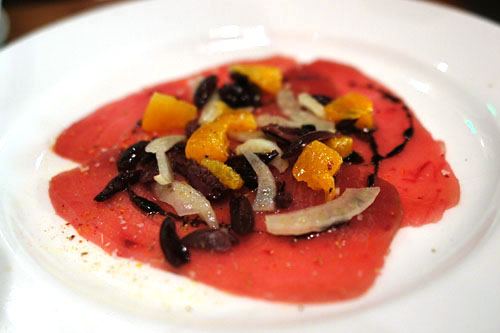 Ahi Tuna "crudo" with black olive, fennel pollen, orange powder, chili [$12.00]
Crudo came out looking more like a carpaccio, with the fish tasting very, very mild. The various accoutrements contributed some much needed piquancy to the dish, but I wanted bolder, brighter flavors.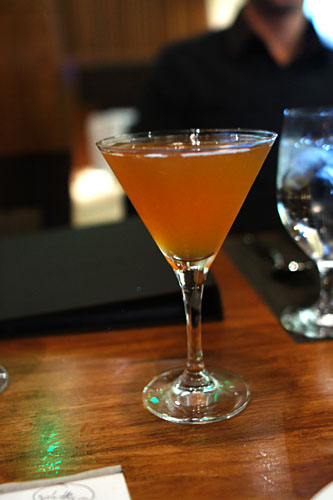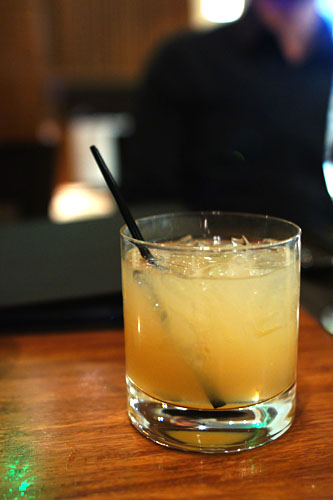 The Exposition [$10.00]
| bourbon, peach brandy, orange curacao, orange juice, lemon, simple syrup
T&G [$11.00]
| Grey goose vodka, St Germain elderflower, grapefruit, grapefruit bitters
Our next round of cocktails brought us The Exposition, which demonstrated a tasty interplay of flavors between the weight of the whiskey and the sweet, peach sapors of the brandy, all under subtle overtones of citrus. The T&G I'll describe as a sort of adult grapefruit juice, with the vodka barely noticeable.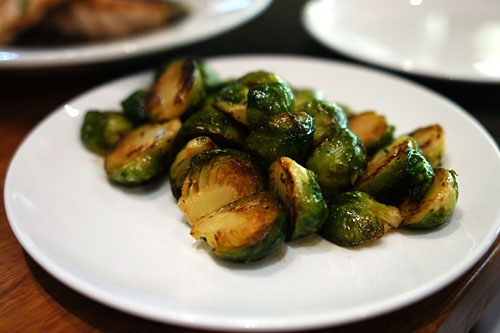 Roasted brussel sprouts [$4.75]
Along with our mains, we also ordered a couple of sides. Brussel sprouts were up first, and I found them delectable, with their signature bitterness nicely presented, yet accented by a touch of sweet nuttiness.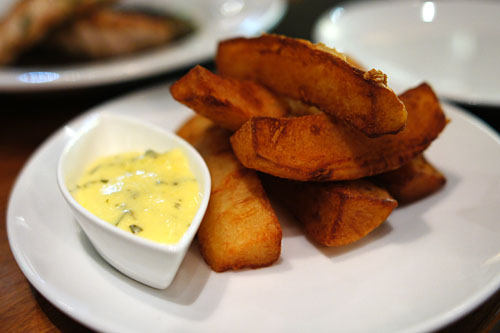 Big duck fat fries [$3.95]
Duck fat fries were even better, showing off rich, luxurious,
unctuous
flavors over a base of potato--yummo. The accompanying dip, however, was overly saccharine, and thus superfluous.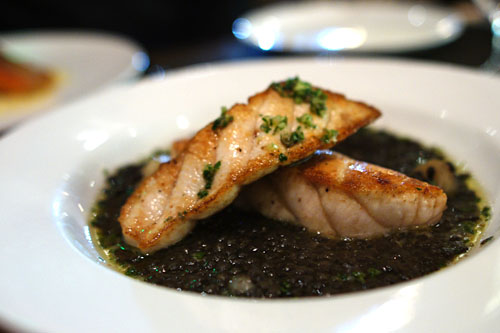 Seared Pacific sturgeon, beluga lentils, cippolini onions, and salsa verde [$23.00]
Sturgeon was a touch overcooked for me, and I found its flavor rather disconcertingly briny. Fortunately, the earthy lentils really helped to temper the fish, as did the salsa.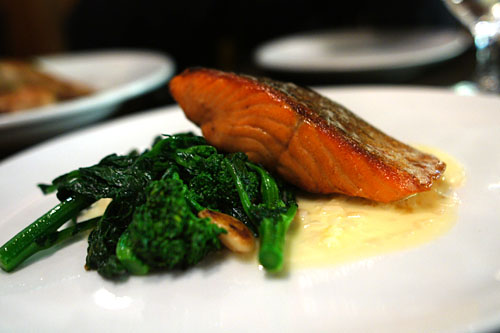 Roasted steelhead salmon, sautéed rapini, shallots, meyer lemon [$24.00]
Salmon, on the other hand, was cooked to a surprisingly rare temperature, and nicely showed off the fish's intrinsicly fatty, savory flavor. The accompanying bitterness from the rapini served as a fitting counter.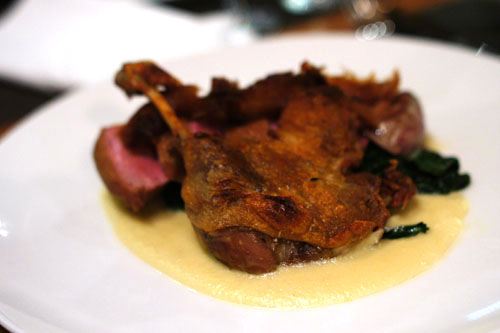 Pan roasted duck breast, onion soubise, cavalo nero, Medjool dates, verjus [$23.00]
Duck breast was a bit tough, though quite flavorful. The confit leg was actually the star of the show here; I loved its tender, succulent flesh and how it went with the bird's crisp, salty skin. Unfortunately, the sweetness of the dates was a bit domineering, though this was somewhat mitigated by the astringency of the kale.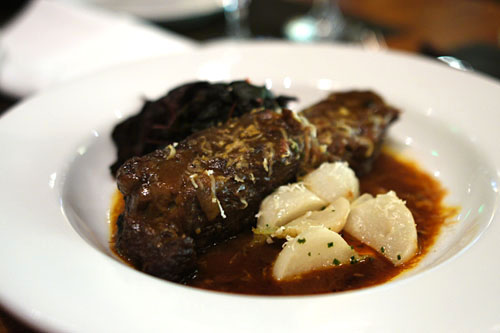 Lark Creek classic Yankee Pot Roast with young turnips, red chard and grated horseradish [$19.00]
Pot roast was suitably tender in consistency and showed off the dark, beefy notes that one would expect. The chard and turnips especially were absolutely key in balancing the considerable heft of the dish. A solid rendition, but a far cry from Suzanne Tracht's revelatory preparation at
Jar
.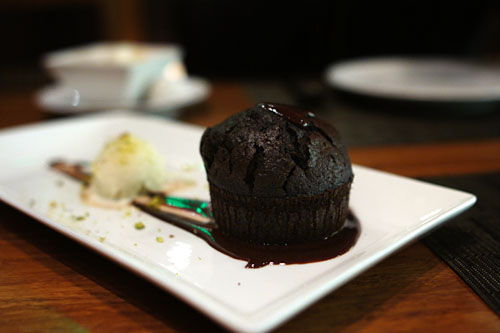 Valrhona Chocolate Cake - pistachio gelato [$7.50]
Chocolate cake was tasty but unexciting, reminding us almost of a chocolate muffin. I really enjoyed the gelato though, which lent a much needed bit of complexity to the cake.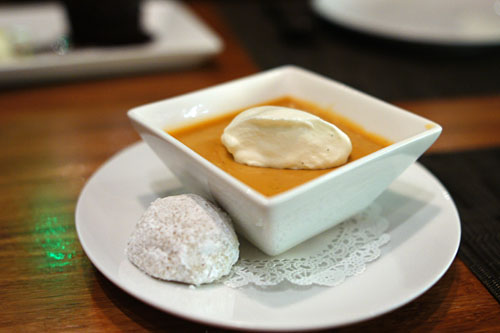 Lark Creek Butterscotch Pudding - crème chantilly, pecan wedding cookie [$5.75]
When this dessert came out, we were all thinking of
Mozza's
fabulous butterscotch
budino
. It didn't quite measure up, though it was still delicious nonetheless, with the chantilly serving as a great counterpoint to the brazenly sugary pudding.
Moreton Fig was about what I had in mind. The food seems a bit unrefined compared to what I'd expect from a standalone restaurant--with flavors generally a notch down in terms of boldness and complexity--but it is of reasonably high quality, and well-priced. I suppose that it's a necessary compromise for a restaurant that needs to please students, staff, and outsiders alike.