Los Angeles Times Festival of Books Giveaway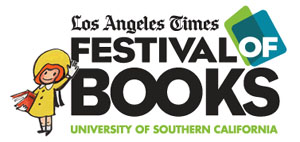 This weekend, Angelenos will converge on the campus of the University of Southern California to attend the 16th annual
Los Angeles Times Festival of Books
. The Festival is the largest and most esteemed of its kind (drawing over 150,000 visitors), and aims to bring together people who love books with people who create them: authors, publishers, booksellers, as well as various literacy and cultural organizations. Attendance is free.
Perhaps the most anticipated part of the Festival is the Cooking Stage, wherein cookbook authors will demonstrate recipes, interact with the crowd, and sign copies of their latest cookbooks. Here's this year's schedule:
Saturday, April 30
11:00 - 12:00: Erin McKenna, BabyCakes Covers The Classics
12:30 - 1:30: Graham Kerr, Growing at the Speed of Life
2:00 - 3:00: Bob Blumer, Glutton For Pleasure
3:30 - 4:30: Laurie David, The Family Dinner
Sunday, May 1
11:00 - 12:00: Kathy Freston, Veganist & Tal Ronnen, The Conscious Cook
12:30 - 1:30: Thomas Keller, Ad Hoc at Home & Russ Parsons, How to Pick a Peach
2:00 - 3:00: Duff Goldman, Ace of Cakes
3:30 - 4:30: Fabio Viviani, Café Firenze Cookbook
The Cooking Stage will be emceed by
Michael Weisberg
, who has been involved with the event since its second year. Michael currently works as a freelance food consultant, specializing in publicity and marketing, and is also serving as Restaurant Co-Chair of Share Our Strength's Taste of the Nation benefit.
In celebration of the Festival, I've partnered with Michael, and we will be giving away a free copy of
Ad Hoc at Home
, signed by the chef, the man, the legend, Thomas Keller himself. To win, all you have to do is be the first person to approach Michael (see photo
here
) and mention kevinEats. That's it--good luck!
[EDIT: And we have a wiener!
Congrats to
Patty F.
for being the first to claim the TK-autographed copy of the
Ad Hoc at Home
cookbook.]