n/naka (Los Angeles, CA)
n/naka Restaurant
3455 Overland Ave, Los Angeles, CA 90034
310.836.6252
www.n-naka.com
Wed 04/06/2011, 07:00p-12:35a

When we last left the
Morihiro Onodera
-trained Niki Nakayama, former chef/owner of the all-female Azami, she was in the midst of cooking reservations-only prix fixe dinners at
Inaka Seafood Gourmet
. Since then, Nakayama's been busy working on her long-awaited solo project, n/naka, which soft-opened on March 18 in Palms, just down the street from Roy Choi's bowl-centric Chego and a stone's throw away from Scoops Westside. Look out for a grand opening to the public on the 18th. As for the menu, expect a seasonally-changing, omakase-style spread of ten or so courses, priced at around $100.

Situated in the former space of Imagen Day Spa and Salon, n/naka was repurposed and reimagined by Tak Toda of
TSL Designs
. It's a cozy, intimate room, serene and subtly decorated, evocative of a traditional Japanese design aesthetic, yet with a modern twist.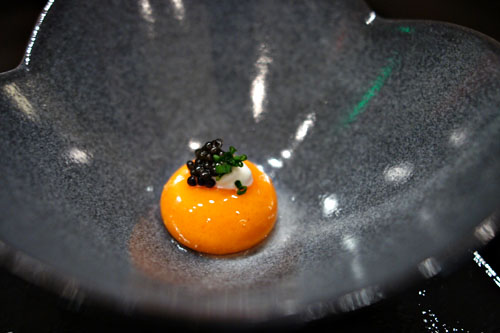 1: Kyoto Carrot Broth
Nakayama began the meal with a nod toward
molecular gastronomy
modernist cuisine: a spherification of Kyoto carrot broth, topped with a dollop of crème fraiche and a sprinkle of California white sturgeon caviar. The carrot wasn't nearly as sweet as I'd imagined, with a surprisingly restrained flavor that made for an interesting interaction with the crème. At the same time, the caviar was quite subtle as well, conveying only a slight overtone of salty flair.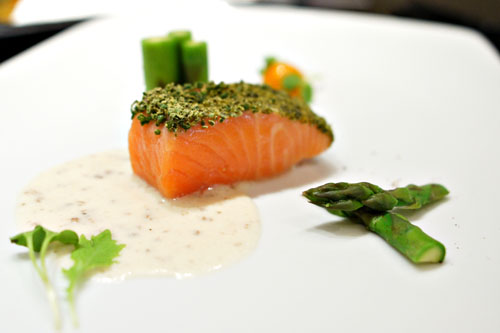 2: Tasmanian Sea Trout Confit
Sea trout was cooked confit style, encrusted with
kombu
(kelp) and chives, and served with an asparagus-truffle sauce. The result was delectable, with the tender, fatty, beautifully briny trout deftly set off by its herbaceous crust. I really enjoyed the fish alone, but its asparagus and truffle dressing added a further level of luxuriousness to the dish, imbuing the fish with the heady, earthy weight of truffle, but at the same time, balancing things out with the refreshing astringency of asparagus. Very nice!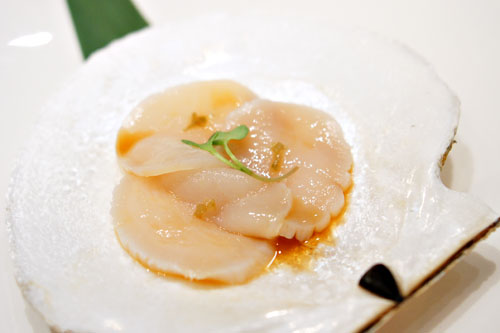 3: Live Scallop Sashimi
Sashimi of live scallop arrived in its own shell, accompanied by ponzu and
yuzu kosho
. The mollusk showed off a fantastic consistency--snappy, supple, and silky, and demonstrated a lovely sweetness, which was then elevated even more by the tang of ponzu.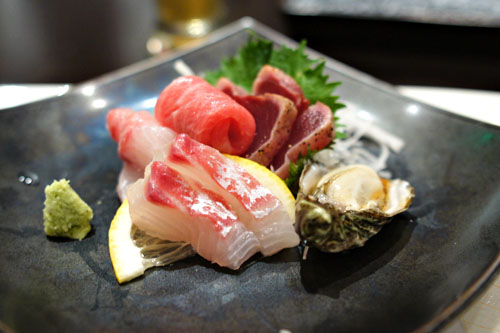 4: Sashimi Plate
Five types of sashimi were offered at this point, served with freshly grated wasabi and soy:
Kumamoto - A prototypical example of my favorite oyster, showing off a great, fresh snap and a tasty relish of sweet salinity.
Tai - Snapper was mild, yet perfectly heightened by a quick dip in the soy sauce.
Kanpachi - Amberjack paired wonderfully with a dab of wasabi, and showed off a beautifully creamy consistency that I adored.
Kuromaguro Tataki - Bluefin tuna arrived seared, which contributed a nice bit of extra savoriness, and made for some textural variation.
Chutoro - I ended, naturally, with the tuna belly, which I found uncommonly fatty for mere chutoro, with its melty, almost falling-apart texture and decadent mouthfeel.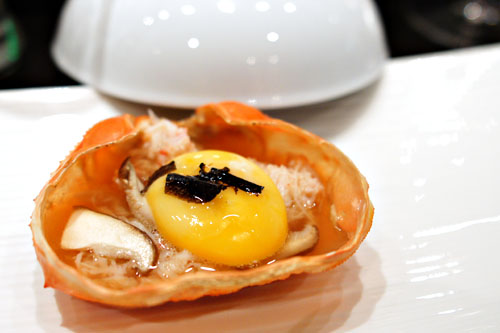 5: Kani Koramushi
This dish--reminiscent of
Urasawa
's revelatory
kanimiso korayaki
--was one of my favorites from my last visit to
Inaka
, and didn't disappoint this time around either. This is arguably Nakayama's most well-known dish, and consisted of crab, truffle, egg, and shiitake mushroom, all cooked in a hollowed out crab shell. I loved the sweetness of the crustacean here, and how its focused flavor was so deftly married with the earthy intensity of truffle and mushroom, while the egg yolk simply enveloped the dish with an overarching lusciousness.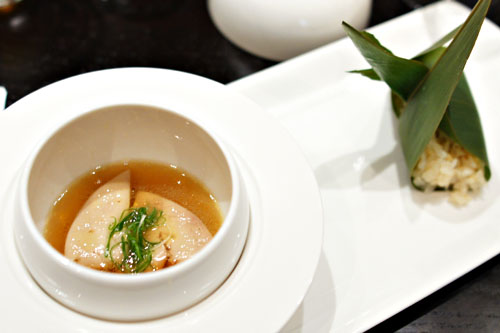 6: Poached Foie Gras
Foie gras arrived poached and swimming in a
takenoko
(young bamboo shoot, only available in the spring time) broth. It was superb, one of the best versions of the liver that I've had in a while. I loved its gorgeously restrained flavor and almost eggy consistency (which reminded me of the foie gras shabu-shabu at
Urasawa
), as well as the moderating effect of the heady, aromatic bamboo broth. At the same time, we were provided with
takenoko gohan
, basically a mixture of rice and bamboo. It was a simple preparation, but immensely satisfying, and served to ground the dish.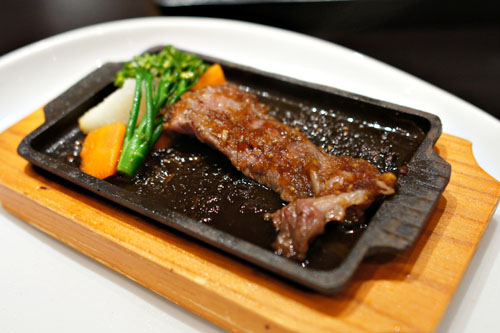 7: Wagyu Teppanyaki
Next up was a teppanyaki'd cut of wagyu beef, dressed in a soy, garlic, sesame, and onion sauce. The flavors here were heavy, saccharine, and a bit overwhelming; I really wanted to taste more of the meat's inherent flavor, but it was largely lost. The veggies, however, did help balance things.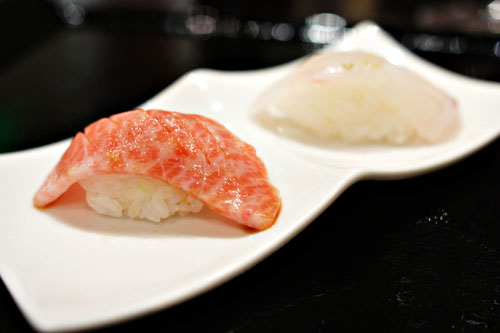 8: Toro & Tai Sushi
And now on to the sushi. We began with toro, an utterly luxurious bite that practically melted in my mouth. The snapper, on the other hand, was much more subtle, with a pleasant piquancy from the application of
yuzukosho
.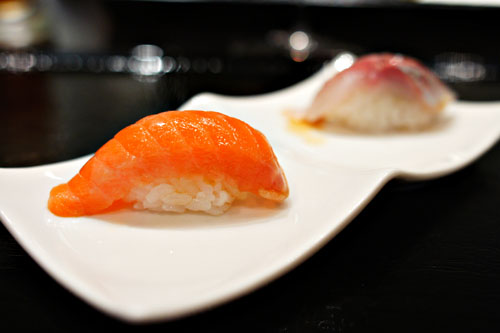 9: Masu & Aji Sushi
Here we saw the same Tasmanian sea trout that we had above, but this time in sushi form. It was lovely, probably better than most salmon I've had, with a delightfully in-your-face relish. Spanish mackerel, meanwhile, was characteristically fishy, yet adeptly balanced by a touch of sweetness.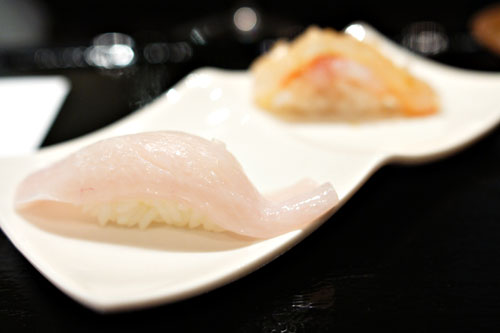 10: Hamachi Toro & Amaebi
Yellowtail belly was firm, fatty, and finished with a great salty kick. Finally, we had sweet shrimp, which showed off a wonderfully crisp consistency and slightly sour smack--yum!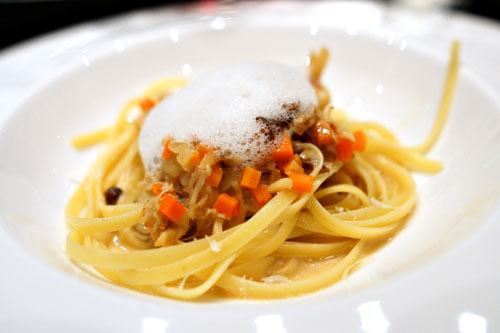 11: Lobster Pasta
This final savory course was added on at our table's request (a $15 supplement). What we had basically amounts to a linguini-like pasta, finished with lobster, carrot, brown butter, and Parmesan foam. The pasta itself was pleasantly
al dente
in texture, and served as a fitting base for the sweetness of the crustacean and carrot, while the brown butter added a palpable weight to the dish.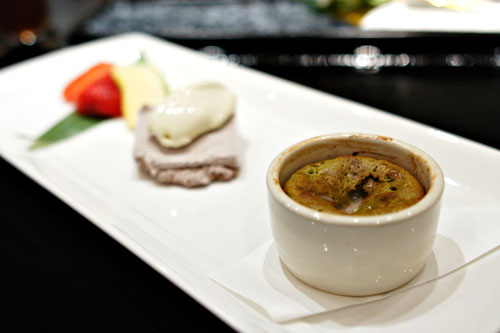 12: Green Tea Soufflé & Frozen Chocolate Mousse
Dessert brought us a green tea soufflé paired with a red bean sauce, an eggy affair perked up by the slight astringency of the green tea. More interesting was the frozen chocolate mousse with banana ice cream. The mousse was constructed using liquid nitrogen, and perhaps due to this, was very hard in consistency, and rather difficult to eat. Its flavors were on point though, and played nicely with its banana accompaniment.
Compared to my last meal at
Inaka
, Nakayama's cooking here seemed more focused, more mature. It was a fine omakase experience with top-notch ingredients, showing off a trace of globally-inspired flair to go hand in hand with the Chef's Japanese sensibilities. Certainly then, n/naka is shaping up to be another great Japanese option in the West LA vicinity.